Rachel Morrison, ASC, claws into the cinematic debut of the history-making African-American superhero Black Panther.
It's only with some hyperbole that one can say the level of anticipation for writer/director Ryan Coogler's new superhero feature, Black Panther, is extremely high, and why not? The film includes a bevy of "first ever." Starting with the source material ­– Marvel Comic's The Black Panther, created by Stan Lee and Jack Kirby in 1966, was the first-ever African-American superhero in mainstream American comics. The Black Panther (the title preceded the founding of the Black Panther political party and, according to co-founder Lee, refers to an earlier pulp hero who utilized a feline protector) was also the first true graphic novel Marvel had ever done, with "Panther's Rage" running 13 consecutive issues. Finally, Coogler's take on the iconic man from Wakanda (released this month by Walt Disney Pictures) marks the first-ever feature in the famed Marvel Cinematic Universe (MCU) that was shot by a female cinematographer, Local 600's own Rachel Morrison, ASC.
In preparation for shooting Panther, Morrison (ICG January 2018, Replay) remarks that "so often movies with great scope lack a sense of humanity and intimacy," adding that her goal photographically was to meld these macro and micro worlds. Morrison's 31-year-old director (who also wrote the screenplay with Joe Robert Cole) says, "It was mostly luck" that Panther ended up in his hands. The project spent 15 years in development and wound through several directors and stars, including Wesley Snipes, John Singleton and Ava DuVernay. The elite cast includes Chadwick Boseman (King T'Challa/Black Panther) who played the role in Captain America: Civil War (2016), Michael B. Jordan, Lupita Nyong'o, Forrest Whitaker, and Angela Bassett.
Coogler, whose indie debut Fruitvale Station (also shot by Morrison) won dozens of film festival awards, describes Panther as a complex character fit for our times. The basic story – T'Challa, after the death of his father, the King of Wakanda, returns home to the isolated, technologically advanced African nation to take his rightful place as king – encompasses ripped-from-the-headlines topics like racial politics and globalization, making Panther's world, as Coogler puts it, "very dense."
Such density also made the story difficult to realize in the limited format of an action franchise. Coogler says that aside from the "big three" – Batman, Superman, Spiderman – superhero movies need to first earn their stripes at the box office.
"You don't get a Black Panther without a Guardians of the Galaxy or an Ant-Man, and certainly not without a Blade or Hancock," he states, referencing other comic-to-screen efforts with African-American protagonists. "A studio like Marvel," he continues, "with [president] Kevin [Feige] and [head of physical production] Victoria [Alonso], as well as [parent company] Disney, are aggressive in pushing cultural boundaries. So [Black Panther] had to fall in with the right minds" to ever find its way to Coogler.
Along with Morrison, the director brought on production designer Hannah Beachler and composer Ludwig Goransson, who both worked on Coogler's previous features, Fruitvale Station and Creed, and Jordan, who starred in both. "[Marvel] was familiar with their work," Coogler adds, "so it wasn't a hard campaign [to get them hired]. These are all really talented people, and I would think the studio would be [happy] to hire a Rachel Morrison on any movie, aside from the work she's done with me."
Morrison feels it's a testament to Coogler, Marvel and Alonso, who's been an advocate for diversity in hiring. "When I met her," Morrison recounts, "she said, 'You don't know how long I've been waiting for you,' which is really a great way to meet a studio executive. And then she said something like, 'Now don't fuck it up!'"

Black Panther's story includes deep dives into jungles, high-speed trains through precious mines, bombastic fight scenes and the venerable battle to save the world. But at its heart, it's still a story about family: hence the combination of epic and intimacy. In fact, Coogler says that "being an African superhero from a place where culture comes first [had to be] the central conflict of the film. Those elements are just as, if not more, important than the scope. It's challenging, but it's also what sets us apart from more typical superhero movies."
With that in mind, Coogler and Morrison studied a range of sources – Ron Fricke's non-narrative documentary Baraka, Coppola's The Godfather, even David Attenborough's Planet Earth. "Our starting point was Ryan wanting to make a drama that existed in a larger world, a story that would resonate and have humanity at its core," she shares.
Morrison cites the movie's Warrior Falls and the Astral Plain dream sequences as prime examples. "We wanted the scenes to feel epic in a Planet Earth kind of way," she continues. "But ultimately it had to be the story of one man – T'Challa – facing his fears, rising to the challenge, and coping with the death of his father – all very personal and intimate emotions. We didn't want the spectacle to overshadow the humanity."
Both director and DP prefer using a "subjective camera" to emphasize the character's perspective, an approach that runs counter to the multiple-camera world of action films.
"More cameras mean more angles to sell the best punch or car flip," Morrison continues. "But that can also mean sacrificing eyelines that convey emotional connectivity. Also, the multiple angles can often lead to a frantic style of editing that loses the experiential nature of a single point of view."
The cinematographer says it was critical that the audience always knew whose story was being told. "And, honestly, if there were more hours in the day," she smiles, "Ryan and I would probably have shot the bulk of this movie single camera – just so we could always maintain a close eyeline when we wanted to, and both lead and follow T'Challa [or the dominant character in any given scene] through his world."
Fruitvale Station was shot on Super 16mm, and both Coogler and Morrison wanted to shoot film for Black Panther; Morrison created the most intricate camera test she'd ever done – eight cameras in total, four on top and four on bottom mashed together on dollies in order to get the closest possible parallax.
"I tested IMAX, 5-perf 65mm, 35mm spherical, 35mm anamorphic, ARRI 65, ALEXA XT spherical, ALEXA XT anamorphic and the RED Weapon," she recounts. "[Marvel's] explanation for [ultimately shooting digitally] wasn't about the extra cost or the processing [for film]. It was the fact that when you change a VFX shot on film, you need to locate the original negative to re-scan, and it would slow down their post pipeline, which is often down to the wire." (Morrison ended up using open-gate ALEXA XTs at 3.4K with Panavision Primo primes and some Primo zooms.)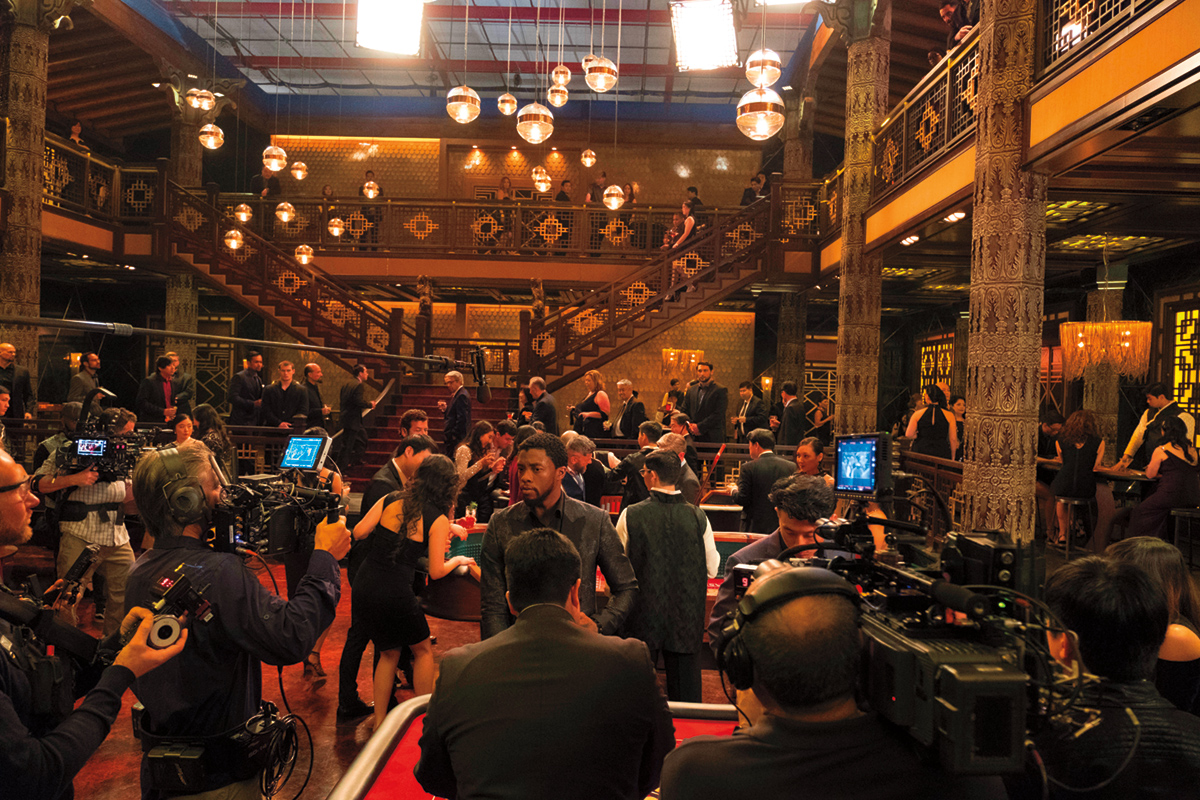 In comparing her indie film résumé – The Sound of My Voice, Cake and Dope among them – to Black Panther, Morrison says that "they all had unique challenges, but generally I was putting out the same fires. I'd have the same size lighting package and was dealing with roughly the same size crew. I knew how that machine operated. Going up to [Black Panther] without a middle ground was intimidating."
Some "firsts" for Morrison on Panther included using the wide and free-ranging stabilized gimbal, Oculus (which she could never afford on past indie shoots), on a 50-foot Technocrane. "We tried not to use it in a showy way that felt more stylized than subjective," Morrison shares. "But there were rare occasions, such as Killmonger taking over the throne, where we chose to start upside-down and then spin 360 in shot, something I would probably never have tried on anything other than a superhero film!"
The DP also never had a dedicated fixtures department on a feature, and working with Production Designer Beachler and Gaffer Dan Cornwall (who teamed with cinematographer Ben Davis, BSC, on Marvel's 2017 hit, Guardians of the Galaxy, Vol. 2), she maximized the step-up in scale for various scenes throughout the movie.
"When I first met Dan, I joked that I was lucky to have had a couple ARRI SkyPanels on all of Mudbound," Morrison recounts. "On Panther, Dan probably used 100 SkyPanels for a single set." In fact, Cornwall worked every day in prep with lighting console programmer Elton James to draw lighting plots in 3D to provide Morrison with virtual tours of the set.
"Our rigging gaffer, Tom Fendley, and his team did an amazing job of following these plans and preparing sets in advance for our walk-throughs," Cornwall explains. "Our fixtures foreman Phil Abeyta and our data and control team – 'The Nerd Herd' – gave us amazing control over the set, which allowed us to be fast and efficient."
Examples include scenes with the Royal Talon Fighter, for which Beachler's set design included extensive lighting built into the floor, ceilings and walls. "These days much of this is done with LED lite ribbon and other LED technology," Morrison describes. "So, before Phil [Abeyta] and his team began prepping the built-ins, I would discuss with Ryan the basic lighting scheme and make a plan for what could be straight daylight or daylight/tungsten versus full RGB."
For the casino set, which included a massive single-take shot, Morrison worked closely with Beachler to build as much of the lighting into the set as possible. "In that example," Morrison continues, "we worked more with incandescent fixtures and practical filaments that were all wired into a light console manned by Elton James, who's a genius on the board. To have so much control that we could make as-needed [lighting] changes on the day was something I've never had on any of my other films."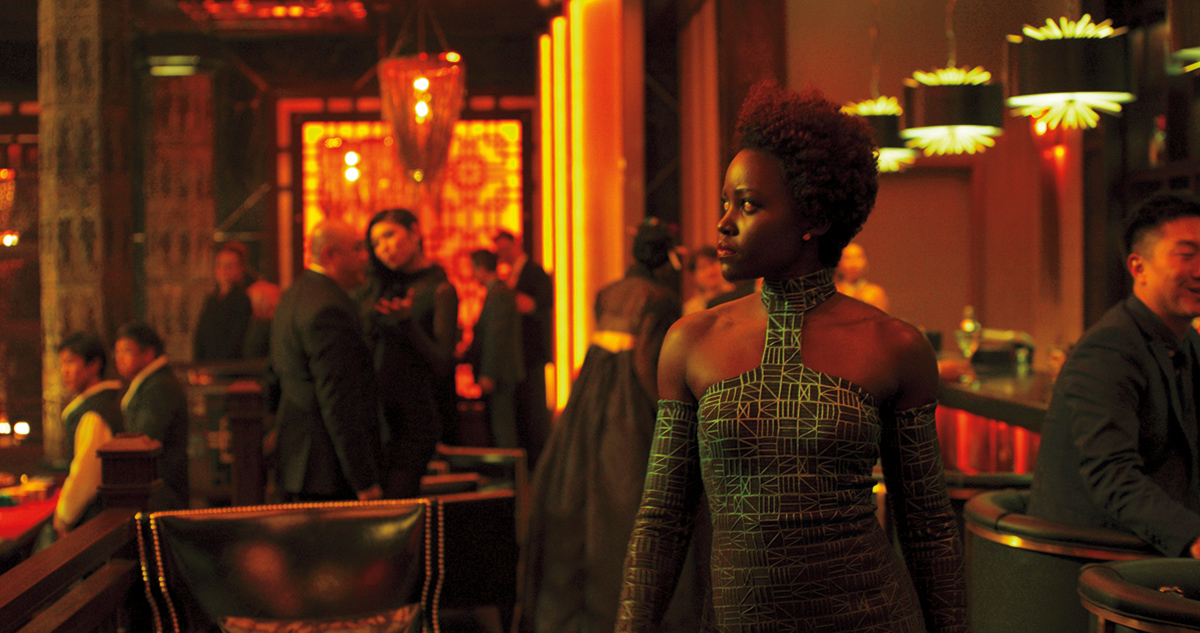 Having recently come off the Sundance hit, Mudbound, which also had a large African-American cast, Morrison says there are no shortcuts to correctly exposing varying skin tones, dark, light, or anything in-between. "There's a massive range to every complexion and the best thing one can do as a DP is to do a lighting study of each of your main characters during HMU test," she offers, "and try your best to understand what each set of challenges are and also what quality and direction of light tends to 'shine.'"
Bringing forth a visual sheen was actually one of Morrison's greatest challenges when it came to lighting Panther's suit – at night. The suit worn for the character's debut in Captain America: Civil War was a matte black – fine for that film's many daytime scenes. But as the DP explains, "knowing how much night work there would be in the script, I spoke extensively with [Costume Designer] Ruth Carter about what we could do to add some sheen to this new suit. We did extensive testing and landed in a body suit that was almost a metallic silver that would pick up light beneath the weave of the suit, as well as a less matte finish and more silver details to pick up the light at night."

Fans of the original comic book will no doubt single out one spectacular location in Black Panther – the vibranium mine –where Coogler and Morrison were able to draw from a full complement of resources – interactive lighting, VFX and live-action camerawork unlike anything they'd done before. (In the story, a meteorite made of a vibration-absorbing mineral has crashed in Wakanda, and is unearthed. Assuming outsiders would exploit his planet for the valuable resource, T'Challa, like his father and other Panther kings before, conceals his country from the outside world.)
The mine, which holds the precious meteoric ore with energy-manipulating abilities, was almost entirely a CG environment. That meant an interactive element was required to light a fast-moving train (within the mine) that would be animated in post. All the light sources needed to chase and create shadows as if the train were passing by –achieved by calculating how many feet-per-second the train would travel and inputting that result into the chase James created from the lighting board. Shadows of an oncoming headlight were also needed, so Rigging Key Kent Baker and his team fashioned a battery-operated high-speed train headlight on a trolley mounted to a truss.
"Both the chase and trolley could be set up to 60 miles per hour," Cornwall recounts. "Once we shot the headlight effect, the truss could be motored up and out of the set so we could continue with our scenes that did not include this effect."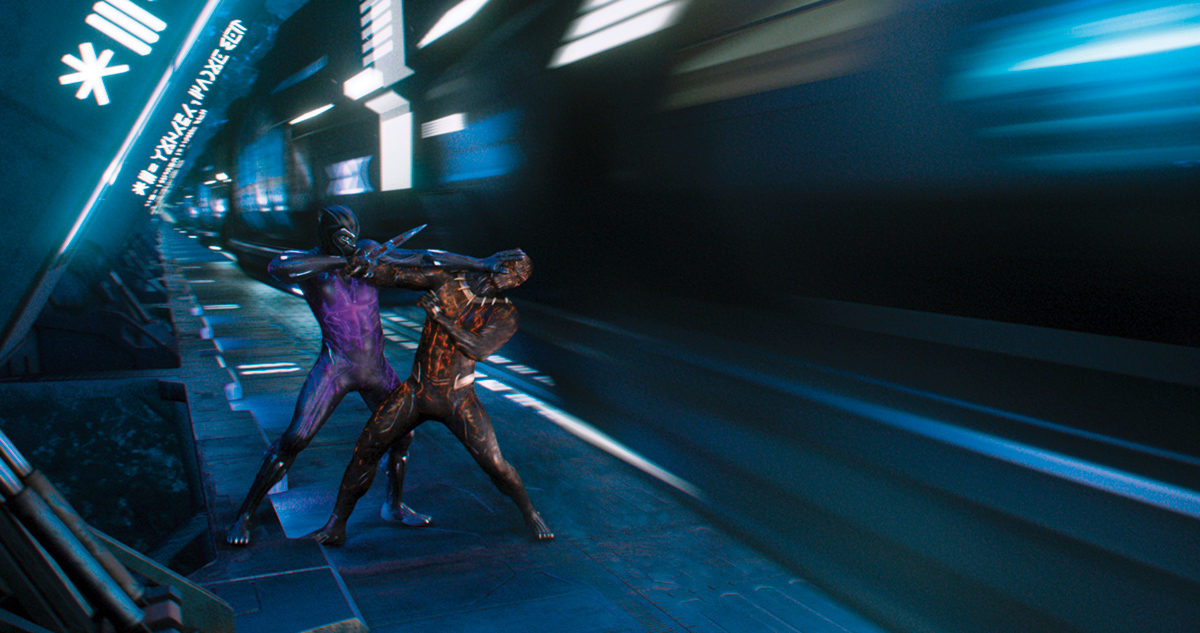 VFX Supervisor Geoffrey Baumann was integral to the scene. Like Morrison, this was Baumann's first time helming a department for a franchise, having previously worked with Marvel as second unit or plate supervisor and before that on the facility side with Digital Domain. Baumann and Morrison needed a lighting environment for the two actors in full CG suits that represented what the final CG world would look like with regard to the train and track.
"The emphasis for me was that we could augment and replace the environment, but we still needed lights in the correct place," Baumann explains. "We used practical fixtures in the floor and big lights that came up to the sides of the tracks that we called 'stabilizers.' Once we replaced those [in VFX], we would still have the correct light hitting our actors' faces, and coming from the correct direction at the temperature and intensity that Rachel wanted. The build was critical because we needed all that intricate lighting on their faces and standing pieces, but also on the train headlight flying through."
The vibranium mine was a VFX-heavy set, but Black Panther on the whole was much more grounded in reality than many other films in the Marvel Universe. "Movies like Guardians of the Galaxy are set in space, so they have many sets that are full CG [360 blue screen]," Morrison describes. "You couple that with CG characters like Groot or Rocket and you end up with a lot of previs and Simulcam [which allows camera operators to see roughly where the virtual characters would be].
"Ryan and I did just roughly two weeks of VCAM [virtual camerawork] before the shoot," she continues, "where we could use wireless controllers to explore our sets and record videos and stills of what they would hypothetically look like finished. That way I could say to the operators later, 'If you point at the blue screen in that direction, it's a backlit waterfall, and if you point there, you can see the massive drop-off,' et cetera."
Panther also had a large amount of set builds, like the Hall of Kings, where the only CG elements were set extensions, and as with scenes with the Tribal Council, expanding the world outside the windows. For Morrison, it was more like shooting a traditional film, "because you had a real sense of space and a general base from which to light," she reflects.
In the end, Morrison found Panther's CG component "much more intuitive," than initially expected. She notes that not all VFX-heavy films approach their CG the same way, "but it does seem to come down to solid communication and a good dose of common sense," she observes. "As long as we were all on the same page, from Hannah's designs through Ryan's direction and my cinematography, to Baumann's work in post, then everything melds together seamlessly in a photorealistic way."
The Local 600 shooter says she's always been up for a new challenge and feels "really fortunate" she was given the opportunity to delve into very unfamiliar territory. "I do think we managed to create something that feels epic on some level but really is about mankind and all of our flaws, dreams, desires, pain and love," she concludes. "My hope is that we also manage to make people think on a global level – how do we treat one another and what can we do to take better care of our neighbors, near and far? If Black Panther succeeds in being a superhero film with a global message, that's really a first!"
by Valentina Valentini
Unit Stills by Matt Kennedy
CREW LIST
MAIN UNIT
Director of Photography
Rachel Morrison, ASC
A-Camera Operator/Steadicam
P. Scott Sakamoto, SOC
A-Camera 1st AC
Zoran Veselic
A-Camera 2nd AC
Craig Bauer
B-Camera Operator
Tom Lappin
B-Camera 1st AC
Alessandro Di Meo
Andrew Hoehn
B-Camera 2nd AC
Dwight C. Campbell
C-Camera Operator
Ross Sebek
C-Camera 1st AC
Adam Castro
C-Camera 2nd AC
Mike Fisher
Zachary C. Junquera
Additional 2nd AC
Saul McSween
Paul E. Woods
DIT
Nicholas Kay
Loader
Zach Holloran
Technocrane Operator
Michael H. Howell
Technocrane Tech
Henry Schroeder
Oculus Operator
Kenny J. Rivenbark
Still Photographer
Matt Kennedy
Publicist
Carol McConnaughey
Additional
Photography
Dir. of Photography
Rachel Morrison, ASC
A-Camera Operator
Jason Ellson, SOC
A-Camera 1st AC
Mateo Bourdieu
A-Camera 2nd AC
Jamie Pair
B-Camera Operator
Sarah Levy, SOC
B-Camera 1st AC
Nino Neuboeck
B-Camera 2nd AC
Matt Jackson
C-Camera Operator
Greg Magidow
C-Camera 1st AC
Manning Tillman
C-Camera 2nd AC
Justin Cooley
DIT
Joe Elrom
DIT Utility
Alex Buhlig
Loader
Lauren Cummings