Sundance 2020 touches down with surprising new stories from the nation's heartland and beyond – a cinematic tapestry of independent voices, ably supported by Local 600 camera team members.
By David Geffner
Featured Image from Charm City Kings by William Gray
Photos Courtesy of Sundance Institute Unless Noted
---
A teenage science prodigy from Columbia who loves heavy metal is relocated to America by parents seeking to escape turmoil in their home country; a 14-year-old, eager to join an infamous gang of Maryland dirt-bike riders, is steered toward a life of crime and violence; a young caregiver in rural Appalachia, who sells his elderly clients' excess painkillers to local addicts, is thrown askew when an old friend comes to visit; and a 7-year-old Korean American boy, whose world is upended when his father moves their family to rural Arkansas to start a farm, are among the many unique storylines percolating through this year's Sundance Film Festival, with the common thread being a complex new lens on the American Dream. 
Local 600 members had their creative and technical hands in all of the above projects (and much more) at Sundance 2020, including Director of Photography Igor Jadue-Lillo, who returns to the festival a decade after his Park City debut with The Kids Are All Right (2010). In Four Good Days, Igor Jadue-Lillo, supported by a full Guild camera team, helps writer/director Rodrigo Garcia visualize an intimate story set against the nation's opioid crisis. The pursuit of success, American-style, is even present in festival sections not known for social commentary, i.e., the Topher Osborn-shot horror satire Bad Hair, written and directed by Justin Simien, whose film Dear White People won a Special Jury Prize at Sundance 2014 (also shot by Osborn and featured in ICG Magazine, October 2014, Letters From The Road). In Bad Hair, Lena Waithe plays an ambitious young woman who gets a weave to succeed in the image-obsessed world of music television. Osborn, along with a large Guild camera team, worked closely with on-set Special Effects (in tight practical locations), to help give life (literally) to the main character's out-of-control weave.
Notable Sundance debuts by Guild cinematographers this year include Katelin Arizmendi's work on the Baltimore-set Charm City Kings, an indie drama with a shared story credit by Barry Jenkins, writer/director of the Oscar-winning Moonlight; Ed Wu's daring use of vintage (and unpredictable) anamorphic lenses on the period fish-out-of-water story, BLAST BEAT, and Lachlan Milne's flowing visuals for Minari. Milne sandwiched the indie feature between four episodes of the smash Netflix hit, Stranger Things, and the big-budget VFX feature Monster Problems (due out April 17, 2020, from Paramount Pictures).
(Note: this article was compiled with information supplied by Local 600 members before the start of the festival. We are not responsible for the omission of films and crewmember names not provided to www.icgmagazine.com by posting date.)
U.S. Dramatic Competition
BLAST BEAT –Director of Photography Ed Wu shot this fractured take on the American Dream, co-written and directed by Esteban Arango, that centers on a family, who has recently emigrated from Colombia in the summer of 1999. Among the characters doing best to adapt is a metalhead science prodigy and his deviant younger brother. Wu met Arango (and co-writer Erick Castrillon) four years ago when he shot the short film of the same name. "We knew then we wanted to make an 'Uber-Metalized American Latino Adventure, movie," Wu describes, "meaning we wanted some kick-ass visuals that ultimately told a heartwarming story." Wu adds that they wanted to "go extreme" with their visual choices, playing up the dreamlike nature of the story. "Esteban and I were adamant, even in the short, that we needed to shoot anamorphic," Wu continues. "We both fell in love with the older, funky nature of the Lomo Round-Front Anamorphic lenses, with their vignetting, halation, distortion, bokeh, and beautiful flares. To play it up even more, we decided to have a 1/8 Black Pro-Mist and Gold Diffusion 1 filter at all times. I worked with my colorist Alastor Arnold at Fotokem on a LUT that would emulate film but tweaked it to push the hues of the yellows and blues." Wu used Astera tubes and pucks for their RGB and wireless capabilities, carpet lights for their versatility and lightness, along with tungsten heads with CTS + Green for a sodium vapor look. "When it came to moving the camera," Wu offers, "we tried to relate the visuals to how the characters were feeling. But we would always ask ourselves: 'how can we break the rules a bit?' That ended up with us putting the camera in places that you normally wouldn't – directly below the characters or straight above. We could roll the camera on the Z-axis mid-shot to end upside down. We were playing with perspective to show how tough it could be for these characters to adapt." The Local 600 camera team included Steadicam operator Chris Smith, 1st AC Will Culick, 2nd AC Trisha Solyn, DIT Jonny Revolt, and Unit Still Brian Douglas.
Charm City Kings – 14-year-old Mouse (Jahi Di'Allo Winston) is eager to join an infamous group of Baltimore dirt-bike riders, but when their leader (played by the rapper Meek Mill) takes Mouse under his wing, the boy must choose between the lawful path or a road of fast money and violence. Directed by Angel Manuel Soto with a screenplay by Sherman Payne (Moonlight writer/director Barry Jenkins shares story credit with two other writers), the film is based on the documentary 12 O'Clock Boys. Katelin Arizmendi was Director of Photography and utilized a large Local 600 camera team, including A-camera operator Stew Cantrell, B-camera operator Janice Min, A-camera 1st AC Ian Axilrod, A-camera 2nd AC Mike Panczenko Jr., B-camera 1st AC Chevy Anderson, B-camera 2nd AC Aidan Gray, DIT John Vallon, Still Photographer William Gray, with Additional Photography by Shelly Johnson, ASC. Arizmendi says it was "exciting to become immersed in the bike culture of Baltimore. The film is a coming of age story of a young teenage boy obsessed with this world and how he gets led down a road of crimes and mistakes," she adds. "We as filmmakers wanted to make sure we were representing Baltimore as authentically as possible, so we used real riders in some of the roles, and many of the stunts were performed by street riders." The cinematographer says there's an "escape mentality when one gets on a bike, where everyone becomes an equal and all the worries and stress in life temporarily fade away. It was so special to try to capture that feeling on camera," she adds.
Dinner in America – Gregory K. Johnson, Jr. was the 2nd AC and shot additional camera work for this story, written and directed by Adam Rehmeier about an on-the-lam punk rocker, Simon (Kyle Gallner) and a young woman obsessed with his band, Patty (Emily Skeggs), who go on an unexpected and epic journey through the decaying suburbs of the American Midwest.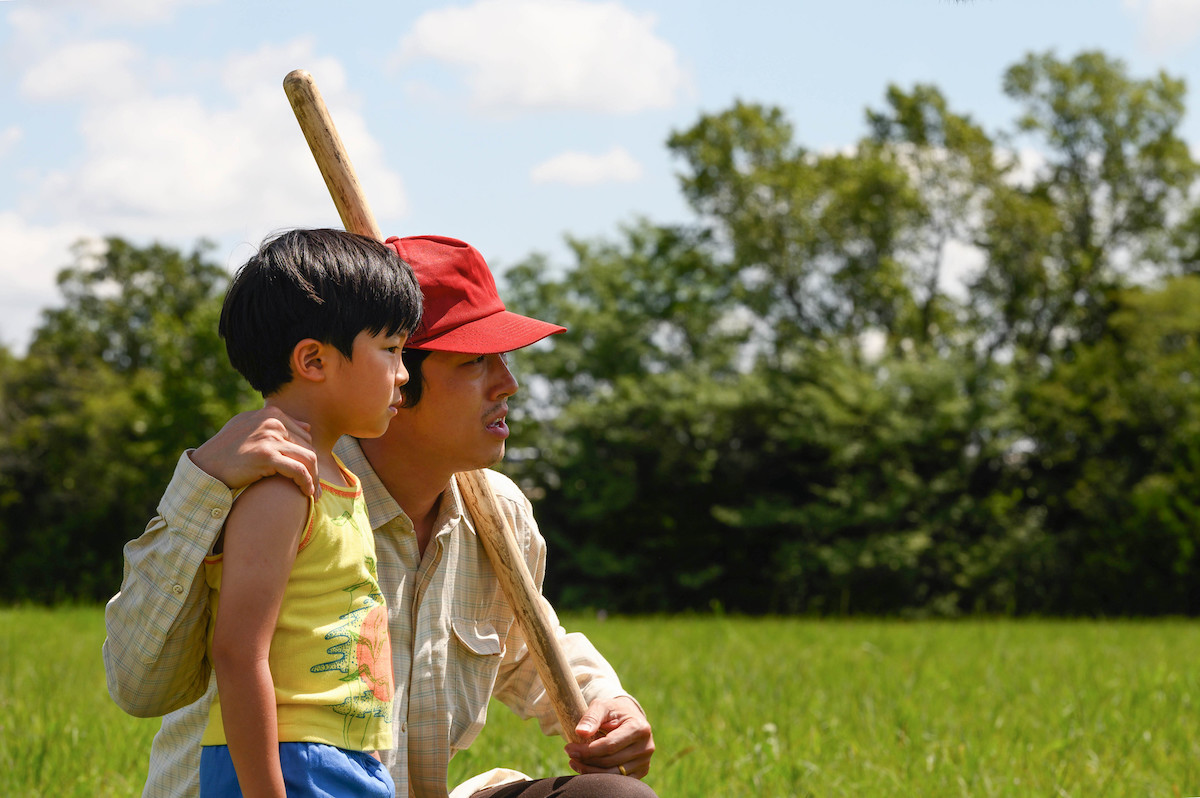 Minari – Lee Isaac Chung wrote and directed this story, shot by Guild cinematographer Lachlan Milne, about David (Alan S. Kim), a 7-year-old Korean American boy, whose life is turned upside down when his father decides to move their family to rural Arkansas and start a farm in the mid-1980s. Guild members on the project included Steadicam Operator Matt Fleischmann and 1st AC Jon Roman.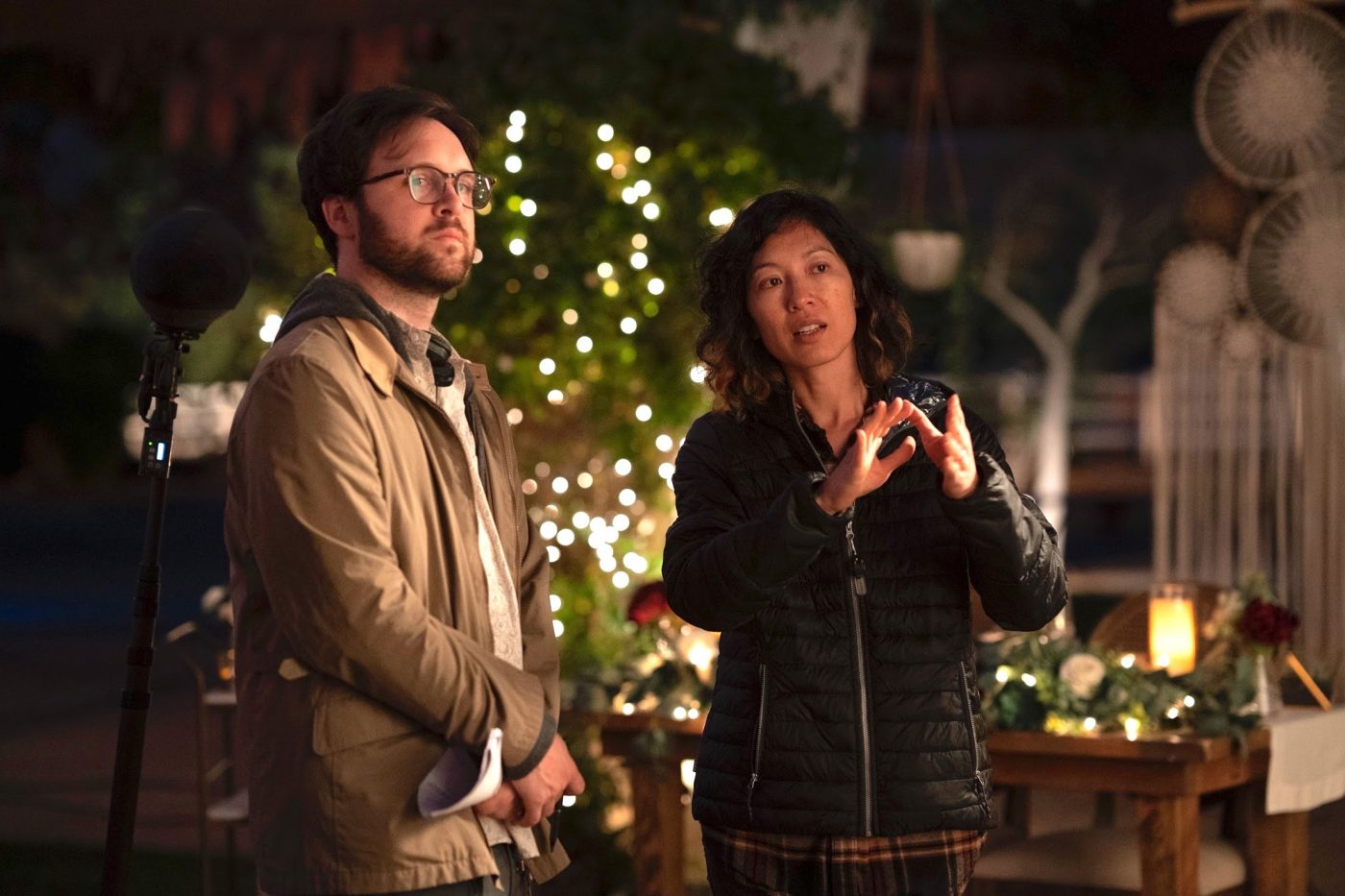 Palm Springs – Sundance returnee Quyen Tran, shot this story for director Max Barbakow about carefree Nyles (Andy Samberg) and a reluctant maid of honor Sarah (Christin Milioti), who have a chance encounter at a Palm Springs wedding, and find themselves unable to escape the venue, themselves, or each other. Tran says that although the film has plenty of comedic and absurd moments, "there is also lots of heart, emotion, and pathos. Striking that tonal balance was very important to Max and me," she describes. "We looked at many wide-ranging references for texture, framing, light, and tone – films like Punch Drunk Love, Eternal Sunshine of the Spotless Mind, The Graduate, and photos by Ryan McGinley. Above all else, this is a performance-driven love story, so we chose to work from a character-driven place." Tran says the camerawork strove to express what the main characters were feeling moment-to-moment and is steeped in their emotional POVs. "We used the T-series anamorphics and ALEXA MINI," she reveals. "I knew that we'd be shooting in small, practical locations, with multiple company moves, so we needed a tight camera profile and close minimum focus. The focus on the T-series is dreamy, and this film has moments of surrealism that we wanted to augment with architecture and lighting placed along the edges of the anamorphic lenses.  Also, the fall-off on the faces of our actors when you are close on a wide lens creates that intimacy we were seeking." As the characters begin to open up to one another, so does the camera work, moving from a locked-off studio mode to a more spontaneous handheld approach that captured moments documentary-style with no rehearsals.  "I relied very heavily on my amazing crew to leapfrog locations so that we make our days, and not compromise our shots," Tran concludes.  "The team worked to make sure we were able to achieve our incredibly ambitious days in the short time allotted, which I guess is always the case with films, indie or not!" Tran's Guild camera team was made up of A-camera 1st AC Alex Cason, Steadicam/B-camera Operator Chad Persons, Steadicam/B-camera 1st AC Shane Carlson, B-camera 2nd AC Chris de la Riva, B-camera 1st AC (additional) Matthew Berner, DIT Michael Romano, Digital Utility Paulina Bryant and Still Photographer Christopher Willard.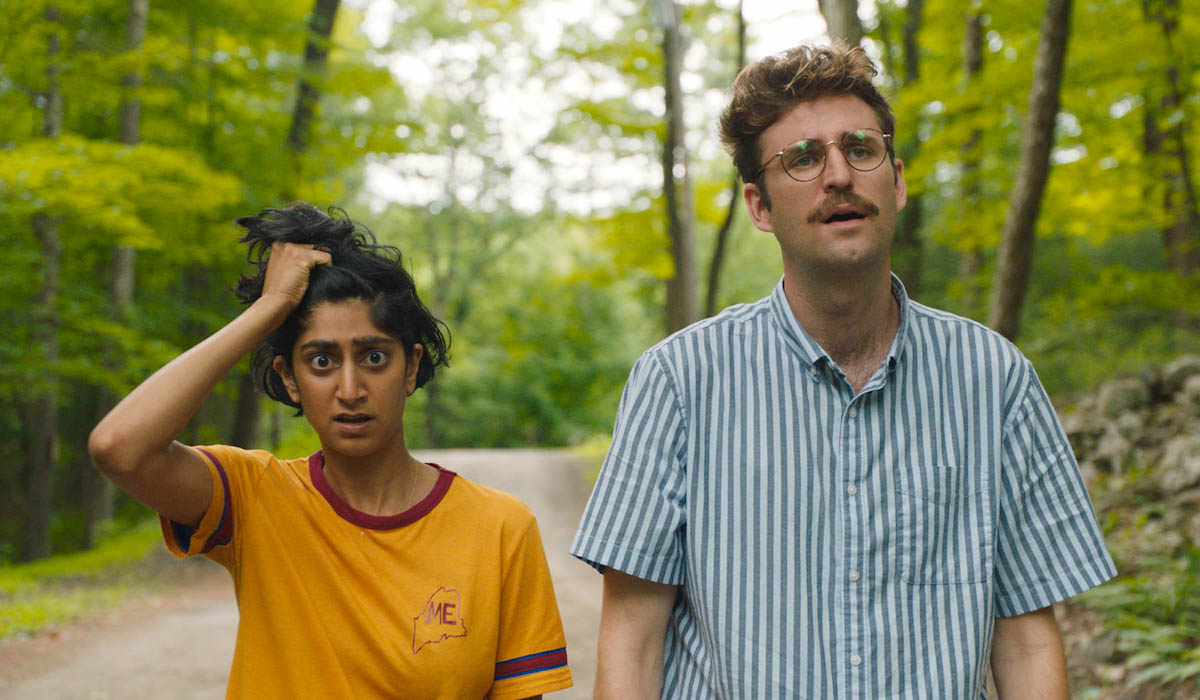 Save Yourselves! – Guild 1st AC Zak Norton worked on this film about a young Brooklyn couple, who heads upstate to disconnect from their phones and reconnect with themselves. Cut off from their devices, they miss the news that the planet is under attack.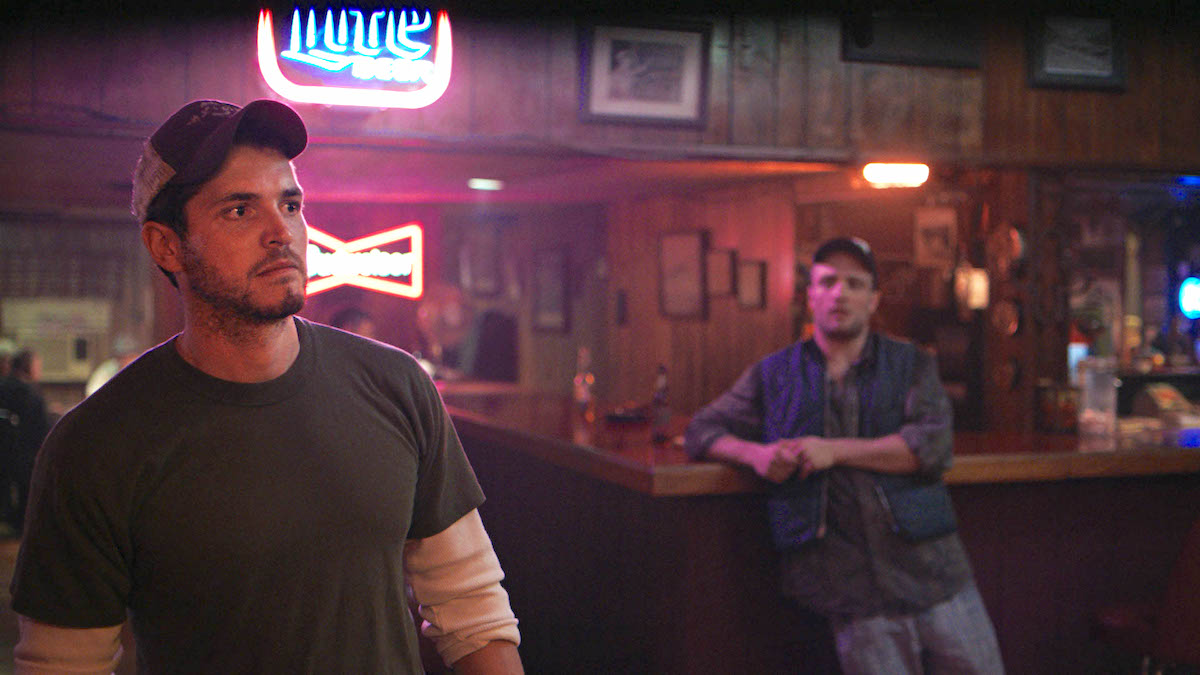 The Evening Hour – Sundance veteran Declan Quinn, ASC, ISC, was Director of Photography, supported by a Guild camera team that included 1st AC John Oliveri, 2nd AC Sunil Devadanam, and DIT Jason Johnson for this tale about Cole Freeman (Phillip Ettinger), who maintains an uneasy equilibrium in his rural Appalachian town, looking after the old and infirm while selling their excess painkillers to local addicts. When an old friend returns with plans that upend the fragile balance and identity he's so painstakingly crafted, Cole is forced to take action
Wander Darkly – Carolina Costa, AMC, shot this indie feature, which she says was an exciting challenge. "It is such a psychological piece and full of transitions from one world to another," Costa shares. "Our writer/director, Tara Miele, wanted to shoot it as practically as possible. So, for example, we would shoot walking in a hospital and then build a way of transitioning to a street in L.A., and then get back in a house. A combination of films like The Diving Bell and The Butterfly, Eternal Sunshine of the Spotless Mind and Jacob's Ladder. It most definitely has a unique visual style." The story concerns the aftermath of a traumatic incident when Adrienne (Sienna Miller) finds herself in a disorienting state of limbo. Forced to confront her troubled relationship with her longtime partner, Matteo (Diego Luna), and the future of their infant daughter, Adrienne must relive and renegotiate the events of the recent past – and solve the mystery of the accident. Stepping into the shadows with Matteo, Adrienne looks for clues about what went wrong between them. The large Guild camera team included A-camera operator/Steadicam Brian Freesh, SOC, A-cam 1st AC Sara Ingram, A-camera 2nd AC Nina Pilar Portillo, B-camera operator Ben Hardwicke, B-camera 1st ACs Cole Ellett, Rachel S. Fox, Grant Macallister, Chess Pettengill, Cory Solon, Jamiel Vanover, B-camera 2nd ACs Natalie Abraham, Vic Deruddere, Otis Sherman, Underwater 1st AC Jacqueline Lehr, Digital Imaging Technicians Tamas Harangi and Carmen Del Toro, VTR Operator Jeff A. Snyder, Still Photographer Michael Moriatis, Camera Utility Daion Chesney, and Camera Intern Silvana Valadez.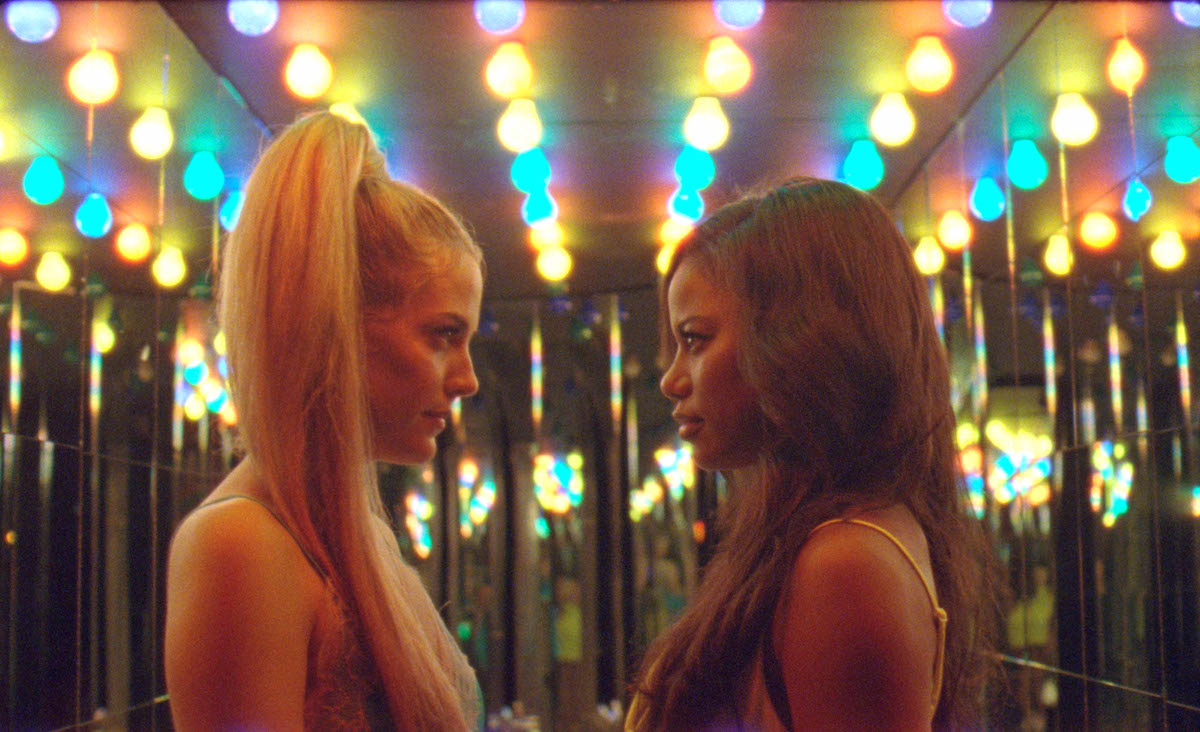 Zola – The Sundance press site description for this unique project goes something like this: 2015: @zolarmoon tweets "wanna hear a story about why me & this bitch here fell out???????? It's kind of long but full of suspense." Two girls bond over their "hoeism" and become fast friends. What's supposed to be a trip from Detroit to Florida turns into a weekend from hell. The Guild camera team included Steadicam Operators Mike McGowan and Osvaldo Silvera, 1st AC Stephane Renard, 2nd AC Billy Wells, 2nd AC (additional) Daniel Guarino, Still Photographer Anna Kooris, and EPK Cinematographer Chris Varner.
U.S. Documentary Competition
Feels Good Man – Guild cinematographer Guy Mossman, who lensed Sundance audience favorite Buck and Bending the Arc, returns to Park City with a documentary feature about Matt Furie, the creator behind the indie comic character Pepe the Frog, and Furie's fight to "bring Pepe back from darkness and navigate America's cultural divide." The film was directed by artist Arthur Jones and produced by Giorgio Angelini, Caryn Capostoto and Arron Wickendon. The project combined animation, interviews, and stylized visual sequences, with Mossman using a Canon C300 Mark II, Zeiss LWZ.2 15-45mm zoom, and a set of Lomo Super Speed Primes, known for their dramatic flower petal bokeh.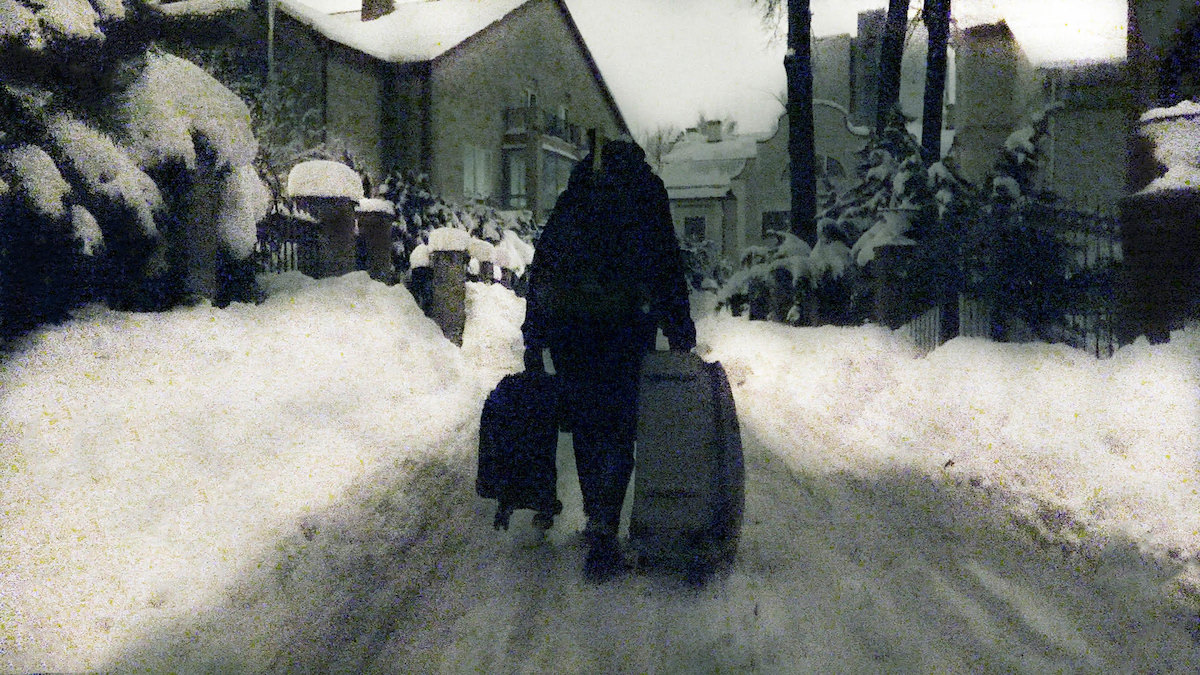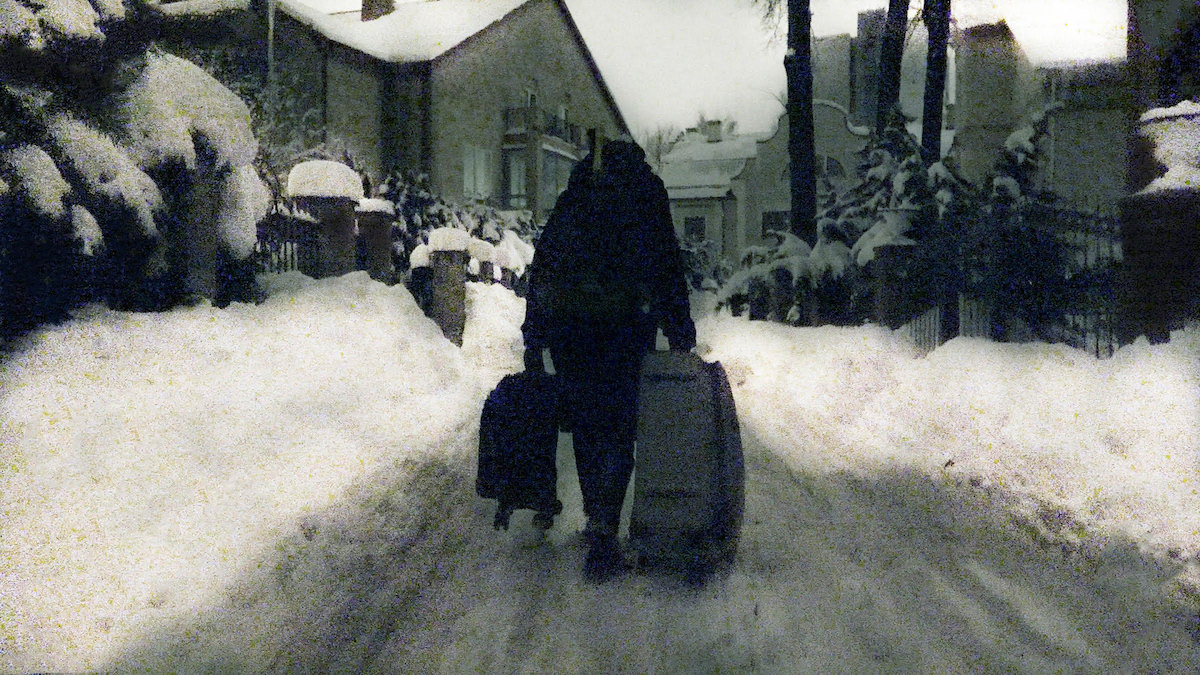 Welcome to Chechnya – This World Premiere is an investigative work that shadows a group of activists striving to confront the ongoing anti-LGBTQ pogrom raging in the closed Russian republic of Chechnya. Unfettered access and a remarkable approach to protecting anonymity expose this under-reported atrocity, and the extraordinary group of people confronting the human rights repression. Guild Director of Photography Ray Huang and his 1st AC Megaera Stephens worked on the film.
NEXT
Omniboat: A Fast Boat Fantasia – Sundance Founder Robert Redford is among the cast for this eclectic story that takes place aboard a speed boat in the waters around Miami Beach. Guild 1st AC Stéphane Renare and Guild 2nd AC Brandon Richards were along for the ride. 
The Mountains Are a Dream That Call to Me  – In writer-director Cedric Cheung-Lau's drama, a Nepali man (Sanjay Lama Dong) is all set for a new life as a laborer in Dubai until an Australian woman (Alice Cummins) causes him to look at his homeland in a new light. Guild cinematographer Jake Magee was behind the camera with Local 600 1st AC Joey Dwyer. The film was made entirely around the Nepalese base camp for Annapurna, in the Himalayas. Magee, who shot on ALEXA MINI with Zeiss and Panavision lenses, says the combined American/Nepali crew "carried everything for the duration of the shoot."
Premieres
Four Good Days – Rodrigo Garcia co-wrote and directed this timely story about the opioid crisis in America. Ten years of opioids have left Molly's (Mila Kunis) life in shambles. A new drug may give her a chance to break free if she can stay clean for four days, with the help of her mother Deb (Glenn Close), a tough, clear-eyed woman. Their love will be tested to the limits. The large Guild camera team included Director of Photography Igor Jadue-Lillo, A-camera 1st AC Joseph Soria, A-camera 2nd AC Jordan Oglesby, B-camera operator Dee Nichols, B-camera 1st AC Ricardo Escalante, B-camera 2nd AC Nolan Berbano, and DIT Ian Spohr.
Ironbark – Director of Photography Sean Bobbitt, BSC shot this U.K.-based project that's based on the true story of a British businessman (Benedict Cumberbatch), who is unwittingly recruited into one of the greatest international conflicts in history. Forming an unlikely partnership with a Soviet officer hoping to prevent a nuclear confrontation, the two men work together to provide the crucial intelligence used to defuse the Cuban Missile Crisis.
Kajillionaire – This World Premiere, written and directed by Sundance alumna Miranda July (Me and You and Everyone We Know), follows a group of low-stakes grifters – Old Dolio and her parents – who invite a chipper young woman into their insular clan, only to have their entire world turned upside down. The strong cast includes Evan Rachel Wood, Gina Rodriguez, Debra Winger, and Richard Jenkins. Director of Photography Sebastian Wintero says he first mt July on a Miu Miu funded short film project in 2014. "It was about all these different characters that randomly connected through a messaging app, designed to let strangers deliver [text] messages to each other, but in person, acted out in real life in front of the recipient," Wintero recalls. "Miranda was directing and starring, and the story had this wonderfully surreal but very touching tone. It was such a short and intense experience; ever since I secretly hoped for [July] to write another film, and crossing my fingers that I could somehow be a part of it." Wintero says Kajilionaire has the same qualities in many ways. "It is a completely unique story about seemingly weird – or at least very unfamiliar characters," he continues, "doing sort of weird things to each other. But, really, it's a very warm and beautiful story about life, about how we relate to and treat each other as human beings. That contrast is also what we are trying to play off, visually, in the movie." The cinematographer was joined by a full Local 600 camera team that included A-camera/Steadicam operator Sergio De Luca, A-camera 1st AC Cheli Clayton Samaras, A-camera 2nd AC's Veronica Bouza and Matthew Blea, B-camera 1st AC Mary Funsten and Harrison Reynolds, B-camera 2nd AC Tyson Banks, Digital Utility Evan Church-Metcalfe, DIT Daniel Applegate, Still Photographer Matt Kennedy and Unit Publicist Spooky Stevens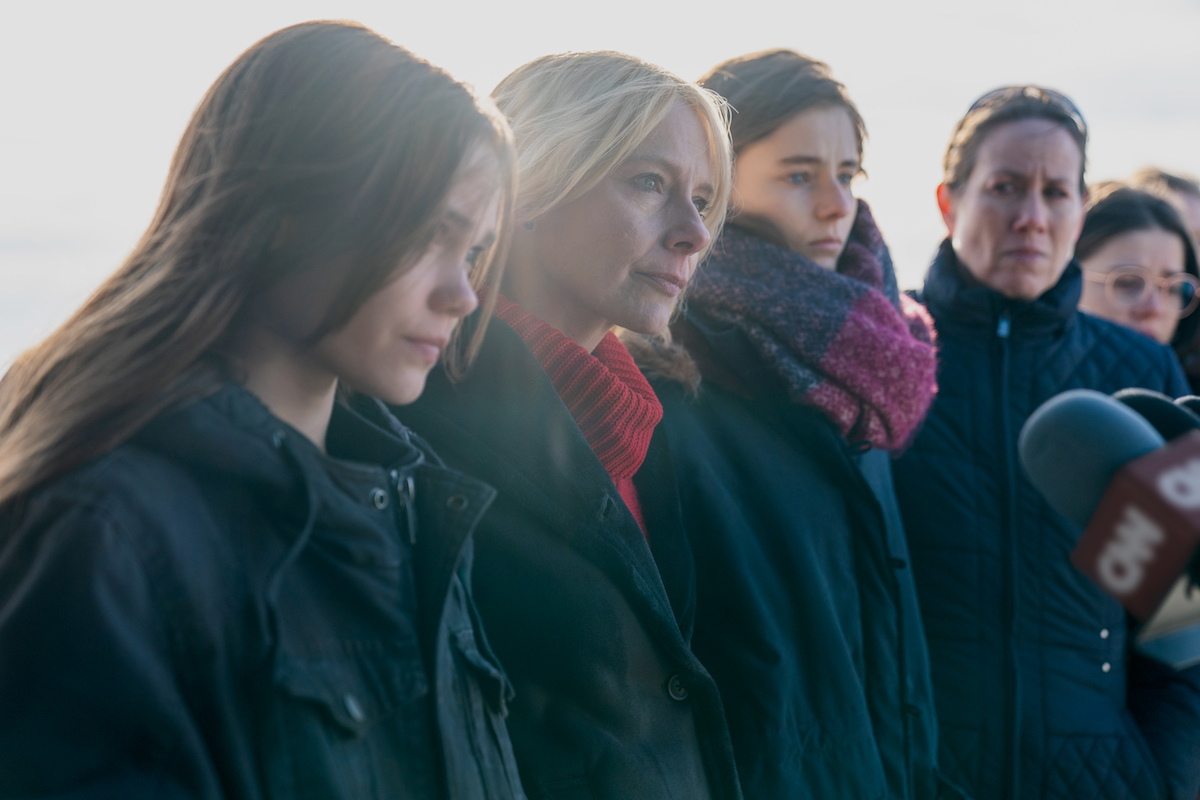 Lost Girls ­– Liz Garbus directed this film, inspired by true events, that centers on a New York woman (Amy Ryan), whose daughter disappears, and police inaction drives her investigation into the gated Long Island community where her daughter was last seen. Committed to finding the truth, her search brings attention to over a dozen murdered sex workers the crusading mother will not let the world forget. Longtime Guild member Igor Martinovic was Director of Photography, supported by a union camera team that included A-camera operator Ari Issler, A-camera 1st AC Zach Rubin, A-camera 2nd AC Greg Pace, B-camera operator Chris Reynolds, B-camera 1st AC Pedro Corcega, B-camera 2nd AC Matty Montalto, Steadicam Operator Denny Kortze, Loaders Jeff Makarauskas, Jess Cele-Nazario, and Babette Johnson, and Still Photographer Jessica Kourkounis.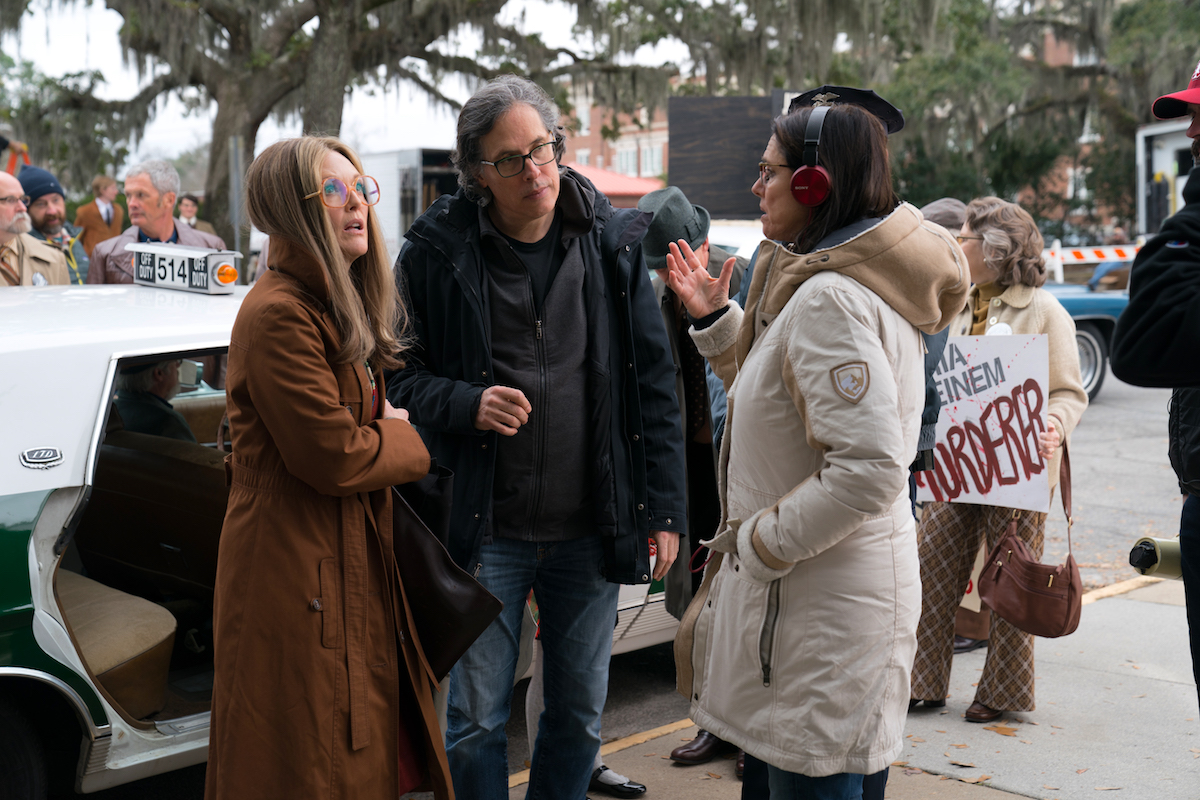 The Glorias – Groundbreaking filmmaker and theater director Julie Taymor co-wrote and directed this narrative film about the famous equal rights crusader, journalist, and activist, Gloria Steinem (Julianne Moore and Alicia Vikander). From her role in the revolutionary women's rights movement to her travels throughout the U.S. and around the world, Steinem has made an everlasting mark on modern history. A nontraditional chronicle of a trailblazing life with a stellar cast that includes Bette Midler, Janelle Monae, and Timothy Hutton. Oscar nominee Rodrigo Prieto, ASC, AMC was behind the camera, supported by an experienced Guild team that included Steadicam/A-camera operator Michael Fuchs, A-camera 1st AC Johnny Sousa, A-camera 2nd AC Matthew Jackson, B-camera operator Stanley Fernandez, B-camera 1stAC Alessandro Di Meo, B-camera 2nd AC Nick Leone, Loader Zach Holloran, DIT Ted Viola, and Still Photographer Daniel McFadden.
The Last Shift – Stanley (Sundance award-winner Richard Jenkins) is an aging fast-food worker, who is prepping for his last graveyard shift after 38 years. When he's asked to train his replacement, Jevon (Shane Paul McGhie), Stanley's weekend takes an unexpected turn. Guild members on the project include Director of Photography Mott Hupfel, 1st AC Cory Solon, 2nd AC Elaisa Vargas, and Loader Michael Gleeson.
The Last Thing He Wanted – Writer/Director Dee Rees, whose last Sundance film, Mudbound, went on to be nominated for multiple Oscars, is back with this indie drama, adapted from the Joan Didion novel of the same name, about a veteran D.C. journalist (Anne Hathaway), who loses the thread of her narrative when a guilt-propelled errand for her father (Willem Dafoe) thrusts her from byline to unwitting subject in the story she's trying to break. Ben Affleck, Willem Dafoe, and Rosie Perez co-star, with a Guild camera team, made up of Sundance veteran Director of Photography Bobby Bukowski, supported by Steadicam/A-camera operator Stewart Cantrell, A-Camera 1st AC Abner Medina, A-Camera 2ndAC Daniel Pernas, B-camera 1st AC: Cesar Marrero, C-Camera 1st AC: Marayda Cabrera, C-Camera 2nd AC Lizz Diaz, DIT Su-Jeng Sang, Loader Alex Ramirez, Digital Utility Andres Vila, Still Photographer Laura Magruder, and Publicist Staci R. Collins Jackson.
Uncle Frank – Director of Photography Khalid Mohtaseb lensed this indie feature for Oscar-winning director/writer Alan Ball (Six Feet Under, American Beauty, True Blood) set in 1973 and centering on 18-year-old Beth (Sophia Lellis) and her uncle Frank (Paul Bettany), who take a road trip from Manhattan to Creekville, South Carolina for the family patriarch's funeral, only to be unexpectedly joined by Frank's lover, Walid (Peter Macdissi). Local 600 crew members on the shoot included A-Camera/Gimbal Operator Joey Dwyer, A-Camera 1st AC/B-camera Operator Robert Lau, A-Camera 2nd AC/B-camera 1st AC Nick Cocuzza DIT Ilya Akiyoshi, Additional B-Camera 1st AC Sean Yaple, Additional 2nd ACs Jill Autry, Eli Wallace-Johansson and Still Photographer Brownie Harris.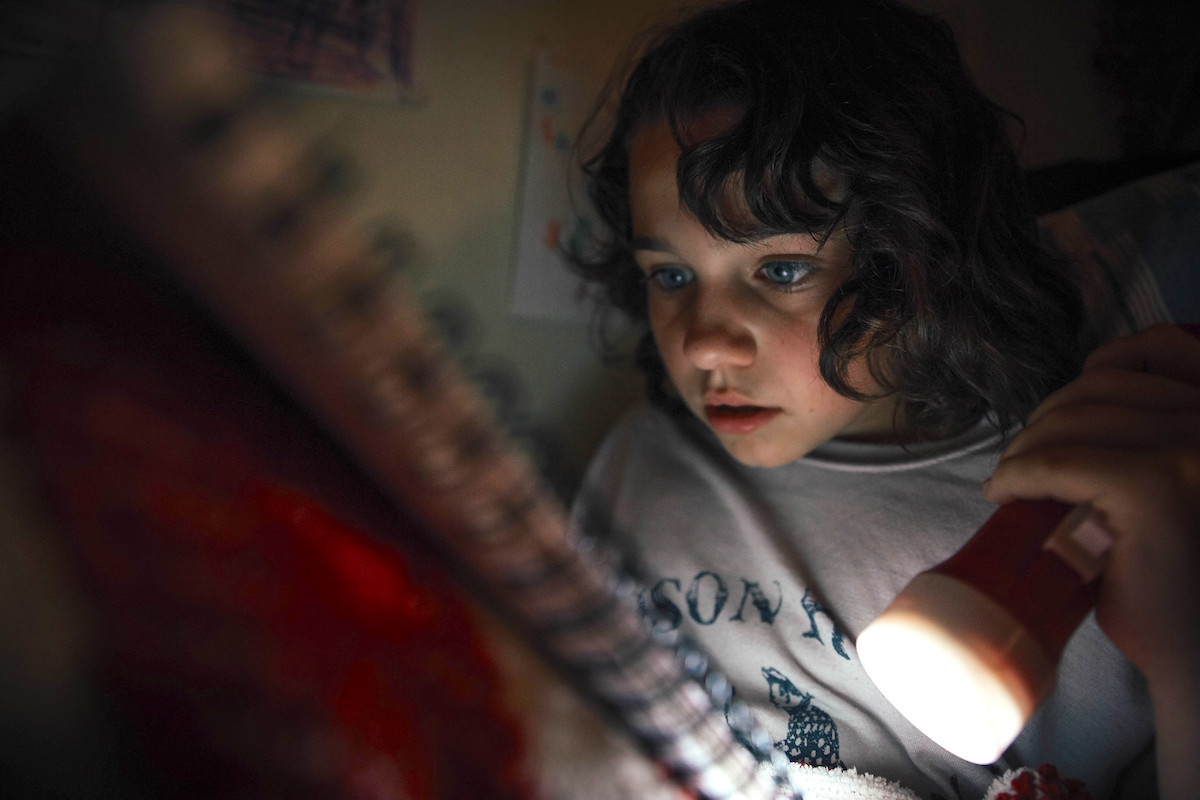 Wendy – Writer/Director Benh Zeitlin, best known for the Sundance runaway hit, Beasts of the Southern Wild (shot by Bradford Young, ASC) is back with this wild reimagining of the classic Peter Pan tale about a young girl who is lost on a mysterious island, where aging and time have come unglued. In course of her adventure, Wendy must fight to save her family, her freedom, and the joyous spirit of youth from the deadly peril of growing up. Additional cinematography in New Orleans was led by Guild members  Zak Mulligan (Director of Photography), Bill McClelland (camera operator), Brad Baker (1stAC ), Victoria Gonzales (2nd AC ) and Bily Salazar (Loader).
Documentary Premieres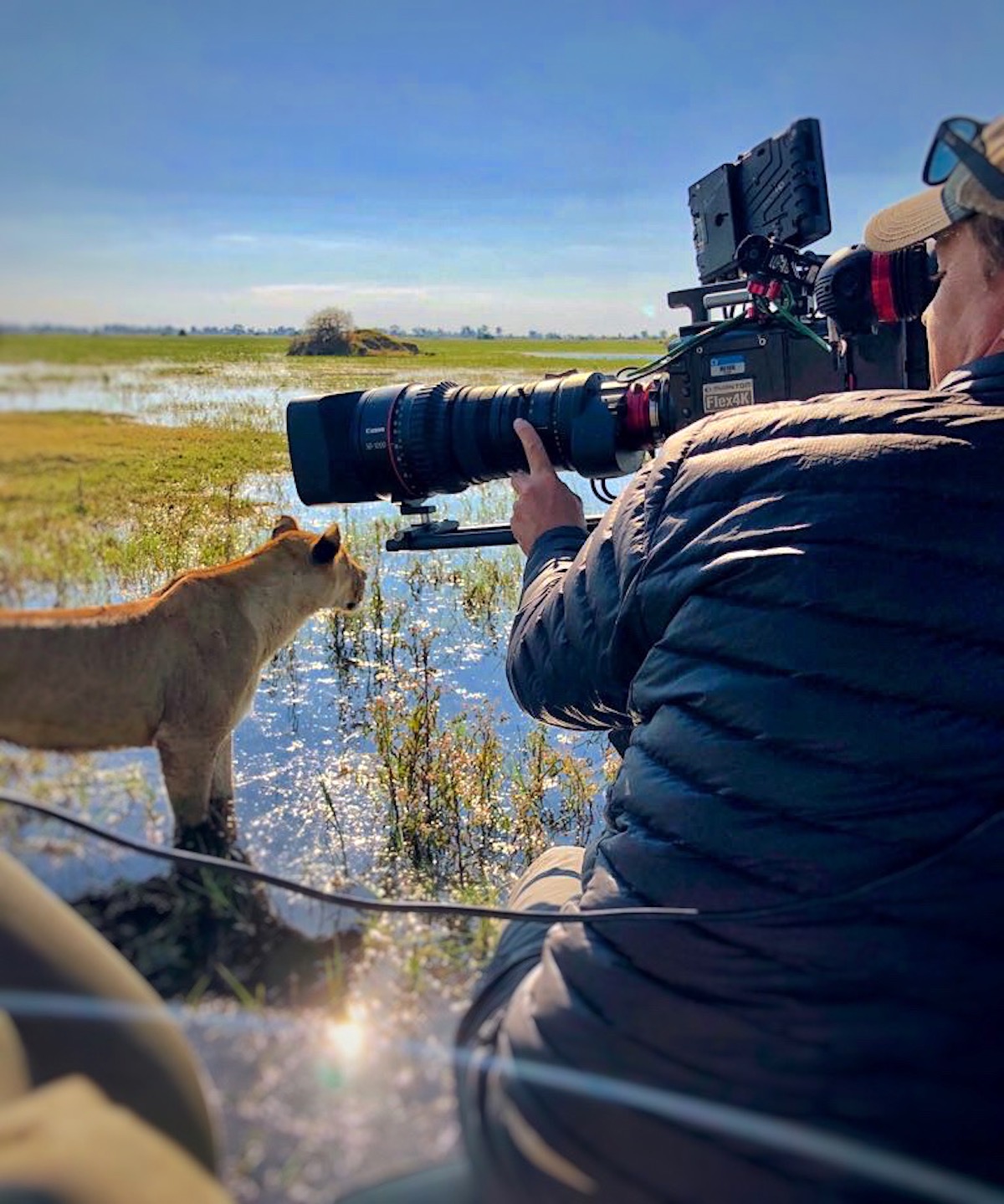 Okavango: River of Dreams (Director's Cut) – Written, directed and co-produced by Dereck Joubert, this film is a cinematic love letter to one of the greatest river systems on the planet. Exploring the layers of paradise, limbo and inferno in a natural history echo of Dante's Divine Comedy, Guild member Luke Cormack, SOC, says the project took five years to complete and was shot in the heart of the Okavango Delta in Botswana. "Every day we'd drive through crocodile and hippo infested water, up to our waists, to find our subjects and tell their unique stories," Cormack recounts. "I primarily shot on the Phantom Flex and had to think about when to push that record button or wait for another nano-second in case something else even better happened. We pulled the doors off our vehicles to mount our cameras to the vehicle and still get low. It also helps with getting stuck as we usually were driving through numerous river crossings in a day. I was definitely thinking about not having doors during this shot!"
Taylor Swift: Miss Americana – Longtime Sundance Director of Photography Shana Hagan was an additional cinematographer for this nonfiction feature (produced by Sundance award winner and Oscar nominee Morgan Neville), which provides a raw and emotionally revealing look at one of the most iconic artists of our time. Shot during a transformational period in Swift's life, as she learns to embrace her role not only as a songwriter and performer but as a woman harnessing the full power of her voice.
The Go-Go's – Cinematographer Sam Painter, whose HBO documentary Jane Fonda, In Five Acts, premiered at Sundance in 2018, and was also behind the camera for another Sundance premiere, the HBO documentary Going Clear: Scientology, The Prison of Belief, says he had previously worked with The Go-Go's director Alison Ellwood on other documentaries, the most notable being Showtime's The History of the Eagles. "I saw The Go-Go's in concert back in the '80s and have always been a fan," Painter shares, "so it was great fun for me to be involved in this documentary. We did very candid interviews with each of the band members, separately and together, as well as other people involved in the band and music industry. The Go-Go's used to be the house band at the Whisky a Go Go, so one of the highlights of shooting this doc was bringing the band back together at the Whisky to play some of their hit songs, as well as rehearse some new ones." Painter used two Sony F5 cameras with Schneider Xenon Primes and Canon and Fuji cine zooms. "Most lighting was done with Arri SkyPanels or Light Panel Astra Lights," he adds. "The director wanted a second camera on a slider, so I tested, and then bought an Emotino ST4 motion control, which worked very nicely." Guild members on the shoot included camera operator Brad Serreno and 1st AC Jeremy Evans.
Midnight
Bad Hair – Sundance alumnus Topher Osborn lensed this horror satire from writer/director Justin Simien (Dear White People – feature and TV series) set in 1989 about an ambitious young woman (Lena Waithe) who gets a weave to succeed in the image-obsessed world of music television. However, her flourishing career may come at a great cost when she realizes her new hair has a mind of its own. Osborn says it was often difficult to judge the special effects for the constantly moving hair on their supplied monitors, "because the video taps for our Super 16mm cameras were a bit old," he shares. "Although Keslow provided us with a great ARRI 416 package and support, it was always a given that judging the nuance of the hair effects was going to be a challenge. We often would just use our eyes and if it looked a little phony, we'd decide whether or not the grain and texture of the film stock were going to be enough to make it work, or if we needed to tweak things or take a different approach altogether." Another challenge was shooting entirely on location (while doing in-camera effects). "When lighting a night interior scene in a small studio apartment," Osborn continues, "it was inevitable we had to do much of the lighting from the floor. Once we had the set lit, accommodating the space needed for a crew of four special effects technicians was not easy. Especially considering they very often had to be directly outside the edge of the frame. Working in tight quarters always creates a camaraderie, but this set brought that to the next level. It was July, it was hot, it was claustrophobic, and in the end, we made it work and came out with a product we are all very proud of." The Local 600 camera team supporting Osborn included A-Camera Operator Mikael Levin, A-camera 1st AC Richard Hawkinson, A-camera 2nd AC Melanie Kobran, B-camera Operator/Steadicam Orlando Duguay, B-camera 1stAC Christine Hodinh, B-camera 2nd AC Briand Freeman, Loader Rachel Wiederhoeft, and Still Photographer Tobin Yelland.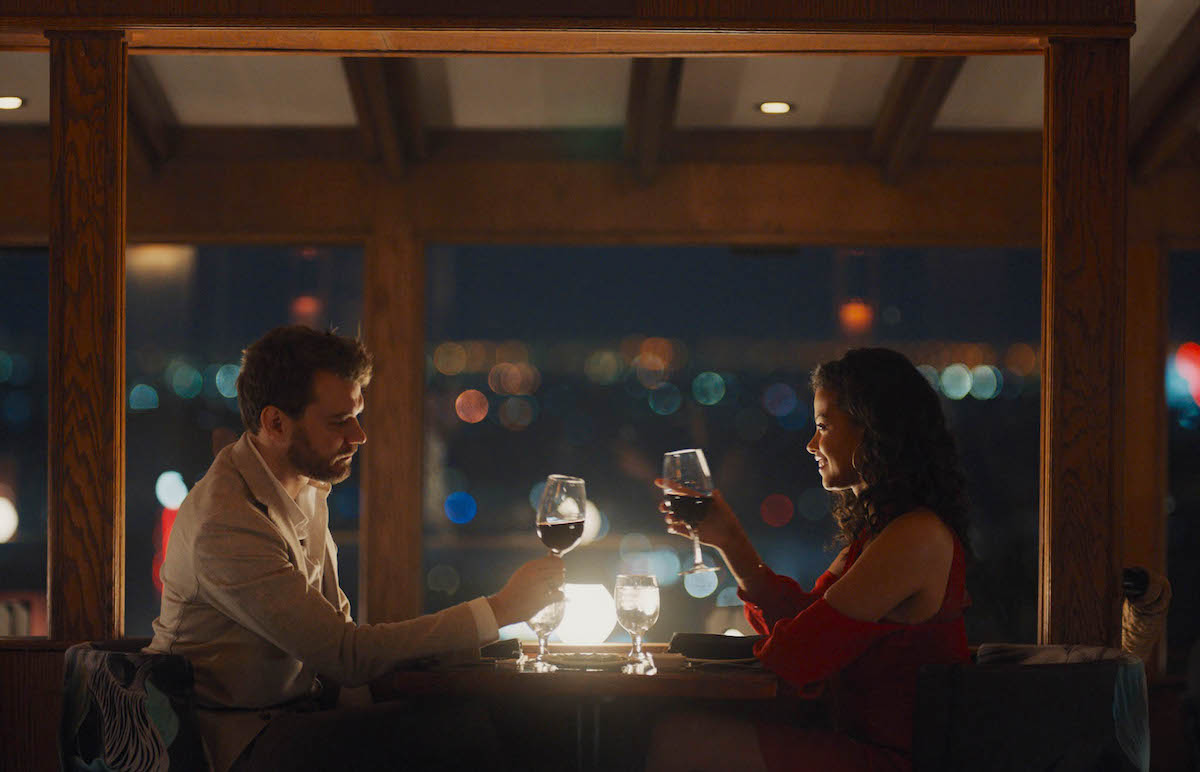 Run Sweetheart Run – Shana Feste (Boundaries, Country Strong) wrote and directed this indie suspense/social horror film about a hard-working mother, Cheri (Ella Balinska), whose promising evening on a blind date turns violent, as she is chased through Los Angeles, with her date (Pilou Asbaek) in hot pursuit. Guild Director of Photography Bartosz Nalazek says the main challenge was the number of locations to cover on a tight schedule. "Maintaining a consistent lighting style over 40 locations at night," he recounts, "required a small footprint and much preparation. However, the common goal of staying close to the main character's emotions and perspective throughout gave us freedom in creative interpretation." Nalazek says they wanted the choice of colors and lighting to be driven by a subjective perspective. "Each part of L.A. has a different tone," he continues. "The Hollywood Hills are glowing with amber, downtown has a harsh cyan-green look, South L.A. brings more of the older sodium-vapor and yellow lights, while Koreatown has a lot of reds, each of which expresses a different feeling. Shana also wanted this visual concept of the color green symbolizing male toxicity, along with sharp geometric shapes, and red to symbolize femininity, together with circles and round curves." To provide freedom for the camera in many different situations, Nalazek used DJI's Ronin system to quickly switch from handheld, crane, and dolly. "We used ARRI Alexa Mini's with the set of Leica Summilux lenses," he notes. "I used a film emulation LUT from Technicolor that I regularly work with – but as the movie was mostly shot at night with natural lighting, we tweaked the gain to be a little easier on the shadows. Colorist Travis Flynn helped me fine-tune the LUT to handle all the spectrum of colors we used in lighting." Joining Nalazek on the shoot were Guild members Connor O'Brien (A-camera operator/MoVi), Matt LaRoche (A-camera 1st AC), Renni Pollock (A-camera 2nd AC), Ric Griffith, SOC (B-camera operator), Erin Naifeh (B-camera 1st AC), Elver Hernandez (B-camera 2nd AC), Zack Marchinsky (DIT), Matt Ewing (Digital Utility) and Monica Marin Cabanes (Still Photographer).
Scare Me – Brendan Banks says that upon the first read of Scare Me, he couldn't have been more excited to help bring writer/director Josh Ruben's vision to life.  "Josh is such a strong storyteller and deadly funny, and this script combined both elements," Banks offers. "The other thing I noted when reading is just how much of the script takes place at night, during a power outage, in one room. I knew I would need to be intentional and careful about lighting, camera placement, and blocking. Luckily, the script is dynamic and allows for lots of micro-genre moments." Banks adds that by employing a custom-built rig that fit perfectly into the location's hearth, he was able to add a sense of reality and beauty from the firelight. "This allowed us to ramp up these genre-moments as the stories get more and more real to our characters," Banks continues. "As the stories begin to move into the space, light beyond the base-level fire begins to creep in and add new elements of depth to the story.  Hopefully, we came away with something intriguing and dynamic, even if much of the film is in just one space."
The Night House – Guild Director of Photography Elisha Christian shot this film about a widow, who begins to uncover her recently deceased husband's disturbing secrets. Joining Christian on the Local 600 camera team were A-camera operator James Goldman, A-camera 1st AC Nito Serna, A-camera 2nd AC: Jade Brennan, B-camera operator Roger Chingirian, B-camera 1st ACs Nick Bianchi and Justin Marzella, B-camera 2nd ACs Dave Maslyn and Trevor Boyd and Still Photographers Phil Caruso and Brett Roedel.
Spotlight
The Climb – Zach Kuperstein was Director of Photography on this indie narrative, which premiered at the 2019 Cannes Film Festival in Un Certain Regard, where it won the Jury Coup de Couer Prize, as well as the Jury Prize at the 2019 Deauville Film Festival. Kuperstein says the film was shot entirely as a series of oners. "For each vignette, the challenge was to capture it without cutting, but to make the audience feel as though the camera can go where it needs to go to tell the story," he explains, "getting shots that we would have gotten if we could cut." Guild members on the project included Steadicam Operator Brendan Poutier and 2nd AC Matt Richards. The Climb centers on two best friends, Kyle (Kyle Marvin) and Mike (co-writer/director Michael Angelo Covino), who share a close bond, until Mike sleeps with Kyle's fiancée. It follows the tumultuous but enduring relationship between the two men across many years of laughter, heartbreak and rage. It is also the story of real-life best friends who turn their profound connection into a rich, humane and frequently uproarious film about the boundaries (or lack thereof) in all close friendships. 
U.S. Narrative Short Films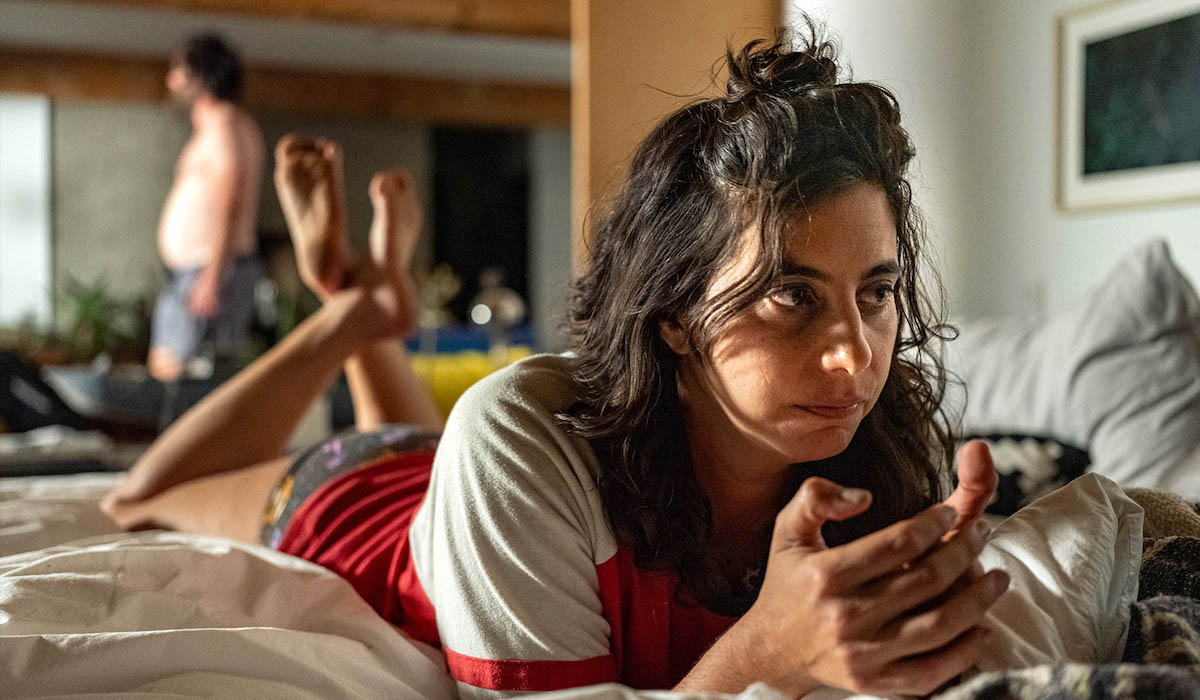 He's the One – Jessie Kahnweiler wrote, directed and stars in this short film about a girl who meets and falls head-over-heels for a guy, only to have a shocking discovery force her to question everything. Described by the Sundance Press site, as a "dark comedy about falling in love with the one person you're supposed to hate," Guild members on the project included Director of Photography Richard Card, Steadicam Operator Ryan Wood, and 1st AC Candace Higgins. 
Place – From director/screenwriter Jason Gudasz comes this tale about Lauren (Emily Green), who, wanting a fresh start, moves into a house with her daughter and new boyfriend, only to find the "spirits of the house" have plans to turn them all against each other in bizarre ways. Local 600 Director of Photography Ryan Thomas was behind the camera supported by Guild 1st AC Chris Brooks.
T – Guild 1st AC Stephane Renard worked on this project from writer/director Keisha Rae Witherspoon, about a film crew following three grieving participants of Miami's annual T Ball, where people assemble to model R.I.P. t-shirts and innovative costumes designed in honor of their dead.
Documentary Shorts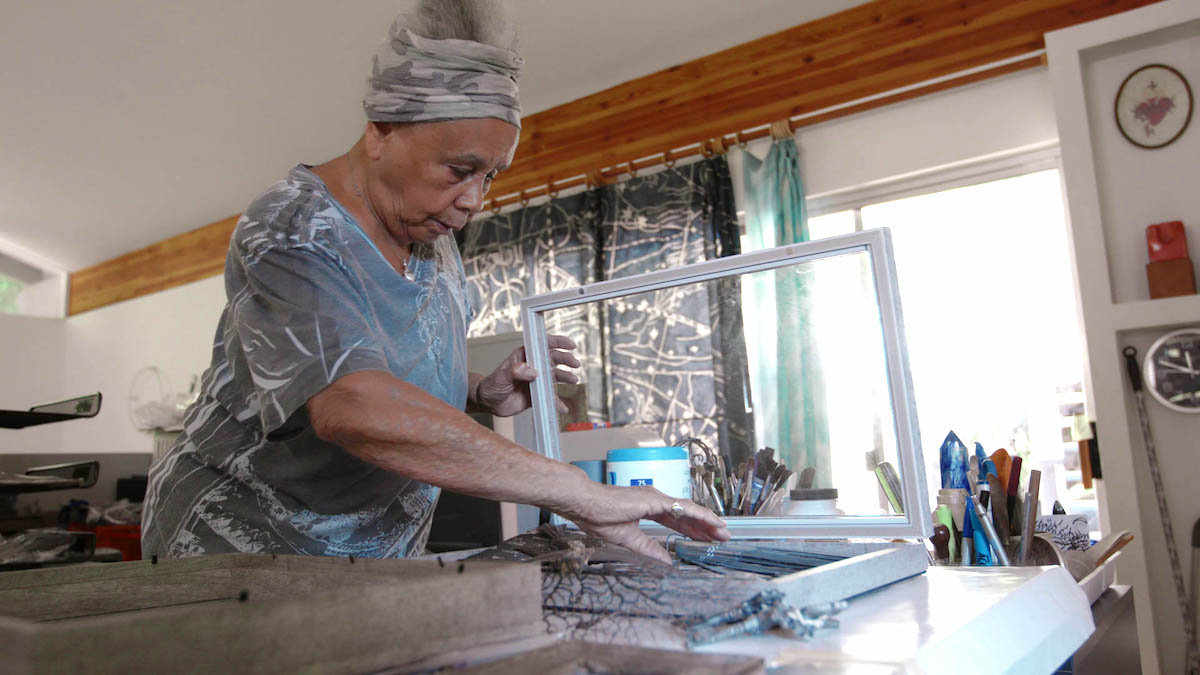 Betye Saar: Taking Care of Business – Sundance veteran and longtime ICG documentary cinematographer Shana Hagan (ICG Magazine, Real World Problems, April 2018) who is also a member of The Academy of Motion Picture Arts & Sciences and The Academy of Television Arts & Sciences, shot this nonfiction short for New York-based filmmaker Christine Turner (Homecomings) about legendary fine artist Betye Saar, who at age 93 is still going strong.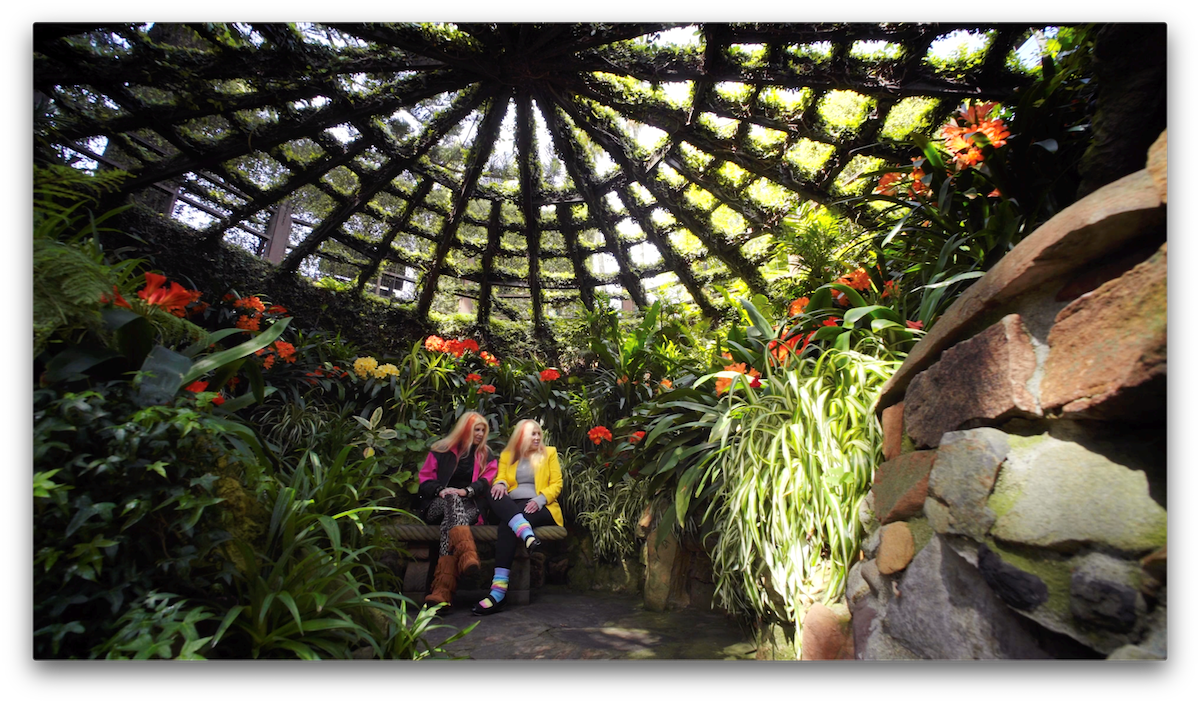 The Starr Sisters – Directed by Beth Einhorn and Bridey Elliott, and shot by Sundance veteran Markus Mentzer, this charming nonfiction project focuses on sisters Patte and Randa Starr, who, after overcoming a dark past, are now inseparable. In their 70s, they do exactly as they please and their candy drawer is always fully stocked. Mentzer who shot the 2018 Sundance feature, Clara's Ghost, for Elliott, was asked by Elliott to shoot a documentary about two sisters who had overcome an abused childhood to find a life that complimented who they actually are. "The idea was to show off their brighter, more colorful existence," Mentzer relates. "I remember walking into their apartment in Santa Monica for the first time, and seeing yellow walls, saturated furniture, eclectic artwork, and thinking "we should double down on this.'" Mentzer says he tried to move quickly and keep everything as small as possible. "My camera package was my trusty Sony a7Sii DSLR-style mirrorless camera with vintage Nikkor primes and a Vivitar Series 1 29-90 millimeter zoom. I borrowed a Sony EX1 from Brandon Trost, who has had several films at Sundance [see ICG Magazine, Snow Job, April 2019]. My lighting package was a collection of Quasars, two homemade circular LitePanel eyelights, and a 1-by1 Litepanel." Mentzer adds that he wanted to find some interesting wide frames on the a7S, and then use the long end of the EX1 for swinging singles from far away. "Barry Ackroyd, BSC, for whom I have worked on four features, has always emphasized the importance of being unobtrusive to capture the best performances," Mentzer continues. "The EX1 let me stay out of the way, while the a7S remained small, and locked off on interesting wides. Bridey liked the saturated look based on a saturated LUT I used on the transcodes and used it to inform the animations on the project. I love working on documentaries as they force you to become brutally efficient. You have to come to work inspired, and you end up leaving completely exhausted knowing all that effort was in the service of a great story."
Kids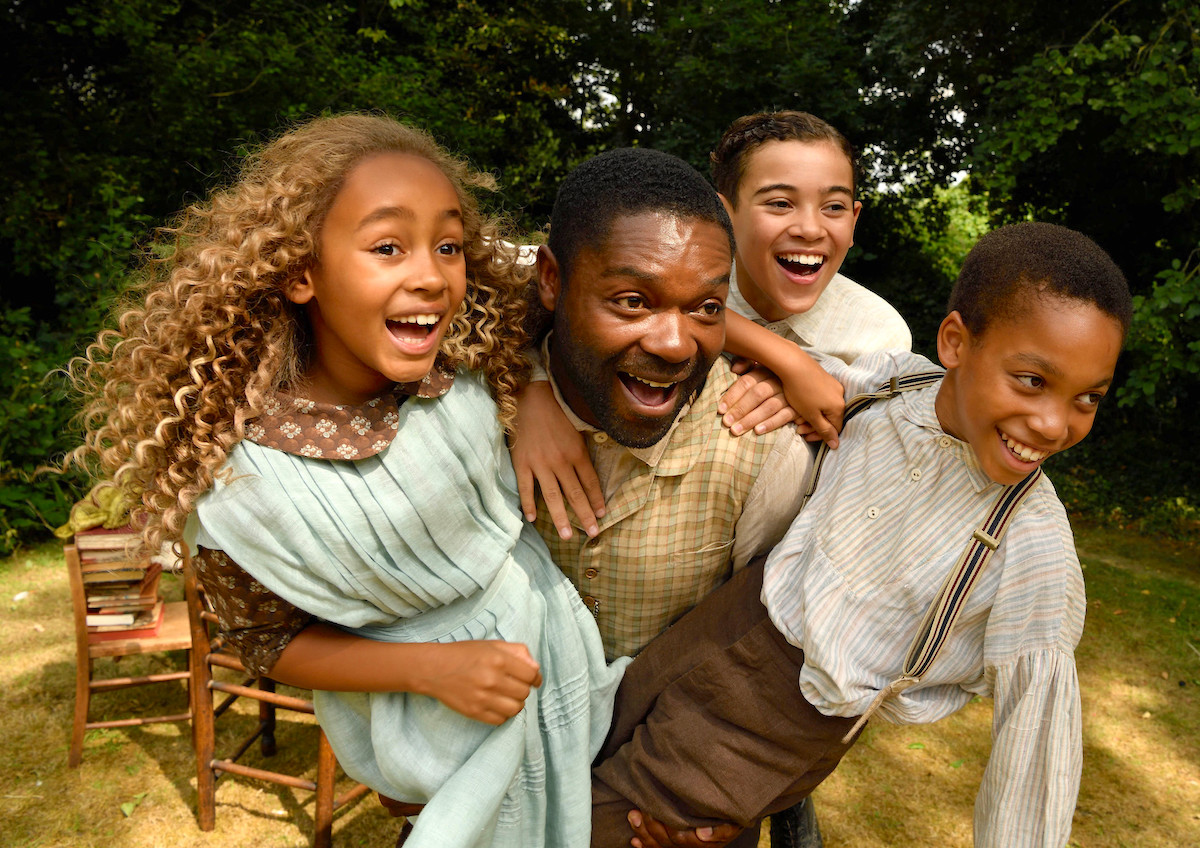 Come Away – Guild Director of Photography Jules O'Loughlin, ASC shot this story for director Brenda Chapman as an imaginative prequel to two classic children's tales. Before Alice found Wonderland, and Peter became Pan, they were brother and sister. When their brother dies in an accident, they seek to save their parents from downward spirals until finally they're forced to choose between home and imagination, setting the stage for their iconic journeys into Wonderland and Neverland. Local 600 members joining O'Loughlin on the California portion (of the mainly U.K.-based shoot) were Additional camera operator Eric Zimmerman, A-camera 1st AC Marcos O. Lopez, A-camera 2nd AC Trevor Beeler, B-camera operator/Steadicam Bela Trutz, SOC, B-camera 1st AC Gunnar Mortensen, B-camera 2nd AC Jessyca Caracci, Loader Kyle Kimbriel, DIT Adrian Jebef and Still Photographer Hilary Gayle. 
Special Events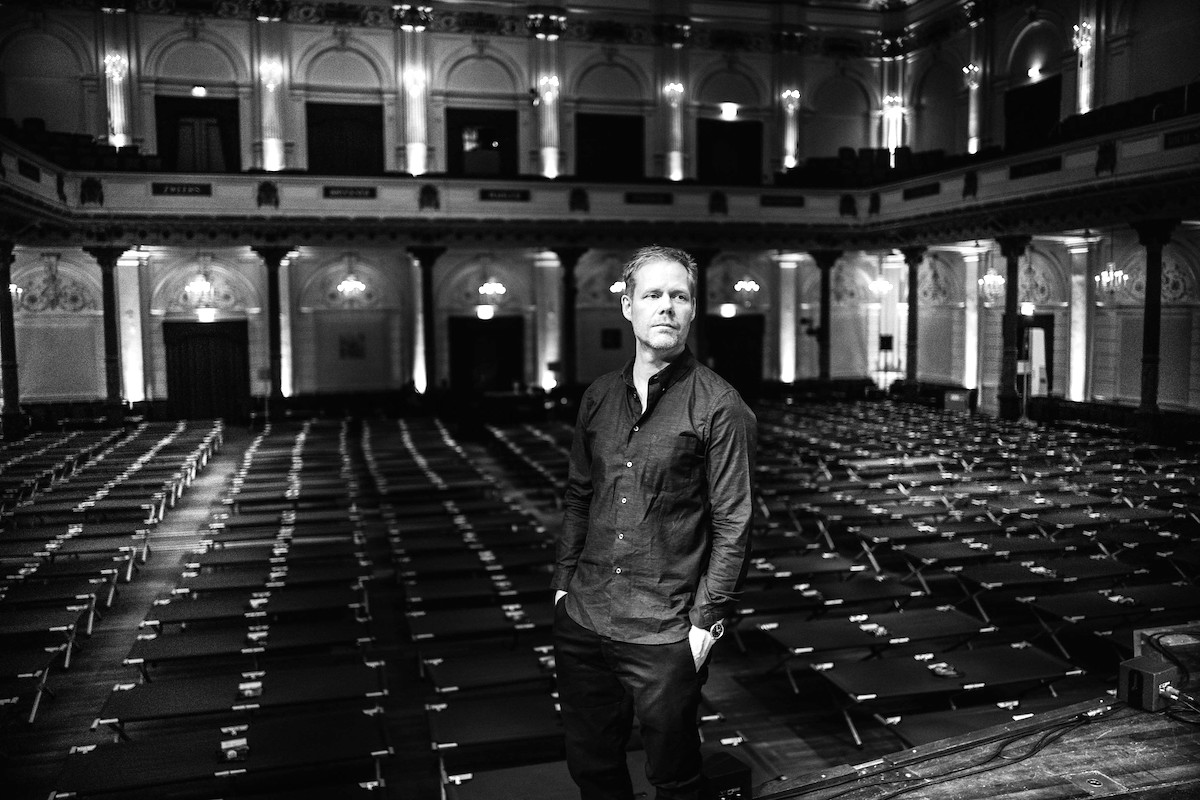 Max Richter's Sleep – Writer/Director Natalie Johns brings this story about the famous composer as he navigates an ambitious performance of his acclaimed eight-hour opus. Centering around an open-air concert in Los Angeles, alongside footage from Berlin, Sydney, and Paris, we are plunged deep into the life and process of both the artist and his creative partner Yulia Mahr. Shot by Guild Director of Photography Elisha Christian, with Local 600 Operators John Paul Meyer and Mark Schwartzbard (see ICG Magazine, Picture This, February/March 2020), 1st AC Nito Serna, and 2nd ACs Mike McGee and William Dicenso.
Related Events at Sundance 2020 Film Festival
Empowering Every Voice in Film and the World Panel
When: January 24, 3pm-4pm
Where: Kimball Art Center; 1401 Kearns Blvd, Park City, UT 84060
About: Now is the time to empower and inspire everyone to share their story. It's only when we experience new perspectives through the lens of someone else's experience that true change happens. But we know that everyone's story is not being told. When the lens is skewed, it offers a tilted view of society and unrepresented groups cannot envision themselves as the creative voices driving the most watched stories. And that is a problem for the industry and the world. Join this lively discussion with stand-out filmmakers on how to bring your own unique voice to life.
The Art of Editing Reception
When: January 28, 1pm-3 pm
Where: The Shop; 1167 Woodside Ave, Park City, UT 84060
About: Adobe and Sundance celebrate the amazing work of the editing community and dedication to their craft at the annual Sundance Film Festival Art of Editing Reception, sponsored by Adobe. Open by invitation only.
Sundance Ignite Private Screening, presented by Adobe
When: January 29, 8:30pm-10pm
Where: Holiday Village Cinemas; 1776 Park Ave, Park City, UT 84060
About: Adobe is again partnering with Sundance Ignite, a program that identifies and supports new voices and talent from the next generation of filmmakers (ages 18-25). Adobe will present a private screening Some Kind of Heaven, from this year's NEXT category and directed by Ignite Fellow Lance Oppenheim. Open by invitation only.
Canon will host Sundance Film Festival attendees for hands-on, interactive displays of Canon equipment, panel discussions and refreshments at the Canon Creative Studio 
592 Main St; Open Friday, Jan. 24th – Monday, Jan. 27th, 11 am-7 pm).
Inside the studio, guests can touch-and-try the latest Canon gear, including the EOS C500 Mark II cinema camera and Sumire Prime Lenses, which are now available and shipping. Also on hand will be Canon's complete line up of Cinema Cameras, as well as Canon's CINE-SERVO, COMPACT-SERVO, EF and RF lenses.