The 60th Annual Publicists Awards "gives back" love and recognition to the union members who have given everything to their craft.
by Pauline Rogers / Photos by Trae Patton and Evans Vestal Ward
---
Inspiring speeches, an emphasis on giving back, a passion for the craft, and a recognition of the power of women were the themes of the 60th Annual Publicists Awards Luncheon, held the Friday before Oscar weekend at The Beverly Hilton Hotel in Beverly Hills, CA. Co-Chairs Sheryl Main and Tim Menke kicked off the high-energy, in-person event by dedicating the program and online directory to the memory of the late, great Howard Bragman – a mentor and advocate for Hollywood publicists throughout his long career. A powerful moment also recognized the late Henri Bollinger, former chair of the event he helped build from the ground up six decades ago.
Main and Menke's remarks included recognition of key members from the IATSE (International Alliance of Theatrical Stage Employees) and Local 600 as well as sponsors, including Amazon Studios, CBS Studios, Deadline, Digital Fusion, The Hollywood Reporter, Junket Productions, Netflix, Paramount Pictures, SAG-AFTRA, Shot, Sony Pictures, Universal and Variety, the Walt Disney Studios and Walt Disney Television, Warner Bros. Pictures/Warner Television and The Wrap. The co-chairs also recognized members of various industry unions for their belief in solidarity and consolidating power through collaboration – and, of course, the committee that makes each event happen.
The emphasis on strength in numbers also highlighted the 36 new publicity members of Local 600, who were introduced to the audience. "We're a strong, progressive, and inclusive guild, where your voice matters," Main announced. "We look forward to your contribution to our profession and participation in this Guild, and we wish you great success," added Menke.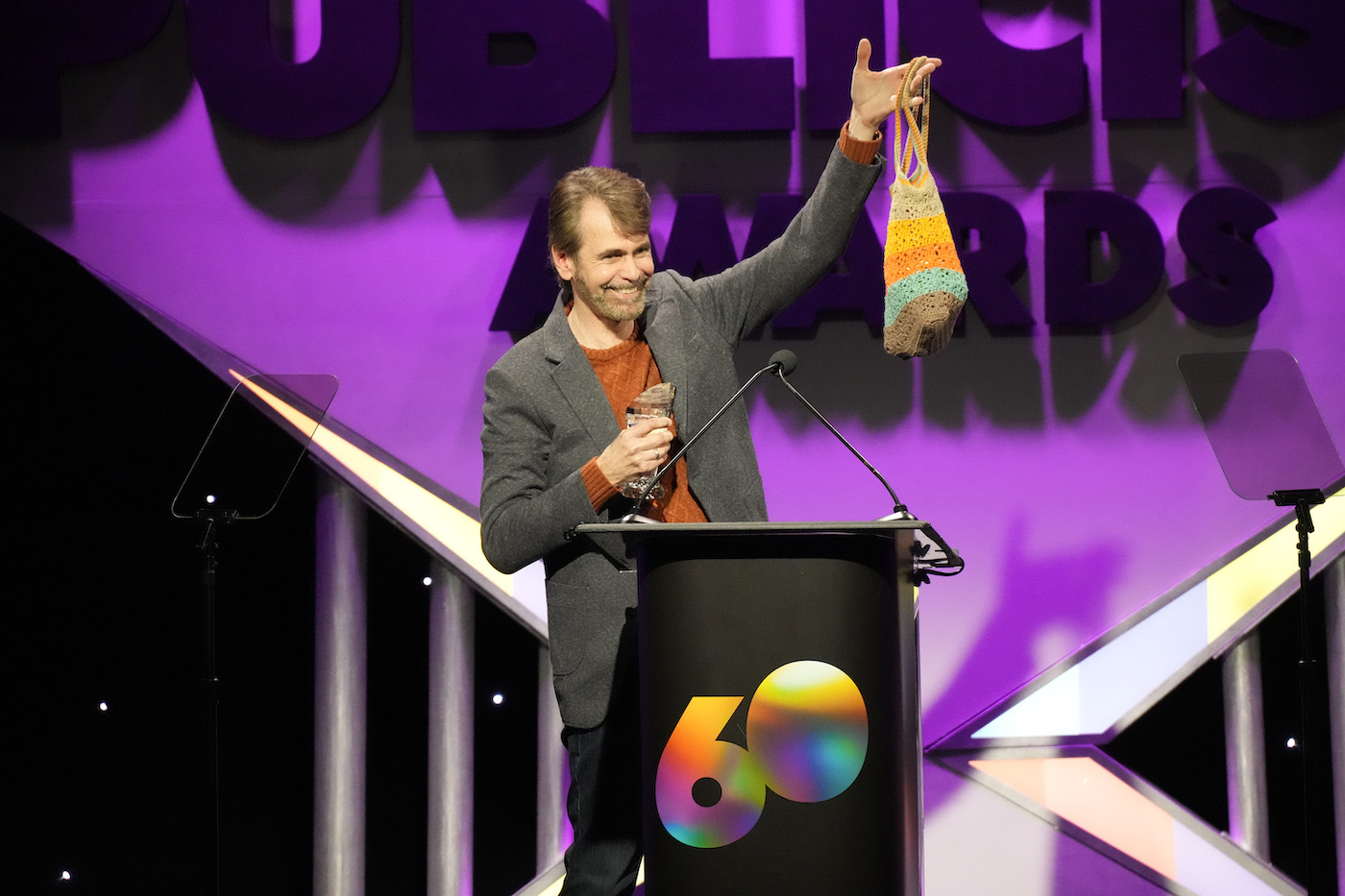 Honors this year for journalists (without whom ICG publicists would have a tough time reaching audiences) included industry partners who journeyed from London, New York, and even Texas to participate in the event. And who could have an event focusing on publicity without honoring Local 600 unit stills photographers who provide the images publicists and journalists rely on to drive their marketing? There was also recognition given to the publicity teams behind those campaigns that drew mega audiences in the past year.
Local 600 National President Baird Steptoe Sr. followed Main and Menke, saying, "I am honored to be here with you today, celebrating the work of the publicists and unit still photographers. I remember when the publicists merged with Local 600, and Henri Bollinger, Spooky Stevens, Katherine Orloff and Sheryl Main were our representatives. They [shone] a bright light on the great work that the publicists do, not only for Local 600 before the merger – and that light has gotten to be brighter and brighter every year.
"I'm a camera technician," Steptoe Sr. continued, "and I was unaware of the incredible responsibility that publicists have. You take the visions of the writer, the director, the producer, and the film crew, and in a one- or two-minute spot tell the project's story. My eyes were really opened to the work that all of you [do] when I was invited to sit in on the presentation for the Maxwell Weinberg Motion Picture Awards to see the process, and the vision of the writers, the directors, and the producers…to see that vision go from paper to the screen, large and small, was amazing. The creativity and dedication that all of you have is amazing. You're the most talented, creative publicists in the world, and I'm proud that you're a part of the International Cinematographers Union."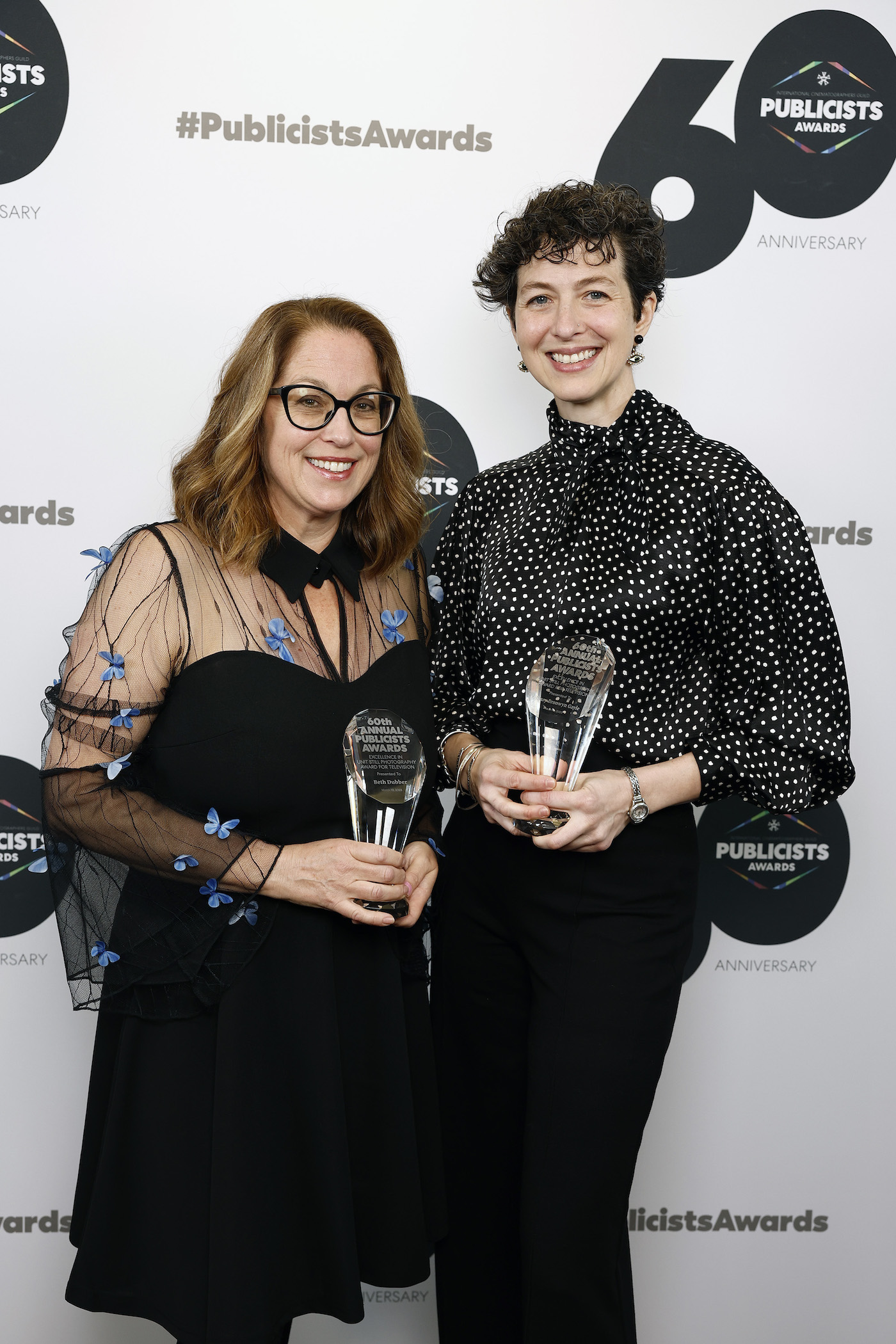 The Bob Yeager Award for Community Service was established to honor a publicist who has made an impact in work outside the craft that resulted in the betterment of society, be it through civic, charitable or volunteer work. Presenters this year were Blindspotting's Jaylen Barron and 2002 Bob Yeager Award recipient Chrissy Quesada. The winner, James Ferrera, was honored for creating Pookie Helps, an association dedicated to rescuing kittens and cats.
"Pookie is the cat that I rescued when I was on location in Transylvania, Romania, working on a movie called The Nun," a humbled Ferrera explained. "He was a little cat hanging around our base camp, and I fell in love with him and brought him home." Ferrera explained that he made the bags, at first, just to keep busy, but when his mother suggested he sell them to make money – an idea grew. "I realized I could sell them, and I could just donate a hundred percent to this animal rescue organization."
Today, 100 percent of the money raised by Pookie Helps goes to rescue organizations in Los Angeles, Joshua Tree, Pasadena, Long Beach, and Compton, with funds even given to rescues in Romania and animal shelters in Ukraine. Recently, Ferrera began launching an eBay store for Pookie Helps, with the money funneled directly to rescue organizations.
Following Ferrera's emotional thanks, a video began to roll as a voice-over intoned: "It started with a cash box, and for the next hundred years, the Motion Picture and Television Fund [MPTF] has been there for the people who make Hollywood possible." This tribute to one of the industry's longest-standing, most impactful organizations included a wide range of comments from Hollywood professionals, ending with an introduction by MPTF President and CEO Bob Beitcher, who took the audience through Mary Pickford's founding of the organization in 1921 – initiating the simple concept that "we take care of our own."
"As the pandemic showed," Beitcher added, "the safety net isn't just about the home in Woodland Hills or financial, charitable assistance. In 2020 MPTF social workers and other staff made over 30,000 phone calls to industry members to check in on their mental health and conditions in the home. We take care of our own. That is what we, all of us in this room, are about. My plea to you today, the amplifiers in this industry, is to help MPTF in whatever way you can, as advocates for your clients and the community, and as volunteers."
The MPTF tribute segued into the presentation for Excellence in Unit Stills Photography Award, with Amber Midthunder, star of the 20th Century Fox/Hulu movie Pray, and Photo Publicist Sarah Lane Davidson as presenters. The pair announced a tie for the television award  – Beth Dubber (Shrinking, The Drop Out, Country Comfort) and Hilary Bronwyn Gayle (The Morning Show, The L Word: Generation Q, Gaslit and Dog). Both were there to accept the awards, thank their mentors and families, and share their passion for the images that drove them to where they are today. The Excellence in Unit Still Photography in Motion Pictures Award was next, going to Eli Joshua Adé (Black Panther: Wakanda Forever and Creed III), who was working in his home base of Atlanta, GA, and unable to attend in person.
Perhaps the loudest cheers of the afternoon came cascading down when Lisa Ann Walter (Melissa Schemmenti in Abbott Elementary) took the stage to present the Show Person of the Year Award. "I have had the honor of working on the best sitcom on television for the last two years," Walter began. "And now I get to present an honor to the woman responsible for it all." Walter said that every time someone corners her to compliment her work on Abbott Elementary, she takes the praise and adds, "I'll tell Quinta."
"She's the originator, the constructor, and the voice of our show," Walter continued. "Oh, and by the way, also, the star. She is entirely lovable, funny, a little dorky, and a genius, and that pretty much sums it up. And that's just the part that you all see. The part you don't get to see is all of the other things she brings, the magic that creates every piece of Abbott Elementary. She manages set design, wardrobe and more. It's just exhausting.
"More pertinent to this room is that some of her choices in the promotional initiatives she helped spearhead were sensational. The connecting of our brand of Abbott Elementary with DonorsChoose and with Scholastic, and going around to schools in underfunded areas and delivering to these teachers resources that they need all around America by using our production budget – it's stunningly simple, but it is simultaneously a revolutionary concept. I bet we see a few other productions doing that. And I'm talking to all of you – pitch it. It's a good idea." After a wonderful video montage from Abbott Elementary, Walter asked Quinta Brunson to come to the stage, calling her "our generation's Mary Tyler Moore."
 "I didn't know that this awards show existed, let alone this award," Brunson admitted with a smile. "But I'm happy that it does exist because I think that you all do a job that is incredible, crucial and underappreciated. And, if it's one thing I love, it's appreciating the underappreciated. I'd like to thank Local 600 for this incredible honor. Abbott Elementary is so important to me as the daughter of a teacher and a friend of public school educators."
Brunson's powerful words extended to Channing Dungey, Vicki Dummer, and Rachel Filippelli as well as Brett Paul, David Zaslav, and the team at Warner, plus the team at ABC, 20th Century Television, with an emphasis on EP/Director Randall Einhorn and a shout-out to the camera crew and everyone else on the series, emphasizing the work of the showrunner and the ability to keep everything running smoothly. "It's also important to have publicists who understand the vision, [whom] I can communicate with," Brunson continued. "What was really important to me with Abbott Elementary was making sure that the messaging was consistent, and that meant the messaging about the show had to be special as well.
"We're dealing with somewhat sensitive subject matter, but I want people to have a good time. I never want to put my cast in the line of fire. I want to protect everybody. We have children to protect. We have teachers to protect."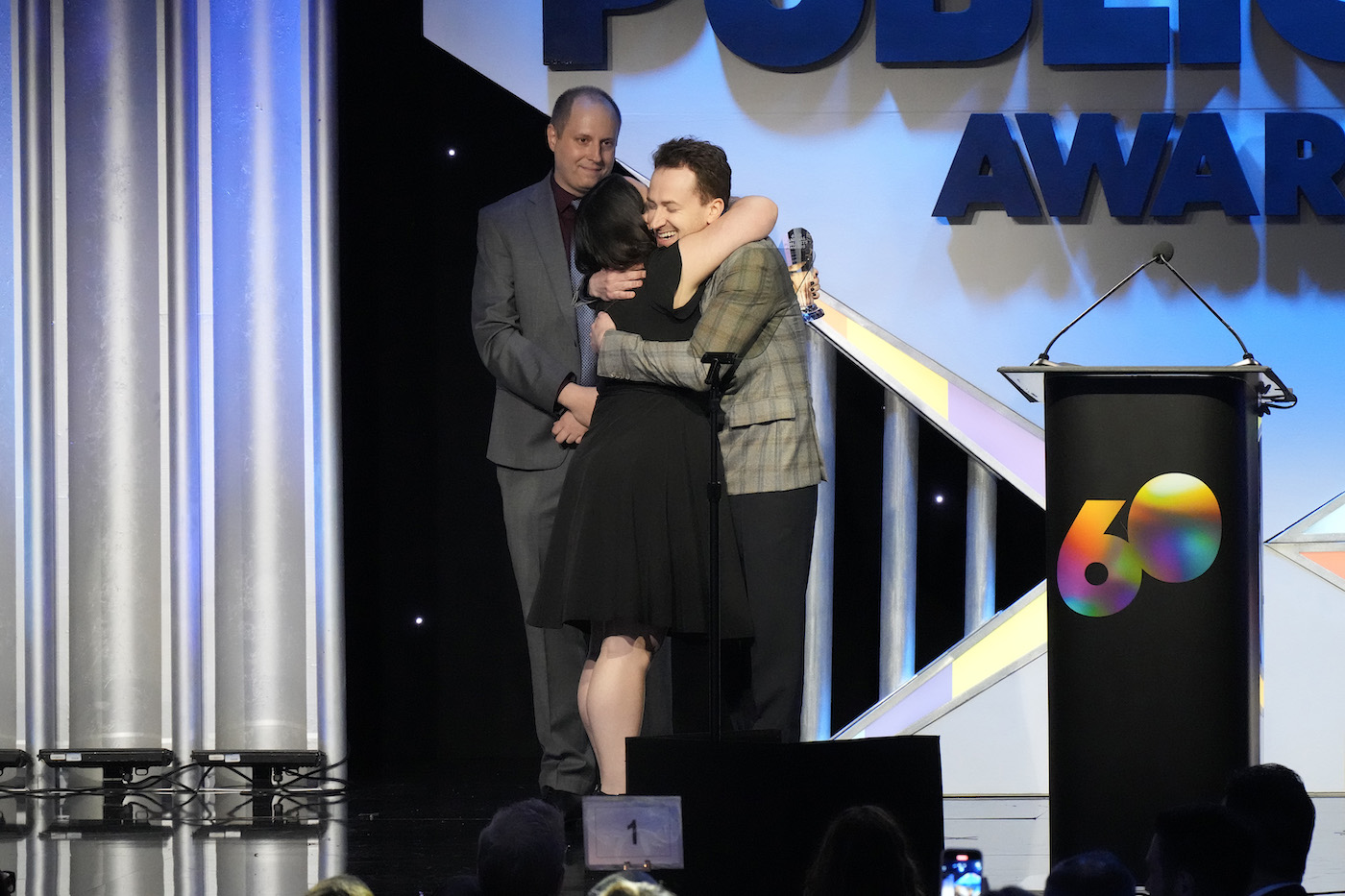 Brunson was an undeniably tough act to follow. And when 2022 Publicist of the Year Award honoree Marshall Weinbaum took the stage, he admitted as much, garnering laughter and applause. After explaining the award's parameters, Marshall acknowledged the nominees – and introduced his co-presenter, Joseph Mazzello (Jurassic Park and Bohemian Rhapsody.)
"I first met the recipient of this award on a press tour, and press tours can be funny things for actors," Mazzello began. "You meet a lot of very interesting people, and you just don't know when you first get there who you can trust in case things go sideways. I know the winner of this award today would have gone with me to the center of the earth, let alone Mobile, Alabama. This person knew what I needed based on how high I raised my eyebrows at her from across the room. She has tremendous respect for her actors and filmmakers. She takes ownership of the team and of the process. Her passion totally shines through. I am very lucky to call her a friend – the winner for this year – Sara Hull."
When Hull came to the podium she paused for a long beat and laughed: "I had a whole speech planned, and then Joe Mazzello walked out on stage, and I started crying! Thank you both. And thank you all who have gotten me to this point." Hull's list of people who helped her along the way was lengthy, to be sure, recognizing (like every other publicist in the room) she hasn't done it alone, and how we all get to "make magic every day."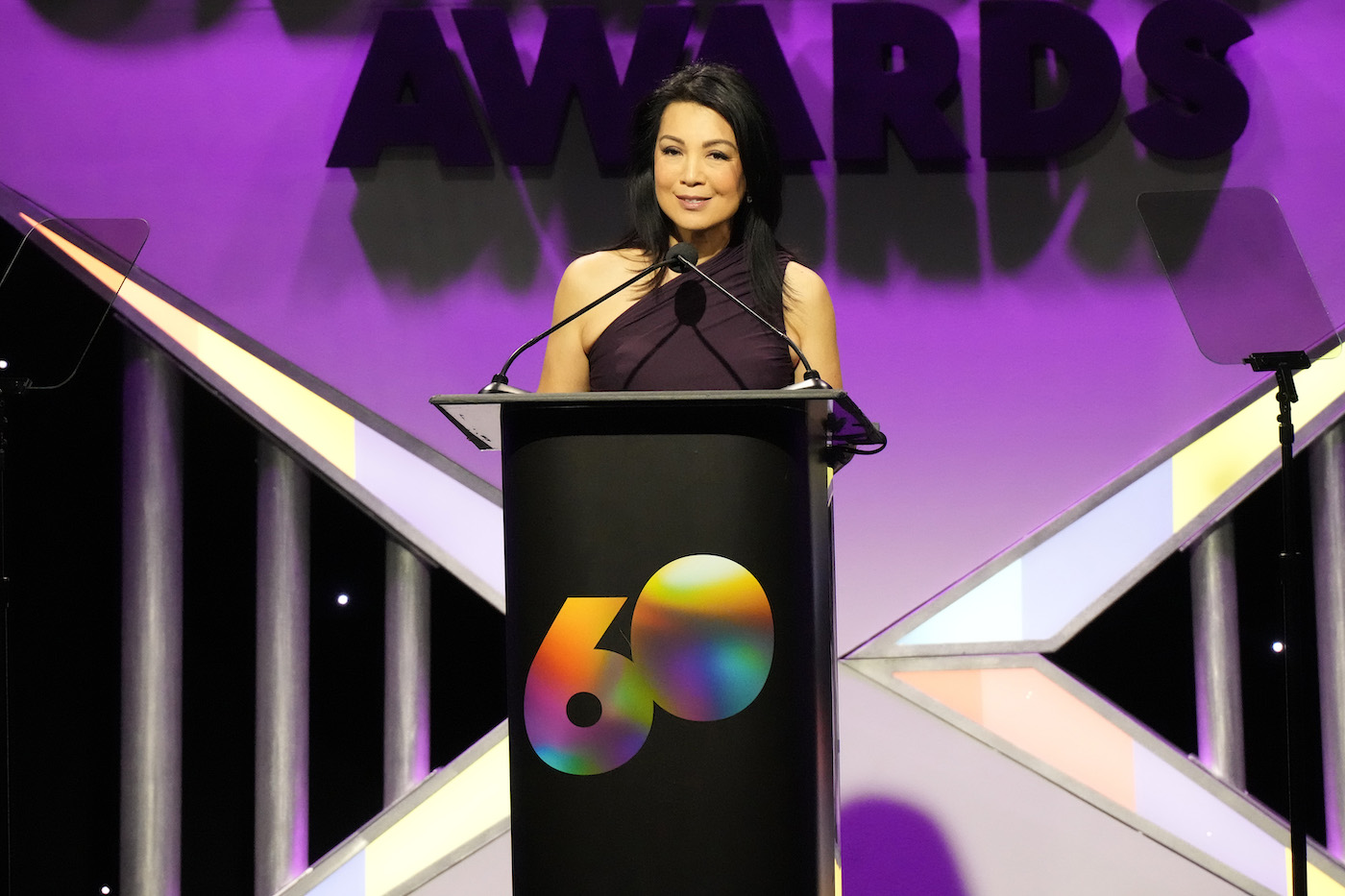 Honoring the studio side of publicity was next on the agenda. So, Turner Classic Movies' Ben Mankiewicz took center stage to recognize the 100 years of  "a seminally entertaining and consistently important studio, Warner Brothers Pictures, [which] has thrived on taking big swings and making risky bets. The biggest and riskiest put everything they had on the line, literally mortgaging the house for a 62-acre movie backlot in Burbank, California – when, in 1923, Burbank was a farming community.
"The four Warner Brothers had a burning desire to break the last untamed frontier of this budding movie industry," Mankiewicz described, "combining synchronized sound with moving pictures to ultimately deliver what is arguably the most powerful storytelling medium the world has ever known. That seminal breakthrough was The Jazz Singer. And, in 2023, that same maverick spirit is alive and well. Their trailblazing legacy continues to evolve and expand as their fearless leader, Warner Brothers Discovery Chief David Zaslav, has assembled a staggering roster of visionary talent and filmmaking legends to kick off the next 100 years."
Mankiewicz's speech was followed by a sizzle reel of Warner Bros.' 100 years that also included the voices of actors, producers, and audiences impacted by the studio's output.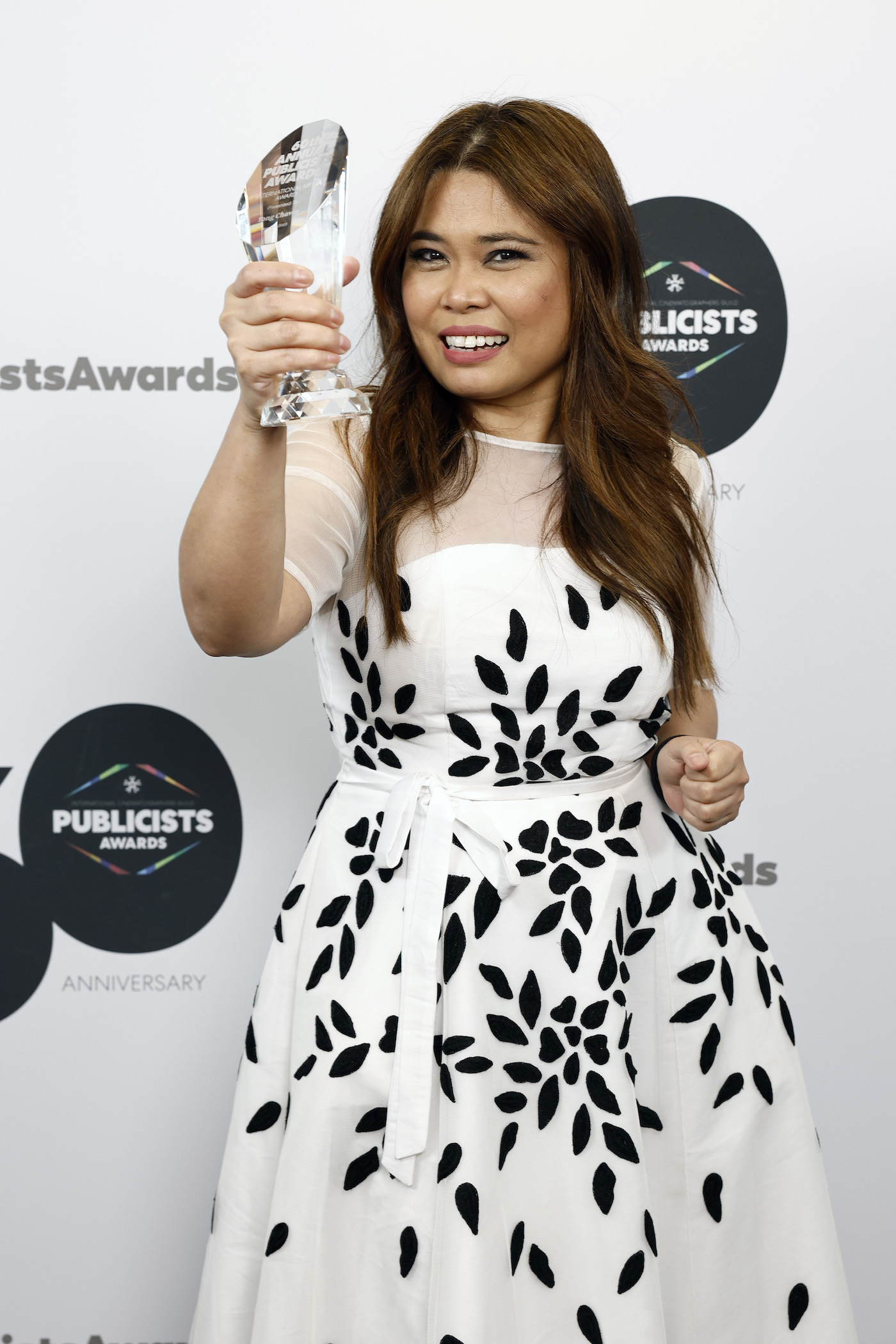 It took a moment for the audience to switch from the stunning memories of Warner Bros.' 100 years to presenter Ethan Peck, from Star Trek: Strange New Worlds on Paramount Plus, giving out the Press and International Media Award. After recognizing the various nominees for their coverage and ability to communicate internationally, Peck presented the award to Yong Chavez at ABS-CBN News in the Philippines and the Press Award to Andy Reyes at Entertainment Tonight.
Ming-Na Wen, the voice of Mulan and the star of Marvel's Agents of S.H.I.E.L.D. and The Mandalorian, came out to celebrate another iconic Hollywood brand when she introduced a video presentation called 100 Years of Disney Magic. "Throughout the years, Disney has taken us to whole new worlds and beyond infinity," Wen began. "We've grown up watching unforgettable films, experiencing incredible attractions, and meeting characters that have helped define generations – including a certain Chinese woman warrior that I'm partial to."
The Les Mason Award is one of the most coveted, as it recognizes a publicist whose accomplishments reflect the highest professional standard. This year's presenter, Disney+ Ghost star Utkarsh Ambudkar, brought in past Publicist Award recipient Sharon Black, who noted that "about 15 years ago, I made one of the best decisions of my career when I hired this year's winner to join the written communications team at Warner Brothers.
"She's a brilliant writer and a wonderful person, reliable and dedicated. It would be impossible for me to list all the campaigns she's worked on – everything from Elvis to Joker and A Star Is Born to Dune. She's crafted thousands of perfectly targeted quotes, speeches, and talking points. I am proud to recognize Karen Chamberlain for this year's award."
Determined not to make a speech, Chamberlain honored her fellow nominees, especially Black, for paving the way for a career that began in 1994. "I am also honored to be part of this Guild because it is an incredible collection of people who do a job in various ways," Chamberlain added. "A publicist is so many, many things, and I never think of myself as a real publicist because I don't deal with the press. But I do have a lot of friends who do these jobs, and they are always there to help me when I need it. We have the hardest working teams and assistants in the world, and I could not do this job without them."
One of the event's most significant awards, Show Person of the Year, was saved for the tail end. It was given by Danny Ramirez (Top Gun: Maverick's Lt. Mickey "Fanboy" Garcia), who introduced a video dedication to the team behind the film.
"I've been extremely fortunate to experience firsthand the blood, sweat, and tears that all the filmmakers put into this project," Ramirez announced. "I cannot think of a better group to honor for excellence in showmanship. Their hands-on approach led to a once-in-a-generation cinematic experience that could only be described as an emotional, full-throttle, gravity-defying spectacle that routinely set off heart rate monitors into the danger zone. Jerry Bruckheimer, Tom Cruise, Christopher McQuarrie, and David Ellison decided to wake up a giant and tackle the terrifying, ambitious task of revisiting the beloved world of Top Gun and its hero 36 years after the original. The Maverick journey has been nothing short of a breathtaking feat of showmanship," Ramirez stated before ushering Jerry Bruckheimer, co-recipient of the 2023 Motion Picture Show Persons Award, to the stage.
After recognizing his fellow winners, Bruckheimer acknowledged the power of publicity throughout his long journey. "I began my career in advertising, and I'm well versed in the power and importance of publicity. Without it, the arts would not thrive. You, the publicists, are the nexus between the creator and the public. On the outside, your life seems so glamorous. You hang out with movie stars, industry titans, and powerful political figures, but there's a catch. You're the ones who put your lives on hold during the production of a film. You're the ones who are up early in the morning and late at night. You're the ones on the site taking care of business and somehow doing it on your phones while jets are roaring over your heads. You're the ones who make sure everything we do as producers is shown to movie fans in the best possible light. You are normally the first outreach of any film, and you follow it from the very beginning to the bitter end. You generate excitement and anticipation. You share good times and not-so-good times, maybe even horrible times. But through it all, you have our back. It's been said that if you don't tell your story, somebody else will. Tom, Chris, David, and I thank you for helping us tell our story. For all of you who do what you do for the films and the Hollywood community, we can't thank you enough."
To wrap up the luncheon, Mychal-Bella Bowman from Amazon's The Underground Railroad and Dead Ringers took center stage to present the Maxwell Weinberg Award for a Television Campaign to Abbott Elementary. The AE team made it a point to recognize the showrunner partner they needed, as well as the cast, writers, and crew for giving them such hilarious and amazing content to publicize. Just after, Vanessa Vanjie Mateo from RuPaul's Drag Race presented the award for Feature Campaign to the team behind Top Gun: Maverick."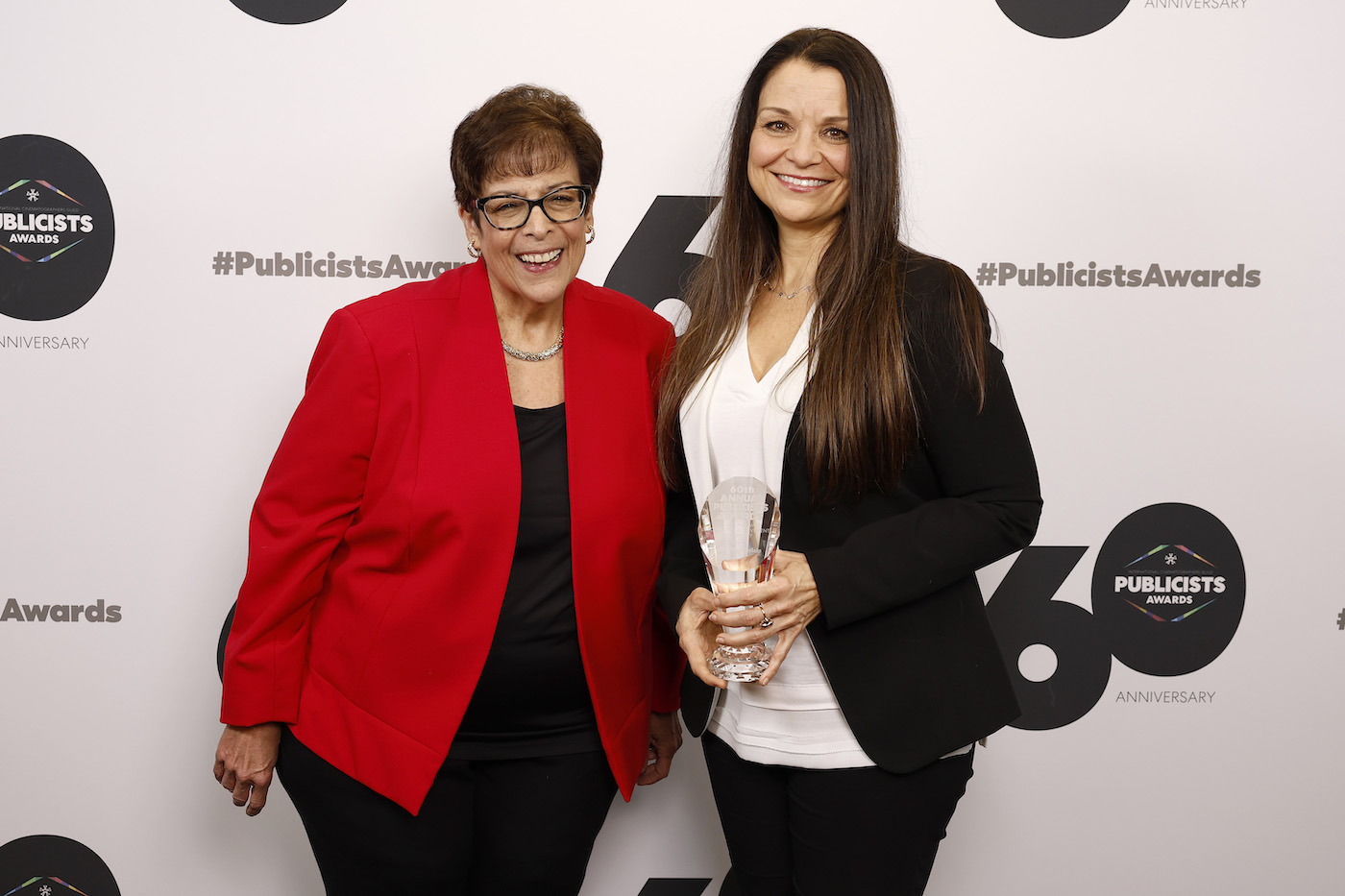 The enthusiasm that permeated this 60th-anniversary event wasn't just for finally being able to get out and meet people in person; it was also about the inclusivity, the energy, and the hard work that is so intrinsic to today's publicity landscape.
That ethos was borne out in different ways. There was Abbott Elementary's inspiring edict of giving back and how so much of the show's success stemmed from the publicity team's consistent messaging – and the family they built to do it. A highlight was when Lisa Ann Walter shared a personal moment about her terminally ill mother wanting to see the pilot before Abbott had debuted, and Bronson not hesitating to supply it to her pre-release.
 Other themes included the sharing of journeys to where winners are today. For Sara Hull, it was how Disney became her home when she started working at the theme park as a teenager, and it still is today. Equally inspiring was Yong Chavez, who talked about growing up in poverty in the Philippines, and how anything is possible with people there to help.
Finally, there was the undeniable element of the power of women, not only throughout the publicity world but at every level of the entertainment industry. We can only hope that all of these themes continue to resonate for the next sixty years in this magnificent craft awards show.