How one of TV's most iconic unscripted franchises safely returned to production amidst an ongoing pandemic.
by Pauline Rogers / Photos by Christopher Willard/ABC Television
---
In August 2009, a panel of investors, dubbed "Sharks," sat behind a large desk in a cold, blue-and-white boardroom. Their task was to decide whether to invest in new products presented by various entrepreneurs. Often empathetic, sometimes curt, the sharks found strengths and weaknesses in each presentation – winnowing down the herd until they chose products that might be worthy of financing (with their own money).
Shot with nine cameras (now 13), ABC's Shark Tank, produced by MGM Television in association with Sony Pictures Television, was based on the Japanese Dragons' Den format, created by Nippon Television Network Corporation. The hybrid reality series, unlike anything else on TV at the time, centered around pitch meetings, chasing dreams, meeting with opposition, and, hopefully, success. Although it got off to a slow (but promising) start, Shark Tank evolved into one of the most-watched unscripted series on broadcast television. It has garnered the Primetime Emmy Award for Outstanding Structured Reality Program four times.
As the show gained in popularity, the look evolved. Soon after those first few 2009 episodes, the set was redesigned to create an intimate, warmer feel. "We wanted the Entrepreneurs to feel they had access to the Sharks," explains Executive Producer Clay Newbill, of moving the Sharks out from behind a desk to individual red leather boardroom chairs, fronted by low coffee tables. "In 2017, we modernized the set, making it even more intimate," Newbill adds, bringing in collectible Eames white leather chairs that echoed a California mid-century modern feel.
Then came COVID-19 and an unprecedented challenge to every industry production, regardless of format or genre. To the credit of unscripted producers and crews, shows in that genre were among the first to start shooting again [see DEEP DIVE #3 | American Ninja Warrior] with major network franchises like Shark Tank committing the resources (financial and otherwise) to create a "bubble" that would afford the maximum amount of safety controls for talent and crews alike.
Shark Tank Season 12 has become a shining example of how to deliver an ultra-high production-value series while complying with or exceeding current CDC protocols.
As Executive Producer Brandon Wallace relates: "More than a million square feet of The Venetian resort was dedicated to our Shark Tank safety 'bubble,' which allowed us to operate within a single secure facility, ensuring the safest possible environment for cast and production crew."
With fast and reliable COVID testing, every single member of the show was tested before being cleared to depart for Las Vegas (from their Los Angeles base). Once in Las Vegas, staff and crew were then tested again and isolated in their rooms until they received a negative result. Only then were they cleared to enter the bubble.
"Once in the bubble, staff and crew were continually tested on-site, depending on their designated zone as laid out in the Safe Way Forward," Wallace adds. "The same protocols in place for staff and crew were also in place for the approximately 200 Entrepreneurs who were selected to travel to Vegas and pitch to the Sharks."
Staff, talent, and Entrepreneurs were housed within one tower at The Venetian – approximately one-third of The Palazzo tower was dedicated to strict access for production members only. A separate check-in area was created to ensure production members did not come in contact with anyone outside the bubble from the moment they stepped on the property. "The Venetian staff who assisted us with food and other elements complied with all our guidelines and were tested regularly," Wallace continues. "They were provided three meals a day by the kitchen and serving staff, who were tested weekly in accordance with our safety guidelines."
The EP goes on to note that cast and crew were isolated at the hotel when not in production, and strict social distancing was maintained at all times. "On-set, we had a COVID safety supervisor that helped consult on all of these plans and protocols as well as a medical advisor engaged by the production company – MGM Television," he shares. "Even with a negative test, everyone was still required to wear PPE and keep an appropriate distance at all times within the bubble. On-camera talent were the only ones allowed to be without a mask, and only when on camera. In between pitches, our talent would put their PPE back on. We had strict hair and make-up protocols in place to further mitigate any risk for those working in close proximity to on-camera talent."
As expected, the new COVID protocols had an impact on creative and technical decisions, and on departments ranging from set design to lighting and camera.
Production Designer Anton Goss took a look at his original design and, with Production's input, created a new high-tech look that was COVID-compliant and visually exciting. "Originally, the Sharks were two feet apart and in a straight line," Goss explains. For Season 12, host Kevin O'Leary and a rotating group of investors that include Mark Cuban, Robert Herjavec, Barbara Corcoran, Lori Greiner, and Daymond John, as well as guest investors, are seated six feet apart, COVID-compliant.
First up for Goss was "opening up" the set. "If we curved it in an arc, we could get an interesting architectural look that would accentuate the distance and make it a feature," he adds. A glowing line with a step reinforces the arc. Goss built side-tables and furniture into the set, which were not too distinct or obvious but added to the visual language. "Once we did that," he continues, "we had to widen the set and expand it, extending the eyeline and adding extra columns. We also created a negative space to augment the set, tied in with an Asian influence, and also camouflaging the cameras placed there."
Goss' creative COVID-pivot in set design inherently created new challenges for camera and lighting. Multiple-Emmy-winning Lighting Designer Oscar Dominguez says the changes impacted his lighting plot – but only to a degree. "When we began the series, the lighting was for a high-end boardroom," the longtime Local 600 member reflects. "Our challenge was to deal with the backgrounds for the sets, and the 'walk-ups or -outs' we keyed with our main lights, Source 4 Lekos.
"Today, our overheads and keys are probably basically in the same place," he continues. "But we're using LED Lekos and color and moving lights. What helps is that they are programmed into a board. We don't have to get in there to change anything, and we can re-focus key lights very quickly."
What type of lighting best served the design changes? Dominguez (who was based in L.A. for Season 12 and worked remotely with Lighting Director Ronald Wirsgalla, in the bubble, in Las Vegas) says the many different lighting elements used in unscripted programming today often serve a specific purpose. Everything from ARRI SkyPanels and Colour Blocks to Chroma Q, Elation, ETC, Hornets, NanoBeams, Vari-Lite , Wasp, Robe, VL-1000 Tungsten dimmers – and more.
Dominguez has also designed his setup – six ETC Irideons – in a circular ring on a large giant yoke . "The Irideon FPZ is a small Leko with a focusable edge," he explains. "By putting six on a three-foot-diameter steel ring in a circular pattern, Ronny can pan, tilt and focus on a particular person or place, without reaching into the set or reprogramming other lights." Wirsgalla programs approximately 300 lights (in compliance with on-set COVID-19 safety protocols) as Video Controller Terence Ho balances the visual look. "It requires a slightly larger crew and takes a little longer," Wirsgalla admits, "because of the spread – and COVID rules. It's hard to work in masks for 10 hours, so it's important for my crew to take breaks periodically."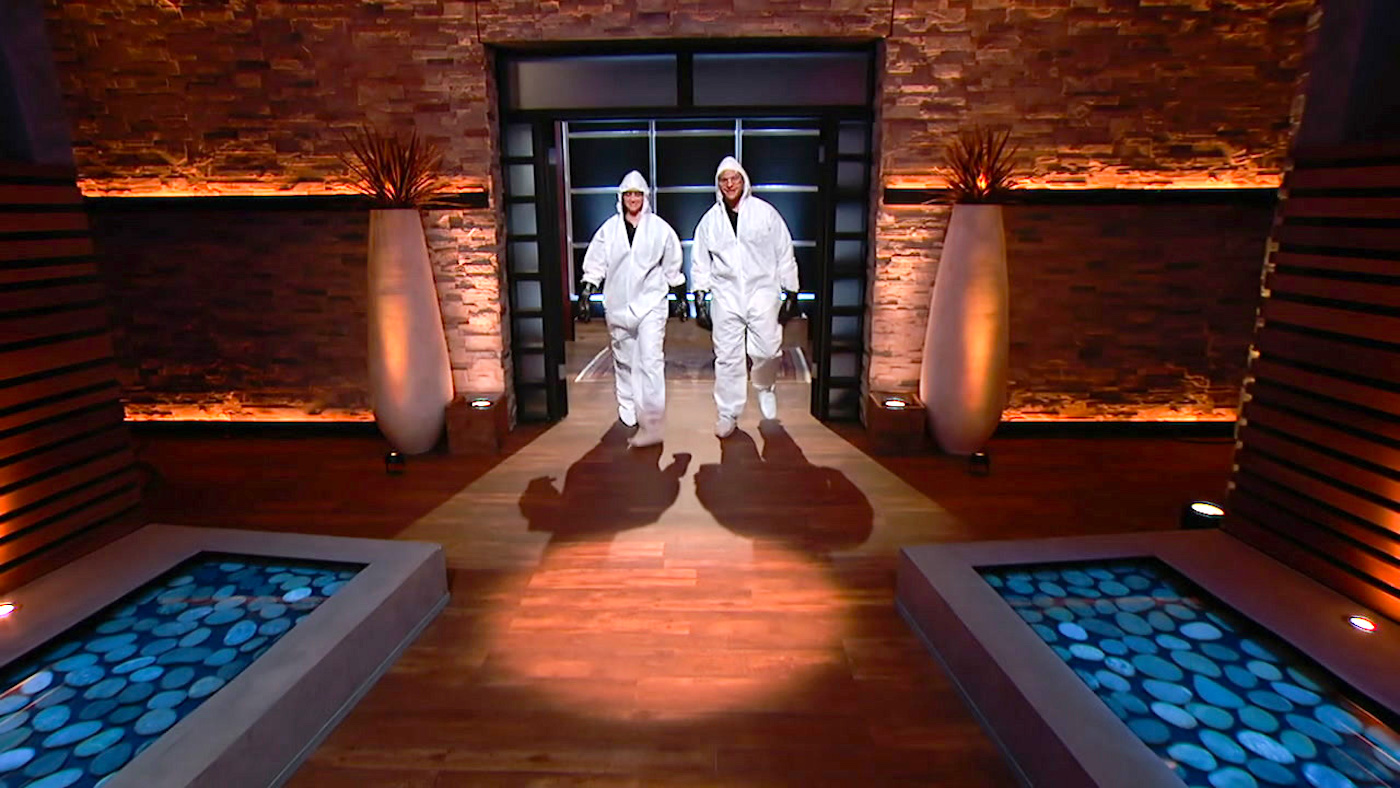 The Vegas bubble set is about 25 percent larger than in previous years. There are more elements to light – walls and lights that need to break up floor space. The spread of the participants and Sharks dictates a more intensive choice of specific lighting setups. "We can't do masters," Wirsgalla adds. "But we have to make sure the Sharks are well lit. Mark Cuban is no longer in a two-shot – he's in a single, for example. We use ETC's carefully placed, because they will turn in different angles, and we have to make sure their faces are well-lit, for example, when they turn left to right."
Wirsgalla says the Entrepreneurs stand on their marks in the pitch area, "and we have to make sure their heads and faces look good, and the product is sculpted carefully and not over-lit. When they walk on the stage, it's moody – from the hallway into pools of light, then through the doors and onto their marks and pitch."
Camera positioning also changed – but not dramatically so. Season 12 was shot in two "pods" – two segments, as in other seasons. As Line Producer Alex Halatchev explains: "It's about keeping the Sharks fresh and constantly looking for and vetting new Entrepreneurs. While the camera set-up is similar to other shows, placement is a little different for COVID-safe spacing, carefully supported by Head Utility Charlie Hernandez."
Shark Tank in the bubble was captured by 13 Guild operators, with one operator off-set, shooting post-pitch interviews. Capture gear includes Sony HDC-4300s, with pedestal cameras using Canon's ultra-wide field-box lens, the DIGISUPER 95, 86II Tele xs, and 100 xs lenses. The Steadicam carries Fujinon wide-angle ENG lenses, with handheld/sticks alternating Fujinon 4K UHD Telephoto ENG and 4K UHD Wide ENG. While the crew changed slightly from Pod 1 to Pod 2, placement was the same; only the operators changed.
"Moving parts" included Steadicam, jib, and Camera 4. Andrew Jansen or Travis Hays on Camera 1/Steadicam was charged with walking the Entrepreneurs into and off of the set and following their pitches. The Steadicam was then mounted onto a fixed rig between Camera 5 (jib) and Camera 4, framing a wide master cover shot for the majority of the pitch. If the Entrepreneur moved into the hallway, the Steadicam covered that footage. Steadicam was also used for pre-taped generic shots of the Shark panels and the guest Sharks. This often involved "ramp" shots and "Hitchcock zoom" shots.
"What's so great about working on Shark Tank is that it has one of the most iconic shots in all of television," Hays describes. "That walk down the hallway is everywhere on social media, and I have to capture the emotion of them walking in and out. It's about the immediate reactions of the Entrepreneurs as they turn and walk off with joy or walk away empty-handed. None of that has changed." What is more challenging for Steadicam was pulling focus while wearing protective gear like goggles or face shields.
The jib, operated by Greg Acosta or Joe Coppola, was used to shoot product shots pre-pitch, along with Camera 3. During the pitches, the jib fed wide shots of the entire set, including over-the-shoulders from the Entrepreneurs to the Sharks, and wide-sweeping moves either into one or two Sharks from the OTS or a swing-away from the Sharks and sweep into a single/two-shot/three-shot of the Entrepreneurs. Like Camera 4, the jib provided movement to an inherently static show; during demos, the jib also supplied overhead shots.
Acosta, a relative newcomer having worked on the show for five years, says the change to COVID-safe production didn't impact his freedom of movement, adding that the jib was already socially distanced. "We make the same moves, using a wide-angle lens that is at about 4.5. The only difference is, because of the spacing, it's almost impossible at times to get a true master, as the jib would bring the camera physically closer when it was swinging towards the talent," he describes.
Camera 6, handheld on sticks and worked by Bruce Green and Andrew Rakow, was an interesting dance. The pair fed shots of the Sharks in Chairs 1 and 2, primarily for their eyelines to the other three Sharks. Typically, Camera 6 is pre-framed before the pitch. The operator moves to Camera 12, a pedestal behind the set next to Camera 2. Handheld is a rarity, but it has been called for. Before the pitch is over, the operator locks 12 on a wide shot and moves back to Camera 6. After pitches were over, Camera 6 primarily covered Shark Chair 1 (Cuban) and Chair 2 for their eyelines to the other three Sharks. The remaining cameras were on pedestals, strategically placed around the set.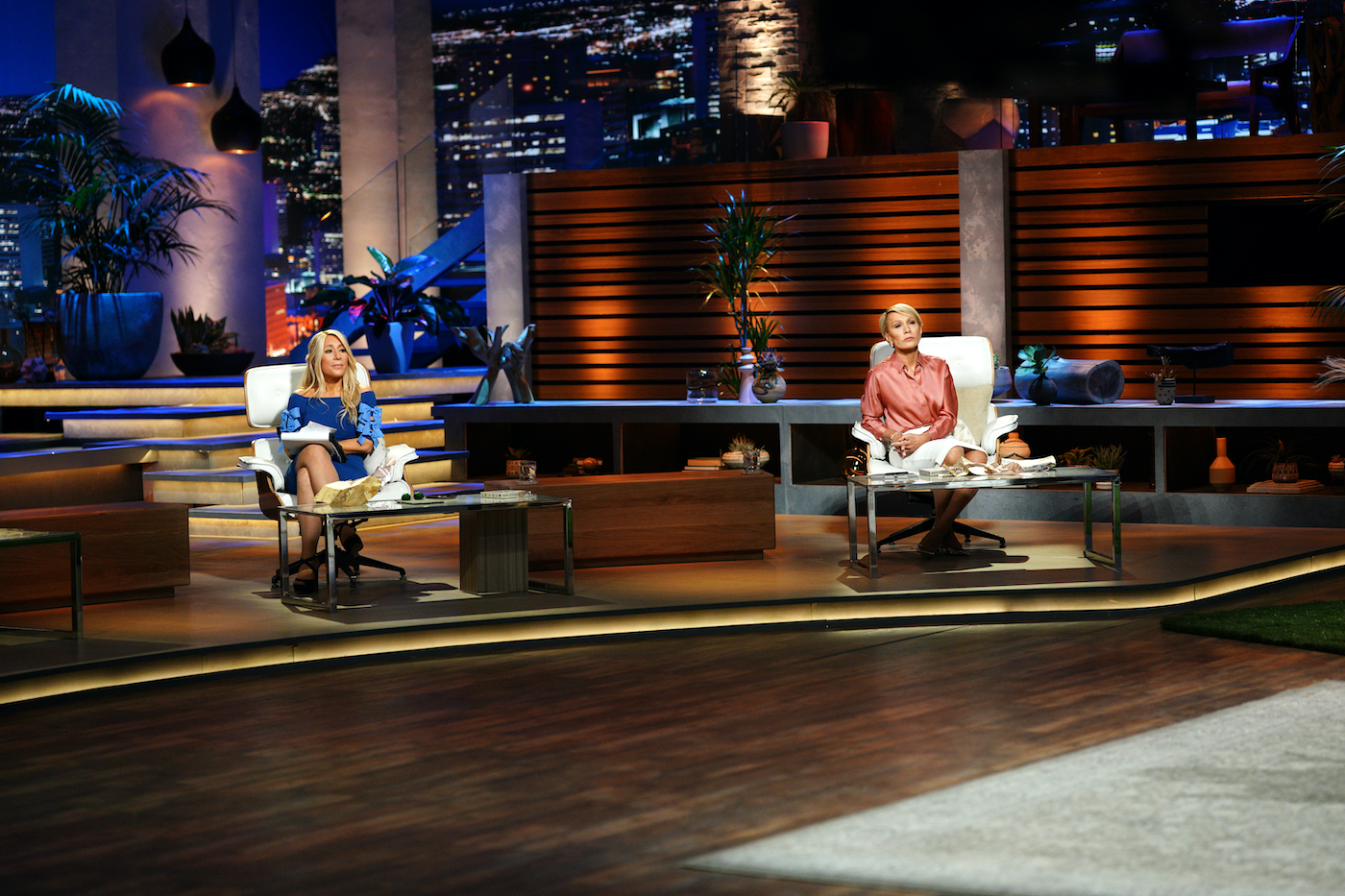 For lighting and COVID-safety, the entire set was situated within multiple 30-by-30-foot black Duvetyne "shelters," which also provided sound baffling and anti-reflection. If two cameras were near each other, a plexiglass wall was added for additional operator safety.
Shark Tank veteran (and former ICG National Executive Board Member) Scott Kaye was on Camera 2, directly behind Shark Kevin O'Leary. Kaye got coverage of the Entrepreneurs making their pitches and negotiating with the Sharks – mostly singles, two-shots, three-shots (when possible), and group shots. (This season, there was a family of five pitching.) The shots typically start as a group and then move into close-ups, with pans between the Entrepreneurs or snap-zooms into close-up reaction shots.
Product shots were Phil Kerns' domain on Camera 3, after which he would switch to alternate coverage of the Entrepreneurs during the pitches, as well as taking over eyelines from Camera 2 when the pitch was directed to Chair 1 or 2. Kerns often worked in conjunction with Kaye, mixing up wide shots that included the product displays and the Entrepreneurs, or video display coverage and demonstrations.
Operator Lou Espinosa says he "got to move a little like a dolly" on Camera 4. Espinosa fed "gently moving shots," i.e., rake shots of the Sharks. He also got close-ups of product in the Sharks' hands or over-their-shoulder shots. One of the most important elements of this camera was to add movement to scenes of people standing on a rug and talking to five people sitting in chairs. Espinosa also covered wide shots of the Entrepreneurs and their product displays, trading off with Kerns on Camera 3.
"The relationship shots between Entrepreneurs and Sharks were much farther apart," Espinosa adds, about the changes brought on in the bubble. "It put a bit of pressure on the operator because these encounters used to build an intimacy that adds to the excitement of the show. But, we adjust," he smiles. "And, there is a bright side – for several weeks, we all had just a ten-minute walk to work – we're well-rested, less stressed, and, most importantly, secure in knowing we're in a safe environment."
The remaining pedestal cameras were strategically placed to cover the Sharks. It is here where an operator's instinct and creativity (valued qualities in the unscripted world) were most crucial, as they were encouraged to create movement with gentle zooms or close-ups of Sharks' hands on product.
Jeff Watt on Camera 7 was close to Steve Thiel on Camera 8. They worked off each other, covering from behind camera "blinds" opposite Chairs 1 and 2. Watt concentrated on close-up coverage of Chair 1, Mark Cuban, and Thiel the Shark seated in Chair 2. Rounding out the team was Jeff Wheat on Camera 9, Katherine Iacofano on Camera 10, and Ed Horton or Tim Murphy on Camera 11. Each was tasked with a single Shark chair.
"Although working with a mask all day long is a bit of a challenge," Iacofano admits, "once we got over the physical stress of masks, PPE stations, and plexiglass, we got into the spirit of being in Las Vegas for a great show."
As with Shark Tank's past, Season 12 offered many memorable moments for its Local 600 team – "like one pitch of a product for dogs," Iacofano smiles. "After their opening pitch, they went to collect the puppies, and Mark Cuban refused to give his back. It sat in his lap for the whole episode! Those pitches can last an hour or more sometimes. We were all waiting for an 'accident' to happen, but it didn't. It was very sweet."
Off-set interviews were also impacted by COVID protocols. "We had to change the normal format of how the Entrepreneurs, producers, and Operator Jeffrey Wilkins [SOC] conducted interviews," Lead AC Dave Hawes explains. "With the lighting board operator and Audio A2 already more than six feet apart from everyone in the room, I had to think of how to keep the camera operator and producer apart from each other, and the producer, who is next to the matte box asking questions and checking eyeline, with the camera operator stacked directly right behind them."
Wilkins says his solution was to take an onboard monitor and install it onto a C-stand, "and then run a line to it well past the safe six-foot distance, which the camera operator monitored, and made sure the focus and framing were correct," he says. "That meant showing the Entrepreneurs their marks and where the eyeline would be while the camera operator would be framing up the shot. As soon as the camera operator called everything good to go, he stepped to the monitor.
"Then the producer would step into place next to the camera," Wilkins adds. "If any issue occurred where the camera had to be adjusted, the producer would step away and let the change happen and then step back in to continue the interview when the camera was good to go. We created a very safe format and made it routine."
Wilkins says field shots and updates, as well as profiles, were altered, mainly by the lack of travel. "My producer has a Pelican case with an iPhone and ring light so he can interview them for this 'Update' section," Wilkins explains. "Each Entrepreneur was instructed to film their footage to incorporate those package's stories into the main program. We were able to do a few in the safe cocoon of the Executive Suites at The Venetian."
One reason the Local 600 Shark Tank team didn't let "the bubble" compromise its technical standards of excellence is that many have been together for most or all of the twelve seasons. The Guild team has helped to evolve numerous changes over the past decade, never more so than during the current global pandemic.
Many 600 members on the show give an enthusiastic shout-out to longtime Shark Tank Director Ken Fuchs. Due to the format, layout and style Fuchs established, veteran director Don Weiner was able to step in to get Season 12 underway before Fuchs came in to finish up. Both men provided leadership that enabled Guild members to help execute the vision for the show.
"Production exceeded all essentials for talent, crew and entrepreneur safety, while also delivering the consistently high-quality material the show is known and recognized for," states longtime pedestal operator Kaye.
"Our crew appreciates the extra lengths and expense to which Production went to ensure their safety and quality of life while living and working in a 'bubble,'" he adds. "In particular, Shark Tank Season 12 has shown that it is possible to maintain very high production values while also protecting the health and safety of every participant."
Local 600 Camera Team – Shark Tank – Season 12
Lighting Designer: Oscar Dominguez
Lighting Director: Ronny Wirsgalla
POD 1 Crew:
Steadicam: Andrew Jansen
Jib Operator: Greg Acosta
Ped Operator: Ed Horton
Handheld Operator: Bruce Green
Utilities: Kevin Fernandez, Jose Algandar
AC: Candace Higgins
POD 2 Crew:
Steadicam: Travis Hays
Jib Operator: Joe Coppola
Ped Operator: Tim Murphy
Handheld Operator: Andrew Rakow
Utilities: Jon Zuccaro, Joey Gonzalez
AC: Sal Vega
Pedestal Operators: Phil Kerns, Lou Espinosa, Steve Thiel, Jeff Watt, Kathrine Lacofano, Jeff Wheat, Scott Kaye
Head Utility: Charles Fernandez
Steadicam AC: Tikeri Thompson
Utility: Robert Brown
Video Control: Terrance Ho
Still Photographer: Christopher Willard
Interview Crew:
Camera Operator: Jeffrey Wilkins, SOC
AC: David Hawes