With COVID (hopefully) in the rear-view mirror, the only awards event devoted to new cinematographers returns to an in-person gathering. 
by Margot Lester / Framegrabs Courtesy of Local 600 members/ECAs
---
It's been a minute since ICG's annual Emerging Cinematographer Awards (ECAs) have honored Local 600 members who aim to rise to the position of Director of Photography. With the COVID-19 virus (and its variants) wreaking havoc with in-person events, the ECAs were put on hold (for 2020 and 2021) in the interest of member safety. Now, finally, they are back in 2022, with this year's class illustrating the wealth of talent present in the Guild, and a portfolio as unique as any ever assembled in the event's 24-year history. Among the short films being honored are two thrillers (Andrew Aiello, Leonard P. Walsh II), a video game trailer (Michael P. Tedford), and a Star Wars fan film (Jac Cheairs). Those variations extend to the filmmakers themselves, who hail from nine U.S. states, including Montana (Gregor Tavenner), Texas (Allie Schultz), New Jersey (Jason Chau), and Virginia (Eric Hurt). The ranks also include two divers (Austin Scott Ahlborg and Morgan Gardiner). The average tenure in the Guild among this year's honorees is eight years, with some having been union members for 13 years, others for just three – and one for 32! Without further delay, the ECA Class of 2022 welcomes you to its short film showcase.
Austin Scott Ahlborg – Lotus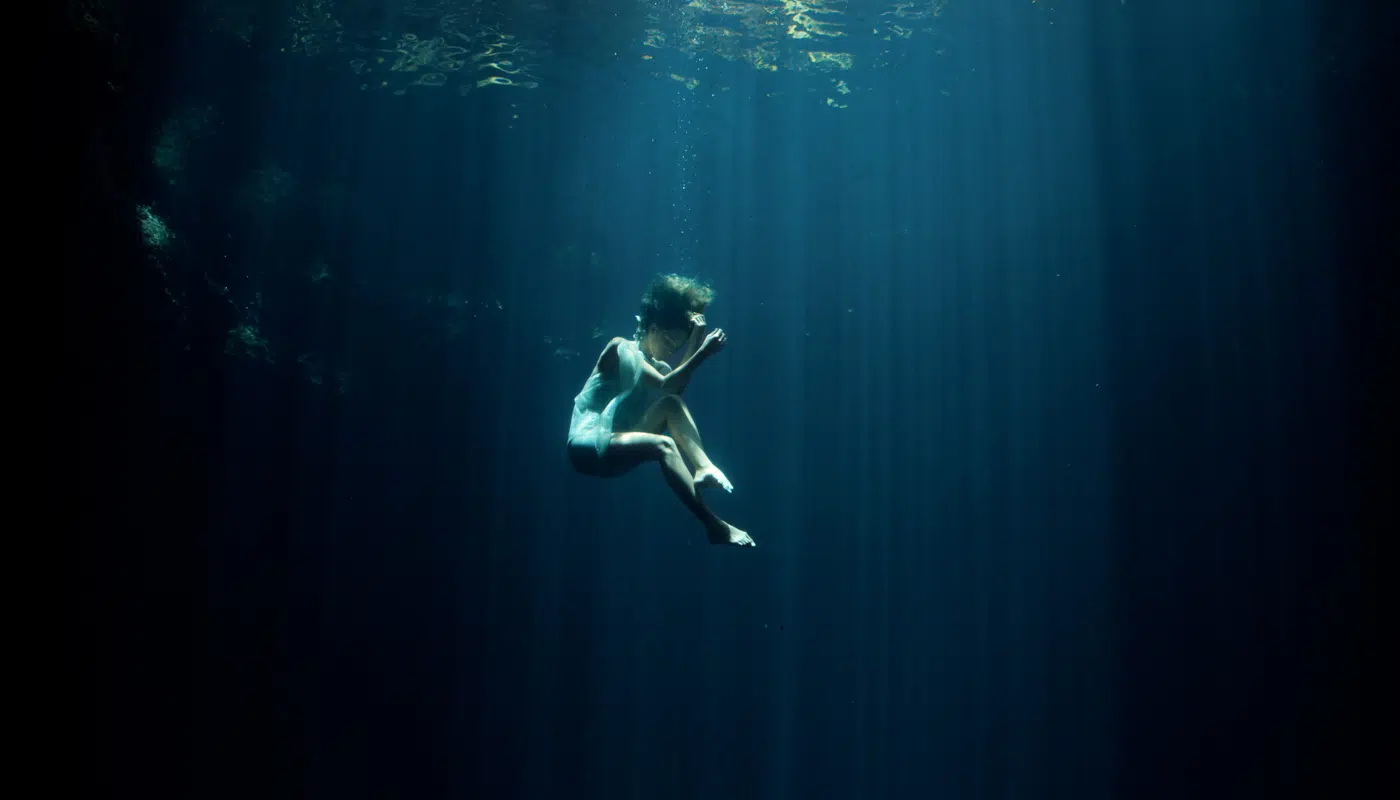 It's not every day you get to make a film about overcoming a near-death experience. But Austin Scott Ahlborg did just that with Lotus, a project that symbolizes co-creator Angelika Furstler's transformation by overcoming her fear of water. The film shot on RED Gemini with Cooke Classic Primes, and Blackmagic Design's Pocket 4K camera with a Nauticam housing, was made in the underwater caves of the Yucatan Peninsula in Mexico.
Ahlborg, a nine-year Local 600 1st AC, says his goal as a filmmaker was "to give Angelika a space to reveal her authentic experience and weave that into a film. All of the emotions, locations and diving were immersive, and we had to go there ourselves physically and emotionally to pull it off. The film is an invitation to let go of the mind and dive deep within, just as we did in making it."
The biggest challenge was the extreme environment.
"We needed to tell a story while 60 feet underwater, unable to talk, and at the whim of the elements," Ahlborg, a Rhode Island native, recalls. "Right away, shot lists, structure, and other conventional filmmaking went out the window, and it became more of a holistic approach where we felt our way through each setup. It was the only way to do it and symbolic of the film itself."
One particularly inspiring sequence occurs late in the story. The team wanted to convey a feeling of disorientation within Furstler's otherworldly journey, so they decided to present everything upside-down, where the surface is below. "I love when simple tricks work out in a way that's visually impactful while still serving the story," Ahlborg continues. "We simply performed the scene upside down and it was the perfect solution to do less while achieving more."
The subject matter and locations were fitting for multiple reasons. Firstly, Ahlborg is an avid diver who finds restoration in the water. "I keep my dive mask in my pack when I travel," he relates. "I love a quick swim for relaxation and stress relief, and I'll try to find a pool to do breathing holds during an intense project. I've been doing this for 12 years, and I've hit the highs and lows. But it's the tough times that have taught me the most. Because of these challenges, I've learned how to create balance and operate on a higher level as a filmmaker."
Ahlborg also draws inspiration from the outdoors. "My free time is spent backpacking or freediving into a dark underwater hole," notes Ahlborg, who splits his time between L.A. and Bali. "I like to tie my experiences in nature from around the world into my process and visual style. I like center framing, symmetry, cyclical movement, balancing light and dark, and incorporating exotic natural locations."
More than anything, Lotus shows a willingness to innovate and experiment. "We're trying some pretty unconventional stuff, so it's reassuring to know some people like it and to keep doing it," Ahlborg concludes. "It means a lot to get recognition from ICG for such experimental work."
Andrew Aiello – Green Cobra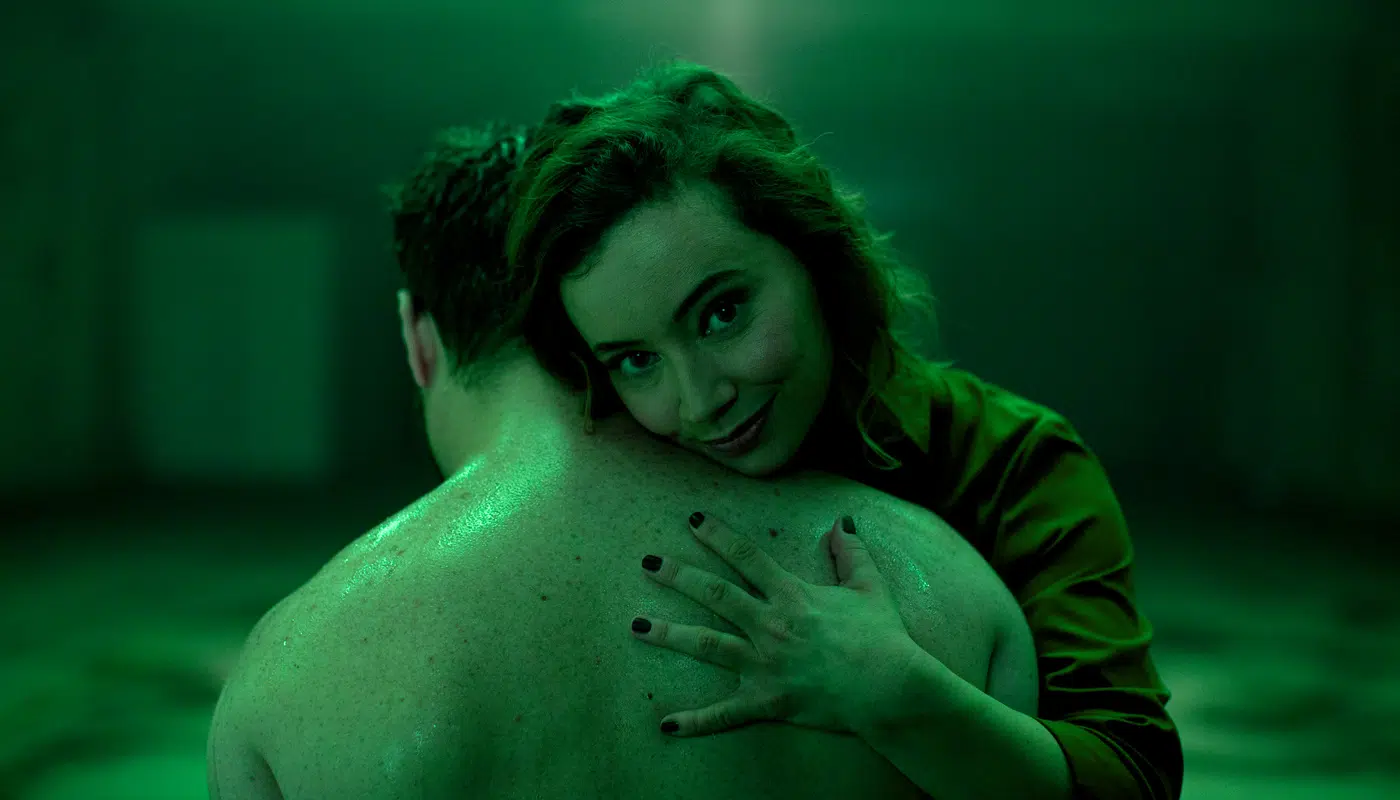 Thirteen-year ICG Camera Operator Andrew Aiello says the genesis for his ECA-honored film, Green Cobra, was that timeless joke set-up line, "A guy walks into a bar… ."
"Director Sigurd Culhane and I were at a bar one night lamenting the difficulties of getting opportunities to shoot things," recounts Aiello. "We wanted to make something while also pushing ourselves creatively, so we came up with challenges for each other. Initially, it was for Culhane to direct a murder scene and for me to shoot with only the widest lens I had. With these parameters in mind, we searched for a script. Once we read Green Cobra, the project evolved, the budget increased, and the specific challenges fell by the wayside, but that night in the bar was the foundation."
The genre-bending project documents a "life-ending technician" and her rise to the top of a male-dominated industry. As the story unfolds, the Green Cobra relishes torturing her victim more and more until she becomes completely unhinged. Audiences are never sure if they should be laughing or cringing, which is exactly what the creative team wanted. Writers Chris Valdez and Patrick Tamisiea produced a script geared towards a shooting style like that of The Office, with multiple handheld cameras. However, Aiello and Culhane were looking for something different, so they set out to explore combining the mockumentary structure with a single-camera narrative style.
"We accomplished this by committing to two distinct worlds," explains Aiello, who shot on a Sony F5 with ARRI Ultra Primes and used Astera Titan tubes and ARRI SkyPanels. Interview sequences would be simple and boring as if they were shot by a small amateur crew. The torture scene, however, would be cinematic and stylized, so they could use the camera to explore the characters and story even more, and build tension. "In the scene where the Cobra starts to lose it, I wanted the camera to lose it also," the L.A.-based filmmaker continues. "The camera was completely loose and improvisational; I wanted to react to what Colleen Foy [the Green Cobra] was doing. It was about exploring her headspace and capturing the energy of the moment. No two takes were the same because we knew that Editor Paul Alderman would jump-cut it."
Aiello says he's most proud of the 97 seconds of the film that follow the title card, which is punctuated by the Green Cobra coming into focus and looking directly into the camera.
"I just love how we were able to establish the setting and the characters the way we did," the Syracuse, NY native recalls. Aiello, who "cherishes" the relationships he develops with collaborators, says earning an ECA is especially rewarding. "It means I've earned the respect of my peers, which is a great feeling," he concludes. "As artists, we are works in progress and things don't always fall into place as we hope. Being part of a community, whether that's your on-set crew or a broader filmmaking community outside of your own projects, is an incredibly rewarding way to evolve and push yourself artistically."          
Jason Chau –  Sting
The word most typically associated with the look of crime dramas is "gritty," and that's the aesthetic that drove Jason Chau's choices in Sting, a film about a mourning twin named Connor (Tim McKiernan) searching for the dealers that sold bad drugs to his brother, which killed him – and unraveled Connor's view of the sibling he thought he knew.
"We used the ALEXA Mini for the filmic textures, especially when we shot everything at 1600 ISO, with these old Russian lenses called Lomo Anamorphics," explains Chau, a New Jersey native, and five-year Guild Camera Assistant. "It gave a gritty look with low contrast, distorted swirly bokeh, and a lot of cool quirky imperfections we liked. The lights were all battery-powered Astera RGB tube lights that we rigged as practicals and keys when it felt appropriate. We also used my trusty OPENMOON Cinesaddle, which is basically a big pillow wrapped around my stomach. Christopher Doyle used something similar for his amazing handheld work with Wong Kar-wai. It's the most comfortable handheld support system. I look ridiculous, but it's a lifesaver."
The setup enabled Chau to reproduce the authentic, journalistic look Director Frank Graziano wanted. Most of the film is shot handheld, except for a restaurant scene done on a tripod and zooms. "For a moment, it felt like a gritty New York 1970s crime drama," Chau remembers. "We slowly zoomed out from a close-up of Connor's face to his hand while passing drugs and then to the recipient's face. While they talked, we held on their performances. Sometimes it's fun to play around and not stay on a standard criss-cross coverage. For lighting, we used all available practicals from the location, which were mainly ugly fluorescent lights from above. Luckily, they didn't flicker, so we blacked-out half the space for negative fill and shaped the lights to suit the space and talent for a far-side key in a volumetric kind of way."
Like so many filmmakers, Chau got his start on the family's consumer gear. "There wasn't much to do in the New Jersey suburbs," laughs Chau, who's now based across the river in Brooklyn. "Before the Internet, you could only go to the mall or play basketball. At some point, out of boredom, I borrowed my mom's camcorder and made very bad Steven Spielberg knock-off movies, like Jurassic Bark, where we replaced the dinosaurs with stuffed dog toys. That was it; I was hooked."
Chau says those early experiences are a part of why he welcomes the democratization of filmmaking. "It feels similar to that time I borrowed my mom's camcorder and filmed anything on a whim," he laughs. "Now it's not that hard to have access and experiment. You have a chance to let your imagination run wild again! The ECAs are a step forward, and it means a sense of momentum for young aspiring cinematographers. It's validation that I'm going towards something – whatever that is. Hopefully, I can continue to grow and learn from my peers and esteemed mentors."
Jac Cheairs – KENOBI – A Star Wars Fan Film
Thirteen-year Guild Operator Jac Cheairs says making his ECA-winning KENOBI: A Star Wars Fan Film was a dream come true. "I never knew fan films existed, and when this fell into my lap; well, who wouldn't jump at the chance to shoot a Star Wars film?!" he says, adding that "making a fan film with borrowed IP that has no chance of being distributed is an exercise in the joys of filmmaking for filmmaking's sake."
The story takes place when, after years in hiding, Obi-Wan Kenobi struggles to reconnect with the Force and protect Luke Skywalker from Imperial forces. Cheairs says he was committed to matching the franchise's signature look. "The closest comparable glass I found to match was the vintage Cineovision High-Speed Anamorphic set from Old Fast Glass," he explains. "The ALEXA Mini 4:3 from Standard Camera was a no-brainer when it came to capturing the true tone, having plenty of latitude to play with in the color grade, which was done at The Mill by Colorist Adam Scott."
The film was shot mainly at Trona Pinnacles National Natural Landmark in San Bernardino County. The final sequence, a fight scene, brought Cheairs up against the light. "Because it was all exterior lit by the sun, we were fighting the shooting schedule until the end of the day," he recounts. "I quickly pivoted our location for the final Saber-360-Steadicam shot right outside of the bowl. The shot was magical, but the behind-the-scenes of it all happening on the day was another story all together."
After only one tech scout at the location, "trying to capture all of the stunts and action sequences needed for that final fight scene was a ballet dance," Cheairs remembers. "Positioning the Techno-Jib without having to move it again based on our shooting schedule was a challenge. At one point the entire crew was literally running in circles trying to avoid being in the shot."
Cheairs, who grew up in Wheaton, IL, started in various production departments searching for his filmmaking passion. "I was on a feature watching all the parts happening when it struck me: the DP was the ultimate marriage between all my experiences and natural affinities," he explains. "From being that guy who had been trotting around a bulky old film camera since I was 10 years old to spending summers working for my contractor dad doing wiring and electrical work, I had the obsession with visuals and the meticulous and precise experience with the science and technology that together are the hallmarks for a great DP." He says he was surprised by the ECA nod, not because he didn't think the film was worthy, but because he forgot he submitted it.
"One day I got a call from an unknown number. I figured it was a spam call," Cheairs laughs. "Having colleagues, producers, directors, and filmmakers see my work is breathtaking. This award is a constant reminder to keep striving for nothing less than the very best."
Morgan Gardiner – Molly Robber
Producing an award-winning film early in one's career is the stuff we dream about. It's a reality for Morgan Gardiner. Molly Robber, which she shot at age 22, was the final film-school production directed by Zach Visvikis and Austin Hall, and it tells the tale of a sister learning to love her stepbrother no matter the odds. "It's pure collaboration and camaraderie, perhaps the two most important ingredients of any successful film," Gardiner notes. "We put in endless hard work with good attitudes while working for free. It took some blood, sweat, and tears, so I want to acknowledge my amazing young camera, grip and electric crew, without whom I never could have accomplished this project."
The co-directors had a look in mind – a snappy, quick, quirky style accomplished with continual movement, jump cuts, whip pans, speaking to camera, and lots of color. The finale, a stand-off in a dark parking lot, was especially challenging. "We shot it over two nights, and the first night it poured," Gardiner recalls. "We dealt with the added challenges and learned a lot, covering the car with a 12-by-12 soft frost and shooting all the car interior work until the rain stopped." The exterior work was shot handheld, with Gardiner starting on a wheelchair dolly and then leaving it to follow the action. "The dolly had been in our garage for years," she laughs. "None of us on the film had ever worked with a real production dolly, so it was a fun experiment. It was a somewhat daunting sequence to plan for, but I think we're all ultimately proud of what we got."
Working mostly full-time since Molly Robber wrapped, Gardiner has made sure to carve out time for activities and passions outside the industry. "During film school, I felt the pressure of others who only focused on shooting, and I've always put a lot of pressure on myself," the L.A. native explains. "I had to remind myself why it's good to do things outside of work and to not feel guilty for that. Having varied life experiences is an important factor in being able to bring novel and intriguing ideas to one's work."
Though she grew up going to set to visit her dad, longtime ICG Director of Photography Greg Gardiner, she didn't gravitate to the camera until reaching film school at NYU. "I jumped in and worked to catch up to all the film boys at school who'd been obsessed with camera forever, and I've never looked back," she describes. "Because I didn't become interested in camera or shooting until I started college, I've always felt behind my peers with a bit of imposter syndrome. I don't think I'm alone in that feeling, and I try to combat it by focusing on my journey. Being recognized by the ICG membership, alongside the other honorees, is a reassurance that there's no reason to doubt my belonging here and that my work has tremendous potential."
Eric Hurt – Singularity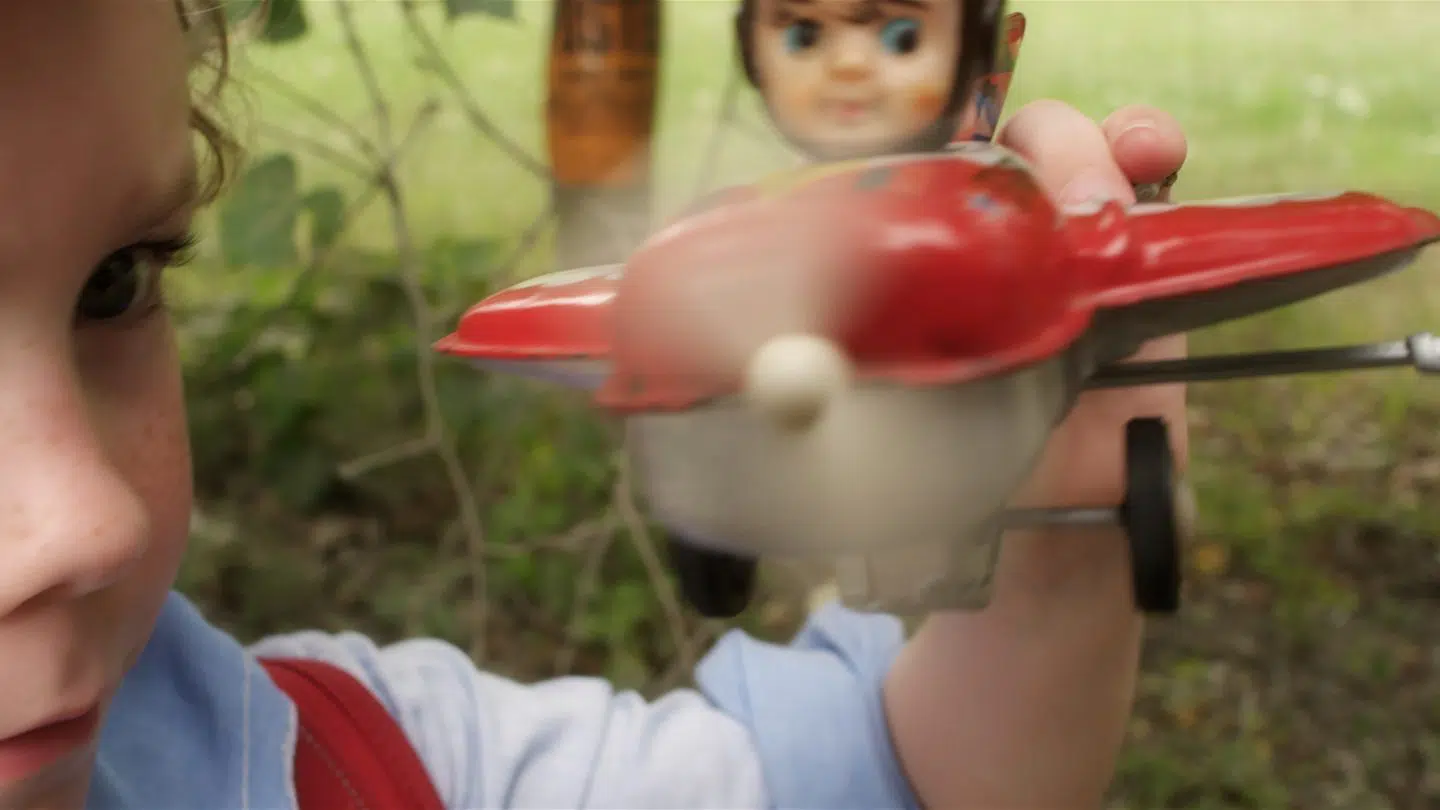 "The most important thing to me about Singularity is its simplicity," asserts Eric Hurt, who wrote, directed, and lensed the film about processing the death of a loved one. "The deep yet simple story, the straightforward lighting, the choice of uncluttered locations, and the innocence of the subjects. I find that simplicity in film often relays truth and emotion more effectively."
Hurt, a seven-year Guild member whose work has often been showcased at Sundance, says his desire for simplicity keeps his equipment streamlined. "I don't consider myself a gear head," he allows. "That being said, I like having my light meter handy, and a director's finder is helpful to scout with a director, especially to choose the separation of the foreground and background elements ahead of time."
Perhaps because of the simplicity, the Charlottesville, VA native says, "This is one of those rare projects that went smoothly. We were dealing with a child and a dog, but we were able to let them just be them and gave them minimal direction."
The style was influenced by Director Terrence Malick and Oscar-winning Director of Photography Emmanuel "Chivo" Lubezki, ASC, AMC, with natural and flowing camera movement, wide lenses close to the subject, and mostly natural lighting. "My biggest source of inspiration is usually from locations," says Hurt, who's shot everything from comedy to horror. "The colors, the shapes, the corners, how the light falls, how nature is represented – or not – all of that can inspire my choices. I enjoy envisioning how a story unfolds in a certain location."
Hurt decided to get behind the camera after starting to direct almost 20 years ago.
"I found that cinematography was equally as important to the story as the direction, so I wanted to create that aspect of the films I made as well," he recalls. "This led to shooting films for other people, something I've enjoyed immensely." He's currently in postproduction on a film starring McKinley Belcher called Runaway, which he shot, wrote and directed. It's a period film with a Western feel set just before the U.S. Civil War with the logline "Jacob, a young white man who's out of his league as a slave catcher, is taking Barbour, an educated escaped slave from Pennsylvania, back to South Carolina. Barbour has no intention of going back."
Over his two decades in the industry, Hurt has had a front-row seat to innovation and evolution. "I'm very excited to see how film and video games will continue to merge," notes the Virginia-based filmmaker. "I think and hope there will always be a place for them individually, but the interactive worlds that could be created through merging could be amazing. The biggest change I've seen has been the democratization of film from digital acquisition and digital distribution. It's allowed access to voices we wouldn't have heard from 20 years ago."
He says earning an ECA has been gratifying. "There are so many talented folks in the ICG – great operators, great DP's, great AC's, and on down the line," Hurt concludes. "It's filled with top creative and technical people, so it's humbling – and a huge honor – to receive this award from an organization that represents so much talent."
Allie Schultz – Your Monster
"A lot of DP's have a similar story of making little movies with their friends – I was one of those kids playing with my family camcorder," notes Allie Schultz, who grew up in College Station, TX. She went on to take video production classes in high school and decided to go to film school at the Savannah College of Art and Design in Georgia. "In my first cinematography class, we got to shoot on 16-millimeter and 35-millimeter, and that just sealed the deal," Schultz relates. "I fell in love with filmmaking, and I never really strayed."
Schultz, a three-year ICG loader, has worked as a utility on several productions, which, she says, grounded her work as a director of photography. "Now I know exactly what I'm asking of my crew because I've been in their shoes," she describes. "I've run the cable for hundreds of feet or yards and worked through all these different positions in the camera department. I feel like it's so important as a DP to understand what you're asking your crew to do. Working as a utility gave me some humility and respect." She says her visual style is marked by subtlety and a lighter touch.
"I try to be invisible, so the camera and lighting serve the story," Schultz continues. "I don't want anyone to notice, like, 'The cinematographer was doing some heavy lifting here.'"
Those ideas are all on display in Your Monster, which tells the story of a young girl discovering there really is a monster living in her closet. The film, shot on ALEXA Mini with Kowa anamorphic lenses and Astera Titan tubes, was sponsored by Women in Film as part of its grant program. "We wanted the anamorphic to create a pretty strong look," Schultz explains. "So much of what's going on in the story – you're not sure if it's inside the main character's head or in real life. The anamorphic helps create some of that uncertainty."
In one of Schultz's favorite sequences, the lead hears a noise upstairs one night and goes to investigate. "It was challenging because it's an interior, and it's supposed to be dark with no lights on," she remembers. "We came up with motivations for the light that felt natural while keeping things pretty dark." That was especially important to illuminate the monster the girl finds when she opens the closet door. "Your Monster was one of the first projects where I used the Astera Titan tubes. We had this tiny little space, and we could hide the tube lights."
Schultz takes a lean approach to gear. "I always have felt that all the tools we have are just tools," says the L.A.-based filmmaker. "You can make a good film with all the best tools and all the things you need. You can also make a good film with nothing. So, I usually am focused on picking the tools that are right for the job and the story."
Winning an ECA is validation. "To be honored by established DP's means the world," Schultz concludes. "It feels so good to be recognized for something when you're still kind of starting out."
Michael P. Tedford II – Elder Scrolls: Legends – E3 Trailer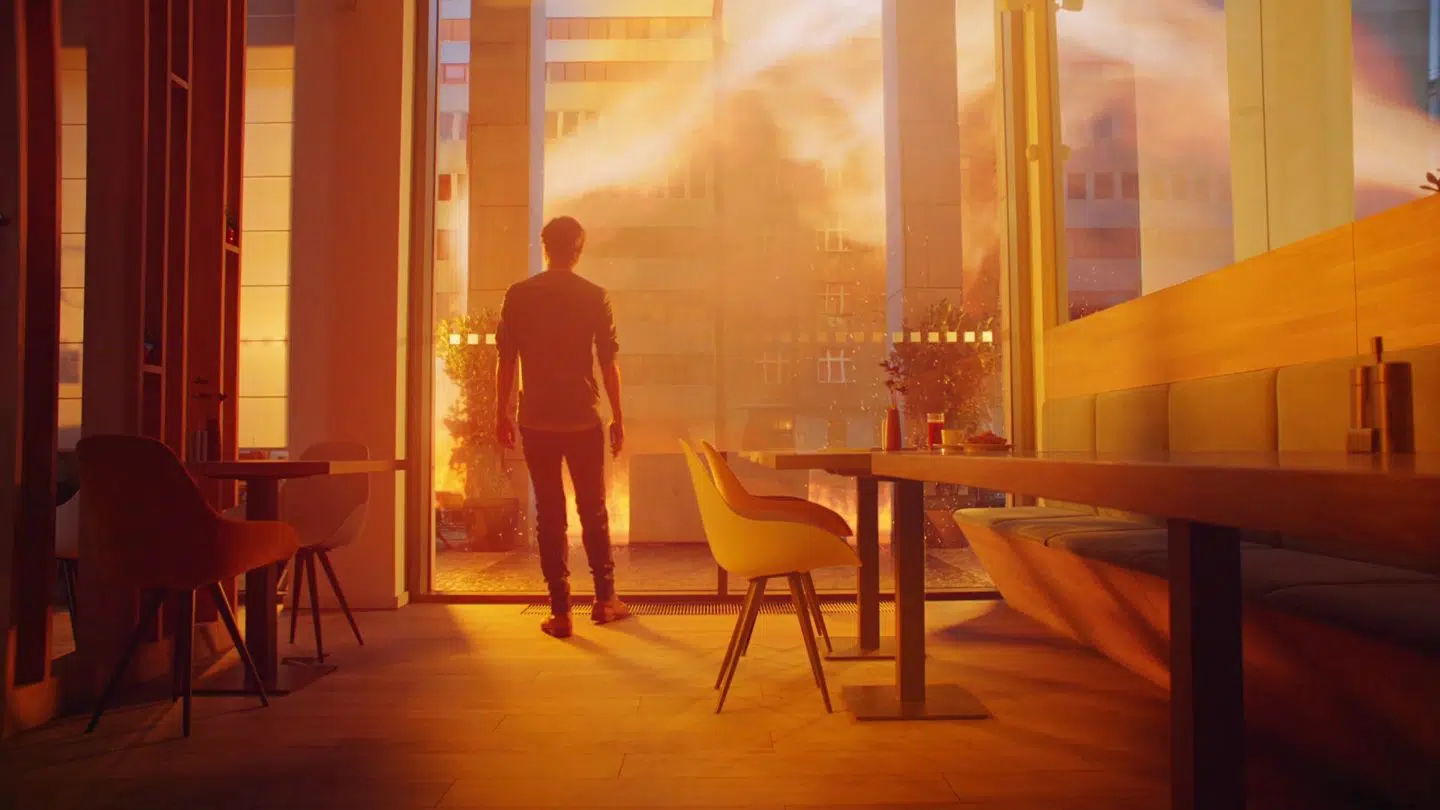 In film, as in real estate, location is everything. And finding the right location for the trailer for the Elder Scrolls: Legends was a problem for Michael P. Tedford, who lensed the project. "We searched high and low across the U.S., and we couldn't find any suitable medieval buildings," the 11-year Guild camera operator laments. "Once we broadened our view, we decided to shoot in Prague, at the Kacina Palace chapel just outside the city. The location was incredible and allowed us to create different layers with the lighting. It was an incredible experience getting to work in a different country and with talented people from all over Europe."
The trailer, written by Hammer Creative for game developer Bethesda, brings the latest title in the franchise to life to energize fans ahead of the game's release. The project features a young man who is whimsically transported into the world of the Elder Scrolls.
"I loved the challenge of creating two different worlds, but the tavern sequence is by far my favorite," Tedford recalls. "I love all of the layers we were able to create. There were so many nooks where lights could be hidden to create separation and textures."
Tedford came to the camera by way of writing and directing. "I quickly found that cinematography was the perfect blend of those two disciplines and was instantly addicted to telling stories visually," the Eugene, OR native shares. Tedford says he's comfortable with creative agencies because he works primarily as a commercial cinematographer, giving him extensive experience in a variety of styles and genres. "I would describe my style as dramatic and cinematic," he says. "I love the chiaroscuro aesthetic and using light to help tell a story." The technique is visible in the trailer's tavern scenes. "For inspiration, I immerse myself. Whether it is art, movies, music, documentaries or books, I want to understand the project from every angle possible."
While he's excited by the freedom afforded by faster cameras and lenses and by smaller, more powerful lights, the development Tedford's most pleased with is an internal one: empathy. "When I was younger I didn't have the greatest attitude and I had a lot to learn," Tedford admits. "I was lucky enough to be around people who helped me on that journey, not only professionally, but personally. As I've gotten older and become more empathetic, it's helped me become a better artist, collaborator, and human being."
When he first joined the Guild over a decade ago, Tedford set a goal of earning an ECA. "Our union is filled with talented DP's in all classifications," he concludes. "Getting a chance to stand out among them and stand with my fellow honorees is a priviledge, and a humbling experience."
Leonard P. Walsh II – Kingsnake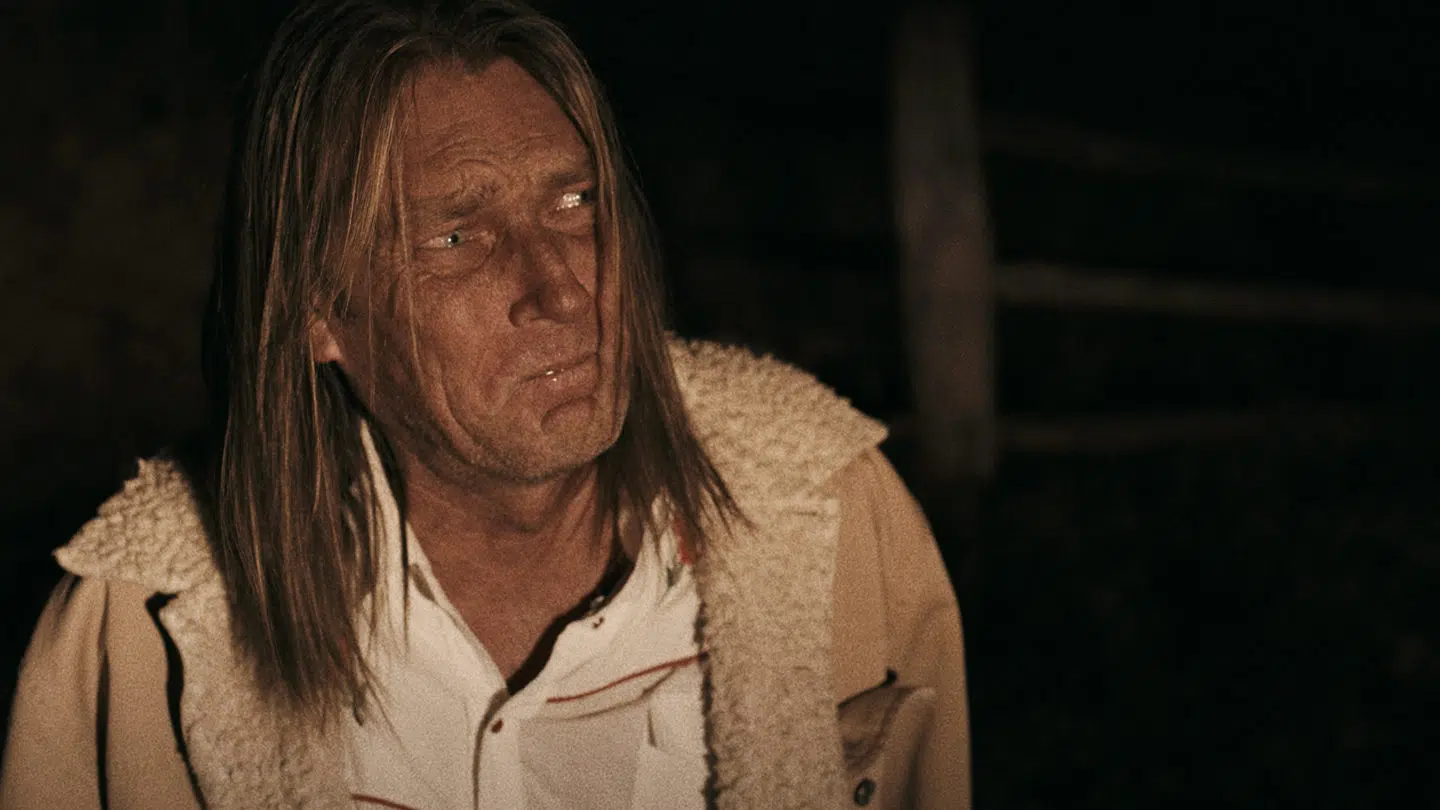 "I don't think I could live without wireless video and focus," admits Leonard P. Walsh II. "I remember the days when I started as a first AC, I had to use a manual follow focus and walk with the operator on handheld shots while the second AC wrangled long runs of BNC cable. I don't miss those days. Now with all the wireless technology, I can freely move the camera however I want or need without worrying about two AC's following me around."
That freedom fuels Walsh's approach to cinematography, which he characterizes as "letting the action play out in front of the camera. I don't like shooting tons of coverage unless necessary," he adds. "Letting the scene and emotions play out in a long take lets the audience experience and be in the moment with the characters."
That approach is found in Kingsnake, a film about the dark side of a small town nestled in the Blue Ridge Mountains. Walsh, who now calls L.A. home, grew up in Richmond, VA, just a few hours from the iconic Blue Ridge Parkway. "I have always loved movies since I was a kid," he states. "In high school, I was really into photography. When I found out I could combine both of those passions, that's when I knew I wanted to be a DP." Walsh draws inspiration from many things, including films from all eras, paintings, art in museums, and moments in his everyday life. "You never know when and how inspiration will hit you," he notes.
The most challenging aspect of Kingsnake, shot on RED HELIUM with RED Pro Primes, was that it takes place at night. "We had a small lighting package," Walsh recounts. "Our biggest light was a Mole Richardson 2K Fresnel, and I used some small ARRI Junior 150s in the background of the car-breakdown scene so we weren't looking into a black void. Luckily we found some great locations, like the diner and abandoned trailer, and were able to make some beautiful images with what we had."
Walsh's favorite sequence was when Ford, the lead, is kicked out of a bar. "He drives away giving the bartender the finger," he chuckles. "It makes me laugh every time."
Looking ahead, Walsh has concerns about streaming services. "They allow much easier access to content, but I fear that the streaming companies' need to always be pushing content has begun to lower the quality of films and television," he says. "I'm also worried that the movie theater experience may not have much life left. It's been hanging on, but I don't know how much longer it will last. I hope I'm wrong."
Earning an ECA is gratifying. "Being chosen for the Emerging Cinematographer Awards is a great honor," Walsh concludes. "It is going to be a memory I will hold on to for a long time."
Gregor Tavenner –  Pleasant Canyon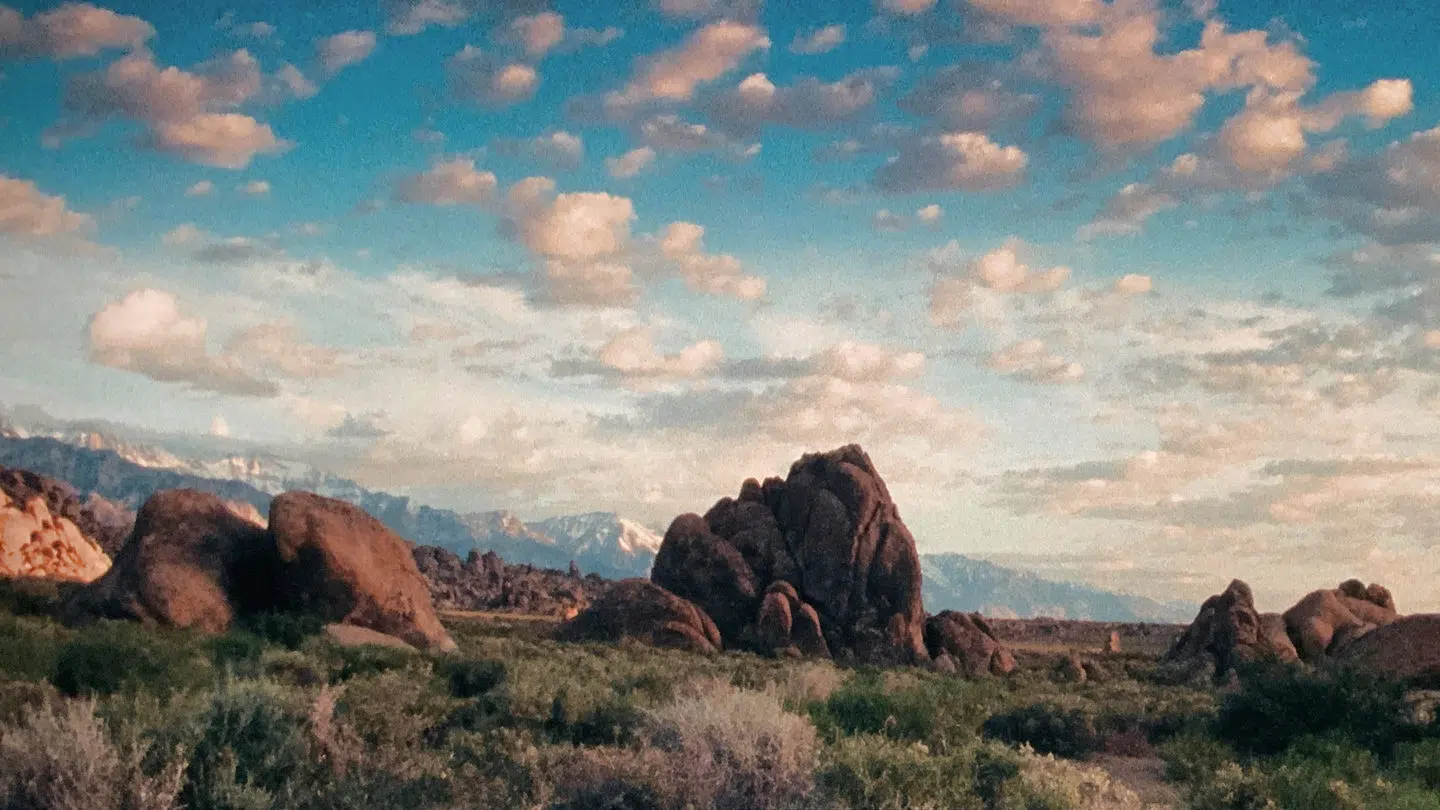 Pleasant Canyon is Gregor Tavenner's first short feature as a director of photography. The New York-based filmmaker was born into a Western ranching family; Tavenner's first job was as a projectionist at his local movie theater in Deer Lodge, MT. The 32-year Guild member began his career as a 1st AC, working with such Oscar-winning and -nominated directors of photography as Robert Richardson, ASC; Robert Elswit, ASC; Emmanuel Lubezki, ASC, AMC; and Chris Menges, ASC, BSC. After some quarter-century pulling focus, Tavenner began operating, now currently on his third season as A-camera/Steadicam operator for the Emmy-winning HBO series Succession.
When director Ryan Jaeger expressed interest in shooting on 16 mm, Tavenner suggested bumping up to 35-mm, 2-perf format. Pleasant Canyon was shot on location in the California desert with Kodak film, Panavision cameras, and vintage lenses made in the 1950s and 1960s.
"Ryan's preparation with the actors and his knowledge of the filmmaking process greatly aided this 20-minute short, shot in the desert with minimal crew," Tavenner explains. "Once you have a foundation vision, the shooting process can ebb and flow with the difficulties of weather and location. The exteriors are core to the genre, and I have often heard DP's I have worked with say they loathe dealing with the vagaries of shooting outdoors."
Tavenner says he and Jaeger share a love for westerns and relished the chance to shoot on film in locations made famous in films past. "There is a language and style that one can draw from, and yet still, perhaps, it can be entertaining and exciting," Tavenner continues. "I had worked as an AC in the California desert on movies, so the chance to revisit these locales was very rewarding. But with minimal tools and crew, I was reminded of the Italians, who made movies in southern Spain on shoestring budgets. They developed a spartan language that I found incredibly visual and efficient, raw and engaging. Both Ryan and I hoped to tap into that spirit with Pleasant Canyon." 
Having worked many years as an AC, and then as an operator, Tavenner says he found the use of handheld camera to be of a particular immediacy and "completely enjoyed the chance to participate in that language for this show."
In terms of his ECA recognition, Tavenner says the honor helps to "reemphasize the value and beauty of the film image and how paying tribute to the processes and language that have been a part of film culture for years is not only still relevant, but even more beautiful," he concludes. "It's particularly important at this moment in time, as our entire industry discards film negative in pursuit of higher profit margins and a more convenient process."