Local 600 Publicists Return to an In-Person Awards Show is a Smashing Success.
by Pauline Rogers / Photos by Trae Patton & Evans Vestal Ward
---
Those most gregarious of industry craftspeople, for whom face-to-face interaction is a large component of their jobs, reunited (after a one-year hiatus) at the Beverly Hilton Hotel for the 59th Annual ICG Publicists Awards. Co-chaired by Tim Menke (publicist, international theatrical, Paramount Pictures) and Sheryl Main (unit publicist), the luncheon brought together more than 700 industry leaders, including ICG members, public relations professionals from all segments of the industry, producers, studios, network executives, celebrities, and press.
Menke and Main began the event with a champagne toast that celebrated the broad diversity within the membership – and the diversity of crafts within their ranks. "I look around the room," Menke smiled, "and we are young, old, black, white, LGBTQ plus, and straight. Some of us hail from Kansas or we might have been born in Paris." "We work at agencies, at studios, we are units, independents, and personal publicists," Main continued. "We create awards, campaigns, special events, and our photo editors. So, cheers, everyone."
Both co-chairs were quick to acknowledge how special the 2021 Awards were. In lieu of an in-person event, the organization "raised over $60,000 in support of our colleagues who experienced hardship during the pandemic," Main announced. "And for that, we are so proud. We are also proud to stand here and stand in unity with the people of Ukraine."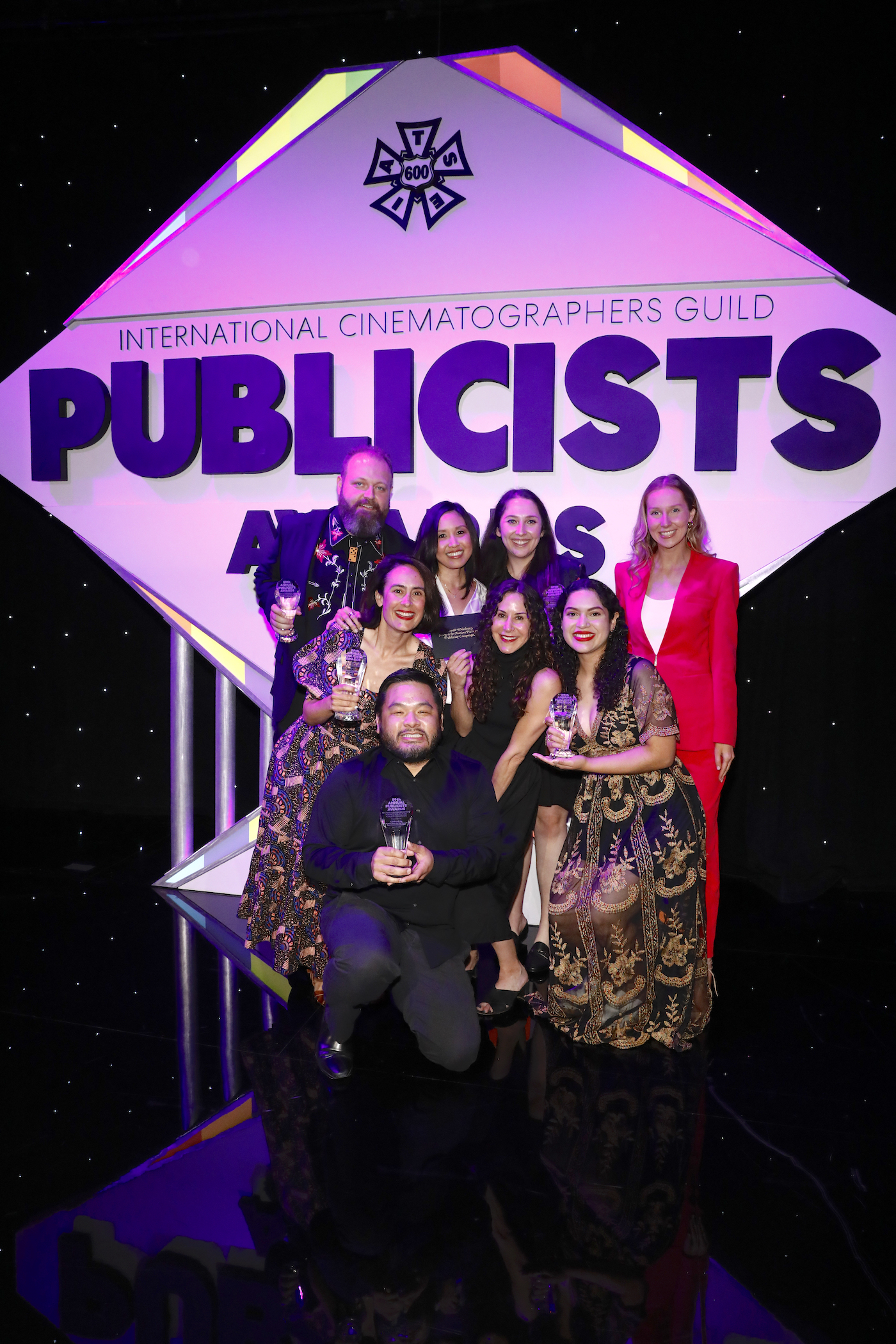 Menke praised how his fellow publicists, "continued to plan and strategize campaigns," throughout the pandemic. "We adjusted schedules as the COVID environment ebbed and flowed," he said. "We worked hard and joyfully gave audiences a chance to escape from the news, to be entertained, and, ultimately, provided a sense of a 'return to normalcy' when theaters safely reopened." Those nominated campaigns included "a Batwoman, a Spider-Man, a family living in a quiet place –part two – and a revisit to those characters of West Side Story," Main picked up. "Not to mention an Underground Railroad; the fast cars and F9: The Fast Saga; the futuristic Dune; the time-traveling WandaVision. The team of outlaws gunning for revenge in The Harder They Fall and a soccer team that plays for Ted Lasso."
This year's Publicist Awards also celebrated the 50th Anniversary of The Godfather and honored recently deceased members, including Harry Klein, Charles Lippincott, Janet Pam, Frank Rodriguez, Marie Siegel, Patricia Story, Robert Werden, and Karl Williams. Menke and Main also served up a warm welcome to the 37 new Local 600 publicity members who joined the industry during unprecedented evolution and change. (See Ch-Ch-Changes ICG Magazine February/March 2022.)
Although President John Lindley, ASC, was on location working, his enthusiasm for the role publicity members play was apparent in the video he prepared for those in attendance. "I want to thank our unit publicists, our studio publicists, and all our publicist members who've done so much to keep our industry alive and keep our Local thriving during the last couple of years that have been so difficult," Lindley shared. "I also want to thank you and everyone in attendance for helping our Scholarship & Preservation Fund, which benefits from today's luncheon. The fund provides much-needed financial support to members' children and grandchildren who are pursuing higher education. It's a worthy cause. They're grateful, and so am I."
The first award on the docket was The Bob Yeager Award, presented by Monica Guzman (senior photo publicist at Sony Pictures) and Holly Connors (VP of Worldwide Photography at Paramount Pictures), to a member who has stood out with her dedication to community service. "Today's honoree has a passion for our four-legged friends," Connors smiled. "For over a decade, Chrissy Quesada Valentine has harnessed her energy and talent to advance the cause of animal rights and welfare. Chrissy, along with her late husband, Bill Valentine, has volunteered endless hours to support non-profit charities such as Best Friends, Wiggle Waggle Walk, No-Kill LA, the Pasadena Humane Association, SPCA, and the Gentle Barn."
In addition to providing food and shelter for feral cats, helping with spaying and neutering, and nursing a whole litter, Quesada Valentine is deeply involved in a non-profit called Willie G Ministries, "which sponsors an event called 'The Miracle of Christmas,'" Guzman added. "The 20-year event begins with a 1200-person lunch for underprivileged families and includes photos with Santa, a car show, and games for the kids. Each child goes home with gifts, and there are food baskets for adults. Chrissy's been collecting donations and fundraising for the event for over a decade. She also photographs the families and hands out gifts, often the only ones the families get during the holiday." Quesada Valentine's acceptance was brief but heartfelt. "There isn't a single person in this room who hasn't been touched by cancer in some way. So, I'm going to add cancer causes and raising money for research to my list of favorite charities," she explained. "And I'm going to dedicate this to my late husband."
Former publicist, studio executive, and producer Sid Ganis, a four-time president of the Motion Picture Academy and a 2007 Publicists Guild Lifetime Achievement Award honoree, served up personal recollections from his many years spent with this year's lifetime achievement honoree, Francis Ford Coppola. One story, set in 1964, recalled the young filmmaker preparing his first studio movie, You're a Big Boy Now. What struck Ganis wasn't so much Coppola's talent as his sense of family – not just blood relatives but the people he brought into the fold. "Francis has always been an experimenter, a risk-taker, an innovator, always curious about everything and everybody," Ganis described. "It's a great day today, celebrating 50 years of The Godfather. But, in 1988, Francis gave us a movie that might be much more of who he is – Tucker: The Man and His Dream. [Like Coppola,] Preston Tucker [played by Jeff Bridges] often went against all the odds – sometimes he lost, and sometimes he triumphed."
Clueing the audience in on Coppola's next big innovation, Ganis added that "forty years ago, Francis started thinking and planning a story called Megalopolis. I'm sure it's in pre-production and will start shooting later this year – 40 years later. He's going to do it – and he's going to do it his way with his own money, from his creative vision."
How did Coppola top off the amazing highlight reel of his career, which also included accolades from close associates and collaborators? "I'm giving my publicist Annalee Paulo and her wonderful associate, Nesma Youssef, conniptions because I'm taking the unprepared speech I was going to give unpreparedly, and I'm throwing that away," he announced as he picked up his award. Instead, the five-time Oscar-winner guided the audience through his childhood and the melting pot of Queens, NY, where he was raised Catholic and introduced to music via two Stradivari violins. Garnering laughs, he added that "although raised as a Catholic, still to this day I cannot eat a cheeseburger because it is wrong to eat the meat of the calf and the milk of its mother." Coppola also talked about his love for Ukrainian-Americans, "who, if you know them, have these wonderful dance competitions and choral contests. And it breaks my heart what is happening in the absurd reality of this world today."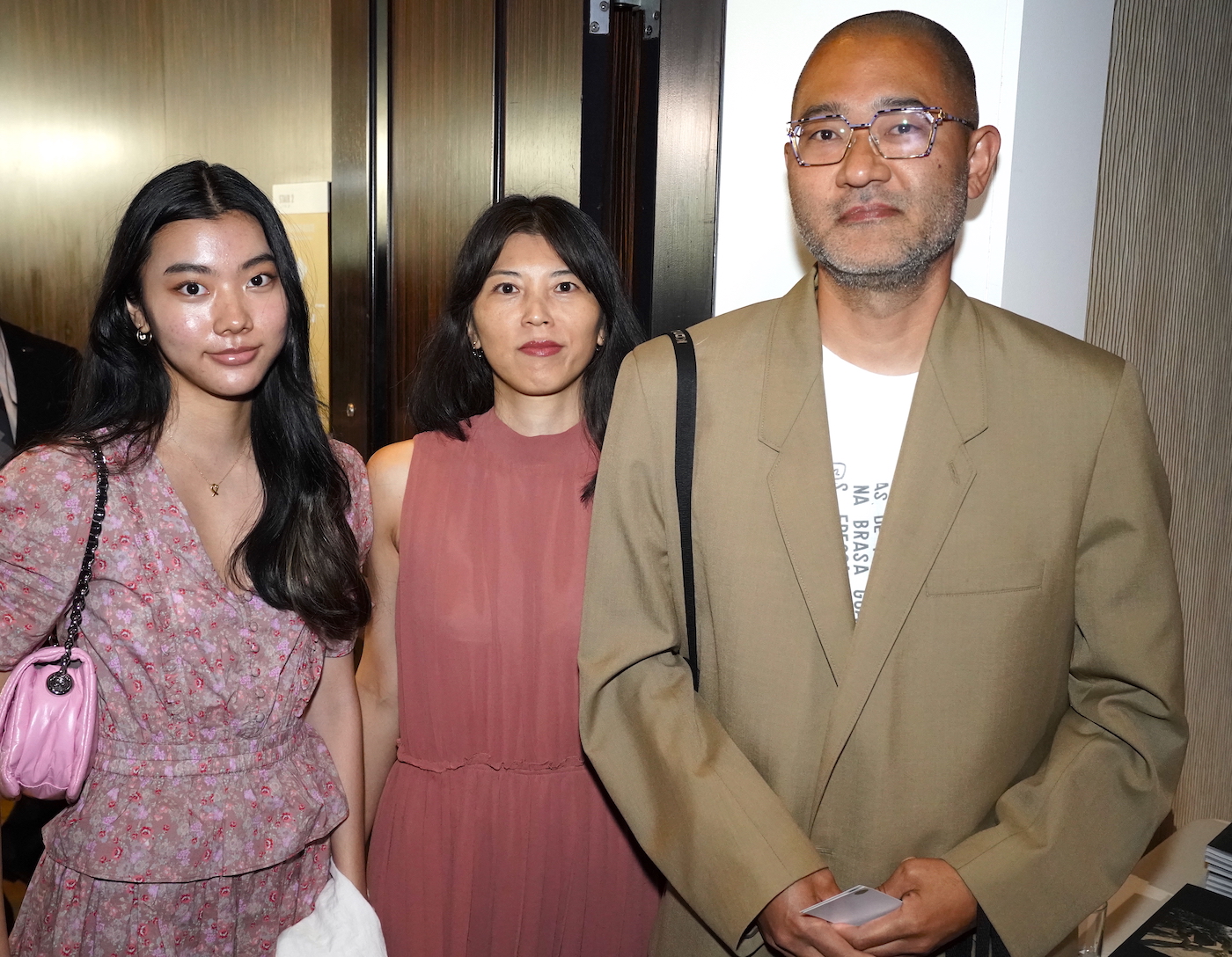 ICG's National Executive Director Rebecca Rhine next took the stage, acknowledging Coppola's inspiring remarks, as well as the tumultuous events since the last in-person awards show, including the COVID-19 pandemic and the death of ICG Director of Photography Helena Hutchins. "You publicists worked straight through the pandemic and continued to lead us to [places] that would ease our fears, evoke our tears and make us laugh out loud," Rhine said.
And Rhine got her own laughs with a Top 10 List of Things I Learned During the Pandemic. "Number 10, you can actually watch every single episode of Law and Order more than once," she began. "Number nine, even when you have nowhere to go, you can still buy shoes to go there. Number eight, you really can find pajamas that look like regular clothes. Number seven, those shows where people date prisoners start to make total sense. Number six, Skinny Pop is seriously misnamed. Number five: You stop telling people they're on mute and wait until their lips stop moving. Number four, your newest friends are the cats walking on the back of people's sofas. Number three, hobbies you used to make fun of – think quilting – now have an appeal. Number two, it becomes harder and harder to judge Jeffrey Toobin. And, number one, if cinematographers can't light themselves and sit up straight – seriously, why should I?"
As the generous laughter to Rhine's Top Ten list subsided, Gerald McRaney took to the podium, apologizing for his wife Delta Burke [who was moving the family to Florida], and presenting the Excellence in Still Photography Award [features]. "No one understands the importance of catching that one brilliant moment that can never be replicated," McRaney described, reading out the five nominees – Chiabella James; Matt Kennedy, SMPSP; David Lee, SMPSP; Daniel McFadden, SMPSP; and Hopper Stone, SMPSP – with Kennedy taking the top honors.
McRaney then turned to stills for television and nominees Justin Lubin, SMPSP; Atsushi Nishijima; JoJo Whilden, SMPSP; Nicole Wilder; and Chuck Zlotnik. "Although the picture is gone, I'd like to talk about the photograph I made on the set of Underground Railroad," shared top honoree Nishijima. "A cotton field outside Savannah. Hot and humid. I wanted to photograph Thuso Mbedu. Something came into my viewfinder. It was actually director Barry Jenkins' hand. Basically, he came there to support her. He grabbed her hand. And that was it. I want to say this is why I am here – because of the many helping hands."
Michelle Hurd (Raffi in Star Trek: Picard) and her husband, Garret Dillahunt (Raising Hope, The Fear of the Walking Dead), announced the nominees for the Press Award. The field was made up of Kyle Buchanan (New York Times), Tim Leong (Entertainment Weekly), Nekesa Mumbi Moody (The Hollywood Reporter), Andy Reyes (Entertainment Tonight), and Adam Weissler (Extra TV). "I love publicists," winner Adam Weissler said. "I learned the importance of you guys back from my mentor, David Sheen, who a lot of you know and worked with. And just how important that relationship is between what I do, what people like me do, what my great fellow nominees for this do." He continued with a special thanks to the team at Extra. Dillahunt then turned to the International Media Award, and nominees Vera Anderson (Cine Premiere, Mexico), Yong Chavez (ABS-CBN News, The Philippines), Helen Hoehne (ProSieben/RTL/TV Movie, Germany), and Dean McCarthy (Australia). Winner McCarthy thanked all the publicists he's worked with for more than ten years for their trust and talent.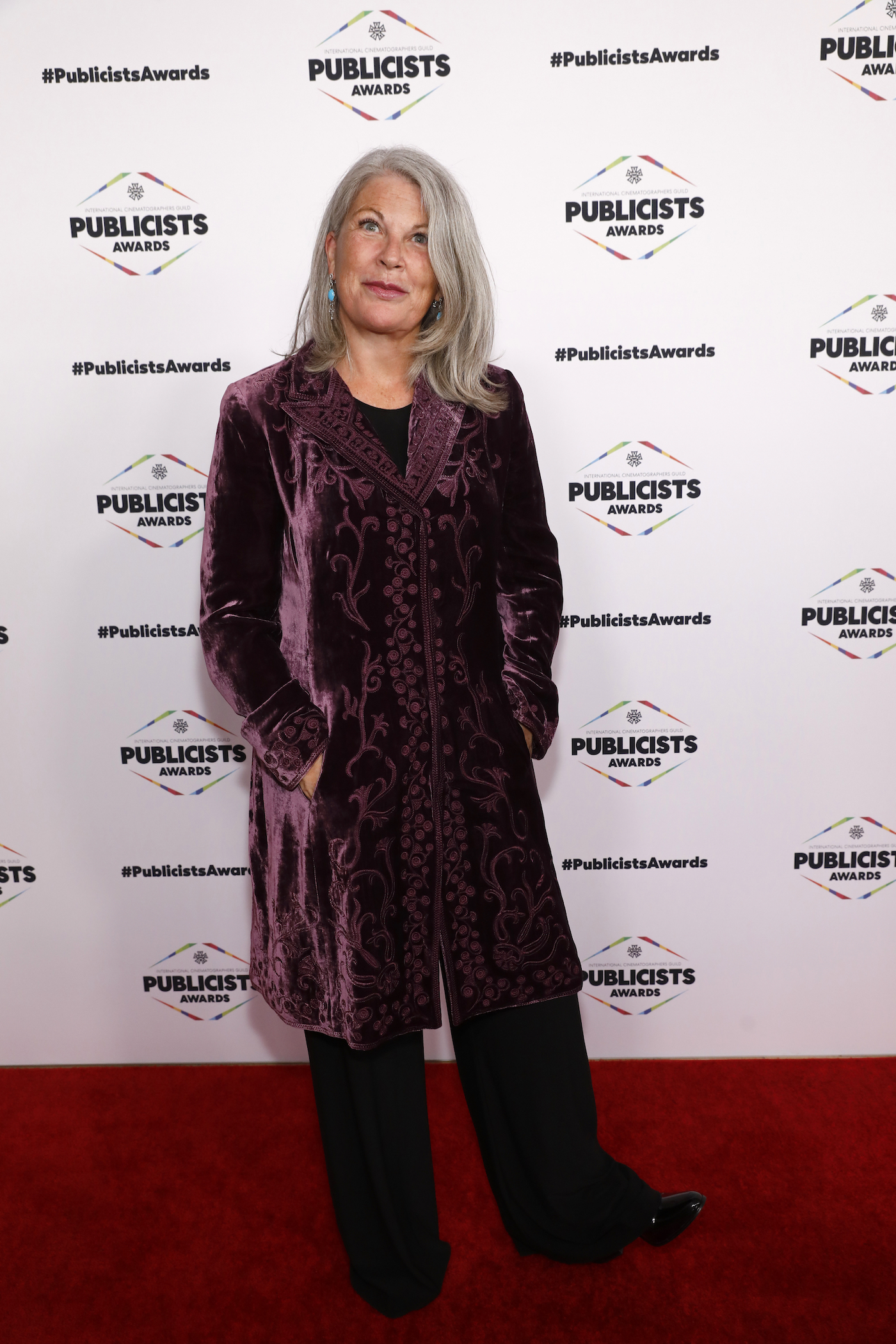 A highlight honor in any year was given out by four-time Publicists Awards winner Tim Menke. "This award, named in Les Mason's memory [a founding member of the Publicists Guild], is the highest honor we can bestow to a member," Menke said, noting the whole membership votes on it. Nominees included Jackie Bazan (the Bazan Agency), who has been a fierce advocate for Black talent; Kira Feola, a veteran of many awards campaigns for Sony and Disney; Gabriela Gutentag, who Menke said is "one of the best units in the world"; Sheryl Main, who has been nominated so many times for her great work; and Leonard Morpurgo, the distinguished gentleman of the group. Finally, David Waldman, who should be on the show Survivor – he can develop a strategy like no other."
For the first time in the award's history, Menke announced a tie between Waldman and Main, at which point actor Johnny Knoxville took over the honors, praising Waldman for his support of Knoxville on projects like Jackass 3D, Bad Grandpa, and Jackass Forever. When it was Waldman's turn to speak, the veteran PR professional made sure to thank "every publicist who has assisted and worked tirelessly on every kind of project I've been on." Then Knoxville introduced co-winner Main for guiding [Knoxville] through Arnold Schwarzenegger's The Last Stand and good-naturedly roasted Main for her many years in the industry. "What a career she's had – it's spanned many decades, I mean, many, many, many decades. Sheryl got her start in show business actually by nannying for an infant Betty White. And after that, she broke into silent films as the unit publicist on Buster Keaton's The General. What a career!"
Playing along, Main smiled and said: "When you start getting awards, they either think you're dying or you're retiring. So, I'm not doing either that I know of, but I'll keep you posted on that one." Main also downplayed her skills at winning awards, noting that "I've been praised. I've been demonized. I've been told to stand up. I've been told to sit down. I've been told to speak up and been told to shut up. So, winning was never my goal. Hanging in there, showing people that I could hang in there and that I was better than they may have thought I was, that was always my goal." Main then added, "Today, I stand in front of all of you; I mean, this is a remarkable crowd. And I'm just like, 'What am I doing here?' But for the first time, I feel like a winner. So, thank you for that."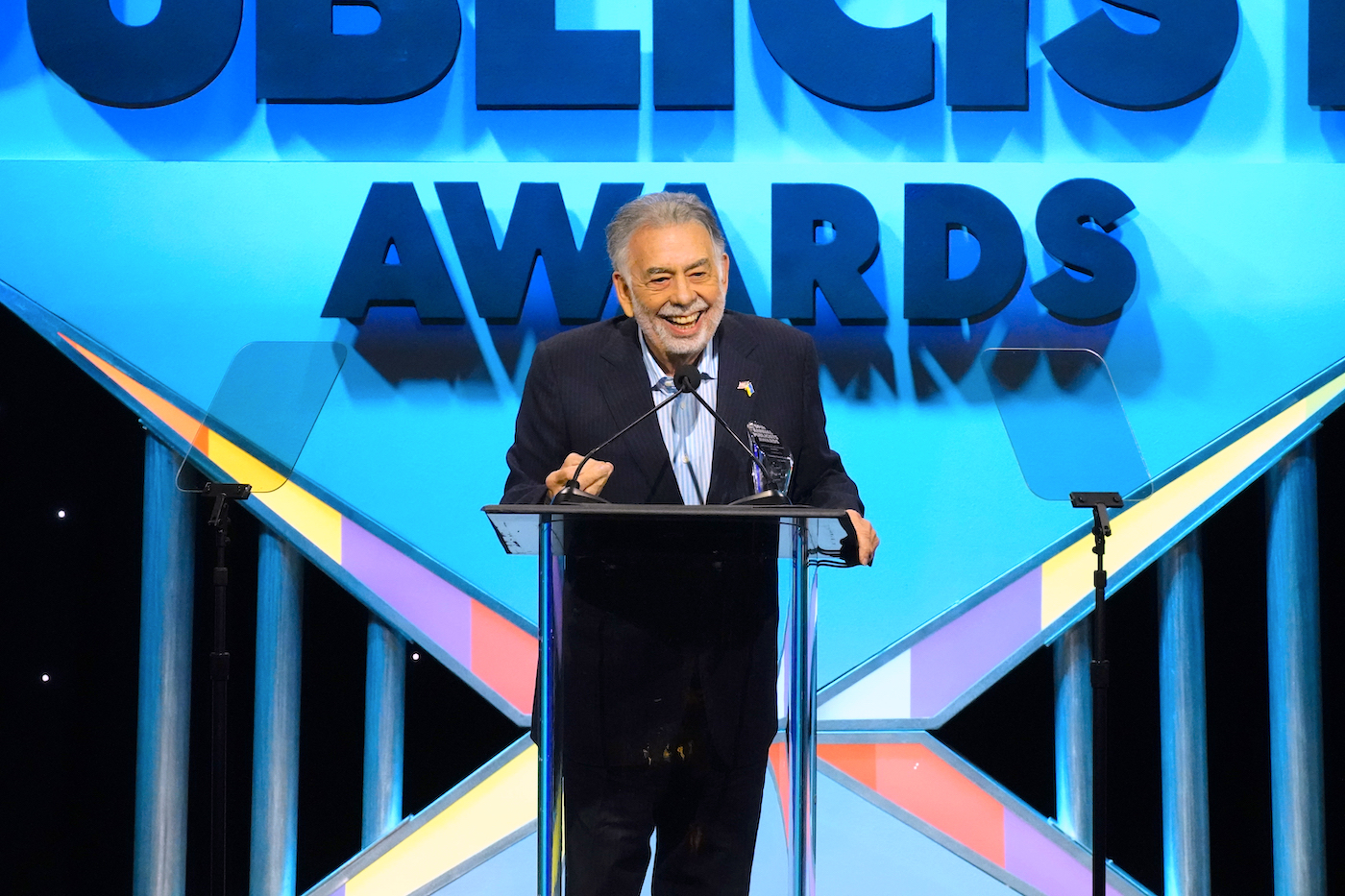 Following Main was actor Zahn McClarnon (Big from Reservation Dogs), who presented the Television Show Persons of the Year award to Reservation Dogs' co-creators and executive producers Sterlin Harjo and Taika Waititi. McClarnon described how, "tired of seeing native stereotypes as mythic, stoic, or savage barriers to Western expansion, [Sterlin Harjo and Taika Waititi] set out to create a comedy that highlights the humor, resilience, and beauty of our community. This half-hour comedy follows the exploits of four native teens in rural Oklahoma who steal, rob, and save in order to get to the exotic, mysterious, and far away land of California," he added. "The series landed on 80-plus critics' year-end best lists, won two Independent Spirit Awards, and was recently honored as one of AFI's television programs of the year. It's filmed on location in Okmulgee, Oklahoma, and is a breakthrough in indigenous representation on television. In addition to Sterlin and Taika, every writer, director, and series regular on the show is indigenous."
The ever-entertaining Waititi, who won a Best Adapted Screenplay Oscar for his 2020 indie feature Jojo Rabbit, noted in his acceptance speech that "Sterlin and I come from different backgrounds, different places from other sides of the world, separated by 200,00 miles. But our experiences growing up were pretty much the same. We wanted to make a native show that brought authentic humorous stories to the forefront and to see people that look like us on screen. But you can't just write and shoot a show and then call it a day. We need people who will work hard to make sure it reaches a wider audience. And that is, of course, where people like you come in.
"Your forward-thinking efforts help bring attention to the work of creators and the stories we tell," Waititi continued. "That job is more difficult and even more crucial than ever in a time like this. I speak for Sterlin when I say thank you to all of the hard-working PR teams who have helped us promote what we have made here and who have helped amplify our stories, specifically the good folks at FX."
One of the event's most satisfying moments was kicked off when actor David Alvarez (Bernardo in Steven Spielberg's West Side Story) presented the prestigious Publicist of the Year award. "Every day, publicists work their magic," Alvarez began. "Whether it's individual campaigns, on set as unit publicists, or as part of a team at a studio or agency, their work is exemplary and deserves to be recognized. Our six nominees are Michelle Alt (studio domestic publicist, Paramount Pictures), Hayley Morrow (studio international publicist, Paramount Pictures), Annalee Paulo Hensley (42 West), John Pisani (unit publicist), and Marshall Weinbaum (studio global publicist, Walt Disney Studios).
Looking truly stunned, top honoree Weinbaum took to the stage, noting that "other than my wedding day and that time Brad Pitt asked me a question backstage at the Oscars two years ago, this is the best moment of my life." Calling his category "stacked" and describing all his fellow nominees as "amazing," Weinbaum went on to "stack" his acceptance speech with thanks to everyone who has supported him over the years, including a special shout-out to "the legendary Kelly Carter, whose six-week college course – 18 years ago – called 'Reporting on the Arts and Pop Culture' at Michigan State, is where I first learned what a publicist was." After praising his husband, Josh, "and the life we have created together," Weinbaum concluded with these words: "And, finally, to every kid who grows up feeling different, who has more bad days than good days, this is proof that it gets better. Please keep saying the word gay. It is a great word. Thank you."
Next up was Lisa Ann Walter (Melissa in Abbott Elementary) to present The Maxwell Weinberg Award for a television publicity campaign. "I have been in the business for about a minute, and I want to tell you that if it wasn't for you guys, and my publicist Alison Leslie of Maria Leslie, along with the people at the publicity teams at Warner Bros. and ABC, a show like Abbott Elementary would never cut through the noise," Walter shared. She then went on to applaud the nominees: Batwoman Season 2 (Warner Bros), Ted Lasso (Apple TV+), The Underground Railroad (Amazon Prime), and WandaVision (Disney+). Top honors went to the seven-time-Emmy-winning series Ted Lasso, with Apple TV+ publicist Sarah Carragher speaking for the entire team. "It's very rare for a project to come along that not only do you actually enjoy watching, but you also become passionate about the themes and the messages behind the show," Carragher said. "This is Ted Lasso for us."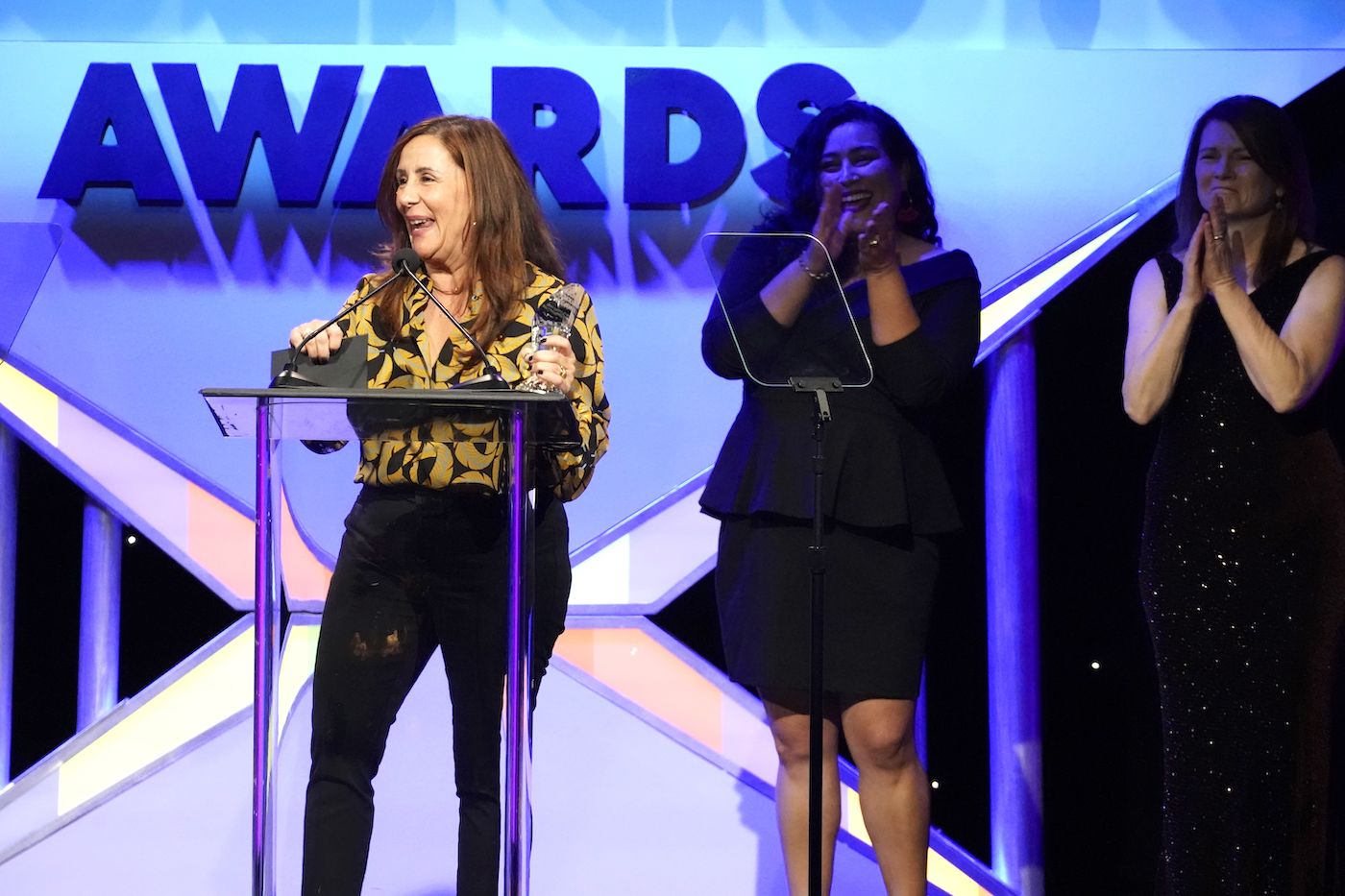 Penultimate honors were doled out by actress Alana Haim (Licorice Pizza), who announced Michael De Luca and Pamela Abdy as the 2022 Motion Picture Show Persons of the Year. "I honestly can't think of two more deserving people, and not just because they gave me my first acting job," Haim said. "Mike and Pam are pioneers in this industry. Mike has been nominated three times for an Academy Award for Best Picture. He was also one of the youngest heads of production in Hollywood's history when he was appointed President and COO of New Line. He helped launch franchises like Blade, Austin Powers, and Rush Hour and championed Pleasantville, Magnolia, I Am Sam, and Boogie Nights.
"New Line is where he met Pam. A groundbreaker in her own right, Pam's career began when she started as an intern at Jersey Films as Danny DeVito's assistant," Haim added. "She eventually became the company's president and produced films like Garden State and Man on the Moon. Pam has shepherded everything from Birdman, The Revenant, and Mean Girls to Queen & Slim and Gone Girl. What they have created and accomplished at MGM over just the last two years and during a pandemic, no less, is impressive. They released the 25th film in the James Bond franchise, which ignited the box office and became one of the most successful films of the year – as well as Respect, Candyman, The Addams Family 2, House of Gucci, Cyrano – and of course Licorice Pizza. They've set the bar incredibly high."
Abdy shared that "working at MGM these last two years has been the greatest honor of our respective careers." "And our movies have been wildly different," De Luca added. "The one constant throughout is all of you. Each film needed your abilities as publicists to create the conversation; to break through the clutter and build the kind of cultural conversation that's critical to an unforgettable PR market campaign.
"As Francis touched on, now, more than ever," De Luca continued, "we live in a world where powerful, sincere, and emotional storytelling must be supported to remind us of our shared responsibility to each other. It's brought into sharp relief when you see someone else's free speech being threatened, and you realize you've taken for granted the blessings we have here. You just want to do more with your privileged position of being able to be a storyteller or help storytellers bring their stories to the screen."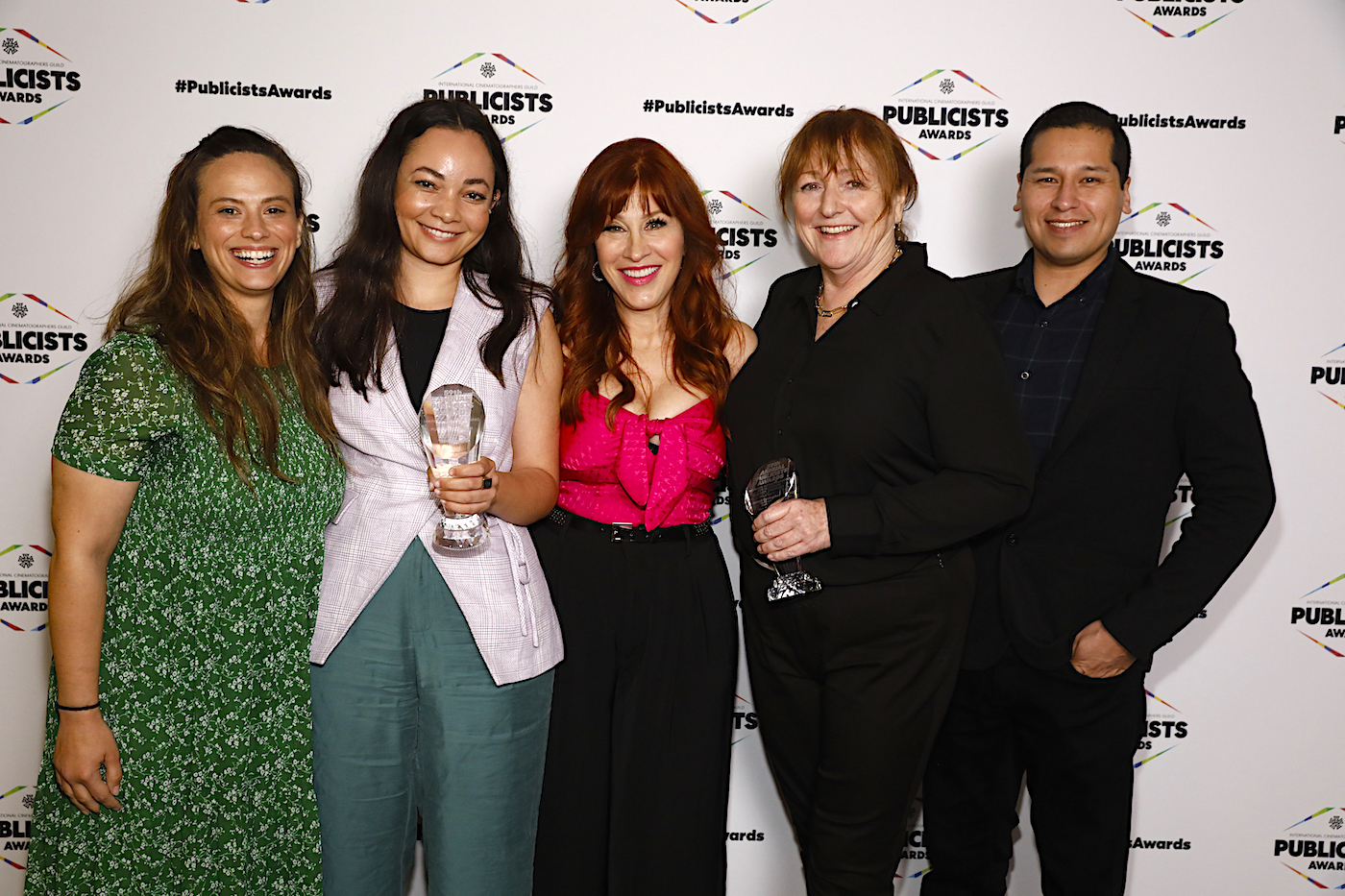 De Luca and Abdy ceded the dais to publicist Eileen Peterson, who presented the last award of the day – The Maxwell Weinberg Award for Motion Picture Publicity Campaign. Peterson introduced the nominees: Dune (Warner and Legendary), F9: The Fast Saga (Universal), The Harder They Fall (Netflix), A Quiet Place II (Paramount), Spider-Man: No Way Home (Sony/Marvel), and West Side Story (20th Century Studios/Walt Disney).
Liz Driscoll, representing the team behind Spider-Man: No Way Home, accepted the prestigious award, noting that "opening the biggest film for our studio when Omicron was coming in hot, and everybody was still working from home, was an incredible feat. We had an amazing team. Including [gesturing behind her] Clifford, Jordan, Patty, Richard, Amy, Eric – Stephanie Summer, who left us for Apple, but we still love her. [Laughs.] Lisa Zaks and the team in New York, Jonathan and our U.K. team, Grant in Toronto, and the captain of our ship, Danielle Misher [Co-Head, Global Marketing, Sony Pictures Entertainment]."
Finally, the ICG Publicists Guild Awards Committee took a moment to thank sponsors Apple TV+, Deadline Hollywood, FX Networks, Junket Productions, MGM, Netflix, Paramount, Sony, Universal, Walt Disney Studios, Warners, Legendary, Amazon/Prime Video, The Hollywood Reporter, Netflix, SAG-AFTRA, Variety Digital Fusion, and SHOOT.
See you all next year! (And this time we really mean it.)