A quartet of Local 600 cinematographers ease Season 1 of Apple TV+'s terrific anthology series, Little America, across physical, emotional, and economic borders.
by David Geffner / Featured image by Walter Thomson/Courtesy of Apple TV +
---
There's no other show on TV right now – narrative or reality – that captures the immigrant experience like Apple TV+'s aptly titled Little America, an eight-episode anthology series poised to start production on its second season once COVID-19 safety protocols are fully realized. Among the elements that make Little America a singular small-screen experience are the four different Local 600 Directors of Photography – David Franco; Paula Huidobro, AMC; Eric Moynier; and Jonathan Furmanski – who worked for eight different directors, most of them immigrants themselves.
The various stories, with titles like "The Grand Prize Winners," "The Rock" and "The Baker," are set in wildly different physical, social and emotional landscapes (of the real characters upon which they are based), yet comprise a visual unity that's rare for the anthology format. Little America Executive Producer Lee Eisenberg (whose Israeli father was an inspiration for the series) says that unity is due to a clear understanding of how to make the camera feel intentional and story-driven. "The DP's all had such a sensitivity to this material," Eisenberg describes. "Paula, David, and Eric are immigrants, and Jonathan, who shot [the 2019 Eisenberg-directed Good Boys], has that same ability to visualize material from the inside out. They provided this warm canvas that was layered by every other department."
A shared capture system and aspect ratio – Sony VENICE with Panavision Primo 70 Series primes (used in all but Furmanski's episode "The Son," which was shot in Canada due to U.S. immigration restrictions on its Middle Eastern actors) – helped with a consistency of tone. Many of Little America's stories are suffused with a warm color palette that portrays places like Oklahoma, San Diego, and New Jersey (in the 1980s, 1990s and early 2000s) with the hope and promise that drive each immigrant's tale.
But it's much more than the gear.
"One of the reasons [Showrunner/Director] Sian Heder hired me, I believe," offers Mexican-born Paula Huidobro, who shot three of the eight episodes, "is because I could bring my feelings to the project as an immigrant. Things that might seem ordinary to a native-born American can appear extraordinary to someone else; so we wanted to preserve that magic and enthusiasm in the storytelling."
Huidobro's episode "The Cowboy," directed by Indian-born Bharat Nalluri, "is a clear realization of those intentions. College student Iwegbuna Ikeji (Conphidance), who has left his close-knit family in war-torn Nigeria, is striving mightily (and cheerfully) to fit into life in Oklahoma. Scenes of Ikeji visiting a Western store to buy a cowboy hat and boots or a cattle corral filled with lanterns (where he imagines a visit by his Nigerian goat-farming family) contain subtle magic realism that Nalluri says comes from Huidobro's emotionally driven approach to cinematography.
"My job is to find the heart and truth of each scene, and I think Paula shares a similar sensibility," explains Nalluri, who says the episode felt so familiar, it could have been exchanged for his own Indian family's story. "Every shot she does is about emotion, every shot is about trying to capture what the character is experiencing at that moment – not about bringing attention to the camera or lighting. It's perfectly suited to how I like to direct television, especially with a half-hour story shot on multiple locations."
Finding the right locations, Nalluri adds, is key for an anthology series that will never have the luxury of a repeating stage set. And the (real) cattle ranch Ikeji visits – first during the day where he is invited to help rope-down a wild calf, and then again, by himself, under full moonlight, was not without challenges.
"The entire scene had to be captured in 30- to 40-second beats because it was pouring rain all day and night," Nalluri recounts. "Yet despite all the mud, and the stopping and starting, both scenes turned out lovely. That's a testament to how switched-on Paula and her camera team were – indeed, every single department was – on this show."
"We rated the VENICE at 2500 and used a softbox from above [for the night scene], which I actually thought was too directional," Huidobro laughs. "The day scene at the ranch was hard as calf roping is very physical and dangerous – the stunt performer could only do it a few times. We had clear safety measures in place for our operators [Jeffrey Dutemple and Todd Armitage]. What I loved about this project was that each episode felt like making a short film, and the directors were so connected to the material."
Indian-born and Canada-based director Deepa Mehta, whose episode "The Manager" was shot by Huidobro and kicks off the series, says the script, by Obie-winning playwright Rajiv Joseph, expressed "a deep understanding of what immigration has given to American society. Lee Eisenberg encouraged me to dive into the material in preproduction," Mehta shares, "and I was able to talk with the young man upon whom the story is based, as well as his mother and father. It's a heartbreaking journey, and Paula immediately understood how to get the emotional nuance – Kabir is so alive when we first meet him, and his parents are running the motel. Then they leave – for so many years – and the audience, like Kabir, becomes an observer to the diminution of his dreams."
Mehta says Huidobro and her camera team, along with Production Designer Amy Williams, "wove a visual tapestry that was almost theatrical – like that motel was a stage where the details of what surrounds Kabir reveal so much about his life," Mehta adds. "The entire story is shot handheld, except for when Kabir goes to Washington D.C. for the spelling bee. Laying down tracks to make that section look stable was because the spelling bee was a vehicle for Kabir to get his parents back. He thought it through very carefully; and Paula, and her team, visualized that so well."
Visualizing "The Jaguar," a Rocky-like sports story that is Little America's most rousing episode, was a challenge for Guild Director of Photography David Franco (ICG Magazine June/July 2020, Law & Disorder), who says that when he accepted the job, he didn't realize each story was a period piece. "Producers sometimes forget that anything before 2000 is period and everything has to be replaced," he smiles. "And shooting New Jersey for San Diego was interesting. I wanted to shoot as close to the actors as possible for these personal stories, and since Apple requires 4K, the larger format [Sony VENICE] was great. We could use longer lenses – a 100-millimeter will feel like a 50-millimeter and will not distort faces. And we had more control over depth of field. Like having to hide things in the background when the budget would not allow for everything to be period-correct."
"The Jaguar," directed by Aurora Guerrero, whose parents are Mexican immigrants, centers on Marisol (Jearnest Corchado), a teenager living in an illegal garage sublet with her mother, a domestic worker at a wealthy beachside home, and Marisol's older brother. Devoid of hope or ambition, Marisol's life changes when drawn into the world of competitive squash. Inspired by her coach (John Ortiz), who gives her the nickname "Jaguar," the story follows Marisol's rise through the sport – from games at the local health club to Olympic-style championship play.
"We almost shot in a real garage," Franco laughs, "but ultimately we had to create something of the same size on stage. For the squash scenes, we were fortunate [Corchado] was already a gifted athlete and learned very quickly, so we didn't have to use a double much at all. The plays were professionally designed, and the actors knew every play and where to look. If they missed the ball, we just kept shooting and added the ball in later with CG."
Marisol's inspiring final match, attended by her mother, brother, and cheering friends, was shot in a brick- and steel-laden train station, where previous professional squash tournaments had been televised. "There was a large skylight that we had to control, but the lighting was already there for the broadcast," Franco adds. "We balanced everything for daylight, staying away from cool blues and greens for a more organic look that was also quite uplifting for that story."
Franco's other two episodes, "The Rock" and "The Silence," were challenging – for different reasons. "The Silence [written and directed by Little America Executive Producer Sian Heder] was the only episdoe without any dialogue [until the very last scene when the retreat attendees are allowed to talk]. Sylviane [Mélanie Laurent] is supposed to be meditating, but she's having all these different fantasies, which required a lot of camera coverage – different extras, costumes, and set-design changes, and that's always tricky to visualize without pulling you too far out of the story." The large, sun-filled meditation room was location-based and demanded the largest lighting setup for the series. "With the VENICE rated at 2500 we may not have needed all the light," Franco adds. "But I feel it was important to have light bounce and fill that big room, which had a lot of wood and texture in the production design."
"The Rock," directed by Iranian commercial helmer Nima Nourizadeh, was more dependent on location than any other episode. Faraz (Shaun Toub) is a Persian dreamer, living with his wife and son in a New Jersey apartment. His dream to build a home (mainly so his son will not move into New York City with his musician friends) culminates in a piece of property made only affordable by the massive rock that occupies the entire lot. "It was so hard to find that rock, out in nature, but next to a road," offers Franco, who was born in France and raised in Africa. Although Faraz's story is humorous, "we didn't want the camera to be busy or overtly comedic," he continues. "Where you put the camera, the type of lens, whether you move or remain still, which we are a lot in this series, is ultimately how the viewer will relate to the writing, acting and directing, and that is less dependent on the lighting, in my opinion. For example, for the oner, in which Faraz imagines a house [where the rock is, and filled with friends and family], the lighting feels warm and comfortable. But it's that super-wide-angle 12-millimeter frame and slow motion that sells you on this fantasy he yearns for."
Yearning to connect with her two teenage children is what drives hard-working single mom Ai in "The Grand Prize Winners." Shot by Eric Moynier, a colleague of David Franco's from Montreal, Quebec, whose parents were born in France, the episode stars Singaporean-born, California-raised actress Angela Lin and was shot in Florida on a real cruise ship. It was written and directed by Tze Chun, on whose life the story is based. Chun, who has a comic-book publishing company, was in talks with Epic Magazine (in which Little America originated as a photo essay) when he casually mentioned his childhood in Boston, and his single mom bringing him and his younger sister to the annual Vacation Expo to try and win a trip. "One winter it was snowing out, and we were the only people there entering all of the raffles, so we won an Alaskan cruise," Chun explains. "The guys at Epic were like: 'That sounds like an episode of Little America. Do you mind if we pitch your story to Apple?' A few months later we were shooting!"
Chun says he and Moynier knew there would be limitations on the ship and would have to rely on available lighting and multiple cameras. "The first day for the stateroom interiors we had 45 setups!" marvels Chun. "Eric, whose background is in documentaries, was like, 'Don't worry. I got this.' It wasn't about lighting for an hour and shooting for 10 minutes; the actors needed total freedom, and that appealed to Eric."
Moynier says restrictions on crew size meant each story point had to be mapped in advance. "It was an older Carnival cruise ship from the later '80s/early '90s. It left from West Palm Beach in the late afternoon for the Bahamas and came back the next day," he explains. "Working with Key Grip Dave Stern and Gaffer Richard Neumann, I said, 'Guys, this is total MacGyver.' We're not using a dolly and it has to be the smallest lighting package we've used. We shot some Steadicam, and skateboard wheels on a platform with angle iron for dolly track; it wasn't so much a crazy handheld approach as a slightly 'unstable frame' that felt alive."
Moynier says DIT Malika Franklin tweaked the LUT created for the series, especially for the cruise-ship scenes. Ai, dismayed to see her children head off each day with their new American friends, watches movies in the ship's theater, alone, plays slot machines and drinks red wine, alone, and, finally, in the penultimate scene, sings a tearful karaoke ballad, alone, on stage. The moment is made all the more powerful as it's intercut with her memories of being taken from Singapore to Hong Kong by ship as a child and given to another family.
"We did three passes on the song," Moynier remembers, "and I told my operator, Jeff Dutemple, 'This moment is so precious; she may only give it to you once, so please don't miss it! We shot all of the close-ups first, and then went behind her and wrapped around. The spotlight in her eyes was all Ritchie's doing – we knew we couldn't bring one onto the boat, so he rigged an LED flashlight with a snoot, and clipped it up high to shine down. We had some Astera tubes on the ground, and the art department changed the background. So simple and yet such a beautiful result."
Chun says the karaoke scene was always slated to be the centerpiece. "I knew it would be the hardest scene to shoot," he shares. "We shot on the last day of production, from 10 p.m. to about 1 a.m. As filmmakers, we have to feel so much on set for the audience to feel even a little bit on screen. Watching the monitor in Video Village, I just felt so thankful we were in the hands of Eric and his great team."
For the flashback scenes to Ai's childhood, Franklin created a desaturated LUT that had a monochromatic feel, with the camera capturing at a higher frame rate. Steadicam capture offered an elegant opposition to Ai's reality on the cruise ship. The port was recreated in Staten Island with local ships, with Production Designer Diane Lederman working to allow Moynier to shoot 360 degrees. Chun says the opening shot of "Millennium Mambo," directed by Chinese filmmaker Hsiao-Hsien Hou, was a template. "You're tracking behind the main character, and it's so beautiful," he relates. "I sent Diane [Lederman] a bunch of photos of my childhood home and photos from my mom. I have to say it was strange walking into the kitchen for the Boston scenes [before they win the cruise] and seeing the same kitchen you grew up in as a kid. Even down to the noodles and rice on the shelf."
The last shot of the episode is Ai, alone on deck, watching a sunrise that leaves her cautiously hopeful that her children will be okay. "I remember talking to my mother about that moment, and she described the glacier sounds at sunrise as 'ice-breaking in a glass of Coke,'" Chun recounts. "Seeing that same moment on the monitor in Video Village, even though it was a sunset shot in 100-degree weather in Florida, I knew Eric had captured what my mother experienced. It was so cool."
The final episode of Season 1 of Little America, entitled "The Son," crosses different borders than the preceding stories. Shot by Jonathan Furmanski, in Montreal, Quebec with an IATSE Local 667 camera team, the bulk of the episode is set in the Middle East – Damascus, Syria and Aman, Jordan – with the main character, Rafiq (Lebanese-born Haaz Sleiman), only coming to the U.S. for the final scenes. And because Rafiq is a gay man in Syria, who in the opening scene leaves his brother's wedding engagement party for a hook-up with another man in a secret location, the stakes are much higher – as Furmanski notes: "This is the only episode where leaving literally means life or death."
Furmanski, who traveled extensively in the Middle East earlier in life, knew the secret location in Damascus (actually a fully dressed former military base in Montreal) where Rafiq's gay identity is revealed would be a blend of older lighting elements – mercury and sodium vapor streetlights and cool white fluorescents. "We very much wanted the opening scene [at the dinner table] to be this cocoon of warm, soft lighting to show how much Rafiq is giving up when he runs away," Furmanski explains. "When he meets the young man, the alleyway outside and the room where they kiss had to feel secretive and dangerous. It still has warm red and orange tones, but it's not inviting. It's a place where they can steal a moment, hidden from the eyes of the world."
One year later finds Rafiq washing dishes in a restaurant in Aman, where he meets Zain (Libyan-born Adam Ali), a young man who flaunts his gay identity in public. Zain brings Rafiq to his apartment for dinner to meet his lover; they go out for wine and conversation in a bar; they walk through a busy souk at night, with Zain singing his favorite Kelly Clarkson song – all scenes where the viewer is unsure how comfortable Rafiq is with embracing an openly gay lifestyle.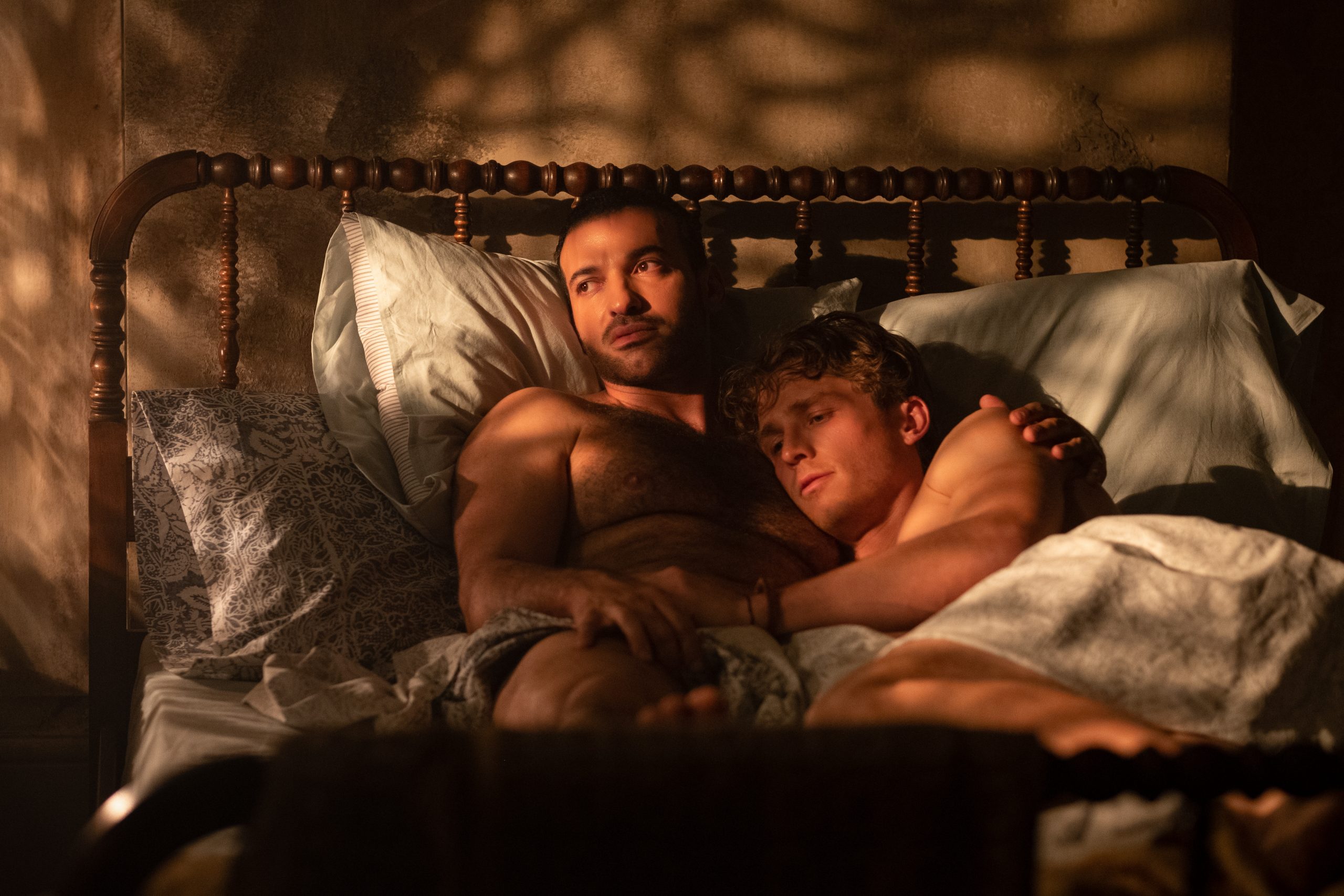 "We had a cultural adviser who made my job easier, as well as our wonderful Production Designer Zoë Sakellaropoulo, who did the same," Furmanski continues. "The advisor would confirm details such as the kind of practical lights found in this part of the world, leaving me free to concentrate on color and where the light was coming from. Having said that, the scene where Zain and Rafiq are walking in the souk was tricky, as we only had control over that alleyway. Anything on either side, like a storefront with modern window dressing, or a FedEx truck driving through the background, would have had to be VFX'd out."
Furmanski had to meet similar challenges for a key scene in Rafiq's Aman apartment, where he makes love with a British tourist he's met in an internet café; Rafiq spends each day on the computer checking the status of his U.S. immigration request.
"The location had arched windows on all sides, and was on the fifth floor of a building in Montreal's Old City, where there are restrictions on heavy equipment," Furmanski continues. "We didn't want to see modern-day Montreal out of the windows, and sheers or blinds were not appropriate for the story. Zoe was able to build lattice-type window frames that created patterns spilling onto them when they're lying in bed. That's the moment Rafiq reveals why he left his family. We didn't need to put any of the lights inside the room – it was all 6K and 9K pars through the windows – making it much more intimate and real for the actors."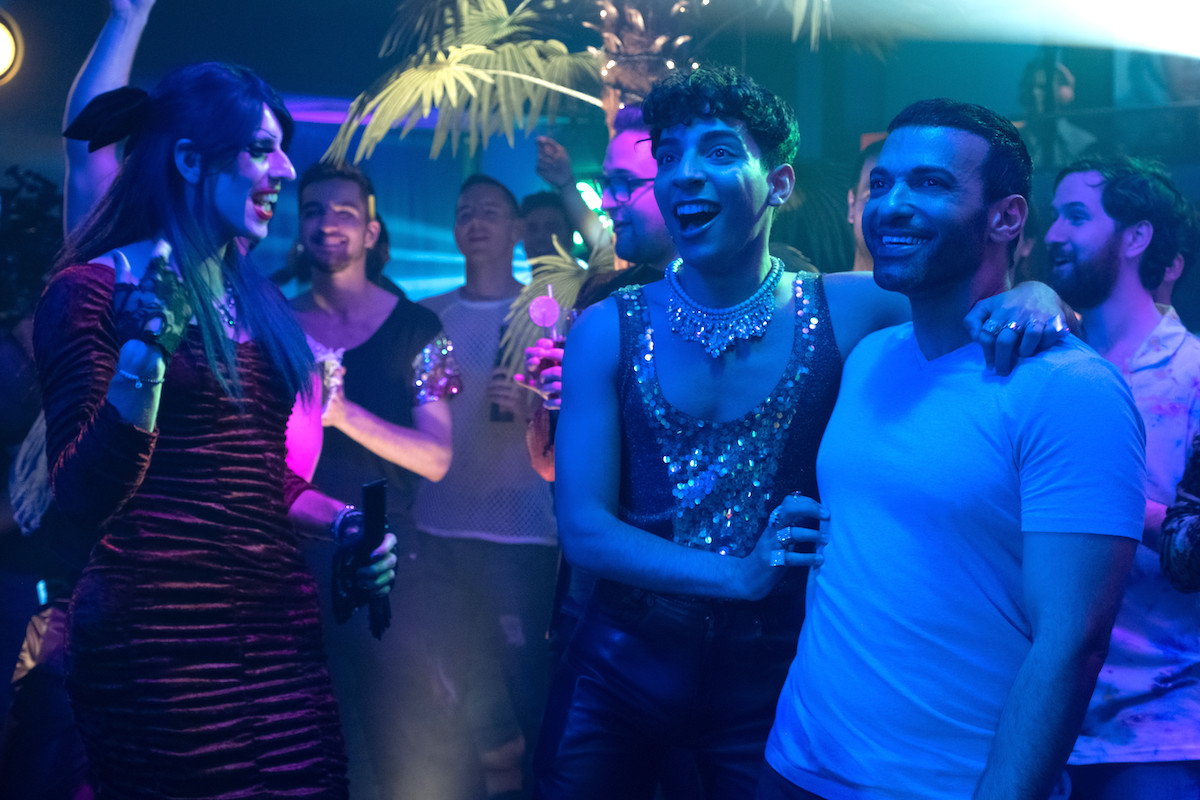 Rafiq's reality changes forever when he's allowed to leave the Middle East. Having kept in touch with Zain (who vowed to become a star in Hollywood), Rafiq is surprised his first taste of freedom is Zain's house, in cool and gray Boise, Idaho. Riding bikes through the leafy town with Zain later at night becomes a seminal moment.
"We wanted that to feel like he had crossed a threshold," Furmanski describes. "The streetlights are the main source for the scene, and they're meant to be kind of magical to show the huge bridge he's crossed. But the existing LED streetlights were not period-correct, and the city would not let us change them out."
The solution, and what also sets "The Son" apart, was Furmanski's use of Canon K35 vintage lenses to create flaring and ghosting. "The Primos were just a bit too modern-looking," he observes. "We also used a Lensbaby in the Boise club scene, because, for Rafiq, that scene is both bewildering and reassuring of the journey he's taken."
Furmanski says he and Director Stephen Dunn talked about the club scene more than any other in the story. "Being surrounded by gay men, totally liberated in that environment, was like nothing Rafiq had ever experienced," he continues. "So it needed to feel like an almost overwhelming carnival-type atmosphere. But the club where we shot had little existing lighting. So working with our gaffer, Benoit Sévigny, we created pools of light. We also used filters from Lindsey Optics that result in very unpredictable streaking and aberrations, kind of this swirly effect, to drive where the lights would be to hit the camera. The last shot [of Rafiq watching a drag queen onstage, singing Zain's song] is meant to be ambivalent, as it's intercut with Rafiq's father in Damascus reading his letter."
The final shot of the series, beautifully visualizing what is both gained and lost in the immigrant's experience, is an idea Creator Lee Eisenberg says was central to Little America. "It was important, throughout this series, to let viewers know these are complex stories," he concludes. "The idea that coming to America will solve all your problems, even if you come from an oppressive society, is simplistic and cliché. Season 2 will see more terrific stories that lean more heavily into communities of immigrants, with even more ambitious filmmaking."
Local 600 Camera Team: Little America
Directors of Photography:
David Franco (Episodes 2, 4, 7), Paula Huidobro (Episodes 1, 3, 5)
Eric Moynier (Episode 6), Jonathan Furmanski (Episode 8)
A-Camera/Steadicam Operator: Jeff Dutemple
A-Camera 1st AC: Greg Finkel
A-Camera 2nd AC: Emma Rees-Scanlon
B-Camera Operators: John MacDonald (episodes 1 – 4), Todd Armitage (episodes 5 & 6)
B-Camera 1st AC: Bradley Grant
B-Camera 2nd AC: Suren Karapetyan
Loader: Derek DiBona
DIT: Malika Franklin
Still Photographers: David Giesbrecht, Seacia Pavao, Walter Thomson, Cara Howe, Patrick Harbron, Michael Parmelee, Rod Millington,
Unit Publicist: Erin Felentzer