Media-based journeys push technological limits at Sundance 2018
In the six years since Sundance's New Frontier program debuted Nonny del la Peña's iconic virtual reality (VR) experience, Hunger in L.A., the festival's carefully curated collection of new media productions has tracked an arc from early technology demonstrations to this year's focus on storytelling and immersive VR, augmented reality (AR) and artificial intelligence (AI) experiences. And VR seems to steal a bigger piece of the pie each year, with fest-goers wait-listing in the cold and snow for sold-out showings. Sundance 2018 also marked the first seven-figure VR distribution sale.
New technology is always a staple of the New Frontier program, which included a demonstration of haptic gloves, from HaptX, which link the virtual world to our sense of touch. Participants can pull a cloud from a string and feel tension, virtual drops of cold rain, or the edges and textures of virtual objects. The system uses microfluidic technology to physically displace the skin in the same way that a real object would, replicating texture, shape and movement. Under the hood, Unity software seemed to be almost everywhere, with the company's recently introduced real-time interactivity and VR optimization functions helping to fuel more interactive and responsive environments.
Some old debates are starting to vanish, like the issue of camera movement in VR. Guild Cinematographer Dagmar Weaver-Madsen and Director Saschka Unseld are credited with settling that argument at last year's festival via the flowing camera work on Through You [ICG April 2017, "Totally Real? Almost"]. This year's buzz was about creating an emotional connection to the content, which requires a new visual language, as screens become environments and storylines become journeys
ICG member Céline Tricart, who is shifting the focus of her career to directing and shooting VR and 360-degree video, premiered The Sun Ladies. The documentary centers on Xate Shingali, a well-known Yazidi singer in Kurdistan and the first all-woman regiment in the Iraqi army. When ISIS invaded Xate's village, the men were slaughtered and the women were taken as sex slaves. Overcoming deeply entrenched cultural barriers, Xate formed The Sun Ladies to take up arms and get their sisters back from the hands of Isis.
Tricart's producer (and international women'sactivist), Maria Bello, had been trying to put together funding for over a year. "It came down to friends," Tricart describes. "Someone wrote a personal check to cover our travel. We got the money on a Wednesday and left the next Tuesday. Because we had only five days to prepare, Maria was thinking we'd use the Samsung Gear 360. But this story deserved the best camera we could get, so I called a friend at the Google Jump Start program and they let us use an Odyssey. The main challenge with the system was going through checkpoints. It looks like an IED!"
The DP describes landing in Erbil, in Iraqi Kurdistan, her heart pounding with fear.
"We were met by one of our producers, Dylan Roberts, and my co-director Christian Stephen, both filmmakers and war journalists who have been covering the conflict in Iraq and Syria for years," Tricart continues. "We spent six days in Iraq, from the Syrian border to refugee camps in Dohuk, interviewing Yazidi female soldiers. It was an active war zone and we couldn't spend the night, so we drove hours each way every day. I used that time in the car to prep the gear and do the data management. Meeting these women was a powerful, emotional experience, and that dictated camera placement. VR is about presence; I wanted the audience to have the same experience I was having."
She adds that The Sun Ladies' postproduction was a long journey and credits Artist Wesley Allsbrook, Editor Mark Simpson and Sound Supervisor Tim Gedemer, as well as Framestore's new real-time color-grading system for VR, the first to employ calibrated headsets to unify the color palette of totally available light shooting and reinforce a sense of the heat and dust.
"VR filmmaking is about abandoning the utter and total control we love as filmmakers and letting each viewer see a slightly different film within the experience we capture," Tricart concludes.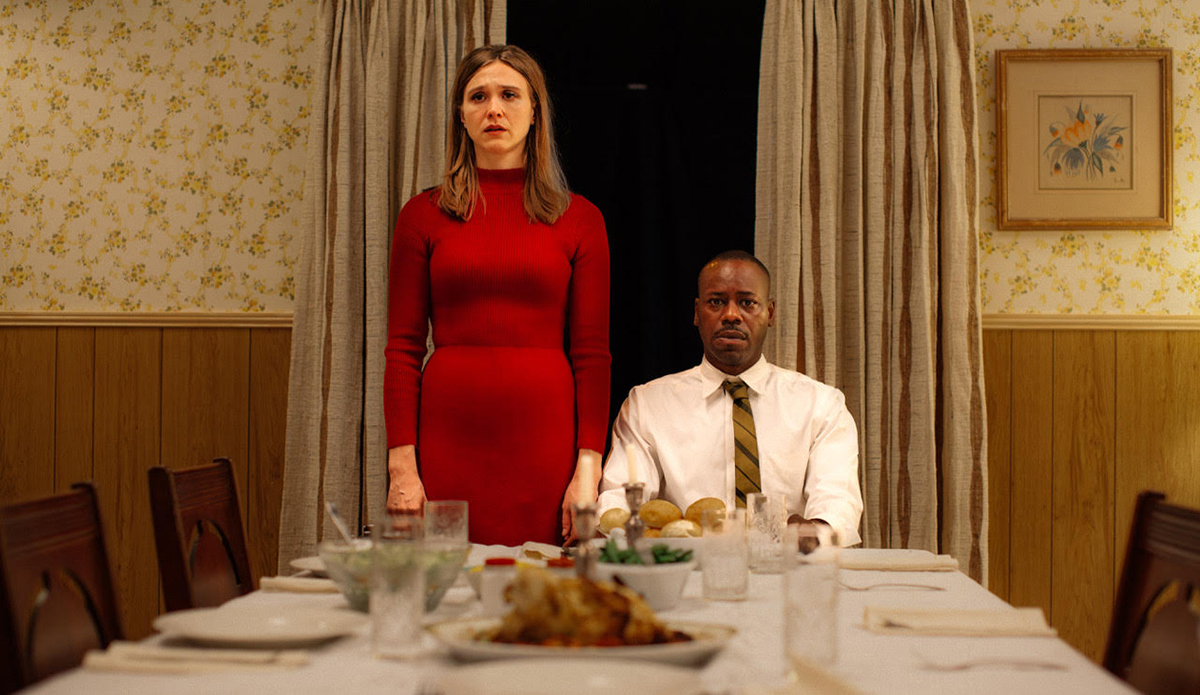 The mostly live-action VR thriller Dinner Party is the first episode in a series called The Incident, exploring a range of well known paranormal experiences. Dinner Party is the story of a New Hampshire-based interracial couple, Betty and Barney Hill, who in 1961 were involved in one of the first widely reported alien abduction incidents. Part of the public record is an audiotape of the couple's hypnotherapy session where they recall the event. In the VR experience, Betty and Barney are throwing a dinner party for friends when Betty decides to play the audiotape.
The project is a product of the New Frontier Story Lab, funded by a grant from on-line technology news site Engadget and supported by a fellowship from the Technicolor Experience Lab. The dinner party and driving sequences were shot onstage, making use of the Z CAM V1 Pro, often under-slung from a Technocrane to execute long continuous takes. The abduction scenes are CGI, based on volumetric motion-capture sequences performed on Technicolor's stage.
One of the keys to the various levels of tension in the story is that the hypnotic recollections of Betty and Barney are almost diametrically opposed. At Engadget's discussion on cinematic storytelling in VR, Dinner Party co-writer Laura Wexler was asked, "Who is the camera?" She responded, "That is a question that is particular to VR.""I think you'll discover by the end of the film that the camera is the aliens and that the aliens are us. We've been there all along."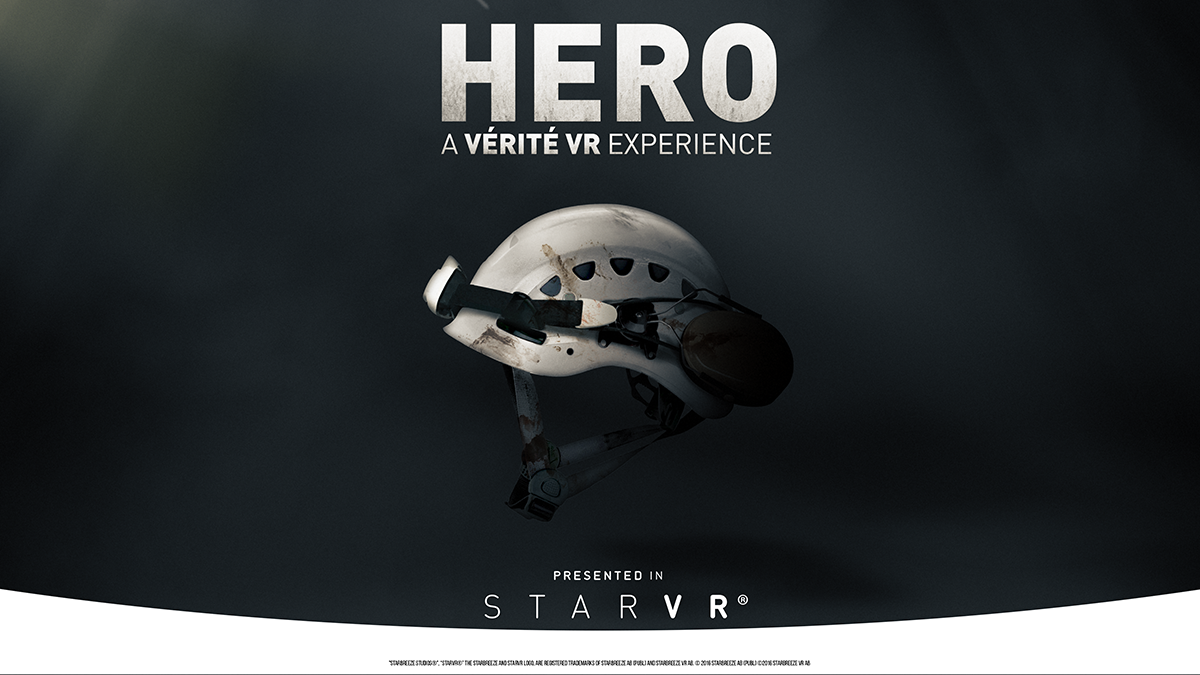 Hero is a large-scale immersive installation piece exploring how sight, sound and touch can be integrated into interactive cinema. Lead Artist Vassiliki Konsart describes it as "your own personal experience into civilian warfare." Her fellow lead artist, Navid Khonsari,adds: "We don't ask you to play a role – be a soldier, be this guy or be that guy – it's much more about allowing you to experience what millions of people around the world experience on a daily basis."
This VR experience places the participant in a melding of the physical and virtual worlds. You begin in the center of a Middle Eastern city. Objects in the immediate virtual environment – a tire, a handrail, a shovel – are matched by real objects that can be touched and held. A bomb explodes with a deafening body blast, complete with real dust and dirt. Suddenly, the participant is enveloped in the heat from fires and screams for help. If you choose, you can brave the flames and follow the cries for help along a ruined balcony, feeling the edge with your feet, to help dig out real human hands reaching out of the rubble.
Wolves in the Walls provides a compelling merge into the virtual world, as the viewer becomes the lead character Lucy's invisible and interactive friend. Based on Neil Gaiman's children's book, lead artists Pete Billington and Jessica Yaffa Shamashbegin with Lucy talking about how there's something hiding in the walls. When she takes out her chalk and draws the outline of a child, the viewer becomes real. As the viewer moves around the virtual room, Lucy maintains eye contact and appropriate body positions, just like a real interpersonal interaction.
When she goes to hand you an old Polaroid camera, Lucy realizes she forgot to give you hands. With hands now drawn-in, the viewer/participant holds the camera and takes pictures that come out just like they would with an old SX-70. The virtual pictures are the shots the participant frames and can be set down in the virtual world! When Lucy asks to see them, participants can pick them up and hand them to her. She then shows the participant where they actually helped her to find the "wolves in the walls."
In terms of visual storytelling, Lucy's environment morphs with her thoughts and changes with her tone. Director Billington calls this "an emotional point of view."
"One of the things we set out to solve is cinematography in VR," Billington explains, "because we can't change the lens or really control the camera. But we can control the space and the lighting, and any theatrical tricks to control your emotions. If Lucy wants to make you feel scared, she will change the space."
One way to prove if new media experiences have real staying power is through sales. As noted, this year marked the first big Sundance deals for VR projects, with a reported low-to mid-seven-figure sum for Spheres, an animated exploration of space and time, and the live-action piece Zikr: A Sufi Revival, which sold for an undisclosed sum. If 2017 told the film community it was okay to "move the camera," then 2018 might be remembered as the year when VR story and character building took center stage.
by Michael Chambliss
Photos Courtesy of Sundance Institute