Larry Fong, ASC, pulls some sleight-of-hand visual magic for the latest incarnation of Kong, the great ape.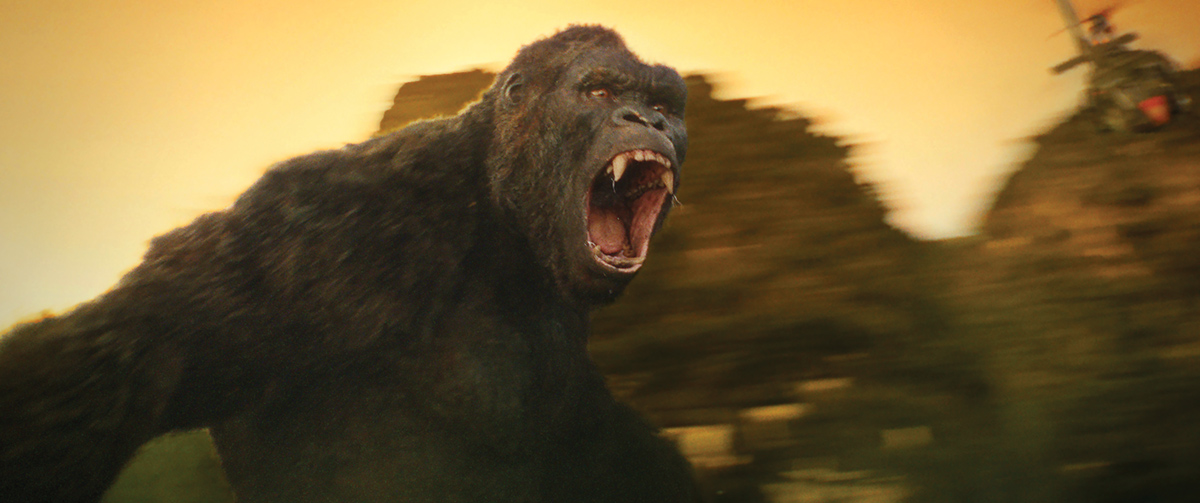 It's hard to find a more enduring (and misunderstood) movie monster than the great gorilla, Kong, who made his debut in Merian C. Cooper's 1933 self-titled feature and has reappeared on the big screen twice since (by Dino De Laurentiis in 1975 and again by Peter Jackson in 2005). Visual effects have been key to Kong's legacy since Willis O'Brien's stop-motion magic first brought the big ape to life; then Jackson's own WETA Digital VFX shop brought the monster to another level 12 years ago. Now, in 2017, director Jordan Vogt-Roberts, working with Larry Fong, ASC, and a host of ILM effects masters, has updated the timeless tale, having the 100-foot tall Kong doing battle on his home turf.
Kong: Skull Island takes place just after the end of the Vietnam War. The plot involves a pseudo-scientific organization (led by John Goodman) that sends a group of former military explorers to a remote island in search of strange and undiscovered creatures. Led by a former British SAS tracker (Tom Hiddleston) and an American colonel (Samuel L. Jackson), the misguided warriors trigger Kong's wrath when they drop explosives on the island from whirling choppers. In response, Kong destroys the colonel's helicopter fleet (and a good many of his men). The remaining team, including a photojournalist (Brie Larson), chance upon a long-stranded American (John C. Reilly) and try to make their way off the island.
Among the first decisions production company Legendary Pictures made was to enlist Fong. Producer Alex Garcia says Vogt-Roberts wanted a "fresh look" unrelated to Jackson's version. "We wanted someone with the ability to make the many jungle locations really pop," Garcia recounts. "We were very fortunate to get Larry."
In fact, Vogt-Roberts wanted to create an island environment that wasn't so much fantasy as a fantastic place. "Almost like a bastard child of nature," Garcia adds. "Tactile and beautiful, but also incredibly dangerous." Also Vogt-Roberts wanted to conjure a different feel from previous franchises or series. "Jurassic Park has owned the aesthetic of Hawaii," he notes, "and I wanted a different kind of landscape."
In fact, it took three countries to create Skull Island. Shooting began in Hawaii where veteran A-camera operator P. Scott Sakamoto, SOC, says they were able to move efficiently through familiar territory. Along with beaches and jungles, several key scenes were filmed on Kualoa Ranch, including the film's Boneyard Valley and Fire Lake sequences, with a military base in Oahu used for parts of the big helicopter sequence. A large amount of 2nd Unit work, led by director Spiro Razatos and DP Jacques Haitkin, also took place in Hawaii.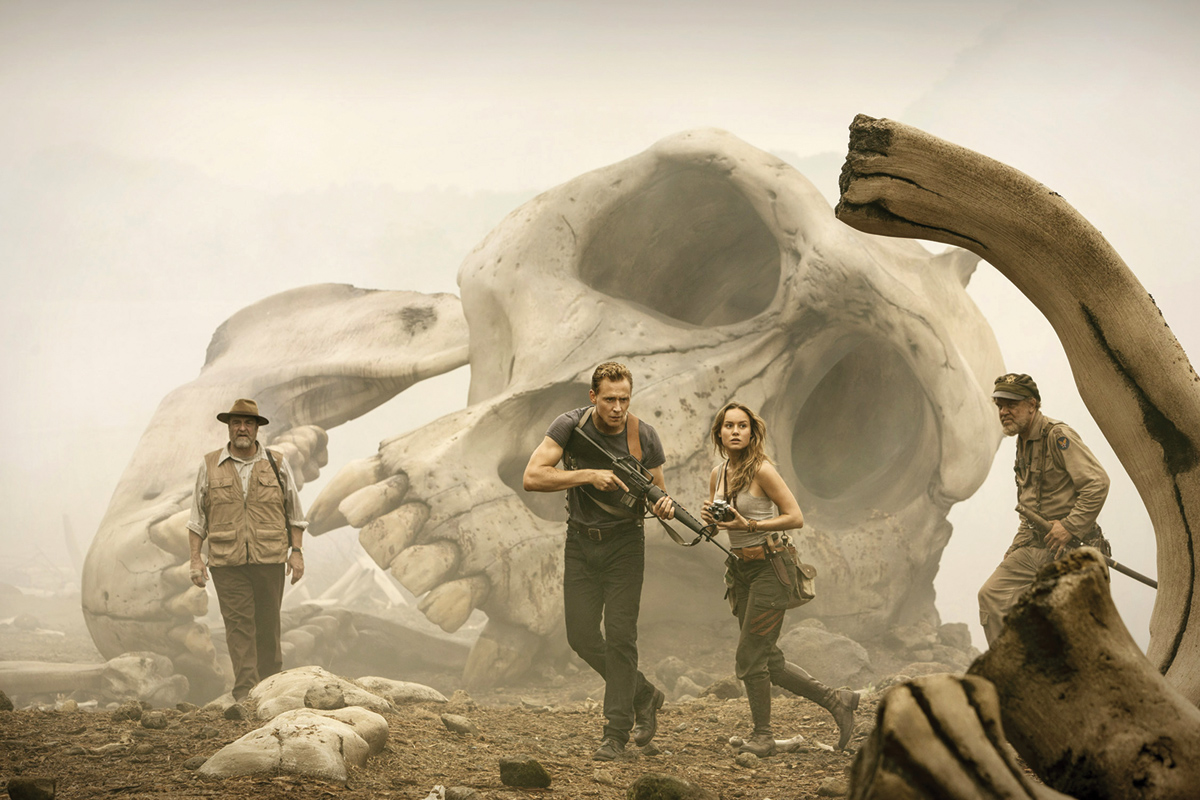 Joining Fong and Sakamoto was 1st AC Bill Coe and B-camera operator Steve Adcock (who, like Fong, had also worked in Hawaii on Lost) and gaffer Walter Bithell. The company then moved to Australia's Gold Coast, with stage work at Village Roadshow Studios, including the interiors of a freighter and that of the long-ago shipwrecked Wanderer, which the locals use as a shrine to their oversized ape god. Fong lit that impressive set with striking shafts of light piercing through its rusted-out hull using beam projectors, PAR cans and moving lights. (Fong's seasoned Aussie team included B-Camera Operator Calum McFarlane, C-Camera Operator Damian Wyvill, ACS, and Key Grip Toby Copping.)
When Kong: Skull Island moved to Vietnam, the film's look was fully solidified. Fong and Vogt-Roberts were able to introduce numerous unique South Asian elements.
"The landscape there, with those huge limestone plinths," McFarlane says, referring to the unusual rising Karst towers in Ha Long Bay, to the north, "are hard to describe. They're 100 feet tall, almost like teeth, and perfect for a character who's that big. They let [Kong] appear and disappear, and it looks not quite of this world."
Vogt-Roberts' naturalistic vision drew on 1970s-era films. Or, as he describes it, "sort of a funhouse-mirror version of Apocalypse Now – capturing the beauty, but also something that's digestible and fun." McFarlane calls the look Fong captured "overripe. There're elements of naturalism, but it veers into its own world, so you're more prepared to accept fantastical creatures," he observes.
As Fong notes: "It was our intent to emulate and embrace the style of 1970s films.  But in the end, though, you can't completely do that without becoming a parody. So we didn't hesitate to use more modern film techniques, such as Technocrane and Steadicam, that help tell the story as well."
The director sent the B-camera unit to capture additional nature for use as inserts. He added DP Ross Riege to shoot nature footage once ensconced in Vietnam. Riege, who has worked extensively with Vogt-Roberts in TV and indie features, said the director wanted "an autonomous mobile unit he could send out to nab things he had seen during the day's shoot or on a scout. We had an Alexa and would just bring with us whatever lens Larry or Bill Coe could spare for the day, or even for an hour."
Fong and Vogt-Roberts credit Fotokem colorist Dave Cole with helping pin down the look, along with DIT Robert Howie, whom Fong calls "my secret weapon."  "He went out and developed LUTs for certain scenes," most of which were based on a Show LUT from Steve Yedlin, ASC. "We called it the S-LUT," Fong chuckles.
Fong shot on ARRI ALEXA XT Plus, supplied and supported by Panavision LA, with occasional use of a Phantom for high-speed shots. Fong also turned to Panavision for some custom anamorphic lenses. "I always knew I wanted to shoot anamorphic – which everyone thought was crazy, because Kong is so tall," Vogt-Roberts reveals. "But I knew if we could find a way to fit him in the frame, or use that frame to actually make him feel bigger, because he's being cut off, that would achieve what I wanted." Fong adds that although "some didn't agree with the choice, we stuck to our guns, and I think the images prove us correct."
On a visit with Dan Sasaki at Panavision, Vogt-Roberts saw elements from various older lenses to create something unique, "one which allowed us to have a clean, modern look, but with some idiosyncrasies that also feel vintage at the same time," he recalls. Fong adds that he and Vogt-Roberts "wanted a specific vintage look that no lens we knew had." As Coe explains: "We assembled the lenses with Cooke primes as the base lenses of the whole series. We used a single-layer coating to give them the older-looking amber flare that Jordan loved. And then Dan put the whole thing together in some old B-series anamorphic cylinders, making what we called a 'B hybrid set.'"
"They performed well – sharp, but not overly crisp or contrasty," describes Sakamoto. Adds McFarlane, "Putting this older glass in front of digital sensors gives a real Seventies big-screen look, something like Close Encounters." Copping suggested an interesting camera-head system – CineMoves' Oculus 4-Axis Gimbal, used in conjunction with the company's CineFlip head, mounted on their Extreme Gator vehicle or a 45-foot Scorpio crane.
"It's super stable," Copping relates. "You can use it without a leveling head. The CineFlip allows you to go from underslung to overslung in about 15 seconds." Adds Fong: "The Oculus is a game changer – quick, robust and reliable."
The Oculus – in combination with the diminutive G-F-M GF-6 crane, as well as that company's sliders – came in particularly handy on the plentiful boat work in Vietnam. "Because of the environments there, we couldn't really use any large equipment, such as Technocranes," Copping continues. "I was only allowed a minimal lighting and grip package," Fong adds. "The Oculus remote head and the crane arm lived on their own boat for the duration. Without them, our boat scenes would've been fairly pedestrian."
Boats were the prime way to travel inside Vietnam, both as camera and picture "vehicles" and as a "transportation department," sometimes helmed by the locals. The vessels moved the team from one base camp to another and to scenic locations in Ninh Binh, which included scenic caves and the waterways that pass through the mountains. Gear was stowed in little wooden boats, probably no longer than eight feet long, and paddled by women who typically ferry tourists, not filmmakers.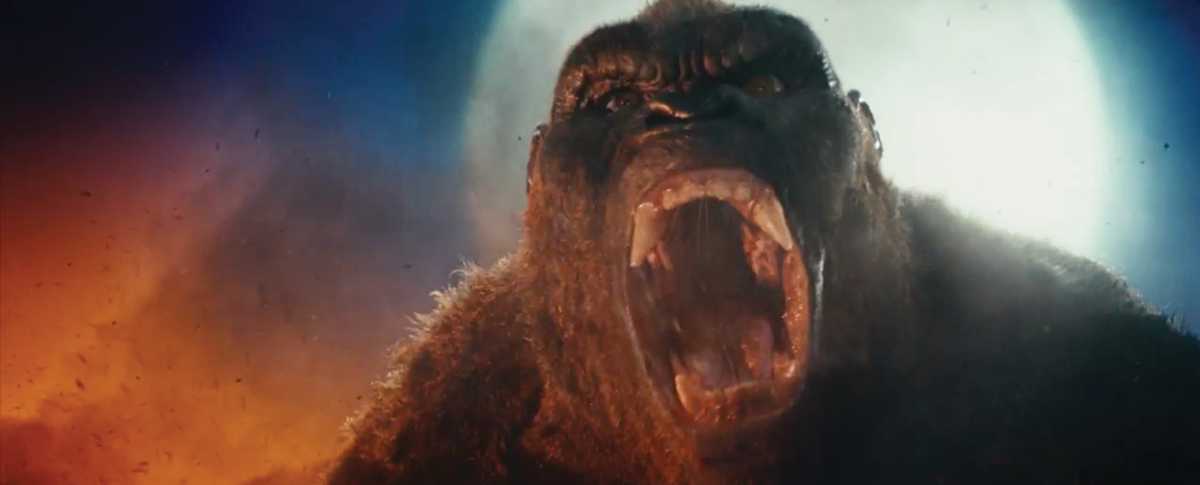 "Every remote location in Vietnam was reached using multiple boats," Fong explains. "Larger boats were brought in by our marine specialists for the crane and other heavy equipment. For the ancillary support crew, we frequently used small, local skiffs and their friendly, helpful owners, who rowed around by hand, and also their feet. I still can't figure out exactly how they were able to do that!" he laughs.
The locals also assisted on set – two bilingual Vietnamese ADs were especially helpful with extras – and they got to enjoy Fong's legendary other passion – magic. "When given a chance," Sakamoto smiles, "Larry's more than happy to entertain," with the local hosts being especially enthralled by his sleight-of-hand tricks. "He would finish, and you could hear them all asking, 'How did he do that?' in Vietnamese."
Big VFX elements in Kong were led by VFX Supervisor Stephen Rosenbaum, working closely with Sakamoto and main unit, while ILM VFX Supervisor Jeff White shadowed the 2nd Unit camera team, led by Haitkin and his operator, Onofrio (Nino) Pansini, along with other top operators as needed, including veteran Henry Tirl.
Haitkin's unit, which worked only Hawaii, shot with the same ALEXA XT Plus that Fong did, and, as much as possible, with the same anamorphic lenses. (Haitkin did use spherical lenses for some VFX plates to take advantage of the XT Plus's large sensor.)
"We made a pledge to shoot anamorphic as much as we could," Haitkin recalls. "But when there's a shot that will have multiple layers, [ILM] doesn't want to be dealing with an optical deficiency." [White notes that ILM went to great effort to pre-test the custom anamorphic lenses and map unique color and flaring qualities, to digitally reapply them in post to spherically captured images.]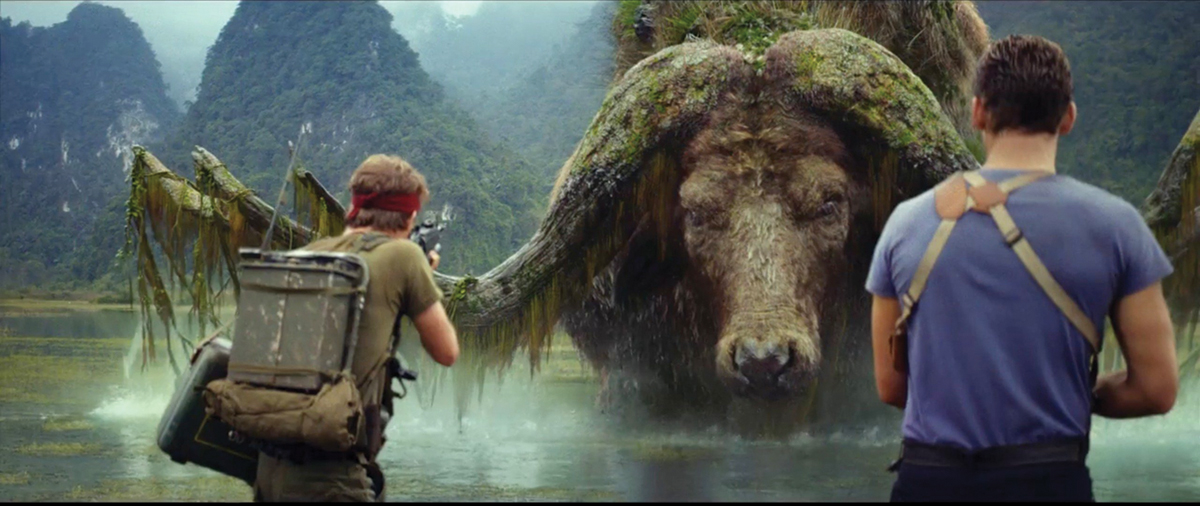 Providing more image data was also the key to the many aerial sequences captured by David Nowell. "We shot with the Alexa open gate to account for any frame-line deficiencies," Haitkin informs. "We protect for 2.40, but if something bumps the full-frame spherical shot, at the top and bottom, there're huge amounts of space that you can dip into, optically, top and bottom, to catch the action, without having to cut. I also leave five percent on each side for any lateral jumps."
Pansini employed a specially modified Talon two-axis repeatable (i.e. motion control) remote head that could whip-pan as high as 560 degrees in one second. "It's rigid and powerful," the operator explains. "For its size and weight, it can handle massive G force and not have motors stall or slip. It is precise and records all the moves," something Haitkin favored for complex crane moves.
The Talon was important for the complex helicopter battle with Kong (which the crew affectionately called "Flight of the Valkyries"). Pansini would fly handheld, his feet duct-taped to the skids of one of the three Huey helicopters in the scene, to capture the actors inside. "That was an exhilarating experience," he adds, noting the obvious!
Nowell, working with his longtime pilot, Fred North, shot both action and VFX plates in Hawaii and Vietnam. For single-camera 2nd-Unit work, he used the ALEXA XT Plus housed in a Shotover K1 6-axis stabilized gimbal system, shooting with 11:1 zoom lenses that Panavision modified for the occasion to a 26-300 mm. For other plates, including landscape backgrounds, Nowell used a system developed by his own rental company, Team 5, with Shotover, known as the Hydra. The system comprises two rows of three toed-in RED Dragons. "It provides an image that's 152 degrees wide and 64 degrees top to bottom," Nowell explains. "Each Red is 6K resolution, so that's a 36K image." Just a few passes through a scenic Vietnamese canyon would provide an image with nearly 270 degrees of coverage. "Our time was tight every day, so that was an incredible help," ILM's White adds.
Some action sequences required a complex blend of Main and Second Units. For the Valkyries, Nowell and North found themselves capturing the three Huey helicopters as they encircled Kong (sometimes circling them in the opposite direction to ramp up the energy) or flying with them to capture their POV as a VFX plate. (Pansini was onboard one of the birds, capturing detail.)
Afterwards, Fong shot a Huey mockup inside an aircraft hangar with a 360-degree green screen. Sakamoto was strapped onto the outside of the shaking buck to capture the actors inside. "That thing shook so violently, it was all I could do to hold onto the camera," Sakamoto recalls. (Adcock supplemented with Technocrane work.)
As for lighting the scene, Fong noticed during an aerial scout a rotor shadow on the chopper pilot. "It was kind of pulsing," he remembers, "so we had Walter think of a way to get that subtle pulse." The gaffer devised a lighting scheme comprised of AAdynTech Punch Plus 5500K and Chroma Q Color Force LED units, with 18K Arrimax lights with HMI shutters, arranged to fire in a chase sequence to mimic the movement of light through chopper blades.
Fong says the entire sequence takes place in morning light and took an "incredible effort and collaboration" between many teams to bring to the screen. "Dave Cole with Fotokem was instrumental in maintaining a sense of continuity to this ten-minute scene," Fong reveals. "It was easily our biggest undertaking of the film."
Besides previs, Rosenbaum and White would sometimes make use of a tool first introduced on Jurassic World called Cineview. Though ILM initially considered using a more complex mocap visualization system, White says, "we realized in remote areas like Vietnam we would need to stay pretty lightweight." Cineview allows loading into the iPad- and iPhone-bound app a simple, crude static image of a character, whose distance from the lens and choice of lens can be set within the app and applied to the device's camera image to show the operator proper framing on site.
"It would also help with making positive corrections, when you have an actor who's reacting to something in the foreground or background," Adcock shares. In one suspenseful shot, Samuel Jackson's Colonel Packard is awaiting Kong as the latter passes through the woods. "[Jackson] was clenching his fist," Adcock concludes. "When the shot starts, Kong's at a certain point in the background. I went down to get [Jackson's] fist, and when I went back up, I knew to give it a little more headroom, because Kong was approaching."
Bringing Kong back to life was something Larry Fong had always wanted to do, expanding on his fascination with the magic of Willis O'Brien's work. "I've been a big fan of King Kong since I was a kid. Hopefully some of that is channeled into this film."
BY Matt Hurwitz
Frame grabs courtesy of Warner Bros Pictures
Unit Stills by Chuck Zlotnick
Other images courtesy of Larry Fong, ASC
CREW LIST
Hawaii
Director of Photography
Larry Fong, ASC
A-Camera Operator
P. Scott Sakamoto, SOC
A-Camera 1st AC
Bill Coe
A-Camera 2nd AC
Bobby McMahan
B-Camera Operator
Scott Adcock
B-Camera 1st AC
Tony Nagy
B-Camera 2nd AC
Rylan Akama
DIT
Robert Howie
DIT Utility
Will Wacha
Unit Still Photographers
Chuck Zlotnick
Mario Perez
Australia/Vietnam
A-Camera Team
(same as above)
B-Camera Operator
Calum McFarlane
B-Camera 1st AC
Ricky Schamburg
B-Camera 2nd AC
Robbie MacKinnon
DIT
Robert Howie
DIT Assistant
Julian Lawrence
2nd Unit
Director of Photography
Jacques Haitkin
Camera Operator
Onofrio (Nino) Pansini
Camera Operator/Steadicam
Colin Hudson, SOC
Camera Operator/Steadicam
Henry Tirl
Key Camera 1st AC/Technocrane
Greg Luntzel
Talon Camera 1st AC
Rob Sagaser
Steadicam 1st AC
Brad Edmiston
Crash Cam 1st AC
Steve Wong
Long Lens 1st AC
Matt Berner
Key Camera 2nd AC
Matt Fortlage
Talon 2nd AC
Andrew Crankshaw
Steadicam 2nd AC
Noah Hamilton
Crash Cam 2nd AC
Brandon Ho
Long Lens 2nd AC
Nigel Nally
DIT
Brook Willard