Icons now, Dr. Dre, Ice Cube, DJ Ren, MC Yella and Eazy-E began their storied lives just trying to survive and prosper in the meanest 'hood in L.A.
"I was watching TV in a New York hotel room when I saw Ice Cube on Queen Latifah [the talk show], and she asked what he was doing next," recounts Oscar-nominated cinematographer (and lifelong rap/hip-hop fan) Matthew Libatique, ASC. "When Cube said a film called Straight Outta Compton, I literally jumped up and grabbed the phone. For the first time in my career, I called my agent and said I really want that project."
Fortunately for Libatique, he and Compton director, F. Gary Gray, shared the same agency. They met on Oscar day, 2014, to discuss the film. As Libatique picks up the story: "I remember walking into Gary's office and seeing this wall of images – one image per scene in chronology with the script. I had come to that meeting with some general ideas about camera movement, but nothing textural that related to color or mood.
"These images, which were basically snapshots by friends or people who were around N.W.A. at that time and happened to have a camera, were completely naturalistic. They put you right there in that time and place, in the recording studios, the concert tours, the photo and video shoots, right on the streets."
Libatique says the office images felt like a good starting point, "because to me this movie was an origin story about superheroes," he adds. "I remember telling Gary [in that first meeting] how I read a lot of comic books as a kid, and my favorites were always the origin stories – the ones that showed how Batman or Superman or the Green Lantern became who they are. That's what Straight Outta Compton is – an origin story about people who ultimately become larger than life in the eyes of pop culture."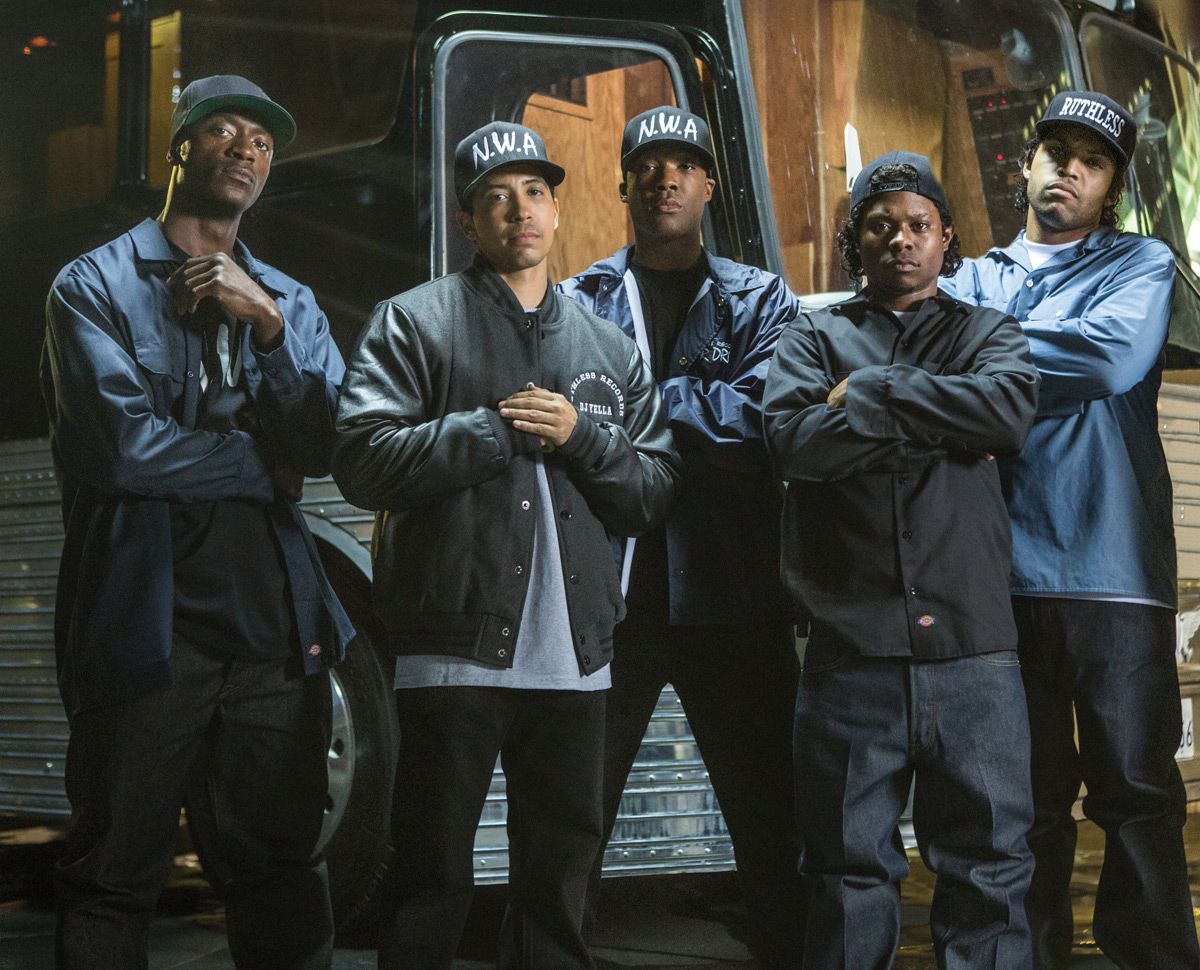 The superhero metaphor (from the man who shot Ironman and Ironman 2) is well placed. The Los Angeles where the transformative gangsta rap group known as N.W.A. (Niggaz Wit Attitudes) came of age was as treacherous and crime-ridden as any in the history of that city. Rival Crips and Bloods gangs ruled the streets with crack-cocaine empires, while a militarized LAPD waged indiscriminate war on criminals and civilians alike. Black teenagers (especially those with phone pagers) were ever-moving targets.
As director Gray, who grew up in South L.A., notes in this month's Exposure conversation (Page 20): "It was a nervous, edgy time having to confront your own mortality every time you walked out the door. We tried to capture that in the look and feel of our story, particularly in the early section of the film when they all meet."
N.W.A.'s founding members – Dre, Ice Cube (played by Cube's son, O'Shea Jackson, Jr.), Eazy-E, DJ Yella, MC Ren – all came from different situations, yet bonded together through words and music that gave voice to that era's rage, fear, and often very dark humor. With three instant mega-hits from their debut album ("Straight Outta Compton," "Fuck tha Police," "Gangsta Gangsta"), the group had a meteoric rise before suffering an equally spectacular breakup amidst royalty disputes, and harsh finger pointing in later solo albums. Banned from American radio for their profane, often misogynist lyrics, N.W.A. came under direct fire from the F.B.I. for what conservative groups called "inciting violence against the nation's law enforcement professionals."
Libatique opted to shoot Compton on RED DRAGON, using re-housed vintage Kowa (4.5K) anamorphic lenses (occasionally swapping with spherical Zeiss Super Speeds to compensate for close-focus issues inside the recording-studio scenes.)
"Shooting anamorphic period is all about pulling back from that digital edge, particularly if you come from shooting film," he states. "We tried to keep the beginning of their stories as gritty as possible, using smoke and [for night scenes] changing out existing LED streetlights back to their original sodium vapor. That combination of the smoke, a dirty color palette and the anamorphic lenses introduces us to the first third of the story, before they make a record and go on tour."
The film's early sections are also where Libatique worked hard to reproduce that found, naturalistic feeling he saw in the images in Gray's office, mainly by not using key light. "That can be a challenge when you're making a movie about black people who are all wearing baseball caps," he shares. "But if I put a key light under every cap just so you can see someone's face clearly, I'm undercutting the reality of the time and place. The same goes for the midday light in L.A., which is my least favorite light to shoot in on the entire planet. There's a scene right after their first tour and Cube has just left the group, and he's basically saying goodbye to Dre. We've got Suge Knight, Trench Mob, Ren, Yella, Dre, and Cube, all in this high harsh light that's cut by baseball caps, and nothing else! Avoiding key light [and in this example, any fill] is a trend I applaud in cinematography. The imperfections are key to the look."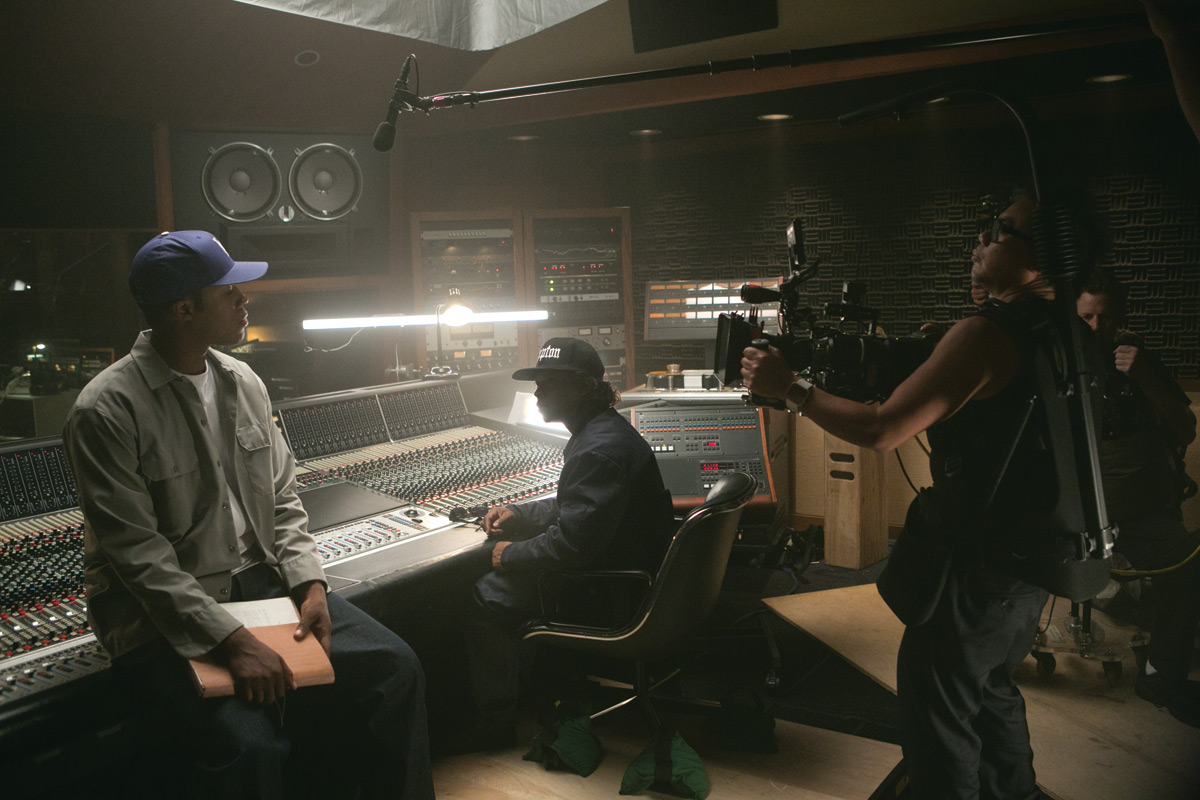 Also key to Compton's visuals was production designer Shane Valentino, who, like Libatique, had never worked with Gray, but had just come off HBO's 1980s period film The Normal Heart. "Like Gary and Matty, I grew up in L.A. and remember that era very well," he recounts. "We wanted to place the guys, particularly before they form the band and go on tour, in a faithful rendition of that era, so coming from a film history perspective, which is always the first place I go for inspiration, I looked at To Live and Die in L.A., Training Day, and Italian neo-realism like Open City."
In keeping with the three-part narrative/visual structure, Valentino embraced the bleached-out exteriors of South L.A., when the band first meets.
"The second part is the blue phase, which was influenced by Eazy-E, who was associated with the Crips," he continues. "The last part, when the band is breaking up and Death Row Records comes to prominence, was based in red, for the Bloods. Matty and I also used [still photographer] Todd Hido as a reference point. His images feel like there's one source of light that falls off very quickly. Matty likes to work with a lot of practicals, so we'd walk through the space, and then I'd do virtual layouts based on that."
Compton had 126 sets at 54 locations. Charting a visual arc for the film's many music scenes involved augmenting (or re-designing) those locations according to period photos. "Photos weren't always available," Valentino adds, so scenes like Dre's early recordings with Wreckin' Cru in his garage had to be recreated according to how Cube and Dre remembered it. "Other recording spaces, like Broadway Studios," the designer adds, "just didn't have tall enough ceilings for Matty to light."
For the first time Cube and Dre perform Gangsta Gangsta, at a local club called Dodo's, Libatique scoured high and low for reference images. "It was all on film back then, and it wasn't like these people carried around 35-millimeter cameras," he shares. "I did find one photograph where Cube is side-lit with a few Par cans, and that's it. I wouldn't call it pretty, but that's the look we reproduced."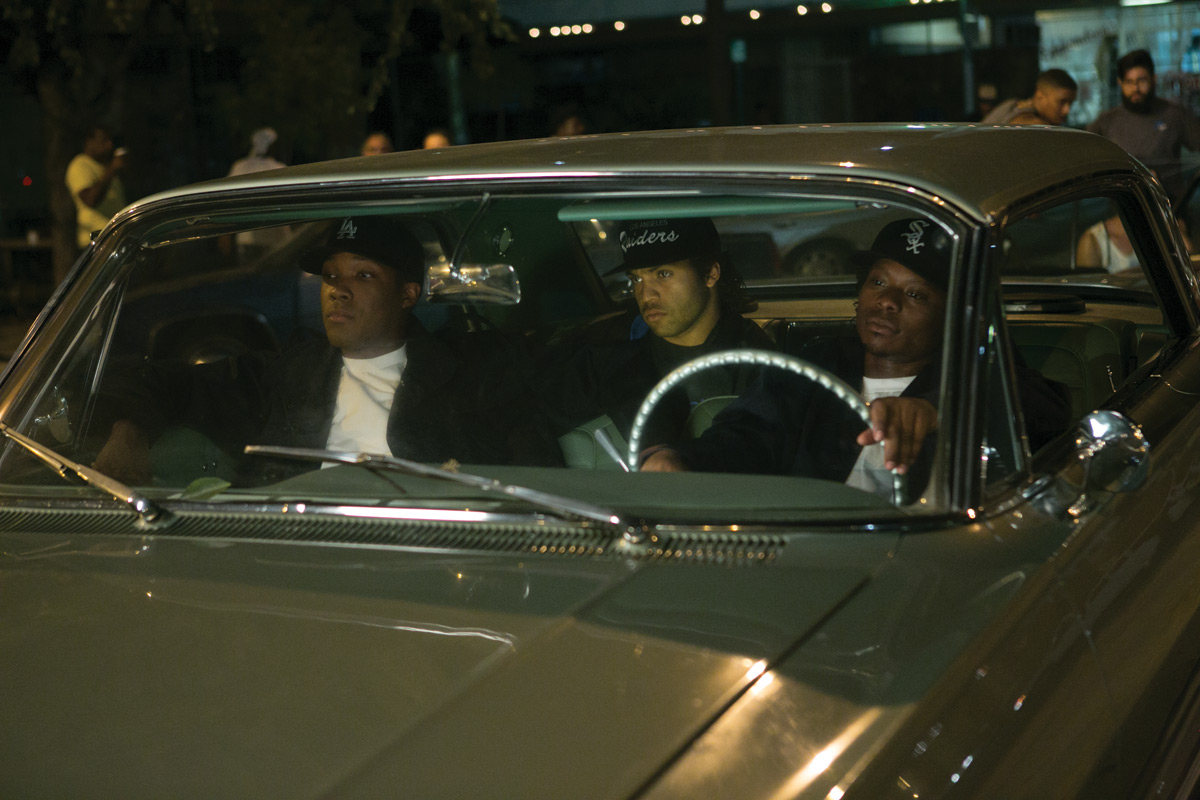 The film's musical climax is set at an infamous 1989 concert in Detroit (shot at L.A.'s Sports Arena), where N.W.A., defying pressure from an F.B.I. letter that was circulated to local law enforcement agencies around the country (and to off-duty officers who doubled as concert security) began to play "Fuck tha Police." Shots may (or may not) have been fired, mayhem ensues and the band is pulled offstage by security cops.
"We used a lot of handheld camera onstage with the performers to keep with the naturalistic feel," Libatique describes of the Detroit concert. "But we also did a big Spydercam shot that starts wide looking at the stage, travels over the audience, wraps around Ice Cube as he juts out his middle finger, and goes back out.
"Lighting-wise, I replicated images of a period concert stage Shane had given me, with all of the lighting in-frame. Of course, given modern schedules, we had to cheat and use LED's [rather than period-correct elements.] We needed red and blue in the film and the ability to switch to other colors to maintain the palette. [Gaffer] Jeff Ferrero and dimmer board operator Josh Thatcher did a great job making those color switches happen within the frame. The performance aspect of this movie was so important, so I can't say enough about what they did [preparing different lighting themes] before I got the cameras in place."
"We used these super-bright [1000-watt] RGB Solaris Flares, instead of something period-correct, like a Dataflash, which could overheat after four or five bursts," Ferrero recalls. "Modern LED's are consistent and don't split the shutter on digital cameras."
While Thatcher oversaw color changes and strobe work via the dimmer board, Ferrero looked after four different follow-spots, which needed to avoid creating shadows on the many different camera rigs Libatique had in play – Technocrane, Spydercam, Steadicam, etc. "We never placed a traditional follow-spot – in the back of the house and straight into the performer's face," Ferrero adds. "It was always three-quarter profile on the opposite side of where the camera was to create contrast and depth."
Valentino again worked closely with Libatique to build-in practical lights that would, as he explains, "allow us to see the audience" in that moment when the police rush the stage. "We were fortunate in that the Sports Arena had existing fluorescent fixtures behind the stage that allowed the light to fall off in a more dramatic way," he reveals. "The mandate from Gary was to make sure each arena looked different as they travel around the country, and in-frame lighting is one way to do that. Obviously Matty, Jeff and Josh had more control over the color temperature of the light using LED's than Par cans. A great example from the Detroit concert is when the band plays Fuck tha Police, and we used red and blue light bars, like you see on the top of police cars, that are flashing on and off, and then have to go back to a full yellow all very quickly in the shot."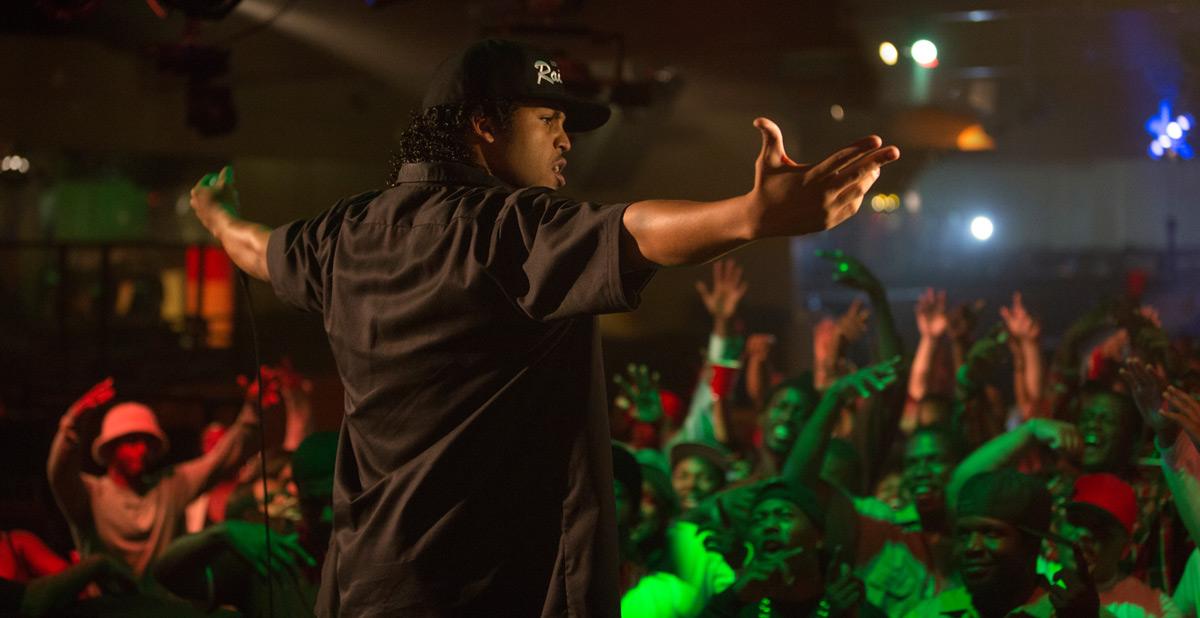 Libatique says Compton's naturalistic feel extended to the camerawork, which was led by operator Colin Hudson and focus puller Matt Stenerson, with DIT Mike Kowalczyk watching over the ultrahigh-resolution RED workflow.
"Gary would call bullshit on anything that felt stagey and unreal to that time and place," Libatique reflects. "So that meant the camera had to react to the actors and how they moved, not the other way around. We discovered with the MoVI we could subtly move around a room – like going over couches, tables, and objects you wouldn't normally go over with a Steadicam – and that had a very natural feel, even though it was completely technique-driven."
One such scene is in a hotel while the group is on the road (shot in adjoining rooms at a hotel near LAX that Valentino period-dressed with blinds, carpet, and fixtures). The scene begins with Dre on the phone with his brother, Tyree (who later passes away). A knock on the door reveals a man with a gun looking for his girl, "Felicia."
"Dre closes the door and walks back to the girl he's with on the bed," Libatique continues. "He grabs a 'forty' and opens up an adjoining door, where there's a full-on party. Dre passes by Ren and DOC, looking for Felicia, as the MoVI goes over a bed to see Cube and find Yella on another bed. We then follow the girl Yella's with, who gets up and walks naked to the bathroom, where we finally see Felicia, who's giving Eazy-E a blowjob!"
And that's not all. The camera then picks up Eazy-E as he leaves the bathroom and flips open a Murphy bed to reveal a bunch of guns on the bottom. He tosses handguns and sawed-off shotguns to Ren and Cube, who all poke their heads out of the hotel door into the hallway, where the interlopers are waiting at the other door. "That's when E says: 'So, you guys looking for Felicia?'" Libatique laughs.
The complex move was accomplished by handing the MoVI off between Hudson and dolly grip John Mang. Libatique says it's to Gray's credit that he "totally committed" to doing that shot, even though the DP hadn't used the MoVI before.
Hudson says the best thing about working with Libatique is that he will always try to bring some magic into a shot even if elements aren't there. "The hotel location had very tight corners and limited space for operating, low ceilings and required 360-degrees of view for lighting," Hudson recounts. "We had 25 extras [that may or may not be wearing clothing] running down hallways with formidable looking weapons all within a working hotel. Bringing all those elements in one place and having them work together while looking effortless is where that magic happens."
Libatique says the RED Dragon turned out be to a good fit for the show. "When you strip [the RED Dragon] down, it's as big as a Hasseblad, and you can customize exactly as you need," he relates. "Colin and Matt came up with a way to couple cables together so we had a single umbilical cord with full remote focus. We called the camera the 'Mini Me.' For example, we did a night exterior night party scene on Crenshaw Boulevard, where I stuffed myself into the back of a low-rider [car] and panned freely around with what was, basically, a box and a [Kowa anamorphic] lens."
First AC Stenerson says, "Matty and Colin wanted the [Dragon] smaller and smaller as we were shooting, so we just kept taking more off. We ended up having 2 sets of 'mini mode' cable looms for A- and B-camera that housed power, Preston focus and iris, and wireless video," he describes. "It worked out great because Matty and Colin could easily move the Dragon body with a small adjustable handle, the Red five-inch [on-board] monitor, and a lens with a motor. Everything else we needed was 10 feet behind them. The 'Mini Me' allowed us to get in and out of small spaces without compromising the shot."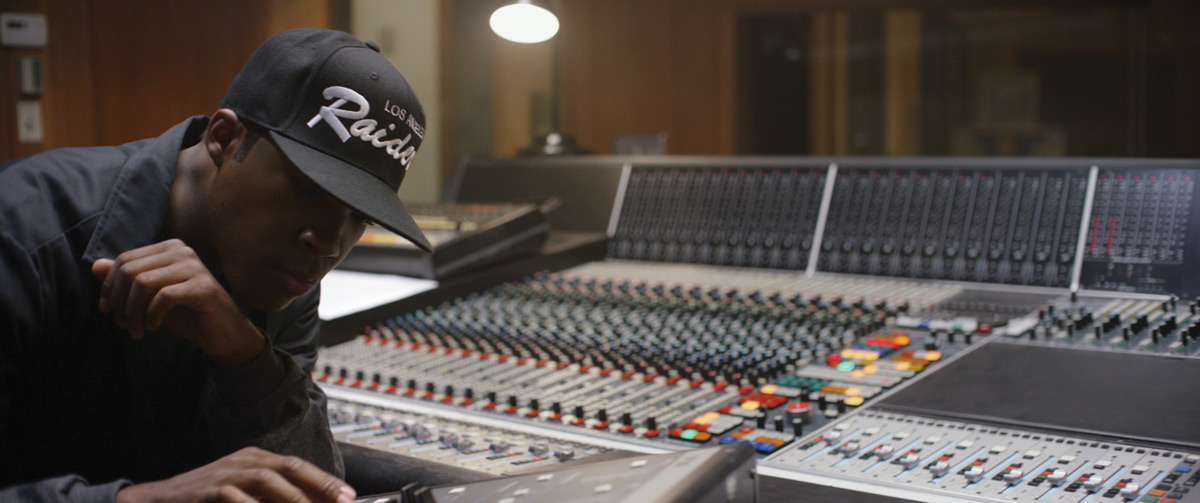 Gray notes how having the film's subjects – Dre, Cube, Yella and Ren – visit the set helped confirm the path he and Libatique had set out upon. "They told me after one music scene how they were 'right back there, in that time and place as very young men,' Gray reflects about shooting Compton, "and what a strange and incredible experience that can be." Libatique says N.W.A., and what came after, "spread across race and class," like no other musical force before. "The questioning of authority was embraced by everyone," he describes, "and it's pretty awesome to have your heroes standing behind you every time you turn away from the camera."
Awesome indeed, as one pivotal (and mainly symbolic) scene Gray added to the film attests. The director uses the aftermath of the 1992 Rodney King verdict to climax the foreshadowing in N.W.A.'s music of a city in flames due to race, class, and authority.
Shot at an abandoned strip mall in North Hollywood, CA, the violence and chaos, post-verdict, culminates in a shot of a Crip and Blood, joined by their respective bandanas and walking toward an LAPD squad car – as fires, mayhem and palm trees consume the background. Valentino says the scene covered less than a page in the script. "But we were all here during the riots, and the imagery is still fresh," he observes. "We had to get that scene right, regardless of our resources or however long it's on screen."
Production had four days and two city blocks to cover two sections – one where Ice Cube drives through and sees graffiti from an N.W.A. song, the other including burning fires and street mayhem. "It's always challenging knowing it's a three-to-four-camera day, and everywhere the DP's lenses turn, [the designer] needs to provide something interesting," Valentino admits. "This scene had a lot of crane work and pursuit camera, so we had to plan for a 360-degree field of view, no question."
That same expansive range of vision is what N.W.A. brought to the world with its take-no-prisoners view of South Los Angeles in the late 1980's, and it speaks louder than ever to a new generation numbed by recent law-enforcement killings of young black men across the nation. Although both Gray and Libatique don't deny Straight Outta Compton will inevitably have political and social overtones that mirror recent events, they insist the film's themes of fame and fortune, poverty and unrest, loyalty, betrayal, and brotherhood among young men are timeless.
"Is this an important film?" Libatique asks rhetorically. "I know for me it's one of the most passionate of projects I've ever done, because this music spoke to me like nothing else really has. And what was important, from my perspective as a cinematographer, was to get it absolutely right: to show who these superheroes were and where they came from."
by DAVID GEFFNER
Unit Photos by Jaimie Trueblood/Universal Pictures
Frame Grabs Courtesy of Universal Pictures