Longtime operator Joe "Jody" Williams makes his studio feature debut as Director of Photography on a beloved comedy classic.
by Pauline Rogers / Photos by Quantrell D. Colbert & Annette Brown / Amazon Studios
---
African monarch Akeem (Eddie Murphy) lives an idyllic, lavish life in Zamunda, where he's brushed, bathed, and wiped by others, as elephants march around freely. But with King Jaffe Joffer (James Earl Jones) mortally ill, and time marching on, Akeem begins pondering succession. A traditionalist, he severely resists his grown daughter Meeka (KiKi Layne), who wants an opportunity to rule the kingdom. When Akeem learns he has a long-lost son in the United States, he and his friend, Semmi (Arsenio Hall), decide to return to America and bring Akeem's male heir back to Zamunda as the king-apparent.
It was the late 1980s when Eddie Murphy and Director John Landis debuted the outrageous comedy that imprinted upon Coming 2 America's Director of Photography Joe "Jody" Williams "the idea of seeing so many people that looked like me in this fantastical setting. Whether you got caught up in the comedy and the fantasy of Coming to America, there just weren't a lot of Black movies coming out at the time."
Thirty-three years later, Murphy tapped director Craig Brewer (Dolemite Is My Name, Black Snake Moan, Hustle & Flow), who then brought in his Director of Photography from Empire, Williams (in his studio feature debut), to take Akeem and Semmi to America and back. Brewer says, "Jody and I had built such a strong relationship on Empire; there was no question that he was my best and only choice for this film. Over the 10-plus episodes we did on that series, we both began to think alike. It started with being 'cool,'" he laughs. "There was a moment when Jody came over to me and said, 'They should teach a class on what you are doing.' He got it: the full vision, the wrangling of a bunch of personalities, and the stress involved with making Empire gorgeous on the schedule we had."
Williams says he and Brewer looked at the original, "and it was dated, for sure. We both realized that some of the elements just weren't funny to an audience today." Brewer says his goal was to find a happy medium between Airplane and Anchorman, adding in more characters, outrageous sets, and musical performances. The first camera system that drew Williams' interest was the Panavision DXL2. "I wanted to learn how much surface area the frame line and eyepiece were going to see," he adds. "As an operator, you look for the space outside the frame."
The idea of large format also intrigued 1st AC Baird Steptoe Sr., who says he was "excited" to film in 8K. (The picture was ultimately shot in 7K due to Amazon's concern with a high data rate vis-à-vis fast dailies turnover.) Steptoe shares that "Panavision assembled an incredible team. It started with Zoe Iitsopoulos and Lori Killiam, as well as Katie Fellion from Panavision/Light Iron. Dan Sasaki sent a few lenses to Chicago for Jody to view. Once Jody decided on the large-format Artiste lenses, customized by Dan Sasaki, I went through the calibrations in L.A., and we had our package – DXL2 and Artiste, with old-school Primo lenses [a nod to the original movie] for the flashbacks."
Williams says the Artiste lenses had "a subtle softness and intimacy while still holding this necessary sharpness. They performed as if there were beauty filters in front, as some shots we did had none." Adds DIT Stuart Huggins: "The DXL2 was a perfect fit from a skin-tone perspective, as it exploded with color. We managed everything using LiveGrade and ASC color decision lists [CDL's] and lookup tables [LUT's]. During production, I captured over 1000 still frames, which Jody was able to reference during his remote color sessions with Light Iron."
Williams and Steptoe sought out a diverse camera crew, including veteran camera operators Billy O'Drobinak, SOC, and Will Arnot, SOC, along with a strong Atlanta-based team. "I've always thought it vitally important for Black actors to see Black people behind the cameras as assistants, operators, and DP's," says Williams. "We were blessed to have such representation with operators Alfeo Dixon [SOC], Brig Foster-Owens; AC's Justin Noel, Dwayne Green, Rome Will, Najee Rawlins, and Unit Still Photographer Quantrell Colbert. Though they aren't Black, I can't not mention AC's Torey Lenart and Blair Winders."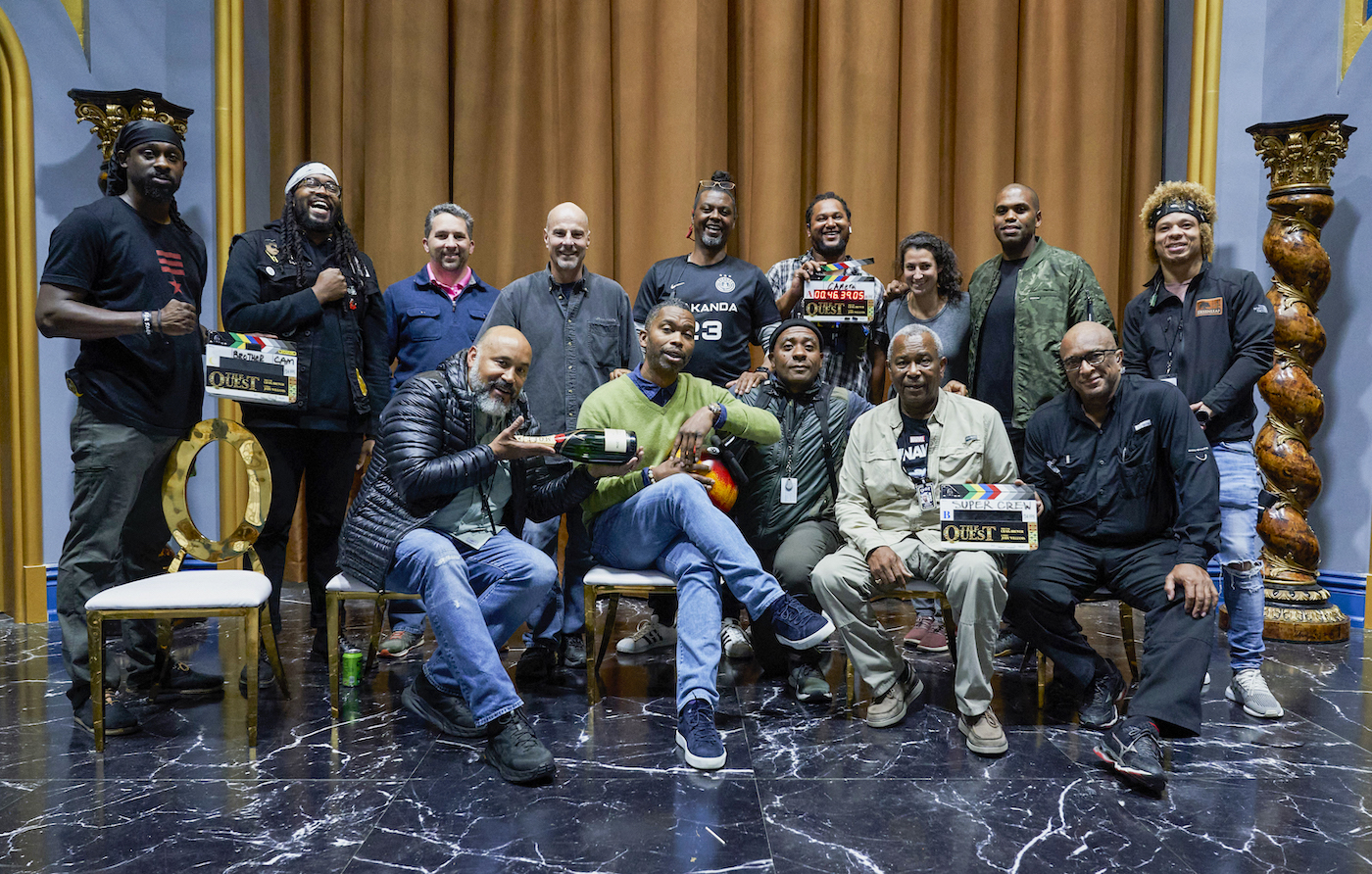 As to lighting all the varying skin tones in the film, Williams credits the DXL2. "I was surprised and blown away by the color spacing of its sensor. Black skins are rendered beautifully all across the spectrum," he states. "Seeing how naturally awesome Eddie, Arsenio, Shari, and Wesley came into the camera test, I was reminded that 'Black don't crack,'" he laughs. "I tried, in general, to stay with bounced and ambient light whenever possible. One of the goals in the movie was to highlight the wardrobe. In the camera test, I wanted to look at combining classic 'book lighting' with incandescent sources for skin tones and direct soft-source lighting through much diffusion for the wardrobe. Sometimes we did a little of one and a little of the other – then both."
Scheduling was set for a little over 70 days. But with rewrites, budget changes, and location challenges, "every time we started to talk about something, it became something different," smiles 1st AD Mark Little. "How do you get the feeling of Madison Square Garden but shoot in Atlanta? Do we do big sequences in Atlanta and capture New York tie-ins? Because of his health, we needed to go to New York to shoot James Earl Jones. How much do we take with us? What do we do there?"
Even a relatively small sequence (compared to the lavish dance numbers) in a key location for the original movie, a barbershop in Queens, presented challenges. "Eddie and Arsenio as different characters in one small room," Williams describes. "Iconic location that everyone remembers – same 'set,' just characters that are older."
Williams admits that he hasn't worked on a lot of FX-heavy projects. "[The barber shop] was motion control with one main camera making programmable moves with a second camera doing critically specific shots," he recalls. "Also, Eddie didn't want to be in one character for more than two hours and couldn't do more than one character in a day."
That meant VFX Supervisor Jon Farhat had to study the boards and, with intimate knowledge of Murphy's process from past projects, sought to "embed" the actor's unique way of working into the pipeline. "Eddie is the best at it," Farhat explains. "But it's not an instinctive flow to scheduling and standard setup logic. Once past that, the crew gets to rehearse a pass or two. It's quite freeing for the performer. But it can also go pear-shaped fast, and you need to have a backup plan."
Farhat says they tried to set the right environment up so Murphy could perform six days in multiple roles – in sequence. "That meant all camera angles, in sequence against a 'cut,'" he explains. "We essentially had to pre-program every position into the track – and jump back and forth to the same positions as it would be cut. Then we would record live, the head-iris-focus from the camera operators. We would do this in story order."  Farhat and Brewer chose one character (Clarence) to lead and to be moving, and the others were stationary. "Tracking, of course, was with tennis balls," Farhat adds. "And you can't play off camera because Eddie interrupts himself. So we had a special earwig for Eddie so he could play-back the dialog and talk and step on his own lines."
O'Drobinak describes operating with the motion-control track as "interesting and fun. You don't get a lot of takes," he says. "I had to be proactive. It was all about timing and setup. I had to make sure I left enough time – but not too much – for Eddie's lines. I also had to anticipate how long he would take and when to make the next move. In the end, with Jon's guidance – because he had done this before with Eddie – and a lot of rehearsals, we got exactly what was needed with few takes and no problems."
Arnot was tasked with getting coverage shots for the scene that did not involve multiple characters in the same shot (and would have required motion control). "I sometimes had to creatively work around the mo-co track to get the exact angles we needed to isolate each character," Arnot recalls. "Using my 28-inch offset Original Slider enabled me to do this regularly."
With lighting also needing to marry motion control, Chief Lighting Technician Jarred Waldron used LED panels of his design. "We call them 'snow panels,'" Waldron explains. "They are soft and don't emit any heat, which was wonderful because of all the prosthetics Eddie and Arsenio had to wear. Even though we were only shooting certain parts of the barbershop each day, it had to feel like one lighting setup."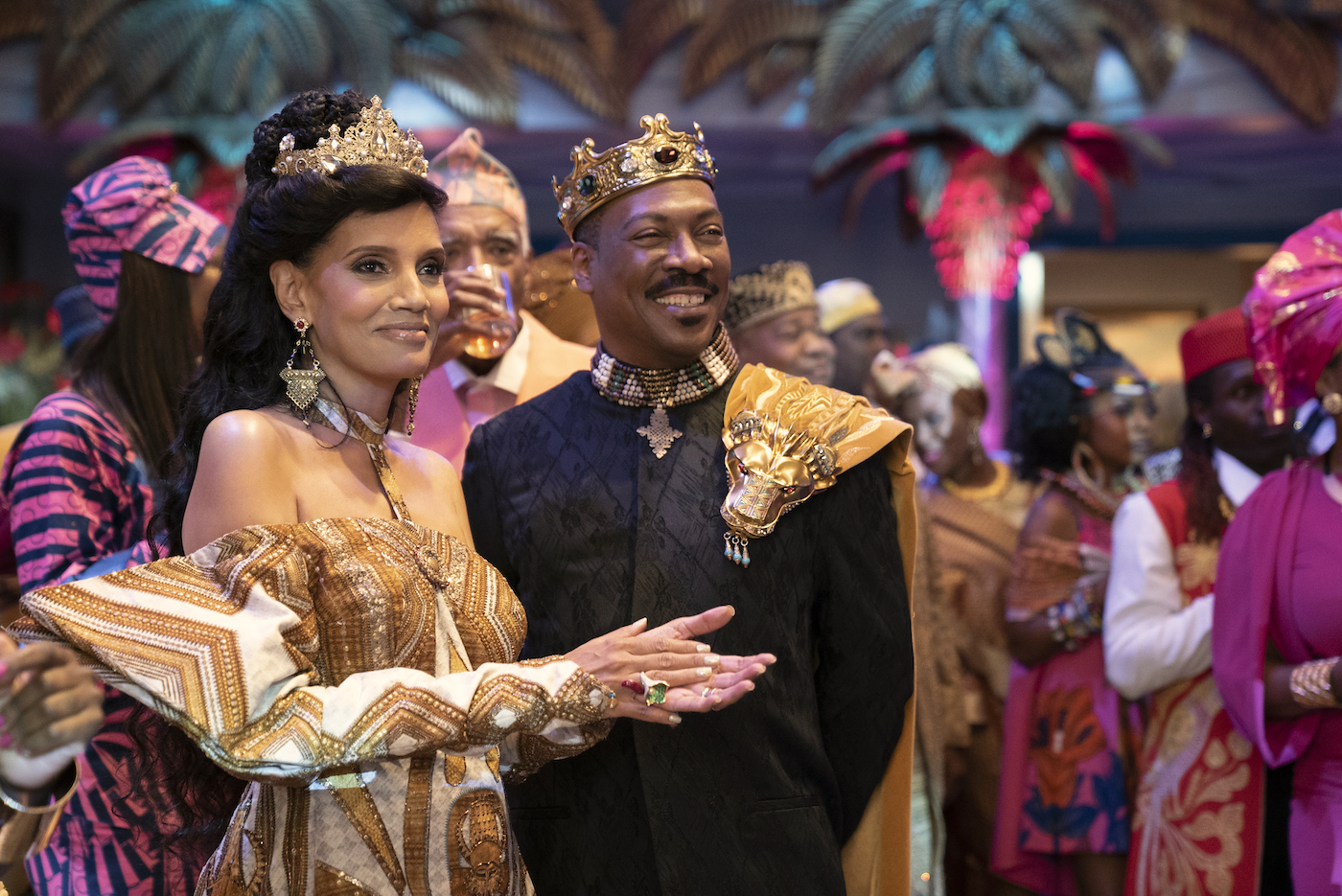 At the other end of the spectrum was the massive ballroom set, dressed and shot three times for a coronation, a funeral, and a dance sequence called "Sexual Chocolate." The large lighting setups, all different and challenging, required extensive conversations between Williams, Waldron, and Lighting Programmer Matt Klann.
The challenge was to create a versatile lighting plot that could work around the set pieces and rigging that would move in and out during changeovers. The team used Vectorworks to build the stage, scenery, truss, and lighting in 3D to help them find and avoid issues with set layouts. They then created a series of base looks and palettes using Vision previsualization software to help speed up programming for the various performance numbers.
Five long, 4-by-30-foot softboxes filled with ARRI S60-C fixtures were installed and remained for all three setups. "This allowed an even, soft light over the entire set while still leaving room between the boxes for extra rigging points, truss, and taller set pieces," Klann describes. "We also lined the perimeter of the set with moving lights and color-changing Pars: the PRG Bad Boy HP and PRG Best Boy HP for moving, and Martin Rush Par 2 Zooms for the Pars." That allowed the team to have a quick backlight for any camera angle while also having enough to punch through the haze during the dance numbers – with vibrant colors, gobos, and air effects. The Rush Pars gave them the option of creating washes of CCT light for regular scenes and infinite choices of colored light for the funeral-scene performance numbers and Sexual Chocolate.
In the story, King Jaffe Joffer knows he is dying. But, in a fantasy "your wish is my command" style, he insists he wants to see his funeral. Williams explains that the sequence goes from "a somber march as Joffer, in his casket, is brought in, to his life celebrated by massive dance and musical numbers. Morgan Freeman comes in to eulogize the King, as dark goes to light, night to day, with the sun rising – all cued for a transition, as King Joffer is feted by En Vogue, Salt-N-Pepa, and Gladys Knight, each a massive lighting show."
The flash and scope of such scenes show the team's intense planning and coordination. But it was one seemingly simple moment that stands out for Brewer – when Akeem approaches the casket to talk to his father. King Joffer turns his head and asks: "Son?" Akeem returns a gentle, "Yes, Father." As King Joffer's voice fades, he says, "Have a wonderful evening. Remember what I told you," sighs, and, with his last breath, says, "I'm going to die now" and passes away. Brewer says capturing those moments with James Earl Jones was one of the greatest of his career.
"When we looked at the finished project," Brewer marvels, "you couldn't tell he wasn't in the same room with our cast. That's how great a team we had – they made it seamless." Due to Jones' health, the team broke down set pieces from Atlanta and transported them to New York to shoot against green screen. As Brewer elaborates: "AD Mark Little and I spent a day acting with [Jones], and it was the honor of my life. When the king has his final words with Akeem, I was sitting on an apple box not two feet from James Earl Jones. I was concentrating on the scene, but in my mind, I couldn't help drifting back to my father's passing at 49 from a heart attack. The two tied together, and I got so emotional, I couldn't say, 'Cut.' Neither could Mark or even Jody. We all connected."
Williams notes that they needed to shoot two scenes with James Earl Jones. "Baird's and my initial concerns were that there wouldn't be any available DXL2s for us to use, and we weren't going to pull ours off the show because we would have to travel back to Atlanta and continue shooting. Fortunately, Clifford the Big Red Dog [shot by Peter Lyons Collister, ASC] was finishing, and we got their cameras. All we had to bring was a few selected Artiste primes and the 20-80 zoom. DIT Lewis Rothenberg helped assemble a New York crew for us. Key Grip Joe Czerw traveled, and Gaffer Jarred Waldron sent Jeff LaBaume, one of the film's set electricians. Jon Farhat and Jeff Sage recreated the sets from Atlanta."
The first setup was for a scene that had Jones, Murphy, two Arsenios, and Shari Headley in Joffer's bedroom. "It only required [Jones] to lie in bed looking in a couple of directions," Williams continues. "We used the two DXL's on dollies, as we did in Atlanta. We had shot the entire scene without Mr. Jones and Baba [Arsenio], but we had all of our positions marked that we needed to capture Mr. Jones in New York. Jeff Sage and his team disassembled the King's bed, a few furniture pieces, and some tapestries from the bedroom and transported them to New York to set up a few days before."
For King Joffer's funeral, Williams used five RED DRAGON cameras in a locked array almost 180 degrees around Jones to catch as many looks as possible. "It required [Jones] to lie in an upright coffin looking in multiple positions," Williams adds. "The trick was that we hadn't shot the scene in Atlanta yet, so I had nothing to match to. Luckily, they were fairly tight shots on the array, so I didn't stress too much about the rest of the environment. It required only a single spotlight – Source Four Leko on a dimmer."
Williams says it all came together "pretty seamlessly in the edit," considering the many challenges. "We shot Friday in Atlanta, got up Saturday morning to fly to New York, met the new team, lit the shot and James Earl Jones, then traveled back to Atlanta Sunday to be ready for work Monday morning," he laughs. "Back to our normal circus."
What's notable is Brewer and company did not repeat the style of the original, leaning more into character than physical comedy, as in an argument between Akeem and his wife, Lisa (Headley), that Williams calls "a delicate balance. In comedy, you don't want to make the audience angry with the characters. But, here, we wanted to show the real emotions between them. It was set in their massive bedroom, with a lot of movement between them. We wanted to keep it a little dark, not just the look but in the story [but not so dark that the studio or the audience would be concerned]. As they moved through the different areas of the bedroom, we still showed off the pageantry. But in keeping with the story, we used small pools of light, not everything top-lit, and gave them eye light for where they moved."
As for the story's fantasy aspect, set in Zamunda, the approach had a modern feel. As Akeem becomes an enlightened father, accepting that his daughter is the proper heir to the throne, he cements his relationship with his son by throwing the most outrageous wedding for him and the love the young man found when he came to Zamunda.
"The challenges [for the wedding sequence] were similar to the other big sequences throughout the picture," Williams says in a practical voice. "So, sometimes it's fun to talk about the challenges you don't expect. For example, Ruth Carter did an incredible job on the costumes. We worked together to make every color pop, and have the fabrics lend subtlety to each shot and enhance the story. The red wedding dress Ruth created was exactly what we needed, as it fit the stature of the moment. But the problem [dramatic pause] is that the train of the dress weighed 80 pounds and was 20 feet long! We had to have one of our seamstresses ride down the aisle under the dress, on a flatbed dolly, holding the train up, as wires [removed by Farhat in post] guided it."
Williams, only half-jokingly, says he believes "in divine order, and it feels like the alignment of the planets" presented an opportunity for him to be the right prism for this movie. "So much of the process on big shows is wrapped up in technology, budgets, time, personalities, and egos that sometimes humility and attentiveness are lost," he concludes. "I attempted to bring that while allowing other smart artisans around me to do their thing. As a cinematographer, I feel these are just a few of my responsibilities."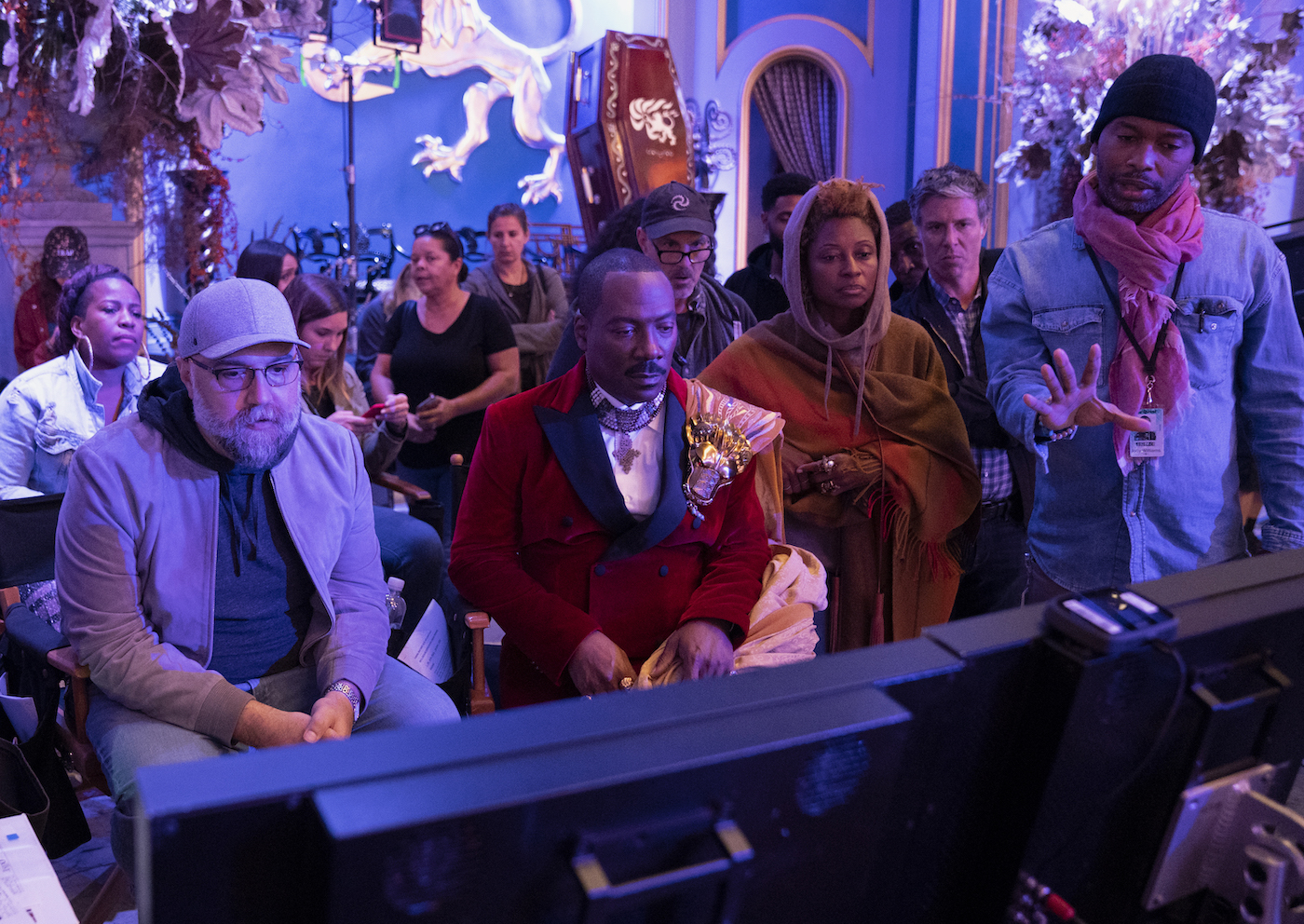 Local 600 Camera Team – Coming 2 America
Atlanta Unit
Director of Photography: Joe "Jody" Williams
A-Camera Operators: Billy O'Drobinak, SOC
A-Camera 1st AC: Baird Steptoe Sr.
A-Camera 2nd AC: Baird Steptoe II
B-Camera Operator/Steadicam: Will Arnot, SOC, Alfeo Dixon, SOC
B-Camera 1st AC: Emil Hampton
B-Camera 2nd AC: Blair Winders
C-Camera Operator: Brigman Foster-Owens
C-Camera 2nd AC: Dwayne Green
Additional 1st AC: Rome Williams
Loader: Najee Rawlins
DIT: Stuart Huggins
Digital Utilities: Tony Fallico, Torey Lenart
Still Photographer: Quantrell Colbert
Publicist: Staci R. Collins Jackson
New York Unit
B-Camera Operator: Jack Donnelly
B-Camera 1st AC: Gavin Fernandez
B-Camera 2nd AC: Mabel Santos Haugen
Film Loader: Wyatt Gregory Maker
Array Technician: Toshiro Yamaguchi
DIT: Lewis Rothenberg
Still Photographer: Phil Caruso, SMPSP