Darius Khondji, ASC, AFC, helps bring Stephen King's dark romance novel to the small screen in a new eight-part limited series.
by Matt Hurwitz / Photos by Peter Kramer / Framegrabs courtesy of Apple TV+
---
Lisey's Story, the new series on Apple TV + adapted by Stephen King from his 2006 award-winning novel (according to King, his favorite), revels in two elements – darkness and water – both of which are put to stunning thematic use by director Pablo Larraín and director of photography Darius Khondji, ASC, AFC.
The story centers around Lisey (pronounced Lee-see) Landon (Julianne Moore), the widow of wildly popular horror/fantasy author Scott Landon, who still dreams about (and grieves) her husband two years after his death. An academic fan of Landon's, Professor Roger Dashmiel (Ron Cephas Jones), wants Lisey to hand over the author's unpublished works, and when she refuses, Dashmiel enlists Jimmy Dooley (Dane DeHaan), an obsessed fan of Landon's who's willing to resort to violence to obtain the dead author's manuscript.
Lisey's memories of her husband, told in flashback, reveal Landon's troubled childhood with a poor, psychotic father, as well as his connection to a fantastical place, Boo'ya Moon, introduced to him as a child by his dead older brother. Landon, or anyone with an awareness of it, accesses Boo'ya Moon via its connection to water – a large healing pool surrounded by ghostly trapped souls. Visitors to Boo'ya Moon travel through a large Fairy Forest and past "The Long Boy," a horrible creature made up of lost souls captured over the centuries. Lisey's sister, Amanda (Joan Allen), visible in this world in a catatonic state, finds herself trapped there, although she is key to Lisey's attempts to evade Dooley.
Khondji says he was drawn to the project by Larraín, whose work he has charted for many years. "And I decided to go on this journey with Pablo," the cinematographer states. Lisey's Story was shot cross-boarded, on location in early 2020, before moving to Steiner Studios Brooklyn. Production was halted by the pandemic, before resuming in September and wrapping in February 2021. Two-time-Oscar-nominated Production Designer Guy Hendrix Dyas, who has years of fantasy set design experience, says he, in turn, was influenced by Khondji's early work with Jean-Pierre Jeunet and films like Delicatessen and The City of Lost Children. "Their work was inspirational to a generation of art directors and designers," Dyas shares. "And Pablo, though he doesn't storyboard, has the complete picture of how he's going to shoot. He has a plan and sticks to it. Pablo and Darius let you facilitate the storytelling in a creative and collaborative way."
A team of veteran IATSE crew members surrounded Khondji, including A-camera/Steadicam Operator Jim McConkey, SOC; 1st AC Chris Silano; B-camera Operator Wylda Bayrón; Chief Lighting Technician Jason Velez and Key Grip Rich Guinness; as well as DIT Gabriel Kolodny. "By my nature, I love tracks," Khondji adds. "And Jimmy operates the Steadicam like tracks. He's constantly coming up with interesting ideas. He doesn't just reproduce things you want – he gives you an extra layer."
Though Khondji and Larraín briefly discussed shooting the series on film, they opted instead for ALEXA 65, which Khondji used several years back on The Crowd, for director Philippe Parreno. "There was only one other DP using it, for some VistaVision shots for VFX for IMAX," Khondji notes. "It gives me the pleasure of film and of anamorphic. It was strange to propose it for a TV project, but it has a way of seeing both close-ups and landscapes differently, compared to regular Super 35. And the camera, with its large sensor, has lots of definition. But more importantly, it brings a lot of presence for the main character.
"Both Pablo and I wanted to have a depth in the darkness," Khondji shares. "I love having the slightest details, allowing your imagination to create more. And this camera goes deep in the dark, but also, with the sensor's high dynamic range, can go high in highlights, at the same time."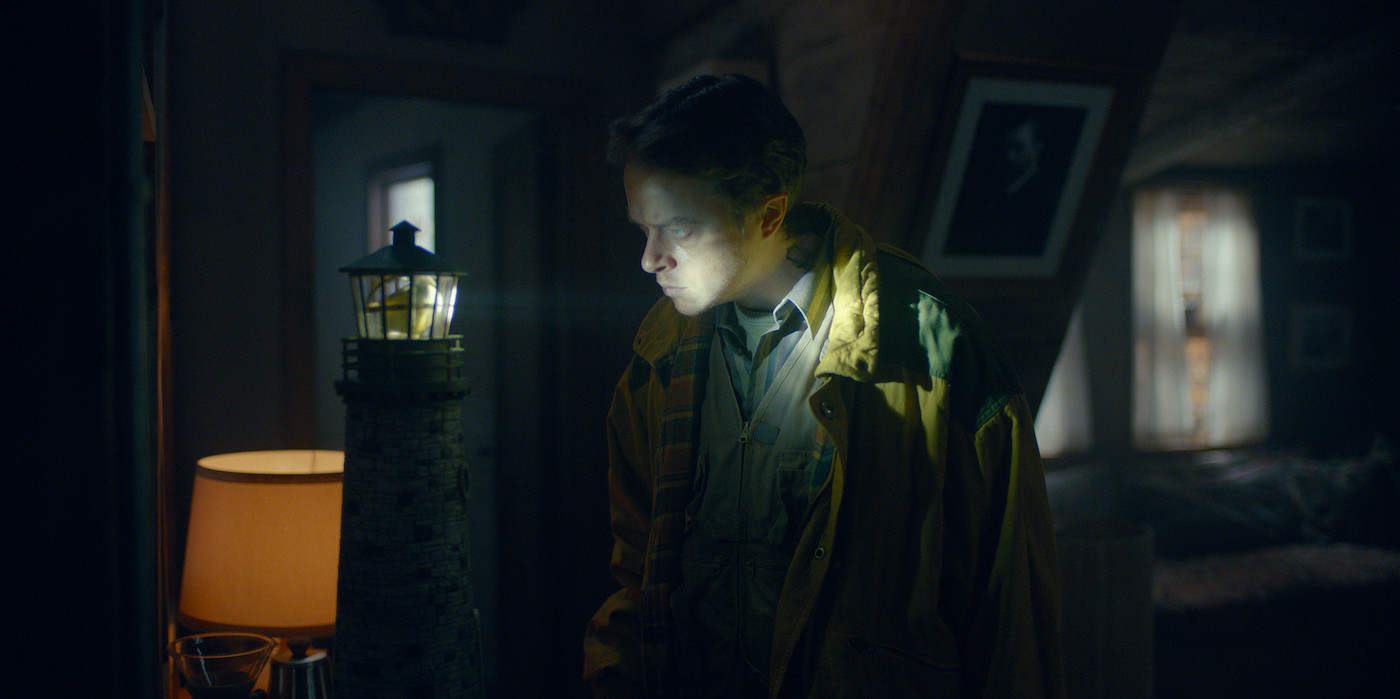 While he did employ Panavision Spheros and Thalias, Khondji's glass of choice was Tribe7's Blackwing7 developed by Bradford Young, ASC, and lens technologist Neil Fanthom. As Silano describes: "Darius loves old glass. And [the ALEXA 65] chip is so sharp, you need that vintage glass to smooth things out. The beauty of the Blackwings is that they're modern glass but designed like vintage lenses." The lenses are also tunable, with three different looks, and the "T" (Transition) look, halfway between the "S" (Standard) and "X" (Extreme), was chosen by Khondji.
"The way Pablo likes to frame, he center-punches, to accentuate a character," Silano continues. "His favorite of the set is the 47 millimeter, which spreads out into the corner of the image and invites your vision into the center."
McConkey recalls a funeral scene where Dooley wanders in between mourners in the foreground and the background. "With these lenses, he comes into the shot, and both the foreground and background are super soft, and he's sharp," the operator explains, "like a little slit of reality he passes through."
Silano credits the Preston Light Ranger2 with not only holding focus in dark situations but enabling crew and cast to work without marks. "We can move the camera wherever we want as the actors don't have to be tagged with marks. If an actor throws a glance and doesn't do it every take, the Light Ranger can catch it." McConkey credits the Wave1 Steadicam Stabilizer as helping to level the cumbersome ALEXA 65. "I have much more brain space to think about composition and timing, without also thinking about 'Is it level?'" he adds. "It pivots on arced races, constantly looking for what you say is whatever you want to be level. And it's instantaneous – it's always level."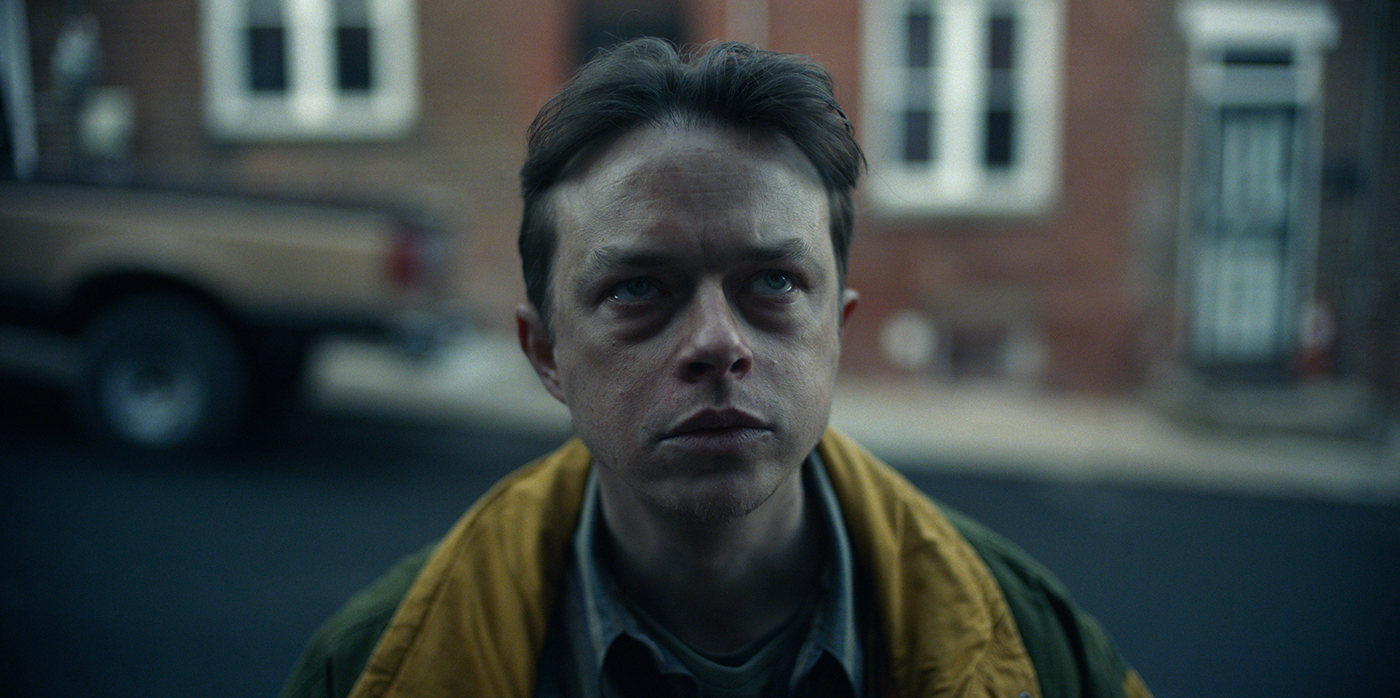 To help achieve the series' "deep color palette," Khondji turned to final colorist Damien Vandercruyssen, at Harbor Picture Company in New York, and DIT Gabriel Kolodny, whom the DP calls his "DIA" – Digital Imaging Artist.
Kolodny recounts how Khondji wanted a certain base look "from which I would color-correct." He and Vandercruyssen created a base LUT, bluish in shadows, with slight golden highlights, that Kolodny describes as "very soft, with which I would not be boxed in by something too contrasty." Adds Vandercruyssen: "Gabe likes having a soft curve on the LUT, so he can go quite far in the CDL correction on set." Kolodny worked closely with Velez to refine the look for individual scenes. "Darius gives you the freedom to improvise," he continues. "And then Jason would refine the lighting, based on what we were doing, and we'd go back and forth. Darius refers to it as 'music,' and that's what it's like."
The look was applied across nearly every key setting, like the Landon home, shot at Bluefield Farm in Blauvelt, NY, and a barn on the same property, the lower level of which was used for Lisey's office and storage. [The upstairs was unsafe, so a practical set was designed and built at Steiner's Capsys Stage in Brooklyn.]
"It's a romanticized version of what we imagined Scott Landon's study to be like," Dyas explains, with exposed wood and plenty of detail, including 60 different fake Scott Landon book titles, all in multiple languages. "Our Graphic Design team created covers for those, all with unscripted book titles, whose names we all contributed, and designed in the flavor of Stephen King book covers." Though, adds Silano: "I looked at them, under the covers – and every one of them was a copy of The Shining!"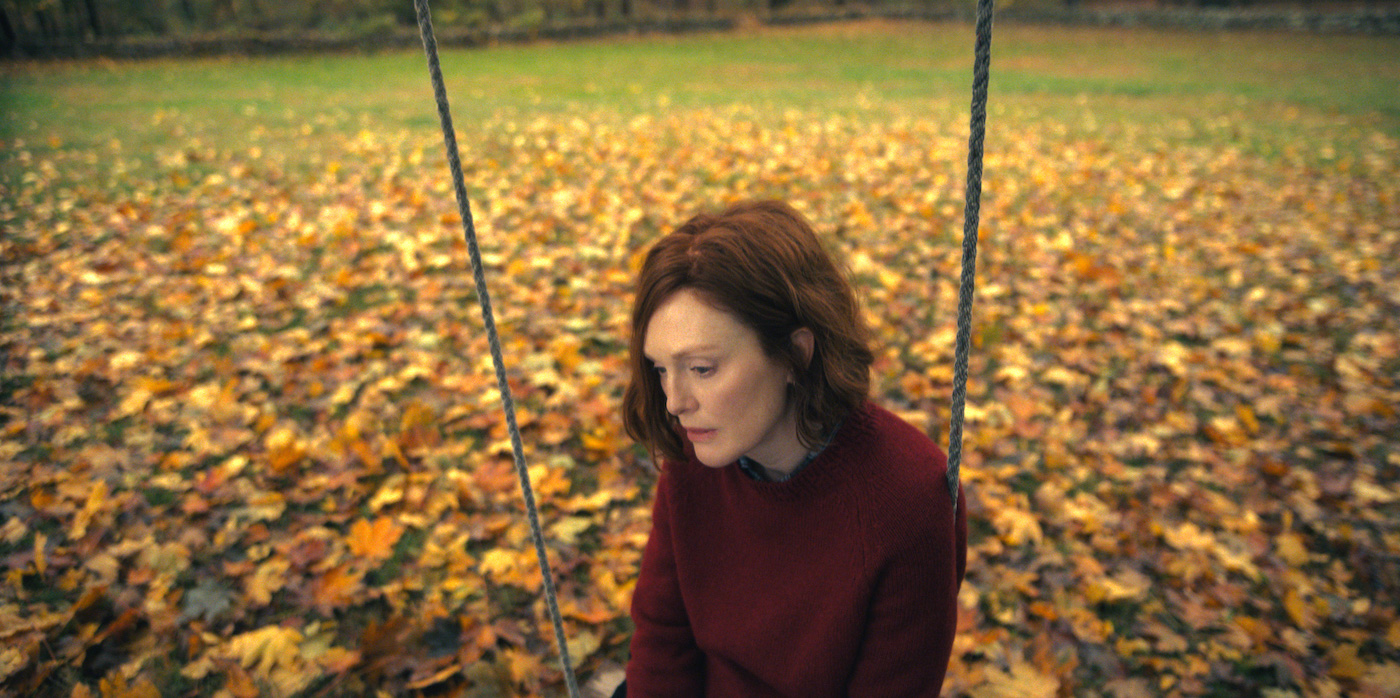 McConkey says there were "layers upon layers of information" provided by Dyas's art department, including manufactured writing awards and a turntable/record collection based on info from a tour King had given Larraín of his writing studio. "You don't just bang those out," Silano says of shooting inserts for such items. "You may think it's just a shot of a turntable, but there was so much discussion. Pablo is a very sensitive artist and knows exactly where he wants the focus."
Landon's desk, which sits in front of a large window, became a prime visual motif. "Pablo wanted to be able to see through the window to the world outside at the present moment," Khondji recalls, "and, at the same time, have this intimate story happening." Dyas had a large backing made, and even placed trees there, all lit with a big LED push from outside, as well as 10K Molebeams. "Darius is particular about the direction of light, softness, and quality," Velez notes. "He's very precise and sees differences I might overlook." Key Grip Guinness would typically place Magic Cloth in front of the LEDs for such shots, ARRI SkyPanels or DMG Lumières (SL1 Mixes or Mini Mixes), the latter his new favorite for nighttime scenes with the Sky Panels turned down to one percent with an ND6 over top.
Vandercruyssen says one challenge was "to stay true to Darius' desire for a very dark show, but also wanting to see the actors and not lose any of the action. And because of the amount of latitude I had in the neg, the exposure was perfect to darken some elements. It's one of the benefits of having HDR with the ALEXA 65 and being able to stretch those out. If it had been shot underlit, you wouldn't have had the same amount of saturation."
During one such scene, Jimmy Dooley comes after Lisey using a pair of night-vision goggles in an otherwise pitch-black room. "Those were shot with a cheap handheld camcorder with an infrared mode, bought on Amazon," describes 2nd AC Troy Sola. "It's actually from a company called 'Cleveland Paranormal Supply,' which lists it as a ghost-hunting camera!" The same camera was used, along with iPhone video, to shoot Dooley's deranged home videos shot in his bachelor apartment where his obsession with Landon comes full force.
The main visual treat of Lisey's Story is the fantastical Boo'ya Moon, accessed by the characters through the Fairy Forest. Both were enormous sets requiring a complex workflow methodology and creativity from the camera and grip teams. Though the script simply describes the Boo'ya Moon as "benches" on which the catatonics sit, Dyas worked closely with Larraín "to figure out how best to interpret Stephen King's vision," he notes. The designer came up with an amphitheater-like set, rooted in both European/Roman and South American cultures, facing a large pool where Landon comes to be healed. The pool is semicircular, with the rows of seating looking outwards, facing one wall of the stage, the entire set surrounded by green screen for VFX additions of the ocean and other scenery.
Finding a way to film in the unusual set took some thinking. "I scratched my head for a long time and continued to read the script and look at Guy's designs," describes Guinness. "The set was impossible to walk over, severely limiting opportunities for Jim to use his Steadicam. It was just too hazardous."
The solution was three cranes – 75- and 50-foot Technocranes and a 60-foot MovieBird, with Libra heads, all supplied by Monster Remotes. "We were the first job in New York to get the 75-foot Technocrane, which came straight from Czechoslovakia," Guinness recounts of the rig, a beast so large Larraín dubbed it "Medea," which Guinness says "is still labeled on the side of the crane."
The key grip worked closely with Dyas to leave space for the cranes' bases – the 75-footer placed outside the far edge of the pool, allowing it to reach across nearly anywhere on the set. The 50- and 60-foot cranes were placed on the right and left sides, respectively, on 30-by-30-foot rolling platforms, built by Key Rigging Grip Bill Kerwick, which helped to capture more thoughtful moments from the seated actors. "Usually when you have a 50-foot crane," McConkey reflects, "you know when you're going to hit the end of its reach. With the 75-footer, I could reach across the water, and it never seemed to end. Anything you wanted to do, that crane could reach," including a spectacular move that begins on a closeup of Amanda's face and swings back to reveal the entire Boo'ya Moon world, all in focus.
The camera and grip teams, including dolly grip Joe Belschner, "pickle" operator Michael Buck and Libra head technician Lance Mayer (the latter two from Monster), were, McConkey states, "phenomenal. Joe has such a cinematic understanding of everything. He knows what I'm doing, and I know what he'll do. Between me, him, and Bucky, I still can't believe the stuff we did on cranes."
Velez built a 60-by-60-foot softbox, with 40-by-60-foot frames on either side enclosing SkyPanels covered with Magic Cloth to light the massive Boo'ya Moon set. "It's essentially a wall of light from above," Velez states. Molebeams and 24K Fresnels with golden amber gels provided highlights as well as the beautiful flowing waterfall, itself made orange by painting its base in orange with metallic highlights.
Khondji referenced one of his favorite illustrators, Maxfield Parrish circa 1920s, to create a look for Boo'ya Moon that was rich in blues and gold highlights. "I love putting blue, which Gabe helped me with a lot, and putting gold in the top of the highlight," he shares. "It gave this world a beautiful – yet uncomfortable – feel."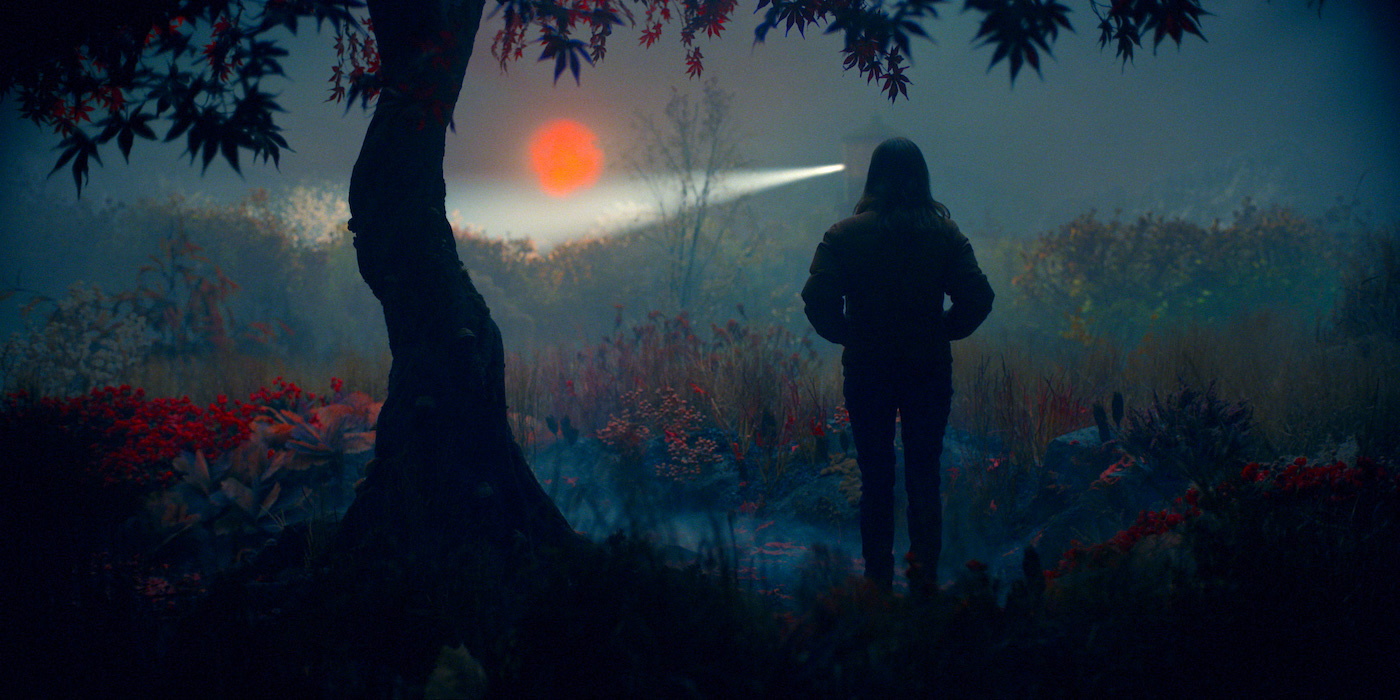 While Boo'ya Moon was built in Steiner's large Stage 3 – and shut down on March 13 until August, when production resumed – the Fairy Forest required an even bigger home. That came in the form of the nearby Agger Fish Warehouse, also in the Brooklyn Navy Yard, a suggestion of Velez's. "It's the only place I ever shot in New York that had 60-foot ceilings," Velez says. Built upon shipping containers and winding from its "Sweetheart Hill" at one end to the other, ostensibly adjoining Boo'ya Moon, it required a map made by Dyas to help Larraín and Khondji plan story moves, which included interactions with The Long Boy.
Velez ordered 350 SkyPanels for Fairy Forest from Insight Equipment. Its color, Khondji notes, was a "very deep blue – different tones of blue, between blue magenta and blue cyan," he explains, still with orange highlights.
The source of the orange highlights in both sets is the ever-present moon – in reality, two practical elements built by Guinness in 12- and 6-foot frames and covered in a printed skin, each lit with a dozen Astera tubes. The larger moon could travel to any point on the set via chain motors, while the smaller one was atop a scissor lift, allowing either to be visible through the trees in the forest or casting a practical reflection in the Boo'ya Moon pool or offering a slight highlight on actors. Khondji says, "We always see a hint of the moon coming through the trees."
One other fantastical set is the Yum Yum Tree, encountered in flashbacks to the couple's honeymoon – an ice-covered willow tree, under which they sit as Landon reveals his painful childhood. A practical tree was built at the location, across a lake, but a set was built on the Capsys stage, made of huge rings to allow the wax-flocked branch material to rotate. Velez constructed elevated truss rings that circled the tree, and backlit the branches with 10K Fresnels, with ½ blue gels and Chimeras to focus. Guinness notes that "it was tricky to get the lights out of frame, 360 degrees above the set."
The majority of the footage there was shot by McConkey on the 50-foot Techno, avoiding what would have been difficult moves by Steadicam over the trees' many roots. "Those were tight moves for Joe and Bucky, but we accomplished them beautifully," McConkey recalls, including a wonderful sweep from the two characters, back out and over the tree itself. Bayrón says she found herself in waders for the coverage. "One of the rare instances of straight coverage Jim and I did," she notes. The two more typically found themselves "colluding," as McConkey calls it, with Bayrón crafting "mini-masters" instead of common coverage. "It's essentially a single-camera show," McConkey adds, "as that's what Pablo likes. So, if there wasn't a good shot for the B-camera, the second camera dropped, and we'd move on."
According to all involved, Lisey's Story is a show that reveals character out of darkness. "For me, it's about the presence of Lisey, who, little by little, comes out and becomes a hero of her own story," Khondji concludes. McConkey calls the ever-present darkness "a veil of reality. What you don't see too clearly can be hidden, and what you do see, you can believe," he shares. "But you don't have to know what you don't know."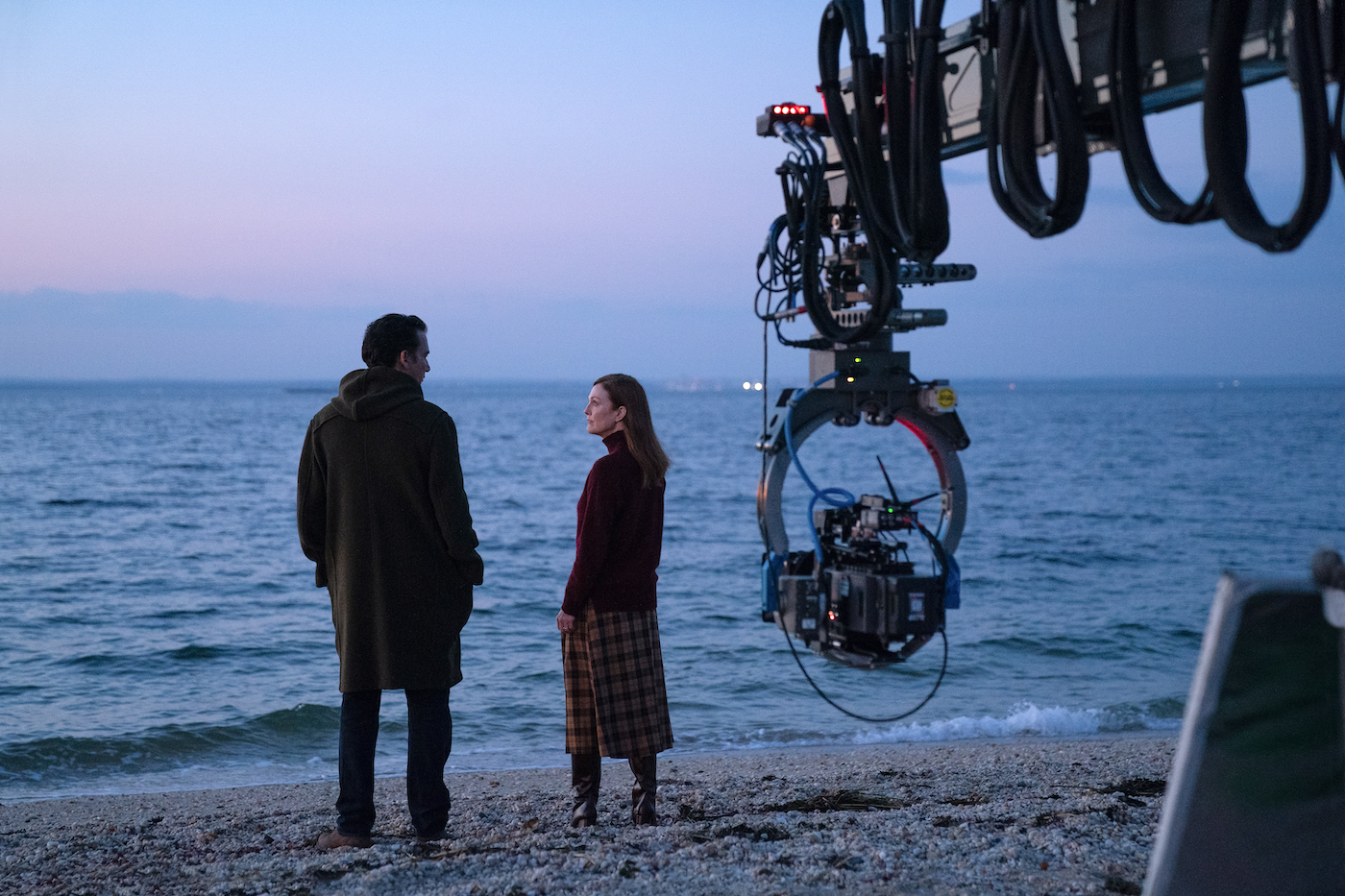 Lisey's Story – Local 600 Camera Team
Director of Photography: Darius Khondji, ASC, AFC
A-Camera Operator: Jim McConkey, SOC
A-Camera 1st ACs: Chris Silano, Eric Swanek
A-Camera 2nd ACs: Troy Sola, Tyler Swanek
B-Camera Operators: Wylda Bayrón, Zeus Morand, Jeremy Weishaar
B-Camera 1st AC: Olga Abramson
B-Camera 2nd AC: Eddie Goldblatt
Loader: Peter Perlman
DIT: Gabe Kolodny
Underwater Director of Photography: Dave Knox
Hydroflex Underwater Tech: Matt Degreff
Libra Head Tech: Lance Mayer
Still Photographer: Peter Kramer
Publicist: Erin Felentzer