Alice Brooks and Director Jon M. Chu bring Lin-Manuel Miranda's In The Heights back home.
by Valentina Valentini / Photos by Macall Polay, SMPSP / Warner Bros.
---
There was a moment of quiet on the set of In the Heights, in the sweltering heat of New York City, summer 2019. The entire intersection of 175th and Audubon was closed off to film the opening number – dancers and extras ready for their cues; lights and cameras being adjusted for the upcoming take. As the sun lowered just above the George Washington Bridge, Local 600 Director of Photography Alice Brooks turned to Lin-Manuel Miranda to ask: "When you were in college writing this music, did you dream of being here, shutting down your neighborhood street, and filming this number?"
In the Heights, a story of dreams big and small, set in New York City's Washington Heights, originally opened on Broadway in 2008 but was born in a college dorm room. Miranda was a sophomore at Wesleyan University in 1999 when he wrote the initial draft of what was to become the first in the Puerto Rican-American's prolific line of musicals that have reshaped Broadway. With music and lyrics by Miranda and book ("script" in musical theater speak) by Quiara Alegría Hudes, In The Heights was nominated for 13 Tony Awards and won four, including best choreography, best original score, and best musical. Now, enjoying a summer theatrical launch from Warner Bros (that was delayed a full year due to COVID-19), the film stars Anthony Ramos as Usnavi, a Dominican-American immigrant whose sueñito (little dream) of leaving Washington Heights turns into something more, thanks to the magic of his New York community.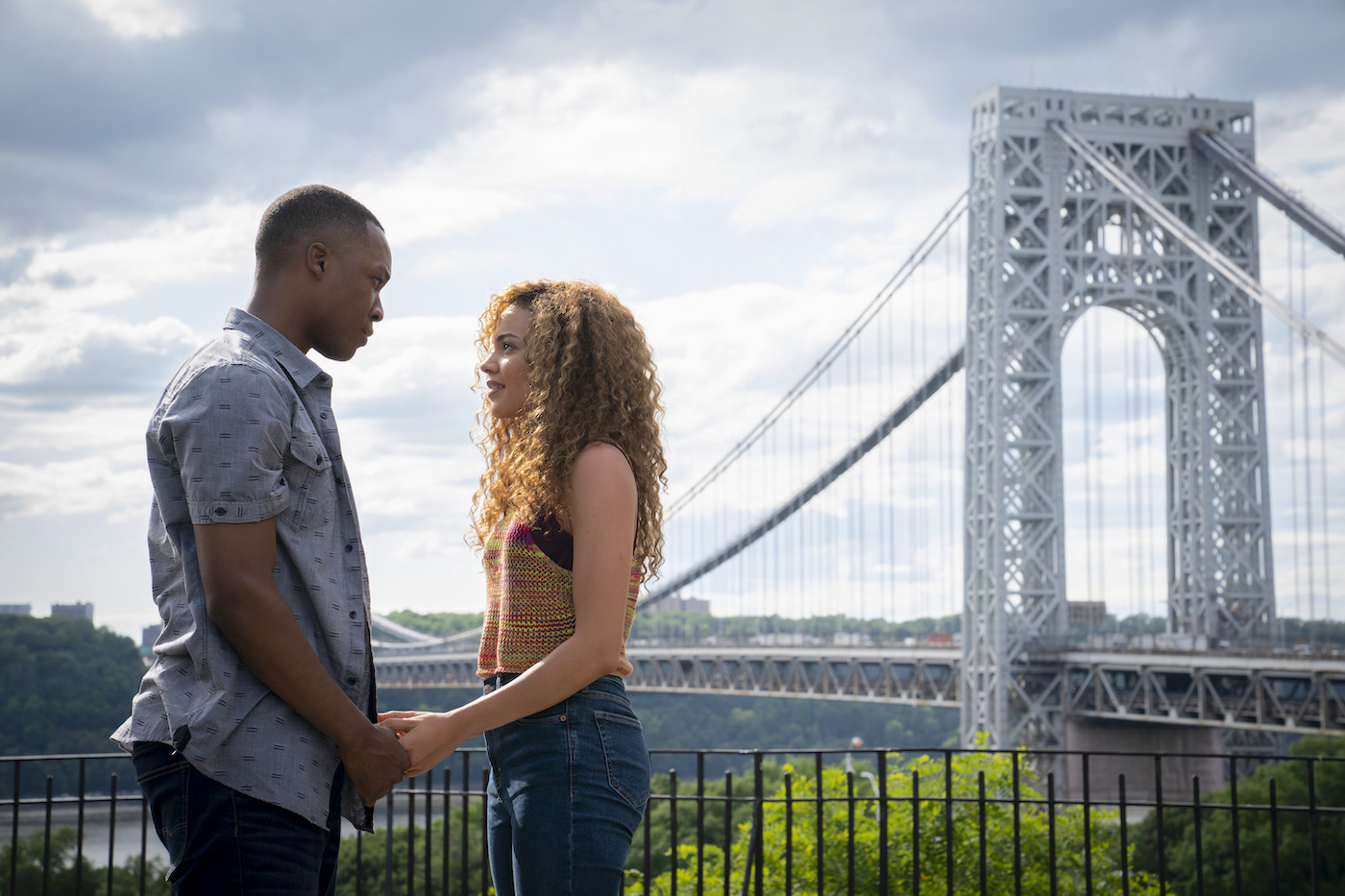 "In 2016, when I first heard that [director Jon Chu] was attached to the movie, I knew I wanted to shoot it," recounts Brooks, who lensed Chu's thesis film – a short musical called When the Kids Are Away – while they were both at the University of Southern California. "We've done many musical-driven projects together over the years, but not a large studio movie," she adds. "And even though Jon and I have had great collaborations in the past, I didn't know if he'd be able to bring me onto this one."
Brooks [who shot Chu's 2015 music-driven Jem and the Holograms, [ICG Magazine October 2015] had done mostly indies and TV when In The Heights debuted. But she imagined the movie anyway, collecting images and dreaming about a visual plan (even though she had no script). And because of the success of Crazy Rich Asians, "for the first time in my career," Chu describes, "I got to choose [the heads of] whatever department I wanted. Alice and I, we've been training for this our whole lives." By the time prep started for the film version, Brooks had nearly three years' worth of images and references.
Although the production was based in Brooklyn, the majority of the film was shot in Washington Heights, where Miranda grew up. Brooks, Chu, and Production Designer Nelson Coates spent almost every single day "in the Heights," including at one of the two rehearsal studios they rented for dance numbers. Everyone involved with the project wanted to be inspired by the people who lived in the history-rich community – the true star of the show. As Brooks observes: "It's a very different place than anywhere else in New York; even the light is different."
Chu, who named his son Heights (born during production), was equally taken with the neighborhood. But he admits the logistics were complex. Several blocks had to be closed off – on either side of an intersection – for four weeks, to capture the main bodega's exterior. Music, so central to the story, could not be blasted 24/7 as on a stage or a studio lot, and shooting had to work around the residents' work lives. "It was daunting," Chu adds. "But Lin and Quiara were adamant about bringing it back to the place the songs were written about. And Alice and I love a challenge," he smiles. "We hadn't done big movies together yet, but we knew how to look, learn and use a space according to the story we needed to tell. [Choreographer] Chris [Scott] was included [in that process] because we had to build the dancing into each space, which made things even more interesting."
Brooks brought in an experienced New York-based Union crew. They included: Chief Lighting Technician Charles Grubbs; Key Grip Kevin Lowry; A-Camera/Steadicam Operator Mark Schmidt, SOC; and B-Camera Operator Peter Agliata; all grateful for the long prep time afforded by Line Producer David Nicksay and Unit Production Manager Maggie Engelhardt. To capture the beauty and the depth of immigrant history in the neighborhood, Brooks chose the Panavision DXL2 with modified Panavision G series anamorphic lenses – the large-format system provided the shallow depth of field Brooks wanted for a feeling of intimacy.
Morning prep was spent planning scenes and lighting on location; afternoons were in the rehearsal studio so that Chu and Brooks could learn the dance numbers – working with Scott and the choreography team on evolving ideas – and begin designing shots. With more than sixty percent of the film dancing and singing, the close DP-choreographer relationship was critical. Scott had worked with Brooks and Chu on the 2010 Paramount Digital web series The LXD: The Legion of Extraordinary Dancers as well as Jem and the Holograms. He describes The LXD as his version of film school.
"I didn't go to USC with Alice and Jon," Scott laughs. "But I reaped the benefits of a film-school education on that series. I learned early on that the camera is like another dancer. [For In the Heights], Jon gave me specific camera shots before there was even anything choreographed," citing the film's opening number. "He had this whole thing with the fridge planned out [shots were filmed from the perspective of inside a refrigerator in Usnavi's bodega], with moves and shots timed exactly to the music," Scott continues. "Most of the time, I get the music, and the director and DP let me do my thing. Then I send them a video of what I did in rehearsal and we shoot it. After it gets edited, I'm either thrilled or disappointed. This collaboration was much different."
In The Heights has seventeen musical numbers, all varied in style and staging. One number, "Paciencia y Fe," was filmed entirely underground in the New York City subway system and includes shots in a 900-foot-long, graffiti-covered tunnel. For "When the Sun Goes Down," characters dance on the side of a building; "96,000" was shot at the Highbridge Public Pool – the first time a movie was allowed to use the location.
"Carnaval del Barrio" was shot in a single day (even though Chu said it needed three). The scene features scores of dancers in a contained space behind the salon. Four buildings meet up to create a small concrete courtyard, where, during a power outage on one of the hottest days on record, neighborhood residents gather to get what little breeze exists. In the song, Daniela (Daphne Rubin-Vega), the salon owner who is moving out of the neighborhood, tries to give her community one last pick-me-up.
"I was doing Google Maps searches everywhere I could to find spaces in between buildings where you could see fire escapes and have good throws to the building," recounts Coates, who wanted to honor the neighborhood in a musical that had been his dream to design. "Because those spaces can't be seen from the street, and most of them have very limited and little alleyways to get to them, it was a difficult process."
Coates had to find somewhere that not only had the right look – or at least somewhere he could build in to create the right look – but also offered safety and access for equipment. They eventually settled on the courtyard near J. Hood Wright Park amidst a group of buildings that all backed up to each other. They were painted electric white, with several dead trees, mismatched fencing, and multi-level concrete slabs, along with a host of other issues.
"I needed all the different building owners to let me paint their buildings, take down the fencing, and create sections of concrete to level out the ground for the dancers," Coates continues. "Any fire escape we wanted to put extras on – or Lin, because he's in one of the shots in this scene – we had to get checked for engineering and structural integrity. And we also needed to get people to allow us to dress all of their apartment windows."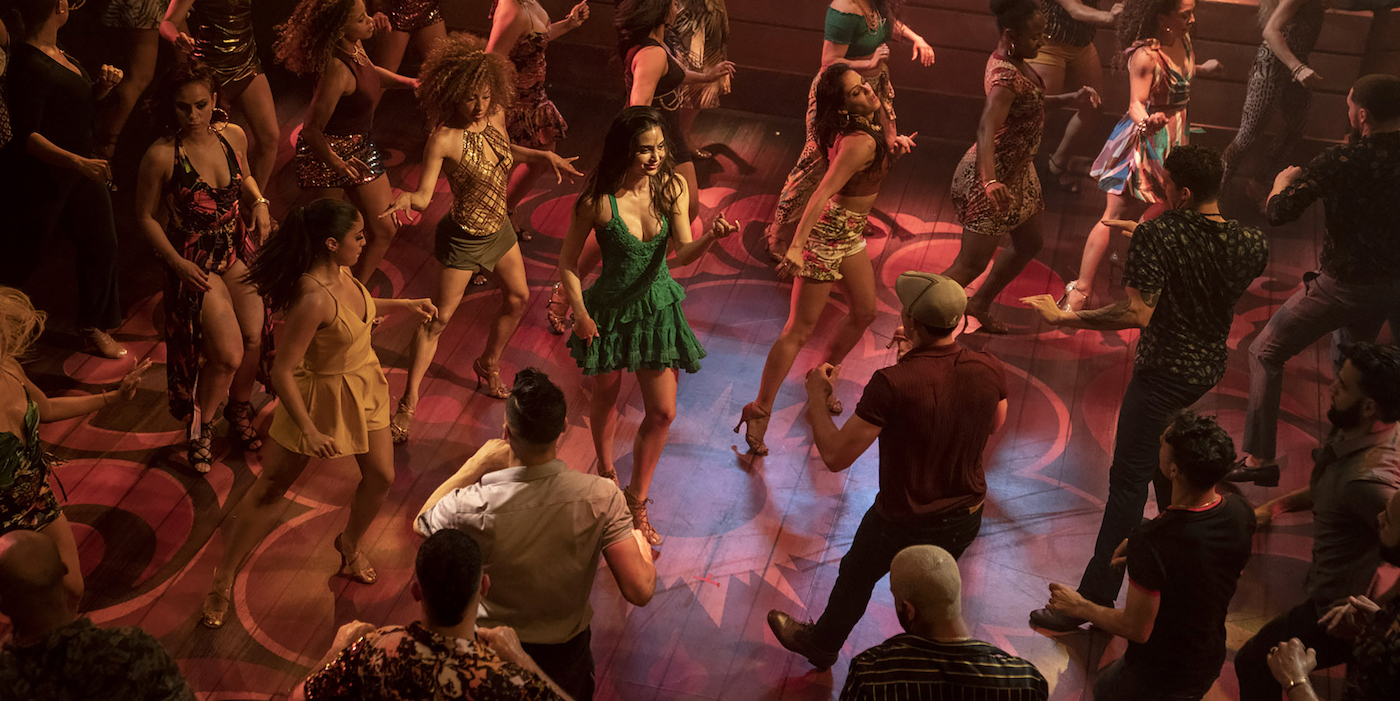 During a dance rehearsal for "Carnaval," Brooks watched Scott working with the dancers. He'd asked her not to film anything yet and soak in the movement. After several hours, Scott said he was ready, and Brooks went to stand in the center of the space they had taped out to the proportions of the filming location.
"He held my shoulders to orient me spatially, and I used my iPhone to film the rehearsal," Brooks remembers. "He turned me in the direction he wanted the camera to face in each moment, and at one point whispered in my ear, 'Go figure out where you want to be' and left the circle. The energy of the dance number was so extraordinary – Daniela reminds her people of the power they have inside of them, encouraging them to be proud of who they are, where they came from, and where they're going."
Brooks had 14 hours to film the scene due to dependence on sunlight; the number is seven minutes long with 70 dancers (including 10 actors), and there are specific story points that need to be told throughout the song. Although the space is surrounded by six-story-tall buildings, the entire set was exposed to direct sun because its path lined up exactly with the courtyard. And, as Key Grip Lowry recounts: "On that late-June day, there wasn't a single cloud in the sky. We used the buildings' fire escapes to attach a series of 20-by-20 and 12-by-20 silent one-quarter grid cloths to soften the natural top light. B and C cameras were always finding places to hide among the dancers and set dressing to get valuable cutaways and complementary angles."
Brooks positioned A-camera on a 23-foot Scorpio crane on a platform at one end of the courtyard for the first half of the shoot day. At lunch, the rigging crew disassembled the crane and carried it out of the cramped location so that the 360-degree Steadicam shots could be achieved. "The biggest challenge for that day," adds Grubbs, "was loading six ARRIMAX 18Ks onto three separate rooftops with no elevators and a 125-foot lift. Those were paired with three 80-foot cable drops to the street. We needed a very precise delivery to those lighting positions." They spent a day during prep scouting each roof to decide where each lamp would be placed, since they would not be able to be moved once in place.
As in the story, the heat was oppressive. (One of the cast members even bought an ice cream truck for the day for everyone to have ample cool-off options.) Wrap came 10 minutes before sundown, even as the cast continued dancing and singing.
As Chu describes: "I've never been on a set where such energy existed for that long. It was like a laser beam came from the sky. I had called cut, and everyone just started chanting, 'New York, New York,' there was no music, so they start clapping, going, 'No music, bah bah; no music, bah bah,' and then they all look up at Lin and start chanting 'Lin, Lin, Lin!' And Lin's stuck on the fire escape with a camera near him, so he looks down at us and he's just bawling. There was no better way [to end that day]."
Brooks felt that day set the tone for the rest of the movie: "We know we can do this," she says. "We know we can all work this hard and it's worth it. And that scene is what the movie is all about – it's about finding your power through community."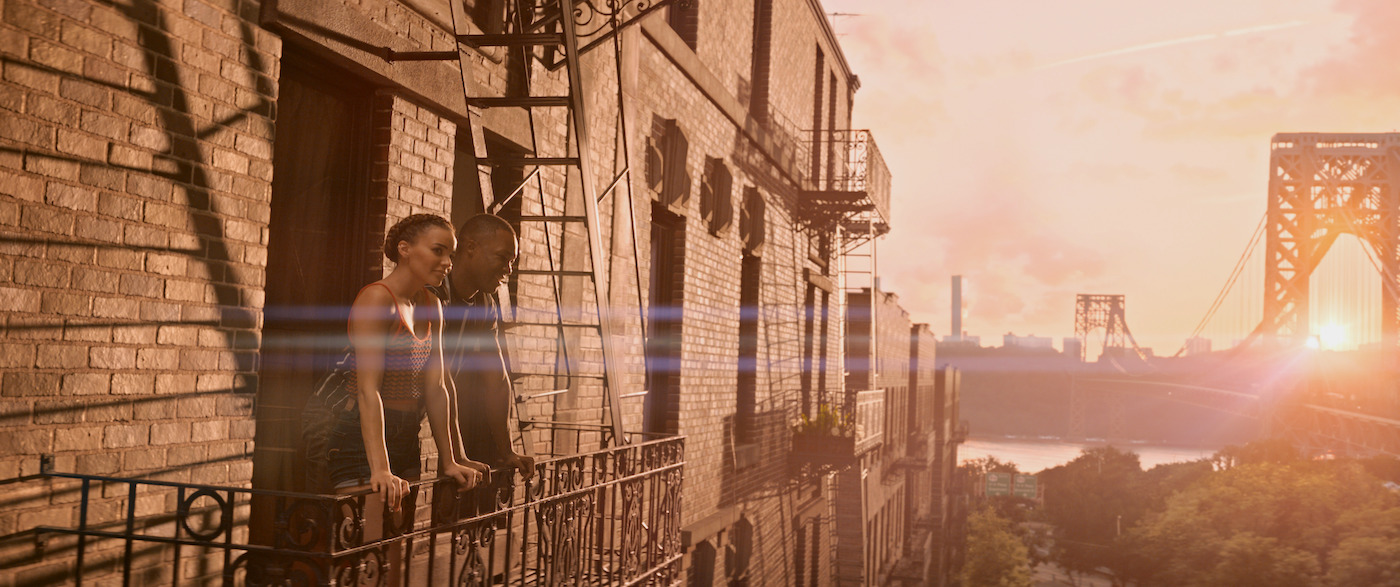 Coates points back to the people and culture of Washington Heights as the true source of the filmmakers' inspiration. He even commissioned Cuban and Puerto Rican artists – the map of the Dominican Republic in Usnavi's bodega is handmade with elements of everything he sells in the store, from MetroCards to lottery tickets to hot sauce. Early in prep, one of Coates' crew members went to the Dominican Republic on his honeymoon and Coates had him bring back a bag of sand that was added to the mural. In tandem, Brooks worked with her team to make sure the neighborhood was honored both while filming on location and on the sound stage. She would send the B-Camera team off to film authentic street life – old men playing dominoes on the corner, a little girl skipping rope, a streetlamp with a bird's nest. Early in the shoot, interior scenes of a taxi dispatch office were shot on location at the main intersection, whose look inspired Brooks on how to treat other interiors, including the bodega that was filmed on a stage. Brooks loved the way the reflected sun bounced off of different surfaces in the dispatch.
"A car would drive by and create a beautiful anamorphic flare for a brief moment," she says. "When that happened, I said to the gaffer, let's make sure we have lots of reflective surfaces outside the window on the bodega set." As Grubbs adds: "Reflected sun on location inspired the use of mirrors and even picture cars on stage to throw that spectacular quality in our bodega set."
Brooks also asked Grubbs to pay close attention to the time of day and weather conditions, taking notes on the color temperature of the sun and the ambient light in Washington Heights. "We were able to attempt a recreation of those conditions at our Marcy Armory stage,"  Grubbs recalls. "Having that control of sky color temperature and the degree of warmth and direction of sun was key to [matching stage and location work] – the true motivator was the sun path in the summer season in Washington Heights. It lines up with the streets at dawn and especially at sunset. The contrasting colors of the cool sky with the warm late-day sun created some beautiful lighting challenges. We made a sky source with more than 200 ARRI S60s through large grid cloth rags. The sun sources were an array of 20K Fresnel and 20K Mole beams."
When production wrapped in August 2019, Brooks was cleaning out her home office and came across her goal list for 2016. One item read: "Shoot In the Heights." She'd forgotten it had been a dream for so long. It reminded her of Usnavi's line in the movie: "A dream isn't some sparkly diamond. There are no shortcuts. Sometimes it's rough."
"When Jon and I were at USC doing When the Kids Are Away," Brooks concludes, "we were shooting in Pasadena one late afternoon, and we shut down the street for a dance number. It was the first time I'd ever shut down a street for filming; I was on a crane and operating, there were 30 dancers in the streets and it was thrilling. That was 19 years ago! It's hard to believe that almost two decades later, I'd be in the middle of a shut-down street again, only instead of 30 dancers, there were 300 dancers in a massive dance number for a Warner Bros musical. At that moment, I realized this was my sueñito – my little dream. And it had come true."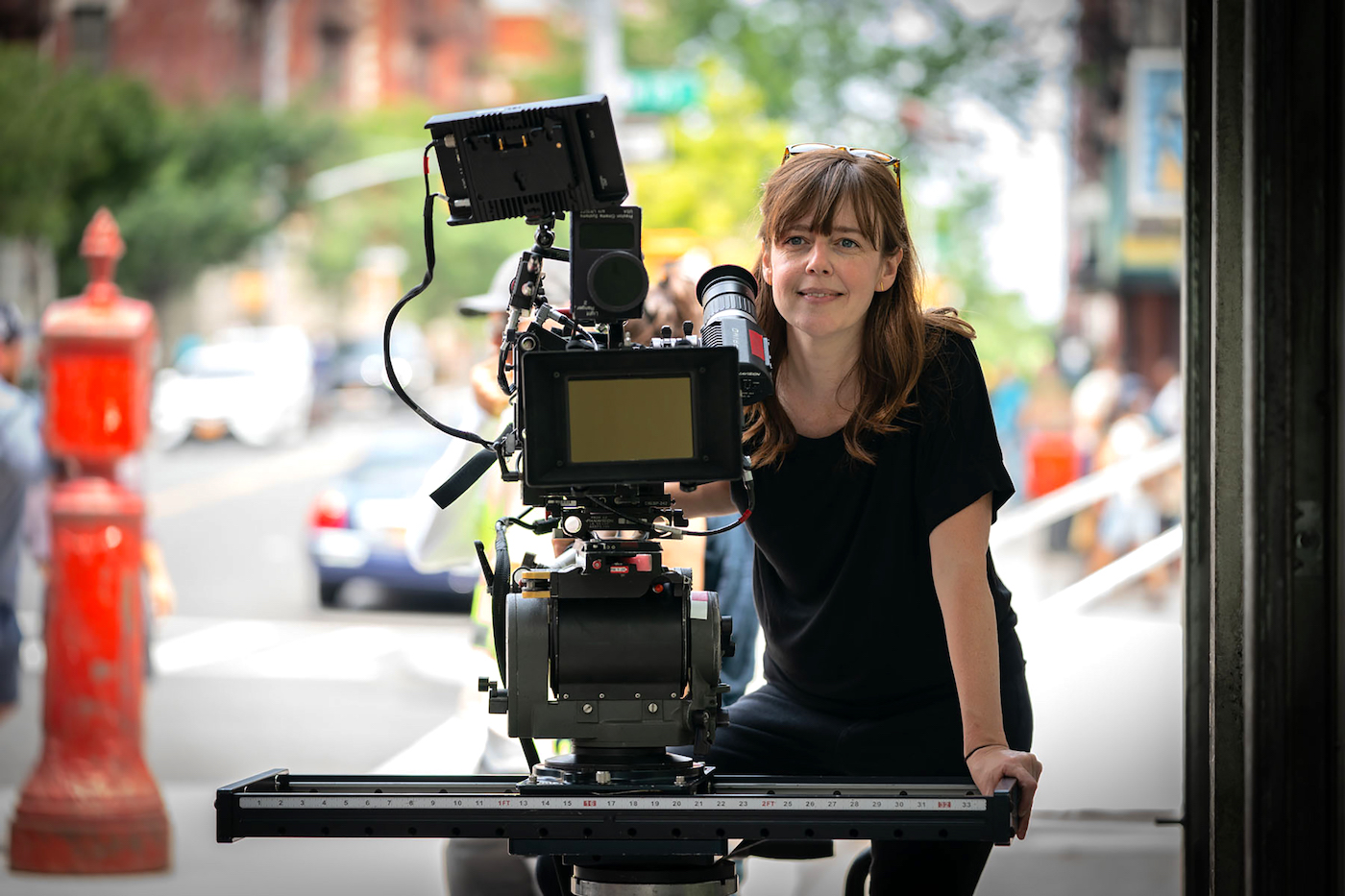 Local 600 Crew Listing: In the Heights
Director of Photography: Alice Brooks
A-Camera Operator/Steadicam: Mark Schmidt, SOC
A-Camera 1st AC: Basil Smith
A-Camera 2nd AC: Marvin Lee
B-Camera Operator: Peter Agliata
B-Camera 1st AC: Gavin Fernandez
B-Camera 2nd AC: Caroline Ibarra
Loader: Neicy McFadden
DIT: Bjorn Jackson
Still Photographer: Macall Polay, SMPSP
Publicist: Frances Fiore