NBC's hit reality performance series is a dream come true for any young vocalist, and that excitement is just as palpable for the large Guild camera team behind the scenes.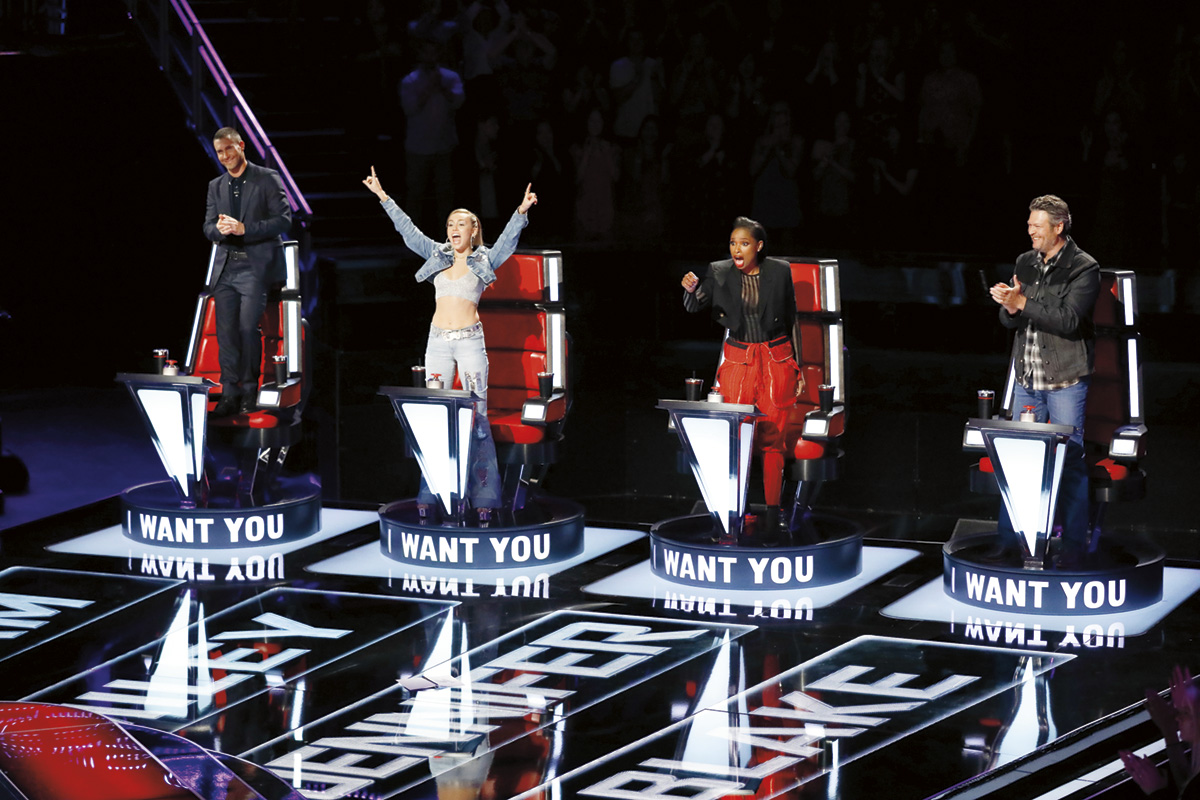 Every singer has the desire to be heard; every budding star craves someone to support his or her dreams. And for those fortunate enough to be featured on NBC's Emmy-winning reality performance series The Voice, they get something else as well – positive reinforcement from music industry titans like Adam Levine, Blake Shelton, Miley Cyrus and Jennifer Hudson, who are all about dream-building through encouragement.
Those qualities from the "coaching panel" alone make The Voice unique in a genre stacked with ego-shattering competition series. But it's also the flawless teamwork behind the scenes that has helped The Voice croon with glee come Emmy night for 13 seasons.
The show is a three-phased singing competition that shifts directors and crew for each phase. As director Alan Carter explains, "The Blinds [auditions shot like a reality show] comprise the first phase. And even though the music is at the core, it's about human emotions and is therefore shot with that in mind. Every angle possible is used to capture the looks, stares, thoughts and hopes – so moving cameras are not as prominent here." Phase Two, the Battles, (which include the Knock Out and Playoff Rounds), are shot in the same set, where, Carter says, "the music is far more important," and the camerawork reflects that fluidity and movement.
The final phase, known as the Lives, is 100 percent focused on the singing and is described by Carter as basically "a weekly Grammy Awards–style show," meaning there are more moving cameras, extreme close-ups, dramatic lighting and staging to mirror the drama.
Carter says selecting the camera team (and the camera each member operates) is one of the most important decisions he makes as a director. "Music is emotion," he states. "There's a beat, and the progression in a song is very important. So I need camera people who have that musical feeling inside them. You can't teach it. You either have it or you don't."
The director goes on to note that most of the operators play instruments and have some degree of musical performance in their backgrounds. "I can't tell every cameraperson what speed to zoom or how fast to swing the crane, because it's all happening too fast," he continues. "They just have to feel the music and have it come naturally."
Carter creates an "open dialogue" on the headset that encourages operators to "sell" him shots. "There is no way for me to be able to see everything all the time," he adds. "So, I let them be my eyes out there on the floor. 'If you see something good, shoot it and show me.' If I don't like it, I won't take it. But usually it's all great stuff."
With such criteria, it's no surprise The Voice is captured from every possible angle, with almost every kind of equipment. The show uses Sony 4300s (4K-capable) and a variety of lenses including Canon (86X, 95X) and Fujinon. There are Vinten Vector pan heads, Vinten Fulmar pedestals, a 50-foot Super Technocrane, a Techno-Jib, a wireless Jimmy Jib and two Steadicams.
Carter builds each number in rehearsal around the Steadicam and cranes/jibs, knowing that he'll typically get three close-ups from which to choose, and a default wide or head-to-toe shot from the pedestal operators to go to whenever he needs it.
The Voice's elite group of camera teams (nominated six times and overdue for an Emmy) says it's unlike any other job in the industry. Or as Steadicam Operator Manny Bonilla describes, "If shooting in the round, on a huge multi-level black-on-black set, in one of the world's largest soundstages, for a live TV show, doesn't get your blood pumping, nothing will.
"Shooting [The Voice] is like one of those whack-a-mole games at the carnival – with an artistic touch," Bonilla adds.   "Knowing exactly where and when to be on stage in direct correlation to another camera or the artist, and trying to avoid making an unannounced cameo on live TV, is a huge challenge. Of course, none of that would be doable without a great assistant."
Bonilla draws a picture of the stage, makes a circle with an X to represent the artist and a square with an X to represent himself. "I also note how many bars of music I have with which to execute my move, so it's all about logistics and how can I connect all my shots. A song might start behind the coaches on the live stage; I split the coaches' chairs and make it onto the stage-right ramp, cross in front of the artist and end on a camera-right close-up. Now I'm standing on stage right next to the artist. Alan will usually go to one of several close-ups, buying me a few seconds to scurry off stage left to a set of escape stairs. Since I'm wireless and have a full range of motion, I am constantly thinking how I can complement the shot."
Being wireless has advantages for more than just Steadicam on The Voice. Operator Alex Hernandez uses a wireless Jimmy Jib (powered by four 12-volt car batteries) that allows him to move freely without being tethered to a cable.
"Last season there was a performance with a piano center stage," Hernandez recounts. "I know what Alan likes and wanted to give him something cool, so I rolled out the shot from the top above the piano. Because I was wireless, I could get close – sometimes I'm even 10 to 12 inches away from the performer – and then I have to get out quick."
Such complex movements, with many operators crossing at once, could cause a train wreck if the team weren't completely in sync. That's why Hernandez is quick to credit his Utility, Tim Bower, who has, literally, saved the day.
"I remember once the 15-foot jib was center stage," Hernandez continues, "and everyone could see me. One of the songs had been swapped out – and no one told us. 'Oh, my God, I'm on the wrong side!' I realized. We literally had three seconds to get back – and Tim helped me get around with half a second to spare."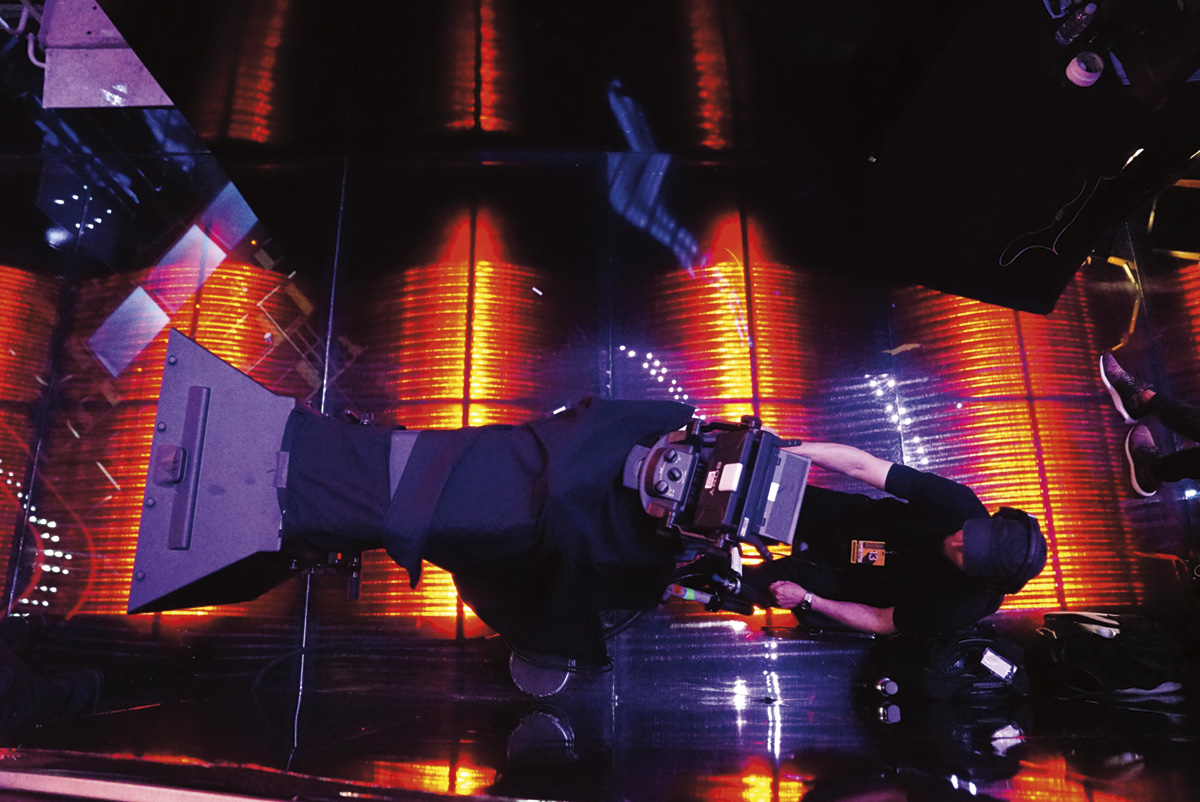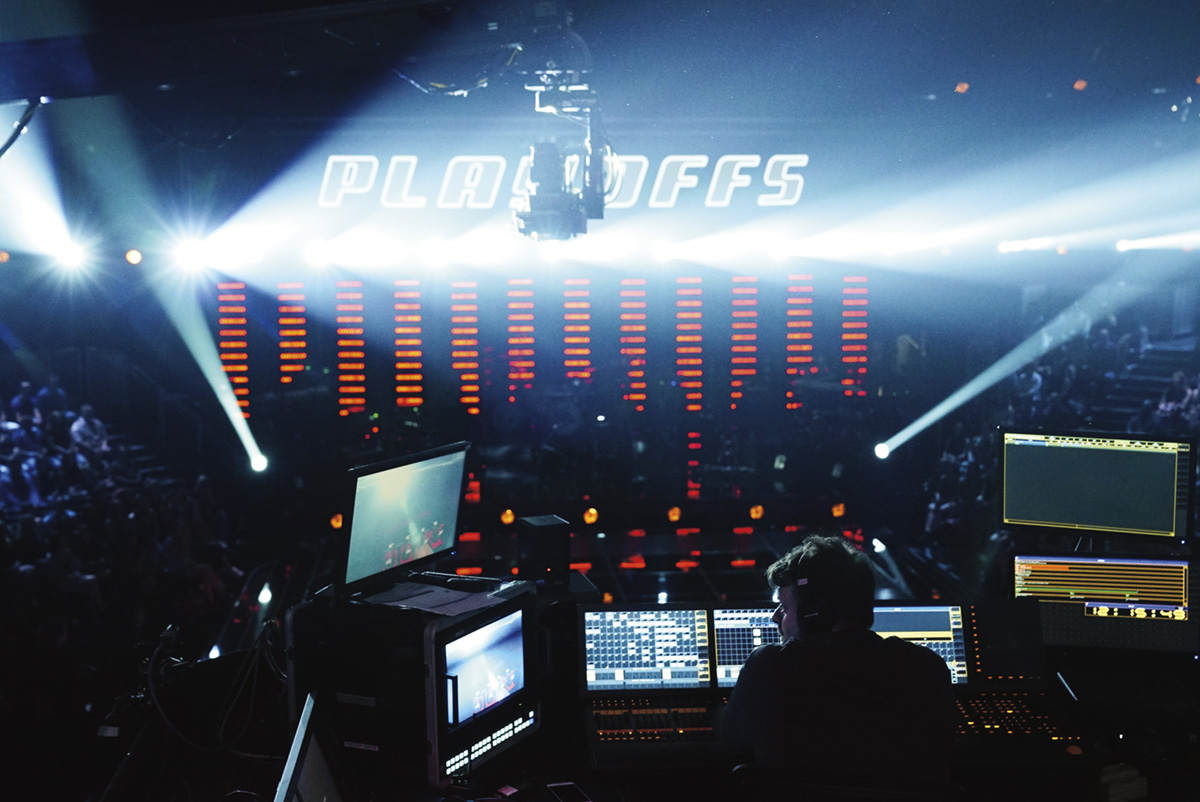 The Voice looks great for a lot of reasons, but there's little doubt that featuring shots from a 50-foot Super Technocrane is a cut above the rest. Or as Crane Operator Marc Hunter puts it, "How many times have you seen one used in live weekly TV these days outside of our show? Zero. Yes, it's a daunting prospect to think about fitting that arm into a show shot in 360 degrees. But my crew, Jim Lay and Chris Sweeney, are the best in the business. Not only can they do film-style A to B stuff, but they think and change on the fly."
To accomplish this aerial dance, Hunter and Carter, along with three-time Emmy winning Lighting Designer Oscar Dominguez (see page 45), work closely with Production Desginer Anton Goss and Art Director Zeya Maurer. Although, as Hunter observes, "Any change you make is a domino that will affect many aspects, so you can't make a suggestion lightly. Fortunately set design and lighting start early. And I have some input as to getting the Techno in as close to the action as possible."
Hunter admits that the show's glossy visuals present logistical challenges for a Technocrane. "Draw yourself a circle and put eight points evenly spaced around the circle all pointing toward the center, and you can start to see the problems of shooting 360 degrees," he details. "Now make one of those points a big long crane, now two points, now three. And the issues can pile up."
Cranes, wireless jibs, and Steadicams are not the only moving parts on The Voice. Jofre Rosero works handheld and with the Porta-Jib, mounted on a tripod mounted on wheels. Like the many live awards shows Rosero has shot, for The Voice he looks for the frame that "my grandmother is going to see at home watching; without her knowing, it is going to take her for a ride. Climbing, diving, or even something really embarrassing – I will do it," he insists, "because [operating] is my passion and this show feeds it."
It's a dance every operator understands – and respects. Rosero says with all of the controlled chaos on the stage, he's mindful about landing in someone else's shot. Handheld camera operator Guido Frenzel feels the same, and notes that Carter likes to use him for unusual perspectives from places the others can't reach. "Handheld shots vary from low-angle wide shots showcasing Oscar's array of lights to ECU's of the performers and instruments," Frenzel describes. "Sometimes we even end up in the middle of the 'band.'"
In fact, in 2016, during Wé McDonald's performance of the song "Don't Rain on My Parade," Rosero and Frenzel were "hiding" amongst the musicians on stage and had precious few choreographed seconds to come out to their exposed camera positions on the floor between the string players, all while trying to stay unseen by a circling Steadicam and Technocrane. "It's those kinds of situations that make you keenly aware that you are working on live TV," Frenzel states, "as you are staring up from the floor at some pretty incredible musicians."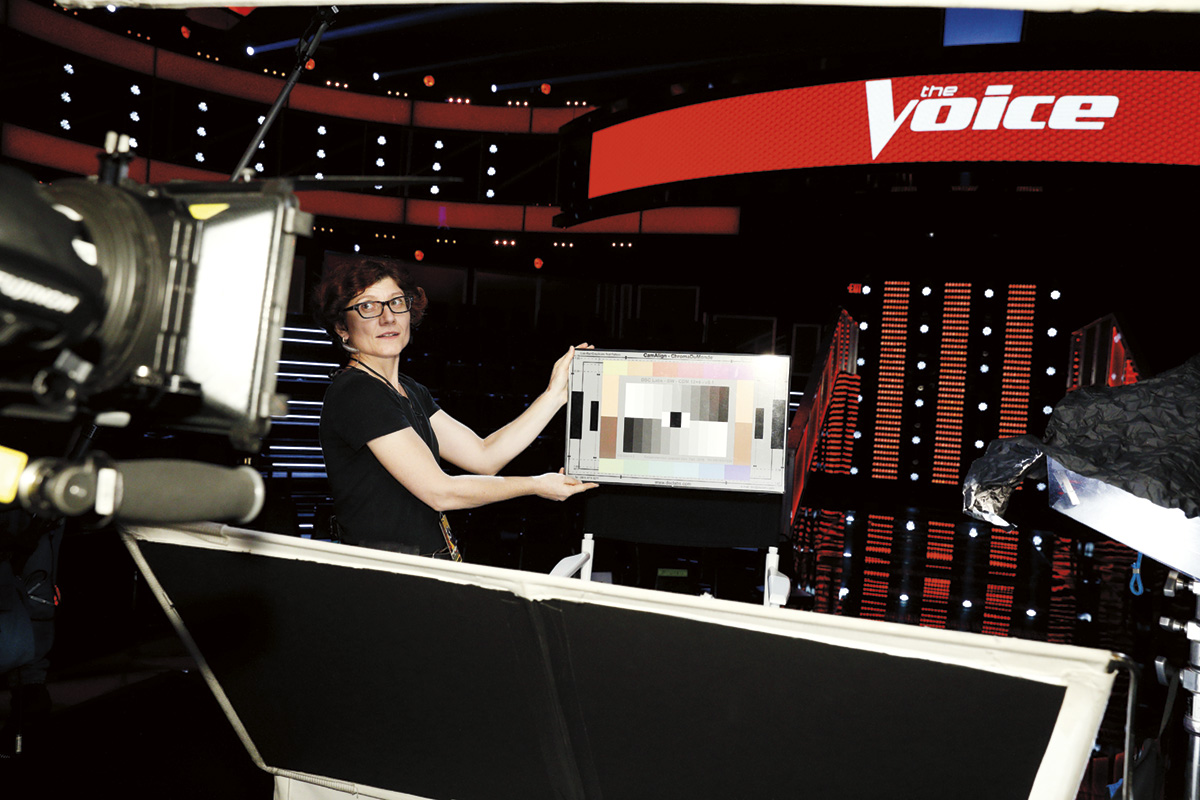 Even the more traditional aspects of The Voice's camera coverage, i.e., shots from pedestals, take on added complexity with Carter at the helm. "Alan doesn't number the shots, even though he scripts them out, so I have a fair amount of freedom," relates Operator Scott Kaye, who typically shoots three-quarter close-ups from stage left, Carson Daly's introductions and "friends and family" in the audience post-performance. "How close I zoom, for example. Alan often lets each of us make the shots that we find the most pleasing without micromanaging."
Kaye recounts an episode where the performer was in front of an LED screen that started out black before a neon heart was slowly animated out. "I was able to frame my shot much wider than I would normally, allowing for the heart that wasn't yet there to make my composition around," he explains. "I offered it up to Alan – and he asked me to feed it during the show."
Senior Pedestal Operator Diane Biederbeck also likes the freedom The Voice affords, noting that if she, or any one of the operators, sees something, even under a time crunch, Carter has been known to stop everything during a rehearsal to move a set piece, or a band member, or to try a different angle. And often what ends up on air changes yet again from the rehearsal.
"An operator's function is not simply to give a pretty shot, but to interpret the mood and tell the story visually," Biederbeck shares. "Of course, I believe that none of us can take credit without acknowledging the symbiotic relationship of the lighting designer, Oscar Dominguez, and his crew. Sometimes I can point the camera, and it's just there, like God showed up and made the shot beautiful."
Another key partner in creating The Voice's Emmy-winning look is Video Controller Terrance Ho, who works closely with Dominguez to make sure the talent is lit properly. Ho works with the screen techs and maintains consistency for all the cameras.
"VC's have to improvise at times," Ho relates, "especially during the live segments if plans change. One time we had an outdoor camping set piece where The Swon Brothers sang by the bonfire. During the rehearsal, it was decided that there would be no front lights and the only source of illumination for their faces would be from the fire. The problem was that the bonfire's flames varied and weren't all that strong, so the consistency wouldn't be there during the performance. Even though I was anticipating the potential mishap, it was still a scramble to get all 14 cameras to expose properly and to be able to see the faces and then reset all of them when the performance was done."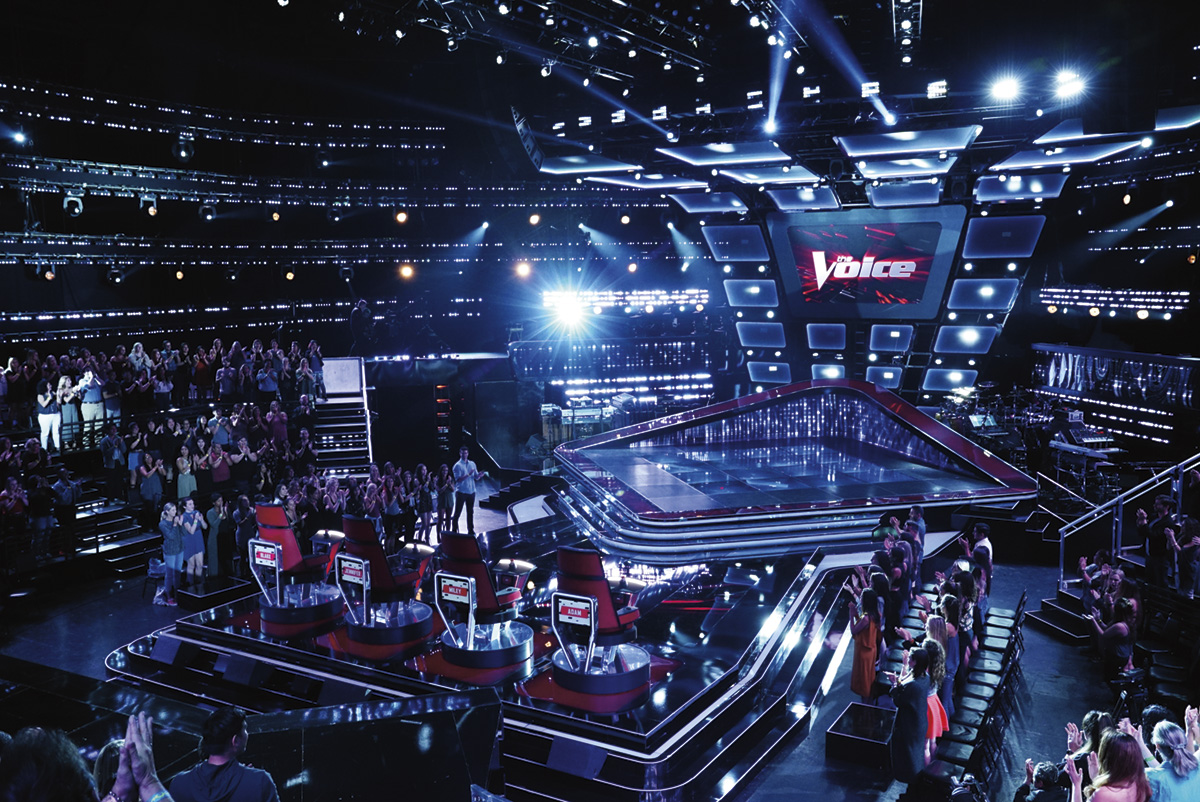 The Voice's Reality team, led by Alex Van Wagner (Segment Director/DP) and Edgar Martin (2nd Unit DP/Segment Director), experiences a different set of hurdles than the live team. The high-energy camera crew is tasked with telling the stories of the contestants: their backgrounds and personal challenges. The content, which makes up about 30 percent of each episode, is key in building a connection with the audience, especially during the Blinds.
"Our camera operators are DPs and help bring out the best of the beautiful sets that James Connelly and his team create," reflects Martin. "Our gaffer and Reality [lighting director], James Barker, and Best Boy electric AJ Taylor always light beautifully, no matter how fast we move."
In addition to handheld, the Reality team uses a Jib and Dolly for movement and energy. Martin says that, "Key Grip Jeremy Spinney and Best Boy Grip Steve Redondo are always on point. If it's a simple dolly move or a sweeping jib shot on a dolly with 50 to 80 feet of track, they make it happen." Some of the most important in-the-studio shots are backstage. "This is where the artists prepare mentally for their performance," explains assistant Vessie Kazachka. "They are shot on ALEXA, mostly high speed, from 48 frames per second to 96 frames per second, mostly with Cooke S4 primes." The main cameras are Sony F55s.
"I love the collaboration and the freedom we get," Kazachka adds. "The operator and I receive our guidelines from Alex Van Wagner, then we have creative freedom in execution. Certain operators prefer I pull focus for them, in which case I have the freedom to be creative within the focus as we observe and try to capture the individuality of each artist. There is an open flow to the shooting as we place the artist in an area and ask him or her to be mentally in that space, ready to go onstage. Then, both the operator and I get to use our creativity to express what we see."
The reality portion of The Voice is a huge undertaking – and those who capture it are cognizant of their contributions to the series. What raises the bar for the reality team is the fact that they don't rehearse anything with the coaches or artists. (The same goes for when they are out on location visits.) Like a documentary crew, the team shoots on instinct and intuition, anticipating the key emotional moments that might well sum up a young singer's journey.
"The artists have soft marks where we have lit for the scenes and space, but they basically roam around the set as needed and we need to be able to cover them," Martin explains. "This is where we have to be really quick on our feet. A big objective is to have the artists and coaches feel these real moments and experience everything first hand, without interruption on our end."
Merging the reality and live portions of The Voice has become an art for both of these talented Local 600 camera teams. And as Martin concludes: "We have a lot of trust and faith in one another, and communication is paramount. It's the only way to actually make this work. I don't know of any other show that has been able to merge both of these worlds together so successfully, especially for as long as we have."
BY
Pauline Rogers
PHOTOS BY
Tyler Golden & Trae Patton
CREW
LIGHTING
Lighting Designer
Oscar Dominguez
Lighting Director
Samuel Barker
Daniel Boland (IATSE Local 728)
Craig Housenick
Chief Lighting Technician
Ron Wirsgalla
Programmer/Media Server Operator
Johnny Bradley
LIVE
PED Operators
Rob Burnette
Diane Biederbeck
Martin J. Brown, Jr.
Suzanne Ebner
Larry Heider
Scott Hylton
Kathrine Iacofano
Scott Kaye
Dave Levisohn
Bart Ping
George Prince
Steve Thiel
Handheld Camera Operators
Danny Bonilla
Guido Frenzel
Ed Horton
Garrett Hurt
Nathanial Havholm
Jofre Rosero
Steadicam Operators
Manny Bonilla
Steve Simmons
Super Technocrane / Techno Jib
Jimmy Jib Operators
Alex Hernandez
Marc Hunter
Steve Martyniuk
Danny Webb
Super Technocrane / Techno Jib/Jimmy Jib Hothead Techs
Jim Lay
James O'Hara
Eugene "Sketch" Pasinski
Chris Sweeney
Video Controllers
Terrance Ho
Mark Sanford
John O'Brien
Utilities
Tim Bower
Delvin Careathers
Dustin Ford
Steve Fournier
Byron Harris
Kirk Kamisato
Jeff Knowlton
Wally Lancaster
Frank Linder
Chad Lovegren
REALITY
DP/Directors
Alex Van Wagner
Edgar Martin
Operators
Markos Alvarado
Steve Lopez
Tim Murphy
John Sandoval
Nick Tramontano
Jeff Wilkins
AC
Craig Asato
Dave Hawes
Vessie Kazachka
Jeremiah Thorne
Utility
Chris Antes
Jib
Scott Carrithers
Still Photographers
Tyler Golden
Trae Patton