ECA Honoree Karina Silva taps into her "inner Gordon Willis" for the dark psychological thriller No Man of God
by Margot Carmichael Lester / Photos Courtesy of Karina Silva/RLJE Films
---
The True Crime genre is having a moment. Viewers' appetite for documentaries, limited series, and feature films centering on unsolved or high-profile cases appear to be insatiable. One of the latest in the category is No Man of God, digitally released this past August by RLJE Films. The feature, directed by Amber Sealey and shot by 2016 ECA honoree Karina Silva [ICG Magazine September 2021], investigates the relationship between serial killer Ted Bundy (Luke Kirby) and FBI Analyst Bill Hagmaier (Elijah Wood). Silva notes that "one of the reasons I gravitated to the script was because it wasn't about Bundy and his heinous crimes, but about the complicated relationship that forms between these two individuals."
Hagmaier met with Bundy to understand the psychology of a serial killer and provide closure for the victim's families. As Hagmaier delves into Bundy's twisted mind, a strange and complicated relationship develops that neither man expected. Based on the interview transcripts, the picture premiered opening night of the 2021 TriBeCa Film Festival, was accepted into Camerimage 2021 Cinematographers Debut competition, and is currently streaming on various platforms, including iTunes, Amazon Prime, and Google Play.
ICG Magazine.com writer Margot Lester talked with Silva about channeling one of her favorite cinematographers, Gordon Willis, ASC, aka "The Prince of Darkness" to help best visualize this low-budget indie drama.
ICG Magazine.com: How did you and Amber collaborate on the visual language? Karina Silva: We came up with a detailed shot list and decided on the color palette and overall aesthetic for the film by sending each other references, watching films, and doing research on the era. It was important for us that, being a period piece, the film feel true to the 1980s. Films like Zodiac [shot by Harris Savides, ASC], The Godfather [shot by Gordon Willis, ASC], and photography of the era, as well as footage of Bundy incarcerated during that time, were major inspirations when designing the look and feel.
How did you choose your camera package? We used two ALEXA Minis with Cooke S4 lenses provided by Keslow Camera. The Cooke S4's were the perfect lenses, giving us the vintage vibe since they are inherently on the warmer side and render faces/skin tones beautifully. We wanted an overall texture and warmth with hints of cyan and deep, rich blacks. I was able to design a show LUT with Company 3, which helped us while shooting to refine the period look. We decided to be more extreme in defining our tungsten and daylight looks by using fluorescent greens, oranges, and cyan in our color palette. And we were doing all this during COVID. So, most of our meetings occurred via Zoom.
How else did COVID impact the production? No Man of God was a low-budget film, to begin with, but when you add the additional COVID requirements to an already small budget, things can get pretty tight. One of the biggest challenges was not having our director on set! Because of COVID and the potential threat of the virus, Amber had to direct remotely from her car or a tent outside of the set. My DIT, Nick Fry, set up a whole monitoring system for her so she could see both cameras and still feel safe. The actors and I would communicate with her via walkie-talkie, and we would leave set to meet with her in between set-ups to discuss specifics.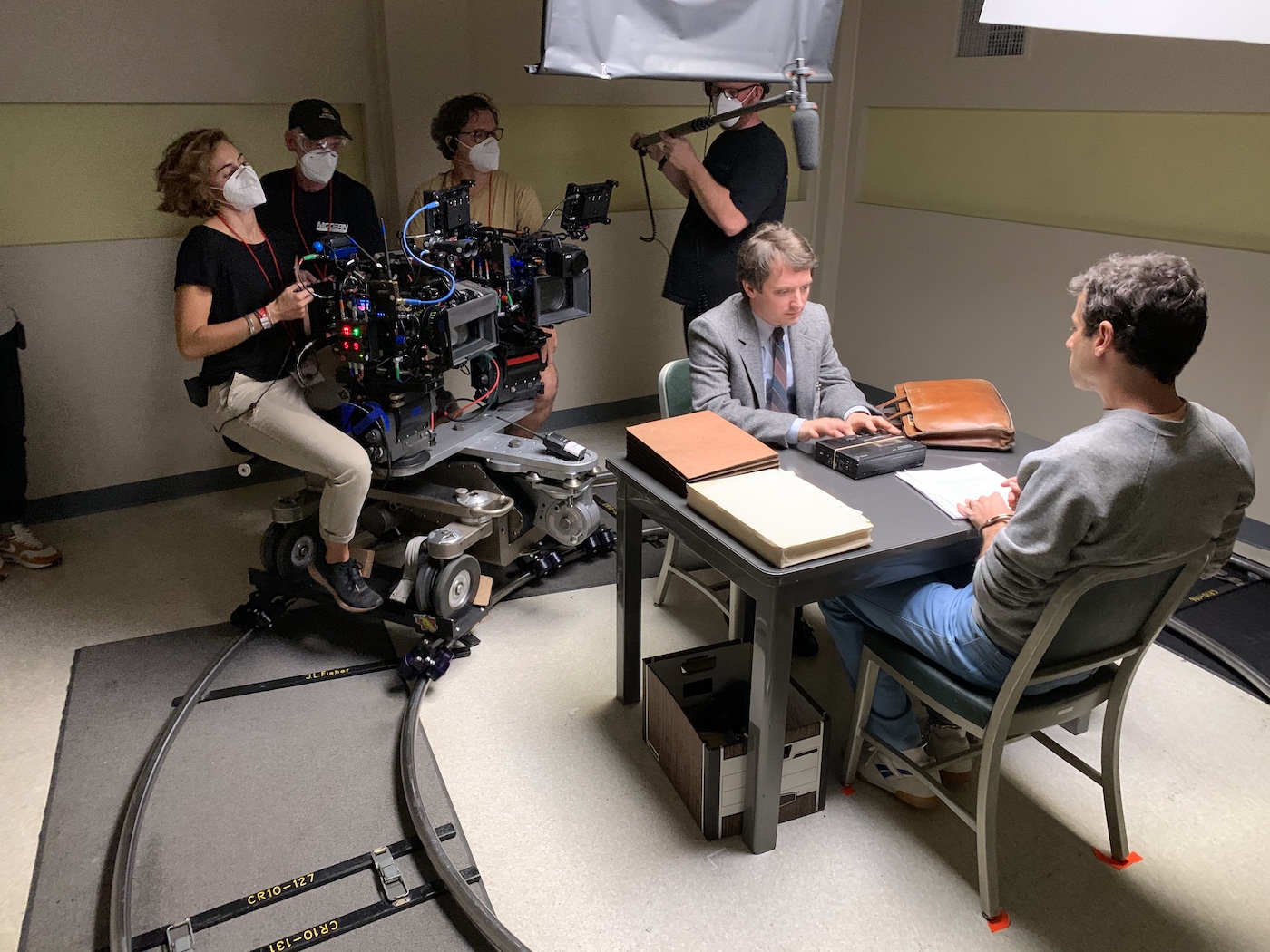 Most of the film unfolds inside a windowless interrogation room. What special challenges did that create? We wanted the interrogation room to progressively get darker as the meetings between Hagmaier and Bundy got more intense. Finding that balance and subtlety of going progressively darker without the audience noticing, but rather feeling the darkness, was the hardest part for me as the cinematographer. I'm so grateful to Key Grip Marc Polanski and Gaffer Carlos Torres, and their teams, for their hard work on this film. We were so crunched on time, plus all the budget constraints, yet I never felt we had to compromise on the look of the film.
Talk about your approach to lighting with such a limited field of play. We used mainly LED's and – unfortunately – had to light almost 360 degrees since we never had to time to properly turn around and re-light. We would come up with lighting strategies that would be great for most of the scene and then come in with the occasional support for close-ups and specialty shots. Colorist Taylor Mahoney at [Santa Monica, CA-based] Tunnel Post did some great work on fine-tuning the show LUT and getting very granular with the details. We also had quite a bit of archival footage and Taylor was able to balance the color of the archival to maintain a cohesive look.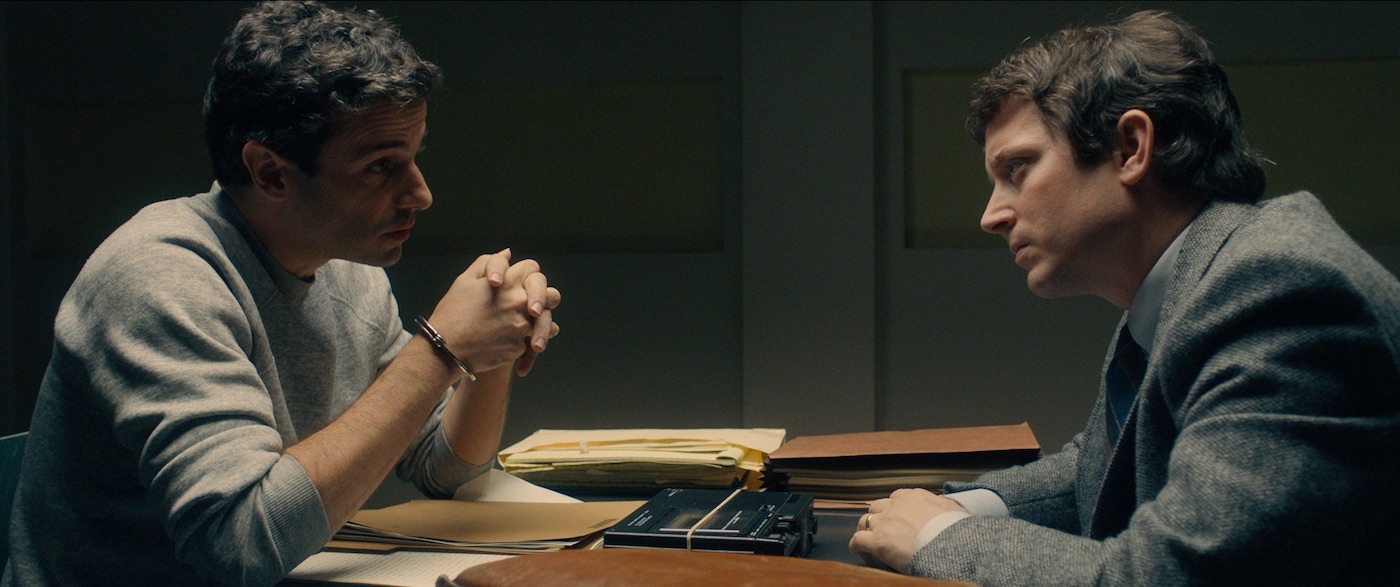 Camera movement is used very skillfully throughout the film to reflect the relationship between Bundy and Hagmaier. Can you talk about that approach? The movie starts with a very rigid and static camera and as their relationship evolves, so does the camera movement. Every meeting they had was different in tone, so we gave each meeting a slightly different set of camera movements. We mainly used wide lenses close to our characters to punctuate moments of heightened awareness and consciousness and draw us into our actors' experiences and emotions. For the last meeting with Bill, Amber wanted to shoot it all on super-long lenses to compress the space and add tension to the scene. This was also the darkest scene of the film, since the interrogation room got darker as the story progressed. A small dark room with long lenses made it feel even smaller and more intense, elevating the tension.
It's hard to get past the fact your director was never on set! Tell us more about that collaboration. It was really difficult but we made it work. Luckily, we prepped thoroughly and made sure we were always on the same page. One of my favorite scenes almost didn't happen. It's one of the last scenes in the film, where Bundy takes Bill on a deep dive and lets him in on his process of how he goes about chasing and ultimately murdering his victims. It's the only time where we're in a location that's bright and spacious, yet it's one of the darkest and most twisted moments in the story, tonally. I love the juxtaposition in that scene. Amber and I fought hard to get that location and I'm so glad we did. Lastly, and most importantly, for both Amber and me, we never wanted to glorify Bundy. We even tried to hide his face as much as possible throughout the film and never gave him an eye light. I'm a big fan of Gordon Willis and I remember studying his work on The Godfather. I completely stole his idea of not giving Brando an eye light and letting his eyes go black. It worked really well for this film and helped give Bundy a darkness that Bill [Hagmaier] didn't have. Thanks, Gordon!
No Man of God – Local 600 Crew
Director of Photography: Karina Silva
A-Camera 1st AC: Erick Aguilar
A-Camera Operator – Carlos González
B-Camera 1st AC – Chris Cobb
A/B Camera 2nd AC – Bianca Garcia
DIT – Nick Fry