Black-themed films vault to the head of the story-telling pack at Sundance 2019, aided by the participation of Local 600 members on more than five-dozen features, shorts, and indie episodic projects.
Richard Wright, Toni Morrison, Arthur Ashe, and Alfre Woodard are among the more famous black Americans whose work will be showcased at the 34th annual Sundance Film Festival, the premier forum for emerging voices in independent cinema, and one that now fully celebrates racial diversity in all its manifestations. No doubt the U.S. Dramatic Competition film Clemency, shot by Guild DP Eric Branco for director Chinonye Chukwu with a large Local 600 crew, will provide a tour de force platform for Woodard, who has received recognition from SAG, Emmy, Oscar, Image, and even a Society of Camera Operators Governors Award in 2015. Woodard portrays a prison warden who must confront the inner demons that come with a lifetime of presiding over death-row executions. Also in the marquee U.S. Dramatic Competition section is Native Son, getting a big-screen refresh. (The first film adaptation was in 1986.) Novelist Richard Wright's enduring classic about systemic racism and the outcomes of poverty in urban America was shot by Matty Libatique, ASC (ICG Magazine, October 2018, Almost Famous) and helmed by Rashid Johnson – a former AC making his directorial debut.
Toni Morrison: The Pieces I Am highlights the Documentary Premieres section. Director/producer Timothy Greenfield-Sanders partnered with Local 600 DP Graham Willoughby (whose many Sundance credits include Won't You Be My Neighbor? and 20 Feet From Stardom) to paint a word picture of America's most lauded black storyteller through her equally famous contemporaries – Hilton Als, Oprah Winfrey and Walter Mosley among them. With the VR experience, Ashe 68, Guild member Eve M. Cohen continues to find Sundance's leading edge, as viewers are placed in the tennis and social rights champion's defining moment of being the first black man to win the US Open. This year, Sundance received more than 14,000 submissions, and of the 112 features selected, more than 40 percent were directed by people of color – an indicator that Sundance Festival Director John Cooper's team is far ahead of Hollywood's diversity curve. Yet even with those expectations, it's wonderful to find a surprise (also in the U.S. Dramatic Competition) like The Last Black Man in San Francisco. Shot by Guild DP Adam Newport-Berra (and his Local 600 camera team), and featuring a cast of non-actors, including lead actor Jimmie Fails, it tells the story of two friends trying to reclaim a stately Victorian built by Falls' grandfather in the formerly all-black Fillmore district. It's the kind of quirky indie that was once only the Sundance province of 20-something white-guys. And as with recent hits like Donald Glover's Atlanta and Jordan Peele's Get Out display, when black filmmakers can tell any kind of story they want, with a strong, prominent platform, everybody wins.
(Note: this list was compiled with information supplied by Local 600 members prior to the start of the festival. We are not responsible for the omission of films and crewmember names not provided to www.icgmagazine.com by posting date of this article.)
All Photos Courtesy of The Sundance Institute Unless Otherwise Noted
U.S. Dramatic Competition
Before You Know It  – The large Local 600 crew on this film, co-written, starring, and directed by Hannah Pearl Utt, about a long-kept family secret that thrusts codependent, thirty-something sisters Rachel and Jackie Gurner into a literal soap opera, included Operators Shane Duckworth, Pete Keeling, Korey Robinson, and Bill Saxelby, ACs Myo Campbell, Adam Gonzalez, Marcos Herrera, Stacy Mize, William Powell, and Vince Rappa, Loader Adam DeRezendes, Still Photographers Anna Kooris, Seacia Pavao, and Walter Thomson. Joining Pearl Utt in the cast are Judith Light, Mandy Patinkin and Alec Baldwin.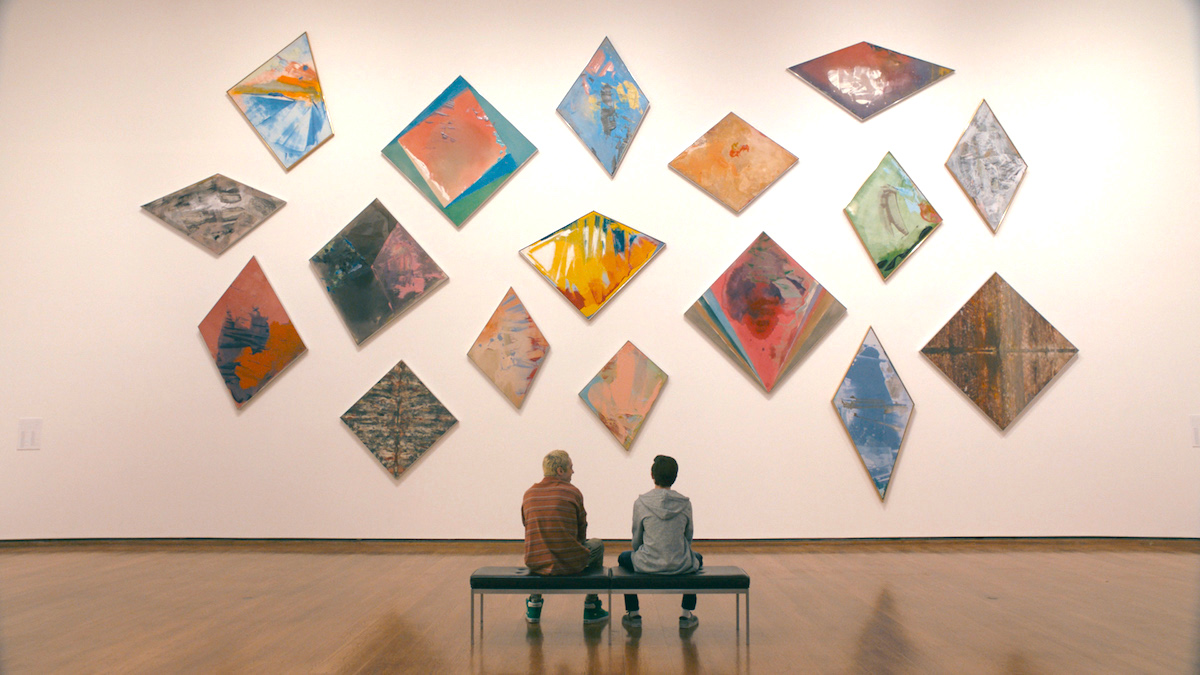 Big Time Adolescence–Written and directed by Jason Orley in his feature debut, Big Time Adolescence centers around Mo (Griffin Gluck), a young high school student who forms an unlikely bond with Zeke (Pete Davidson), a college dropout. Their friendship sours when Mo follows Zeke's destructive advice, and he's left to pick up the pieces without help from friends and family. Cinematographer Andrew Huebscher says this dark coming-of-age tale required an understated aesthetic. "Jason and I didn't want this to look like a comedy, the DP relates. "Much of our inspiration came from raw, unpolished portraits of teenagers. There is an authenticity to seeing a young person caught smoking a joint at a house party lit only by camera phones and LED candles. Our references were wide-reaching and included Mike Nichols' Carnal Knowledge, Alexander Payne's Election, and Richard Linklater's Boyhood. We wanted it to feel like a series of faded photographs. Our brilliant production designer, Kathrin Eder, created richly textured sets that helped realize this vision." The indie feature was shot in Syracuse, NY, with local/regional IATSE crewmembers. Huebscher used ARRI cameras for their filmic handling of skin tones and highlights, with the kit by Panavision New York.
"Our main body was an Arri Amira, and for B/Steadicam we used an Arri Alexa Mini," he adds. "I prefer the form factor of the Amira for handheld. I knew modern lenses would prove too sharp and contrasty, so I spent a day testing older glass with 1st AC Camille Freer. We ultimately decided on vintage Super Speeds and Ultra Speeds for their delicate rendering of details, natural flaring, and low contrast. They had a character I fell in love with, particularly at wider apertures." Using the ARRI Color Tool, Huebscher built look profiles in prep, which he loaded directly into the cameras as .aml files. Working in ProRes 4444 at 2K resolution, the DP would occasionally add CDL parameters in camera; all of the metadata carried over into DaVinci Resolve, which the post team used to create dailies in the DNX format for the Avid. "I like this approach as it's akin to working with printer lights," Huebscher concludes. "I carry a Flanders 24-inch OLED monitor on every show for lighting/reference. In the age of tiny screens and run-and-gun shoots, it's critical to get as accurate a representation of the image as possible, and it informs much of the design and lighting choices on set. Guild members on the shoot included A-camera Operator/Steadicam Tom Wills, SOC, A-camera 1stAC Camille Freer, A-camera 2ndAC JustinMarzella, B-camera AC's Malcolm Purnell and Jelani AtuWilson, B-camera 2ndAC JadeBrennan, Digital Loader Todd Thompson, and Underwater Camera Operator Marque DeWinter.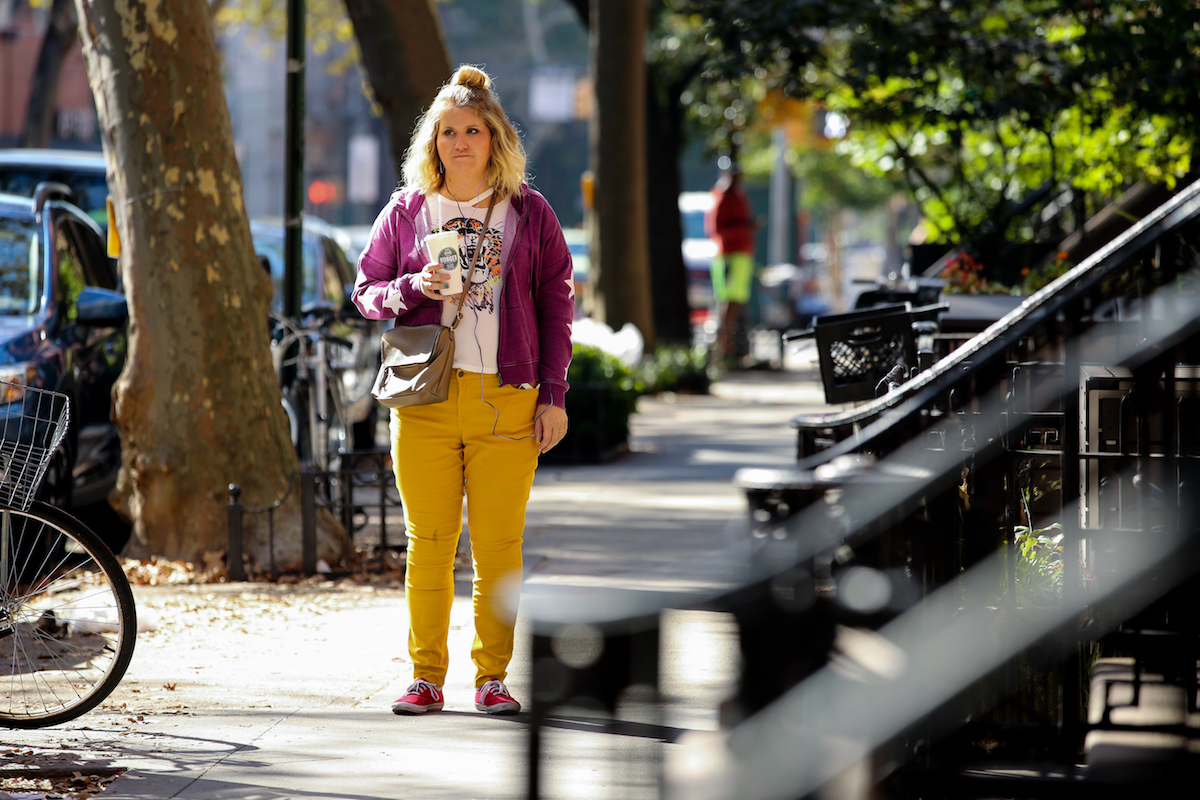 Brittany Runs A Marathon – Guild DP Seamus Tierney shot this New York story about a woman living in the Big Apple who takes control of her life – one city block at a time. Written and directed by Paul Downs Colaizzo and starring Jillian Bell, Michaela Watkins, Utkarsh Ambudkar, Lil Rel Howery, Micah Stock and Alice Lee. Joining Tierney was a Local 600 crew that included Operators Michael Hauer, Janice Min, Kate Phelan, Bill Saxelby, and Brandon Sumner, Crane Operator Paul McKenna, ACs Jack Berner, Andrew Brinkman, Kyle Gorjanc, Zachary Grace, Jonathan Henry, Kiersten Lane, Nolan Maloney, Autumn Moran, Mary Neary, Alec Nickel, John Pope, Andrea Romansky, Mabel Santos Haugen, Tsyen Shen, and Bayley Sweitzer, Loaders Christina Carmody, George Lookshire and Still Photographers Gwendolyn Capistran, Anna Kooris, and Jon Pack.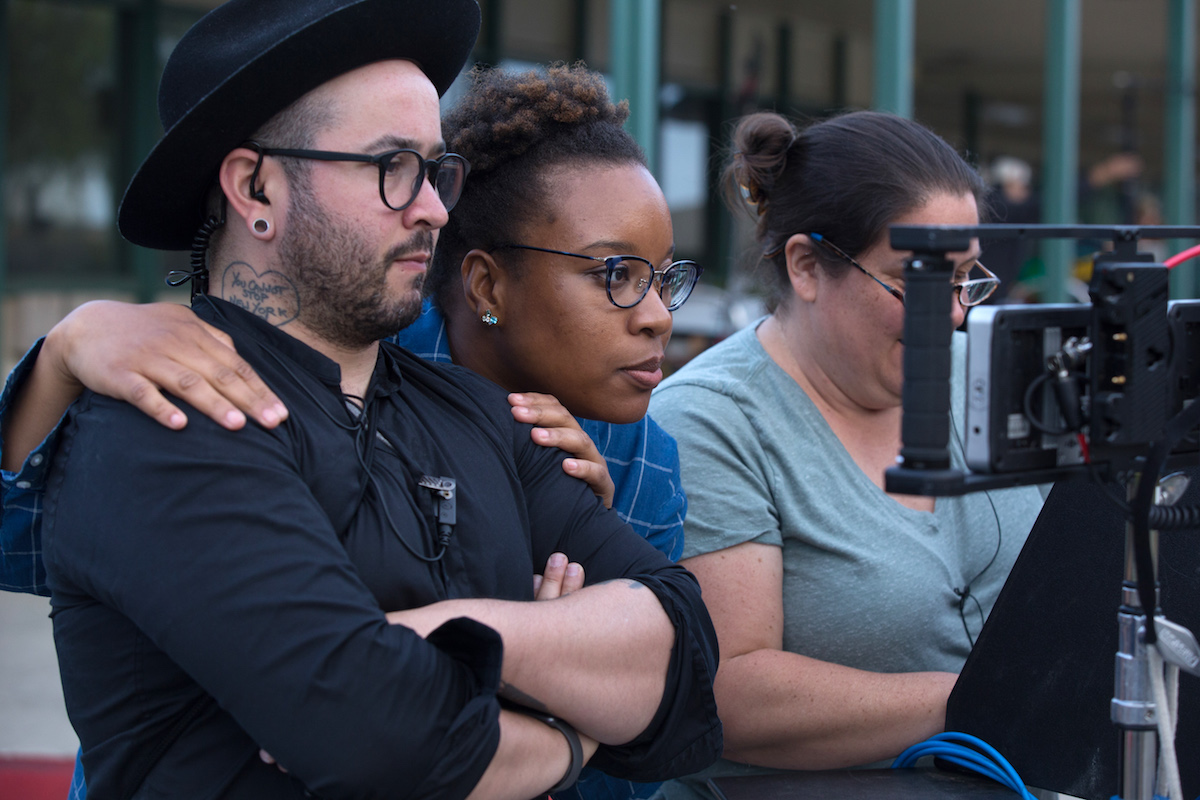 Clemency –Alfre Woodard stars as a prison warden who after years of carrying out death row executions must confront the psychological and emotional demons her job creates. Guild DP Eric Branco (working with a large Local 600 crew that included Operators Andrew Brinkhaus, Matt Ryan, Anne Carson and Quaid Cde Baca, A-camera 1stAC Melissa Sporn and 2ndAC Christine Oeurn, B-camera 1stAC Julia Pasternak and 2ndAC Thomas Miner, and DIT Peter Brunet) shot with ALEXA MINI and Cooke Anamorphic lenses. Branco notes that director Chinonye Chukwu was hesitant to commit to shooting scope, "so I had to lobby a bit. I had shot a TV pilot entirely in a working prison the year prior on an Alexa Plus with Master Primes," Branco recounts, "and I felt like we were fighting for every inch of space on the cellblock, especially inside the cells. Everything in was a close-up because I just couldn't get far enough away from the actors." Branco and Chinonye looked at many tests, with the director ultimately responding to Cooke Anamorphics, lenses Branco had previously used for Night Shift (Sundance 2017), "which was another story set in a very tight space," he adds, "so I was familiar with how they'd respond to the sharp angles and vertical lines of our cramped location.Our producers went to bat for me and found the money in the budget [for anamorphic]. Looking back, I don't think we could have accomplished it any other way."
Clemency was shot in a decommissioned jail, where, Branco says, the history of the building was baked into the cinderblock. "From the moment we first scouted," he notes, "I knew I had to find a way to let the energy of the space inform my approach." Clemency was Branco's first union feature shot in L.A., and he says he was tasked with finding a crew that was hungry and willing to step outside the box. "I interviewed and interviewed, and was completely blessed to have found a crew that not only knocked it out of the park every day," he concludes, "but did it with enthusiasm, kindness, and an unbelievable sensitivity to the actors' processes."
Hala –Cinematographer Carolina Costa (ICG December 2018, Generation NEXT) says the prime attraction to shooting Hala was that it was a coming-of-age story told from the perspective of a Muslim girl, "a movie I hadn't seen through that lens," she describes. Costa, who shot on ALEXA MINI with Cooke S4 lenses (with the support of Panavision), says her main references were films by Claire Denis and Asghar Farhadi. Director Minhal Baig wanted the project shot in Chicago, with the city and suburbs infused throughout. "Our tight schedule required a shot list," Costa explains, "which was very specific of where the camera would go and how it would always maintain Hala's point of view." Costa used lenses on the wider end – 18 mm and 25 mm – with close-ups on a 32 mm. The camera was mostly static or on the dolly – aside from one scene on Steadicam and another that was handheld. "We wanted the camera to always reflect her state of mind," Costa continues. "I created a look for each location as if they were characters. I collaborated closely with our Production Designer [Sue Tebbutt] to make sure the lighting and color palette of each location was saying something about these people and/or what was happening. I could always count on my Local 600 camera team [A-camera/Steadicam Operator Blaine Baker, A-camera 1stAC Sara Ingram, A-camera 2ndAC Nina Portillo, B-camera Operator Ben McBurnett, B-camera 1stAC Cory Solon, B-camera 2ndAC Molly Nye, DIT Ryan Shuck and Still Photographer Parrish Lewis] when it came to the short schedule and executing the director's vision with precision. Once we got to color correction I fell in love all over again – it was a beautiful process and our colorist brought so much to it."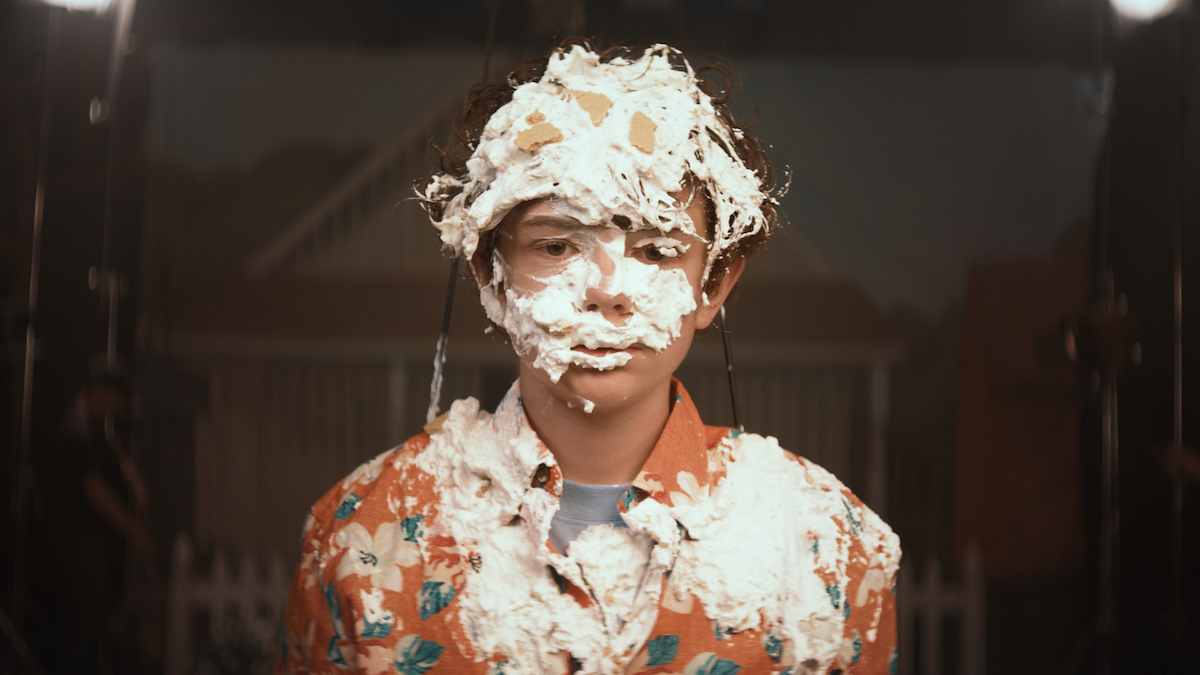 Honey Boy  – Directed by Alma Har'el and shot by Natasha Braier, ASC, ADF, this story about a child actor working to mend the relationship with his hard-drinking, law-breaking father was written by lead actor Shia LaBeouf and based on his own life story. "We shot in Los Angeles this past summer," Braier shares. "We shot on Alexa Mini (RAW) with Crystal Xpress Anamorphic lenses. The movie was mostly handheld, with the camera operators often reacting to and guided by the actors, who did a lot of improvisation. The DI was done with Alex Bickel at Color Collective in New York City." The large Local 600 crew included A-camera Operator Matías Mesa, A-camera 1stAC Eric Jensch, A-camera 2ndAC Brandon Szajner, B-camera Operator Valentine Marvel, B-camera 1stAC Joseph Cañon, B-camera 2ndAC Vic Deruddere, DIT Ernesto Joven, additional operators Eric Fletcher and Tommy Tieche, underwater 1stAC/Tech David William McDonald, and additional B-camera 1stAC Hector Rodriguez.
Imaginary Order– Guild member Frank Tymezuk shot this feature for writer/director/producer Debra Eisenstadt that the filmmakers describe as the "sexual, psychological and moral unraveling of an obsessive-compulsive suburban mom." The cast includes Wendi McLendon-Covey, Christine Woods, Max Burkholder, Steve Little, Catherine Curtin and Kate Alberts.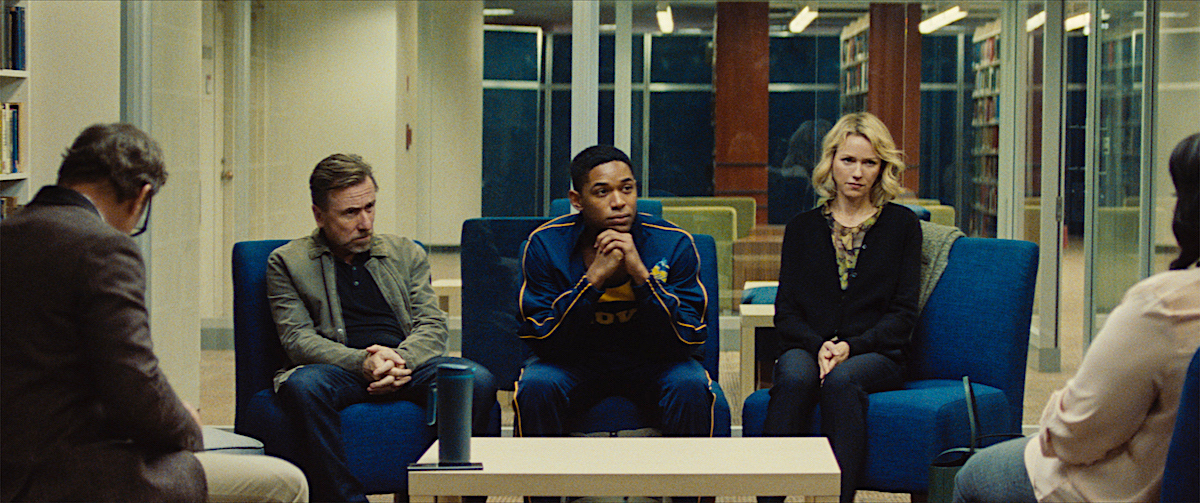 Luce– Sundance regular Larkin Seiple lensed this story from co-writer/director and co-producer Julius Onah, about a married couple forced to reckon with their idealized image of their son, whom they adopted from war-torn Eritrea. An alarming discovery by a devoted high school teacher threatens the boy's status as an all-star student and sets events in motion. The strong cast includes Naomi Watts, Octavia Spencer, Kelvin Harrison Jr., Tim Roth and Norbert Leo Butz. Local 600 representation on the project included Operator Stewart Cantrell, Michael Drucker, Sam Ellison, and David Isern, ACs Emily DeBlasi, Matt Degreff, Alex Dubois, Erin Endow, Michael Indursky, Rob Kuch, Shaun Malkovich, Gregory Pace, Kali Riley, Zach Rubin, Kenichiro Tanaka, Peter Westervelt, and Alan Wolfe, Loaders Sachi Bahra, Joshua Bote, Anabel Caicedo, Justin LeBlanc, and Joseph Robinson, and Still Photographers Gwen Capistan and Jon Pack.
Native Son – Matty Libatique, ASC (ICG Magazine, September 2018, Almost Famous), was behind the camera for this modern reimagining of Richard Wright's seminal novel about a young African-American man named Bigger Thomas, who takes a job working for a highly influential Chicago family, a decision that will change the course of his life forever. The cast for the world premiere includes Ashton Sanders, Margaret Qualley, Nick Robinson, KiKi Layne, Bill Camp and Sanaa Lathan. Joining Libatique on the film was A-camera/Steadicam operator Christopher Herr, ACs Travis Cleary, Jordan Pellegrini, Joshua Quiros, Prentice Smith, and Sasha Wright, and DIT Paul Schilens.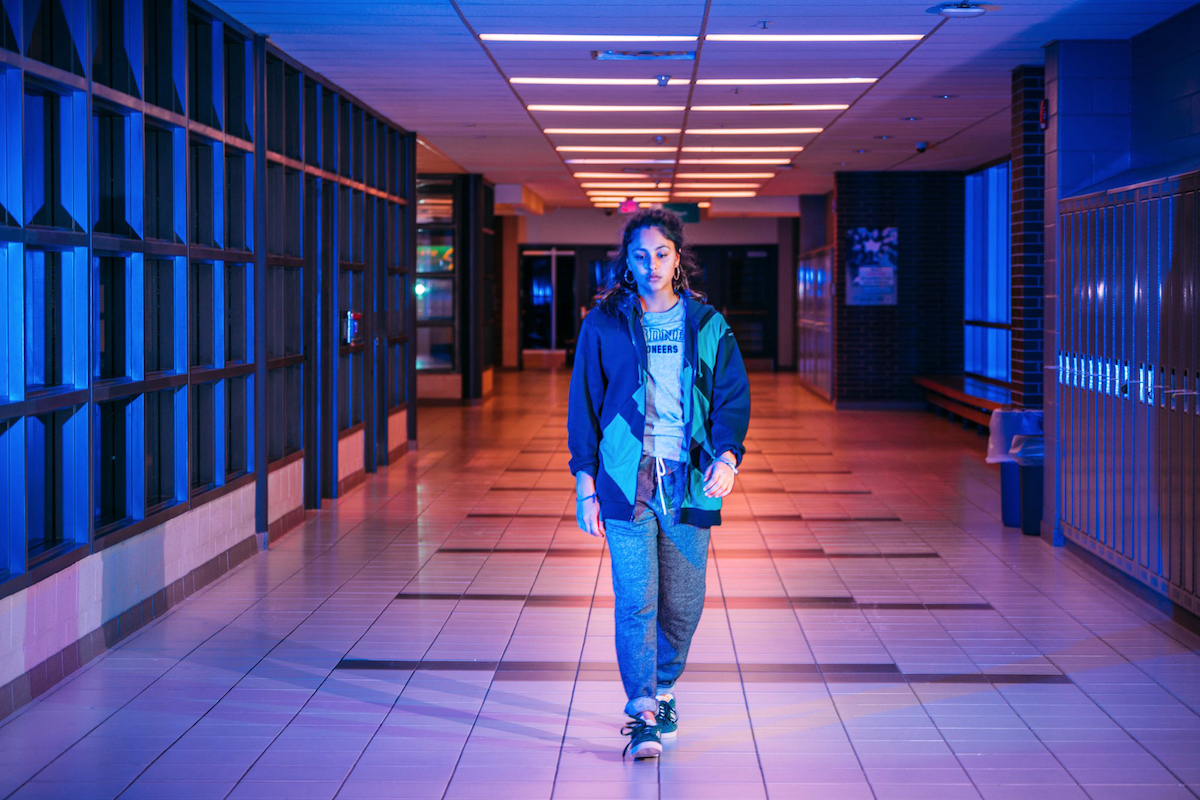 Share – The first of two films Guild DP Ava Berkofsky (ICG Magazine, September 2017, Hella Fun) has in Park City this year centers on sixteen-year-old Mandy (Rhianne Barreto), who must decipher how to navigate the escalating fallout from a disturbing video, from a night she does not remember. Produced by A24 and Loveless, and shot in Canada, where Berkofsky worked closely with IATSE Local 667 camera workers. Berkofsky shot with Anamorphic V-lite Hawks in the 2.0 aspect ratio on ALEXA MINI. Pippa Bianco wrote and directed, with Local 600 member Sabrina Lantos on unit stills.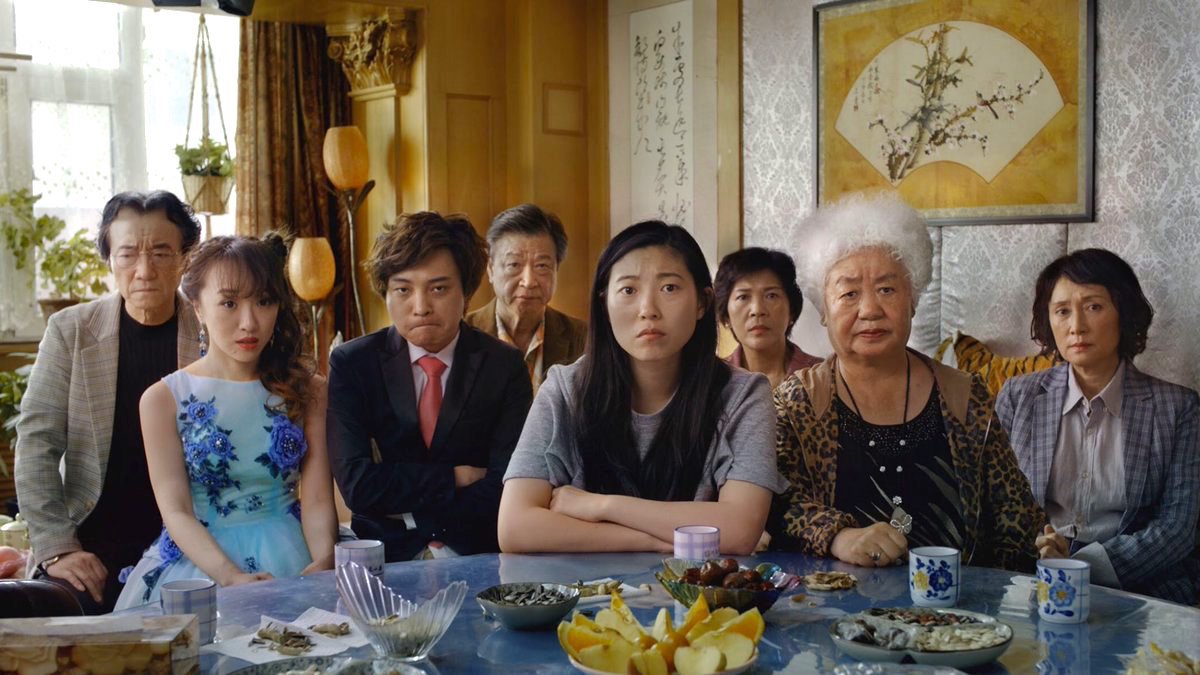 The Farewell– Guild DP Diana Matos and Guild Operator Lisa Sene shot the New York City unit of this tale about a headstrong Chinese-American woman who returns to China when her beloved grandmother is given a terminal diagnosis. The woman struggles with her family's decision to keep her grandmother in the dark about her own illness as they all stage an impromptu wedding to see the dying woman one last time. Crazy, Rich Asians breakout star Awkwafina leads the cast; main unit DP Anna Franquesa Solano shot the bulk of the project on location in China for writer/director Lulu Wang.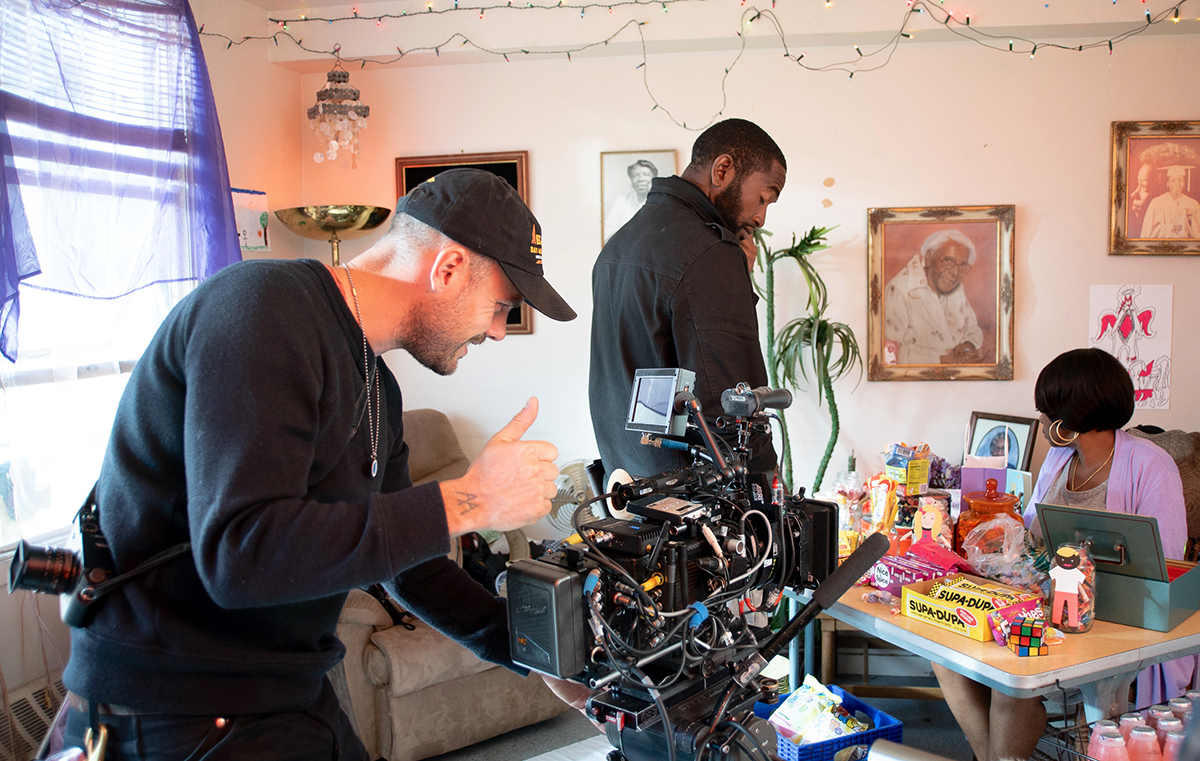 The Last Black Man in San Francisco – Adam Newport-Berra says he was "incredibly excited" to shoot a film in San Francisco, a city, "rich with history and culture, amazing light and evocative architecture, whose lifeblood is supplied by the middle class," Newport-Berra describes, "but is glorified and enjoyed by the wealthy newcomers that gentrify its neighborhoods. It was important for me to find the nuance in that juxtaposition." The story, co-written and directed by Joe Talbot, centers on two friends and outsiders – Jimmie and Montgomery – who dream of reclaiming Jimmie's grandfather's Victorian home in the formerly all-black Fillmore district. While Jimmie teeters on the poverty line, he carries himself with an old-world pride that pervades the film's aesthetic. To acknowledge and heighten this, Newport-Berra used wider lenses at low angles that helped to bring the audience physically close to Jimmie. "Lighting Jimmie frontally popped him out of his surroundings and gave a subtle nod to a more romantic era of filmmaking," the DP adds. "Because most of the cast was made up of non-actors [including lead Jimmie Fails], the visual approach was simple and honest." Newport-Berra shot in a 1.66 aspect ratio that embraced the verticality of the city. Using the ARRI ALEXA with Zeiss Master Primes, he combined subtle diffusion and a LUT from his longtime collaborator, Damien Van Der Cruyssen at The Mill, to create a look that recalls the past while still feeling oddly modern. Newport-Berra says the project was "incredibly challenging with a ton of difficult locations and tricky set pieces. I only had two weeks to prep, and I was beyond lucky to have Local 600 members like First AC Jeph Folkins, Second AC Shannon Bringham, Steadicam Operator Joe Lindsay and DIT Tim Erickson on my team. Their professionalism, speed, and amazing attitudes turned a daunting task into a rewarding project."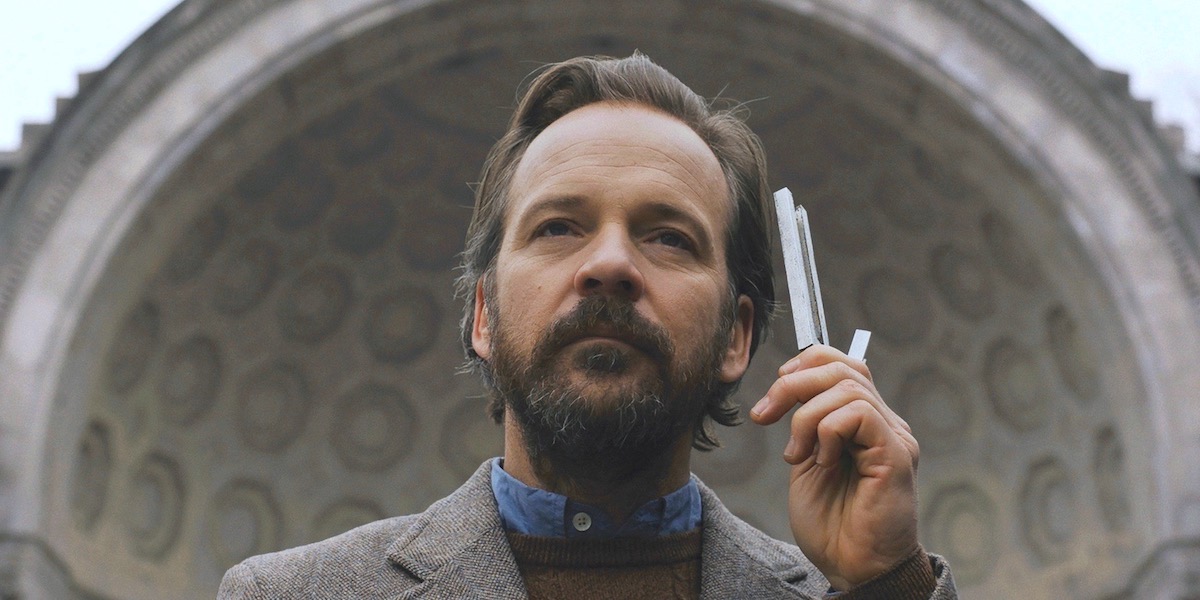 The Sound of Silence –Shot by Sundance veteran Eric Lin (Hearts Beat Loud, Equity), this story centers on a "house tuner" in New York City, who calibrates the sounds in people's homes in order to adjust their moods – until he meets a client with a problem he can't solve. "From the beginning," Lin recounts, "[director] Michael Tyburski and I talked about how to push the auditory elements of the scenes compositionally – we used a lot of negative space in the frame and judicious zooms, while also trying to find ways to block the scene in a way to activate off-screen space with sound. The film is also about Peter's obsession with the invisible forces that influence us; to draw out how that obsession has isolated him emotionally, and how it imposes a rigidity on his life, I shot early sequences in the film without much camera movement and wide-open on Zeiss Super Speeds for a super shallow depth of field." Lin says he embraced shadows and darkness as central touchstones for his lighting. "I wanted [the lighting] not only to be grounded but also to allow room for the mystery and to emphasize the act of listening while watching," he adds. This approach extended into night scenes where Lin underexposed three-to-four stops and had to "trick the meter" to get a reading to make sure he wasn't too far under. "The Alexa sensor handled the deep underexposure beautifully," he concludes. Local 600 1st AC Stacy Mize was also on the show.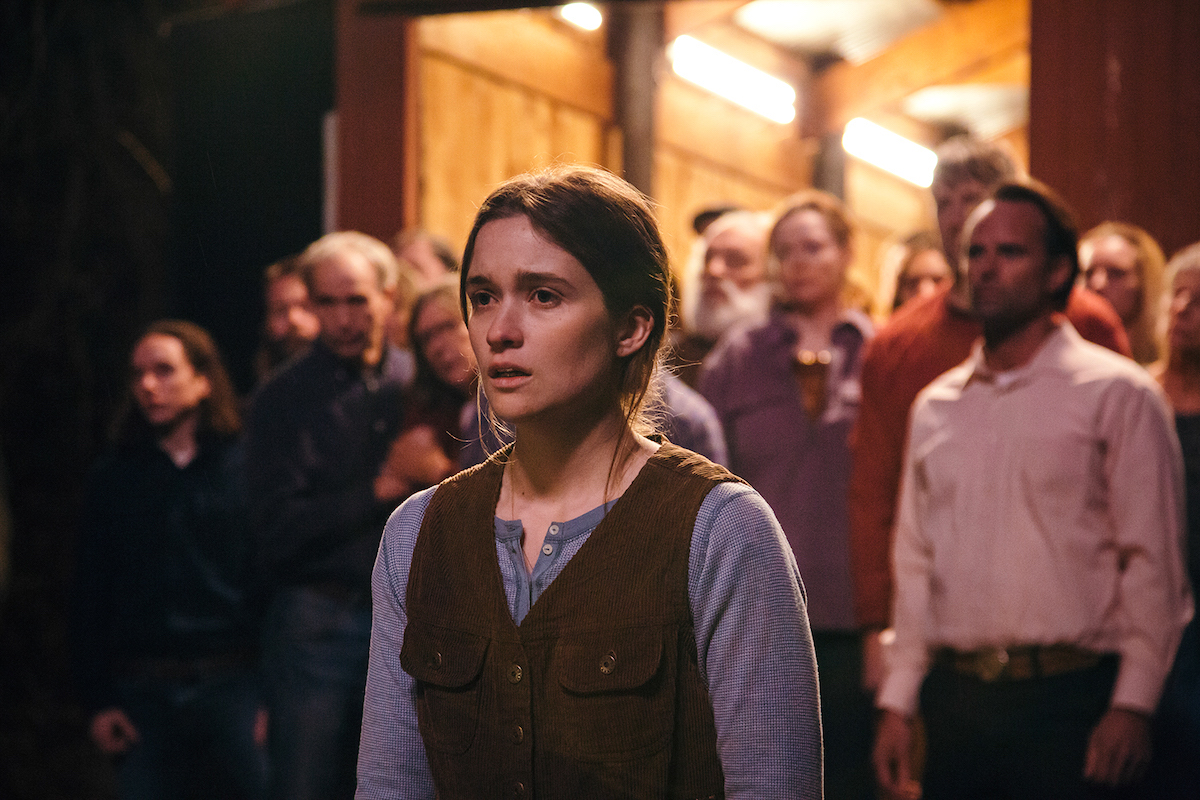 Them That Follow  – Guild cinematographer Brett Jutkiewicz shot this story about an American subculture rarely seen on screen – a snake-handling church deep in Appalachia – where a forbidden relationship forces a pastor's daughter to confront her community's deadly tradition.Britt Poulton and Dan Madison Savage wrote and directed the film, with a cast that includes Olivia Colman, Kaitlyn Dever, Alice Englert, Jim Gaffigan, Walton Goggins and Thomas Mann.
U.S. Documentary Competition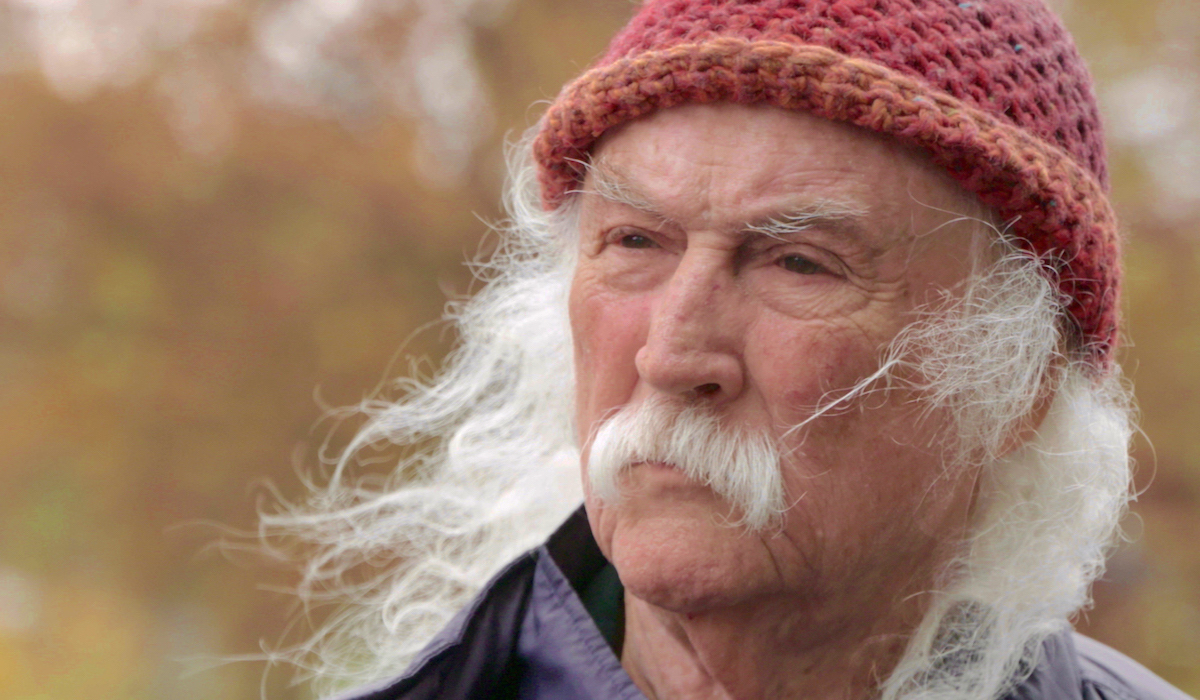 David Crosby: Remember My Name – Edd Lukas shot this compelling portrait for director A.J. Eaton about the legendary rock 'n' roller, known as much for his excesses off-stage as on. Even after so many years on the road, in the studio, and in the musical limelight, Crosby has everything but an easy retirement on his mind. With unflinching honesty, some regret, fear, exuberance and an unshakable belief in family and the transformative nature of music, Crosby shares his often-challenging journey. Guild DP Dustin Pearlman contributed additional photography.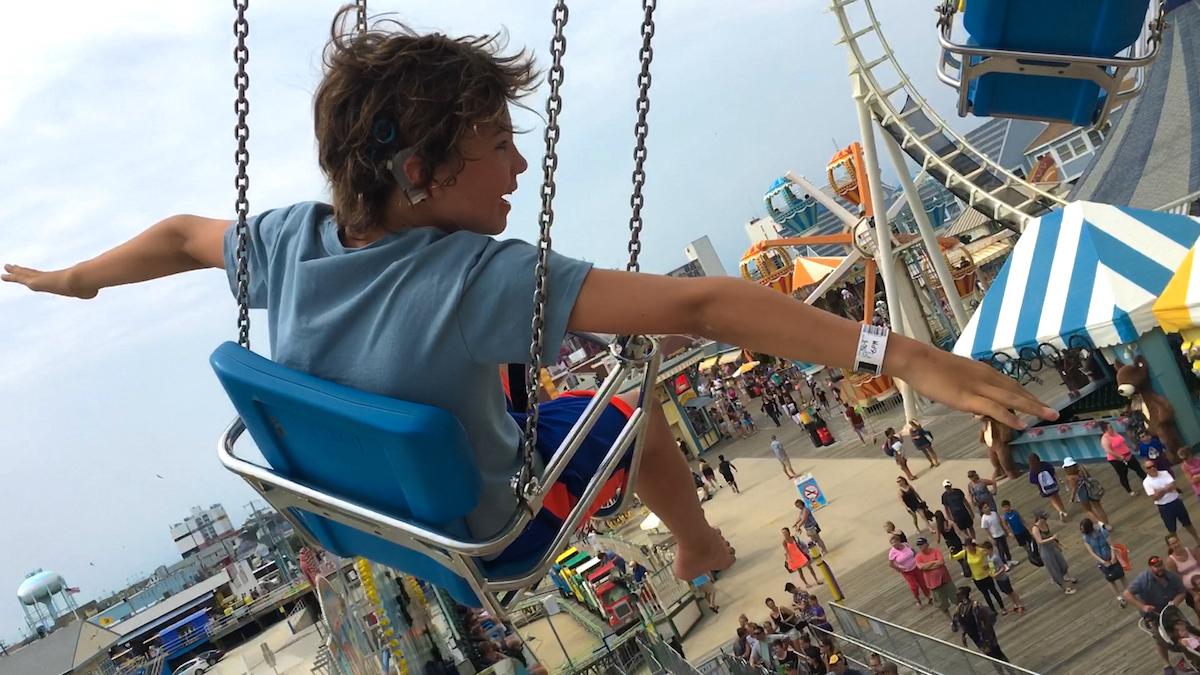 Moonlight Sonata: Deafness in Three Movements – Irene Taylor Brodsky directs this deeply personal portrait of three lives and the discoveries that lie beyond loss: a deaf boy growing up, his deaf grandfather growing old, and Beethoven the year he was struck with deafness and wrote his iconic sonata. Guild DP Nick Midwig was behind the lens for the one-of-a-kind nonfiction feature.
Untitled Amazing Jonathan Documentary– Dan Adlerstein lensed this story for writer/director Ben Berman that begins as a traditional documentary following the final tour of a dying magician, i.e., "The Amazing Jonathan," but morphs into an increasingly bizarre journey, with Berman struggling to separate truth from illusion.
World Cinema Dramatic Competition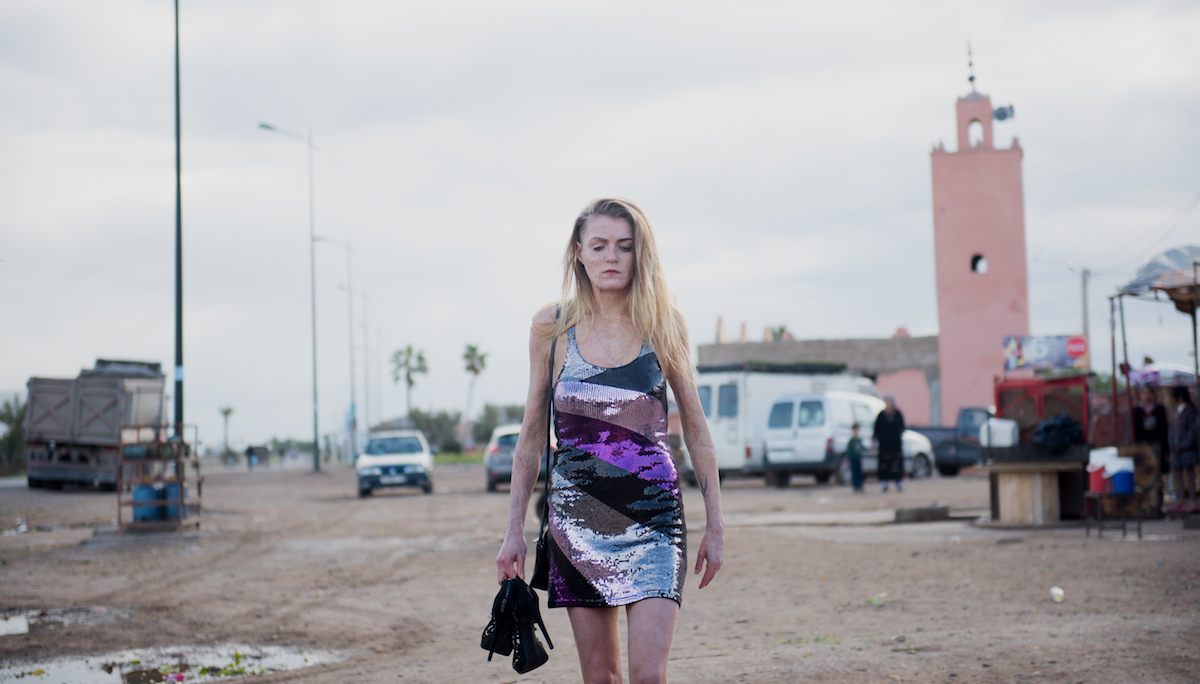 Dirty God –The first of two features at Sundance this year for Local 600 DP Ruben Impens (along with The Mustang in Premieres Section). The European co-production (Netherlands, United Kingdom, Belgium and Ireland) focuses on a young mother in the prime of her life who is severely burned by an acid attack. While her face has been reconstructed, her beauty is lost beneath the scars. Descending down a self-destructive path with relationships crumbling, she must take drastic action to reclaim her life. Sacha Polak was co-writer and director.
Monos – One of Hollywood's busiest underwater cinematographers, Pete Zuccarini, whose work on the Sundance hit All Is Lost in 2013 helped propel that film to a theatrical release, takes to the deep again for this story from co-writer/director Alejandro Landes about eight kids with guns who watch over a hostage and a conscripted milk cow on a faraway mountaintop.
Premieres
After The Wedding –Festival favorite Bart Freundlich (Wolves, Trust the Man, The Myth of Fingerprints) wrote and directed this story (based on the Oscar-nominated film of the same name by Susanne Bier) about Isabelle (Michelle Williams), a woman who runs an orphanage in India and travels to New York to meet Teresa (Julianne Moore), a wealthy benefactor. An invitation to attend a wedding ignites a series of events in which the past collides with the present while mysteries unravel. Julio Macat, ASC, says he chose to shoot with the ALEXA 65 specifically to achieve high resolution and detail in the wide-angle shots. "We took advantage of the [wide-screen format] to be able to block scenes with our four actors and give them the freedom to move freely within that frame," Macat relates. "This format can also be very powerful for close-ups, as it creates a naturally shallow depth of focus on lenses longer than a 40 millimeter. That can work to your advantage if the desired effect is for the background to go in the direction of an impressionistic painting and for focus to be more selective." Macat says he wanted the story to be told without noticeable camera movement, which can sometimes get in the way of performance. "We agreed to let the actors and the drama be our focus," he continues. "It's a more classic style of filmmaking, in the vein of 1980's films like Kramer vs. Kramer or Terms of Endearment, where the camera movement is minimal." Macat praises his collaboration with Freundlich, and notes After the Wedding will be the first ALEXA 65 film to be screened at Sundance. The DP was joined by Steadicam Operator Billy Green, A-camera 1stAC Glenn Kaplan, A-camera 2ndAC Anthony DeFrancesco and Digital Loader Ross Citrin.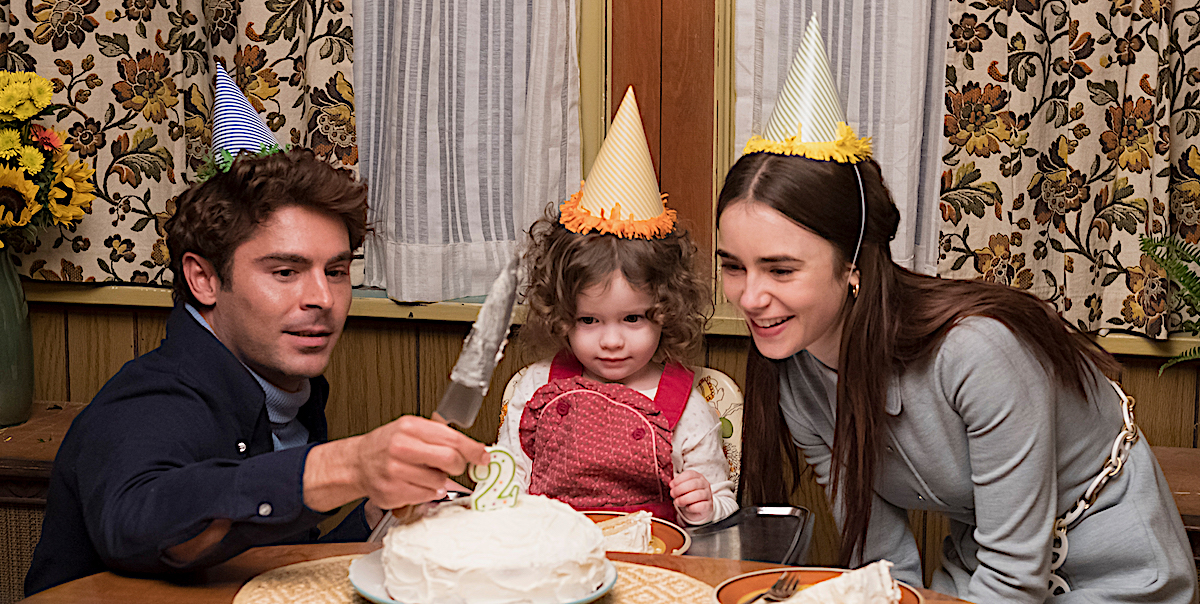 Extremely Wicked, Shockingly Evil and Vile – Brandon Trost, who won the Sundance Cinematography Award in 2015 for the independent feature The Diary of a Teenage Girl, returns to Park City with a story that chronicles the crimes of Ted Bundy (Zak Efron) from the perspective of Bundy's longtime girlfriend, Liz (Lily Collins), who refused to believe the truth about him for years. The film was directed by Academy-Award nominated, seven-time-Emmy nominated, and Peabody- and Emmy-winning filmmaker Joe Berlinger, whose nonfiction films – Brother's Keeper, The Paradise Lost Trilogy, and Metallica: Some Kind of Monster – have all premiered at Sundance. Guild members on the film included Operators Jesse Feldman, Dave Schwandner, and Amanda Treyz, ACs Joseph Bou, Amy Faust, Robert Lau, Markus Mentzer, Gregory Wimer, and Michael Wooten, DIT Eric Ransbottom, Utility Matthew Mulched, and Still Photographer: Richard Baker.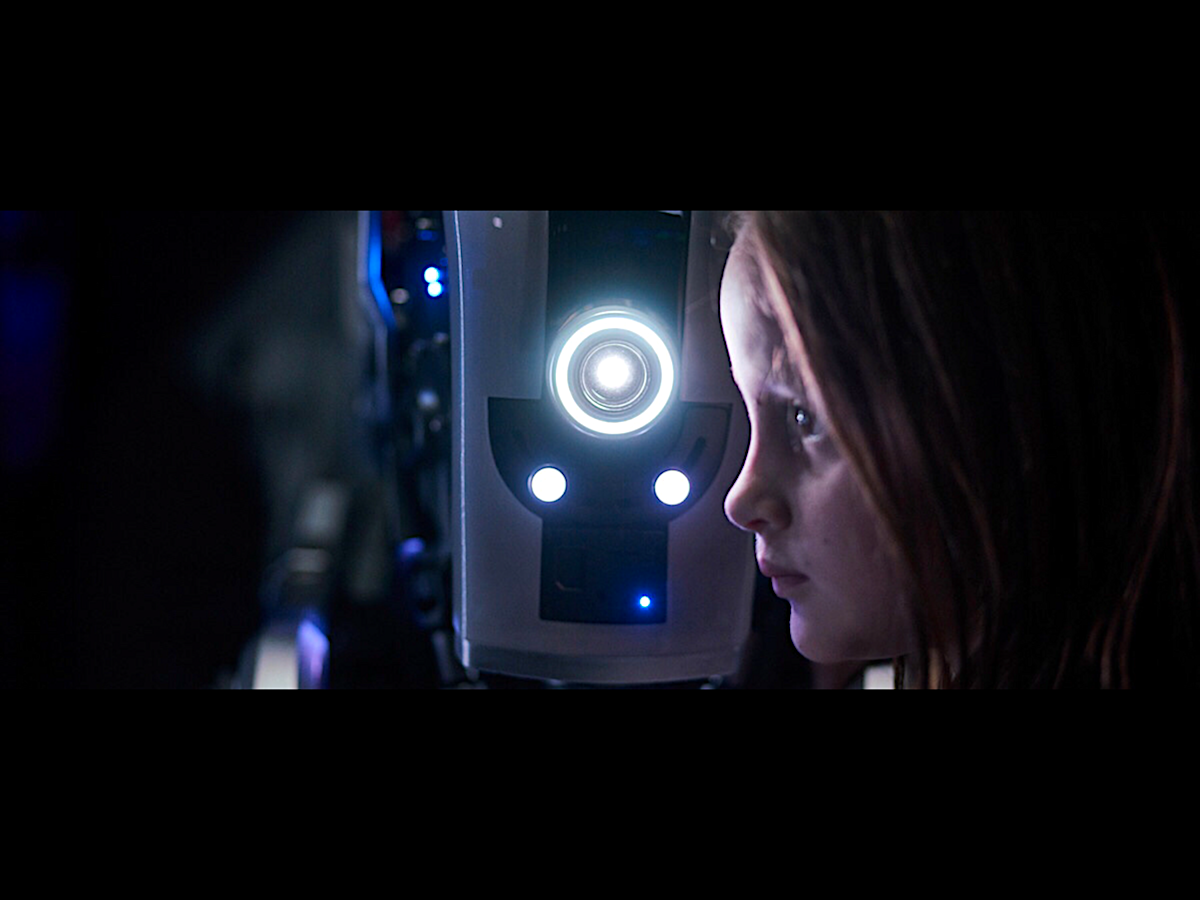 I Am Mother  – Australian commercial/music-video DP Steve Annis lensed this "intimate science-fiction film" about a robot who raises a small girl from baby to womanhood, before a discovery makes her (and viewers) question her (and our) own importance and the morals of right and wrong. Annis shot for six weeks in Adelaide, Australia using ALEXA MINI and ARRI Master Anamorphics. "Prep was four weeks of set build and lighting design with all lights built practically into the sets via more than one kilometer of LEDs!" he recounts. "Overall, it was an amazing experience, based 95 percent inside a studio bunker set with a great cast, including Hilary Swank and Rose Byrne."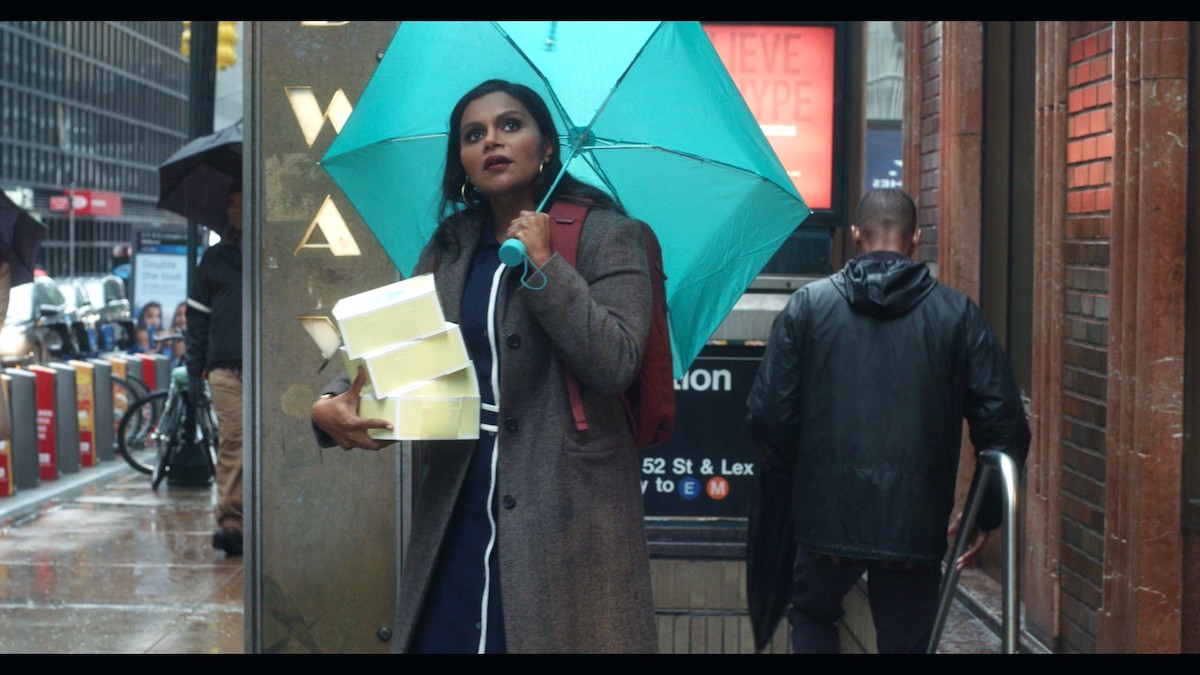 Late Night–Nisha Ganatra directs a script from comedy star Mindy Kaling about a legendary late-night talk-show host whose world is turned upside down when she hires her only female staff writer. Originally intended to smooth over diversity concerns, her decision has unexpectedly hilarious consequences as the two women, separated by culture and generation, are united by their love of a biting punch line. Guild DP Matthew Clark says the look of the film came from a desire to create a natural world where the actors could feel free to play. "Molly [Mindy Kaling] and Katherine [Emma Thompson] come from such different backgrounds," Clark explains. "And Nisha really wanted the space to explore that, physically and comically. I'd say it became more of a 'heightened naturalism' as we moved along. Even with a 25-day schedule, we still wanted to create three different worlds – the talk show studio, the writers' office, and Katherine's elegant personal life. The warmth and opulence of that personal life needed to be juxtaposed with a colder office setting and a neutral studio." Clark says lighting was the key as was color tweaking in post. As the mood changed, Clark and Colorist Sean Dunckley manipulated shadow detail color to create a subtle pre-flashed look designed to fit the emotion and context of each scene.
"We decided to shoot with the Panasonic Varicam 35 and a combination of old Panavision Ultra Speed and Super Speed lenses," Clark continues. "I feel like they smooth out the digital edge and allow for beautiful flares that are very natural. Because a significant number of days were in a high-rise office, where a generator and cable run were impossible on our budget, Gaffer Ken Shibata and Key Grip Tommy Kerwick, Jr. and I decided to bail on the generator. We bounced everything we could and used LEDs, paper lanterns, practicals and lighting that could be plugged into a house circuit. While we still had to shape the light, the 5000 ISO of the Varicam allowed us to achieve a low base exposure with very little equipment. Thankfully [A-camera 1stAC] Pedro Corcega and [B-camera 1stAC] Adriana Brunetto-Lipman are amazing focus pullers – and wide open on a 100 millimeter, you really need that kind of skill. By adapting, we were able to use the savings to light the talk-show set and get the manpower to help us move, sometimes to three or four locations a day. In turn, this gave Nisha more time with her actors on set." Guild members on the show along with Corcega and Brunetto-Lipman included A-camera/Steadicam Operator Julián Delacruz, A-camera 2nd AC Matthew Montalto, B-camera 2nd AC Maria Gonzales, B-camera 2nd AC and loader Jeff Makarauskas.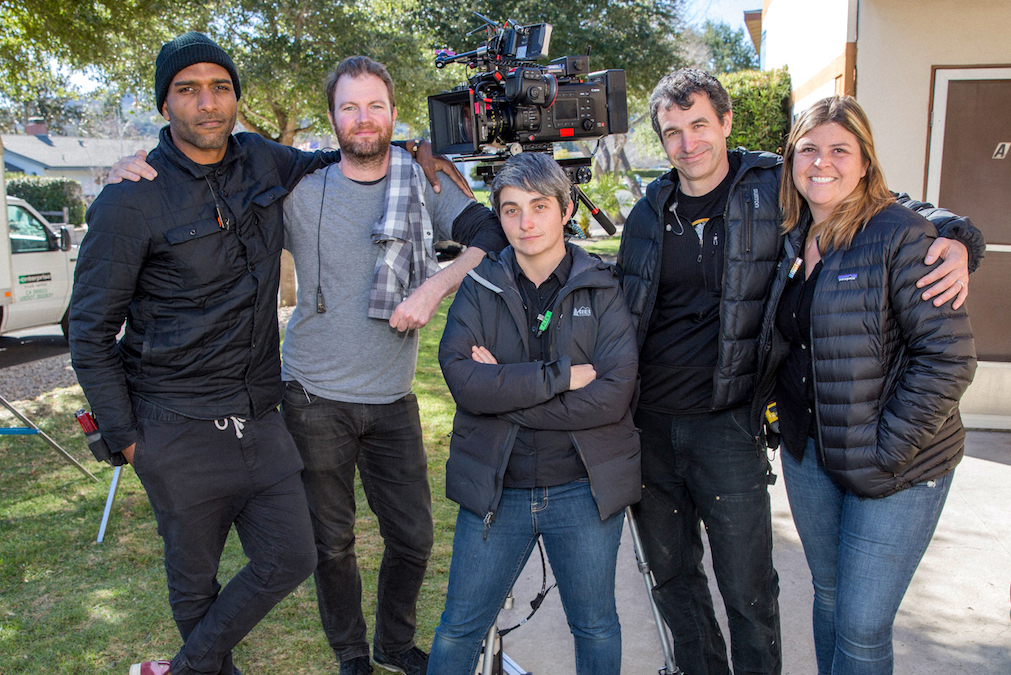 Paddleton – Guild DP Nathan Miller shot this story written and directed by Alex Lehmann and produced by Sundance perennials Mark and Jay Duplass, which centers on an unlikely friendship between two misfit neighbors. When the younger man is diagnosed with terminal cancer, the pair embarks on an unexpectedly emotional journey. Miller has a long collaborative history with producers Mark Duplass and Mel Eslyn, as well as with director Alex Lehmann, for whom he shot the Sundance feature Blue Jay. "There was a pre-established communication that helped expedite the technical and get straight to the creative side of things; and the same went for my camera team," Miller shares. "Because we shot outside of Los Angeles, in Solvang, California, living and working in a small radius, our camp-like feel helped the team remain strong and communicative on and off set." As with all Netflix original films, Paddleton required a 4K acquisition – Miller's history using Canon camera systems led to his using a C700, of which he was very happy with the performance.
"We were working off a 'script/treatment,'" Miller continues, "so the film is largely improvised, and that meant a two-camera approach. The goal was to allow for 360-degree shooting to accommodate performance, as well as using two operators dancing around each other in small spaces. Of course, when you've got Ray Romano in the room, you know he'll be sending out comedy gold every second, so everyone has to remain on their toes to catch that lightning in a bottle." Miller adds that because of the film's subject matter – assisted suicide between two friends – "it was a bit of a tightrope act to balance two very funny individuals with heavy subject matter. We had to create a visual language for that dynamic specifically, and that was what really compelled me to join the team," he concludes. "Plus getting to film, live, and hang out with Ray Romano and Mark Duplass isn't bad either!" The Local 600 camera team included Miller operating A-camera, A-camera 1stAC Alexandra Cason, B-camera 1stAC Alicia Pharris, 2ndAC Greg Hatton and Steadicam Operator Mic Waugh.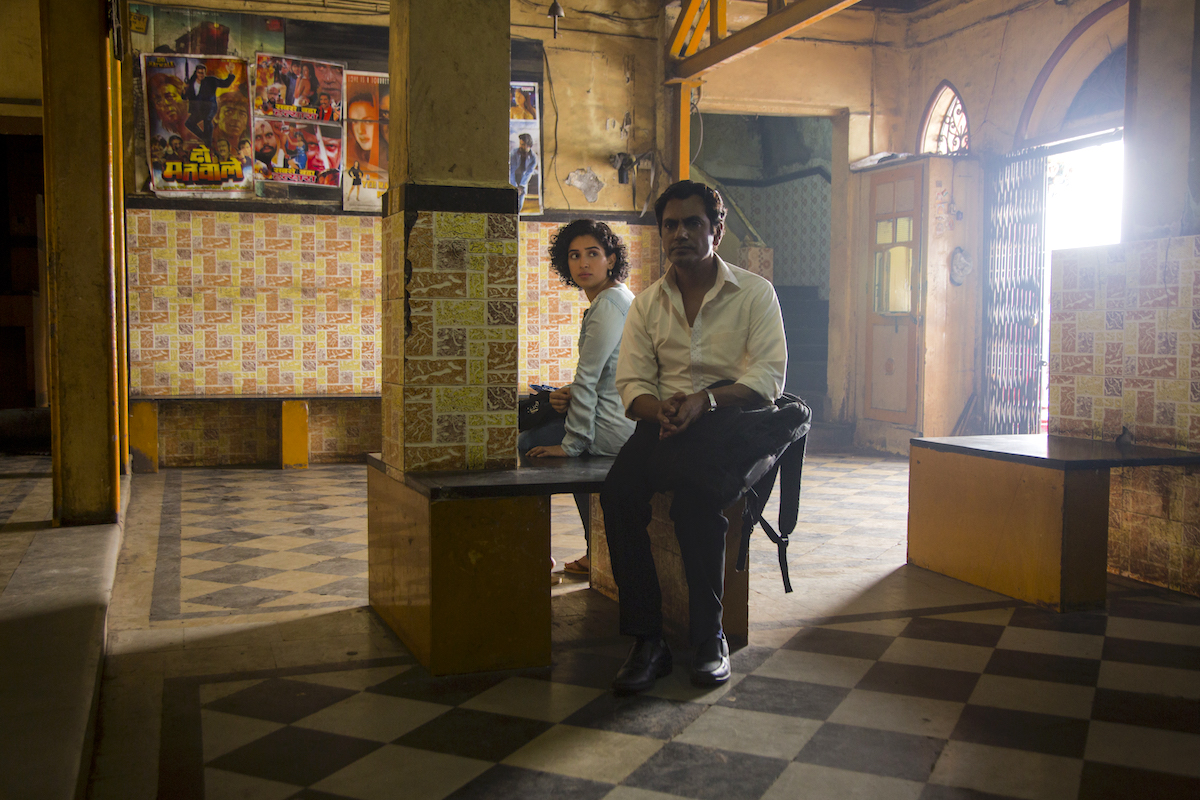 Photograph – Longtime Sundance DP Ben Kutchins (Crown Heights, Sleeping With Other People, Holy Rollers) shot this feature in Mumbai, India for writer/director Ritesh Batra about two intersecting lives – a struggling street photographer, who is pressured by his grandmother to marry, convinces a shy stranger to pose as his fiancée. The pair develops a connection that transforms them in ways that they could not expect. Kutchins had seen Batra's last feature, Lunchbox, and after reading ten pages of Photograph, he knew he wanted to work on the project. "The script is lovely and understated, yet it operates on so many levels," he reflects. "It's grounded in reality, yet it's also a fable with some elements that are fantastical. It successfully performs a delicate balancing act and is a unique, layered, and special film." Kutchins says he and Batra aimed for a "visceral yet poetic feel," shooting mostly handheld to achieve an intimacy and presence with the actors. "We spoke a lot about texture, feeling, and the emotion of the characters as opposed to logistics," he continues. "[The street photographer's] world tends to be more handheld and warmer, while her life is more cold and rigid; so we wanted to show that he lives in a bigger world than hers. The light in her home is mostly from fluorescent bulbs and is colder. This is actually quite common in middle-class homes [in India], and I love it when something that exists in the real world helps tell the story."
Kutchins says both he and Batra wanted to capture scenes in one take without interruption. "Even if it ended up as something edited later," he notes, "we were always looking for that mysterious something that happens when actor and camera are in the moment together." The DP describes Mumbai as "a living, breathing organism" that never stops moving and changing. "I don't know that there is a place more culturally different than the U.S.," he states. "And that can, at times, be difficult. For example, we were supposed to shoot portions of his scenes in some of the poorest neighborhoods near Bandra Station. A few days before filming there, the government came in and destroyed many of the homes in the area in a show of force. It was devastating to see, and we knew that out of respect for the residents, we couldn't shoot there any longer. We had to do some last-minute scouting and come up with a new plan." Kutchins shot on ALEXA MINI, admiring the camera's dynamic range and handling of skin tones. He used older Ultra Speed and Super Speed lenses to introduce a bit of "imperfection" in the digital sensor. "It was incredible to do a film entirely in a different language," he adds. "I couldn't take any of my usual dialogue cues, so I was responding to intonation and body language, which makes you pay attention on another level." Guild member Tim Gillis served as camera operator and 2ndUnit DP. "When I had to leave the film early for a prior commitment to Ozark," Kutchins concludes, "Tim finished the film as cinematographer and shares the DP credit. He did a fantastic job completing the film with the texture we had started out with."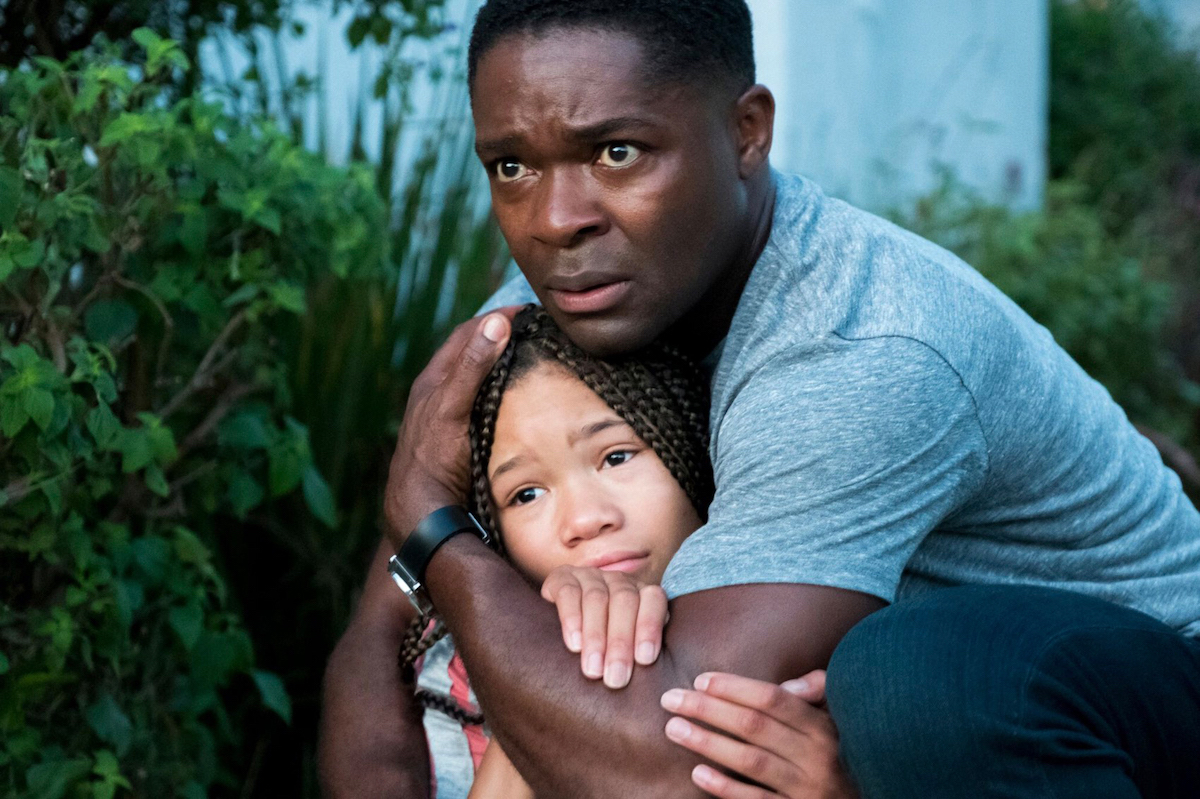 Relive – Guild DP Sharone Meir, whose work on the 2104 Sundance double award winner Whiplash (Audience and Grand Jury Prize) helped launch the career of Oscar-winning writer/director Damien Chazelle, returns to Park City with this compelling drama from writer/director Jacob Estes. After a man's family dies in what appears to be a murder, he gets a phone call from one of the dead, his niece. He's not sure if she's a ghost or if he's going mad –but as it turns out, he's not. Instead, her calls help him rewrite history. David Oyelowo, Mykelti Williamson and Alfred Molina lead the cast. Supporting Meir were Local 60o Operator Eric Leach, Loader Michael McGee, Utility Raul Perez, DIT Chris De La Riva, and Still Photographer Lacey Terrell.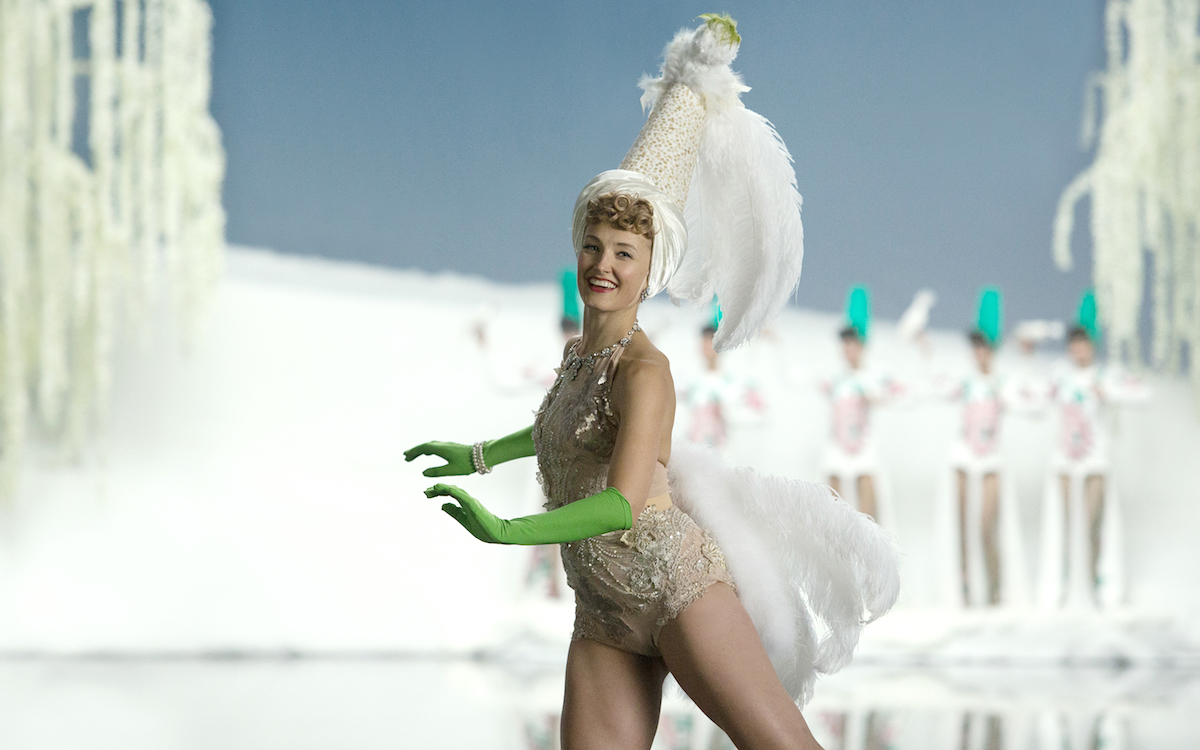 Sonja: The White Swan  – ICG member Daniel Voldheim shot this true-life story about Sonja Heine, considered the inventor of modern figure skating, who took Hollywood by storm in the 1930s. This world-class athlete sacrificed everything to stay in the spotlight. Directed by Anne Sewitsky with Ine Marie Wilmann in the title role.
The Boy Who Harnessed the Wind– Oscar nominee Chiwetel Ejiofor co-writes and directs this U.K. production about a thirteen-year-old boy in Malawi who, against all odds, invents an unconventional way to save his family and village from famine. The film is based on the true story of William Kamkwamba, with a cast that includes Ejiofor, Maxwell Simba, Lily Banda, Noma Dumezweni, Aïssa Maïga and Joseph Marcell. Oscar-nominated cinematographer and Local 600 member Dick Pope, BSC (Mr. Tuner, The Illusionist), lensed on location in Africa.
The Mustang  – Local 600 DP Ruben Impens, who shot the Golden Globe-nominated drama Beautiful Boy, lensed this drama for director Laure de Clermont-Tonnerre about a convict who, while participating in a rehabilitation program training wild mustangs, struggles to connect with the horses and his fellow inmates. When he is challenged to soothe an especially difficult horse, he learns to confront his violent past. Starring Matthias Schoenaerts, Connie Britton and Bruce Dern. Guild members on the project included Operators Jeff Comfort, Dennis Dwyer, ACs Denis Bosnjakovic, Ryan Mhor, Nigel Nally, Stephane Renard, and Angel Rodriguez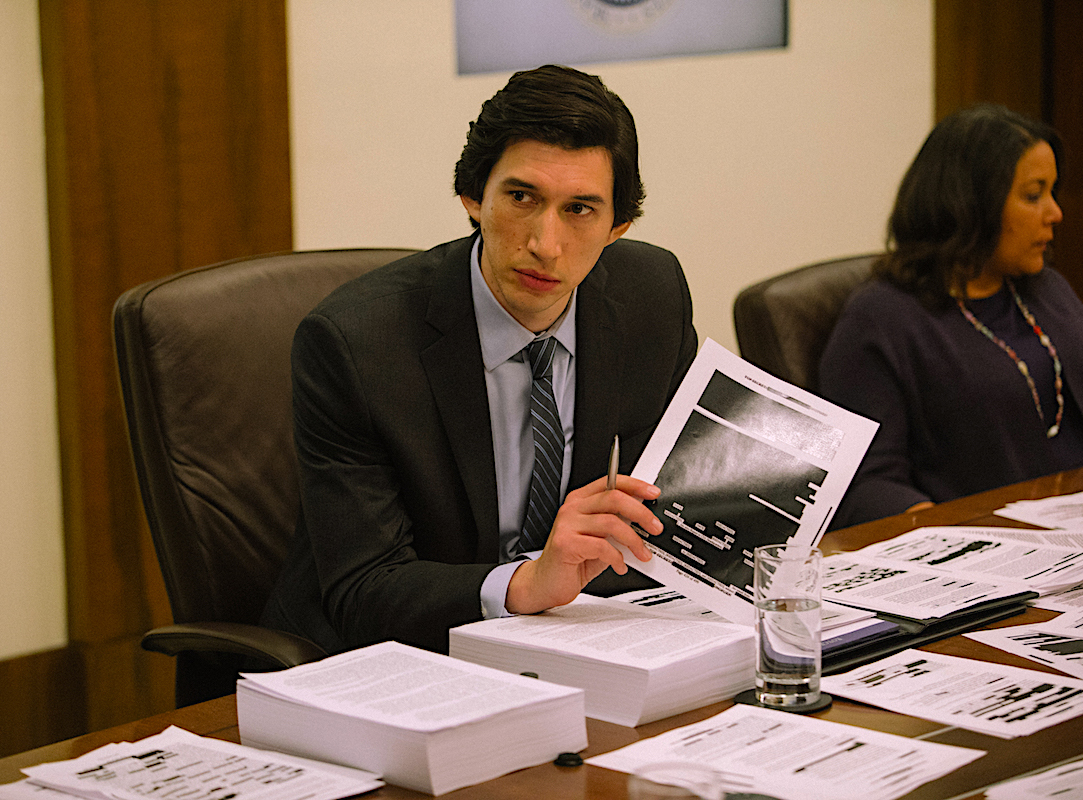 The Report  – Eigil Bryld (ICG Magazine, June/July 2018, Thieves Like Us) shot this true-life story for writer/director Scott Z. Burns about Daniel Jones (Adam Driver), the lead investigator for the U.S. Senate's sweeping study into the CIA's Detention and Interrogation Program. Tactics employed in the program, in the aftermath of the 9/11 attacks, were later found to be brutal, immoral and ineffective. With the truth at stake, Jones battled tirelessly to make public what many in power sought to keep hidden. The large Local 600 camera team was made up of Operators Johan Aidt and Afton Grant, Assistants Sunil Devadanum, Kevin Howard Jr., Scott Koenigsberg, Robert Lau, Hamilton Longyear, Dean Martinez, Jonathan Monk, Rob Muia, Andrew Peck, Eric Robinson, Yusuke Sato, Samantha Silver, Sebastian Slayter, Troy Sola, Katie Waalkes, Jelani Wilson, and Alexander Worster, Libra Tech Pierson Silver, Loaders Trevor Barcus, Anabel Caicedo, Mateo Gonzalez, Jason Hochrein, and Holly McCarthy, and Still Photographers Atsushi Nishijima, Nicole Rivelli, Walter Thomson, and JoJo Whilden. Annette Bening, Jon Hamm, Ted Levine, Maura Tierney and Michael C. Hall round out the cast.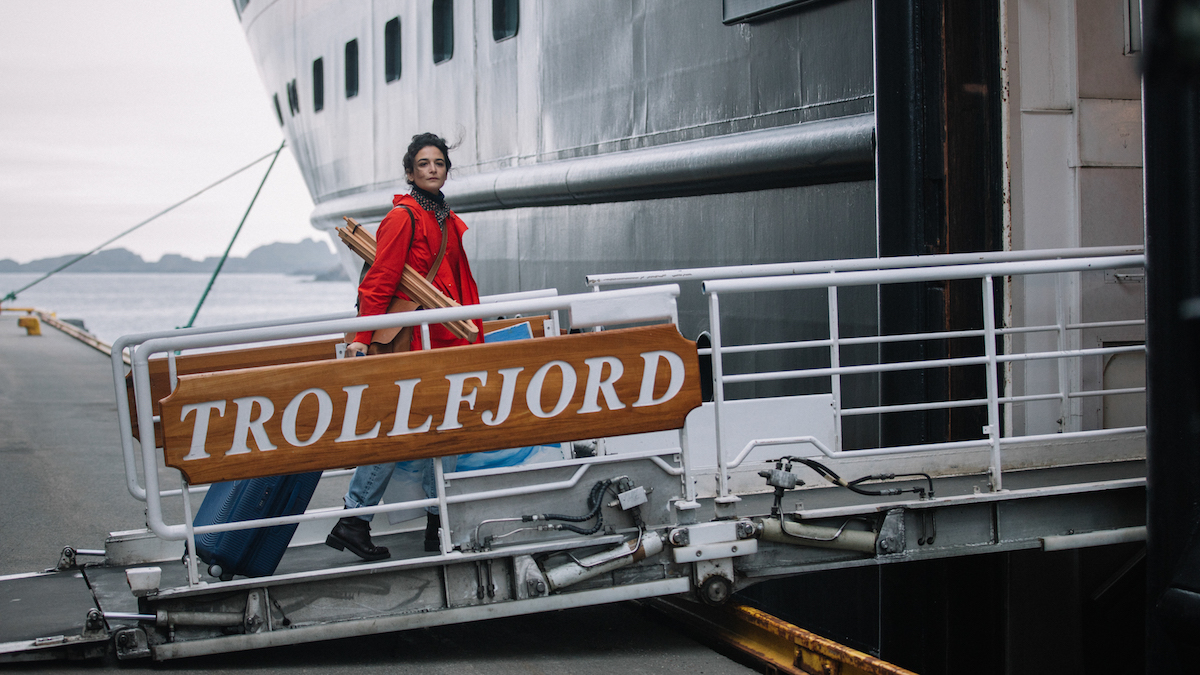 The Sunlit Night– AC Scott Miller worked on the New York City unit of this European co-production (Germany and Norway), which was directed by David Wnendt and centers on an American painter and a Russian émigré who find each other in the Arctic Circle. Together, under a sun that never sets, they discover a future and family that they didn't know they had. The international cast includes Jenny Slate, Zach Galifianakis, Alex Sharp, Gillian Anderson, and David Paymer.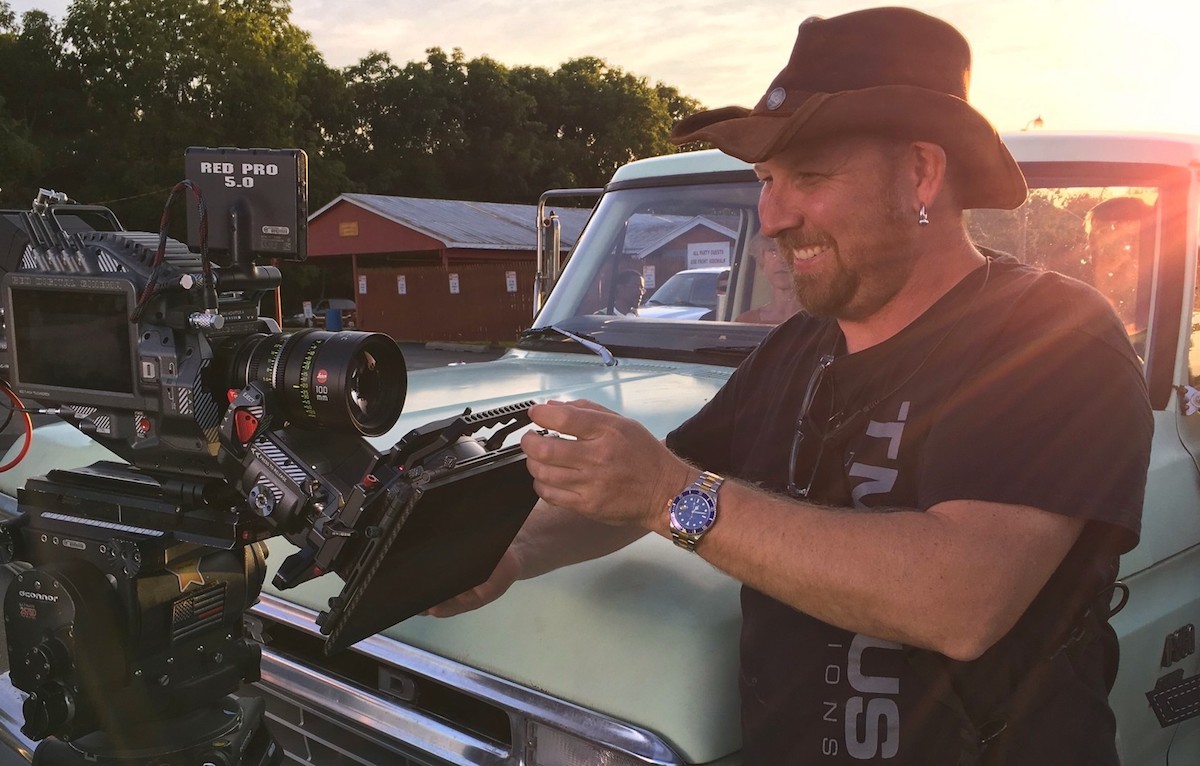 The Tomorrow Man – John Lithgow and Blythe Danner star in this story about two people – one obsessed with preparing for a disaster that might never come, the other shopping for things she may never use – who find each other in a small town somewhere in America. First AC Tom Funk says he was recommended by a colleague for a project that would quickly become one of the most interesting of his career. The six-week shoot, in Rochester, NY, was helmed by writer/director/DP Noble Jones, using director David Fincher's RED Xenomorph model D camera system (ICG Magazine, April 2018, Mindhunter). "As the 1stAC on the primarily single-camera show, I worked closely with Noble Jones," Funk recalls. "We allowed for a post-heavy workflow, stemming from Jones' time working with Fincher. We utilized the Xenomorph 6K features and framed for a 5K extract, allowing for more options in post." Funk says the Xenomorph has a Paralink wireless video transmitter, RT motion receiver, and a Zaxcom time code and audio receiver all built into the camera. "Along with the 'snap up' matte box and gear tray at the front, paired with the Leica Summilux-C lenses, this camera creates a very quick setup," he shares. "Slap on a battery, turn on the Xenomorph, which powers-on the camera and all accessories, format the media, and you're ready to shoot!"
Troop Zero– Guild cinematographer Jim Whitaker lensed this period story for directors Bert & Bertie, set in rural Georgia circa 1977, about a young misfit who dreams of life in outer space. When a national competition offers her a chance at her dream, to be recorded on NASA's Golden Record, she recruits a makeshift troupe of Birdie Scouts, forging friendships that last a lifetime and beyond. Oscar winner Viola Davis heads up a strong cast that also includes Mckenna Grace, Jim Gaffigan, Mike Epps, Charlie Shotwell and Allison Janney. The large Guild  team was made up of Nicole Hirsch-Whitaker shooting additional photography, Operators Michael Applebaum, George Bianchini, Morgan Davis, Mike Kennedy, Louis Normandin, Douglas Pruss, Craig Rice, Zachary Sieffert, and Michael Stumpf, ACs Matthew Blea, Michelle Clayton Samaras, Bryan DeLorenzo, Christopher Fisher, Lisa Lengyel, Dan McKee, Paul Rahfield, Lance Romano, Rigney Sackley, and Zander White, Loader Michael Reynolds, DITs Adrian Jebef and Aaron Picot, Utility Mitchell Orcino, Crane Tech Ernest Rydberg, and Still Photographer Curtis Baker.
Velvet Buzzsaw– Oscar nominee Dan Gilroy (Nightcrawler) writes and directs this contemporary thriller set in L.A.'s art scene, where big-money artists and mega-collectors pay a high price when art collides with commerce. The cast is led by Jake Gyllenhaal and includes Rene Russo, Toni Collette, Zawe Ashton, Tom Sturridge and Natalia Dyer. Oscar and ASC Award winner Robert Elswit, ASC (There Will Be Blood), was behind the camera, with Christopher Moseley handling additional photography, along with veteran Operators Colin Anderson, John Joyce, Mark Moore, Andrew Rowlands, and David Speck, ACs Erik Brown, Jeff Comfort, Ryan Creasy, Jacob LaGuardia, Jay Levy, Chris Mayhugh, David Mun, Evan Nelson, James Razo, Adrian Santacruz, Ryan Shoemake, Larissa Supplitt, Ron Tatham, Aaron Tichenor, Matthew Williams, and Terry Wolcott, Technicians James Apted, George Dana, Keith Davis, Sean Dommett, Maurizio Dotto, Dustin Evans, Joshua Friz, Yuriy Fuks, Ryan Haskins, Jessie Hinojosa, Steve McDonagh, Michael Montez, Clay Platner, Robert Rubin, Mike Ryan, Mark Spath, Christopher Toll, and Jimmy Ward, Loader Amanda Darouie, DITs Erica Mckee, and Daniel Satinoff, Still Photographers Claudette Barius and Unit Publicist Cid Swank
Documentary Premieres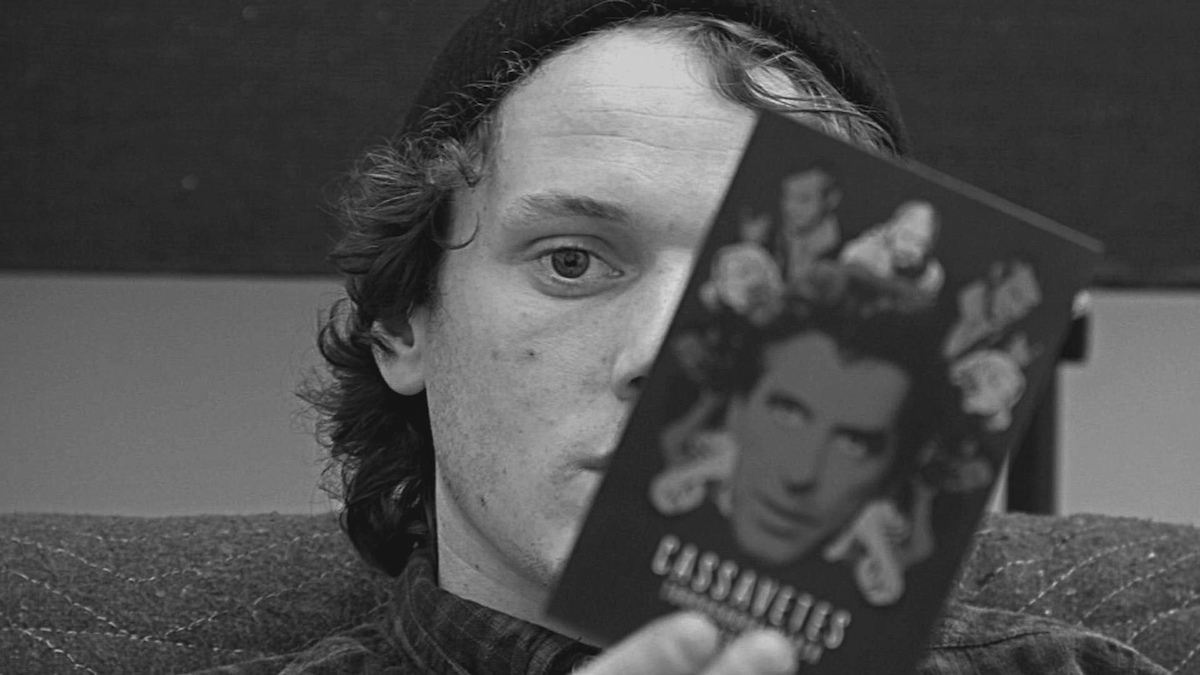 Love, Antosha – This portrait of the Russian-born Jewish actor Anton Yelchin, whose life was tragically cut short at the age of 27, was shot by Guild DP Radan Popovik and co-produced by Drake Doremus, whose indie feature Like Crazy co-starred Yelchin and won the Grand Jury Prize at the 2011 Sundance Film Festival.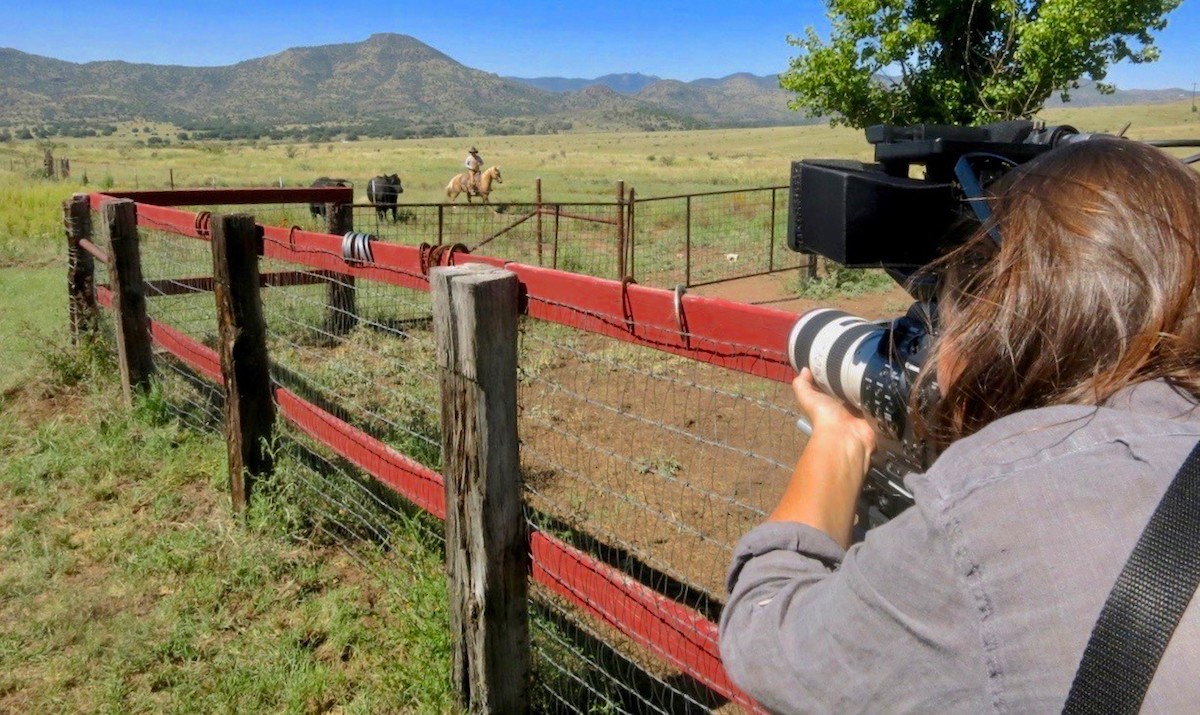 Raise Hell: The Life & Times of Molly Ivins –DP Kristy Tully says shooting this documentary about the famed political journalist and Bill of Rights warrior was like taking an epic road trip through Southwest Texas in the spirit of Ivins herself. "I've shot my share of documentaries that are as important as they are heavy on the soul," Tully relates. "But this project was as fun and uplifting as it was important." Tully says that because she was working alone, she kept the package small and versatile – Canon C300 and sometimes a Canon 5D MKII when a second size for an interview was needed. The lighting was a hybrid of beauty and natural. "We wanted regular people and the celebrities alike to look their best but feel like it could be natural light," Tully explains. "I traveled with my old trusted Rifa Light – the first piece of equipment I ever bought – retrofitted to use daylight Kino bulbs. I tried to keep it outside a window, but if that wasn't an option I'd use the lightweight Roadrags flag kit to bring down a bright shirt or a close wall. I also used the hard grid on the front of the Rifa Light, which was a lifesaver in small rooms. The most useful and underrated tool working bare bones in the heat was oil-blotting tissues. Not even the toughest cowboy in Texas could complain about a little face wipe!" Tully says director Janice Engel was able to schedule exterior interviews that would capture the dramatic Texas landscapes at dawn and dusk. "When we got to New York," Tully adds, "we were able to move around the city with slightly larger sources, which gave me the ability to shape the light more carefully."
Toni Morrison: The Pieces I Am – Longtime Sundance documentary DP Graham Willoughby(Won't You Be My Neighbor? 20 Feet From Stardom) lensed this intimate meditation from director/producer Timothy Greenfield-Sanders about America's most lauded black storyteller. The non-fiction feature examines Morrison's life and work, and the powerful themes the writer has confronted throughout her literary career. The illustrious artists joining Morrison on camera include Hilton Als, Oprah Winfrey, Russell Banks, Angela Davis, Walter Mosley, Peter Sellars and Fran Lebowitz.
Spotlight
The Nightingale– Guild member Grant Adams was Steadicam operator and shot additional photography for Australian writer/director Jennifer Kent's story set in 1825 in the Tasmanian wilderness. Clare (Aisling Franciosi), a young Irish girl, is bent on revenge for a terrible act of violence a British officer committed against her family. As she chases him down through the inhospitable terrain, she enlists the services of an Aboriginal tracker, who is marked by trauma from his own violence-filled past.
NEXT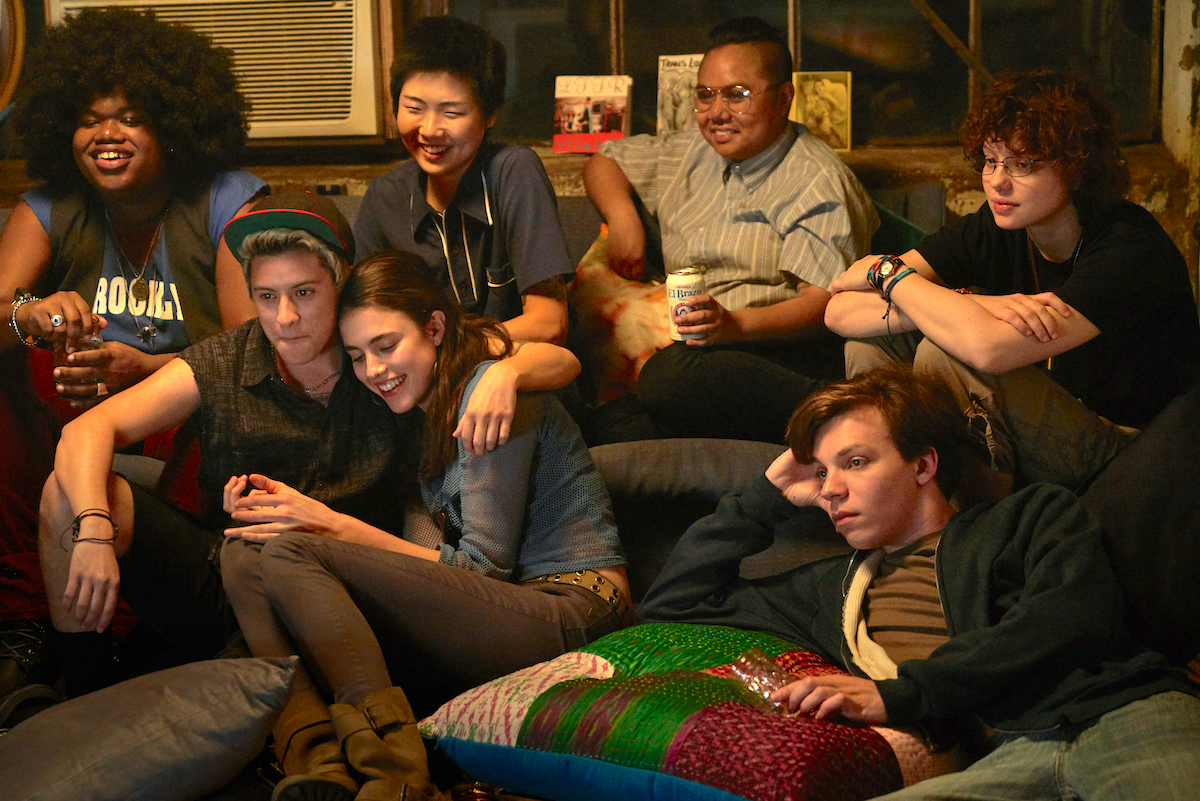 Adam – Shawn Peters shot this coming-of-age-comedy for director Rhys Ernst and longtime Sundance regular, Producer James Schamus. The story centers on Adam (Nicholas Alexander), an awkward teenager who spends his final high school summer with his older sister in New York City. The young woman has thrown herself into the city's lesbian and trans activist scene, and over the course of the summer, Adam and those around him experience love, friendship and attendant hard truths. AC Jason Chau and Still Photographer Jeong Park joined Peters on the project.
The Death of Dick Long – Guild DP Ashley Connor (ICG Magazine, January 2018, My Sundance Moment) returns to Park City for director Daniel Scheinert. The low-down on her new film: Dick died last night, and Zeke and Earl don't want anybody finding out how. That's too bad though, because news travels fast in small-town Alabama. Connor says they shot the feature on location in Alabama during an extremely wet and hot summer. Connor, working with Guild 1stAC Kali Riley, shot on ALEXA XT with Panavision Primos. "Our references were mainly Wim Wenders' The American Friend mixed with a healthy dose of some Coen Brothers and William Friedkin," Connor reflects. "It was so fun getting to collaborate with Daniel [Scheinert] and his sensibilities. He brought out my sillier, more playful side. It ended up being a big sweaty hang with all my best friends, where we got to make a movie that speaks to the laughable dark hell known as America that we're all living in. Roll Tide!"
The Infiltrators– Guild 1stAC Meghan Noce worked on this timely feature from co-directors Alex Rivera and Cristina Ibarra about a rag-tag group of undocumented youth, "Dreamers," who deliberately get themselves detained by U.S. Custom and Border Patrol agents in order to infiltrate a shadowy, for-profit detention center. The cast includes Maynor Alvarado, Manuel Uriza, Chelsea Rendon, Juan Gabriel Pareja and Vik Sahay.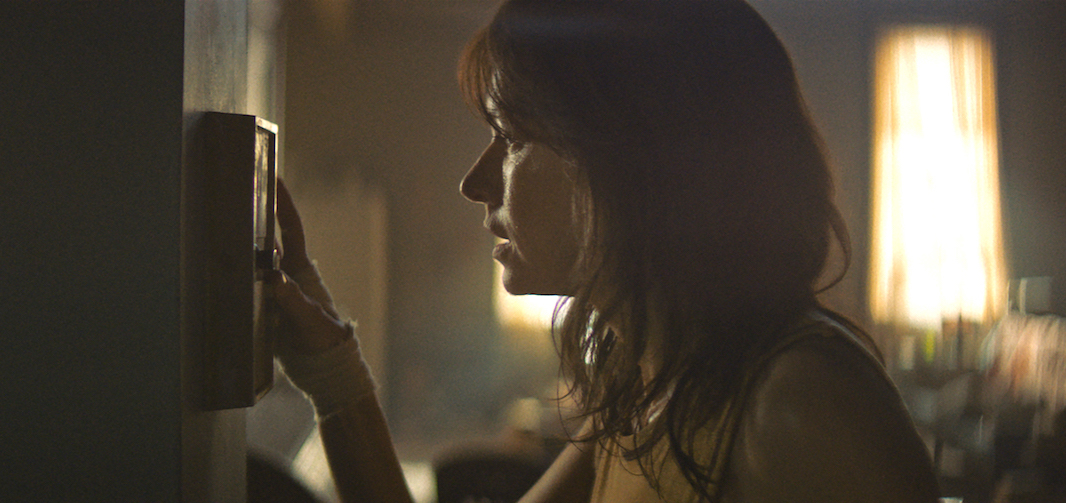 The Wolf Hour –Alistair Banks Griffin wrote and directed this period story about a known counterculture figure, June E. Leigh (Emily Watts), who now lives in self-imposed exile in her South Bronx apartment during the incendiary 1977 Summer of Sam in New York City. When an unseen tormentor begins exploiting June's weaknesses, her insular universe begins to unravel. Shot by Khalid Mohtaseb with a Local 600 team that included Operators David Isern and Daniel Stewart, ACs Tom Atwell, Zachary Grace, and Nolan Maloney, Technocrane Operator Scott Buckler, DITs Justin Hartough, Zachary Sainz, and Ryan Winsor, and Still Photographer Alison Rosa.
Midnight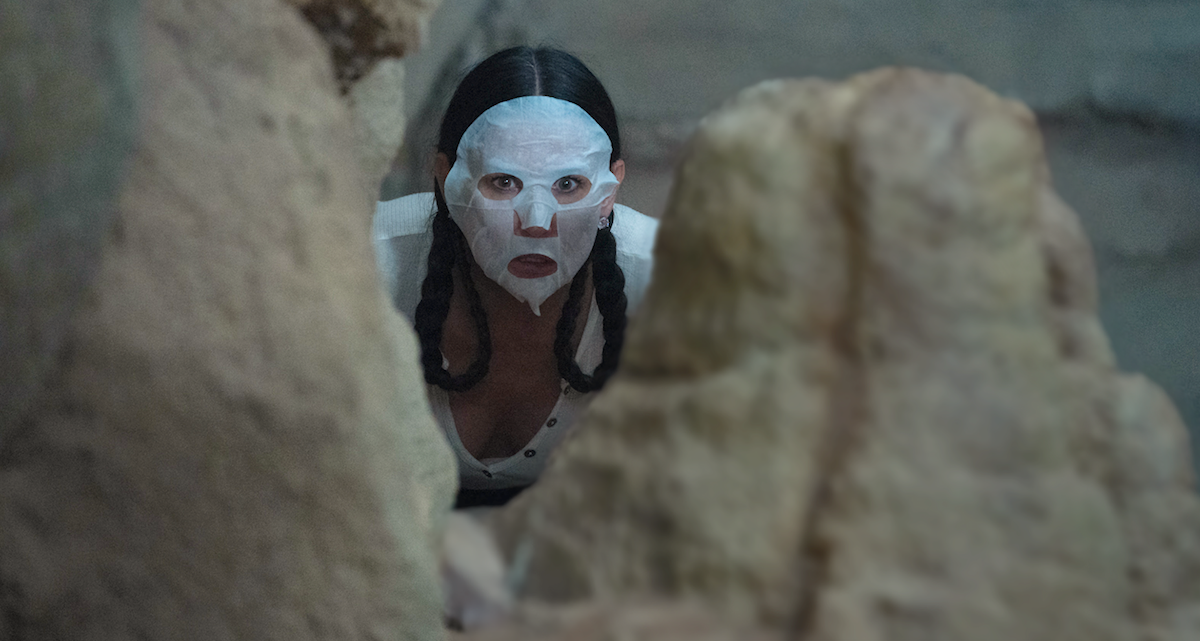 Corporate Animals – Disaster strikes when the egotistical CEO of an edible cutlery company leads her long-suffering staff on a corporate team-building trip in New Mexico. Trapped underground, this mismatched and disgruntled group must pull together to survive. Demi Moore and Ed Helms lead the cast, with Sundance alumna Tarin Anderson behind the camera. This indie feature was shot in Santa Fe, NM with two cameras throughout to be, as Anderson describes "more efficient" in covering eight to nine actors in most of the scenes. "The biggest challenge was keeping the film visually interesting as the majority of the story takes place in one location," Anderson shares. "We used mostly LED's to make lighting transitions with color shifts more seamless." The large Guild camera team included A-camera/Steadicam operator Juergen Heinemann, A-camera 1st AC Kingslea Bueltel, A-camera 2nd AC Dan Bass, B-camera 1st AC Lane Luper, B-camera 2nd AC Daniel Maestas, and DIT Luke Mullen.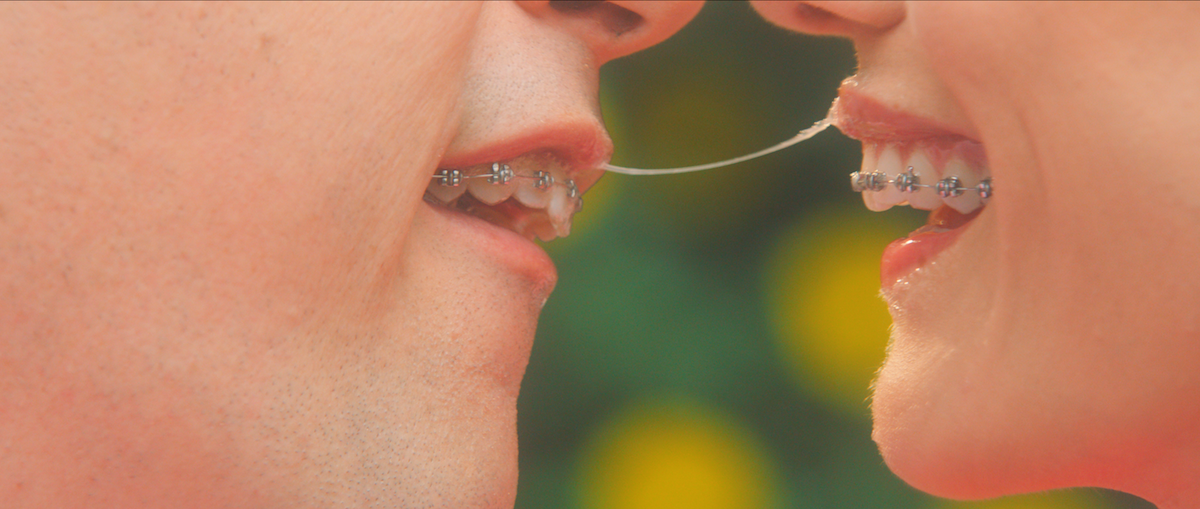 Greener Grass– Guild DP Lowell A. Meyer teamed with co-directors/co-writers/actors – Jocelyn DeBoer and Dawn Luebbe, and Producer Natalie Metzger (who also produced Meyer's previous feature, Thunder Road) to tell this demented suburban-comedy story, where every adult wears braces on their teeth and couples coordinate meticulously pressed outfits. "LikeThunder Road," Meyer explains, "Greener Grass was based on an award-winning short film from 2016. It was a bit intimidating to come onto a project not having shot the source material, especially when it had been established with such bold lensing and filtration choices, but I was lucky to learn quickly into the process that the directors wanted a cinematographer with whom they could adapt and expand the visuals to better serve the feature-length narrative."
Meyer mixed prime and zoom lenses throughout – some scenes were long oners on a dolly with an Angénieux 24-290 mm or 30-80 mm. "For more intimate scenes, we used Super Speeds to get close to the actors and keep a light footprint on our locations," he adds. "In keeping with the short, we decided to heavily diffuse the image with a 1980s glow, using a combination of Black Pro Mist and Low Contrast filters. However, unlike the short, we created a visual arc with the filters, using them aggressively when the world and characters were seemingly pleasant, and then slowly removing the filters once the story's darker undertones started to bear themselves. By the end of the film, we weren't using any filtration at all." Meyer says he and Gaffer John Cico kept units small enough to avoid needing a tow plant, "which would slow us down and require more crew than we could accommodate." Cico controlled units from his iPad, making lighting setups simple, fast and feasible for the demanding schedule. "We shot in 3.2K on an Alexa Mini," Meyer continues, "and had an on-site editor making daily assemblies that we could watch every other day, almost like dailies, but with fully cut scenes. They had a fully assembled cut of the film only a day after wrapping!"The lush, green environment of Peachtree City, just outside of Atlanta, served as the movie's base. "Since the film is called Greener Grass, it was very important to DeBoer, Luebbe, [Production Designer] Leigh Poindexter and me that the green was the deepest shade possible," he concludes. "That's something we also tweaked in color correction with our colorist Derek Hansen [at The Mill LA] to ensure consistency throughout the film."
Mope– Local 600 member Bryan Koss, SOC, shot this story about two low-level porn-industry male performers, aka "mopes," who set their sights on an impossible dream: stardom. Directed and co-written by Lucas Heyne. Guild Operator Orlando Herrera was also on the show.
Wounds – Disturbing and mysterious things begin to happen to a bartender in New Orleans after he picks up a phone left behind at his bar. Armie Hammer and Dakota Johnson star. The Guild team included Operators Michael Applebaum and Greg Morris, ACs Allan Keffer, Richard Lacy, John Richie, Zander White, and Evan Woss, Still Photographer Michele K. Short, and Unit Publicist Andy Lipschultz. Babak Anvari (Under the Shadow) writes and directs.
Indie Episodic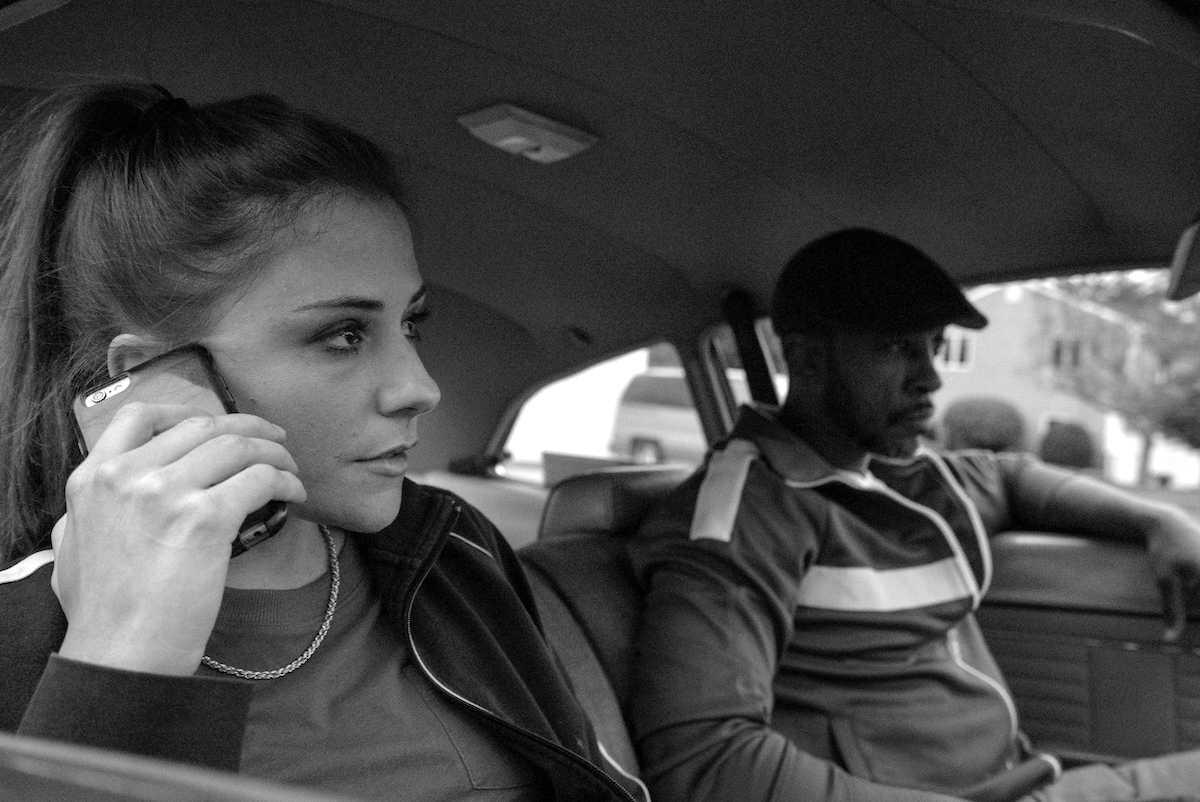 Delivery Girl – Kate Krieger directs and stars from her own screenplay about a young woman struggling with her identity. Trisha leads a double life within her fiercely Catholic household – selling drugs to make ends meet while carrying on with a secret lover. With the support of her friend Leroy (Joe Holt), a 40-year-old seeking to regain custody of his child, Trisha fights for the courage to embrace her future while confronting her past in the first episode of this dramatic series. Guild DP Oliver Lanzenberg was behind the camera.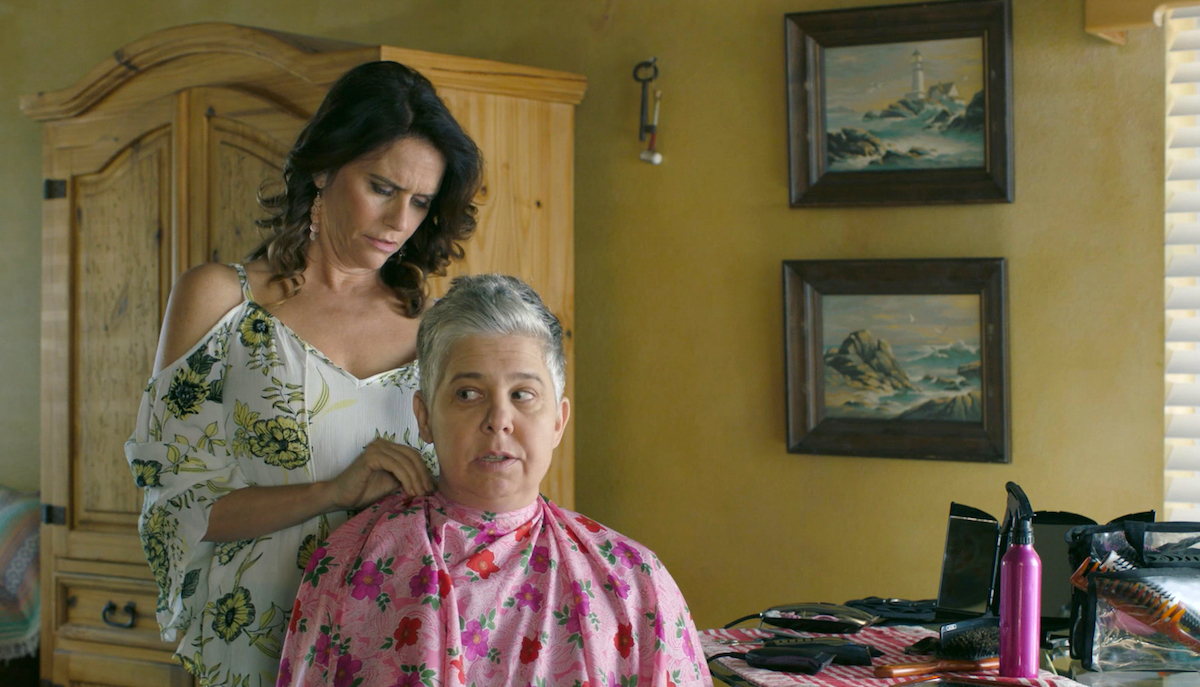 Girls Weekend – Shot by Michelle Lawler and directed by Emmy- and Golden Globe-winning actress/producer/director Kyra Sedgwick, Girls Weekend tells the story of a queer daughter who begrudgingly returns home to Las Vegas for a weekend with her estranged, homophobic sister and people-pleasing mother. When her gun-toting dad lets it slip that her mom's cancer is back with a vengeance, Erica (Ali Liebegott) must decide whether or not she can be part of the dysfunction that is her family. "I found it easy to relate to a story about a queer person going home to visit their conservative relatives where Fox news is permanently on in the background; it can feel polarizing and alienating," Lawler notes. "The DP says she and Sedgwick wanted viewers to feel "stuck in this house" with Erica. To create a feeling of paralysis, they employed a static camera and approached the cinematography in a restrained manner, limiting all camera movement. "It was challenging to just sit in those moments and be still," Lawler describes. "We shot in one house over two days. Guild member Peter Lau, a great First AC, pulled focus. Once the whole crew lands in one house, space can become limited quickly. The Arri Mini was our camera of choice with Cooke S4 primes. Peter built the Mini as small as possible so we could fit into tiny bathrooms and hallways."
The Dress-Up Gang–Topher (Christopher) Osborn shot this wickedly funny and surrealistic comedy, with help from Guild Operator Coby Oliver, that expands upon the cult-hit web series by creators Robb Boardman, Cory Loykasek and Donny Divanian. Donny, a responsible adult with the innocence and outlook of a child, relies on guidance and life advice from his friend Cory, the dad-like thirty-something who has been crashing on Donny's couch for quite some time. Two of the gang's escapades are presented in this pilot episode.
Work in Progress – Co-screenwriters Tim Mason and Abby McEnany wrote this story about which DP Michael Ognisanti says he knew "the comedy would be there on-screen, because Abby and Tim are both hilarious people. The challenge was going to be how we weave deeper issues about anxiety, depression and insecurities into comedic situations that provide the story's depth." Ognisanti says much of the material is based on McEnany's life, and that authenticity and the myriad layers of her character were what they wanted to capture. "We worked to reflect that both tonally and visually," the DP continues. "We shot in real locations, mostly night interiors, and didn't want anything to look artificially lit. We usually started with practicals when possible and would then augment with small LED's – LiteMats, China lanterns, et cetera." Mason (who directed) and McEnany both have an improv background, so Ognisanti shot with two cameras to ensure capture of any unscripted moments, which couldn't be recreated after the fact. "With two cameras," Ognisanti explains, "more planning is necessary in order to be efficient and get the most out of each setup. We made storyboards for everything. Tim would describe his ideas on how to construct the scene and then I used Cinema 4d with the Cine Designer plug-in to build the storyboards in a 3D environment (after scouting the locations and getting measurements of the layout)." Ognisanti was able to simulate focal lengths and depth of field in the actual environments, which having already created a visual of how things would look was extremely helpful once he got to set. The production used two ALEXA MINIs with Zeiss Super Speeds. Daufenbach Camera and 2nd Cine in Chicago supplied cameras and lenses. The color grade was done by Paul Galati at Optimus Chicago. "We were limited with budget and time," Ognisanti concludes, "but the collaboration and dedication of the cast and crew brought it all together. You can see that reflected in the final product."
U.S. Narrative Short Films
As Told to G/D Thyself – Oscar nominee (Arrival) and three-timeSundance Cinematography Award winner (Ain't Them Bodies Saints, Mother of George, Pariah) Bradford Young, ASC, teams with his fellow Ummah Chroma artists Terence Nance, Jenn Nkiru, Marc Thomas and Kamasi Washington to co-write/direct and shoot this cosmic journey of sacred youth, during which pain, pleasure and sublimation are non-negotiable.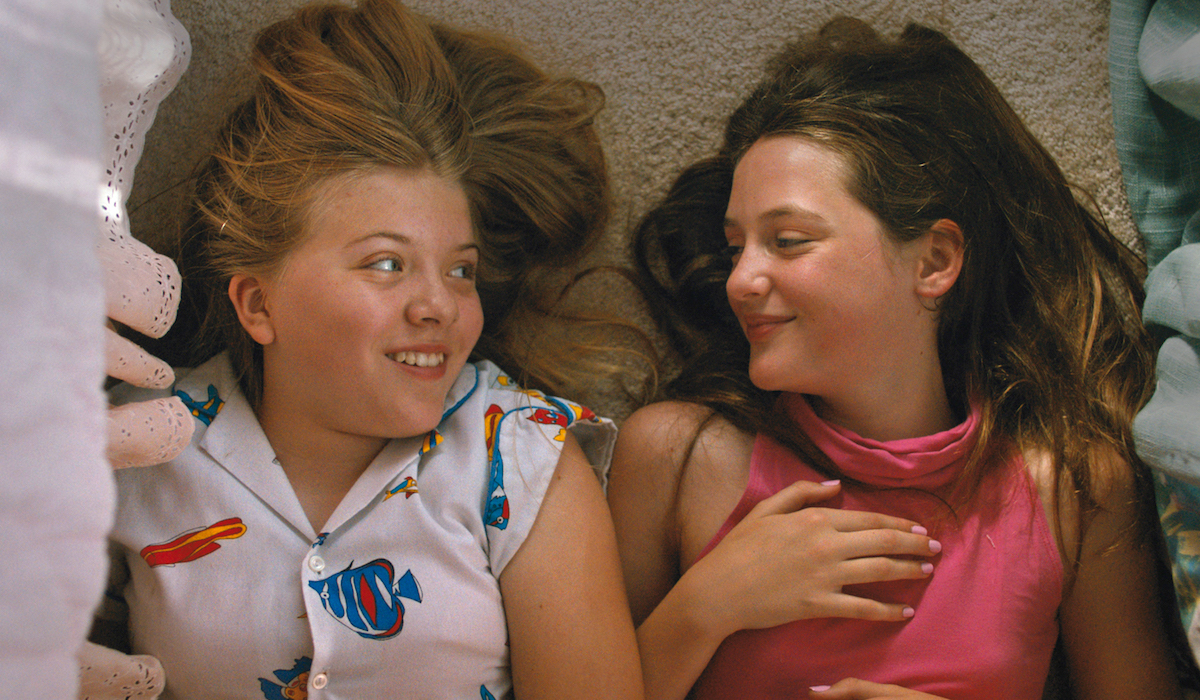 How Does It Start– Ava Berkofsky's second Sundance film this year was for writer/director Amber Sealey, about 12-year-old Rain (Lola Wayne Villa), whose self-absorbed parents, distracted by their recent divorce, leave her alone to navigate the complexities of love. Berkofsky says she shot on ALEXA CLASSICS, "with Panavision Ultra Speeds and my regular First AC Carman Soles – a newish but proud member of Local 600."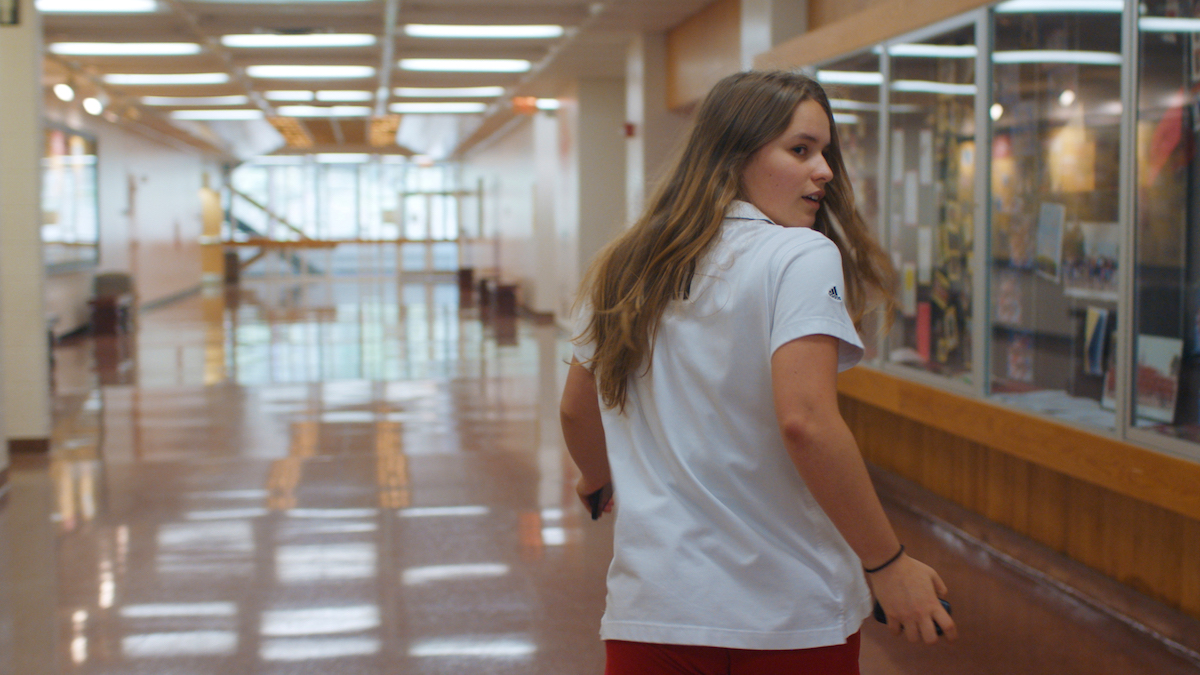 Lockdown –Cinematographer Lowell A. Meyer's second film at Sundance this year was also his fifth with longtime working partners, co-writers/directors Celine Held and Logan George, who were inspired by a photo in The New York Times regarding the use of lockdown drills in American schools in reaction to the rise in active shootings. "They thought it'd be a good setting to explore the unspoken and gray area that is sexual desire and consent in maturing high-school-age teens, particularly in a lesbian friendship," Meyer relates. "As such, we wanted the camera work to feel realistic, while also very focused. We mainly stuck to prime lenses to be intimate with our characters, with the exception of a few zoom shots." Meyer used dolly and sticks when the story is "calculated and calm," switching to handheld when things are more uncertain. "We erred toward longer lenses to help make our subjects feel isolated, and abstracted by their classmates and teachers," he adds. "We'd switch to wider lenses in action-filled moments or when our characters were physically close. We wanted the school – as well as their relationship – to have a sense of danger and uncertainty."
Filming took place in a working high school north of Pittsburgh, giving the production the air of a documentary, "but one in which we had complete control over every element," Meyer describes. "We used real students at the school, and only brought in the two leads to play students [in high school at the time of filming]. Held and George are incredibly gifted when it comes to directing child and young-adult actors, as well as non-actors, which I think adds tremendously to the authenticity of their films." Gaffer Denair Isaac relied on a wheeled ARRI SkyPanel that was moved from set to set to amplify the existing overhead practicals. "The biggest lighting setup we had was in the locker room during the lockdown drill in which the teacher turns off the lights," Meyer notes. "We were inspired by how much red was present in The New York Times photograph, and we were lucky to find a high school with a locker room full of red lockers! We embraced that look so that when the lights are turned off, the room – aside from a sliver of white light hitting the leads – is full of this ominous and deeply saturated red bounce, which made the scene rest somewhere between romantic and scary."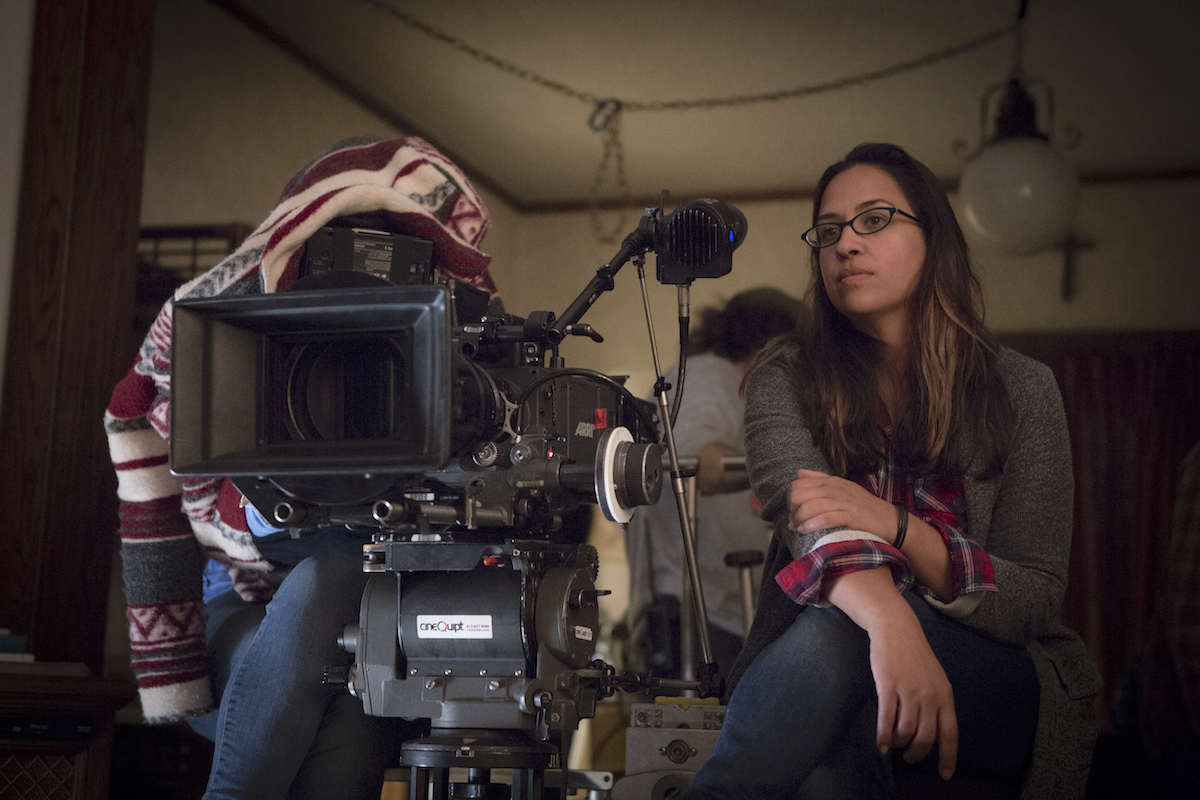 One Cambodian Family Please For My Pleasure – In 1981, Hanka (Emily Mortimer), a lonely refugee from Czechoslovakia, paints an all-too-appealing picture of her American life as she writes a letter begging an organization to help relocate a Cambodian refugee family to Hanka's new "hometown of dreams," Fargo, ND. Cinematographer Meena Singh says the script was very personal for her. Singh, like director A.M. Lukas, was raised in an immigrant family in the Midwest in the 1980s. "I referenced old family photos when designing the look for the film," Singh shares. "And I shot on Panavision Primo Anamorphics to provide a richness that invokes memory and childhood and gives the film a truly cinematic feel. I was fortunate to have a trifecta of creative geniuses working with me – gaffer Chad Dougherty, focus puller Camilla Foschi and colorist Nick Hasson."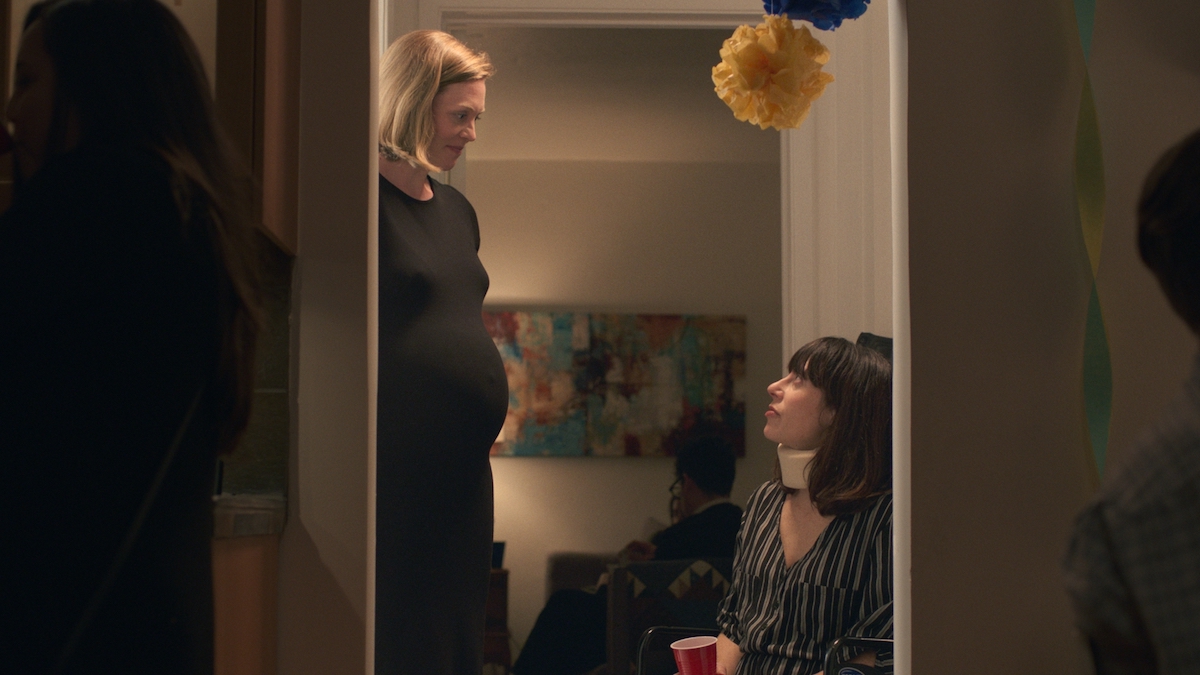 Squirrel– Local 600 cinematographer Ryan Thomas shot this story, directed by Alex Kavutskiy, about a woman's fortitude to forgive being tested by a meager apology. Thomas says he knew the best approach to this dark comedy, "which has exquisite performances," was to just stay out of the way and "give the actors room to do their work," he explains. "We did a number of long static takes to heighten the uncomfortable situations these characters were putting themselves in." Thomas says he anticipated budget challenges and was fortunate to get a "great price" from The Camera Division on an ALEXA CLASSIC and a set of Cooke S4s. "The small crew worked in our favor as the schedule was tight and forced us to keep our lighting minimal and simplistic," he adds. "The only thing that still surprises me is that I allowed them to shoot in my house for one of the characters – I knew it was right for the story, with minimal work, so it was too tempting to pass up."
New Frontier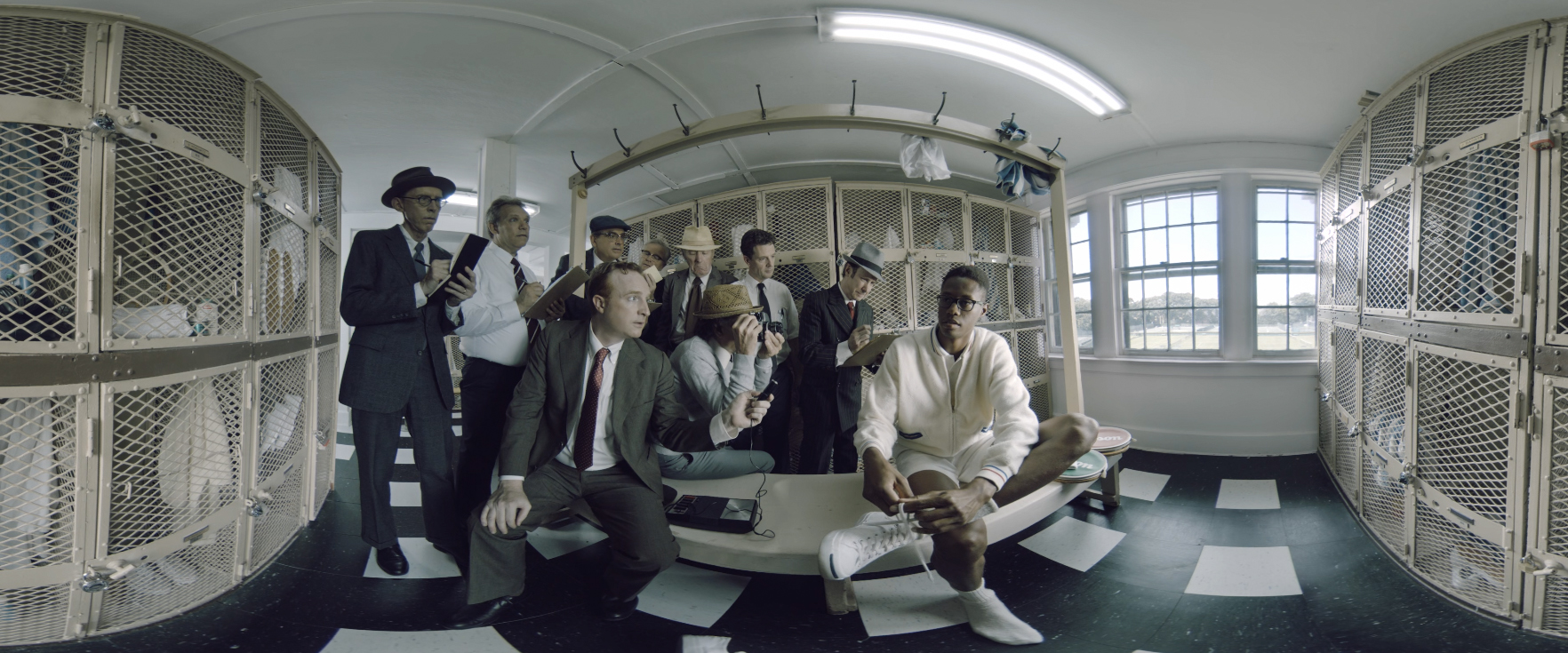 Ashe '68 – VR pioneer Eve Cohen, working with Guild VR DIT Ben Schwartz, and Lead Artists Brad Lichtenstein, Beth Hubbard, Jeff Fitzsimmons and Rex Miller, teamed with John Legend, Mike Jackson, Masha Vasilkovsky, Ruah Edelstein, Madeline Power and Vernon Reid to create this socially powerful VR experience. Fifty years before Colin Kaepernick there was tennis champion Arthur Ashe, and this story immerses viewers in Ashe's defining moment (in 1968), as he becomes the first black man to win the US Open and then proceeds to use his newfound celebrity to lift his voice against injustice. Cast includes Chris Eubanks, Michael Cleary, Peter Begley, Andrew Panter and Alex LaCroix.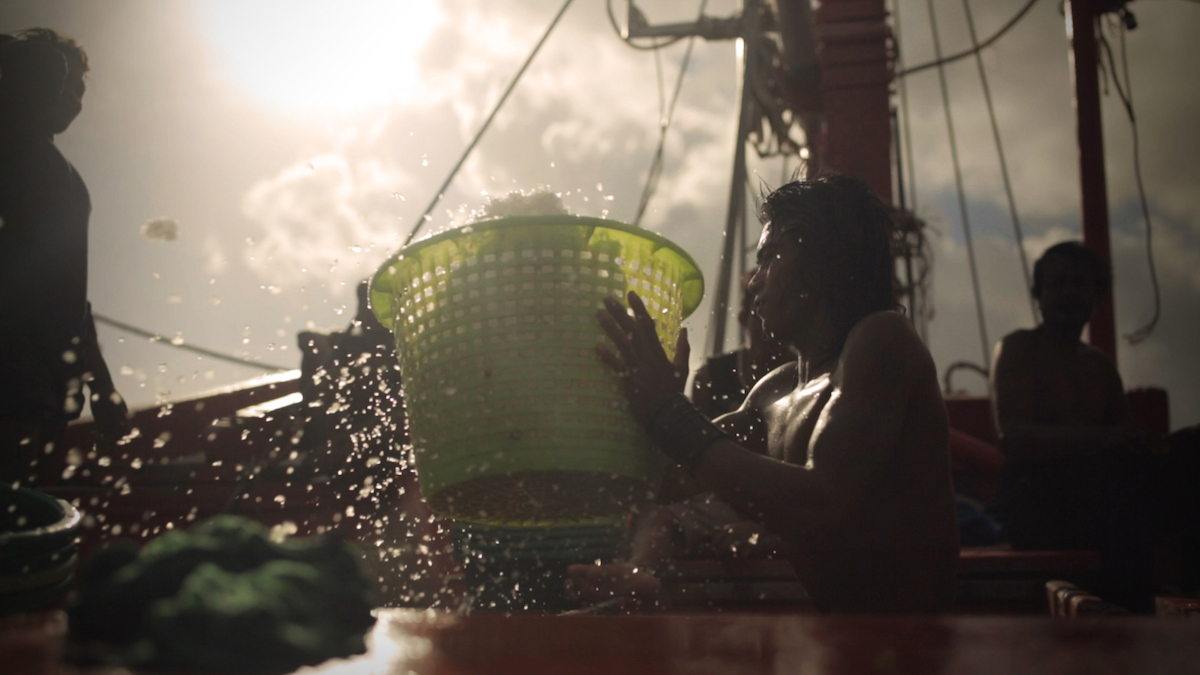 Ghost Fleet VR–Guild DP's Jeffrey Waldon and Alejandro Wilkins shot this immersive VR Cinema project that revolves around a true story of modern slavery. Homing in on the Thai fishing industry, the experience is told through one man's harrowing ordeal to escape a prison of water after 10 years at sea. Lead artists include Lucas Gath and Shannon Service with a cast that featuresTun Lin and Vithaya Pansringarm.
Special Events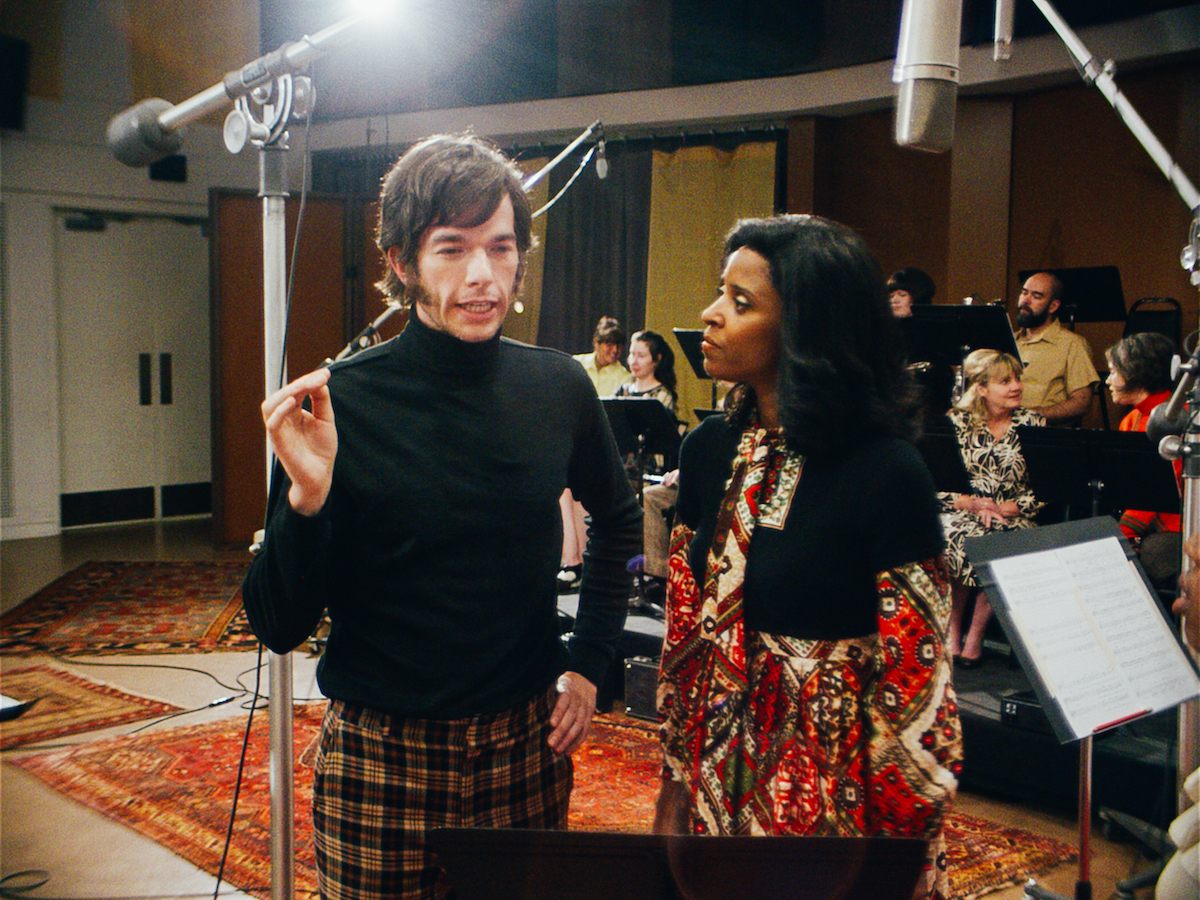 Documentary Now – Longtime Saturday Night Live and Guild DP Alexander Buono (www.icgmagazine.com, November 2015, Real Fun) directs, produces and shoots this faux nonfiction series from IFC that first premiered in 2015, with contributing writers/stars Fred Armisen, Bill Hader, Seth Myers and others. Sundance is previewing the newest season of the series.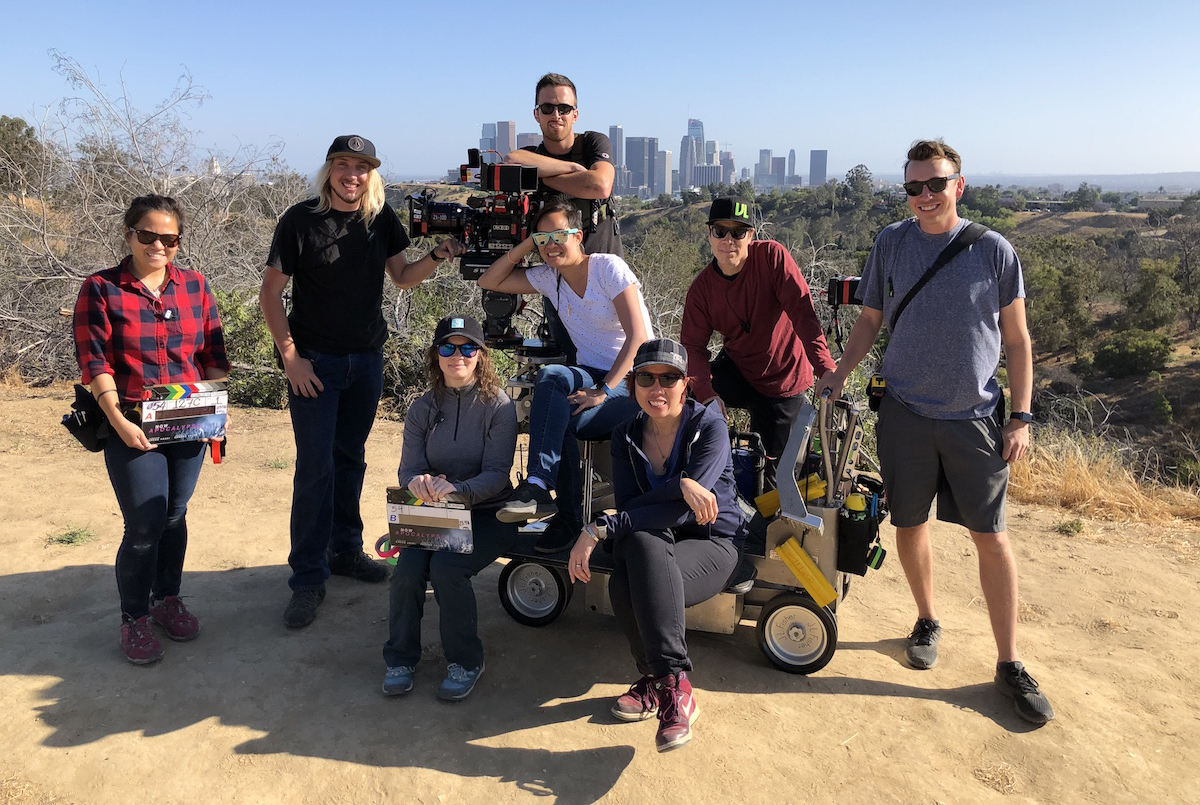 Now Apocalypse  – Sundance is screening the first three episodes of this new 10-episode STARZ series, which will premiere on March 10, 2019 and was shot by Sundance alumna and Guild DP Sandra Valde-Hansen. Directed and Produced by Hansen's longtime collaborator, Gregg Araki, the series centers on Ulysses (Avan Jogia) and his friends trying to navigate Los Angeles as they pursue love, sex and fame. Between dating-app adventures, Ulysses grows increasingly troubled as foreboding dreams make him paranoid – or maybe he's just smoking too much weed? Valde-Hansen and Araki have worked together for a decade, with the DP having shot Araki's last two features (White Bird in a Blizzard, Kaboom), both of which premiered at Sundance. "I know Gregg's aesthetic and style, which made shooting his first television series a fairly seamless transition," she shares. "We block-shot all 10 episodes, so the entire team approached this like shooting a feature – a 400-page feature in 40 days! The difference between Gregg's features and this series was the pace was faster and we had more to accomplish. With Gregg at the helm and such a strong crew, seasoned in both indie features and television, we were able to complete a show that we all are very proud of. We can't wait for [Now Apocalypse's]craziness to turn the world upside down." Valde-Hansen was supported by a large Local 600 team that included A-camera Operator Yvonne Feucht Chu, B-camera Operator/Steadicam Jesse Bactat, SOC, A-camera 1stACDerek Plough, B-camera 1stAC Paul Auerbach, A-camera 2ndAC Michaela Angelique, B-camera 2ndAC Brittany Meadows, Digital Loader Isaac Guy and Still Photographer Katrina Marcinowski.
ONGOING EVENTS
Adobe Events – Sundance 2019
Explore the Wide World of Editing Panel
Join a lively discussion with genre- and generation-spanning editors about the ever-evolving craft of editing. Hear Sundance Film Festival success stories, ranging from iconic documentaries to groundbreaking fiction features. Panelists include Carla Gutierrez, editor of 2018's hit documentary RBG; Will Merrick, editor and graphic artist for the technological thriller Searching (2018 Sundance Film Festival Audience Award: NEXT); and Paul Rogers, editor of The Death of Dick Long from this year's NEXT category. Reception to follow.
WHEN: January 25, 3:00 pm – 5:30 pm
WHERE: Kimball Art Center, 1401 Kearns Blvd.
From Production to Post: Collaborating on Documentary Now!
In the spirit of collaboration, Canon and Adobe bring director/DP Alex Buono and editors Micah Gardner and Jordan Kim to the stage to discuss their workflow on Documentary Now! Get the inside scoop on the tools they use to bring the series to life, including Canon XF305 and XF405 camcorders and Adobe Premiere Pro.
WHEN: January 27, 3:00 pm
WHERE: Canon Creative Studio, 529 Main St.
OVERVIEW: Canon Events – Sundance 2019  
Canon Creative Studio
A hub for filmmakers, the Canon Creative Studio is a place for hands-on experimentation with Canon equipment and thought-provoking panel conversations curated by the editors of American Cinematographer. Festival filmmakers and invited guests are welcomed to come see the latest Canon gear while enjoying a cup of coffee or a snack on us. Once again, Canon is excited to offer complimentary filmmaker headshots by photographer Michael Ori.
WHEN: January 25-28, 11am-7pm
WHERE: 592 Main Street
Learn more and request access to attend the Canon Creative Studio by visiting canonatsundance19.splashthat.com.
Canon Creative Studio Magic Hours
The Canon Creative Studio will feature three nights of Magic Hours, co-hosted by the AFI Conservatory (January 25th), Francis Ford Coppola Winery (January 26th), and Adorama (January 28th). Each evening event presents opportunities to network with companies and organizations that share Canon's mission to support filmmaking.  
WHEN: January 25 and 28, 5-7pm
WHERE: 592 Main Street
Raise Your Glass with Canon
Raise Your Glass is Canon's annual toast to the cinematographers of the 2019 Sundance Film Festival. The evening is co-hosted by American Cinematographer.  
WHEN: January 27, 6-9pm
WHERE: 592 Main Street
DAILY SCHEDULE: Canon Events – Sundance 2019  
FRIDAY, JANUARY 25
12:00 PM
PANEL | Breaking the Frame
Presented by AFI Conservatory
Join the AFI Conservatory for an engaging discussion with women filmmakers, how they got there, and what can be done to add to their ranks.  Panel features AFI alumnae filmmakers and is moderated by Lauren Ludwig, Director, AFI Directing Workshop for Women.
3:00 PM
PANEL | Shining a Light on Lenses
With so many lenses available, the creative options are endless. So how do you find the right glass to craft your look? Top cinematographers Graham Willoughby (Toni Morrison: The Pieces I Am), Robert Muratore (MEMORY – The Origins of Alien), and Edd Lukas (David Crosby: Croz Was Here) share insight into their selection process.
5:00 PM
Magic Hour co-hosted by AFI Conservatory
Kick off the Festival right at this fun evening celebrating AFI Conservatory alumni.
SATURDAY, JANUARY 26
12:00 PM
PANEL | DP First: Women Who Shoot
What does it mean to be a woman in production? Top cinematographers weigh in on their personal journey and the mission for representation in the film industry. Featuring Natasha Braier, ASC (Honey Boy), Kristy Tully (Raise Hell: The Life & Times of Molly Ivins), Naiti Gamez (Hail Satan?), and Eve Cohen(Ashe '68).
3:00 PM
PANEL | Spotlight on Tigerland
Join Academy Award winners Ross Kauffman and Fisher Stevens, cinematographer Matt Porwoll, and producer Xan Parker as they take us behind the scenes of Tigerland, shot on the EOS C300 Mark II. Learn how the team captured the stunning story of the guardians of the last Siberian tigers, who risk everything to save the species.
5:00 PM
Magic Hour co-hosted by Francis Ford Coppola Winery
Come celebrate with us and special guest host Robert Schwartzman (filmmaker and founder of Utopia Media) as we salute the filmmakers of the Festival.
SUNDAY, JANUARY 27
12:00 PM
PANEL | Spotlight on This is Personal
Acclaimed documentary duo director Amy Berg and DP Thorsten Thielow discuss the intricacies of non-fiction filmmaking through the lens of their newest film This is Personal (formerly Til Everybody's Free), shot on the EOS C300 Mark II and Cinema EOS lenses.
3:00 PM
PANEL | From Production to Post:  Collaborating on Documentary Now!
In partnership with Adobe
In the spirit of collaboration, Canon and Adobe bring director/DP Alex Buono and editors Micah Gardner and Jordan Kim to the stage to discuss their workflow on Documentary Now! Get the inside scoop on the tools they use to bring the series to life, including Canon XF305 and XF405 camcorders and Adobe Premiere Pro.
6:00 PM
Raise Your Glass with Canon
By invitation only
Raise Your Glass is Canon's annual toast to the cinematographers of the 2019 Sundance Film Festival.  The evening is co-hosted by American Cinematographer.  All guests will have the opportunity to enter a raffle to win a Canon EOS R mirrorless full frame camera paired with an Atomos Ninja V, courtesy of American Cinematographer.
MONDAY, JANUARY 28
12:00 PM
PANEL | Spotlight on Paddleton
Director Alex Lehmann and cinematographer Nathan Miller discuss the unique joys and challenges of indie filmmaking as they break down the making of Paddleton, a Duplass Brothers Productions film shot on the EOS C700 and streaming soon on Netflix.
5:00 PM
Magic Hour co-hosted by Adorama
Join Canon and Adorama as we call "martini" on the Canon Creative Studio at the 2019 Sundance Film Festival.