The demigoddess from Themyscira, who broke box office records (and the gender ceiling for superhero movies) soars back onto movie screens – and into the 1980's.
by Valentina Valentini / Photos by Clay Enos / Courtesy of Warner Bros.
---
Wonder Woman, the first superhero franchise with a female protagonist to open in theaters, exceeded all expectations for its distributor, Warner Bros., when it opened in 2017. The period story, set during World War I, was so successful, the question of a sequel was not if but when. That day has (almost) arrived with Wonder Woman 1984, originally slated to open in March but rescheduled several times due to COVID-19 and now on track for a late December release. WW84, the ninth installment in the DC Extended Universe, is also a period story but set in a time and place with which its director of photography, Matthew Jensen, ASC (who returns with Patty Jenkins again directing), is very familiar. "I grew up near Alexandria, Virginia," Jensen reflects. "In 1984, I was 12 years old, so, unlike the first movie, this is a world for which I have direct visual references."
In Wonder Woman 1984, Princess Diana (Gal Gadot), who hails from the island nation of Themyscira, populated by Amazon women, is ensconced in Washington D.C. as her alter ego, Diana Prince, where she faces off with two new foes – Cheetah (Kristin Wiig) and Max Lord (Pedro Pascal) – threatening the safety of the world. As in the first film, we are shown glimpses of Diana's childhood in Themyscira, with the added story point of her reuniting with Steve Trevor (Chris Pine), her American-pilot boyfriend believed to be killed in the first film. For WW84, Jensen's fourth superhero-focused film (including Chronicle and Fantastic Four), the DP took a low-key visual approach, which seems to be counterintuitive to a project of such massive size and scope.
"It was the opposite problem with the first Wonder Woman," Jensen states. "For that film we were dealing with a desaturated world, in terms of the sets and wardrobe, and had to re-introduce color. Here, my basic philosophy was to light the actors in a clean, neutral, and glamorous way while keeping those bold colors in the background; we wanted the actors to stand out from that environment, without overloading the visuals with an assault of neon-type lighting and color palette."
Jensen's chief lighting technicians, led by Chris Prampin for the U.S. portion and David Sinfield for the international shoot, stuck to primary colors in the background, coming up with clever ways to introduce red, green, and blue lighting with fixtures. Close coordination with the art department and wardrobe was required because both had swathes of bold color within their palettes. Adds Jensen: "I just felt like the less I did, the more that their work would show up and would add to the overall look."
Patty Jenkins who, with Wonder Woman, became the first woman to direct a studio-led superhero movie, had met Jensen on a dark comedy she was preparing to shoot in 2016. Jensen's work on Filth (2013), shot on Kodak 35 mm, impressed her. His superhero movie experience was also a plus. "Matt would have shot that dark comedy," Jenkins recounts. "But I ended up [shifting gears to] Wonder Woman, which had much bigger challenges. I knew I needed someone like Matt who had done these epic-type films. I also knew his work was incredible – on Chronicle, in particular, I thought the VFX and cinematography were beautifully blended."
"Patty keeps me on my toes," Jensen smiles. "She made it impossible to get complacent with the look or to ride the coattails of the first film. And we learned a lot from that first movie about what works well for this particular franchise. I certainly was very familiar with the actors and how to shoot them, but everything else was new."
The most dramatic change, capture-wise, for WW84, which, like Wonder Woman, was shot on film, was the addition of the IMAX format, which bookended two larger-than-life sequences. The decision to shoot IMAX was partly due to one of the film's producers, Oscar-nominee Chuck Roven, who had used the format on The Dark Knight movies. "As tricky as IMAX is," Jensen notes, "the results are stunning. You get all the clarity and sharpness associated with digital, yet you have that color fidelity that only film has; you have the benefit of film lenses and that great cinematic depth-of-field fall-off. It's mind-blowing."
First AC Ray Milazzo, who assisted on 90 percent of the IMAX capture for Chris Nolan's action film Tenet (also from Warner Bros.) and had worked with Jensen on Fantastic Four and I Am the Night, agrees. "I don't think in our lifetime we'll see a 15-perf digital sensor, so IMAX is your main option if you want to go with a larger format."
Milazzo says there are challenges, but not because of the format itself.
"It's expensive, it has to be custom ordered, it can't be returned, and Kodak needs at least a four-week lead to create the stock, which, of course, only gives three minutes of filming time for every 1,000 feet of 15-perf," he relates.
"Logistically it's big and cumbersome," adds Milazzo, who shot all of the 35-mm portions of  WW84 and the D.C. portion of the IMAX sequences, and worked in tandem with U.K. 1st AC Sam Barnes for a smooth transition. "Of course, you can also put [IMAX] into aerials, on a gyro, even on your shoulder if you want; you can do almost anything with it now. I just think people are apprehensive about it at the beginning."
Jensen and Jenkins wanted to shoot the entire project on 65-mm 5-perf for added clarity and resolution; but when that proved to have financial and logistical barriers, they decided to pick specific sequences to shoot in large format. Once IMAX was confirmed for the opening and closing sequences, 65-mm 5-perf was used to augment the dialogue portion of those IMAX sequences. And the two formats blended easily in the DI.
The bulk of WW84 was shot on Kodak Vision3 50D 5203, 250D 5207, and 500T 5219, creating a distinct jump in resolution between the IMAX 1.90:1 aspect ratio and the 2.39:1 of anamorphic 35 mm, and necessitating a 4K finish to ease those transitions. ALEXA 65 was used for an underwater section in the opening IMAX sequence, and ALEX XT for a scene at the Lincoln Memorial at night, as well as inside the L'Enfant Plaza metro station. In both locations, strict restrictions prevented Jensen from lighting to the degree he needed for film, so a 1280 ISO was necessary, easily handled by the ALEXA XT's sensor.
International filming, which included the Canary Islands and Almería, Spain, was handled by the mainly U.K.-based crew. While the Washington D.C. unit featured a Local 600 team, A-Camera Operator Simon Jayes, SOC, accompanied Jensen overseas. Production meetings began right after Wonder Woman was released, along with the first IMAX tests; shooting wrapped in December 2018 with some additional photography over summer 2019 and coloring in November.
"We went through a rigorous testing process to outline our workflow, as it's complex when you're mixing these formats," Jensen explains. "We looked at The Dark Knight and Batman v Superman: Dawn of Justice, Dunkirk and other Warner Bros. movies that had used IMAX, and how they presented in the theater. That 1.90 on an IMAX screen feels like your peripheral vision is suddenly filled with image and then shrinks back down, so we worked to make that jump less perceptible."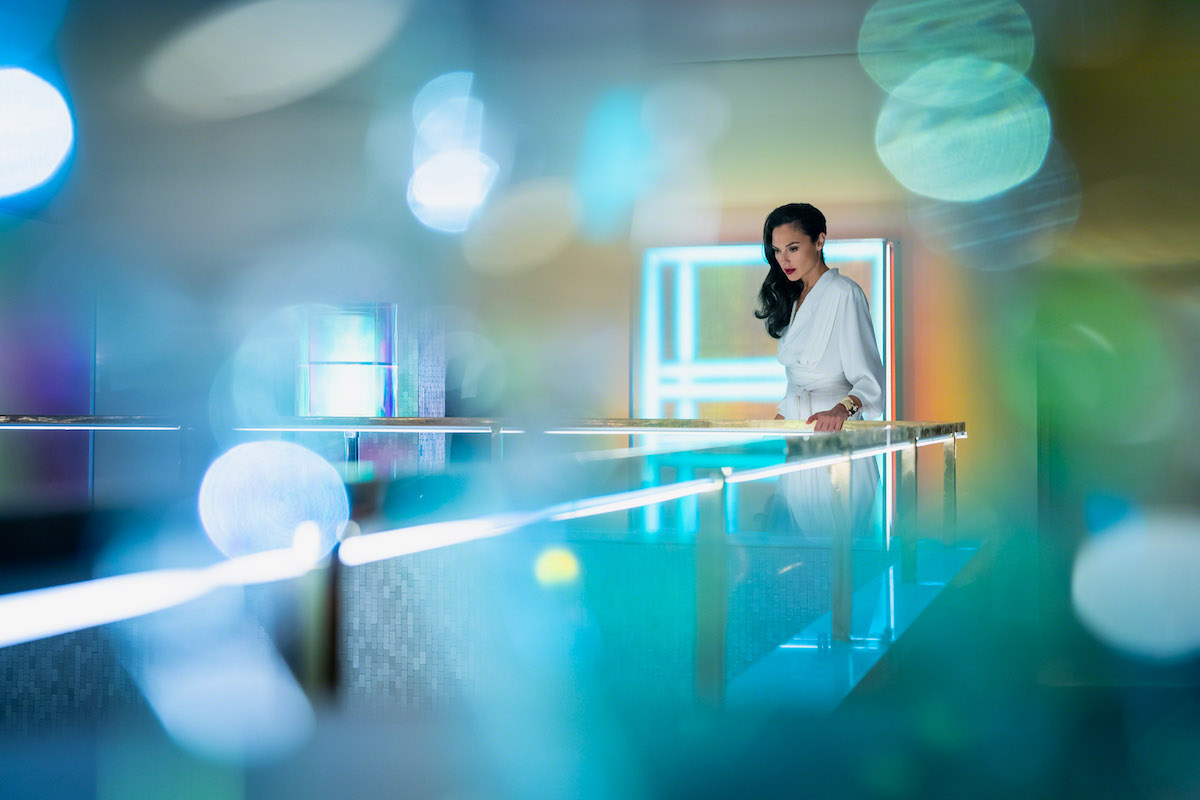 Ultimately, the mix of formats led to an all-4K release, which added another layer of configuring to the pipeline. Warner Bros. Postproduction Supervisor Tim Grover, whose credits include the Fantastic Beasts films, Paddington 2 and Edge of Tomorrow, came on early in prep to help with budgeting, scheduling, and lab-coordinating. "Thirty-five millimeter is straightforward," Grover describes. "It's just a matter of shooting on it, scanning once in 4K at Company 3, using those as our master files for rushes and the digital intermediate. The 65 millimeter and IMAX film were more complicated."
With various ways to accomplish the blended formats, WW84 ultimately sent its film negative to FotoKem LA for processing, then scanned that footage at 2K as a temporary resolution on a pin-registered scanner, all of which meant a delay in seeing dailies. In some instances, the process took several weeks, and the more material shot in 65 mm, the further behind the team got. "The good thing," adds Grover, "is that we had video assist that allowed the editors to cut with the video taps. They pretty much knew what they had, but official rushes clearance was not available until the negative had been processed and scanned, and no prints were made."
Once dailies finally came, the editorial team would overlay with the video taps to cut and screen at a higher quality. Then the negative was rescanned at 8K to be used for visual effects plates. With that locked cut, non-VFX 65 mm was also scanned at 8K for the DI. De-spotting, an extremely time-consuming but necessary step to get the film cleaned to a high enough standard for the 2D 4K DCP's, 3D DCP's, IMAX, and Dolby Vision 2D/3D DCP's, plus home-entertainment releases, was also employed.
"Patty loves the look of film," notes Grover. "Especially its sense of movement. The pans in digital particularly bother her. But, of course, these days, it's time-consuming to do it all on film, with labs who've pared-down over recent years. Thank goodness we still have skilled staff who can do it. Because it was definitely worth the effort."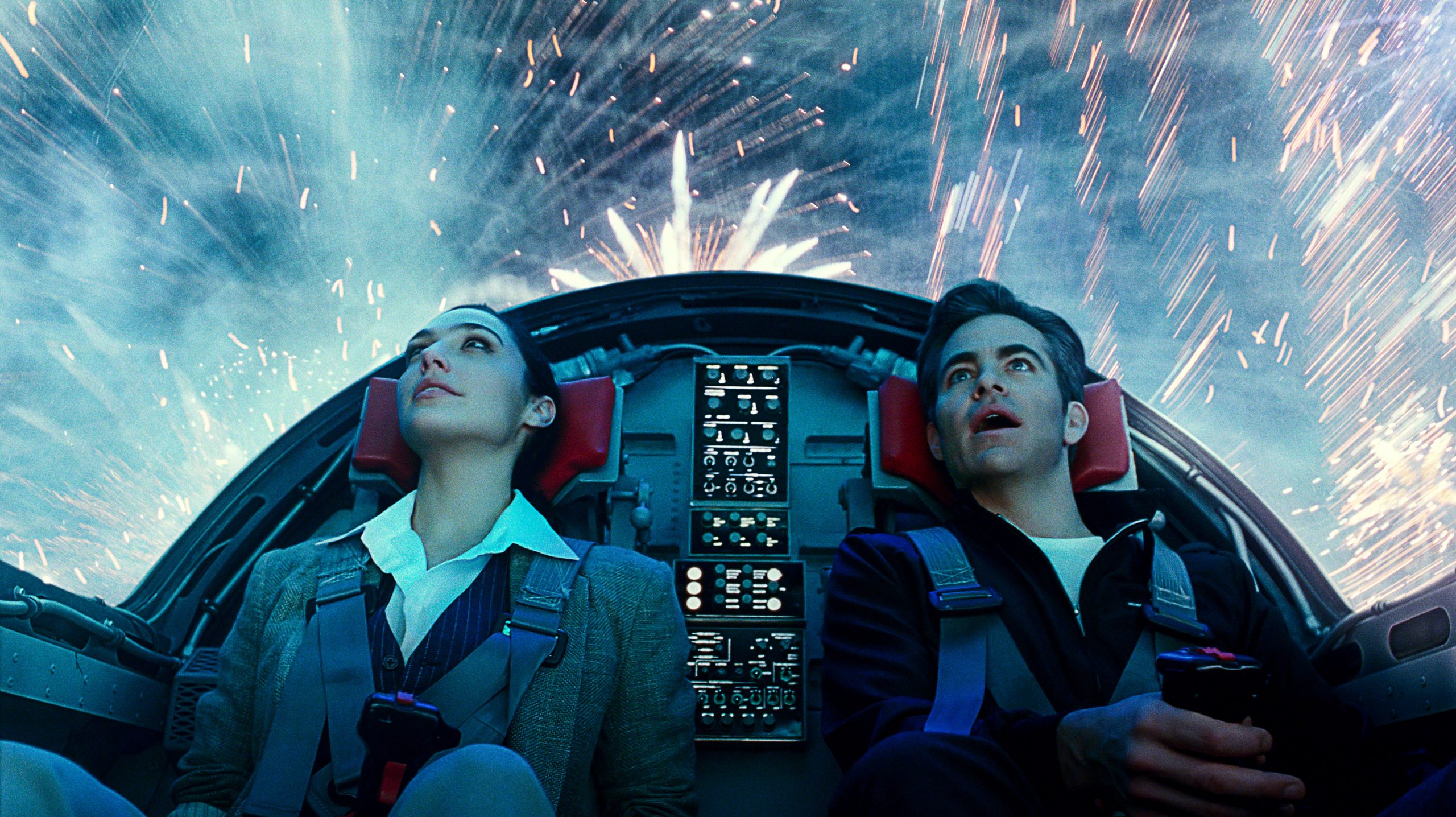 Jensen describes Jenkins as a "method director," meaning if the story calls for a battle scene on Pennsylvania Avenue or Amazons honing their skills on Themyscira, Jenkins wants to shoot those moments in Washington D.C. and on a tropical island, while keeping the CGI portions as seamless as possible. In that respect, VFX supervisor John Moffatt and his team of hundreds were on the same page.
"VFX is always trying to communicate clearly across every single department so that we don't end up in a conversation at the end where the director [isn't happy]," describes Moffatt, whose credits include five of the Harry Potter films, United 93 and Atonement. "I think there are many interpretations when someone tells me they want as little VFX as possible. My job is to understand what that means to them and why they're saying that. In this instance, it meant that if we could shoot it practically, we would."
In fact, Jenkins began planning shots many months out to ensure as much of the film could be done in-camera as possible – a holdover, perhaps, from her days as a Local 600 camera assistant. One such example was a location Moffatt scouted in Spain's Masca Valley (chosen by Jenkins as a location for the opening shot of Themyscira), where maps of the area helped to build a previsualization of the scene, which in turn allowed Moffatt to help plot the helicopter's course for VFX plates. Working with Aerial Director of Photography Jeremy Braben, Moffatt rigged an IMAX film camera to the Shotover helicopter mount for specific backplates, to which he later added matte-painted elements and full CG environments. IMAX tiles of various valleys were also captured to help create distant views seen from within the stadium scene looking out to the island.
"If what was shot practically needed changing or augmenting," Moffatt continues, "then we'd always have it to use as a benchmark and the look-book as reference. What we try bringing to the table in VFX is knowing what the reference is for every single scene. If we're not on the same page, literally, then we're going to reach a point somewhere in the DI when I'm presenting a shot as a final in the visual effects review, and the director is going say, 'That's not what I wanted because it doesn't look like what we shot.'"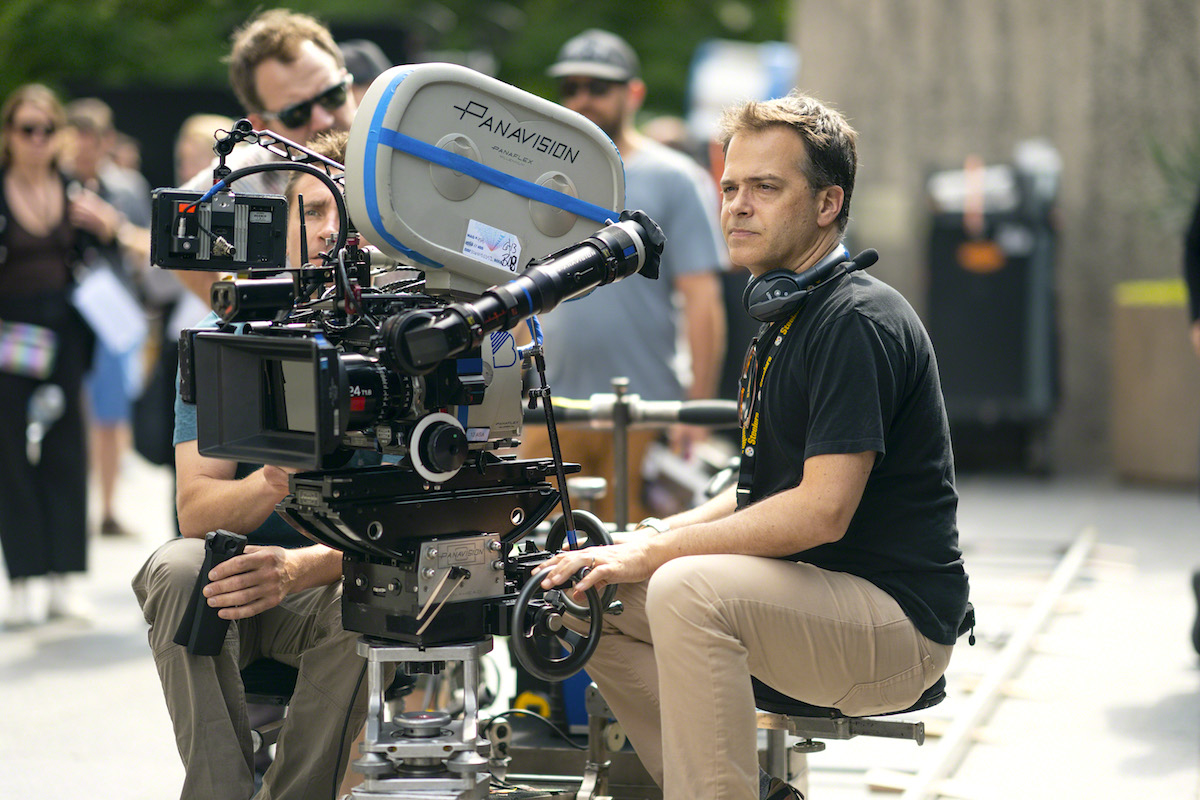 As for Jensen's aim to ground the movie in simplicity, it was particularly apparent with camera movement. Jensen says he wanted it to be reminiscent of movies from that period – Steven Spielberg movies in particular. References included Close Encounters of the Third Kind, and Indiana Jones: Raiders of the Lost Ark. Both he and Jenkins sought that epic Spielbergian style, which often excelled at making technique invisible.
"Those movies did that so well," Jensen insists. "The modern approach is much more self-reflective, where the camera's aware of itself. Spielberg routinely did longer shots – Raiders of the Lost Ark is made up of quite a few long takes, but you don't realize it."
Jensen wasn't necessarily capturing very long takes, mostly 60 to 90 seconds, which operator Jayes says isn't common for action movies. "The goal was to let the action unfold in-camera rather than through cuts," reflects Jayes, who has worked with Jensen and Jenkins on I Am the Night, and with Jensen on a few seasons of True Blood.
One prime example is the opening mall sequence, shot in Alexandria, VA in a recently closed mall that featured 60 stores. When Diana bursts into the mall to confront a group of baddies, we see a series of classic Spielberg-like camera moves – long tracking shots with handoffs in which the camera flows from a character's face down to what they're holding and back up to their face and then pans across the room to see a bad guy in the background.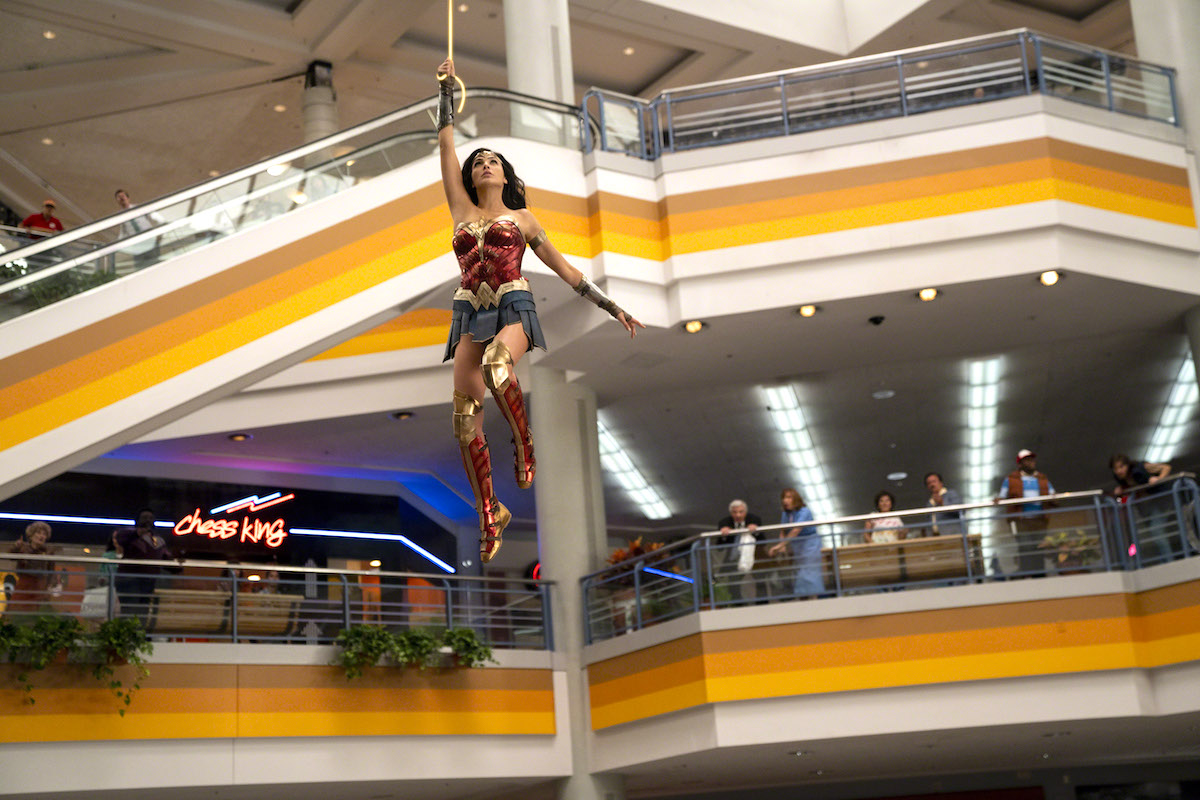 "We were working on multiple planes of action," Jensen describes. "Something else we noticed about those 1980s action movies was that many seemed to want to place the viewer into the action like you're witnessing this spectacular action from a normal person's point of view. So, we'd have a shot of Wonder Woman from the point of view of one of the mall bystanders."
Adds Jayes: "It was a choice not to be aware of camera movements, and to place [the camera] where the action was unfolding. Rather than unmotivated camera moves, which call attention to the filmmaking, there were more handoffs between story points as the camera followed the action."
Throughout the film, Jayes and his team used dozens of different tools to support the wide array of camera systems they were employing. In the mall, specifically, they got a lot of use from the Libra remote head for wire work, as Diana lassos herself from one floor to another. For other tracking shots, they utilized Super-Technocranes and electric Patriot Camera Cars, as well as dollies. For the rest of the shoot in Europe, they relied heavily on a Maximus 7 remote head for A camera.
"I'm not sure I've ever been on a project that has used such a wide range of equipment and specialized rigs," Jayes concludes. "I'm forever grateful to the teams who made that all possible, especially [U.S. Key Grip] Walter 'Bud' Scott and [U.K. Key Grip] Kevin Fraser."
Jenkins herself can't overstate the importance of collaborative teamwork in helping to bring Wonder Woman back to the big screen. "I [want] everybody talking constantly. I used to be very one-on-one with my creative meetings and a bit private about the process," she concludes. "But making these big movies, I've realized that having creative meetings in front of everybody becomes so important because somebody down the line might have to carry something through, and if they're hearing you and the DP talk about it, they can better understand the intention of things; and that's a real benefit."