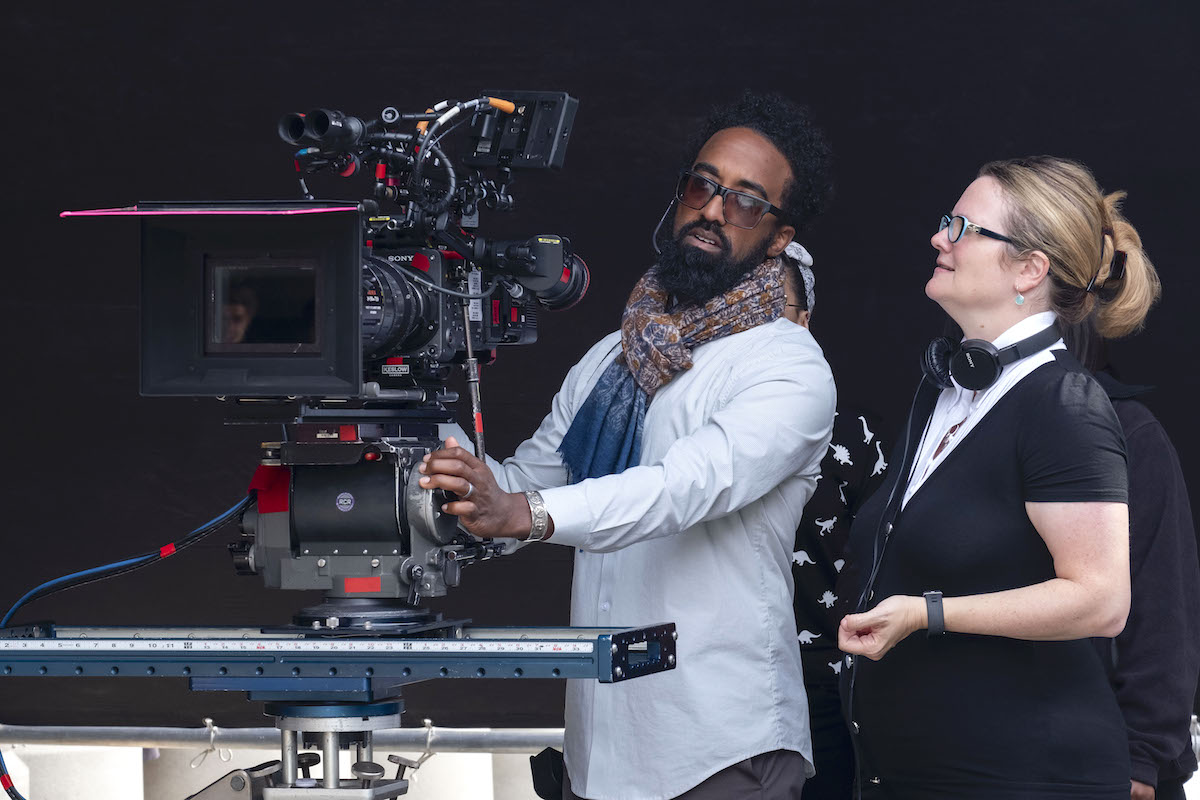 Inclusivity Behind The Lens Is A Powerful # These Days – Here are two voices from the Netflix series, On My Block, to help deepen the conversation
by Margot Carmichael Lester / Photos by Nicola Goode, SMPSP
I don't remember when I started hearing a lot about representation and inclusion in casual conversations about the industry – maybe it was when I was covering The Help? The topic certainly picked up steam after #oscarsowhite hit social media in 2016. Productions like Black Panther, Roma, Crazy Rich Asians, black•ish and One Day at a Time brought the chatter to a fever pitch.
But, let's be honest, most of that talk has translated into only fits and starts of real change. There's still too little screen time devoted to telling authentically diverse stories, and still too few people of color and women (and women of color!) involved in making them.
While reporting on On My Block for the February/March print edition of ICG Magazine, the show's cinematographer, Tommy Maddox-Upshaw, and co-creator/showrunner Lauren Iungerich, spoke so eloquently on the subject that we decided to take a deeper dive. The following Q&A is an edited transcript of our discussion of the importance of representation in front of and behind the camera, and how this pair of creatives works to ensure it.
ICG: Lauren, you had a great idea for a multicultural show but knew that you, as a white woman, couldn't create it alone. Why do you think few people have figured that out? Lauren Iungerich: I definitely am seeing a trend of artists caring to properly represent, but there are still people that don't get that authenticity and proper representation is not only important to the work but also important to the audience. While I believe all artists can tell stories outside their own experience – it's important for the audience that is reflected in those stories to know that their narratives aren't being whitewashed or exploited by people who have never lived that experience. It would be like a group of men creating a show about childbirth. How could they ever really do it justice without the involvement of women who actually give birth? That's why I knew I had to bring on collaborators who truly understood this world.
ICG: And those people were? LI: I asked my friend, Jeremy Haft, and his writing partner Eddie Gonzalez, who is Mexican-American and grew up in Lynwood and Compton, to create this show with me. I knew if I collaborated with them, I'd ensure the authenticity of the world and thus the show would truly represent the characters and their stories in the right way. That said, I also believe even when the narrative is about white people, we still need to be inclusive in every facet of the process. People who have different life experiences than mine and by sharing them have made my life richer. Anyway, I don't understand why everyone hasn't figured it out yet but I think lack of representation behind the camera will continue until the studios and networks insist on it.
Tommy Maddox-Upshaw: The important thing about cultural and ethnic representation on and off the screen is it helps everyone have a voice in this expression of cinematic art. I know I see a difference when my crew and I show up on set on a show that is predominantly a [people of color] cast. There's banter between cast and crew, and an excitement to push just a little bit more because we are closer to an accurate depiction of this country and our experiences through our own visual perception, and not just in the words. It also helps actors know they aren't performing a show through a white gaze. We have all seen that on the big and small screen, and it doesn't work. Yet we can't quite put our finger on why it feels inauthentic. There's a reason why Black Panther is such a massive success worldwide. With both [Production Designer] Hannah Beachler and [Costume Designer] Ruth Carter winning Oscars for their craft, it's clear these black women brought a cultural edge to the movie that goes far beyond the words and performances. I have a daughter who may need a professional opportunity some day – it would be great to have her see greater diversity in this business.
ICG: How can we get more multi-racial and multi-cultural crews on productions? TM: It's only recently that young filmmakers have begun seeing men and women of color in a camera department and this is happening because of programs like the West L.A. college program Hollywood CPR, which helps younger filmmakers of color get union days. A good number of us from the community can't necessarily afford film school and these types of programs help open internship doors. Camera houses like Keslow Camera have great in-house training programs that develop diverse young cameramen and women as interns. They teach and prepare them on how to move on after their time there. Dennis McDonald and Robert Keslow run that program. I was a camera intern at Boston Camera in Boston, Mass., and was the only black person or person of color there because Brian Heller the owner took a chance on me. There are allies out there, but we as POC need more like Dennis, Robert and Brian.
What's the biggest barrier for women? LI: I think the biggest barrier is being seen as an equal. The business – and even some women themselves, including me on occasion – sees women as "Female Showrunners" or "Female Filmmakers" and not just "Showrunners" or "Filmmakers." While there is power in identifying our assets as women – sometimes when we are being qualified it can be construed as "less than." We have to fight that stigma and stop letting our gender be part of defining us. To really make a change we need to give opportunity to women and people of color. And to do that we have to be okay teaching and giving people more than one chance to succeed. We need more people willing to pull people up the ladder with them and not just pull the ladder up once they get to the top.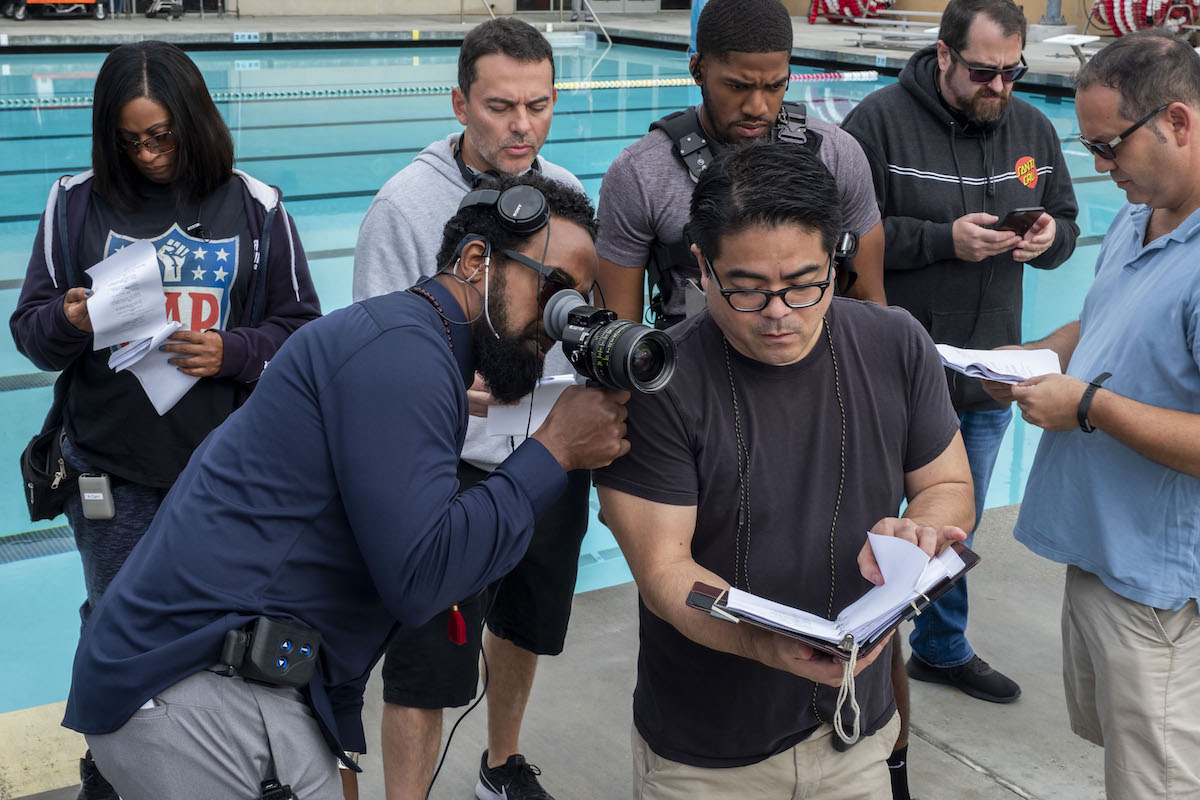 ICG: On a show like On My Block, which stars blacks and Latinos, is getting the skin tones right critical to the look? TM: It is, and with brown skin I am always trying to look for maximum reflection in the skin itself. Some dark-skinned people naturally have a lot of moisture in their skin and I embrace that. I ask, "Please do not make she or he matte, because matte brown skin is awful and makes it harder to light the beautiful brown skin texture." If the dark complexion has moisture, then you actually do not need that much directional soft light and it's easier to light along with black/negative to shape it out or cut them out. Big. Soft. Directional. Moisture. Big doesn't mean bright. Using hard light is a case-by-case situation due to bone structure. Placing hard light to hit dark skin tones needs to be done with a sharp beam in a perpendicular fashion – never straight on.
ICG: So it's not necessarily subjective? TM: Well, when I see brown skin front-lit I think that's a clear sign of not understanding how to embrace the beauty of brown skin tones at all. Take a look at how I mix color not only in chroma, but also in placement and exposure. I play it differently at times depending on the story from beginning to end in tonality. No one is ever front-lit on this show. I think it's disrespectful; its like saying you're too dark and the camera can't see you. I think in this age of new cameras that have so much range in mids for skin tone, [the light] can be anywhere! So let's do what looks best for story and take the time to learn what Ernest Dickerson [ASC; Do the Right Thing, Malcolm X] and Malik Sayeed [Lemonade, He Got Game] have been doing for years on celluloid – lighting black and brown skin tones with low-level lighting that is gorgeous.
What can we do to encourage others to put more emphasis on representation? TM: I know a lot of DPs who do what they think is familiar when they reach a certain level. They ask: "Who is everyone else hiring?" Some folks just want to do what they've seen and emulate what they've seen their heroes doing. Yet, we are feeding the wheel of exclusion if we don't take a chance to hire the new faces we meet at the ASC open house, Cine Gear or via a mutual friend. Take 30 seconds to look at someone's work and drop an email for a reference – it truly doesn't take that long to vet anyone.
ICG: Lauren, what are your thoughts on this? LI: We have to understand our opportunity and responsibility. We, as filmmakers, have incredible influence with our storytelling. We can reach audiences and people who do not know people of color or know people who are LGBTQ and gender-neutral. Through our work and the characters we bring to life, the unknown becomes known. And people start to feel connected. They start to see themselves in people who aren't totally them. And with that, we change how we all relate to each other. We connect people vicariously, so it's important to get that work right; to ensure it's being told as authentically as possible, which means surrounding yourself with people – in front of and behind the camera – like the people in your narrative. Representation makes our lives richer and the art better.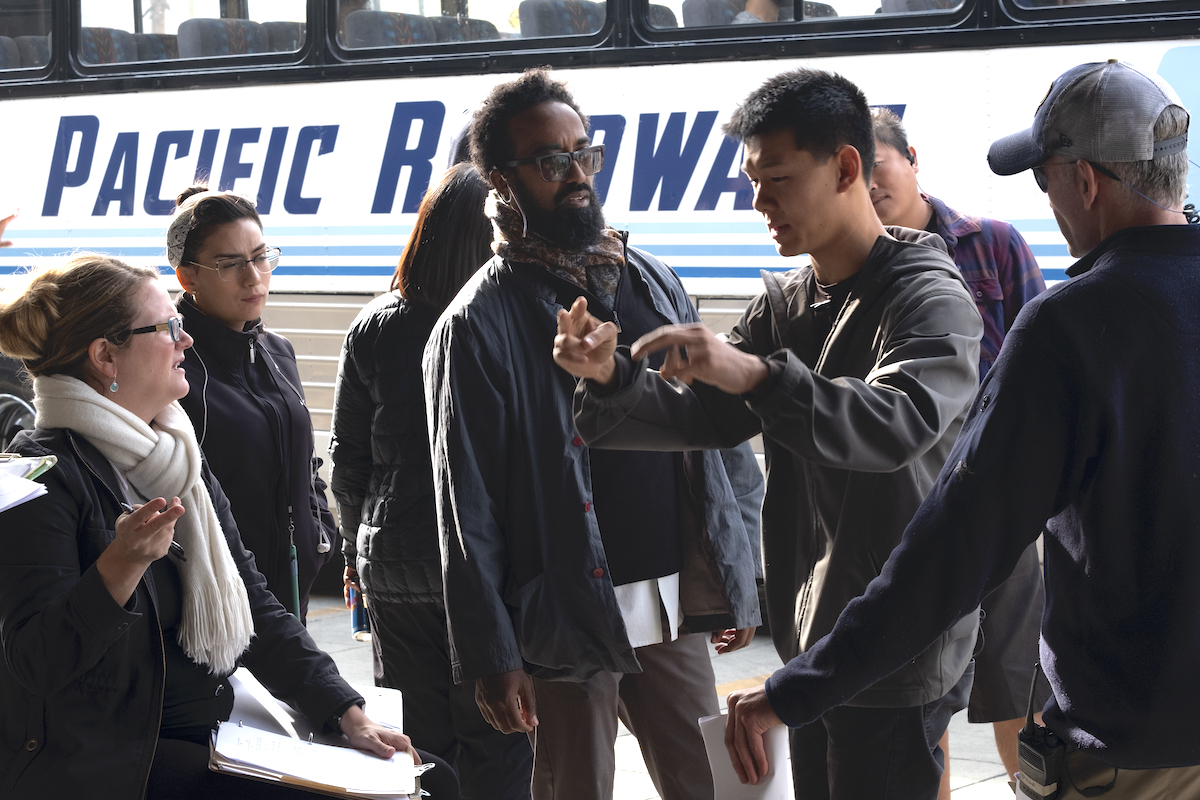 On My Block
Local 600 Crew
Director of Photography: Tommy Maddox-Upshaw
A-Camera Operator: Pauline Edwards
A-Camera 1st AC: Prentice Sinclair Smith
A-Camera 2ns AC: Jose De Los Angeles
B-Camera Operator: Xavier Thompson
B-Camera 1st AC: Alexander Lim
B-Camera 2nd AC: Gina Victoria
Digital Utilities: Tyson Birmann, Fernando Zacarias
Still Photographer: Nicola Goode, SMPSP