Oscar-winner Linus Sandgren, ASC, FSF, tries to outrun the apocalypse in Adam McKay's latest satirical epic, Don't Look Up 
by Pauline Rogers / Photos by Niko Tavernise / Netflix
---
"It's almost like an old Marx Brothers movie or The Three Stooges, where there are mice loose at the opera premiere, but they've got to cover it up," says Writer/Director Adam McKay about his latest absurdist movie, Don't Look Up. The Netflix-produced comedy follows a pair of low-level scientists, Randell Mindy (Leonardo DiCaprio) and Dr. Kate Dibiasky (Jennifer Lawrence), who have discovered a giant comet that they calculate will collide with Earth in six months and destroy life as we know it. The problem is that no one will believe them. So, they embark on a worldwide press tour to bring attention to the impending disaster, with both hilarious and tragic results.
According to McKay, he's been "obsessed" with climate change for the past few years, and "like it or not," it may be the biggest story on planet Earth. But how do you make a movie that people will see and also learn from? Would it be like an M. Night Shyamalan film with a twist? A Poseidon Adventure? When friend David Sirota (who shares story credit) sent McKay a tweet that said, "the comet is coming, and no one gives a s…." the director says he had his story. "Would a broken society understand the magnitude of the impending crisis? It was a simple way to draw humanity in by making it funny," he relates.
Helping McKay to have his audience digest the juxtaposition of "the terror of the reality" with "the absurd comedy" of misinformation, is a stellar cast of actors who share the filmmaker's genuine fear of the climate crisis and disdain for humanity's addiction to misinformation. There's Meryl Streep (the President), Jonah Hill (her son and chief of staff), Rob Morgan, Cate Blanchett and Tyler Perry (as vacuous talk show hosts), Timothée Chalamet, Chris Evans, Mark Rylance (a greedy tech billionaire), Melanie Lynsky, Himesh Patel, and an incredible musical duo with Ariana Grande and Kid Cudi.
With a powerhouse cast set, McKay was ready to roll before a real-life global crisis called COVID ground life to a halt. With the possibility that his film's underlying premise was actually happening, McKay put the script away. When he picked it up again, months later, his thoughts had shifted. Although climate change is still the lurking human disaster, the story became more about how "our lines of communication have been shattered and manipulated for profit." McKay made his characters more overtly absurd. President Orlean (Streep) became a "stew" of recent presidents this country has elected. The savvy leader is a mixture of Donald Trump's narcissism and self-serving shortsightedness, Bill Clinton's double-talk, George W. Bush's lack of qualifications, a bit of Obama's celebrity, and a lot of Ronald Reagan's empty suit.
McKay says in talking with Streep the character became a kind of Suze Orman – not dumb, but a shade hack who's practiced at human manipulation. He also gave billionaire Peter Isherwell (Mark Rylance) another layer, becoming a metaphor for Big Tech – a mask of benevolence covering avaricious ruthlessness. In interviews, McKay talks about what these kinds of characters bring to our world today. Their sound bites, half-truths, and blatant lies are everywhere – Twitter-fed through social media. And if this aspect of daily existence, circa 2021, can reach even "eight percent" of his audience – and entertain them at the same time – his absurdist "play" might be worth it, he's said.
To visualize this delicate balance, McKay turned to Oscar-winner Linus Sandgren, ASC, FSF (No Time to Die, First Man, La La Land), who says his creative juices began firing on all cylinders. "The script was spot on," Sandgren recounts, the note of excitement still in his voice. "It is a suspenseful story of a ticking bomb that gets closer and closer, but a lot of humor surrounds its impact. Adam found a way to show how people all over the world lack interest in listening to the 'science' preferring to focus on revenue and popularity."
McKay wanted the film's "ticking bomb" to look and feel different from the unreality of social media. "We agreed that 35mm would be the 'base' truth, how the world 'really' is," Sandgren continues. "Then we'd create disparate looks to capture the feeling of varied media that we encounter every day." The team opted for a PL mount that would allow them to change anamorphic to spherical on the same 35mm camera, Arricam LT's. Sandgren notes that "we tested anamorphic lenses, and found the new Atlas Orion anamorphic lenses [made in Burbank] performed extremely well. They are sharp to the edges of the frame, even on the wider lenses. They've got beautiful flares and bokeh, and a really good close focus for anamorphic lenses." He adds that the Atlas lenses were supplemented with Fujinon 25mm to 300mm zooms for long lens/compressed looks.
Sandgren and McKay also decided on some "out-of-the-box" tools in the form of "cell phone cameras, security cameras, flawed real cameras, to try and approximate that fly's eyes view that is the modern world. It was fun as hell," McKay laughs. "We also discussed toggling between classical framing and occasional handheld to try to capture the disorientation of the era we live in. Linus was masterful at incorporating both styles."
"The idea was to keep the visuals serious but let the observer see what they see as if we were shooting a doomsday thriller like Parallax View or even All the President's Men or Network," Sandgren adds. "In a way, the 'other' visuals are being captured as if we are commenting on how the world reacts to what is going on with our characters." In other words – create a controlled free-for-all.
"For the most disturbingly intimate moments," Sandgren continues, "we used a handheld Aaton Penelope with a 40mm Kowa Cine Prominar Macro lens. This way, I could be just inches away from the actor's eyes. In another example, we used a VistaVision 35mm 8-perf camera with swing shift optics for some establishing shots to mimic a sense of macro photography. We also used cell phone footage captured by people all over the world. TV cameras for reportage footage were rephotographed on monitors. For broadcast, we used 4K TV cameras in the TV studios and lit that environment in an enhanced superficial bright, and colorful manner. Then we had [B-Camera Operator] Davon Slininger steal inserts of all kinds of absurd props or other details worth photographing for Hank to have candy for the cut."
The myriad forms of capture may sound overwhelming but knowing McKay's proven ability to mesh comedy and drama, often within the same shot, everything was chosen for a reason. Scenes included The White House, a Battleship, a rocket launch, and a major concert.
McKay and Sandgren had their take on the iconic White House, where the President meets with the two scientists and eventually realizes promoting this would-be disaster could have political benefits. "The stage had several challenges, low ceilings and pillars, and space," says Chief Lighting Technician Frans Weterrings. "Linus wanted it to feel real and organic. We took some liberties by adding in cove lighting in The West Wing with Astera and Quasar tubes to add ambiance or direction quickly. Outside was an array of ARRI s60s for soft top light and 360s with intensifiers as soft direct light. Mole 24K Fresnels gave us the hard sunlight. To enable us to move fast, we placed smaller LiteGear lite tile softboxes in most rooms that we could lower and articulate to use as key lights. The backing was super close and was lit both front and back by CromaQ color force."
Although the White House was fairly straightforward camera-wise, the scenes still had that unique McKay/Sandgren twist. "We wanted the waiting to feel dreadfully long, so we shot that part static," Sandgren recounts. "When they got to meet President Orlean, again the language was kind of static, to show the non-action from the President. We had some use of the Penelope Macro camera to describe the stress for our protagonists. The second time they were in the Oval Office, the President decided to take action so now there is movement on the cameras; it's intercutting with the footage from the official presentation of the mission and was intended to feel like a suspenseful political thriller."
Taking a page from All the President's Men, the team created a newsroom and a daily talk show. "We had lots of glass cubicles, and we shot through the glass," adds Sandgren. "The idea was that we were looking into a glass room and watching the discussions with daily business going on outside. Here we wanted to compress the shots to enhance the tension in the scenes, so we went wide with anamorphics, but the dialogue was all with spherical telephoto lenses."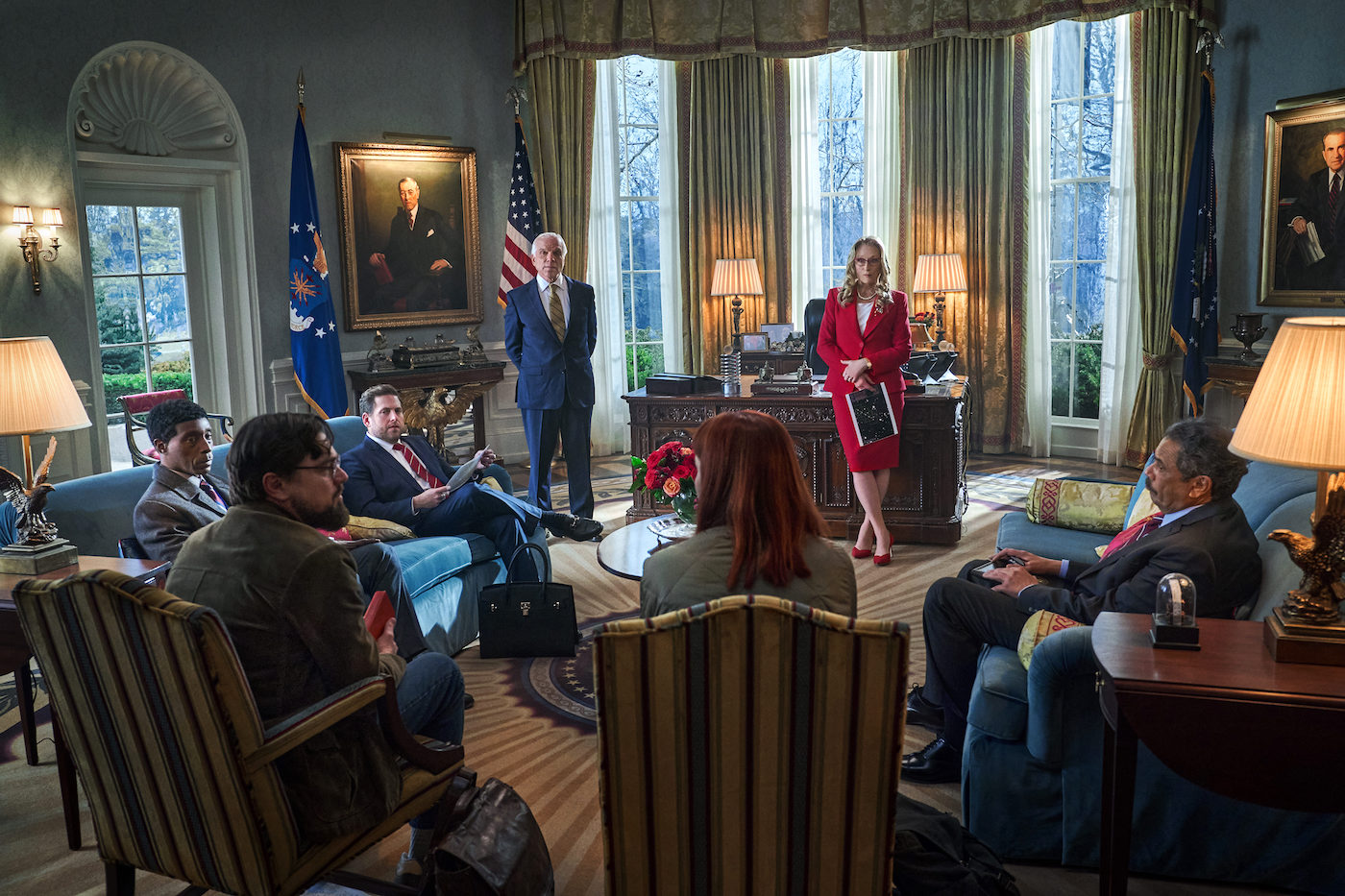 The Daily Rip, hosted by Tyler Perry and Cate Blanchette, was also a fun exercise in visual satire. As with The White House, the setup was traditional; Sandgren and Weterrings worked with Production Designer Clayton Hartley to make sure they had integrated enough light into the stage design. "We had to have enough for shooting film," says Weterrings. "Cush's LEDs were used extensively, and a standard newsroom rig was put in place using ARRI s60s, ETC Source4 Luster2. The location had huge windows that we mostly covered up and left a band along the top to accent reverse shots while also adding ambiance. Then, as the sun fell, several ARRI MAX fixtures replaced the lost ambiance."
Sandgren describes Weterings as a "rock, helping me plan all these different sets and being very creative in how to design the light in the scenes to fit the story. The TV studio wasn't just the TV light, but also the shadows behind the scenes were equally important to consider. The Daily Rip represents the artificial media world, so we intended to make what 'they produce' look superficial. We photographed the show with TV cameras and bright, colorful settings on those cameras. At the same time, we also photographed the 'reality' behind the scenes with 35mm anamorphic film cameras in a more muted tone. It was important to differentiate between reality, which should feel authentic, and media which should feel superficial throughout the film. We also used the Penelope with the macro lens to portray the more stressful moments in the scene for the main characters."
One of their biggest challenges was President Orlean's rally on a battleship. The sequence was shot on location outside the company's Boston base, in cold weather. "We didn't want Meryl Streep outside for long," recalls Weterrings. "We spent a lot of time pre-lighting and relaying photos to Linus to be as ready as possible for that night. Lighting all the battleship structures took a ton of cable and fixtures. Josh Dryfus, our rigging gaffer, tied into the ship's service to facilitate the power for the bow. Tim Boland worked with fixtures photometric to ensure coverage of the ship. We used moving fixtures from Highend Systems, Martin and Robe, to fill in the spots on the ship on shoot night."
Many crew members point to the concert performance with Ariana Grande and Kid Cudi as a standout to create. Shot at Weymouth Hangar in Massachusetts, the sequence begins with Mindy and Dibiasky finishing their announcement, just as Riley (Ariana Grande) begins singing. She's wearing a stunning gown that becomes the visual spectacle of the concert.
The song starts as a romance and builds to a 'we're all going to die' crescendo. "Linus and Adam had a very specific look in mind," remembers Weterrings. "They wanted Ariana Grande to be in an infinite void at the beginning and for the piece to organically ramp up as Kid Cudi enters. It needed to feel warm and inviting, although still looking like a massive concert. Linus wanted video projection on Ariana at the beginning of the piece to accentuate the infinite, as if she was a supernova ready to create. Shooting during a pandemic made it harder to organize all the elements in a timely manner – integrating video, video projection, lighting, stunts, and music was a whirlwind."
The sequence was shot on 35mm anamorphic, on cranes, and with Steadicam. Key Grip Frank Montesanto kept a 45-inch Scorpio with a matrix head through the production, which the team used every day. "Frank was full of creative ideas for how to move the camera," says Sandgren.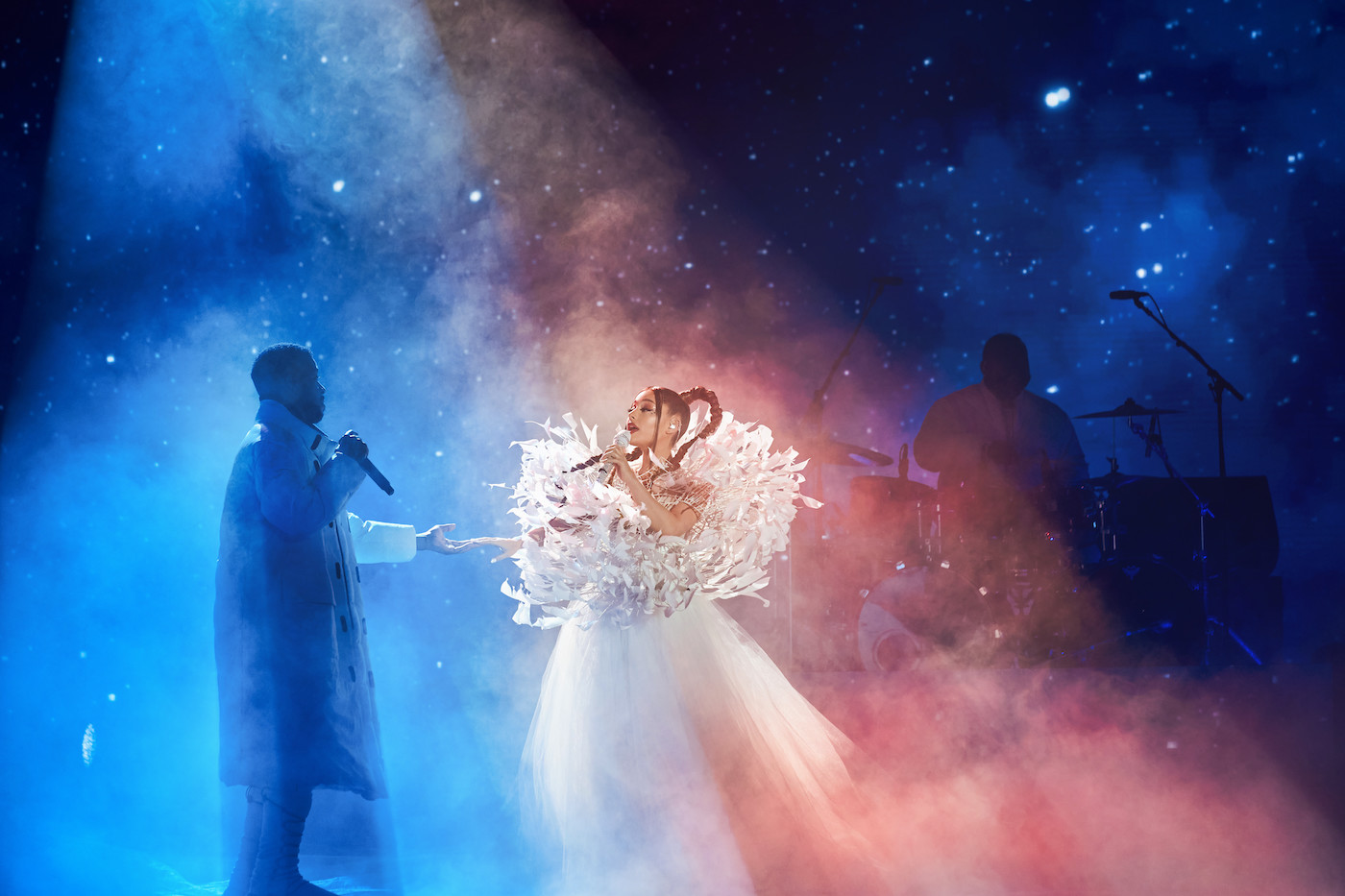 The sequence where Orlean sends off a rocket to "destroy" the comet, was patterned after a classic Cape Canaveral launch, "with RVs and thousands of people barbecuing while 20-plus missiles are launched together with an old space shuttle," Sandgren smiles. "We found a location that resembled Cape Canaveral, and part of it was shot at Cape Canaveral. We definitely needed this to feel epic, so we used helicopter shots in Florida and sweeping crane shots amongst the crowd. It's intercut with the launch room, which also was shot in 35mm anamorphic."
Ask Sandgren to choose his favorite sequence and he points to the "Last Supper." "It was such a human scene, and it gives us a moment to reflect on all insanity we've been through, as well as a chance to pay respect to the protagonists," he shares. "We have all these fantastic characters, and we decided to shoot them at 120 frames-per-second to create these fine portraits, which I think pays off well at this moment of the story. The lighting was partly inspired by the actual painting, Last Supper by DaVinci, as well as a socially realistic mundane dinner scene in a suburb. I think the scene should give hope to the good people in the world."
Sandgren says he loves to employ various formats if the story calls for it. "Since this is a worldwide event," he concludes, "it was great for us to broaden the world geographically by using all kinds of cameras. This is a story that takes place in the real world as well as in the social media and conventional media worlds, and all of it had to be captured accordingly. It was an incredibly challenging film due to it being shot during the second peak of COVID-19. I want to thank my brilliant camera crew – B-Camera Operator Davon Slininger, A-Camera First AC Jorge Sanchez, and B-Camera First AC Trevor Loomis, in particular. They made the impossible look easy and creative."
Local 600 Crew – Don't Look Up
Director of Photography: Linus Sandgren, ASC, FSF
A-Camera 1st AC: Jorge Sanchez
A-Camera 2nd AC: Jason Brignola
B-Camera Operator: Davon Slininger
B-Camera 1st AC: Trevor Loomis
B-Camera 2nd AC: Talia Krohmal
C-Camera Operator: Patrick Ruth
C-Camera 1st AC: John Ellingwood
C-Camera 2nd AC: Tim Sweeney
Loader: Joshua Weilbrenner
D-Camera AC: Dean Egan
Aerial Director of Photography: Dylan Goss
Aerial Camera System Technician: Peter Graf
Spydercam Operator: Lawrence Fagan
DIT: Kyo Moon
Unit Still Photographer: Niko Tavernise
Washington D.C. Unit
Director of Photography: Minka-Farthing-Kohl
1st AC: Evan Walsh
2nd AC: Rachel Fedorkova