Kramer Morgenthau, ASC, fulfills a career highlight with the musical holiday romp, Spirited.
by Pauline Rogers / Photos by Claire Folger / Apple TV +
---
Every year a pack of new winter-holiday movies arrives, many reimagining that time-honored Dickens classic A Christmas Carol. Most offer up new incarnations of Ebenezer Scrooge and Jacob Marley's ghost; some hark back to the original 1938 MGM black-and-white version (a slight 69 minutes!), some to comedy, and some to musicals. What's different about Apple TV+'s Spirited, directed by Sean Anders (Daddy's Home, Horrible Bosses, Instant Family) and co-written by Anders with John Morris, is the blend of full-blown Broadway-style musical numbers with physical comedy (and a few tender moments). The result is a funny, silly, altogether entertaining new version of the miserly misanthrope who's taken on a magical journey, with Ryan Reynolds and Will Ferrell as our guides.
To call this movie a spectacle is putting it mildly. There are eye-popping visuals that dazzle the audience, who, at times, may struggle to affix their attention – there's so much going on! For example, I could spend this entire article just breaking down the opening musical number, "Bring Back Christmas." Add in the parties, the action, and Reynolds' sumptuous Manhattan condo, and there's a lot to digest, visually speaking. There are also the quieter moments between Ferrell and Octavia Spencer's character (Kimberly) along the water, the spirited "Christmas Morning" number that begins as an ambitious oner, and, of course, a visit to the streets of Dickensian London, circa the 1840s, and, well, you get the idea.
All of this means the only realistic approach to dissecting the ambitious journey that is Spirited is to overlap some of the more elaborate musical sequences with observations from members of the production team – Director of Photography Kramer Morgenthau, ASC; Chief Lighting Technician Frans Wetterings III; Theatrical Lighting Designer (and Tony winner) Donald Holder; Key Grip Frank Montesanto; Choreographer Chloe Arnold; Costume Designer Erin Benach and others – to see how they pulled so many disparate threads together to create the holiday quilt Anders envisioned.
Or as Anders shares, "It was like shooting many movies simultaneously, as each number feels like its own short film. It was a ton of fun to work on but often overwhelming considering there were different musical arrangements, choreography, sound mixes, camera, lighting, and a million other details for each number. I also wanted to convey the feeling of a live stage show within the film, so we used a 'chorus' of dancers who reappear throughout, like in a Broadway show. Our main cast and core dance team became a real family as they were together so often. I hope fans of the movie start to pick out their favorite dancers and pick up on how many times they appear throughout the film."
Aiding Anders in this spectacular project was six-time–Primetime-Emmy nominee Morgenthau (Creed, Thor: The Dark World, The Many Saints of Newark, Chef, Respect). "One of the things that I love about Kramer is his ability to use blasts of color and take risks with it," Anders says. "And looking at his reel, you can see his work on the Creed movies often felt a bit like a musical. Kramer also brought in Don Holder, a Broadway lighting designer, who helped give the musical numbers a striking look that makes you feel like you're inside a giant stage production."
Morgenthau says he embraced Anders' vision for "a big, lush Hollywood musical shot with a Broadway vibe. We referenced Dion Beebe's work in Chicago and [Giuseppe] Rotunno's work on All That Jazz, Oswald Morris's work in Oliver! and John Alton's work on An American in Paris. It was several movies in one – a Christmas carol, a love story, a buddy physical comedy that breaks the fourth wall into a fantasy-world Broadway-style musical."
The DP and his 1st AC, Craig Pressgrove, did extensive camera and lens testing, ultimately opting to shoot the film in anamorphic (2.39 aspect ratio) with Panavision C and T series and some sequences shot spherically with Primo V series lenses on the Sony VENICE 1. Working closely with DIT Kyo Moon and Colorist Peter Doyle, Morgenthau created LUT's for the different periods and theatrical lighting.
"There were several reasons for implementing a LUT-based workflow," Doyle explains, "as the grade or look that Kramer designed extended far beyond the capabilities of a CDL workflow. We had Victorian England, loosely based on a two-strip film look; a classic MGM musical look inspired by the early Eastman Kodak Color; and an 80s vibe, [as] a classic film-print emulation. And due to the complexities of visual effects, the scale of the wardrobe, and the set design, it was imperative for all the different departments to see how their work would be 'read' by the camera and the grade. LUT's allow the grade to be seen on set and all departments to make their final tweaks.
"Another factor was mostly technical," Doyle continues. "By shooting during the prelights, I could build LUT's specific to the camera and lighting setups. In some cases, iterating interactively. For example, as Kramer was using a mix of cinema and stage lighting, with high-saturation narrow-band colors, and a digital camera sensor, we had the unavoidable challenge of chroma clipping. Using LUT's, we could build a robust pipeline into the grade, Gamut mapping and compression, matrixing, and color primary shifting. Kramer could use bright color LED stage lighting rigs with confidence, knowing exactly how the color would be reproduced. There was also the issue that on-set monitoring, editing, and remote reviews would be in Rec. 709. But the final distribution would be 100 nits in PQ 2020 HDR, 108 nits in PQ XYZ EDR on Dolby Vision Projection, 48 nits in DCI XYZ on Xenon Projection, and 108 nits in Rec. 709 SDR."
As each department conformed its work to the film's dominant colors – cyan and magenta – it was important for Doyle's team to get accurate reproductions across all delivery formats. "Often we used the LUT's to effectively grade in a known controlled color space, then map back out to the various devices, knowing their behavior," Doyle adds. "While the film would be considered highly saturated, it was important the colors of the lighting, once filmed, not be reproduced as fluorescent or overpowering. LUT's allowed me to build a color grade that reacted as if the colors were paint pigments, where the colors would interact with more complexity than a classic RGB."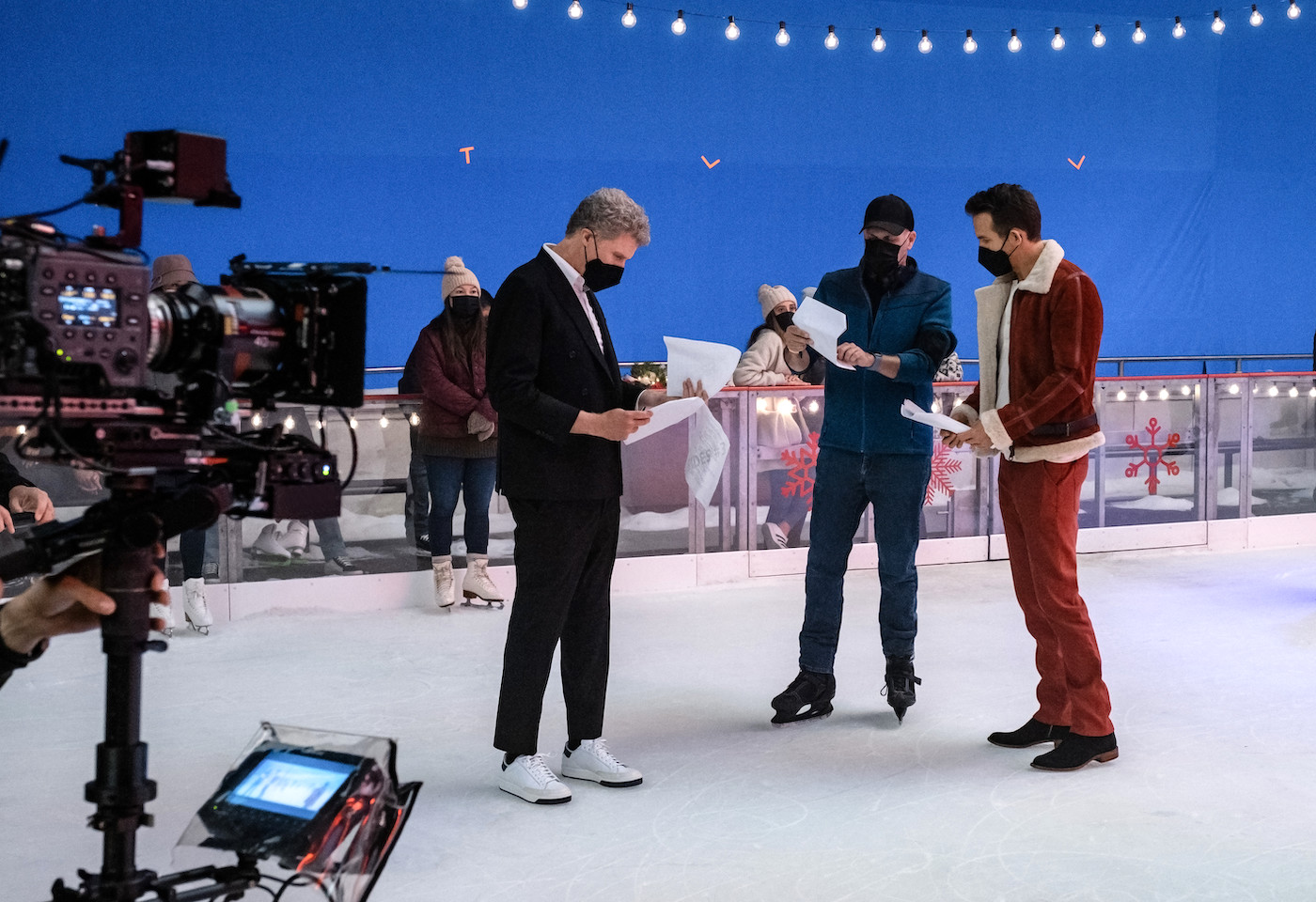 As for lighting, Weterrings and Morgenthau spent a lot of time discussing how best to tackle the many musical pieces. On the recommendation of Guild DP David Mullen, ASC, Morgenthau brought in Holder to create the lighting for four large-scale musical numbers, allowing Weterrings to concentrate on the movie lighting.
"The four big musical numbers were shot in three different locations," Holder recounts.  "'Bringin' Back Christmas' at Mechanics Hall in Worcester, Massachusetts; 'Christmas Mornin' Feeling' and 'Ripple' [now appearing in the closing credits] on the Ghost World set, located in a Civil War-era armory [The Castle] in downtown Boston; and 'Do Little Good' – the 'Eleven O'Clock number' as we say in musical theater – shot on Devonshire Street in Boston's Financial District.
"The Christmas Tree Growers' Convention at Mechanics Hall ['Bringin' Back Christmas'] began with a traditional stage production [featuring a brilliant Art Deco design by Production Designer Clayton Hartley]," Holder continues. "But early on, it pivoted into a full-blown fantasy scene that explodes the fourth wall, where every inch of the room was included. Devonshire Street and Ghostworld were locations where one would not expect to encounter Broadway-style theatrical lighting. However, all locations required lighting rigs that could deliver a base look and a non-theatrical approach for the wide shots and close-in book scenes, while transforming the space into a Technicolor-style Broadway musical."
Holder says his approach was an integral part of Anders' and Morgenthau's vision for the movie, "and we worked closely with Frans Wetterings and his incredible electric team to integrate the necessary theatrical and film lighting tools into each environment," he adds. "Frans and Key Grip Frank Montesanto were quite cognizant of the huge additional scope that theatrical lighting introduced to the film. They were great about expanding their operation and team of expert practitioners to make all of it happen."
The Broadway designer explains how a "pre-visualization suite" was built at the Ghostworld location, which allowed his team to craft basic lighting focuses and cueing structure for three of the four musical numbers off-line. This proved essential since pre-lighting time for each set was limited, and it allowed Morgenthau to weigh in on the overall approach – cueing, composition, color palette, etc.– before the cameras rolled.
"Kramer insisted that we have a Sony VENICE [with DP] on set during our pre-light sessions," Holder remembers. "It gave all of us [including Doyle] the opportunity to see how the camera was reacting to a variety of LED and discharge lighting sources. Kramer determined early on that we needed a 6400K CT setting for the musical sequences to render the intended color range." The rest of the film was shot at 3200.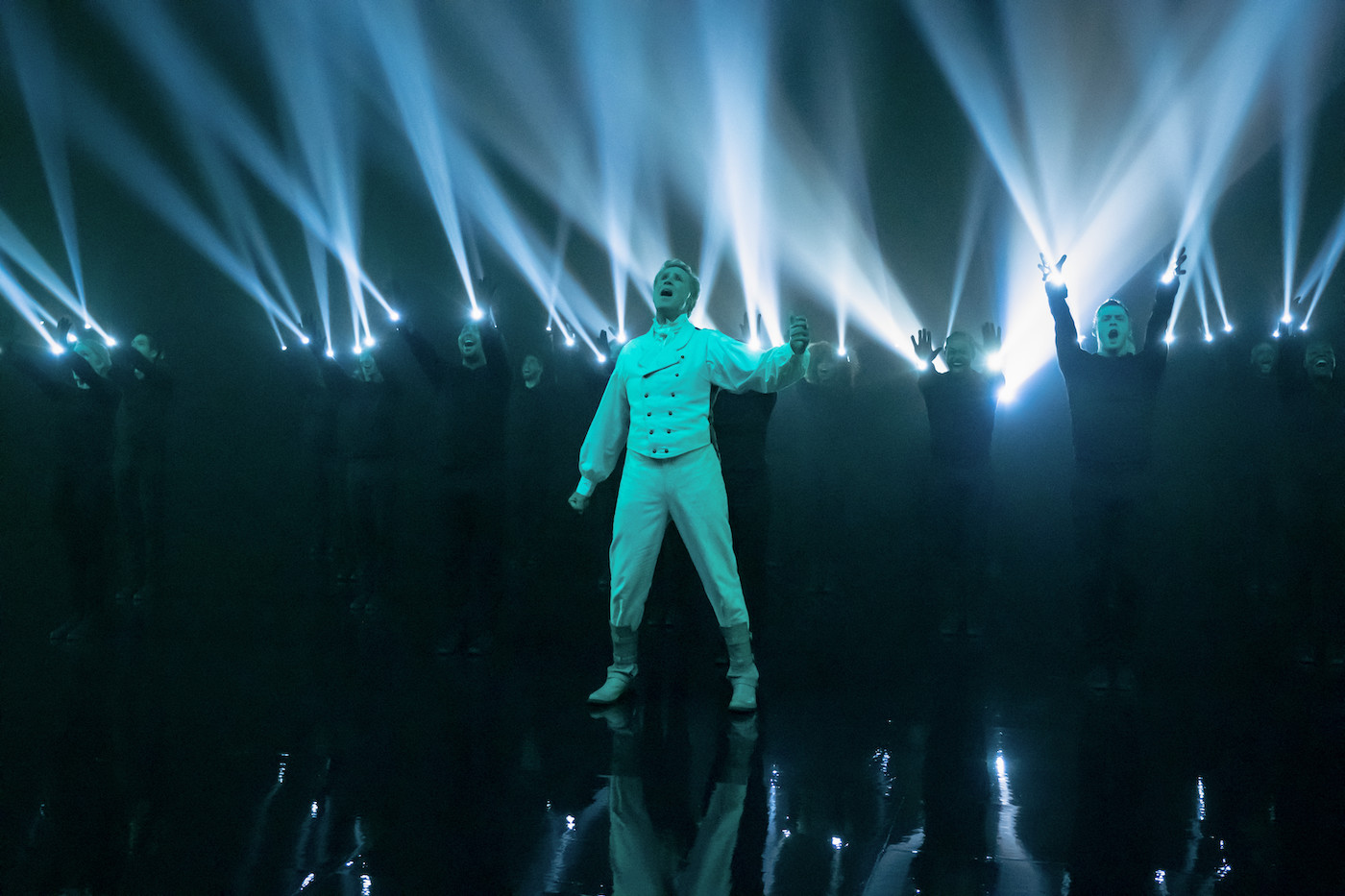 Holder says the overall process of shooting the musical sequences was intense. "Kramer and Sean arrived on set with many new ideas and had a lot of great impulses when seeing a production number on camera in the real space," he notes. "So, expecting and rolling with the unexpected became the norm. In the best of circumstances, adapting a proscenium-style lighting design for a multi-camera shoot, where the number is photographed from multiple angles [in addition to Steadicam moving through the throngs of dancers], was challenging, to say the least. We constantly reconfigured the design, adjusting dozens of moving lights as the camera changed perspective, pushed in closer, or moved around a performer."
Wetterings says Holder provided a wealth of new knowledge for the film team. "Theatrical lighting on the different sets was a complete departure," he shares. "So, I found myself working with Don to create more 'cinema style' lighting for the musicals and trying not to hit the actors with multiple sources from every angle. It was a pleasure to learn about this different lighting style from both Don and Kramer."
Whether musical number or traditional lighting, Weterrings was always conscious of the cyan and magenta color palette Morgenthau wanted to bridge the real and ghost worlds. As a result, he faced some challenges throughout. "For the void," Weterrings recalls, "we landed on this desaturated cyan look. It felt like you were floating with Clayton's black reflective floor. We had six 20-by-20 soft boxes on tractors and rails, each independently on chain motors to give Kramer the most flexibility while shooting." For the more traditionally lit sections, Weterrings relied on discussions with programmer Tim Boland for a starting point. "Tim was a great ally in creating a musical feel to the other scenes," Wetterings continues." We could preprogram fixtures and looks and show previs to Kramer before we started rigging. Then, Kramer and I would show up and have the ability to simply tweak a bit."
Speaking of previz, Morgenthau and the camera team used the weeks of dance rehearsals to plan camera positions, shooting the rehearsals with Sony A7S III cameras mounted on DJI gimbals. "Our editor, Brad Wilhite, then cut the musical previs sequences together to get the feeling of how the camera was going to work with the choreography and how we would see the dancers on film," Morgenthau describes. "Chloe and her dancers were collaborative, and I think this helped to build the cinematic feel of the project."
Morgenthau credits A-Camera/Steadicam Operator Michael Fuchs, SOC, for being immersed in prep with the dancers. "I cannot say enough about Michael's contribution to the cinematography of the film," the DP states. "His intuition and sensitivity brought the dance sequences, and the drama, to a higher level. We ran four cameras all the time, so lighting for that took a great deal of coordination. It made having John Garret, Patrick Ruth, and Al Pierce – all talented operators with great eyes – essential. The main focus was on A-Camera, and the other cameras often found moments with the dancers or the principals."
As Choreographer Chloe Arnold shares: "When I started, I learned the value of knowing the many roles on a set; and I've also shadowed Debbie Allen when she has directed. Before we built the different numbers, I went to each department, collected information, and put each piece on a board in our rehearsal area. It was like Santa's workshop. People would wander over and see everything we were doing.
"When it came to mapping the camera moves," Arnold continues, "it was a joy to work with Kramer and his team. The energy he brought to the dancers and the energy the camera crew got from the dancers was wonderful. We learned a lot about camera placement on this show. For example, when mapping out our numbers for 'Bringing Back Christmas,' we knew we had only one level to work with. So we worked with Kramer to find ways to use a Spidercam to make it appear we were 20 to 30 feet up."
Also key to the intense pre-production was Costume Designer Erin Benach. "Because there was so much color in the lighting," Benach recounts, "we worked with Kramer and Clayton to narrow our choices down to four colors. The magenta and cyan gels skewed the costumes, so I made sure they all looked the same by keeping the colors basic and allowing them to be seen even with the show lighting. One of the interesting things is that you learn to predict when the show lighting is on things and where it might change. That's when textures come in handy. Kramer loved the reflective textures I pulled, like the satins, which absorbed the light. If it was the modern world, we'd go one way. We did a little quilted fabric when we went to the ghost world. We limited costumes to three colors for each number – red, copper, and green – so they didn't conflict with the lighting."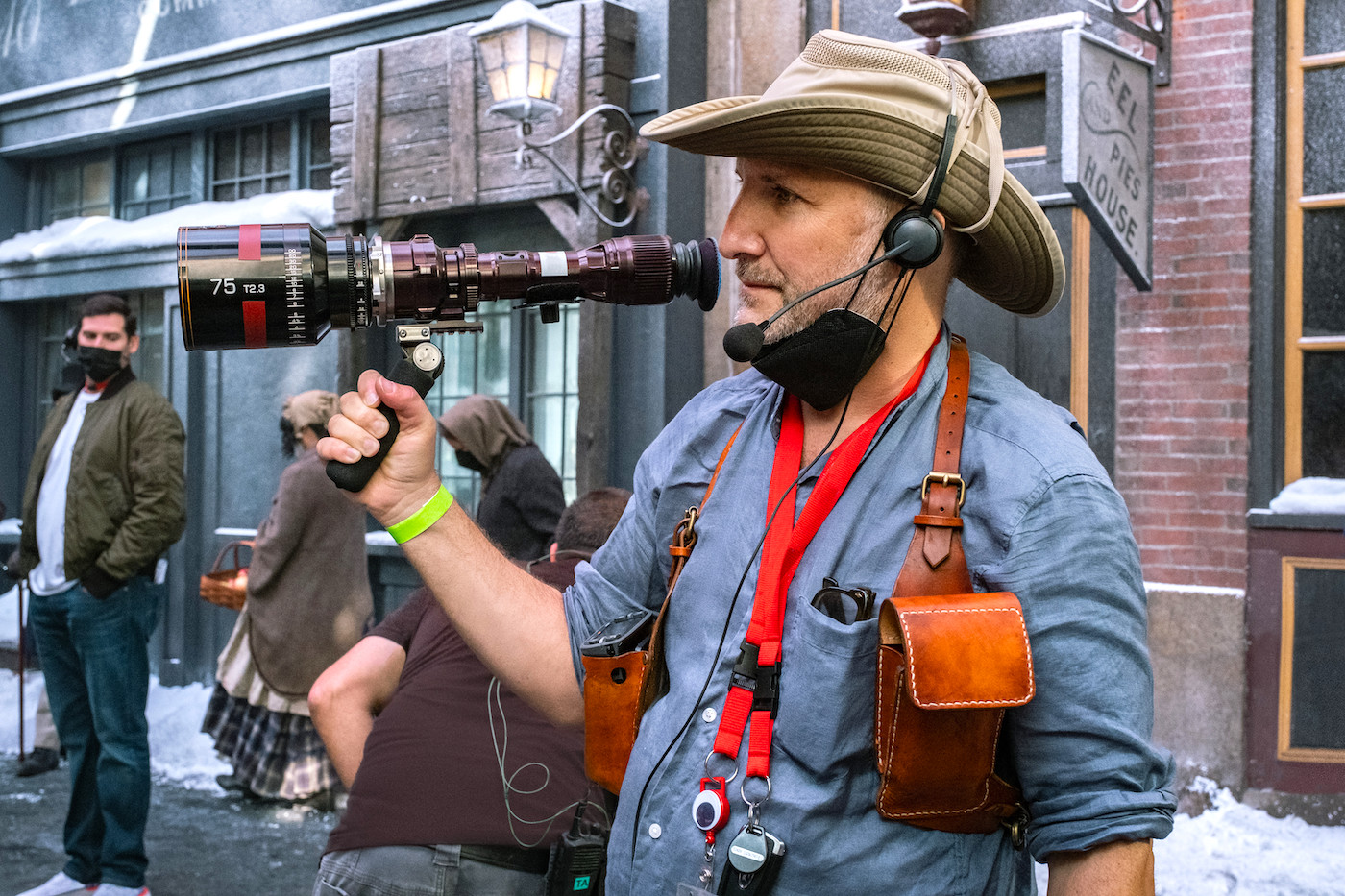 As noted, Spirited isn't all spectacle. Morgenthau cites a quieter sequence, set in Dickensian-Era London. "We wanted a moody daytime vibe," Morgenthau begins, "which was a challenge for grip and lighting. We wanted the scene to appear overcast and cold, like 1800s London in the dead of winter. In reality, it was late summer in Boston with very harsh, toppy sunlight."
Montesanto says it was the toughest set from the grip department's standpoint. "We filmed it over a series of days," he shares, "and Kramer was hoping to keep the light consistent. Being period London, we wanted it dark and gray. The preferred location was Marshall Street in Boston. This is a very historic street and the start of the Freedom Trail. The challenges of this location were many."
Anyone who knows Boston knows how confounding its streets are. Some are straight but change on a dime. Some have unnatural curves. For this location, the production needed a number of streets and alleys that ran north and south as well as east and west. In addition, production had direct sun-hitting portions of the set at any point during the day.
Rigging Key Grip Jose Barrios and Montesanto devised a plan to cover as much of the set as possible with an overhead diffusion rig that would run on tech lines "so we could deploy and retract the diffusion," Montesanto explains. "This included a massive truss structure that started on the rooftop of the Union Oyster House, went into some open windows above the Bell and Hand, and to some strategically placed truss towers that the Art Department helped us hide. We chose to use what we were calling 'charcoal,' which was a dyed grid cloth. We didn't want the blooming effect. The grid cloth wouldn't cut it all on a full sun day, so we added a series of points on our truss where we could pull up additional solids. We used an ultra-light water solid, which darkened the set on the bright days and eventually enabled us to film when light rain started."
Since overheads didn't always do the job, "we added Magni 6.3 Telehandlers behind a few buildings with 20-by-30 charcoals to fill the gaps," Montesanto continues. "On the reversal day, the dance number would spill out onto Hannover Street, which meant we needed to add more Magni Lifts with fly swatters. For set extensions, we also had two 20-by-30 vertical-effects green screens on standard all-terrain forklifts at the Hanover end."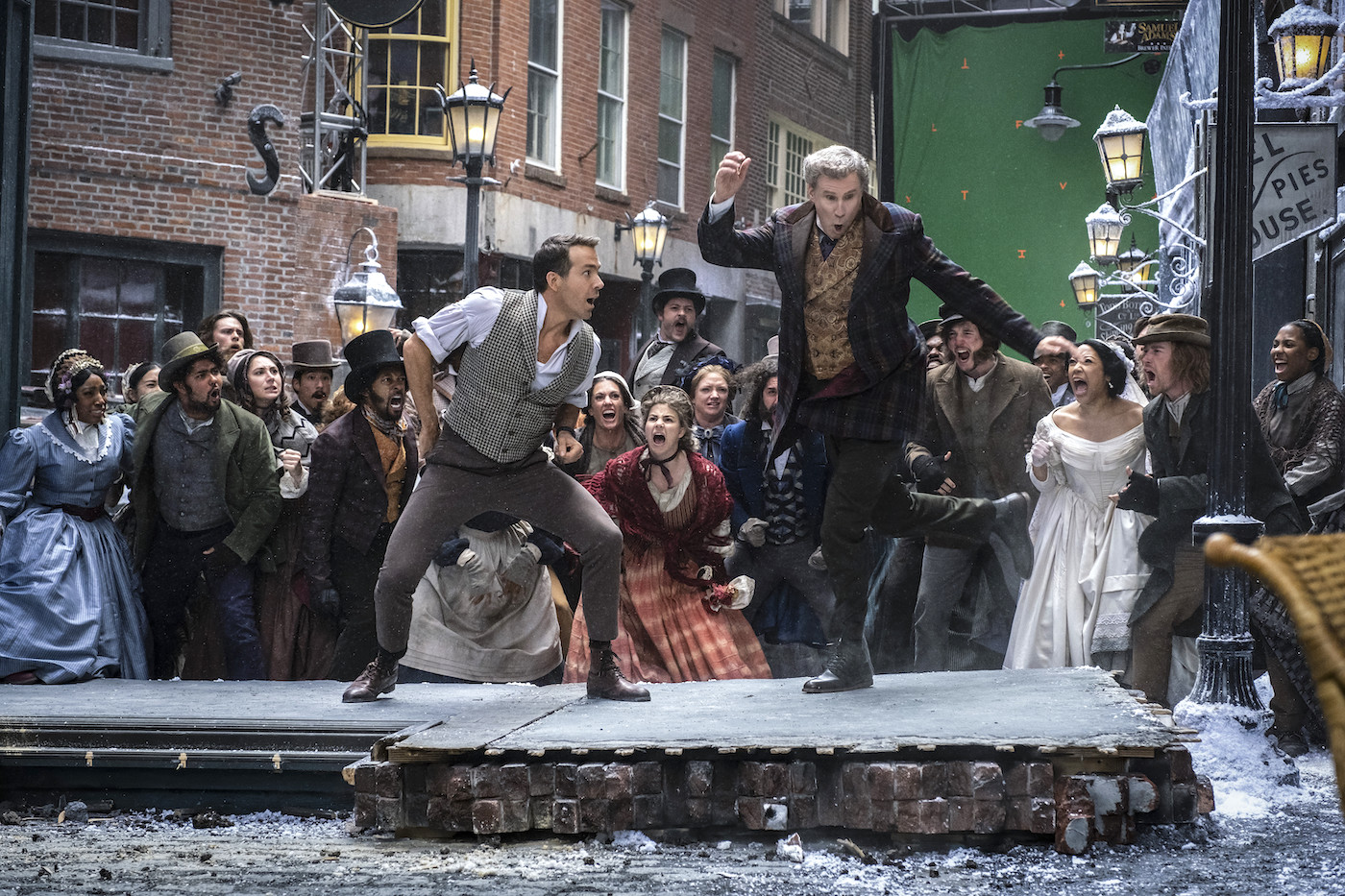 One of Morgenthau's favorite "intimate sequences" is the long walk-and-talk that reveals the backstory between Ferrell and Spencer and sets up the future relationship. "It's a special scene," the DP explains, "and we chose to shoot on the VENICE at ISO 2500 with a spherical lens at a 1.4 and a lot of the ambient nighttime city light to see the city lights of Boston. It is a long Steadicam walk-and-talk that breaks out into song and then crescendos in a romantic kiss. Our amazing VFX supervisor, Sean Devereaux, altered the Boston skyline to appear as New York Harbor."
"Lighting was quite simple," says Weterrings. "Kramer wanted this special moment between Will and Octavia to feel romantic, not theatrical. So, we strung bulbs along the river, sources for water across the bay, and a massive backlight with a Vortex8 array and some proteus Maximus fixtures to hit the background buildings. Frank [Montesanto] armed out a large bounce from a Condor, so we could create a soft key."
Morgenthau says Spirited was a radical departure from anything he's done. "When I signed on, I thought this was going to be a small comedy/musical," he laughs. "It evolved into a larger-than-life mash-up of so many beautiful things. Sean has a musical background, and this magnum opus was growing inside him for years. He pushed and encouraged me to use every cinematic muscle in my body. I explored color and movement way beyond anything I could have imagined. Working with a theatrical lighting designer, especially one as talented as Don Holder, was a new experience. Don, Frans, and I all pushed each other to create a lighting synergy that resulted in a heightened Christmas look that was, hopefully, a departure from what has been done in the past."
 True to Morgenthau's words is the final musical sequence 'Do a little Good,' shot over five nights on Devonshire Street in the heat of a Boston summer. "We rehearsed the sequence with Chloe and her dancers for months during prep," the DP recounts. "Don brought in Broadway lighting elements, but this was not the controlled environment of a single-axis proscenium; it was shooting 360 on a feral city street. It was a massive lift from everyone involved: lighting, grip, camera, costume design, make-up, production design, SFX snow, VFX frozen snow, the dancers, AD's and PA's, and, of course, the amazing cast. The scene starts as an epic walk-and-talk over a full city block and then breaks into song. Then Ryan [Reynolds] and Will [Ferrell] are joined by 50 ghosts/dancers as an epic bus collision happens, and Ryan's character is 'redeemed' in the film's climax. It's always been a dream for me to shoot a musical – in Boston, no less, the city where I was born and raised. With this caliber of union craftspeople beside me, I can only grow as a cinematographer and artist."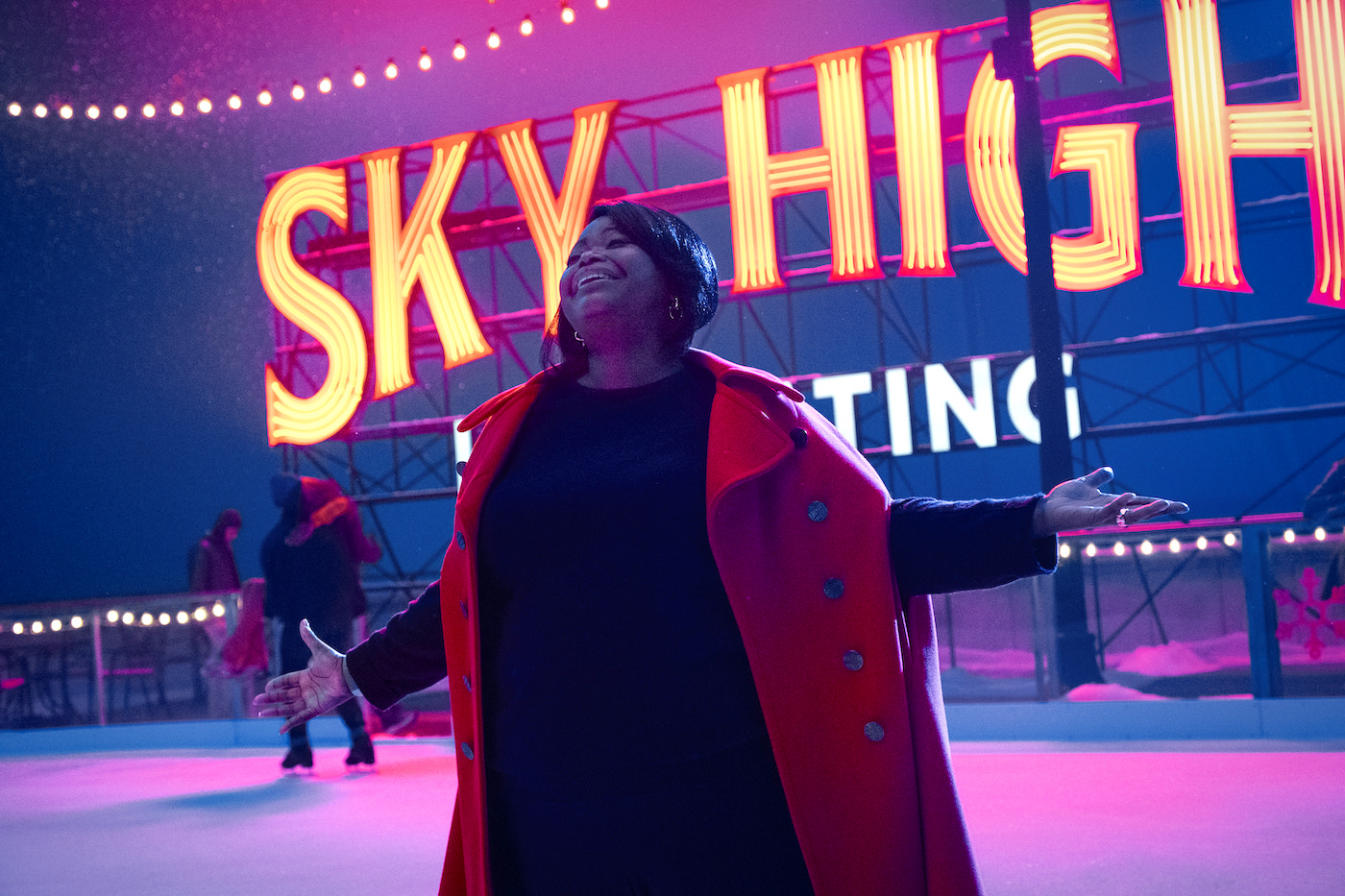 Spirited – Local 600 Crew
Director of Photography: Kramer Morgenthau, ASC
A-Camera/Steadicam Operator: Michael Fuchs, SOC
A-Camera 1st AC: Craig Pressgrove
A-Camera 2nd AC: Holly McCarthy
B-Camera Operator: John Garrett
B-Camera 1st AC: Dan Mason
B-Camera 2nd AC: Dean Egan
B-Camera 2nd AC: Richelle Topping
C-Camera Operator: Al Pierce
C-Camera 1st AC: Jill Tufts
C-Camera 2nd AC: Chris Hebert
Digital Imaging Technician: Kyo Moon
Digital Utility: McKenzie Raycroft
Additional Utility: Keenan Kimetto
Camera Loader: Mattie Hamer
Still Photographer: Claire Folger