Lawrence Sher, ASC, re-teams with The Hangover's Todd Phillips to spin a new kind of origin tale.
By Kevin Martin / Photos by Niko Tavernise
---
While Batman's origins are better known to some fans than their own genealogies, the beginnings of his greatest nemesis, The Joker, remain tantalizingly ill defined in both comics and film. Batman co-creator Bob Kane claimed the arch-villain's appearance was inspired by actor Conrad Veidt in a silent film; but in terms of backstory, it wasn't until Alan Moore's graphic novel, The Killing Joke, was published that readers got a possible accounting – one disputed by the character himself – suggesting a failed comedian who turns to crime and then becomes disfigured.
Co-screenwriter/director Todd Phillips began developing Joker in 2016, with Warner Bros., intending it to be the first in a series existing separately from the DC Extended Universe. "I liked the idea of telling this story of Arthur Fleck [Joaquin Phoenix] and what he becomes while trying to capture the look, feel and tone of a character study from the 1970s," Phillips states. "I knew we'd be relying heavily on the performances, and with Joaquin agreeing to take the part, we had one of the true greats. I also knew I wanted Larry Sher [ASC] to shoot it. This is my sixth movie with Larry, and in my opinion, he is one of the great DP's. I always tell him that if he changed his name to Lorenzo, he'd probably get even more respect."
Sher, who was challenged by the idea of tackling the origin story without treating it like comic-book material, says Phillips wanted the look to be old-school and gritty. "The superhero film is the most ubiquitous genre over the last decade, what with the resurgence of Marvel and DC," Sher describes. "But we came at it sideways, from the idea of exploring a villain in a serious way. It doesn't rely on the usual comic-book movie things, like endless fistfights. It does contain some action, but the big difference is how it's loaded with tension. There's a slow-building arc, like a pot boiling, with small bubbles growing larger.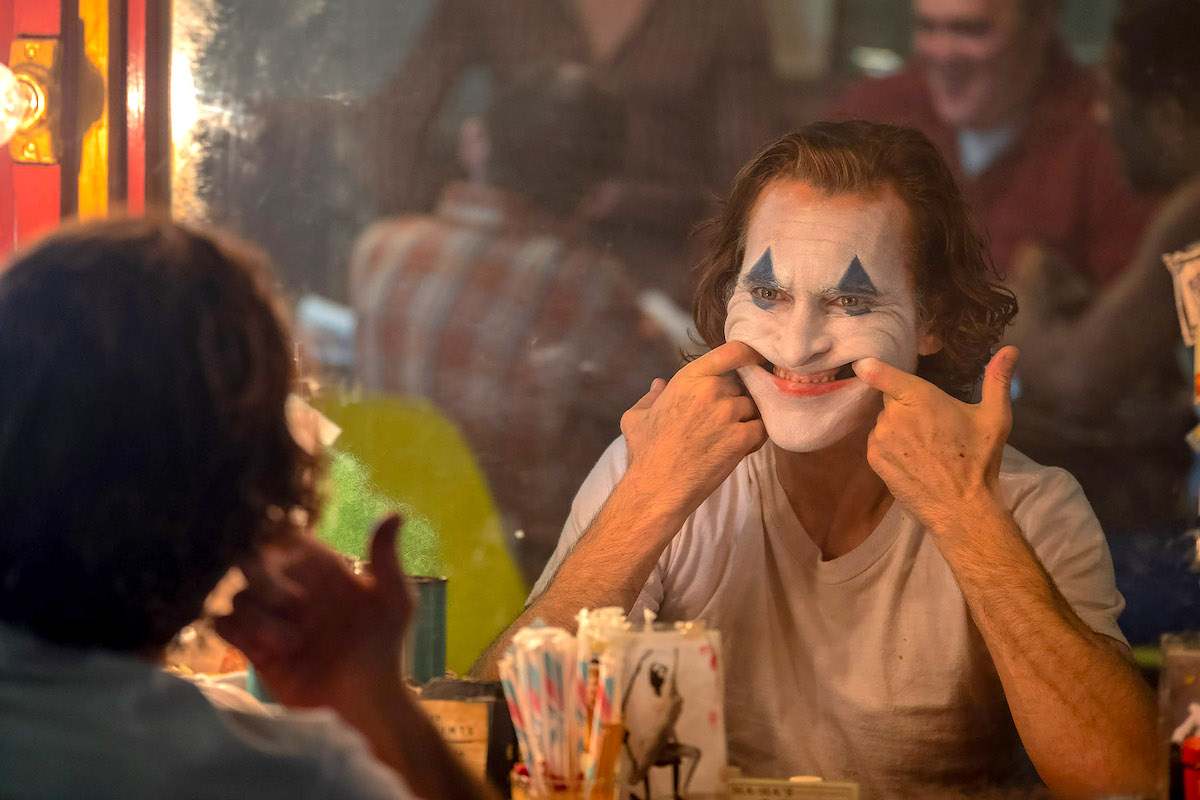 Of course, expectations for Joker are almost limitless, given the many different screen characterizations, which range from Cesar Romero's TV baddie to Heath Ledger's Oscar-winning turn. "Without even counting animated versions, there have been something like seven incarnations of this character on film," Sher notes, "with Jared Leto's version something apart from Heath's, and both of them from Nicholson's. Part of that difference comes out of the makeup, which involved all of us, especially with Joaquin's input. Todd said that Joaquin is our greatest special effect, and he dazzles in a way that means you don't need people in capes."
Phillips and co-writer Scott Silver had described the Joker in their screenplay, but that was just the start of his visual development. "Our great concept artist Hugh Sicotte took the first shot at illustrating concepts for the character," the director describes. "I presented those to Joaquin, and he weighed in with his thoughts and ideas. From there we went to makeup [designer/department head] Nikki Ledermann, and she started applying makeup to him as we started camera tests. We'd see that one shade of blue read too deep and that another blue had a nice handmade feel and texture – that's a great example of the collaboration that goes into every movie, even when they don't involve such a level of experimentation. People were really into and loved the idea of what we were trying to do." (Michael Mario's Prosthetic Renaissance executed the final character makeups.)
How best to visually enhance the dramatic tension was a prime concern of the filmmakers. "Based on what Todd and I discussed, portraying moments of intimacy in a way that makes the character more engaging was key," Sher recalls. "We played up the dichotomies – there are times when we are some ways off from [the Joker] and he's very small, which are contrasted with shots where the camera is only a couple feet away. Lens proximity was a big part of the discussion, figuring out how to best put the character's psychology up front."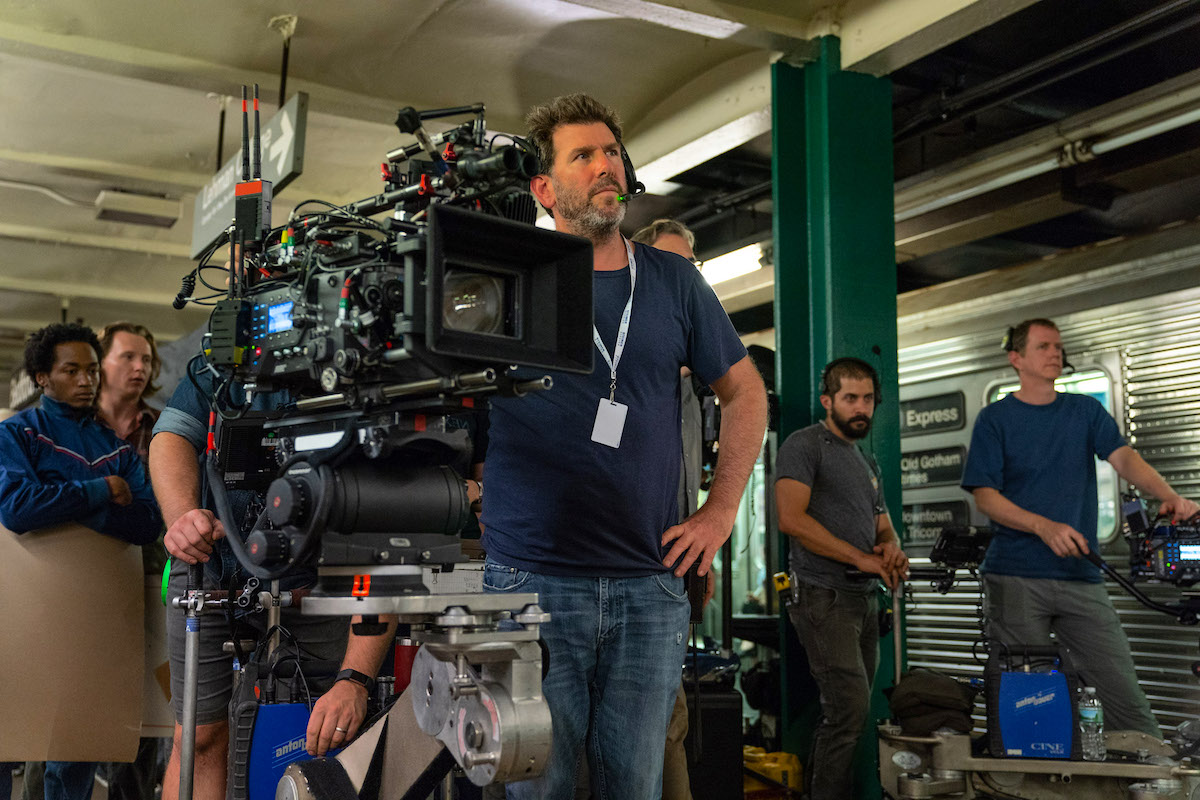 This led to a lengthy testing period, during which shooting on film in 65 mm was seriously considered. Sher and Phillips thought a 1.85 aspect ratio felt right, and planned for 35 mm "well into the eleventh hour, when we decided a larger format would let us isolate our lead even further from his environment, owing to the lesser depth of field," Sher explains.
Having recently shot Godzilla on ARRI 65, Sher could show Phillips the benefits to shooting Joker digitally. "Joaquin's performance was going to come out in some situations where one take would be all we'd get," Sher recalls. "So shooting large-format in low light, pretty much wide-open on these lenses, we needed to know if we nailed it, and not have to wait a day for film to come back from L.A. – if there were technical issues with focus. With [the ARRI 65] a 40 millimeter or 60 millimeter can give you a medium-lens feel, but still show the field of view of a wider lens, conveying the psychological feeling of being closer to the actor. While the latent Arri 65 sensor is in 2.20 aspect ratio, we were still able to keep our 1.85 within that, using a five percent top and bottom blowup. 1.85 translates to something like a 5K or 5.4K image, and from there we finished in 4K."
Arri Rental supplied a camera package that included a pair of ARRI 65s, plus an ARRI LF and ARRI MINI. Sher used a variety of lenses, which he describes as a "Frankenstein" version of a lens set. As A-camera 1st AC Gregory Irwin describes: "In addition to the DNA and Prime 65 glass, Larry wanted to explore 35-millimeter lenses for their size, weight, minimum focus and lens speed. They would never fully cover the sensor, but our five-percent extraction was enough to give us a fighting chance to minimize vignetting. It took us a month to go through a couple of hundred lenses and find our set. We found which lenses had to be rebuilt from the inside by opening up the iris blades or changing the rear element. We manipulated the lenses mechanically, detuning them to match in contrast and color, and also changed coatings. We had a large mix, ranging from Canon to Zeiss, Nikkor and Leica R-series."
Sher met with Company 3 colorist Jill Bogdanowicz to consult on a show LUT. "Jill's father, Mitch, had worked in Rochester at Kodak for decades," Sher reveals, "and he came on to help create a look based on Kodak's [EXR 200T] 5293. Taking this emulation to the nth degree meant mapping 5293 into the Arri 65 log profile. We used it throughout, putting it into the DI station so dailies just transferred straight across."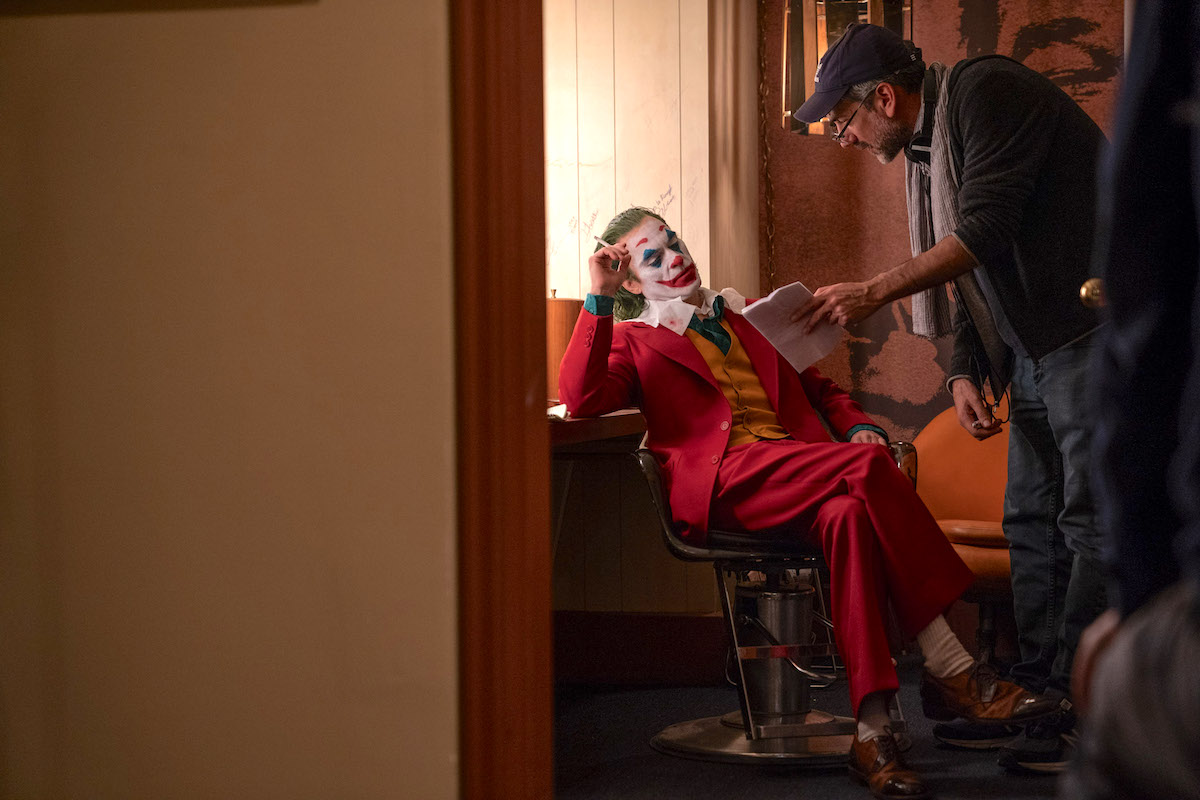 While Phoenix would often deliver welcome surprises, Phillips stresses that the other elements of filmmaking had to be precisely worked out beforehand. "You want the movie to feel organic, but that requires every point to be evaluated at length during prep," he emphasizes. "Larry and our producers put together a kind of 'murderer's row' of New York crew people, including Gaffer Steve Ramsey and Key Grip Tommy Prate, so that helped guarantee there would be no bad surprises. That's not to say we are one of those films where everything gets a previs and then you go out and shoot that previs; but we left our surprises in the hands of the actors, after having prepped all the looks we wanted the film to have."
Finding New York City locations from the late 1970s/early '80s was also a major challenge. The New Jersey–born Sher recounts vivid memories of the era, "where the subways were littered with graffiti, and Times Square certainly didn't look like it does today," he smiles.
"Production Designer Mark Friedberg kind of went berserk – in a great way – to bring an authenticity to our version of Gotham," Phillips adds. "New York [in that era] was a broken-down city, and we wanted a low-key and naturalistic look, not letting things pop till we get to Arthur becoming Joker, which is when the movie takes a turn with both its look and its vibe."
"So many things have changed," Sher states. "Like streetlights being LED instead of sodium-vapor. We figured that some aspects that didn't look period could be addressed either with the aid of the art department on ground-level changes and through subtle use of visual effects."
Gaffer Ramsey notes that with the switch from sodium-vapor to LED for streetlights, another solution presented itself. "Whenever we found a night location, local city contractor Welsbach Electric would swap out the modern LED Cobra heads for period sodium-vapors that they'd held onto," he explains. As for transforming LED units into period lighting, Ramsey says it took "a month's lead time to order them in, but we got these dimmable, high-intensity LED lights from China called 'corn lights.' They needed only a bit of gel to stand in for sodium light once we installed them into a fixture. When we needed the impression of mercury vapor while shooting in an alley, the Art Department would find us fixtures to gut, inside of which we could then install RGBAW LED strips. When Larry wanted a very yellow color for the phone booth, we used RGBAWW."
To enliven interiors, dimmer-board operator Rich Porta provided a fader wing that Sher kept at his monitor. "So when a TV was on in Arthur's apartment, or there were flickering fluorescents in the hallway, we had direct control of up to 20 channels," Ramsey adds. "It gave Larry options for intensity and rate of flicker without having to get into all the programming that goes into these effects." The fader wing also morphed into a standard tool used for the duration of shooting. "It was a fast way to make last-minute adjustments for key fixtures," Ramsey continues. Other wireless lighting enhancements included Astera PixelTubes for stairwells and Astera Light Drops AX3 that provided a TV effect when boxed in sets of eight units.
Sher says that if they could shoot without lighting it at all, they would. "Not out of laziness, but as a choice," he maintains. "Todd knows that if you take all day to control the light, spending hours setting up big silks to mimic a certain look, you're setting yourself up for something with a very 'movie' feel. And we both have knee-jerk reactions to scenes that feel too controlled. Todd shot one scene with Arthur in a phone booth in just a sixteen-minute window. We rehearsed it the hour before the sun went down with a stand-in, and then just blew through it with six setups while the light was perfect."
Instead of sweeping, operatic camera moves, Joker used a lighter touch. "When we moved the camera, it was very subtle work," Sher recalls. "I've worked a lot with [A-camera operator] Geoff Haley, whose focus was on the 'design shot,' the 'conservative' shot, for lack of a better word, while B-camera, which I operated, could be more daring.
"We didn't use the cameras to just get tight and wide on the same take, but instead would get something way off-axis," Sher continues. "I might be on a piece of dance floor or a piece of track, then slowly move the camera throughout in as imperceptible ways as possible. Sometimes we'd both be handheld, and I'd watch Geoff to see where he was going so he wouldn't photograph me. We'd do this little dance around Joaquin as he performed. Even when we sometimes wound up on opposite sides of the line, the stuff still cut together nicely."
Haley says that more than any other actor he's worked with, Phoenix goes where the moment takes him, with an almost reckless abandon. "It's thrilling to witness, but also a bit unnerving, because every take is unique, and the pressure loomed large for Greg [Irwin] and me to capture it perfectly," Haley shares. "Whether it was Joker's impromptu apartment dance with his mother, or his unexpected pratfall in a bank lobby, this was a world with no rehearsals and constant improvisation. There was rarely a chance for a second bite at the apple."
Irwin says that pulling focus via a monitor [a 13-inch unit with a Preston handset and Cinetape] helps him tell the story more effectively. "It opens my horizons," the AC insists, "and is better than doing the math in my head with the old by-hand technical pulling. Joker benefitted from this, because we did unique things cinematically. I would make sure with take one Larry and Todd got exactly what they needed. That was important because Joaquin's magic is right there and we had to be ready for anything. Take two, I would reach for something a little off-point if I saw it emerge, and Geoff, having worked with me for so many years, would pick up on that and start panning toward what I seized on. I'd accommodate his inspirations on the fly, as well. Take three could be even crazier – sometimes these approaches wouldn't work, but when there's a possibility of magic happening, it's worth the risk."
While the bulky ARRI 65 can be challenging for fast-paced handheld or Steadicam, Haley says he tried not to let its cumbersome nature impact the fleet-footed approach. "Tight-spaced locations meant cramming ourselves into uncomfortable corners, and we rarely pulled apart sets even when we shot on stage," he describes. "The time saved not pulling a wall might afford an extra set-up at the end of the day."
Sher concurs: "If you take thirty minutes to pull a wall, the actors go to their trailers, which can create drag. Compromising a little on the 'perfect' shot to wind up with something off-axis can work out better, especially with a unique film like Joker. Even on stage when [walls are] wild, nine times out of ten I don't pull, because the integrity sometimes exists right there within those four walls, under that ceiling. Plus I tend to light sets as fully three-dimensional spaces rather than for a particular shot, which lets me just jam through coverage."
One major set featured a talk show hosted by Robert DeNiro's character, where Sher notes, "we stayed true to period tech. We had a lighting consultant who had worked on The Tonight Show and knew the gear. In the wide shots, the lighting is visible, so you can see 5K and 2K Mole-Richardsons, plus old Zip and Cyc strips. Elsewhere in the film, when it was appropriate, I wound up using a lot of older tungsten, in addition to LED."
For years, cinematographers often bemoaned dealing with mixed-color lighting on location, but now that realistic look has become more desirable. "One of the beautiful things about films in the 1970s and 80s," Sher continues, "was that cameras got light enough so you could get away from the controlled studio shoots and get out into those streets. You'd see cool-light and warm-light fluorescents playing together with daylight coming in the window – mixed-light scenarios tied into the idea I like that nothing is balanced and perfect."
"If you look at Taxi Driver," adds Ramsey, "you can see how [period] film stocks reacted to a mix of fluorescents. Today, it's sometimes hard to even find fluorescent units – especially units that haven't been cleaned up, with the bad CRI and major green spikes. Even Manhattan subway platforms have changed into something closer to true 3200 degrees. We were adding green to household and industrial fluorescents to get them back into that ugly range. We had traditional sodium wall pack-type fixtures that went on stands to sprinkle into backgrounds. We had blue metal-halide too; it added a bit of green, creating a nice mix of off-color sources. Years spent struggling to correct the look, and now we're trying to make it look bad again!"
Haley, who says he's spent the last three years shooting Marvel films, calls Joker a breath of fresh air. "There wasn't a pre-vis, wire-rig, blue screen or mo-cap suit to be found, no fancy rigs or intricate oners; it was all fairly low-tech by modern blockbuster standards," he concludes. "I loved shooting among the gritty chaotic streets and subways, helping tell this story of a well-meaning guy who spent his life being battered by an abusive society."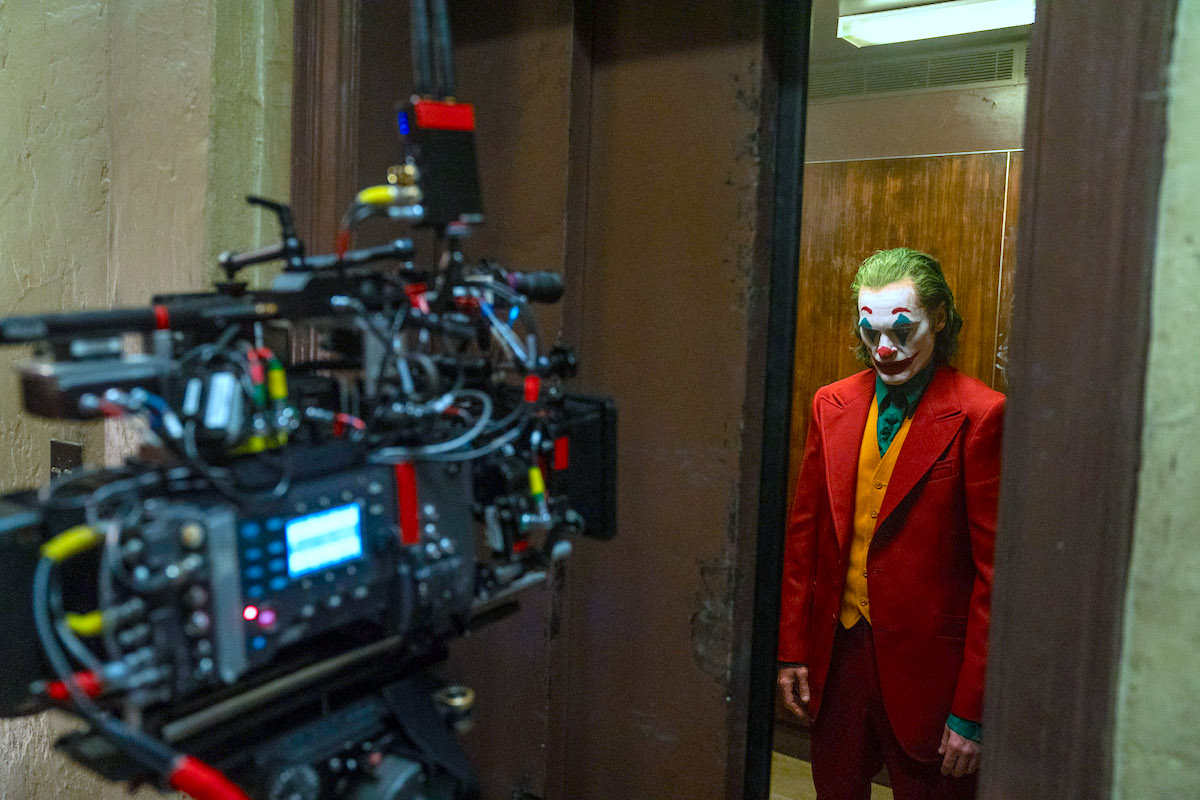 While Gotham was mostly visualized on New York locations, set extensions were used for embellishment. "Hugh drew all the VFX set extensions ahead of time, based on his ideas and input from Mark and me," Phillips relates. "VFX Supervisor Edwin Rivera came up with lots of useful concepts while offering some brilliant solutions to problems we hadn't even conceived." [VFX work was split between Scanline and Shade.]
On Godzilla, Sher had tried to keep the film in a P3 colorspace through most of the pipeline – for Joker, he took it a step further. "The monitors and dailies were all P3," he says. "There was a Rec.709 version that Editorial could cut to, but everything I saw was P3, which for me was very important because there's a translation going on when you view in a different colorspace. It's human nature to get used to how something looks during editing, and then get a shock when you go into final coloring. By having P3 there all along, you can avoid this. I recognize the various issues with this approach, but I feel everybody needs to agree on a single colorspace."
Phillips appreciated this, noting; "Larry always works his butt off getting the dailies to look the way we want them. And while Jill at Company 3 is certainly an additive factor in our process, we're not relighting the look in DI. It's more about subtlety, in terms of matching highlights and making sure everything integrates." Bogdanowicz used Blackmagic Design's DaVinci Resolve to fine-tune the 5293 emulation.
Sher, who says he's "immensely happy" with the final grade, notes how the team was able to carry the Kodak 5293 feel straight through, embellished by the addition of 5293 LiveGrain. "Even when doing VFX reviews, I'd think, 'That looks great without further tweaking,' since they used that same LUT." And while he's yet to tackle the HDR version at press time, Sher feels strongly that the final product should look essentially the same.
"Whether the movie is viewed in 4K, HDR or low-fi, it should not in one version appear enhanced, but as just another deliverable," he concludes. "The hardest thing for any filmmaker is probably, after seeing his or her movie in the theater, catching it streaming or on Blu-ray and wondering why it suddenly seems so garish. What happened to the colorspace?" (Note: John Quartel led Company 3's Color Science department in designing "sister LUT's" for different versions, including HDR for projection and Rec.709 for home video.)
Reflecting on the project and its relationship to comic book and cinematic versions of the character, Phillips readily acknowledges that "the title Joker gave us some leeway to take chances. We're using the IP in a very different way than in past adaptations. And if we had called this movie Arthur, I don't know that Warner Brothers would've been jumping through all the hoops we had them jump through to make it. It was a hard sell, but I have to say Warners was incredibly bold in letting us take this character and deconstruct him in such a way."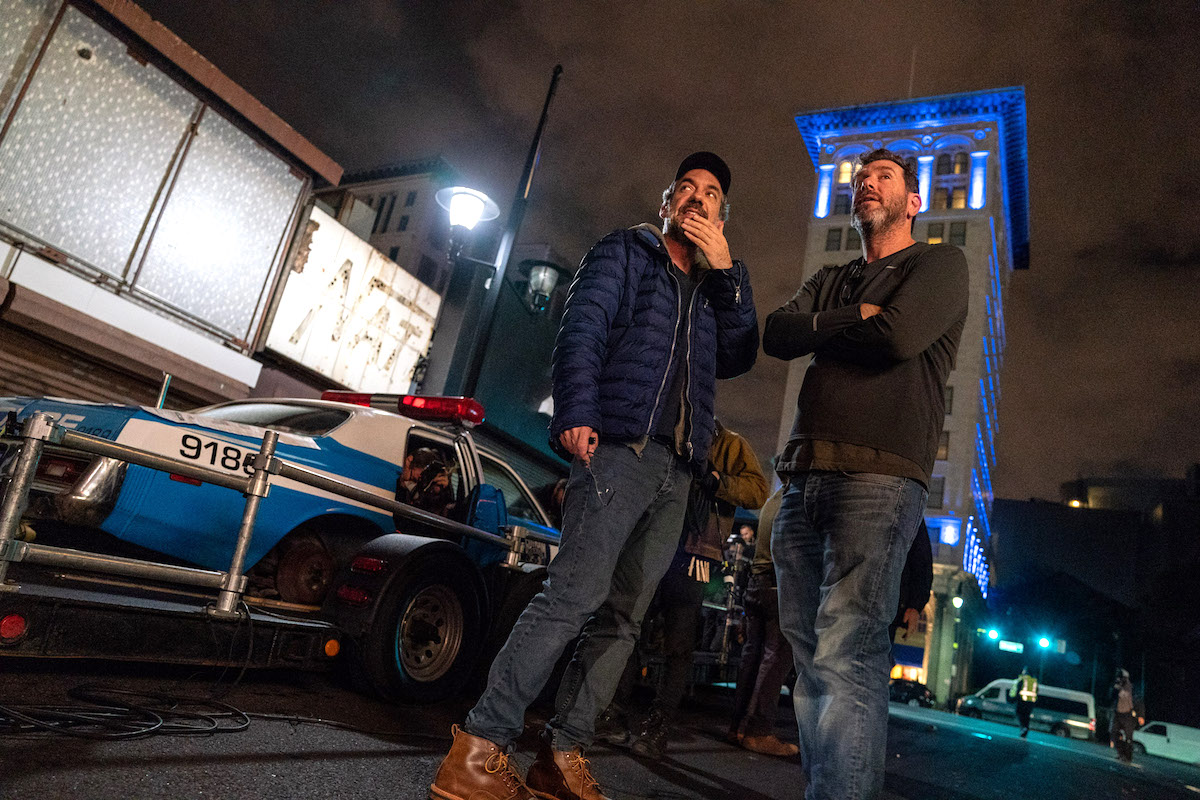 Joker – Local 600 Crew List
Director of Photography: Lawrence Sher, ASC
A-Camera Operator/Steadicam: Geoffrey Haley, SOC
A-Camera 1st AC: Gregory Irwin
A-Camera 2nd AC: Tony Coan
B-Camera 1st AC: Tim Metivier
B-Camera 2nd AC: Sarah May Guenther
Loader: Carrie Wills
Camera Utility: Keith Anderson
DIT: Nick Kay
Still Photographer: Niko Tavernise
Publicist: Larry Kaplan