The 2014 L.A.-based trade show hits it out of the park. All we can say: "Can't Wait For Next Year!" By Pauline Rogers. Photos by Beth Dubber.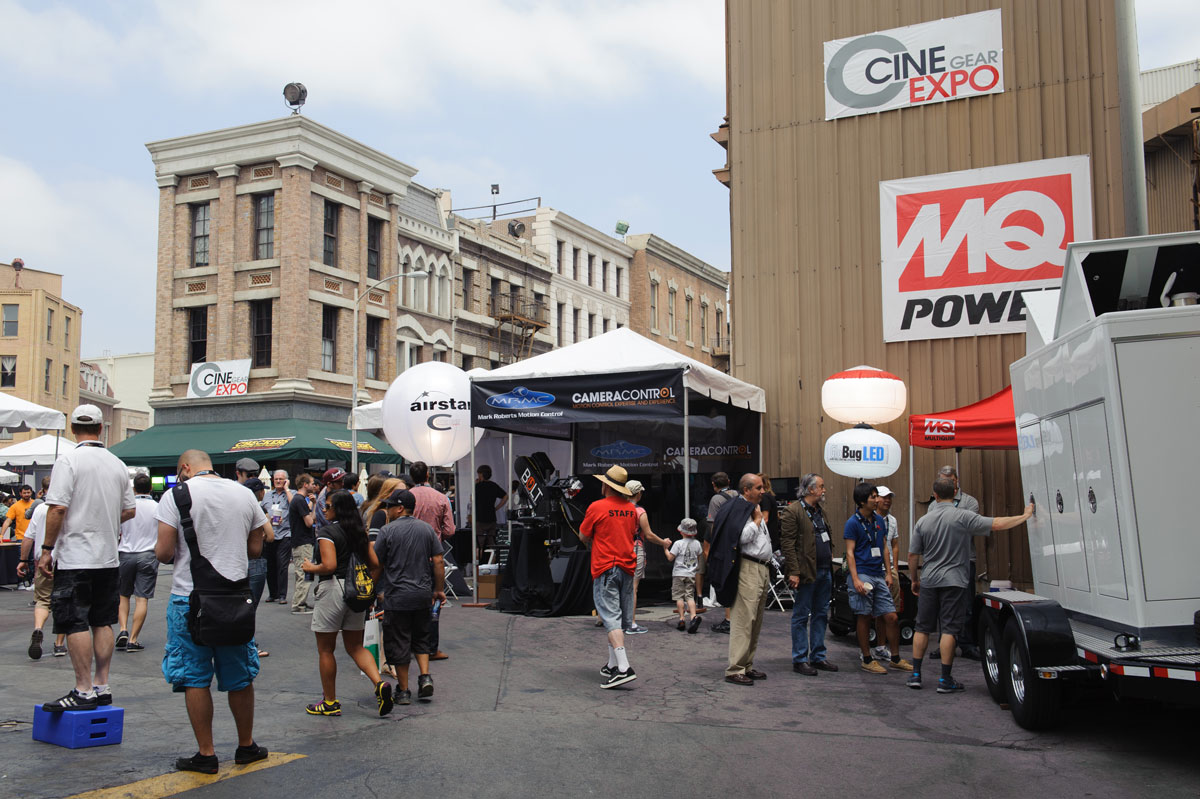 Despite the usual array of parking, weather (as in very hot) and logistical challenges, Cine Gear Expo 2014 was, by all accounts, one of the best ever. "It was a mini-NAB," as one Guild member noted, "with almost too much to cover in the short time available."
Seth Edmunds, with CW Sonderoptic – Leica, added that, "Cine Gear is one of the best opportunities for companies to meet so many working production professionals in one place. This year was no different, if not better than past years."
Sherry Fragmeni, Brand Marketing Manager for Anton/Bauer, agreed with Edmonds. "[Cine Gear is where] so many crewmembers have a chance to see [equipment] in the casual, hands-on environment that really makes this show unique."
One of the main reasons Cine Gear Expo 2014 was a slam dunk was a bounty of well-designed panels (led by a Local 600-sponsored Workflow discussion), and equipment that had not yet been introduced at the over-crowded NAB.
Participants on the Guild's panel, New Workflow Choices and the Director of Photography, held before a packed audience in the Sherry Lansing Theater on Saturday morning, included cinematographers Paul Cameron, ASC (Total Recall, Dead Man Down), Mark Doering-Powell (ABC's Super Fun Night, CW's Everybody Hates Chris), Andrew Thurman (commercials for Target and Lexus) and Local 600 National President Steven Poster, ASC (Donnie Darko, Someone to Watch Over Me).
Also on-board were 1st AC E. Gunnar Mortensen (Amityville, Cooties) and D.I.T.s Michele deLorimier (Cover Girl's Pink, Cream Reunion at the Royal Albert Hall), Bobby Maruvada (DI colorist Project X, After Earth) and Joshua Gollish (Skyfall, Prisoners), who acted as moderator. The highly knowledgeable Gollish kept the discussion focused on practical workflow solutions in the real world.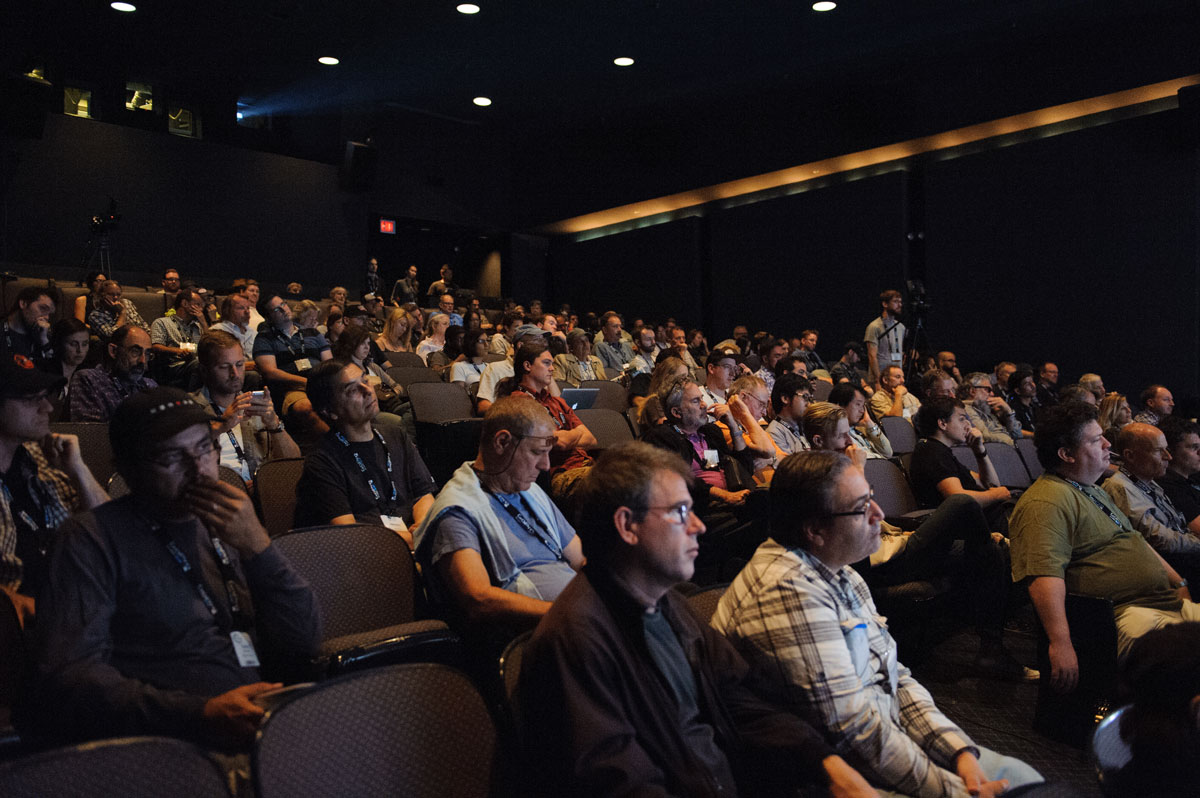 That topic resonated perfectly with Poster, who had just finished an indie feature, Amityville, which he'd turned into a test lab for workflow. "I was interested in live grading on the set and doing all the lab work there – delivering transcodes, LTOs, all formats for dailies," Poster revealed. The veteran DP's notion is that new workflow technology can enhance the value of the on-set camera team, revealing "the magic" behind the craft to producers, directors and other key creatives.
Mortensen, who was Poster's 1st AC on Ammityville, said the idea of live dailies gives the production team a way to create a shortcut that will smooth out the workflow on the set so "trust is built instead of production trusting us blindly."
That's a concept all DPs on the panel agreed they often have to fight for. And those in the commercial world, as Turman stated, aren't quite as successful in achieving.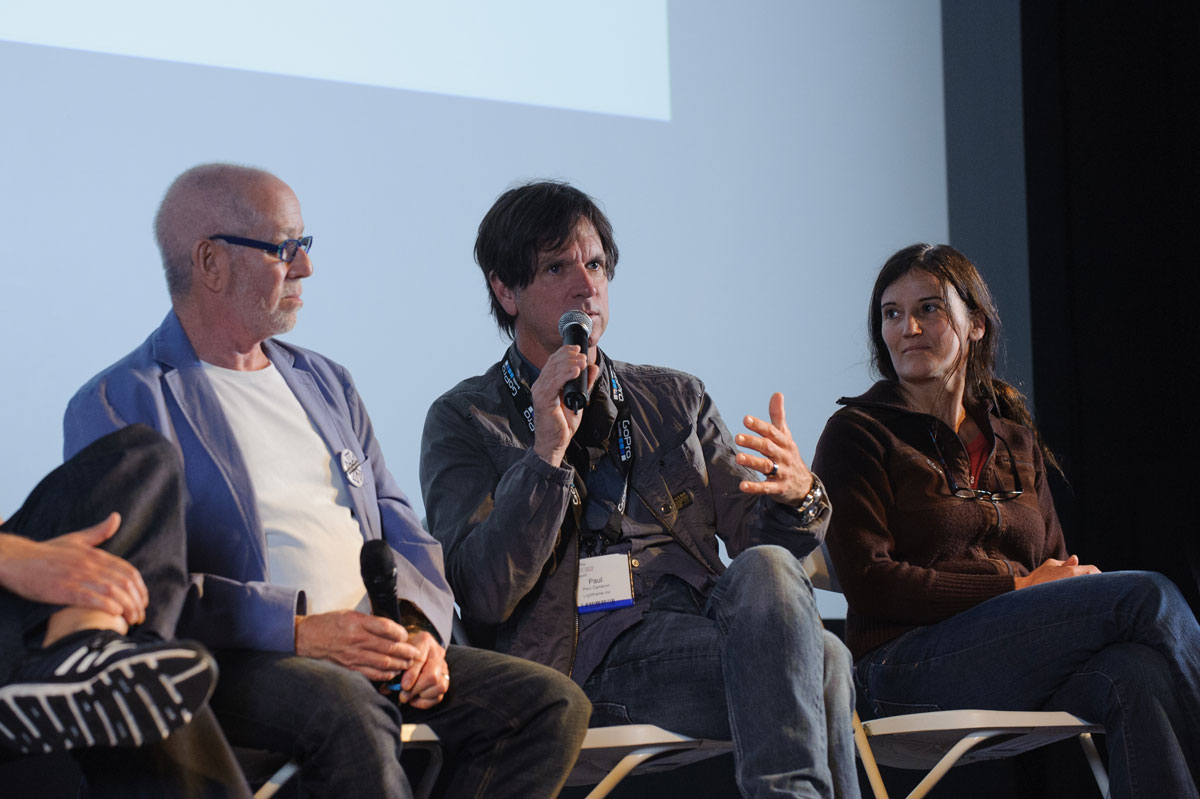 "Even the director has lost control [in commercials]," Turman lamented. "We aren't able to implement what Steven and others are doing because the image is taken out of our hands. There was one instance, for example, where a subpar image was delivered to the client – and I had no idea. Being able to bring the kind of control we're talking about today to that world would be important."
Cameron said that such control resides in "how you handle the workflow. Working with a team who knows it is their responsibility not to change but to facilitate the flow is [key]." DPs have to keep on top of the color management, because often images come in from all over the world – and they have to work together. Cameron said this is best handled with the right tools – ACES, for example.
"ACES is a point of unity for all images," deLorimier added. "This fills the need for standardization of image valuations to maintain the intended look throughout the post process. Doering-Powell echoed that sentiment with a reference to a recent pilot where "ACES allowed us to do everything from 3D LUT references to stills and 1D LUTS. Everything worked together seamlessly."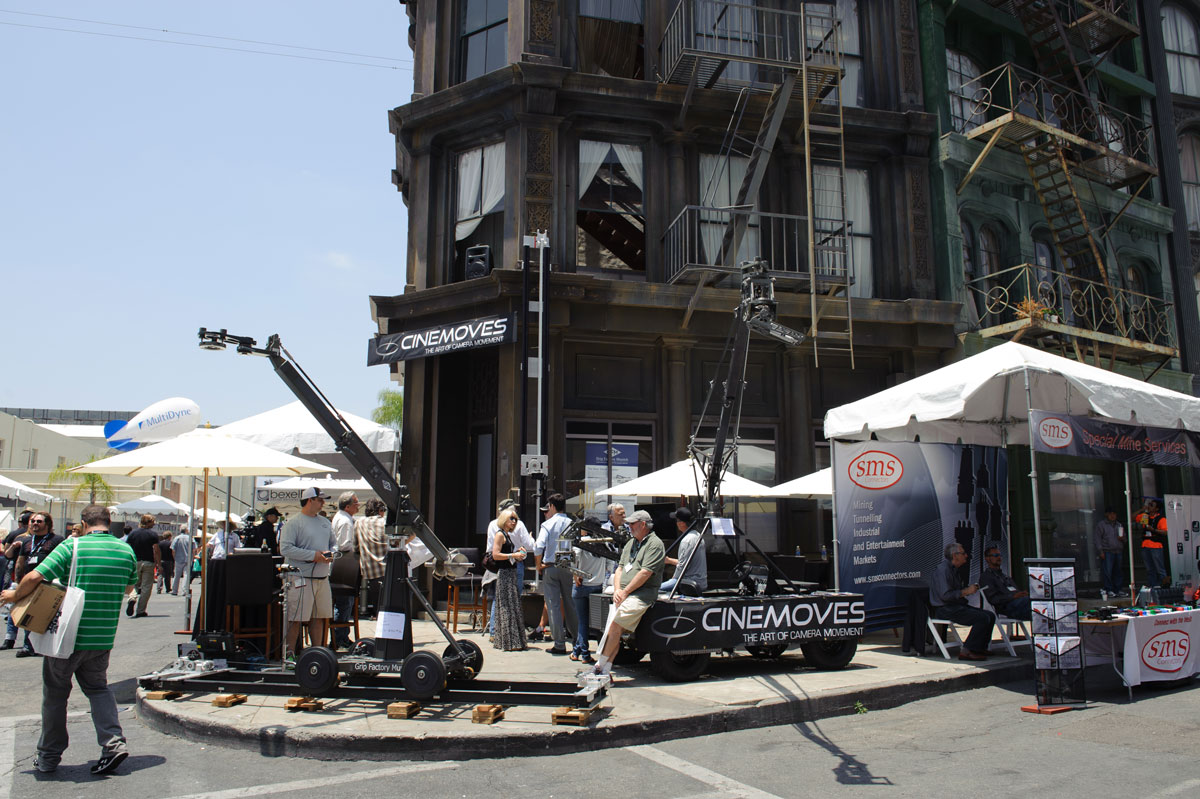 "Years ago, color grading of images, IMAX, etc., took the whole day," Maruvada continued. "With color grading on-set, images sent to calibrated monitors at the post houses, for example, are all timed the same."
Each of the D.I.T.s on the panel was in accord with how a smart workflow can facilitate the creative process. For example, using different LUTs in a single shot for choices while shooting. Want to see a "bleach bypass?" Select an isolated area of the image and still maintain a different "look" to the remainder of the frame.
All insisted that strong communication between DP, D.I.T. and 1st AC helps to create a "workflow roadmap" that can decrease postproduction costs and maintain the DP's desired look. And the presence of all that combined workflow brainpower sparked a series of interesting questions from the audience. Like why the D.I.T. has become such a key figure on-set, for as deLorimier noted, "it's [the D.I.T.'s] job to take the technical burden away from the DP – and, [as Cameron pointed out] deliver what the DP wants," – so production gets the best image available."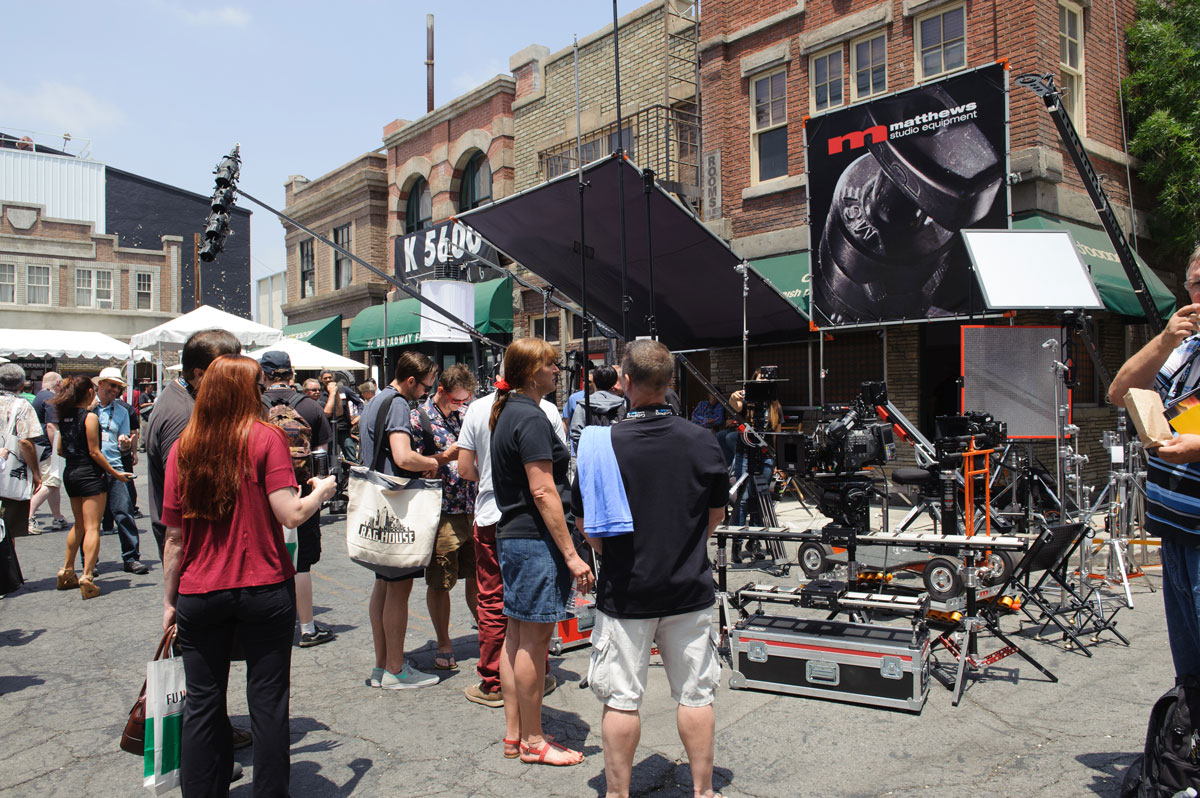 Guild members who attended Cine Gear Expo 2014, couldn't help but marvel at the big NAB-like crowds flocking around vendor's booths. "I got there late and in the full crowd," remarked 1st AC Jamie Felz. "So, I relied on suggestions from people I saw. Amy Vincent led me to the new anamorphic lenses – some of which are T 1.0, which are hard for pulling focus – and the new ARRI Amira, which was going in the case by the time I got there. One thing that caught my eye was the Cherry Boxes – lightweight plastic apple boxes. Some are even colored like green screen. Innovative."
"It seemed like you couldn't walk five feet without seeing some version of a camera remote movement system, where it was a helicopter, radio controlled car, hand held Gyro system or a Steadicam with 360 degrees of roll," added cinematographer Billy Dickson.
"Companies like Cinemoves, owned by Scott Howell, continue to be on the forefront of big scale solutions," Dickson observed. "Their Power Slide is an amazing tool for car work. MK-V, with its revolutionary 360-degree solution to aid Steadicams was amazing as well – going from low mode to high mode during the course of a Steadicam move. And Matthews Grip is always a forward thinking company – their newest motorized sliders are top notch. I also thought the Fuji Monitor calibration image processing system was a great solution to matching different monitors for more accurate color correction and look management."
Local 600 Education Committee member Mark Weingartner was on the prowl for new technology for upcoming workshops. "There were a lot of things that had incremental improvements," Weingartner said. "But what did catch my eye was the good mounting choices and a unique magnetic clutch to add some drag on the slider from That Cat. I also really like the various truss and super-slider designs by Solid Grip Systems. Their TwinDolly and TrussDolly systems are clever modular systems for over and underslung camera work.
"With the profusion of 'ergonomically challenged' cameras over the last few years, I noticed that there were a lot of companies presenting accessories," he added. "What stood out was CineSMART, a new company owned by Marker Karahadian. Their products range from handheld rigs to Hollywood Handles, focus whips, speed cranks and mounting systems. I found the design simple, elegant, and sturdy."
Vendors, too, were enthusiastic about this year's show. Cine Gear Expo draws many shooters looking for products that will aid capture in all venues; the show is geared to the vendor/inventor, as well as the smaller companies who put a lot of personal R&D into their products. For Alessandro Di Leo, who is out there with a product developed by retired Local 600 Member Mario Di Leo, the traffic for their Ready Rig was phenomenal.
"Hollywood pros, reality show camera operators, and documentary and independent filmmakers were checking the rig out," Di Leo noted. "Everyone who tried it on discovered the rig's versatility. It's getting more popular every day."
Another Local 600 member team – Greg Smokler co-owner with Daniel Kanes of Paralinx – said the announcement of their new wireless video system, the Arrow-X, was an unqualified success. "The zero-delay, uncompressed Full-HD video with a 700+foot range caught a lot of attention of people who are out there every day in need of support like this," Smokler relayed.
Weston Phillips, owner of super-hip monitor builder, SmallHD, was amazed at the quality of the attendees. "We had Local 600 President Steven Poster and media mogul Freddie W checking out the DP7-PRO monitor to do onset real time color grading, a tool that we hope will become popular for a wide range of production possibilities."
Pictorvision's Tom Hallman was tickled by the reaction to his firm's popular aerial products. "This was the busiest Cine Gear for us since we launched our Eclipse a few years ago," Hallman commented. "The attention we got with our 6 RED Dragon array, sneak peak of the new mini Eclipse with carbon fiber Red Dragon, and an UAV gimbal that will fly the Epics, certainly had the RED community abuzz. And, the Trusscam wireless rail system brought in a whole new group of ground-based clients, so much so that next year we'll need to double the size of our booth."
The booth at Radiant Images was busy thanks to products like the Novo Stabilizer rig (that weighs in at about four pounds) and the FreeFly MoVI M10 (which Radiant Images has modified for their users). Of course what really stopped traffic was a cool new Steadicam/car combo. With only four available in the world, you bet these things are going to be hard to find!
And the list goes on. Tokina had its brand new 50-135 T.3 PL Mount and Canon EF mount cinema lens on offer. ZyLight had the F8 Compact Fresnel LED, the palm-sized Z90 LED and IS3c LED, ikan brought its TiltaMax system, with the three-channel control for focus, iris and zoom, and with a zoom speed adjustment. Nifty camera rigs included the Tyto family of Cinematic Camera Stabilizers that allows users to tune gimbal settings for their particular setup, including the ability to setup and store multiple profiles. And we won't even go into all the duck and weaving we had to do to avoid the many drone systems zooming overhead!
The consensus vote was that if shows like this year become the standard, Cine Gear Expo would have to grow beyond its (very crowded) two-day slot, into a larger, more NAB-like industry gathering.
All of which means we can't wait to see what next year brings.