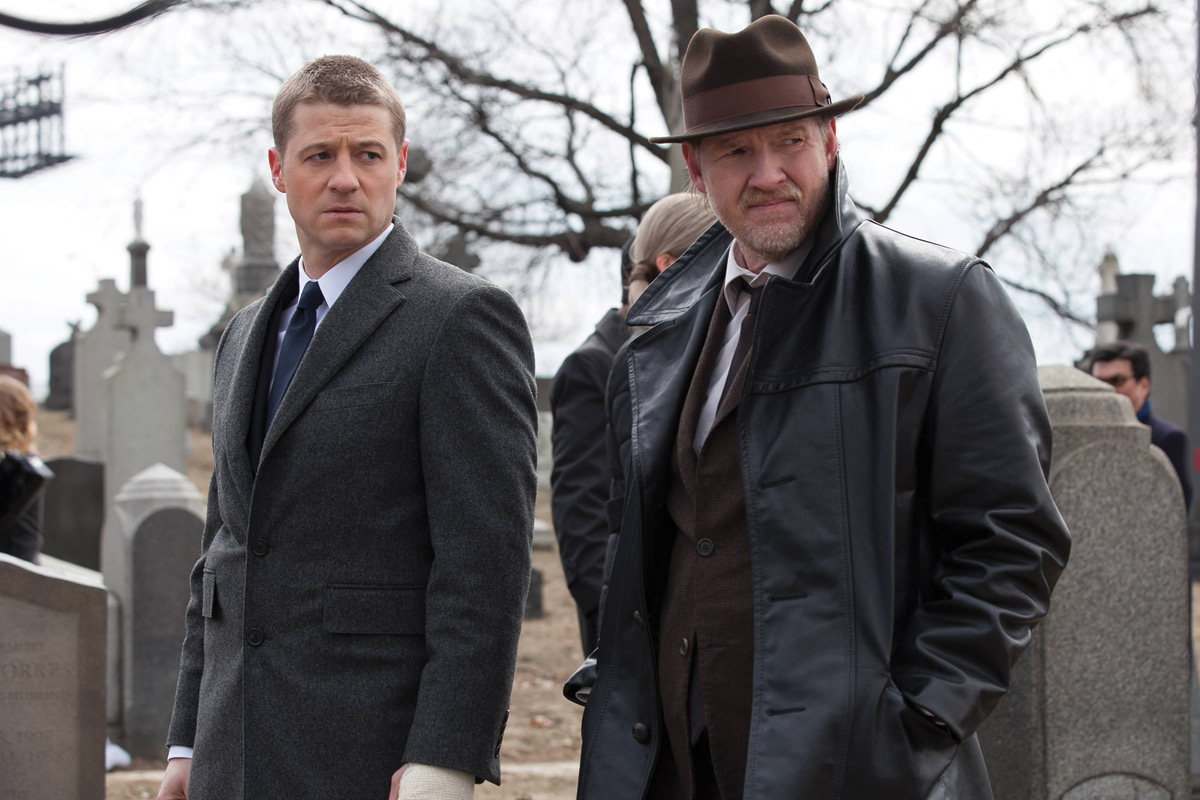 David Stockton, ASC, and his talented New York-based camera team go 1970s dark noir for the sensational new FOX series Gotham
There's more mythic import to Batman than just the notion of a dark knight. Ask Ridley Scott, who originally intended Blade Runner to be called Gotham City, before falling afoul of legalities associated with copyright owner DC Comics.
Christopher Nolan's Dark Knight Trilogy proved such a success on both creative and financial levels that a further exploration of the city that spawned Batman and his adversaries seems, in retrospect, a no-brainer. Hence Fox's new TV police drama, Gotham, follows the exploits of war hero and rookie cop James Gordon (Ben McKenzie) as, amid growing squalor and corruption, he investigates the murder of Bruce Wayne's wealthy parents.
For Gotham's all-important first-impression pilot episode, Executive Producer Bruno Heller turned to director/producer Danny Cannon and his solid background in TV drama (various incarnations of CSI) and directing credits with crime stories dating back to his ingeniously low-budget feature The Young Americans. Cannon says he welcomed the opportunity to be in on the ground floor.
"From my perspective, it's always helpful to come on early to work alongside the writer," he reflects. "I can use my visual sensibility to help flesh out the concept more completely. We're following in Chris Nolan's wake, who not only did a brilliant job of bringing Batman back, but also grounded the story in a believable kind of reality everyone can relate to – Gotham is EveryCity.
"I love superheroes," Cannon continues. "But these are about a costumed vigilante, not someone who transforms himself through science or chemistry. They're credible tales in a city where the lunatics seem to be running the asylum."
With Gotham being set two decades prior to Batman's donning his cape, Cannon thought the city should resemble a past-era Big Apple. "I suggested to Bruno that Gotham could feel like late-1970s New York, before gentrification," he describes. "Photos from that era showed the graffiti train and the burnt-out cars and the beginning of the punk movement; it was dangerously alive.
Putting our characters in that edgy place felt right, while also allowing for a poetic presentation. I was channeling a bit of Tim Burton as well, going more industrial like his work on [Batman and Batman Returns], though my view is more of what you might describe as Dickensian, filtered through Sidney Lumet and William Friedkin's New York, and tossing in a little Blondie and Ramones," he laughs.
All concerned agreed that shooting in New York was essential to capturing Gotham, with both location and stage work accomplished there. Cannon also chose a cadre of past TV collaborators, including 1st AD Michael Viglietta [Eleventh Hour and Alcatraz] and production designer Doug Kraner [Nikita and The Forgotten].
Gotham's DP, David Stockton, ASC, had been brought by Cannon onto CSI for season 5 after Canon had been impressed by a Stockton short. Their work together has included three other series and ten pilots, with Stockton earning three ASC nominations in the process, including a win for Eleventh Hour.
"With Danny it's all about efficiency, so pretty early in prep we all know what we're doing and remain in synch on the overall vision," says Stockton, who, while based in Los Angeles for nearly a quarter-century, hails from New York. "The density of this city makes it difficult for a unit to get across town, but the tradeoff is that you get a texture impossible to achieve on any backlot – there's no constructed equivalent to the real Soho."
Among Stockton's first challenges was determining just how gritty and dark Gotham would be. "There is a fantasy element in that this is based on DC Comics," the DP concedes. "But the story is largely an urban cop drama, set in a realistic environment. We stylize things only slightly so as to remain believable." Locations used to great effect include the massive Calvary cemetery in Queens and a beautiful old Long Island mansion in English Tudor style, the latter serving as Wayne Manor.
Stylistically, Stockton and Cannon wanted a cinematic look that wasn't gimmicky. "It became very much about finding a shot so good, we could stay on it a bit longer than is the fashion," Stockton acknowledges. "We're not dutching the camera, but instead being more economical with our visual approach to how the drama plays out. We had effects and rigs that helped us tell the story, so if somebody gets knocked down and dragged along the ground, we'll use a Lensbaby and smear stuff on a clear filter to create a distorted perspective. To intensify a foot pursuit there are rigs like Parrot Cam, with the actor wearing a 5D on a post coming off his chest, so we can see him up close and in motion as he chases down a suspect."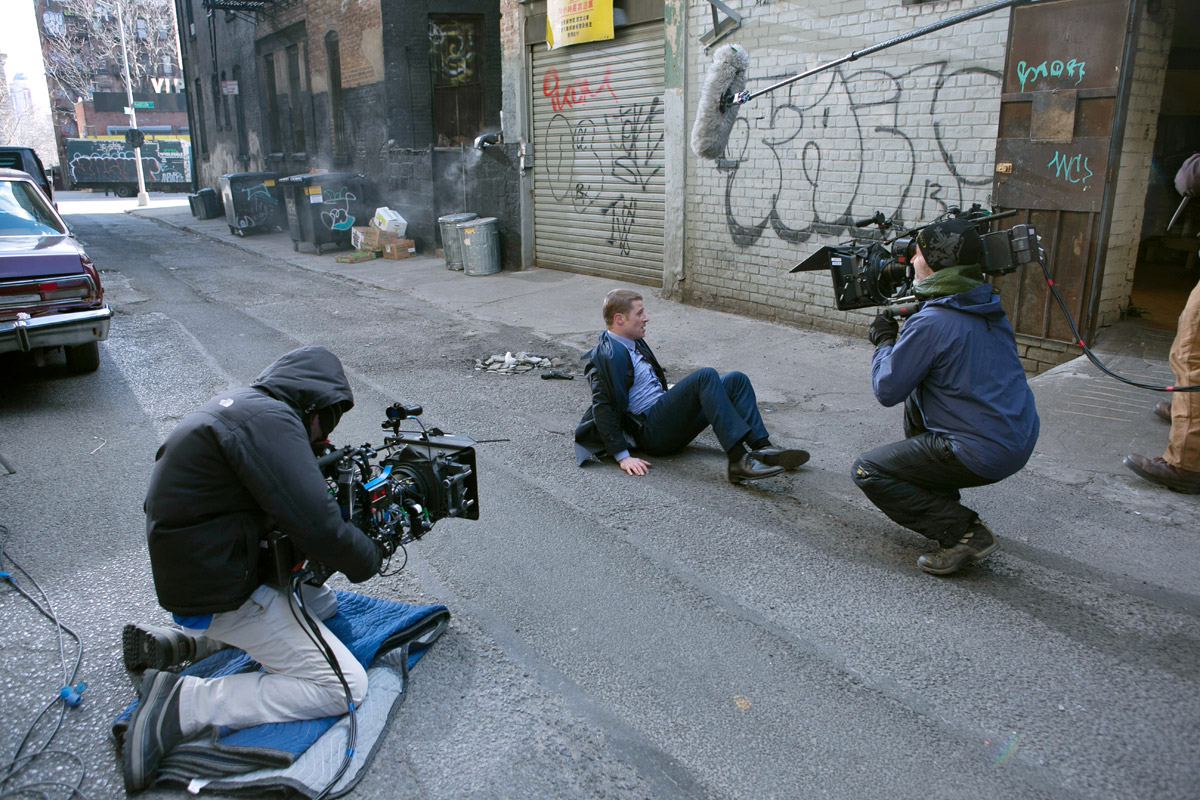 Stockton also takes into account the process of discovery that goes on for actors. "I'll find a place in the corner to watch the cast during rehearsal as they feel out the space," he reveals. "By that point we've done a technical scout and know how a given interior works and where the light comes through, but our plans can be fluid, depending on how the performers respond to the set. Danny may want a light turned off when he sees how the staging develops, so it isn't all by rote."
While Stockton still originates on film for some projects, he admits HD dominates the small screen. "The digital cameras have become more sensitive and have greater latitude in certain ways," he states. "And while this allows for new opportunities, it also brings challenges. I'm no longer able to light through the eyepiece during rehearsals because there really is no eyepiece. An operator can get an idea through the viewfinder if he is still in focus, but the DIT tent station is really the only place you can get an idea of how it all works."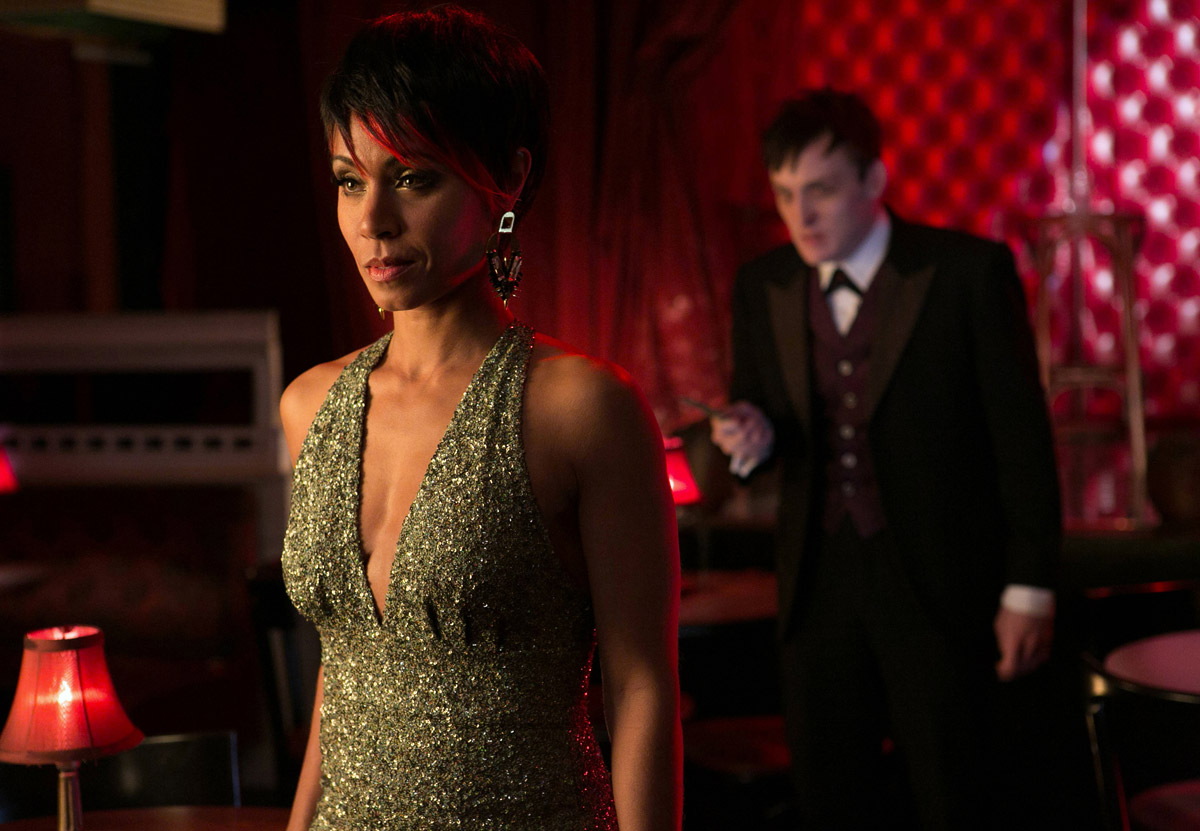 Tech-wise, most of the series was shot on Alexa, recording in log-C. Production carried A and B cameras in Studio mode on dollies that utilized Angénieux 12:1 and 4.7:1 zooms, while a third body – available for Technocrane, Steadicam or handheld – utilized Angénieux compact zooms in the 15–40, 28–76 and 40–120 range.
"HD does allow us to make more efficient use of existing light," Stockton continues, "especially with night exteriors. There's a learning curve as you realize the same size or type of light you used previously is no longer needed to achieve a similar effect. I think that we've got as much black behind the camera as in front of it, just to reduce illumination and increase contrast. In order to create shape and model the image, it is now more of a subtractive process. Still, no matter how dark the moment emotionally, and in terms of location and time of day, I like some eyelight so we can see the character."
Even with all the new digital tools at their disposal, the filmmakers did improvise to snare a desirable visual. "There was a scene with young Catwoman running across a rooftop," Stockton recounts, "and Danny wanted the camera to rise up to reveal Gotham in the background. But the building was a walkup, with just no way to get anything up there, so key grip Keith Califano came up with a nice manually operated jib arm rig built from small parts that could be carried up easily. [A-camera and Steadicam] operator Gerard Sava executed a perfect move by stepping up onto apple boxes, and afterward said it felt just like a Technocrane."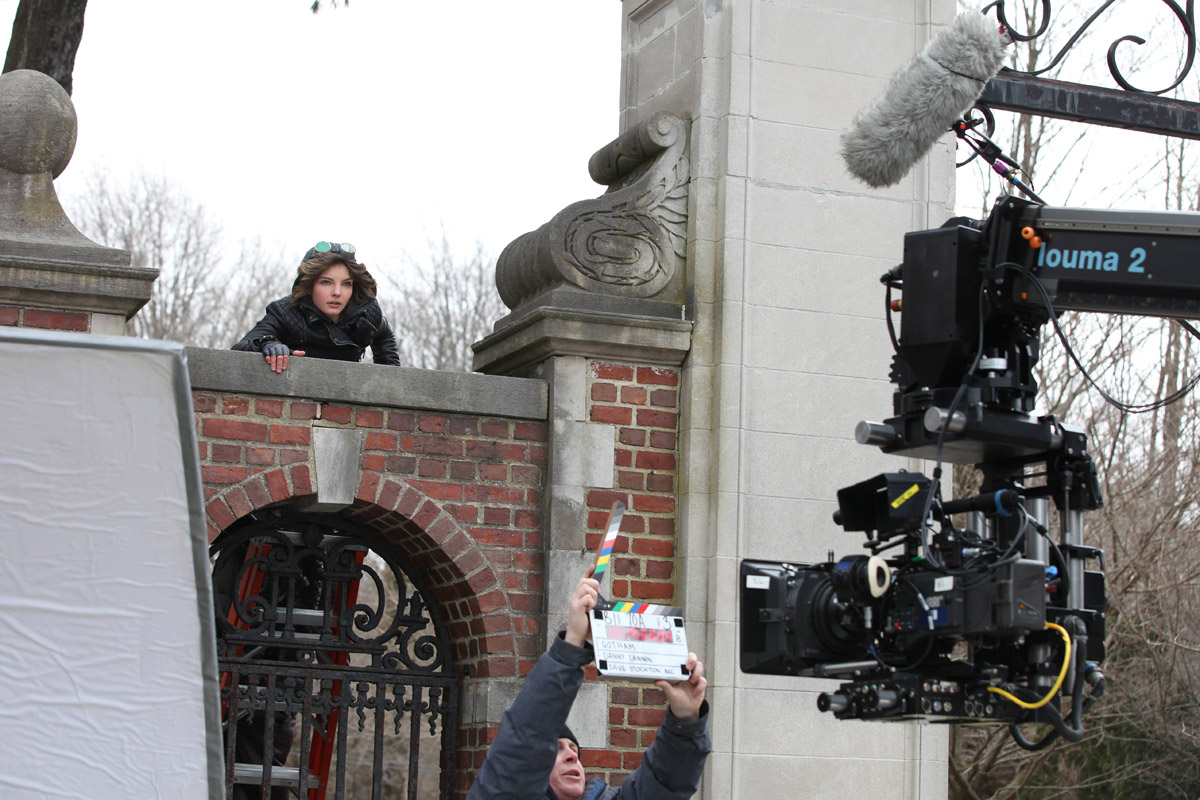 Stockton notes that his crew – Sava, A-camera 1st AC Chris Silano, A-camera 2nd AC Troy Sola, B-camera operator Peter Agliata, B-camera 1st AC Rebecca Arndt, B-camera 2nd assistant Joseph Metzger, DIT Ted Viola and loader Haffe Acosta – were rock solid on the busy New York locations and stages, and brought their "A-game" throughout.
In fact, Danny Cannon says his biggest challenge was determining how much of Gotham would be built on stage. "Unless you luck into finding a perfect location, building from scratch is best," he confesses. "For example, I wanted our police precinct to have a lot of masculine weight, much like Grand Central Station [not feasible for extended location work] and for it to reflect a lot of history. I showed our production designer pictures of London's St. Pancras [railway] station, and what we wound up with has these girders and a real Gothamy presence to it."
Stockton describes the police station set as "Gothic meets Penn Station, with old-looking iron arches and great staircases. I worked with [production designer] Doug Kraner, going over the set plans to incorporate practicals wherever possible, and found he had already anticipated most of my needs. To contrast with that, we have sets like a very nice penthouse with a custom day/night backdrop rigged outside, which looks rich and gorgeous," and where Mole-Richardson Cyc Strips, Maxi Coops and Spacelites were employed to illuminate the faux skyline.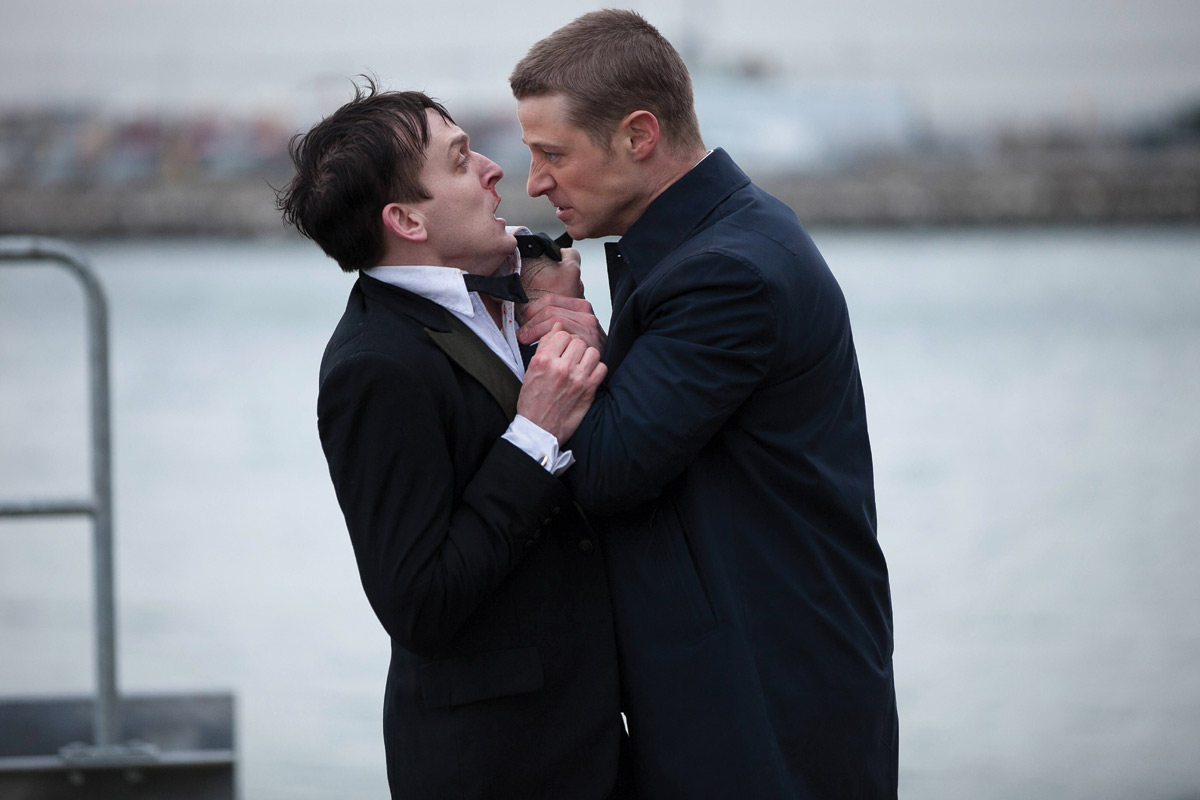 To recreate the sun on stage, Stockton used Arrimax lights. "The special reflector on those units gives a very natural look," he reports. "The quality of the 18K is the closest thing to an arc light when bringing classic sunlight through the windows." Gaffer Charlie McNamara also used 6K and 4K pars, both to extend the 18Ks and in other lighting situations.
Stockton says he wanted to carry over a strong sense of the city when stagebound.
"The city's energy and presence impinges on every room through the windows," he states. "I always wanted to keep an interactive presence coming in, like flashing police lights and car headlights, which can help light our characters. These lights coming in and playing on background walls and faces inspired other enhancements. Somebody doing sound design will see these cues and put in something that builds on the interactivity, be it cars going by, or a horn or running footsteps."
Danny Cannon's own notion for the Gotham audio track was based on old recordings. "I found tapes of New York from the early 1980s," he smiles. "The older trains, car engines and siren sounds, even as background, were enough that certain noises emerge and help take you back to a different era, back before so many things became subdued or went digital. Gotham's sound is heavier, clunkier, and more manual."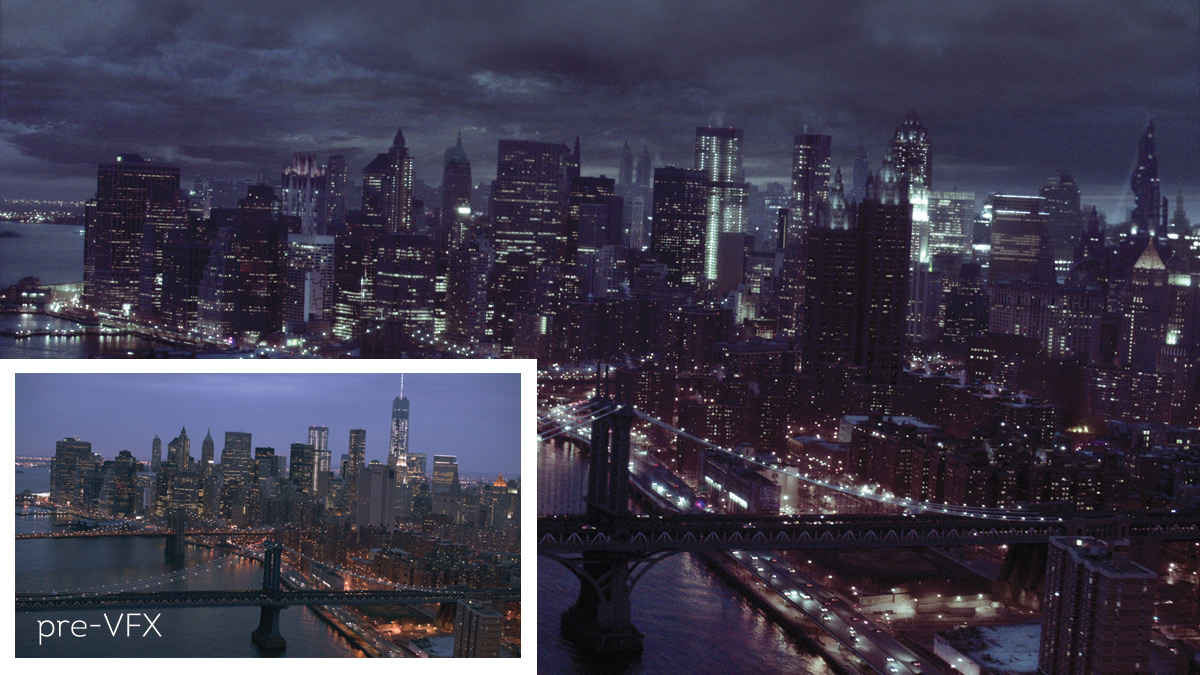 The cityscapes – a combination of location plates and CGI – also reflect the oppressive gritty feel. "You're walled in by all these skyscrapers, almost like you're in a canyon, with elevated trains done in CG running overhead, so the available light only bleeds in," Cannon adds. "I did my own drawings, taking some New York buildings away and adding other structures, to pursue this visual notion of a city where the building commission and zoning laws didn't exist.
"I showed those to our VFX group [CosA VFX] and they understood right away how to build on it," he adds. "With typical New York helicopter shooting, you're forced to hover too far from the city for it to seem like you're within the canyon of buildings. They showed how David and his team could shoot from offshore with a longer lens, and still get that canyon feel through the addition of foreground CG buildings on each side of the frame." Aerials were shot on the RED EPIC, using a card that permitted 40 minutes of shooting that minimized reloading, while DP David Knox handled underwater shooting.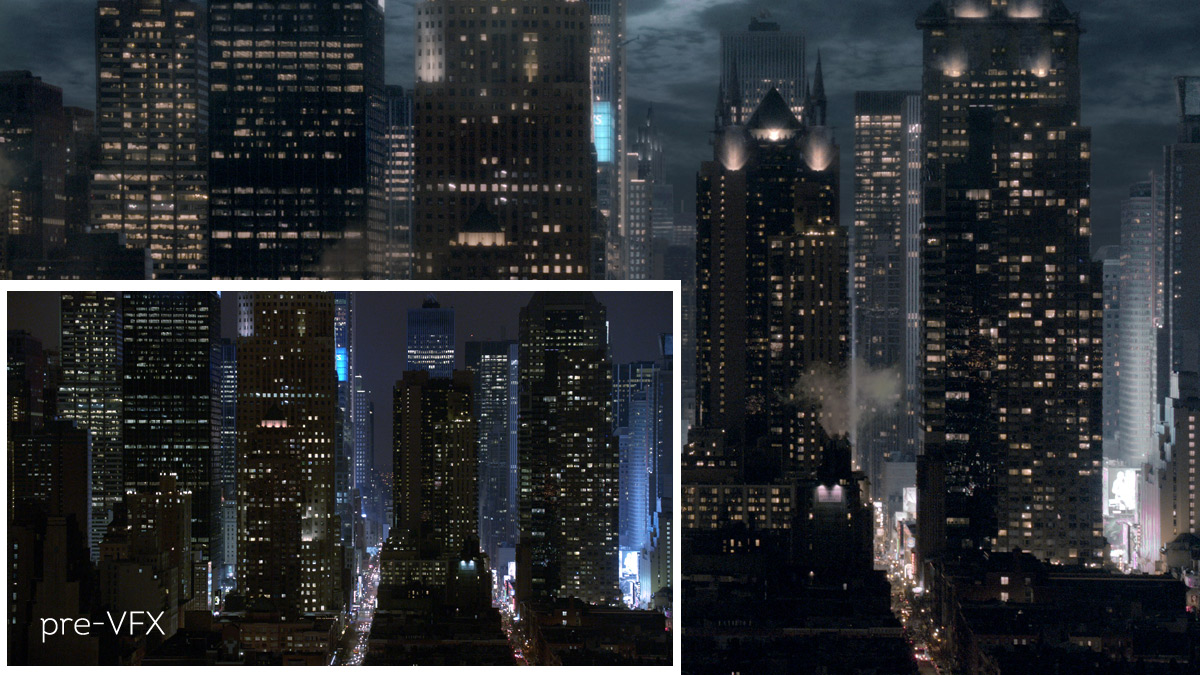 Post work and dailies were done at Encore, with colorist Paul Westerbeck handling the DI. Stockton, who saw Cannon's director's cut, was pleased with how many looks in the finished grade matched those established on set.
"It's always fun with Danny because there is no confusion about what we're going for," the cinematographer concludes. "It has been said that if Kubrick hadn't been a director, he'd have been the best gaffer ever. The same could be said for Danny, since he knows what is needed and how it will all cut together.Since he doesn't shoot a lot of stuff that won't go into the final, we can make the most of our 12-hour days. The fact that Gotham is such a very visual project speaks well for the whole [Guild] camera team, helping me establish these interesting looks in the pilot."
 by Kevin H. Martin / photos by Jessica Miglio/FOX