Linus Sandgren, FSF, inhales deeply of the cinematic magic that is La La Land.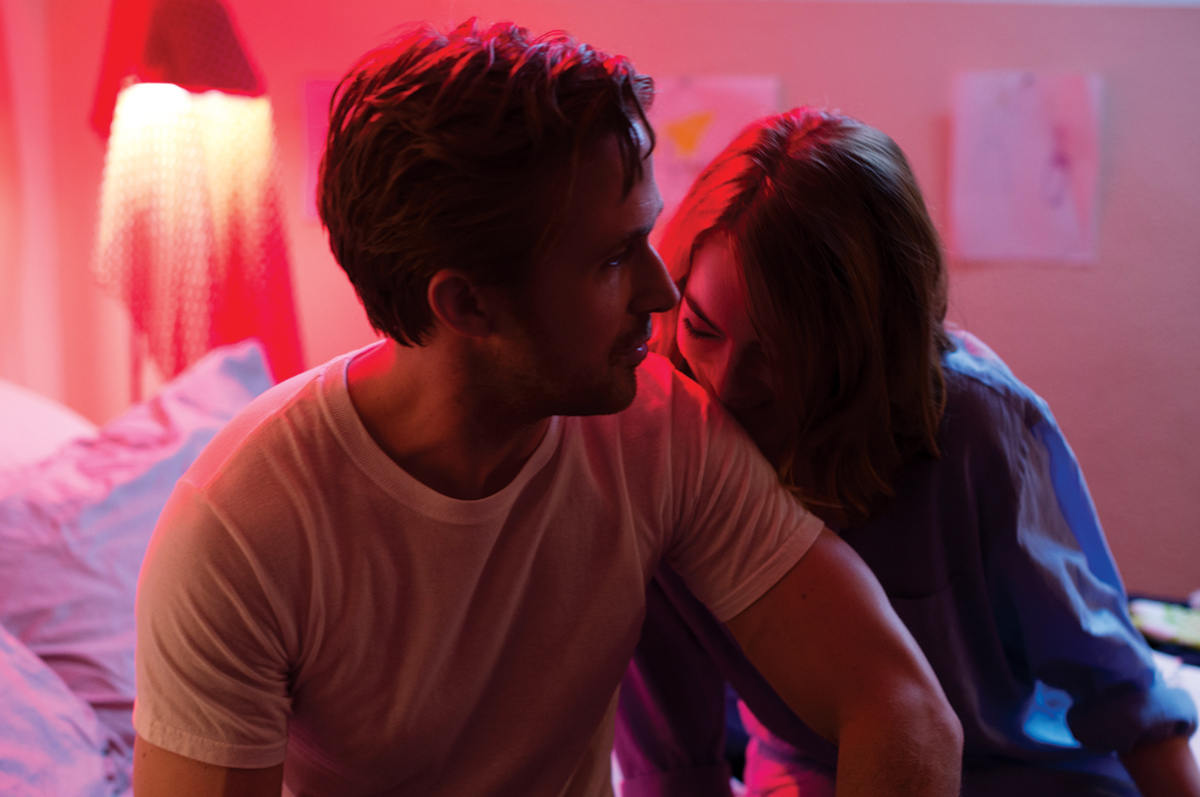 La La Land, the new romantic musical from indie director Damien Chazelle, starring Ryan Gosling and Emma Stone as a pair of star-crossed dreamers in contemporary Los Angeles, has been riding the kind of critical-acclaim wave that historically culminates in so many breathless acceptance speeches on Oscar night.
And while the lovers at the heart of the story are driven, as Chazelle has described, by "giant dreams" in a city that "is a crazy haven for dreamers," their journey may well be dwarfed by the ambitious behind-the-scenes dreamers intent on bringing Chazelle's 1950's Hollywood-inspired vision to life, most notably cinematographer Linus Sandgren, FSF; composer Justin Hurwitz; choreographer Mandy Moore and production designer David Wasco (working closely with his wife, set decorator Sandy Reynolds-Wasco). The risk/reward ratio of this once-in-a-decade project was as epic as the Cinemascope format Chazelle used to tell his story.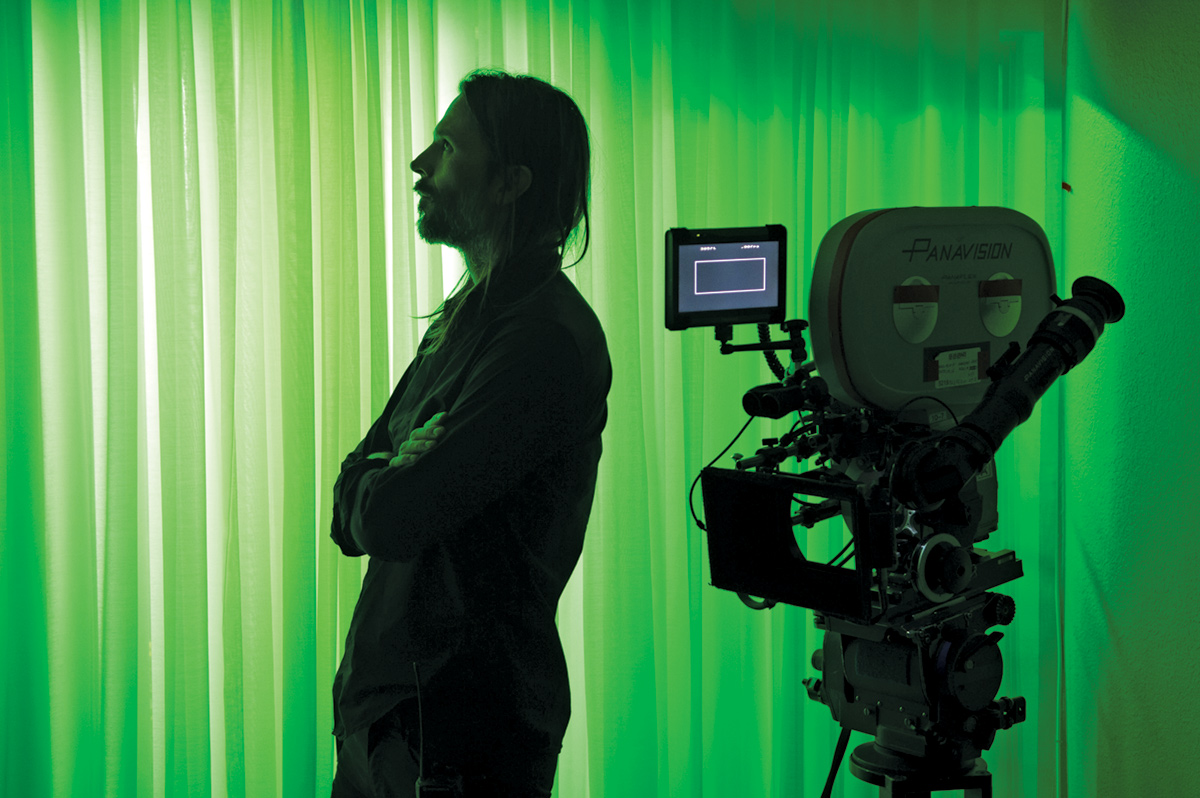 "It was obvious how risky this film was from the first meeting I had with Damien,"describes Sandgren, whose work for David O. Russell on Oscar-nominated films like American Hustle and Joy caught Chazelle's attention. "It would either be a total catastrophe, given how many challenges were set out, or absolute cinema magic."
La La Land is clearly the latter – whimsical, romantic, gorgeous, and definitely magical, thanks in no small part to a stalwart Guild camera team (led by an implacable Steadicam Operator, Ari Robbins, SOC) that never said "never."
Consider this: La La Land was shot on film in a 2.55:1 aspect ratio (the older Cinemascope format is wider than the 2.40:1 scope typical today) that required Panavision to build new ground glass for the lenses. Chazelle wanted long single takes, i.e. "oners" (often with combined Steadicam and crane moves), which meant the 4-perf anamorphic Super 35-mm mag had to be reloaded every 10 minutes, and no B-roll safety coverage. Los Angeles was a main character, so shooting was all practical locations, mostly within the small window of fading twilight at "magic hour," limiting takes.

Chazelle also wanted a bold color palette à la his muse, French director Jacques Demy, and films like The Umbrellas of Cherbourg and The Young Girls of Rochefort, which would avoid post manipulation. [Sandgren says his favorite parts of being a DP are the shaping of color on set via natural and artificial light and filtration, and his partnership with Costume and Production Design.] And, oh yes, the classic Hollywood-inspired musical had to be grounded in the characters' everyday reality of 2016!
"It was a little daunting at first," Sandgren continues. "But Damien has a passion for in-camera capture, and he prepares so meticulously – we carefully boarded the entire film in prep and made detailed camera-movement diagrams for each shot. His passion just carried us along to create something very special."
So special, the DP's energetic camera was actually inspired by Hurwitz's score. "The music existed before there was a finished script," Sandgren continues, "and at our first meeting, I sensed this emotional melancholy that was really inspiring…insofar as I could see how the camera would move with these people through this city of dreams," he adds. "We wanted the camera to participate as a dancer and a musical instrument, inspired by Justin's music and Mandy [Moore's] choreography in the musical numbers."
Hurwitz, who scored Chazelle's senior thesis short at Harvard, Guy and Madeline on a Park Bench, and then later, his Oscar-winning indie hit, Whiplash, utilized a 95-piece orchestra and a 40-member choir for La La Land. He says he first met Sandgren during rehearsals for the film's complex opening number, "Another Day of Sun." [See sidebar Page 52]
"When I saw what Linus and Damien were planning with the camera, that began to inform my orchestration for the songs," Hurwitz recounts. "Then when I saw footage in post, I really fed off the lighting and colors on screen to help create dramatic underscoring."
The composer cites a key moment when Gosling's character (Sebastian) has missed Stone's (Mia's) one-woman play because he was at a photo shoot. He screeches up in the car, pounds on the door [to the small theater] as Mia walks out, devastated because the play did not go well and he didn't show up.
"The camera is so active in that scene," Hurwitz shares, "with [Robbins] on Steadicam following Ryan around. That really helped me to compose a similarly urgent musical cue that tied into what Linus and his team were doing. In that scene, and others, the music is responding to the photography in a very direct way."
Hurwitz, who wrote all of the music (including a big concert scene with John Legend on lead vocals, as well as smaller jazz "combo" numbers in the various L.A. clubs Sebastian visits and plays), says his marriage of lush orchestration with a jazz rhythm section reflects the same approach Chazelle and Sandgren had to production.
"I wanted the jazz players to be to free to improvise," he adds, "while behind them would be 95 musicians playing every note and slur on the page, exactly as they've been written. Likewise, Damien and Linus carefully planned all these incredibly complex numbers in advance for the camera, and then allowed themselves to improvise on the day if/when things had to change."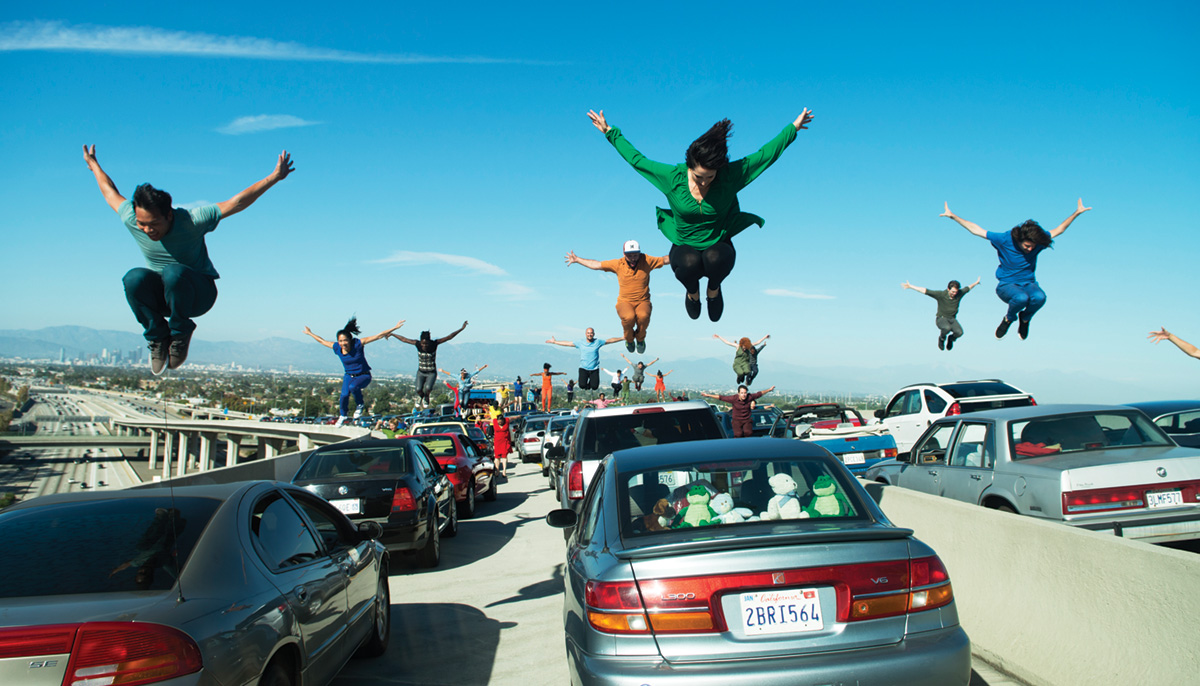 Moore, who has choreographed 11 seasons (and counting) of the Emmy-winning reality competition series So You Think You Can Dance, says working with Sandgren and Chazelle was a rare kind of partnership. "The style of live television today means my work is edited quite a bit, and I don't get a lot of time to tailor the dancing directly for the camera," she explains. "But Damien made it clear he wanted the choreography to be seen full-frame, head-to-toe, with very little editing. Having Linus come into the process so early was amazing, as it meant I could design the dancing for his camera."
The choreographer cites the opening "traffic" number as a sterling example of the synergy that happens when various departments are given the time and freedom to collaborate and create a plan. She also points to a scene that is the film's emotional rocket launcher, early on, when Sebastian and Mia search for their cars (after bumping into each other at the same party), and sparks first begin to fly.
"Everyone knew it was pivotal for character," Moore recalls about the more than six-minute continuous take, shot on a pitch-black bike road in Griffith Park that overlooked the eastern San Fernando Valley. "Linus and Damien shot the rehearsals in the dance studio on an iPhone, but the location was so physically different – asphalt, exterior, inclines, et cetera – that we had to repeat that process in Griffith Park with stand-ins [Moore's assistants, who are dancers]. Then we had to put Ryan and Emma up there, as the sun was going down, for a few more nights before the grip team brought the crane on-site."
Moore says looking back at the finished scene, she's stunned by how soft and fluid the camera moves, gracefully echoing every emotional thrust and parry of the characters. "The crane rig was so heavy, and it looked like Bogdan was flying all over the place! He'd have to swing up, down, across, push past – it was an incredible feat to watch."
Sandgren says the scene, as Chazelle envisioned it, appeared impossible. "We kind of had to rewind any conventional approach to filmmaking," he laughs. "It was a single shot that lasted more than six minutes; but a 1000-foot mag on a Steadicam would be too heavy [for Robbins to operate]. So then it had to be a crane. But that meant 27 different marks for our crane operator [Bogdan Iofciulescu] to hit given the scene starts with them walking up the road, and then moves into the dancing and singing, all with the twilight diminishing behind in real time. Ari and Bogdan were incredible on this film."
During the number, Gosling's character does a direct homage to Gene Kelly's famous scene in Singin' in the Rain with a nearby streetlamp, which didn't exist on the park service road. Sandgren had period streetlights brought in by La La Land's electric and rigging teams (led by Gaffer Brad Hazen and Key Grip Tony Cady) to line the road.
"All of the romantic gas streetlights [which were decorative and not used as source or fill lighting] were actually a motif in the film that we used quite often to heighten the magical quality of the city," the DP reflects. "Los Angeles doesn't actually have those streetlights everywhere you go, but we made it feel like it does!"
Sandgren says he wanted the dance number to be lit softly from above, with a green hue, to make the colors of the twilight sky end up more pink. (The scene was shot twice during a one-hour window on successive weekend nights).
"Our main key lights in the scene are two different top-light boxes on Condors at either end of the road, and a Bebee light further down the way. We pushed the green in the key lights so we could print up the magenta in the DI. We had cool fluorescents in all of the streetlights to help with [that] as well."
In fact, the deep pink and blue skies radiating romance behind Sebastian and Mia continued a visual theme set earlier, when Stone's character leaves her Hollywood apartment to go to a party with her roommates. As Mia comes racing out to join her roommates (after first saying she needed to stay home and study for an audition), they're framed beneath a classic L.A. sunset, palm trees arching into the painterly sky.
Perhaps the best example of such a romantic color theme is a single-take musical number called "City of Stars," during which Gosling's character wanders the Hermosa Beach pier at dusk, singing about Los Angeles as both a dreamer's paradise and purgatory.

Sandgren says it reflects his passion for film "because I can control all the colors in-camera, using gels or different Kelvin sources, and not have to rely on adding saturation in the DI," he explains. "You create depth by adding or contrasting colors from what's on the actor's faces and what's in the background. Damien and I both felt the cool green of the mercury vapor is more romantic than orange [of sodium vapor]. The twilight behind [Gosling] on the pier looks so heightened, it's almost like we used a green screen."
Deluxe's EFilm dailies colorist Matt Wallace says he used a film-style LUT to hold his corrections essentially within the space of what would be possible photochemically. "Ironically," Wallace notes, "today's Kodak stocks are so robust, they don't have some of the attributes we normally associate with the organic film look Linus loves so much.
"The one-stop push [Sandgren] did on the negative provided built-in texture and made the highlights have a kind of creamy, organic look," he continues. "So I approached this more the way a [film] timer would than a colorist. [EFilm scanned La La Land's 35-mm negative to 3K DPX files and down-converted those to 2K DPX.] We didn't want to affect the image in ways that you couldn't have done photochemically. The OSD system doesn't have a 'printer light' function per se, but I always kept that directive in mind."
Wallace sent JPEG stills of every shot to Sandgren on set to examine on his iPad. "Linus would then send notes about any alterations he wanted made before dailies were distributed," Wallace adds. "He was very keen on having the dailies just right. Nobody else on the project would see anything until [Sandgren] had signed off."

Per the film's title, Los Angeles, where so many come to dream of reinventing themselves in the arts, was a full-fledged character. Locations included the iconic Griffith Park Observatory, the El Rey Theater, Pasadena's Rialto movie house, and Redondo Beach's historic jazz venue, Lighthouse Café. David and Sandy Reynolds-Wasco, whose art department masterstrokes include such iconic L.A.-based films as Reservoir Dogs, Pulp Fiction, and Collateral, spent nearly a year in preproduction (Chazelle had his own working desk in the art department) on La La Land, and their efforts are obvious on screen.
"This movie fluctuates between the contemporary and the period," David Wasco notes. "And although much of that marvelous 30's, 40's and 1950's architecture has been torn down, there are wonderful pockets that still remain. Often we had to go to L.A.'s fringes to find it; for instance, Seb's jazz club and Mia's Spanish courtyard apartment were shot in Long Beach because they look more like what L.A. used to be."
The Wascos created an evolving "look book" for the film that was shared (via Dropbox) with Sandgren and Costume Designer Mary Zophres. "Damien said the ideal look for this movie was sunrise and sunset," Sandy Wasco recounts, "with orange and fuchsia, and a deep sapphire sky. Linus used camera light to create this color-palette arc – bright and bold early in the film in Mia's apartment and at her job at the coffee shop, to a crescendo of sorts in the Planetarium, at the height of her romance with Sebastian.
"In the second half of the film," she continues, "when Seb goes on the road and Mia gets disenchanted with acting and returns home [to Nevada], the color palette becomes muted and real. Then everything amps up again for the final epilogue scene, where they dance through all these painted backdrops. Throughout the film, we enhanced and keyed off Linus' use of color through lighting in these amazing practical locations."
"A word Damien used a lot to describe the color palette was Technicolor," David Wasco adds, noting that Chazelle and Sandgren would often have weekly movie screenings to convey look information to all departments. "You could see, in the Demy films, these eye-popping colors where every inch of background was brought out."
The Wascos also referenced iconic L.A. painters like Ed Ruscha and David Hockney, as well as the French Fauvist painter Raoul Dufy. For the Griffith Park segment, which begins with the couple watching Rebel Without A Cause at the Rialto Theater and moves inside the Griffith Park Observatory's Art Deco foyer, Wasco had to build set pieces with integrated lighting around the Deco baseboard. "You're not allowed to touch anything, anywhere, or bring in any lighting equipment that will damage this historic place," Sandgren recounts. "David's solution to build in practical lighting was a great help."
The scene culminates in the park's fabled planetarium [built in 1935] for what Moore describes as a "gravity free" waltz, floating against the location's starry geodesic-domed ceiling. "Of course we could not shoot inside the planetarium using wires," Wasco explains, "so we built a set around a replica of the planetarium's original Zeiss Ikon projector [from the mid 1930's], which had these wonderful Deco elements."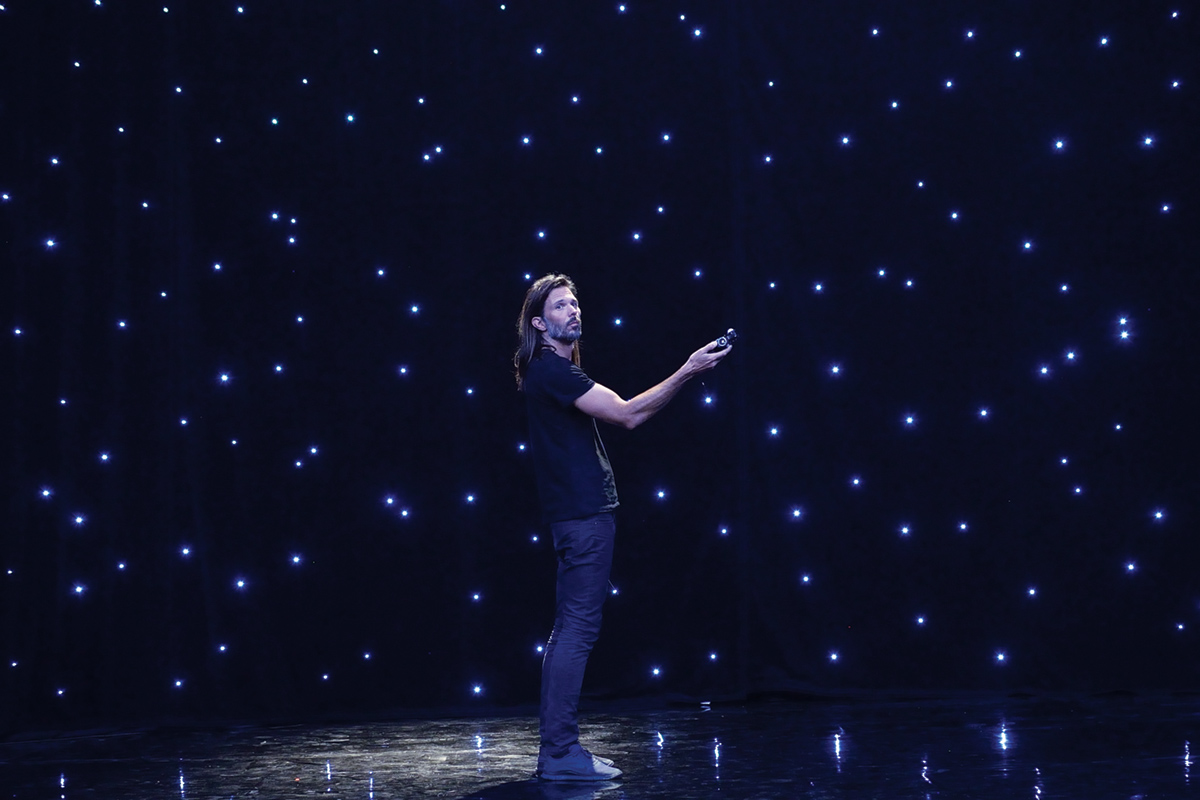 Through photo references, and the period footage in Rebel Without A Cause, the Wascos were able to build a replica based around a similar projector they found on Ebay. "It was massive, like eight-feet tall, that we planned to build as a prop," David Wasco recalls. "Everything from 10 feet up above the built cylindrical set was blue screen."
Culver City, CA–based VFX firm Crafty Apes handled blue screen duties, along with CG removals of wires that hoisted Gosling and Stone up high for their star-filled waltz. Crafty Apes also provided Sandgren's team with a computerized mock-up of the star field that would be layered in around Gosling and Stone. "We used LED's to project that image onto Ryan and Emma's faces during the waltz," Sandgren adds. "We could change from blue to pink to orange to match the blue screen inserts."
"Originally that scene was going to be shot underwater," Moore reflects, "to better capture the feeling of being weightless. I even went with a GoPro and my two assistants to a pool to try and show Linus and Damien what it would look like."
Moore says she tries to have filmmakers (and audiences) define what dance on screen means to them. "Often they assume it needs to be much bigger, with more virtuosity by the dancers, than it needs to be," she adds. [For the Planetarium waltz] we talked about how bodies moving in space would not be able to touch or push together, really, because of the lack of gravity. So it took much less from Ryan and Emma in that scene to convey the fantasy, the whimsical romance, that Damien was after."
Balancing dreams and reality was at the core of Chazelle's vision. So it's not that surprising that his favorite moments recall his and Sandgren's indie roots. The director cites a moment when Mia is in a restaurant and hears [Sebastian's music] playing outside. She runs out and down to the street toward the movie theater.
"We had Justin's [completed and orchestrated music] blasting on that street corner as she ran outside," Chazelle recounts. "Having this huge orchestral [and finished] score, which is rare in production, gave Linus the cues as to how his team would time out the camera move, as well as what colors and lighting we needed to augment the music.
"The analog simplicity of that shot," the director continues, "brought together all that we wanted to achieve with photography, production design, and lighting. And the fact that it's just an average L.A. street, not iconic at all, with old-fashioned lampposts from the Wascos, Linus lighting through the trees, and us waiting until the sky had that purplish magic-hour glow until shooting, imbued this unremarkable location with Old Hollywood magic. I could see it standing near camera, and remember feeling that we were, at the very least, within striking distance of what we wanted to be saying."
The other scene both Sandgren and Chazelle single out is early in the film when Sebastian has a visit from his sister [Rosemarie DeWitt] after having just relocated to L.A. His apartment, barely furnished, reflects the kind of "everything for his art" dream his sister scolds him about in the give-and-take single Steadicam shot.

"This is a dialogue scene, and the lighting and color palette are more muted," Chazelle remembers. "We wanted a oner that wouldn't feel like a oner, and feature blocking that's from another era of moviemaking – where wider angles and longer takes were given a high premium. The camera is constantly moving and reframing, but only in response to Ryan or Rosemarie's movements," he continues. "It took many, many takes to have the scene look effortless, and that's a real credit to Linus and his team to have the camera feel so musical in one of the few scenes in the film that does not have a lot of music."
Sandgren says it's beautiful to block scenes as was done in older films, "where the actors drive the camera to close-ups or wide shots, often with a pan or a sideways tracking shot. And in La La Land, we wanted to make use of today's tools to make [that approach] even more three-dimensional.
"The risks we took in how we told this story really come out in big, emotional moments," he adds, citing Emma's final audition scene, where the casting directors tell her to simply "tell us a story," which she then does in song.
"Emma was in one room where the camera was," Hurwitz explains, "and I was in another room playing an electric piano into her ear. I was listening to her, and watching her on a monitor, and letting her drive the song."
"Since the number was being performed live and the pacing was always variable, it took careful planning to time the camera [the shot is a 360-degree Steadicam oner] to help support this moment," Sandgren concludes. "It feels like the very top point of Mia's lifelong dreams, a private thing between her and the audience. Making the camera express those emotions, as it's guided by the music, was challenging, but so inspiring."
by David Geffner / Unit Photos by Dale Robinette
Frame Grabs courtesy of Lionsgate