Park City's indie playground welcomes Local 600 members (and ICG Magazine staffers!) in person for the first time in three years.
by David Geffner / Photos Courtesy of Sundance Institute Unless Otherwise Noted
---
The last two years of the Sundance Film Festival – 2021 and 2022 – saw organizers pivot to an online-only "virtual Sundance," which admirably did its best to keep indie filmmakers and fans connected. The quality of the films showcased was stellar; the interest in and interaction of the many filmmaker Q&A's were compelling; and the inclusion of Local 600 camera crews was as robust as ever. But something, still, was missing. Thankfully, that undefinable magical element that makes Sundance the world's best film festival (and most challenging to navigate) returns to an in-person event in 2023 (along with an online component more comprehensive than in pre-COVID years).
As befitting the Guild's rich history at Sundance, Local 600 filmmakers are well-represented. Union-staffed camera crews worked in every genre the festival offers. Those include U.S. Dramatic Competition entries like Theater Camp, shot by Nate Hurtsellers and co-written by Grammy and Daytime Emmy winner Ben Platt, which employed a visual language influenced by famed documentarian Frederick Wiseman and leaned heavily into zoom lenses, and Midnight films like Onyx the Fortuitous and the Talisman of Souls, shot by Guild DP Dan Adlerstein and written and directed by Andrew Bowser, who Adlerstein says "has 1980s adventure/horror/comedy films like Ghostbusters, Fright Night, and Gremlins fully embedded in his DNA. The first thing Andrew did was give me a list of about 15 of them to watch."
Other Guild-staffed projects to watch this year include the Premieres section film A Little Prayer, shot by Sundance alumnus Scott Miller and written and directed by Angus MacLachlan, who wrote the 2005 Sundance hit Junebug. Miller and MacLachlan turn a gentle lens on the complex family dynamics of Southern towns, taking advantage of North Carolina's diffuse natural light and using vintage Canon K-35 lenses to accentuate the story's naturalism. Another unique offering to keep an eye out for is the Kids section feature Aliens Abducted My Parents and Now I Feel Kinda Left Out. Shot by L.A.-based DP Jeremy Prusso, working with Director Jake Van Wagoner, this ambitious tale, about a new-in-town teenager and her space-obsessed neighbor (who believes his parents were abducted by aliens!), encountered all manner of challenges. Those included the need for a full-size alien spaceship and shooting in the Utah mountains in November, where temperatures dropped well below freezing at night, and where, as Prusso shares, "our camera batteries struggled to keep a charge, so we kept them in coolers to keep them as warm as possible."
Staying warm has always been one of the main challenges in attending the Sundance Film Festival. But just like those long, chilly nights around the fire (remember sleepaway camp?), the many Guild members attending the 2023 festival (and ICG Magazine staffers coming in to host our annual networking party) will welcome the discomfort. After all, it signals the arrival of a long-anticipated return to an in-person event, where that cherished "Sundance feeling" is everywhere.
(Note: this story was compiled with information supplied by Local 600 members before the start of the festival. We are not responsible for the omission of films and crewmember names not provided to www.icgmagazine.com by the posting date.)
U.S. Dramatic Competition
A Thousand and One – Convinced it's one last, necessary crime on the path to redemption, unapologetic and free-spirited Inez kidnaps 6-year-old Terry from the foster care system. Holding on to their secret and each other, mother and son set out to reclaim their sense of home, identity, and stability in New York City. Guild DP Eric Yue, who shot the indie drama for writer/director A.V. Rockwell, says he was drawn to "Harlem as a character and how gentrification was also an antagonistic force. I wanted to articulate these themes and also create a look that felt naturalistic and real. The distinction between periods was also important to the story of Inez. We created an expressionistic grammar through lens selection, light quality, filtration, and camera movement. Their world becomes colder and darker as the two become distant from each other and their surroundings over the years. The goal was finding the path to the interior world of a character through the photography, while maintaining a sense of realism." Yue shot the film with two sets of lenses – Panavision Super Speeds and Panavision Primos. "We shot the 1990s section with Super Speeds wide open with a filter that adds a bit of glow to make a warmer and grainier image," he adds. "The 2000s section was photographed with Primos without filtration at T2.8 or higher, which produces a cooler, sharper, and crisper image. I wanted to use lensing to subtly find a temporal and emotional arc in the characters and their distance." Guild members on the project included A-Camera Operator Sam Wood, A-Camera 1st AC Elizabeth Singer, B-Camera Operator George Tur, B-Camera 1st AC Jelani Wilson, B-Camera 2nd AC's Yves Wilson and Joe Robinson, DIT Peter Symonowicz, Loader Brandon Babbit, Camera PA Skye Williams, and Still Photographer Aaron Ricketts.
All Dirt Roads Taste of Salt – New York-based Director of Photography Jomo Fray shot this decades-long exploration of a woman's life in Mississippi and an ode to the generations of people, places, and ineffable moments that shape us. The film was written and directed by Raven Jackson and features Charleen McClure, Moses Ingram, Kaylee Nicole Johnson, Reginald Helms Jr., Sheila Atim, and Chris Chalk. Fray says before he even read the script, "[director Jackson] told me she was dreaming of this film in 35mm. In a way, shooting on film wasn't just aesthetic, but embodied a holistic approach to the work. It gave us the tactile feel and texture we were looking for visually, and also forced us to have a certain level of intention with each image we created."
Fray goes on to note that, "each composition and point of coverage had to be something we found deeply specific and evocative – it had to tell the story of the character's emotional life at every turn. I love that aspect of shooting on film. In my experience, it hones everyone's creative intentions. From the actors to the Gaffer and Key Grip, everyone feels it! There is a singularity of intention." In terms of his partnership with Jackson, Fray describes it as a "deeply fruitful one. So much of it was built on trust," he continues. "We've known each other since attending the graduate film program at [NYU's] Tisch School of the Arts, so we had a deep cinematic grammar and shared language to pull from. We crafted an artistic manifesto for the film that we read at the start of each day together. We wanted the light and camera to feel naturalistic and paired down to their most elemental parts – and we wanted our tools to reflect those values. Shooting on the Arricam LT with the Master Primes gave us the ability to be nimble and quickly adapt to changing conditions. I love the way the Master Primes render on film. They have a soft naturalism that immediately drew us both in." Joining Fray on the shoot was Guild 2nd AC Arjun Bajaj.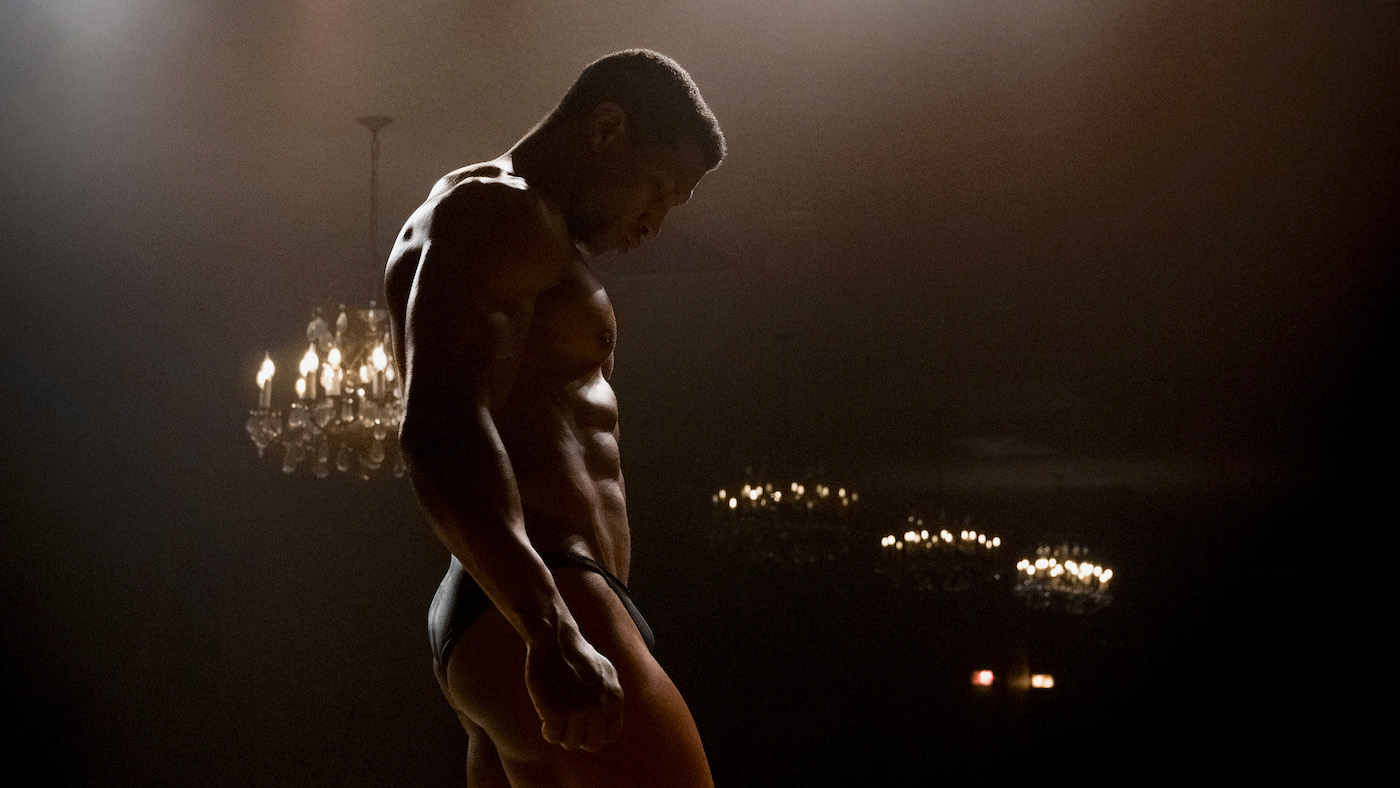 Magazine Dreams – Director of Photography Adam Arkapaw shot this indie feature for writer/director Elijah Bynum about an amateur bodybuilder (Jonathan Majors) who struggles to find a human connection as his relentless drive for recognition pushes him to the brink. Local 600 members on the project included Arkapaw (who also operated A-Camera), B-Camera Operator Davon Slininger, A-Camera 1st AC Chris Strauser, A-Camera 2nd AC Jordan Martin, B-Camera 1st AC Matt Sumney, B-Camera 2nd AC Joel Martin and DIT Conrad Radzik.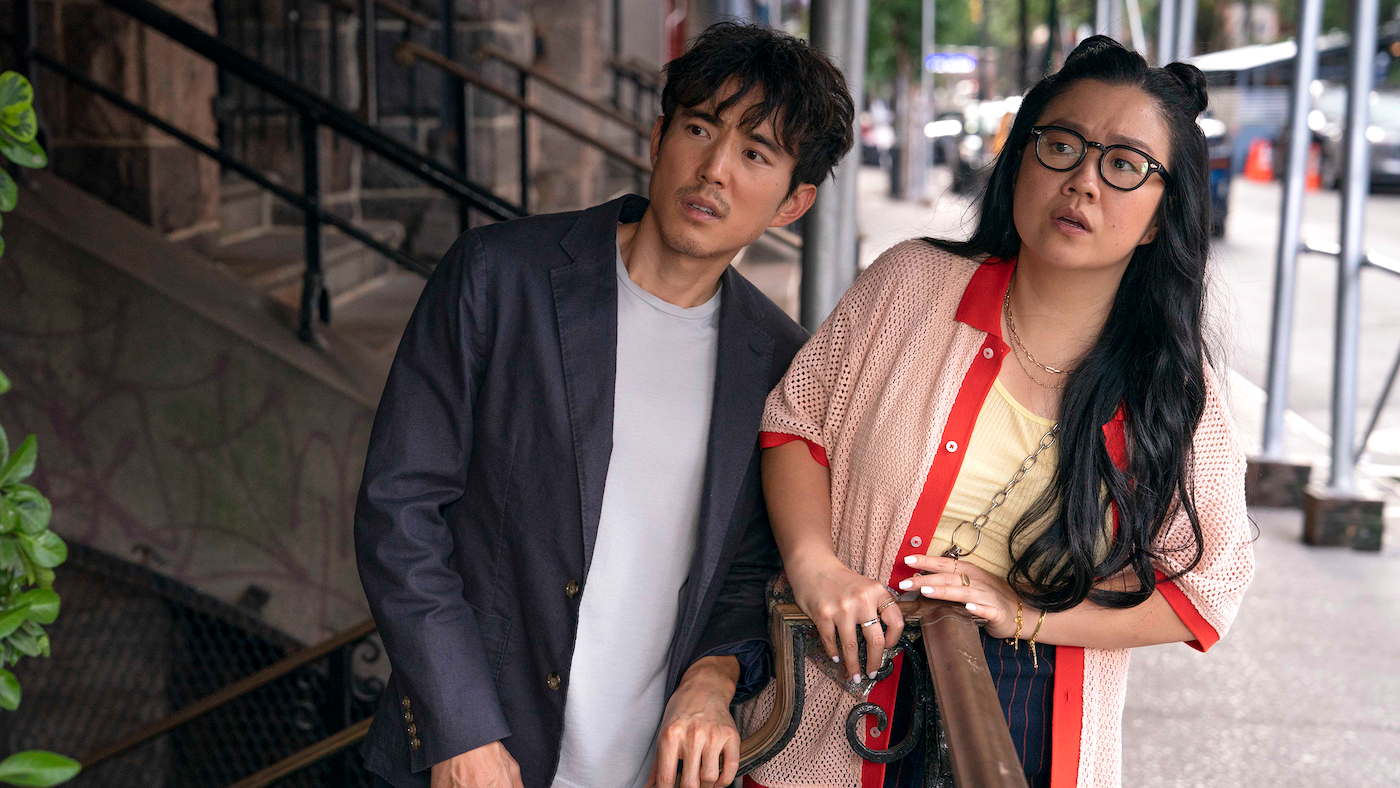 Shortcomings – New York-based Director of Photography Santiago González lensed this story about Ben, a struggling filmmaker who lives in Berkeley, CA, with his girlfriend, Miko, who works for a local Asian American film festival. When he's not managing an art-house movie theater as his day job, Ben spends his time obsessing over unavailable blond women, watching Criterion Collection DVDs, and eating in diners with his best friend, Alice, a queer grad student with a serial dating habit. When Miko moves to New York for an internship, Ben is left to his own devices and begins to explore what he thinks he might want. Cleverly and precisely scripted by Adrian Tomine (based on his acclaimed graphic novel of the same title), Shortcomings is Randall Park's directorial debut. Exposing a multiplicity of Asian American identities in a fresh and groundbreaking way, the film is poised to challenge audiences with its protagonist Ben – who is cynical and snobbish with a dash of charm – gamely played by Justin H. Min. With wit, humor, and a deep understanding of being an outsider within a marginalized community, the film embraces the complexity of being human – flaws and all. Lensed in New York City and Berkeley/Oakland, González shot with the ALEX Mini LF paired with Canon Rangefinders. "I didn't want to go too extreme on the look," he describes, "so we shot around f/2.8 to f/4. But I loved the quality of the lenses, especially with highlights. I had the pleasure of working with such an amazing camera team, especially both of my camera operators – Joel San Juan, SOC, and Carolyn Pender – who brought so much skill and good spirit to the project. I also had a wonderful collaboration with Randall Park. He was open to ideas and brought so much to the script and performances. I couldn't have asked for a better partner on the film." Guild members on the project included A-Camera Operator Joel San Juan, A-Camera 1st AC Robert Agulo, A-Camera 2nd AC Gianna Llewellyn, B-Camera Operator Carolyn Pender, B-Camera 1st AC's Brendan Russell and Casey David Johnson, B-Camera 2nd AC Maximillian Batchelder, DIT Keith Putnam, and Unit Still Photographer Jon Pack. Additional photography by Jendra Jarnagin.
Sometimes I Think About Dying – L.A.-based Director of Photography Dustin Lane shot this dramedy for director Rachel Lambert, starring Daisy Ridley as Fran, a young woman who likes to think about dying; it brings sensation to her quiet life. When she makes the new guy at work laugh, it leads to more: a date, a slice of pie, a conversation, a spark. The only thing standing in their way is Fran. Lane says he truly "could not have asked for a better filmmaking experience and a [more] incredibly fulfilling collaboration with director Rachel Lambert. Such amazing support from Alex Saks and our production team, and of course my top-notch camera team in Ben Steen and Adam Lichtenberger, all in the beautiful Pacific Northwest. If only they could all feel like this."
"Going into this film," adds 1st AC Steen, "the director and DP had a very clear scope of how they wanted it to feel and the atmosphere that they wanted to provide for their actors. The camera prep was where it became clear to me just how committed Rachel and Dustin were to executing their creative vision. What that looked like for me was a bare-bones camera package and a handful of prime lenses. One less piece of gear meant one less distraction for us, the actors, and the spaces they inhabited. It also meant that if we wanted to throw the camera in the back of an SUV to go shoot a ship coming into port, or a deer wandering through town, we could do that knowing we'd still have every tool at our disposal." Second AC Adam Lichtenberger notes that "to this day I consider Ben and Dustin to be the best camera team I've ever had the pleasure of working with – they are so talented! I never once heard Ben ask for another take, and I would routinely catch myself peering over Ben's shoulder to see how Dustin was composing a shot – his framing is that beautiful. We were a small and nimble department, and I'm proud of what we were able to achieve, without feeling overworked or strained on the job."
The Accidental Getaway Driver – Writer/Director Sing J. Lee offers up this story about a routine pickup by an elderly Vietnamese cab driver, who becomes a hostage when taken at gunpoint by three recently escaped Orange County convicts. Based on a true story, the film was shot by Guild DP Michael Cambio Fernandez with a Local 600 camera team that included A-Camera Operator Jose Figueroa-Baez, A-Camera 1st Andy Kennedy-Derkay, A-Camera 2nd AC Jorge Cortez, B-Camera 1st AC Jackie Vresics, Utility Christine Mouton, and Unit Still Photographer Ron Batzdorff.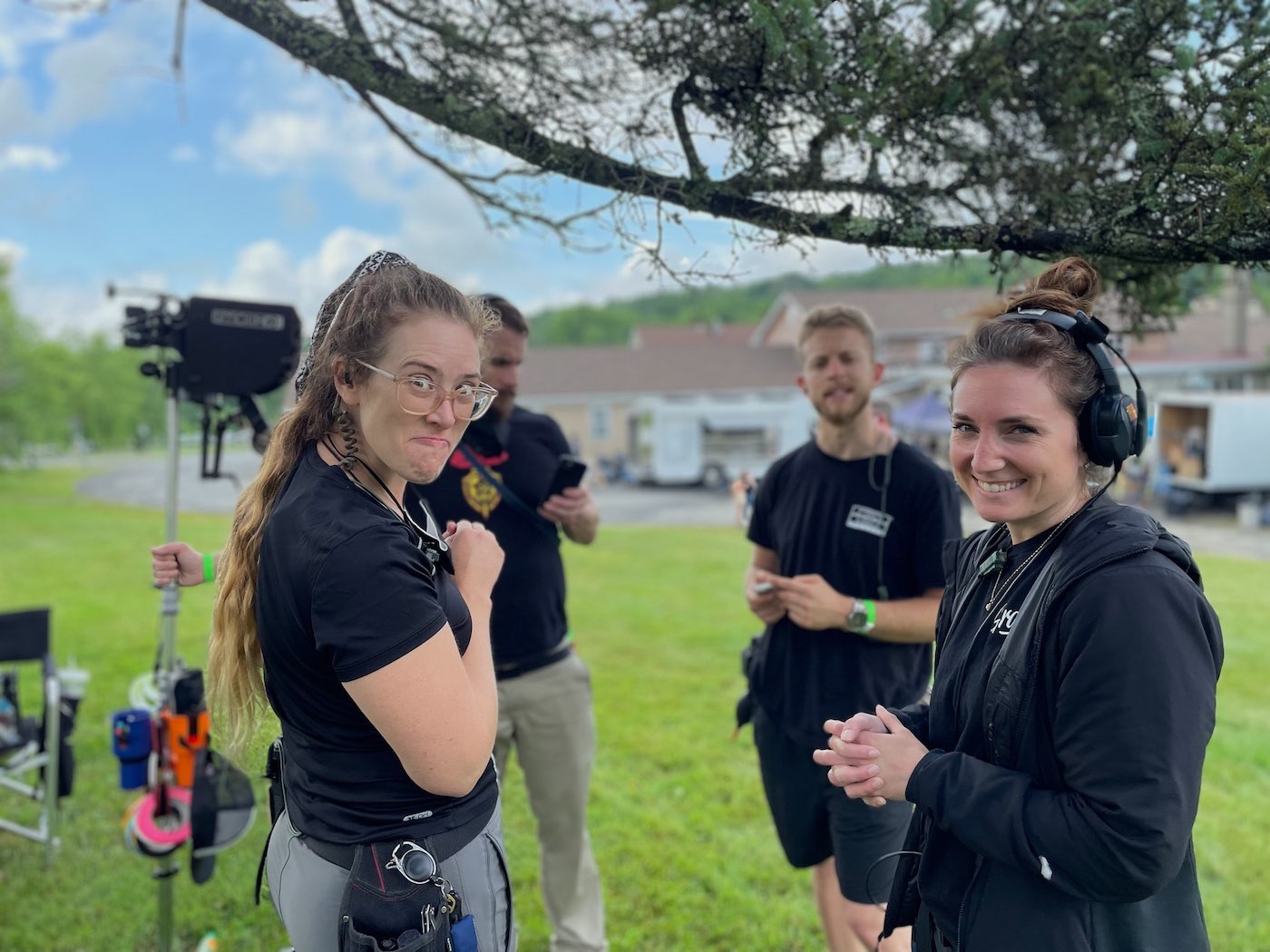 Theater Camp – When the beloved founder of a run-down theater camp in upstate New York falls into a coma, the eccentric staff must band together with the founder's crypto-bro son to keep the camp afloat. Co-written by Ben Platt, co-directed by Nick Lieberman and Molly Gordon (currently filming the second season of Adam McKay's HBO series Winning Time: The Rise of the Lakers Dynasty), and shot in New York-area locations, Guild DP Nate Hurtsellers says the project was "unique in its visual approach, as it's a mockumentary. We wanted to ground the humor in naturalistic environments and lean into a raw, verité approach. We referenced [acclaimed documentarian Frederick] Wiseman quite a bit. We also looked at films like War Room, Crumb, Boys State, and Nashville." Hurtsellers shares that "since most of the dialogue is improvised, it was critical for the camera to allow actors to move freely through the space, to create room for them to surprise us. Most of the lighting was designed to be 360 degrees or nearly 360. We cross-shot pretty much everything. So lighting was frequently achieved by practicals, soft boxes from above, or available ambient daylight through windows." Hurtsellers adds that "it was important that the lighting never feel affected – it had to be simple and real and often not beautiful. Having the right camera department was key. There were no marks, few rehearsals, very little time, and a lot of ground to cover. I couldn't have done it without the incredible hustle and spirit of my team." Since the Guild camera crew knew zoom lenses would play a big part in the film's visual language, they tested a variety but ultimately landed on S16 zooms on the ALEXA Mini in S16HD mode (provided by Panavision NY). "Our hero lens was the Canon S16 8-64," Hurtsellers continues. "Shooting this way gave an essential degradation to the image, a deeper stop, and allowed us to use very lightweight but long throw zooms. Working with Nick and Molly was such an opportunity. Both are brilliantly story-minded and hilarious. They built this project from the ground up, along with Noah Galvin and Ben Platt. Everyone was firing on all cylinders, and it felt like making a movie with a family." Joining Hurtsellers on the shoot (and who also operated A-Camera) was A-Camera 1st AC Sebastian Lervolino, A-Camera 2nd AC Max Schwarz, B-Camera Operator Emmett Kerr-Perkinson, B-Camera 1st AC Emily Dumbrill, B-Camera 2nd AC Brianna Morrison, C-Camera Operator Matthew Balzarini, C-Camera 2nd AC Jason Gaines, DIT Kimberly Sauer, and Unit Still Photographer Jeong Park.
U.S. Documentary Competition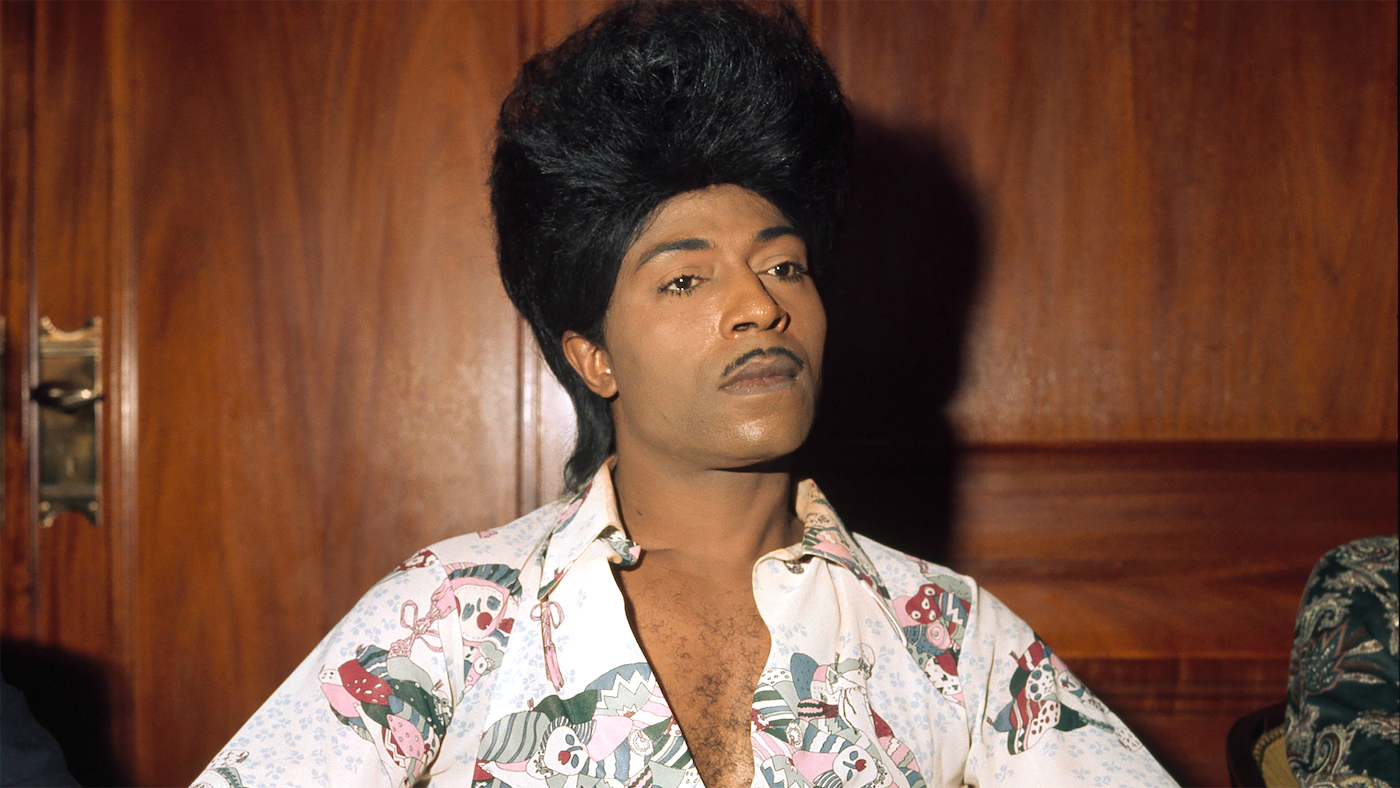 Little Richard: I Am Everything – Keith Walker and Graham Willoughby were co-DP's for this documentary about the famed musical icon. Directed and produced by Lisa Cortés, this film celebration of Little Richard's life reveals the Black queer origins of rock 'n' roll, finally exploding the whitewashed canon of American pop music. Through archival and performance footage, the performer's life unspools with all of its switchbacks and contradictions. Other Guild members on the project included Operator Shana Hagan, ASC (who, with two films in this year's festival, is nearing the two-dozen mark with Sundance premieres), and Camera Assistant Nathan Trucks.
NEXT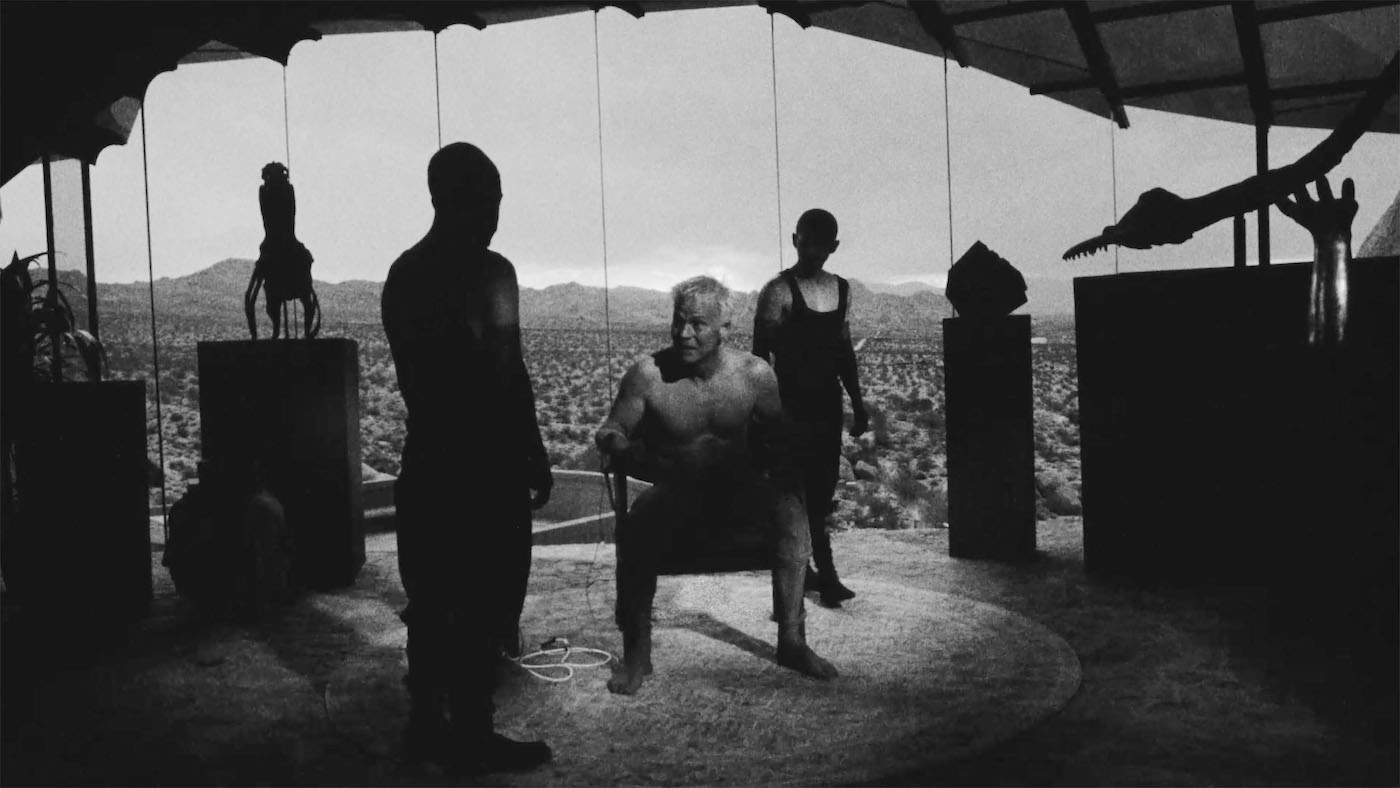 Divinity – Director/Writer/Producer Eddie Alcazar serves up this story about two mysterious brothers who abduct a mogul during his quest for immortality. Meanwhile, a seductive woman helps them launch a journey of self-discovery. The cast includes Stephen Dorff, Moises Arias, Jason Genao, Karrueche Tran, Bella Thorne, and Scott Bakula. Shot by L.A.-based Director of Photography Danny Hiele with John Takenaka on Steadicam and additional cinematography by Matthias Koenigswieser.
Premieres (Narrative and Documentary)
A Little Prayer – Sundance alumnus Scott Miller photographed A Little Prayer alongside Writer/Director Angus MacLachlan, who returns to the Sundance Film Festival (writer, Junebug, 2005) with a deeply personal and humorous tale that reveals the complex family dynamics and inner workings of a Southern town. Placing a gentle lens on the extraordinary moments that lurk just beneath ordinary conversations, MacLachlan guides an ensemble cast to nuanced performances rooted in empathy. The story centers on Tammy (Jane Levy) and her husband David (Will Pullen), who lead a quiet life in Winston-Salem, North Carolina, sharing a home with David's parents, Bill (David Strathairn) and Venida (Celia Weston). David and Bill work together and have always been closely involved in each other's lives. When Bill begins to suspect that David is straying in his marriage, he is drawn into a relationship minefield, caught between wanting to protect his amicable daughter-in-law and trying to understand his impulsive son. As Bill confronts the limits of patriarchal influence, he is also forced to reckon with disheartening behavioral patterns that may be transcending generations. Filmed in Winston-Salem in the Summer of 2022, Miller was fortunate to have had a long correspondence with MacLachlan (via Zoom) six months before the shoot. "It was fundamental and precious time," Miller recalls. "We had a chance to explore the story, emotions, and characters together. We shared visual references from painting, still photography, and film. This enabled us to create a trust and shorthand with a quick prep and shoot on location."
Miller says part of the approach for the project was "to give the set to the actors and the director, lighting when possible with large bounce sources outside, accentuated with a small mirror or two to create hot spots of light. Our approach to lensing went hand in hand," he continues, "keeping the photography simple, the camera in the right place, both as a witness and a portrait of the family. While the characters in the film encounter challenges and darker times, the camera and the lighting were to accentuate the warmth and love between the family." Miller shot on an ALEXA Mini LF and Canon K-35s, which lent a softness and naturalism to the image. "The LF allowed us to embrace a 1.6 aspect ratio," Miller adds, "which contributed to a feeling of bearing witness to a home, closer to that of a photograph or canvas."
Local 600 1st AC Michael Belardi led the camera team with local talent through filmpartnershipNC.org. "Michael was integral to the storytelling of the film, and we had a truly wonderful crew," Miller states. Finishing work was done at Goldcrest in New York City with Colorist Jane Tolmachyov partnering with Miller for the second time.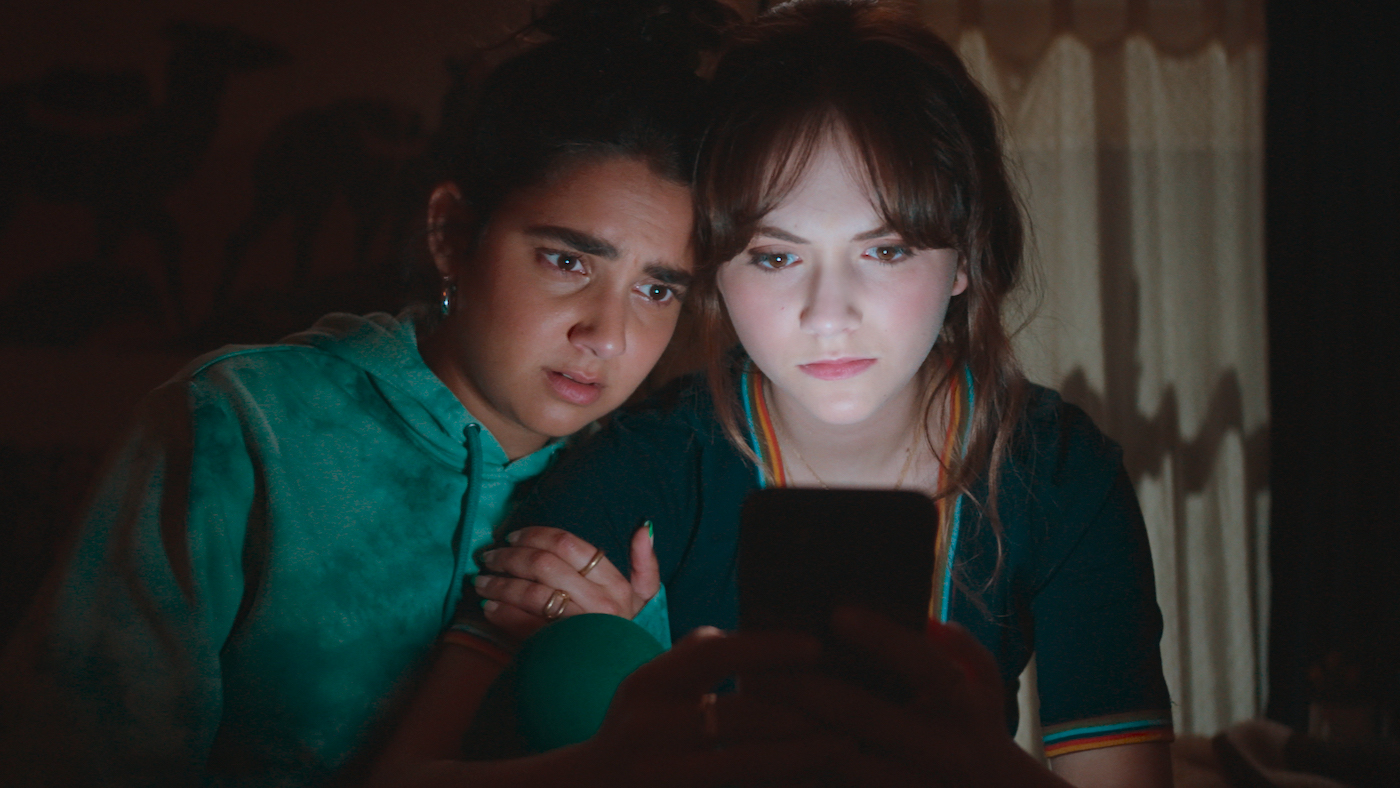 Cat Person – Director of Photography Manuel Billeter lensed this indie feature for Director/Writer and Novelist Susanna Fogel. College student Margot meets 33-year-old Robert at the movie theater where she works. After a casual flirtation at the concession stand, they carry on conversations through texts. As their perceptions of each other collide, events spiral out of control. The film is based on The New Yorker short story by Kristen Roupenian. Billeter says he's "very excited to return to Sundance – after a 15-year absence – this time as a cinematographer, as I have previously attended as a camera operator on indie features like Joshua [2007, Best Cinematography to Benoît Debie], Starting Out in the Evening, Dedication, Brief Interviews with Hideous Men [shot by John Bailey, ASC], Higher Ground [shot by Sundance veteran Michael McDonough) and Puccini for Beginners, among others." Cat Person, which marks Billeter's feature film debut after more than a decade-long trajectory in episodic TV, says he was "intrigued" by the script and the viral short story upon which it is based, "because they both seemed open-ended and reflective in tone," he notes. "The blurring of lines between villain and victim, the tension of gender politics and personal choices, the gray areas of morality and varied facets of human interaction, along with the genre-bending thriller structure, posed some interesting challenges concerning creative choices on how to best step into the characters' perspectives. The collaboration with director Susanna Fogel was highly rewarding; we made ample time to discuss and brainstorm, and I was particularly intrigued when early on she shared a playlist of songs to help inform the general approach. I have always been keen to explore the parallels of music and cinematography, structurally and emotionally." Billeter says the entire film was shot-listed with Fogel, "leaving us ample room to free our minds for experimental visuals; to embrace the unplanned and the unexpected, and weave these into the established narrative and visual fabric."
Filming almost entirely on location, Cat Person called for many night exteriors, with many scenes shot in different locations, "so we had to move fast and plan out our days down to the minute," Billeter adds. "While I enjoy the challenges that real locations pose, they force you into a sort of question/answer game – in the end, I was glad to finish the last three days of the shoot in a more controlled environment. Ultimately, the real windfall was finding such a wonderful ally in Susanna and our fabulous crew, whose unwavering support made it possible to accomplish the high demands of such an ambitious film." Billeter shot on ALEXA Mini with Zeiss Master Anamorphics supplied by Panavision NY, and opted to shoot in wide-screen format, "as I felt that we would be able to capture the personal and embed it into the surrounding environment at once, and achieve a feeling of transcending the private." His full Guild crew included A-Camera Operator Peter Vietro-Hannum, A-Camera 1st AC Damon Lemay, A-Camera 2nd AC Kristina Lally, B-Camera Operator Beka Venezia, B-Camera 1st AC Bayley Sweitzer, B-Camera 2nd AC Rachel Fedorkova, Loaders Max Schwarz and Josh Munson, and Unit Still Photographer David Giesbrecht.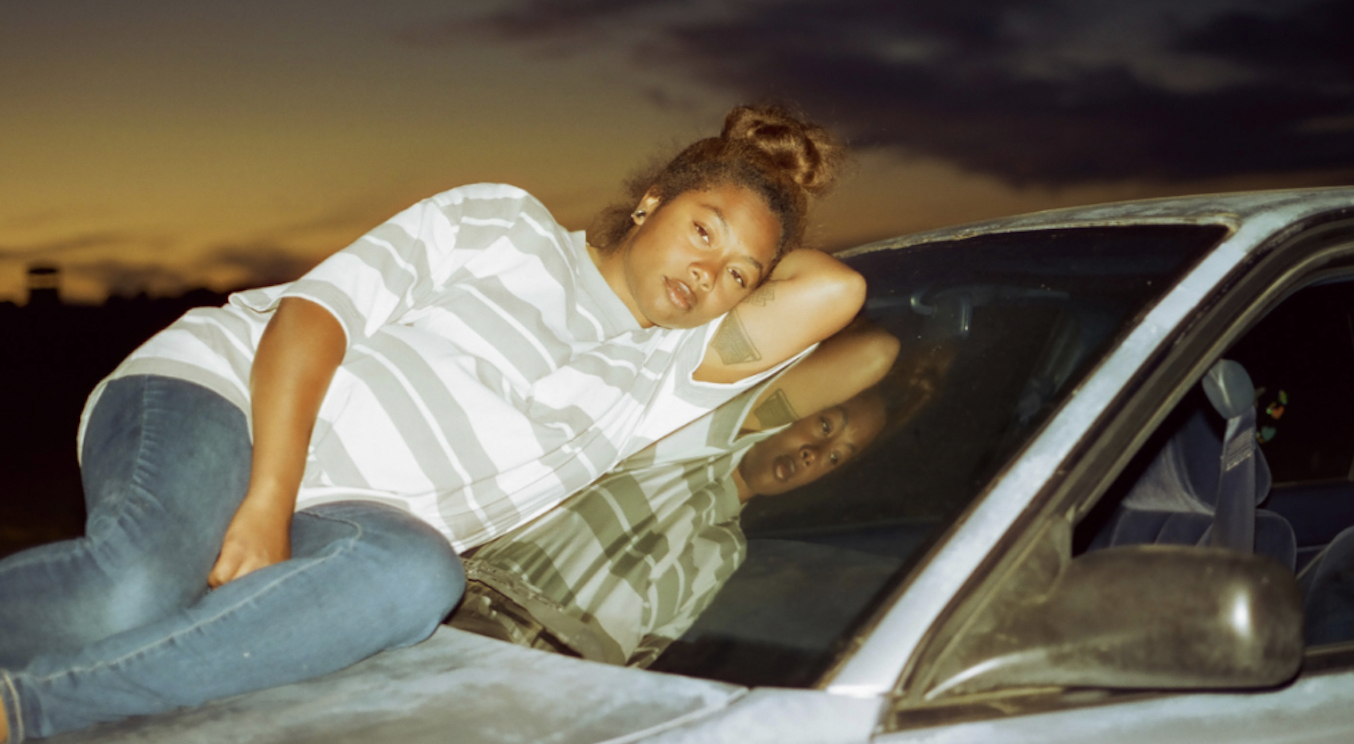 Earth Mama – Director/Writer/Producer Savanah Leaf serves up this story about a pregnant single mother with two children in foster care who embraces her Bay Area community as she fights to reclaim her family. Shot by New York-based Guild member Jody Lee Lipes, ASC [ICG Deep Dive #1- I Know This Much Is True], who recounts that "after doing several commercials together, I read Savanah's script, and was surprised and excited by the way she wanted to photograph the story. My first reaction was that this very specific community in the Bay Area, this character, and this kind of story had never been captured with this visual language before, and that was what sold me on the project.  This would be the lowest-budget film I had worked on in over a decade, and going back to that scale felt like the right thing to do at this point in my career." Lipes says that Leaf chose not to sugarcoat the main character's struggle in the system she was born into, but simultaneously used magical realism to explore themes of black motherhood in the film.  "Ultimately there is a mixture of gritty reality and natural beauty in this story," Lipes continues. "It's both social services offices and parking lots, redwoods and nature. Shooting 16-millimeter film helped us achieve the beauty and grittiness we were after. Savanah and I went through the script line by line many times, carefully choosing the coverage and camera movement precisely. In contrast to this rigorous shot-listing, the lighting is basic, unshaped, and real. So, there is an intentional aesthetic mixture in the movie of painstaking craft and a hands-off unadorned lighting approach that fits the duality of the story. Working with Savanah was one of the most creatively fulfilling experiences of my life; it was wonderful to get back to telling a story with shots – probably my favorite part of being a DP." Lipes' union crew included A-Camera 1st AC Kali Riley, A-Camera 2nd AC Anthony Rosario, Loaders Earl Davis, and Paul Wojack, B-Camera 1st AC Jeph Folkins, B-Camera 2nd AC Anne Lee, and 2nd Unit Director of Photography Ryan Marie Helfant.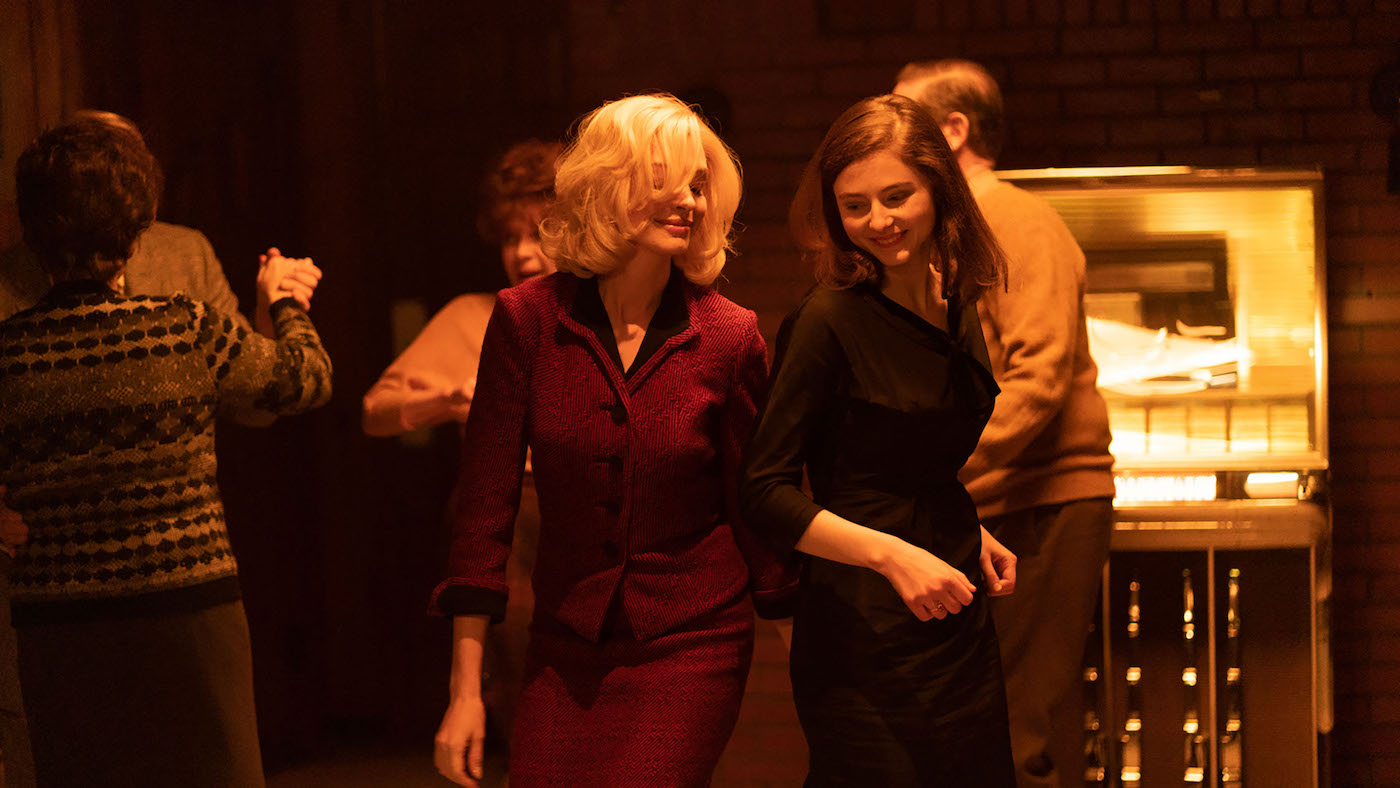 Eileen – Ari Wegner shot this period tale for director William Oldroyd (best known for the critically acclaimed TIFF 2016 hit Lady Macbeth, starring Florence Pugh). Set during a bitter 1964 Massachusetts winter, young secretary Eileen becomes enchanted by the glamorous new counselor at the prison where she works. Their budding friendship takes a twisted turn when Rebecca reveals a dark secret – throwing Eileen onto a sinister path. The film is based on Ottessa Moshfegh's award-winning novel. Joining Wegner were Guild members Blake Johnson (A-Camera Operator), Marc Charbonneau (A-Camera 1st AC), Adam Derezendes (A-Camera 2nd AC), Chris Wiezorek (B-Camera Operator and 1st AC on A-Camera days only), Alivia Borab (B-Camera 1st AC), Jon Sandin (B-Camera 2nd AC), Brianna McCarthy (Loader), Peter Symonowicz (DIT) and Jeong Park (Unit Still Photographer).
Fairyland – Sundance alumna Greta Zozula shot this period story from Writer/Director/Producer Andrew Durham and Director/Producer Sofia Coppola that is set against the backdrop of San Francisco's vibrant cultural scene in the 1970s and 80s. The film chronicles a father-daughter relationship as it evolves from an era of bohemian decadence to the heartbreaking AIDS crisis and is based on the best-selling memoir Fairyland: A Memoir of My Father by Alysia Abbott. "As Fairyland spans several different eras – starting in the early 70s, through the 80s and into the early 90s, there were many challenges," Zozula recounts. "One big creative choice we made was to shoot the 1970s on 16-millimeter film and the 80s and 90s on the ALEXA. This decision came from wanting to visually distinguish the different eras, but also because our main character, Alysia, grows up significantly throughout the film, and the biggest jump is from the 70s, when she's eight, to the 80s, when she's a teenager. This jump is not only justified to change formats but helps us leave one time and adjust to another, and by the end of the film the goal is for the beginning of the film to feel like a memory."
The veteran Sundance shooter adds, "We primarily used the same glass throughout. Our main set of lenses was the Zeiss Super Speeds with a sprinkle of Ultra 16s for wider focal lengths. The Ultras were used when Alysia is the youngest and the Supers were used for the rest. We would change focal lengths and depth of field as the film progressed. Starting a little wider with more depth of field, and slowly getting longer with less and less depth of field. We used a different set of Super Speeds (slightly more character and softer) for the France unit which was all on ALEXA." Another challenge with mixing film and digital formats was the short indie schedule, where Zozula and her Guild team –1st AC Matt Emmanuel, 1st AC Jon Cooper (France unit), and 2nd AC Ashley Valenzuela – had to shoot film for the first half of the day and switch to digital for the second half. "The constant back and forth was a huge challenge for our camera team and we rocked it," Zozula concludes. "I was incredibly impressed and blown away by their organization, efficiency, and the speed at which they pulled it all off. It was seamless every day. My only ask was that we had a digital loader and a film loader so that there was always a constant person responsible for their footage."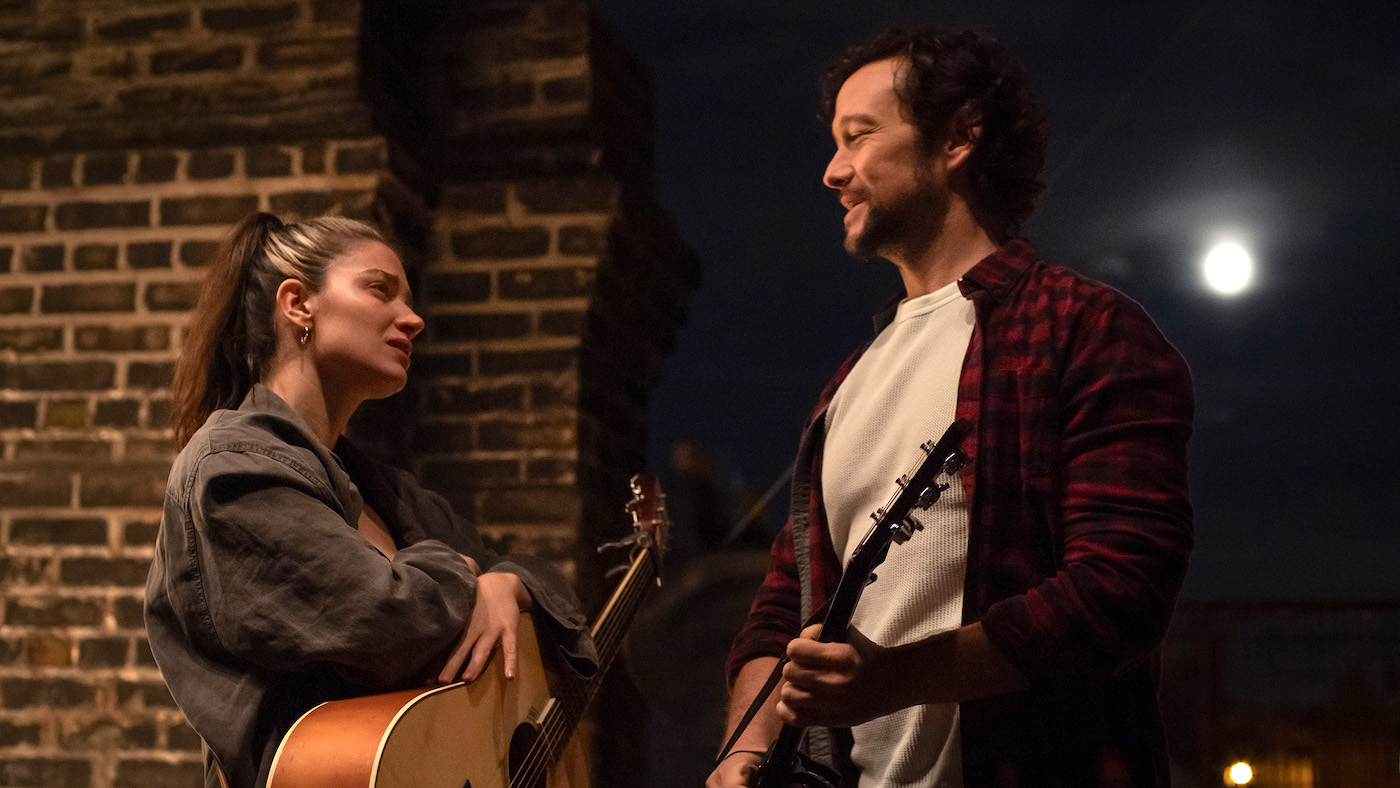 Flora and Son – From Writer/Director/Producer and Sundance veteran John Carney (Sing Street, Once, Begin Again) comes this story set in Carney's native Ireland about a single mom (Eve Hewson) who is at war with her teenage son, Max, who is a petty thief. Encouraged by the police to find Max a hobby, she rescues a beat-up guitar from a dumpster and finds that one person's trash can be a family's salvation. The film was shot by Guild DP and Primetime Emmy nominee John Conroy (Westworld, Modern Love, Tell Me Your Secrets), who utilized Sony VENICE with Master Prime Anamorphics.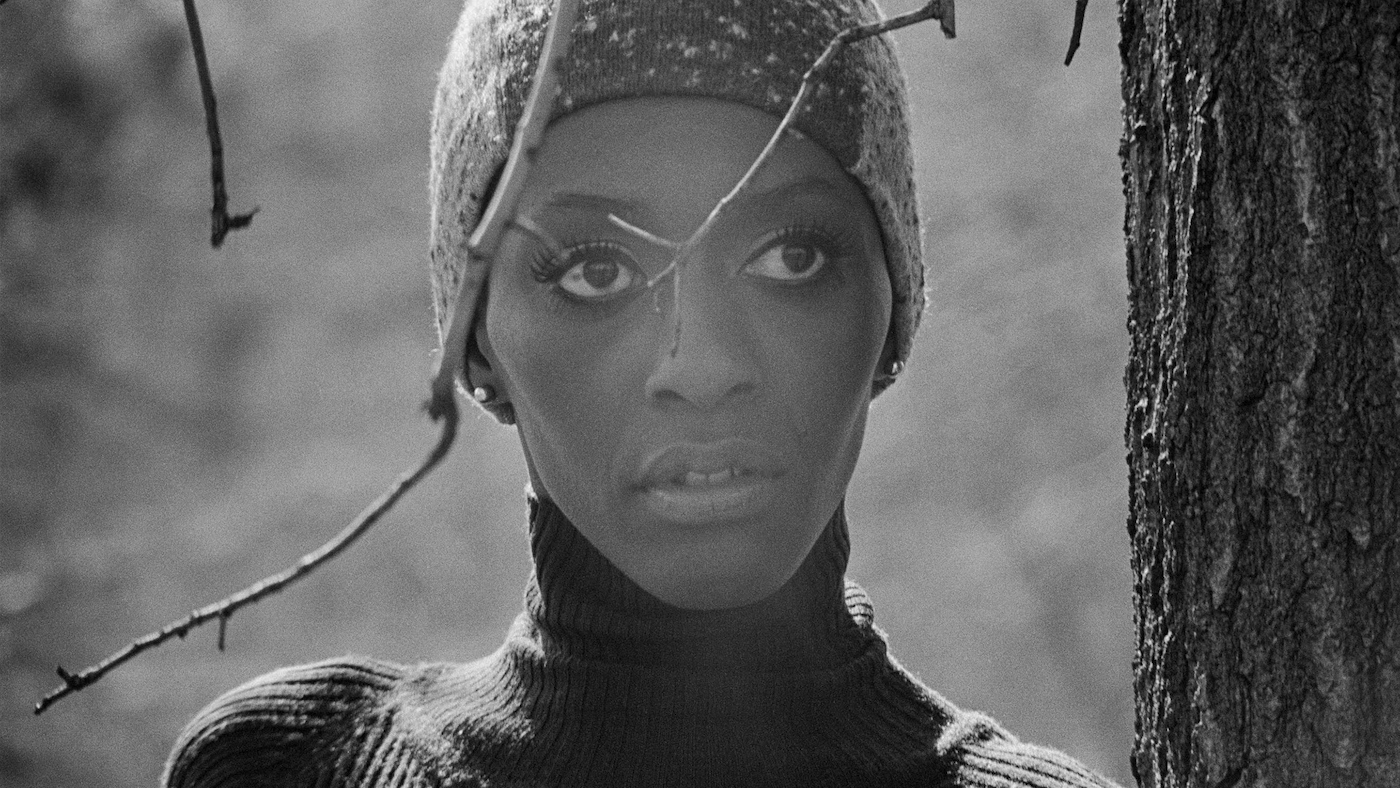 Invisible Beauty – New Guild member Mia Cioffi Henry shot this non-fiction feature about fashion revolutionary Bethann Hardison as she looked back on her journey as a pioneering Black model, modeling agent, and activist, shining a light on an untold chapter in the fight for racial diversity. The film was co-directed by Bethann Hardison and Frédéric Tcheng, with additional cinematography from longtime Sundance veteran Shana Hagan, ASC.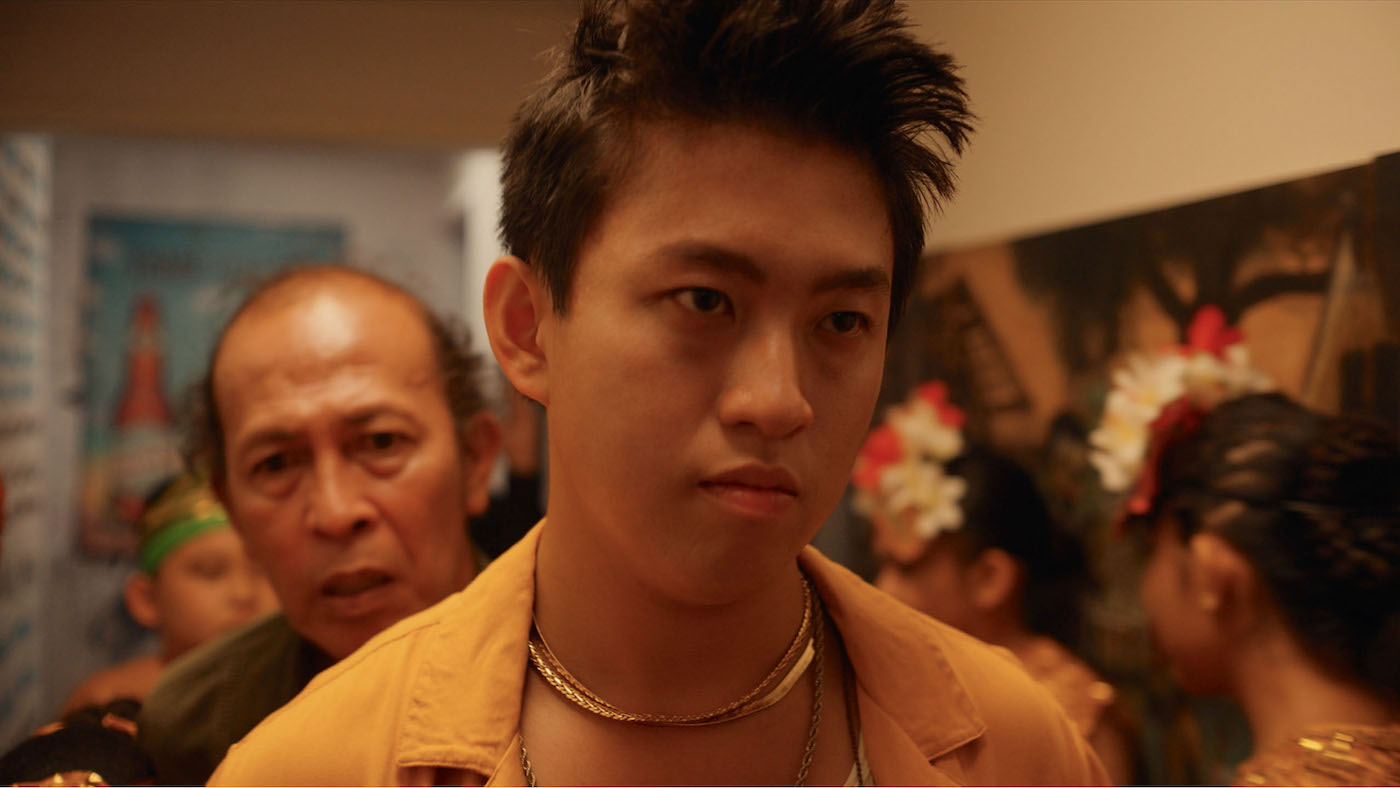 Jamojaya – Guild DP Ante Cheng reteams with Writer/Director/Producer Justin Chon for this story about a father-son relationship that is put to the test when an up-and-coming rapper at the crossroads of his career decides to let go of his manager, who is also his father. This decision forces them to confront the past and figure out what they want of each other. Guild members on the project, which was shot in Hawaii, include Operator Pete Villani, Steadicam Operator Abraham Williams, 1st AC Andy Chen, Additional 1st AC Samuel Kim, 2nd AC Isaiah Alvarez, and Loader Westley LeClay.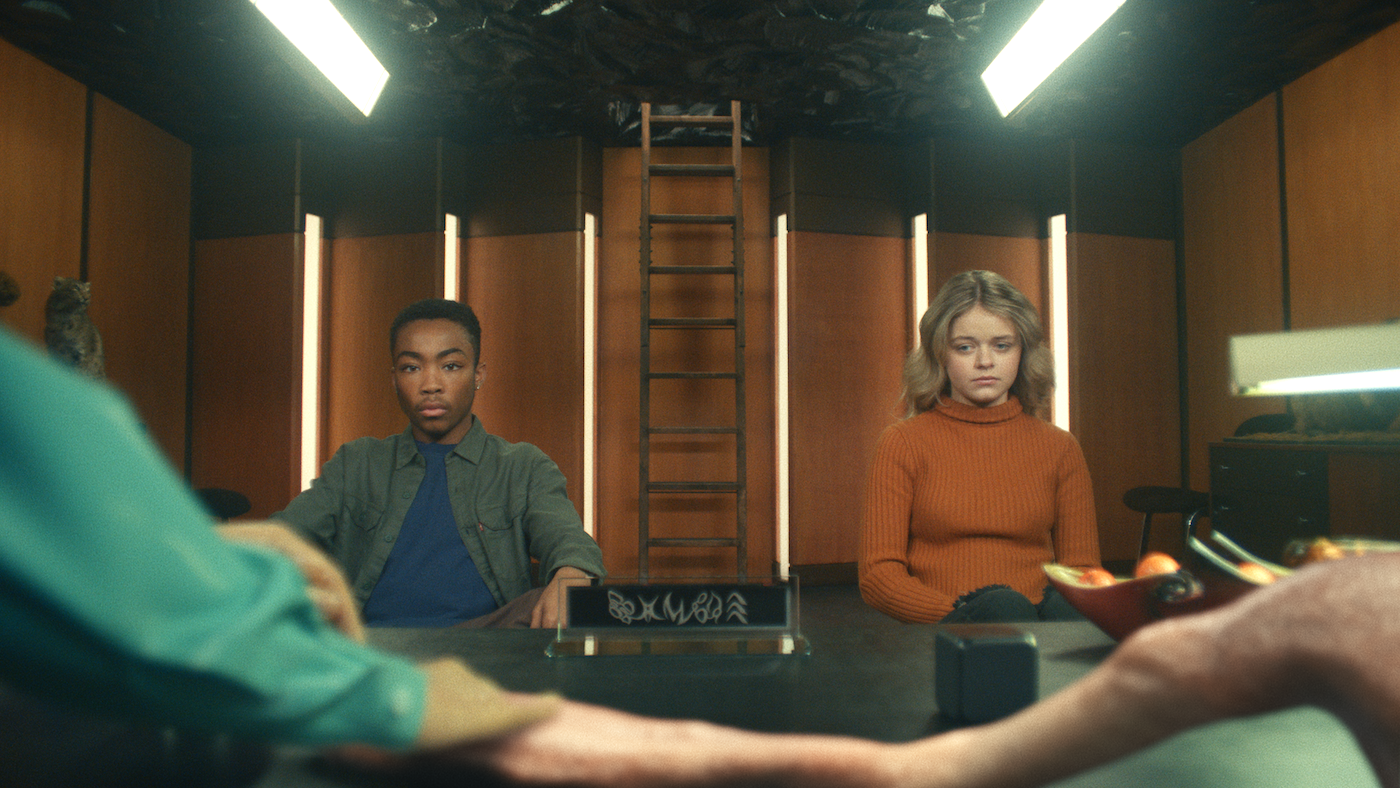 Landscape With Invisible Hand – Sundance veteran Lyle Vincent shot this feature for St. Louis-born writer/director Cory Finley (whose film Thoroughbreds, adapted from his stage play, premiered at Sundance and was distributed by Focus Features. Finley's follow-up feature, Bad Education, premiered on HBO and won an Emmy in 2020). When Earth is taken over by aliens who control the economy, a pair of teenagers come up with a plan to save their families. The large Guild crew included A-Camera Operator/Steadicam Scott Dropkin, A-Camera 1st AC Patrick Sokely, A-Camera 2nd AC Katrienne Soulagnet, B-Camera Operator Brett Mayfield, B-Camera 1st AC Kelly Poor, B-Camera 2nd AC Kevin Wilson, DIT James Notari, Drone Pilot Louie Northern, Digital Utility Laura Spoutz, Unit Still Photographers Lynsey Weatherspoon and Kyle Kaplan, and Film Loader Ben McLeod.
Past Lives – From Writer/Director Celine Song and longtime Sundance Producer Christine Vachon comes this story about Nora and Hae Sung, two deeply connected childhood friends who are separated after Nora's family emigrates from South Korea. Two decades later, they are reunited in New York for one fateful week as they confront notions of destiny and love and the choices that make a life. Shot by Director of Photography Shabier Kirchner with a Guild team that included Operator Doug Durant; 1st AC Kali Riley; 2nd AC's Joel Adam Russell and Hallie Arias; Loader Naima Noguera; additional Operators Aaron Brown, George Tur, and Ben Noftzger; 2nd Unit Director of Photography Eric Yue; 1st AC Shaun Malkovich; 2nd ACs Josh Pressgrove and Sachi Bahra; and Unit Still Photographer Jon Pack.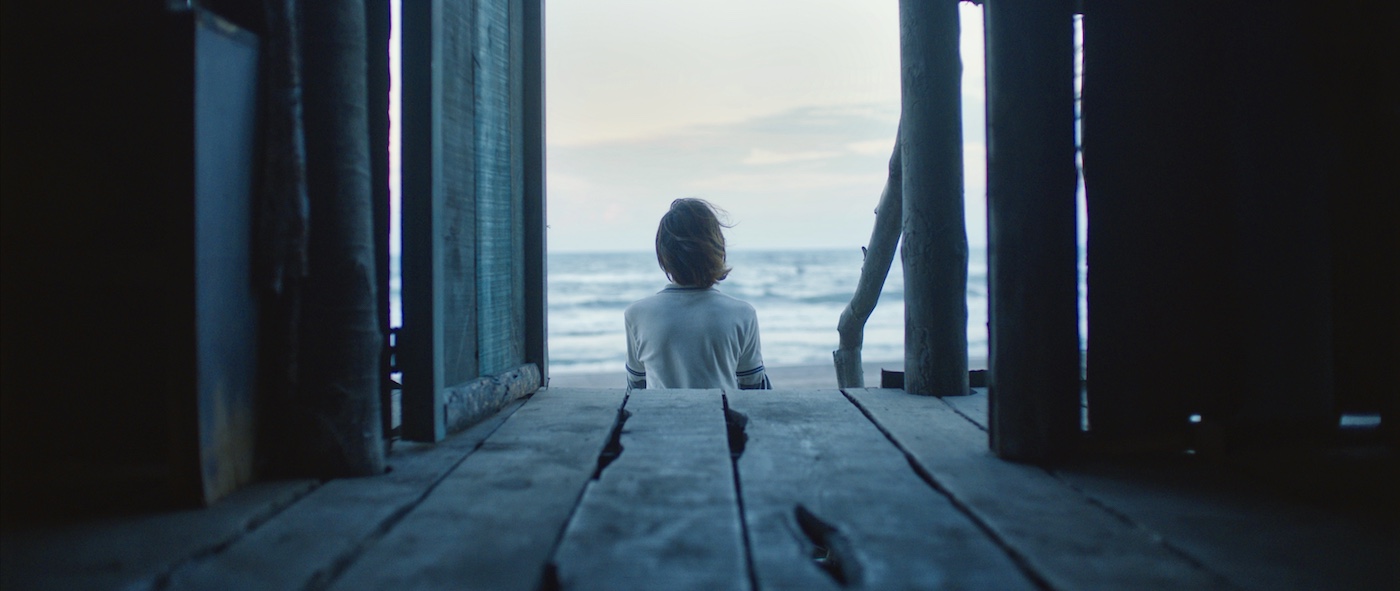 Radical – ICG Director of Photography Mateo Londono, AMC, shot this emotionally complex film for Writer/Director (and former Sundance Grand Jury Prize winner) Christopher Zalla. The film stars Eugenio Derbez as a frustrated teacher in a Mexican border town plagued with corruption and violence. We follow him as he employs a radical new method of teaching to break through to his students. Londono says that "when producer Ben Odell, with whom I had recently worked on The Valet, reached out to me regarding this film, and after watching Chris' previous film, Sangre de mi Sangre, I was extremely excited to be a part of this project." The cast included over 30 kids, most of them non-actors, and at times there were as many as 100 children on set. "Chris and I extensively shot-listed the film, though we understood that parts had to be captured as unobtrusively as possible to secure the best performances from our kids," Londono adds. "Most of the classroom scenes were captured with three ALEXA Mini LF's in a semi-documentary style. The lighting was almost all coming from the windows that lined the room on both sides." Londono used Astera Titan Tubes built into the set for fill and controlled the lighting with frames outside the building. In placing the camera, he says they favored the POV of a child, "so we intentionally avoided framing adults in a classic way, many times not seeing their faces. One of our strongest influences was Lynne Ramsay's Ratcatcher for framing and composition." The film was shot with Canon K-35 and Canon EF lenses. Principal photography was in and around Mexico City and Veracruz. "By intercutting these locations," Londono concludes, "we recreated as faithfully as possible the city of Matamoros, where, unfortunately, for security reasons, we could not shoot."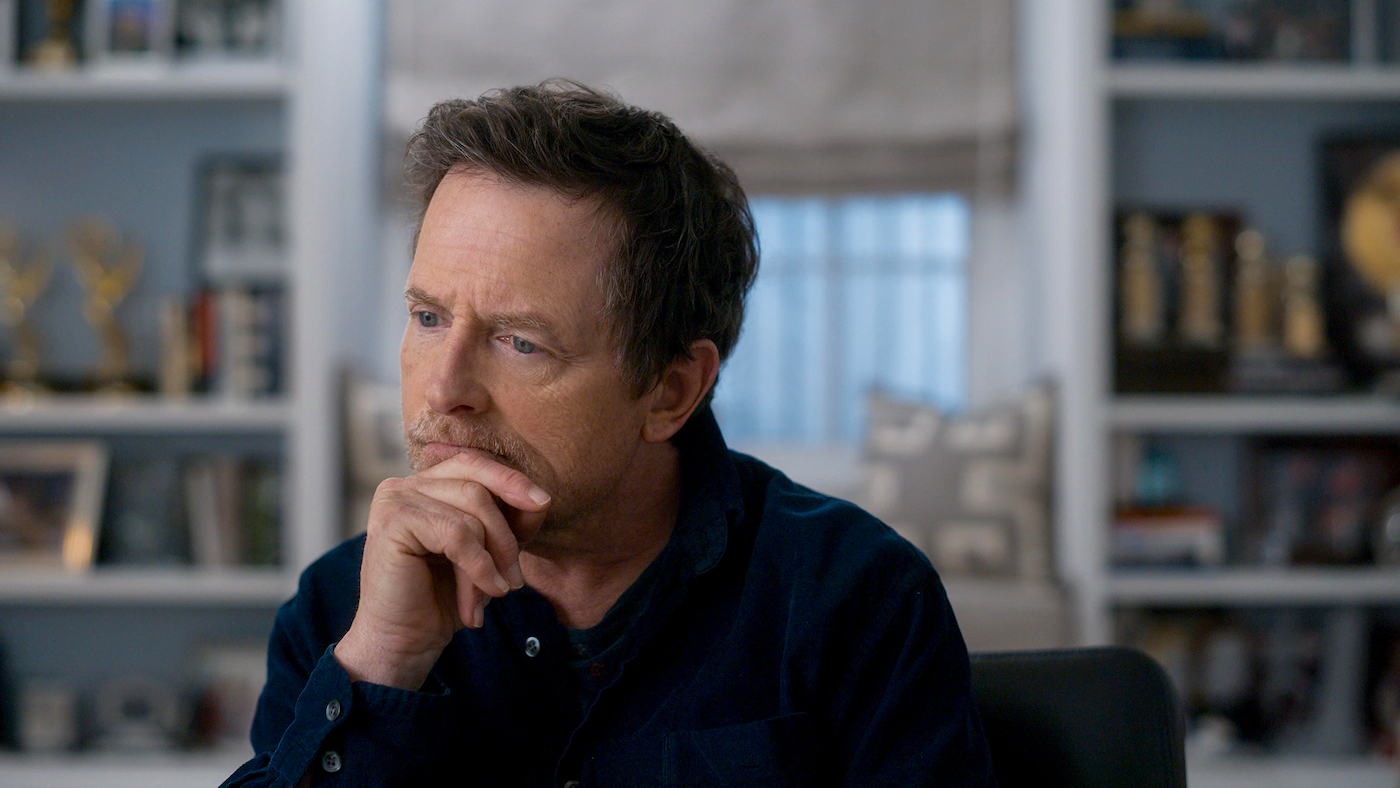 Still: A Michael J. Fox Movie – Sundance veteran Clair Popkin, along with Guild member Julia Liu, shot this documentary feature for Sundance veteran Davis Guggenheim about the comic icon: "a short kid from a Canadian army base who became the darling of 1980s Hollywood – only to find the course of his life altered by a stunning diagnosis."What happens when an incurable optimist confronts an incurable disease? Liu says she grew up watching Michael J. Fox, "so to work on this project was a childhood dream come true. The goal was to create an intimate vibe on set, so we kept the crew and gear footprint to only the essentials. We filmed on the Sony FX9 with Zeiss Supreme Primes. My favorite memory happened on the first day of the shoot," Fox adds. "We filmed his whole waking up in the morning sequence, much of it in a tiny bathroom space. When we wrapped, I thanked MJF for a great first day, and he said, completely deadpan, "I'll always remember we shared a bathroom." Guild members on the project included A-Camera 1st AC Ivana Bernal; B-Camera Operators Katherine Castro, Nona Catusanu, Chris Oeurn, and Luke Owen; B-Camera 1st AC Fae Weichsel; Digital Asset Manager Morgan Armstrong and Bill Winters supplying additional cinematography.
You Hurt My Feelings – Longtime Sundance filmmaker Nicole Holofcener wrote and directed this indie comedy about a novelist (Julia Louis-Dreyfus) and her longstanding marriage suddenly upended when she overhears her husband (Tobias Menzies) giving his honest reaction to her latest book. The film was shot by Jeffrey Waldron (Little Fires Everywhere, The Morning Show, Dear White People), who shares that "when Nicole reached out about You Hurt My Feelings, I was coming off of several months of big stage and VFX work. She warned me that the budget was low – Tier 1 – on practical New York locations, with a very fast shooting schedule, which got me excited. I loved the idea of working through those indie-style challenges with Nicole." Waldron adds, "Panavision New York generously helped me put together an ALEXA Mini package with some custom-adjusted Primo lenses. I love the original Primos; they are modern enough but more nuanced and gentle-feeling than many newer, sharper primes. We further accentuated this by softening them and reducing the contrast in prep, and paired with the LUT that colorist Nat Jencks and I tweaked together, [the look] felt filmic, human, and somewhat handmade." And while the DP acknowledges New York's beauty in the springtime, "Nicole didn't want the movie version of New York. She wanted the lived-in feel of real neighborhoods and real apartments," Waldron continues. "The budget and locations wouldn't afford big lifts or anything, no cranes, which worked for our visual storytelling instincts for the film – simple, elegant, restrained. This story pivots on a small overheard conversation, and we wanted the filmmaking to be equally subtle and not distracting." The all-Guild camera was made up of A-Camera/Steadicam Operator Jennie Jeddry, A-Camera 1st AC Christopher Cafaro, A-Camera 2nd AC Christina Carmody, B-Camera Operator Clint Litton, B-Camera 1st AC Cody Schrock, B-Camera 2nd AC Jonathan Ellis Monk, DIT Peter Symonowicz and Still Photographer Jeong Park.
Midnight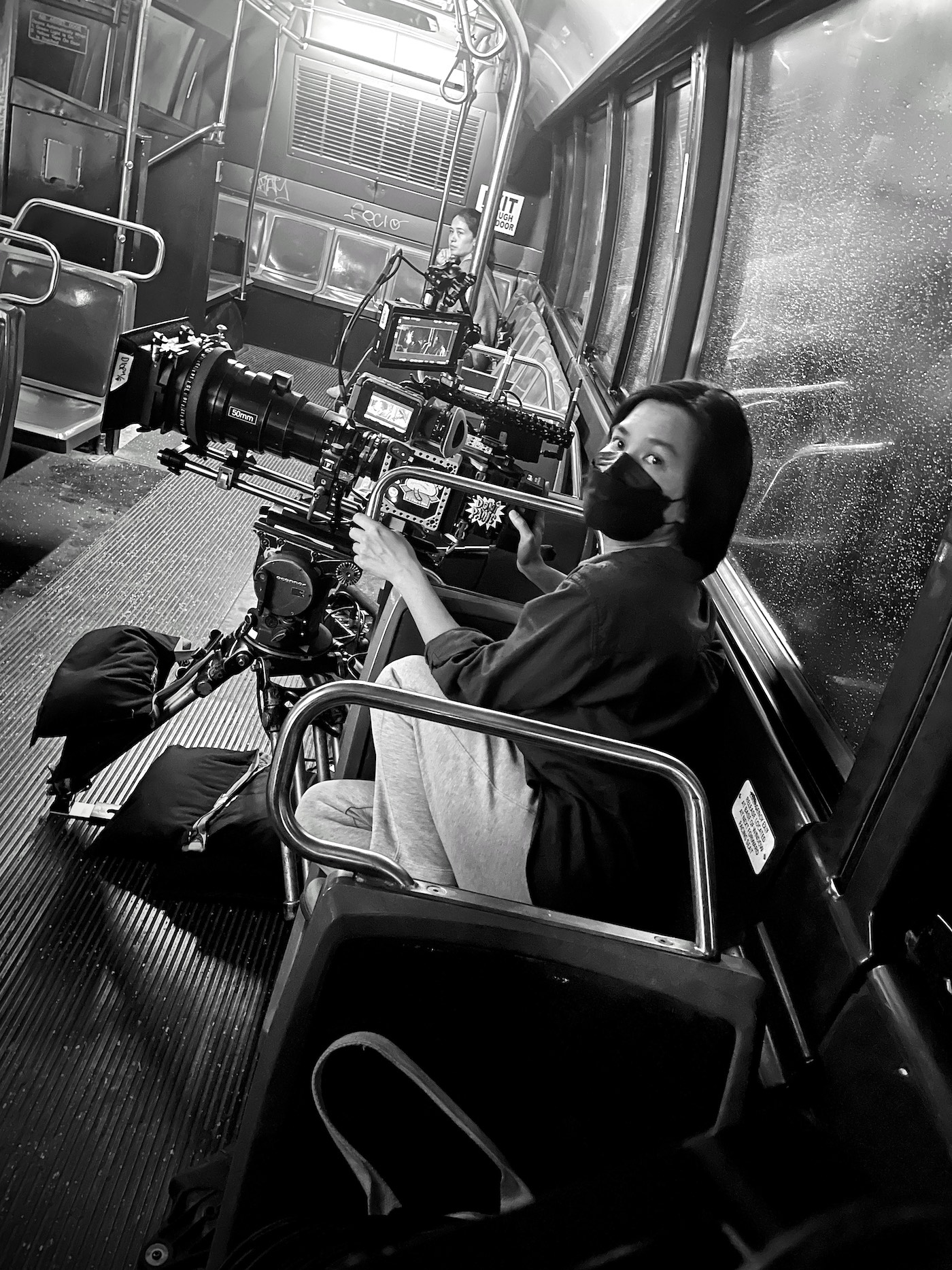 Birth/Rebirth – Chananun Chotrungroj shot this dark, offbeat story for NYC-based Director/Co-Screenwriter Laura Moss about a single mother and a childless morgue technician who become bound together by their relationship with a little girl they have reanimated from the dead. Chotrungroj was drawn to Moss' script because of the volatile emotional journey the main characters undertake. "For this film, I wanted the characters to guide the cinematography,  as the visuals of the film served the inner feelings of the characters," the DP shares. "Laura and I tightly storyboarded the film to make sure each moment was humanized visually, and so the audience can make the journey alongside our characters as they face incredibly difficult decisions. We also worked closely with production designers Courtney and Hillary Andujar to intimately craft each space of the film. We played with frames within frames to make the locations reflect the inner life of our characters and often shot with reflections to hint at changes the characters go through." Chotrungroj says the Anamorphic Primo Lenses from Panavision "helped craft the visual language of our film – the wide framing allowed us to layer actors in ways that emphasized tension," she continues. "We also used the anamorphics' bokeh and blurs to distort the characters and background, conjuring a subtle ghostly feeling. Two of the central locations of the film are a hospital and a home patient's room – places of both birth and death, hope and suffering. We played with colors to emphasize this contrast, such as cool hues in the skin of the ill and dead in contrast to the warmth in the living." Joining Chotrungroj were Guild members Tricia Mears, (1st AC), Max Schwarz (2nd AC), and Mike Sofokles (Unit Still Photographer), who also handled EPK with Matt Infante.
Onyx the Fortuitous and the Talisman of Souls – Amateur occultist Marcus J. Trillbury, aka Onyx the Fortuitous, is struggling. He's misunderstood at home and work, but his dreams for a new life seem to be answered when he lands a coveted invitation to the mansion of his idol, Bartok the Great, for a ritual to raise the spirit of an ancient demon. He excitedly joins Bartok and his fellow eclectic group of devotees as they prepare for the ceremony, but pretty quickly it becomes apparent everything is not as it seems. Director of Photography Dan Adlerstein says Onyx was conceived by writer/director Andrew Bowser "as a throwback to 80's adventure/horror/comedy films like Ghostbusters, Fright Night and Gremlins. These movies are fully embedded in Andrew's DNA as a filmmaker, and the first thing he did was give me a list of about 15 of them to watch. But early on in our discussions, we agreed that while Onyx should feel like a throwback, it shouldn't exactly look like one. When those films came out, to those audiences they felt modern. So instead of copying 80's movie aesthetics and tropes, we set out to shoot a modern-looking movie, with modern sensibilities, that would evoke the same emotions and sense of wonder. For the lighting," Adlerstein continues," we adhered very closely to the plan we had laid out in pre-production, with a particular focus on subtly increasing the color contrast as the film proceeds – the outside moonlight invades the interior tungsten more and more. Creamsource Vortex 8s, Litegear LiteMats, and Astera Titan Tubes were our workhorses. But with regard to camera, we wound up ad-libbing quite a bit from the original plan to what felt right in the moment. We shot on the ALEXA Mini with a full set of Atlas Orion anamorphics, and I found myself often reaching for wider focal lengths for close-ups and mediums. The feel of the 40-millimeter and even 32-millimeter just a few feet away from the subject provided a sense of intimacy and subjective alliance with the characters while also imbuing the film with one of the most important qualities of those 80s movies we were referencing – fun." Adlerstein was joined by Guild members Steadicam Operator Tom Dean, 1st AC Sam Lüsted and 2nd AC Danielle Bryant.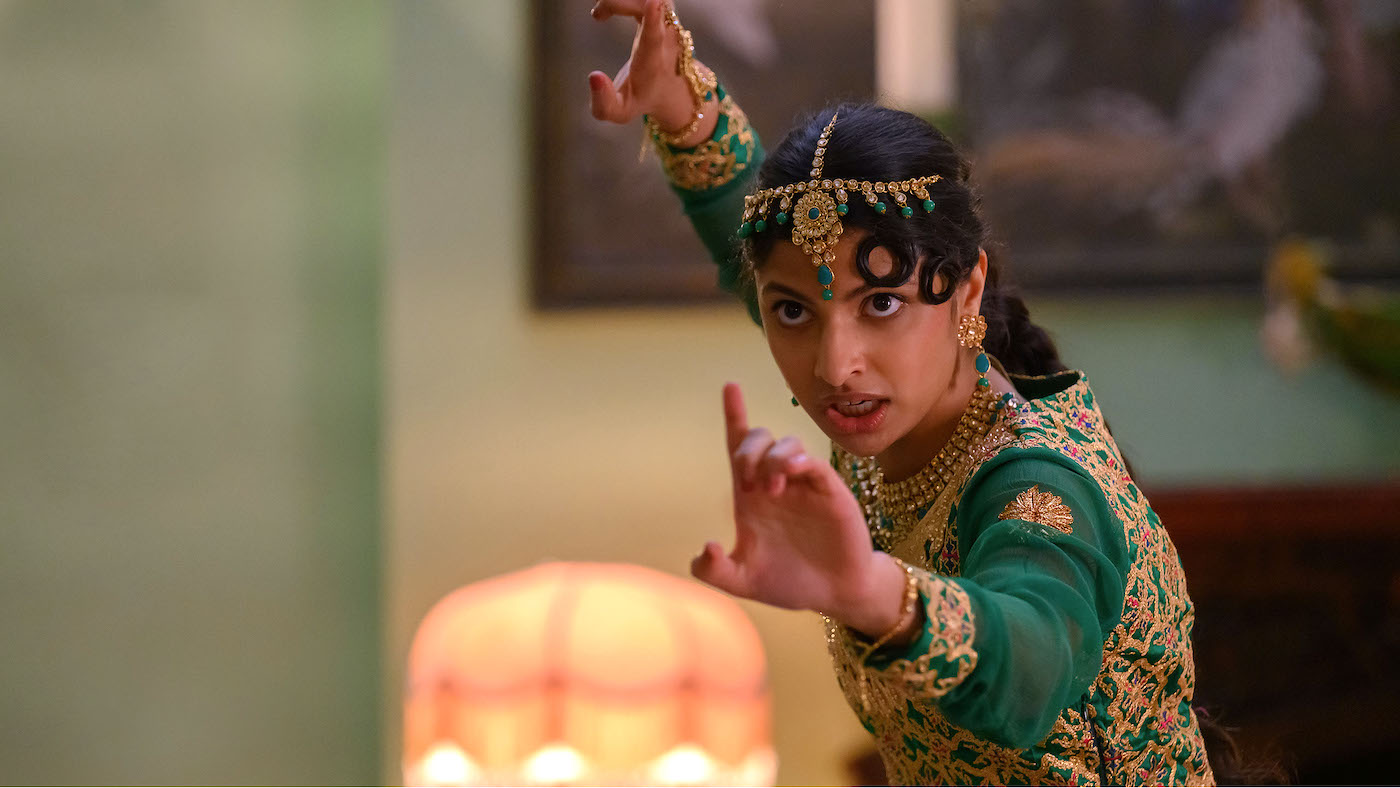 Polite Society – Guild Director of Photography (and Sundance veteran) Ashley Connor, shot this action-comedy about Ria Khan, a London schoolgirl/stunt-woman-in-training, who is crushed when her big sister, Lena, drops out of art school and starts dating the wealthy son of the prominent Shah family. When the couple announces (after barely a month) they plan to marry and move to Singapore, Ria is aghast that her sister is going to abandon her artistic dreams to become a trophy wife. After realizing that something is not right, Ria has no choice but to enlist her friends in a daring mission to kidnap Lena from her own wedding.
Connor says working with writer/director Nida Manzoor "was a dream, as I fell in love with the script immediately. It had such biting humor but still so much heart. I loved the character of Ria so much and having sisters myself, I understood that special relationship – no one can fight like sisters can. I'd never done an action movie before, and more specifically, hadn't worked with wires, so I wanted to bring a different sensibility to those sequences. I have a black belt in Hapkido (from many many moons ago, not actively practicing), so it was exciting to connect my martial arts training with my cinematography." Connor says she and Manzoor wanted the fight scenes to be grounded, i.e., "to not be too perfect," Connor adds. "We wanted the cinematography to not overshadow Ria's journey, because at the end of the day, the film is really about a teenage girl's desires and it needed to feel accessible. We made an action film on an indie budget during the Omicron spike, so you can imagine the difficulties. But the [U.K.] crew and cast were so talented, coming to work every day was an absolute pleasure."
Kids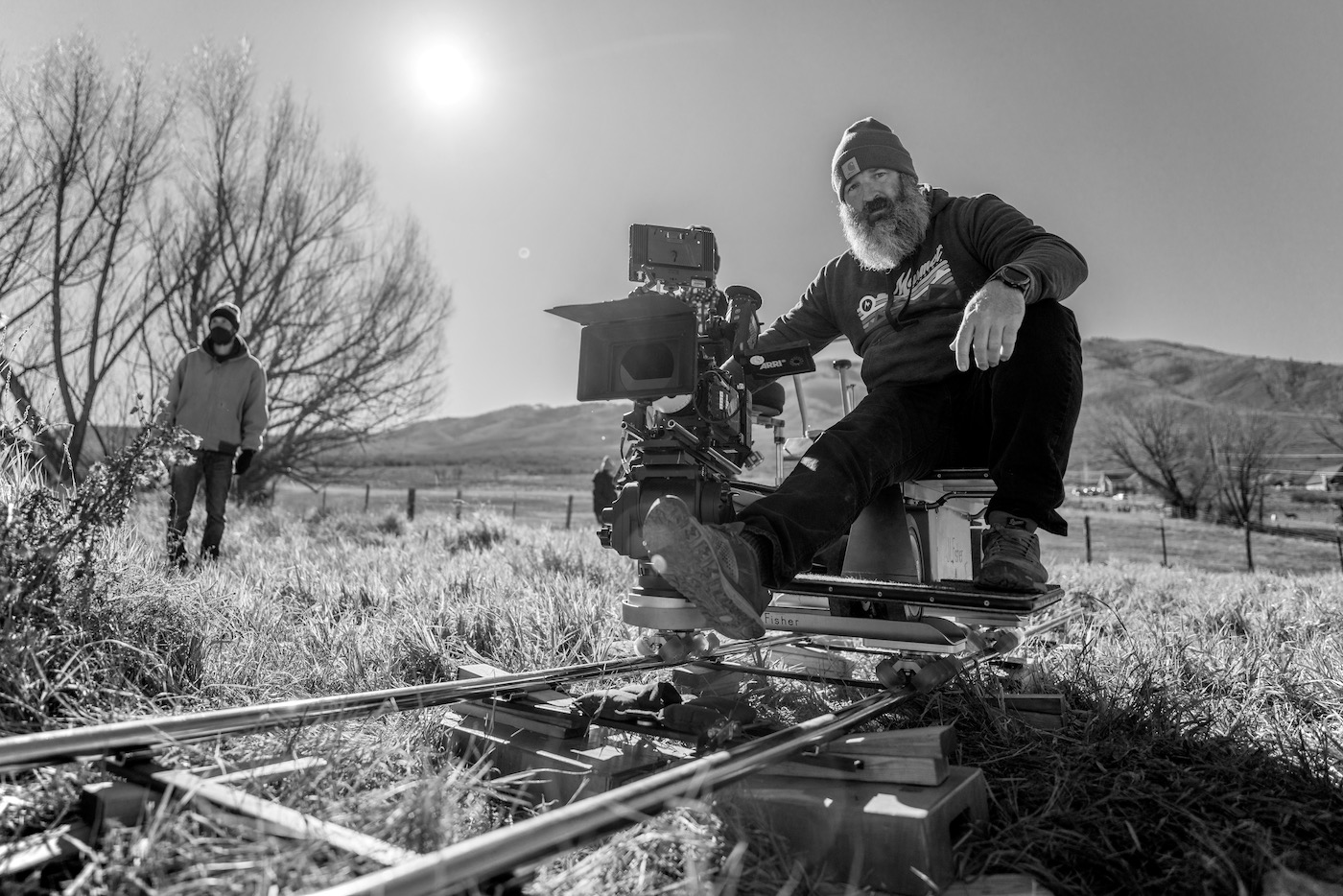 Aliens Abducted My Parents and Now I Feel Kinda Left Out – L.A.-based DP Jeremy Prusso shot and co-produced this film for Director Jake Van Wagoner, about teenage Itsy, who is new in town and thinks her life is over until she meets her space-obsessed neighbor Calvin, who believes his parents were abducted by aliens. An aspiring journalist, Itsy decides to write an exposé on Calvin but ends up discovering much more. Prusso says the film was a passion project, and "I was fortunate to be able to work with Jake Van Wagoner, who is one of my best friends, and we have worked together for years. We were very fortunate to have an amazing cast and crew [including Guild 1st AC Jameson Dressen], all of whom poured their hearts into this film." Among the project's many unique challenges was the need for a full-size alien spaceship. Prusso says, "we hired someone to build us a piece of a practical spaceship that would have a lowering ramp where aliens could exit the ship," he adds. "While we were in the middle of production, the builder backed out. After some choice words and gnashing of teeth, Jake and I came up with a solution: we dug up a crane, and our gaffer, Skyler Sorenson, rigged up a few lights on it. We placed it deep in the trees and used it to give the illusion of a ship landing and taking off. With a bit of CG help, I feel like it turned out great! Possibly even better than the original spaceship prototype."
Another challenge was shooting in November in the Utah mountains, where night shoots meant below-freezing temperatures. "Our camera batteries struggled to keep a charge, so we kept them in coolers to keep them as warm as possible," Prusso recounts. "Our scrappy little camera crew took the challenge and kept us moving forward. I still have moments, though, when I feel like my toes are still recovering. A new experience I had, during this shoot, was working with a Technocrane. We brought it in for one night for some of our bigger scenes, and it was simultaneously one of the most stressful and fun nights of my career! Between the biggest actor in the movie, the cold, the scale of our film, and how badly we all wanted it to succeed, it felt like that night cost me a few years of my life."
U.S. Fiction Short Films
Mirror Party – Guild veteran Markus Mentzer lensed this short for Writer/Director/Star Bridey Elliott about two friends who role-play a breakup conversation. "We shot the short in Bridey's Pasadena apartment, which she decorated perfectly," Mentzer recounts. "The original practical fixtures consisted of both antique and modern mixed lighting, so to even it out I swapped the bulbs for Astera NYX bulbs [donated by Chris Galdamez of CAM lighting] and dialed them in by hand. We shot on a Sony A7S III on a 24-millimeter and 85-millimeter Sony G Master prime with Black satin. Shooting with Bridey is always super creative, and Bridey, Angela (Trimbur), and I all had fun setting frames that ultimately played as oners."
Power Signal – Local 600 Director of Photography Zach Kuperstein shot this short for writer/director Oscar Boyson about a delivery worker who, while trying to navigate a city that won't provide him a bathroom, discovers an unearthly presence infecting women all over New York. "When I was asked by Oscar Boyson to shoot Power Signal," Kuperstein shares, "I was staring down five nights in New York City in the middle of January, with temperatures well below freezing and an enthusiastic but inexperienced crew – all during the biggest COVID spike to date. But Oscar's passion is contagious (and my experience as a bike messenger got me excited to tell the story), so I knew producer Jordan Drake would make the most out of the resources we had to create something very cool. I said, 'Sign me up!' and we had a blast making alien babies out in the cold on the quiet, late-night streets of New York."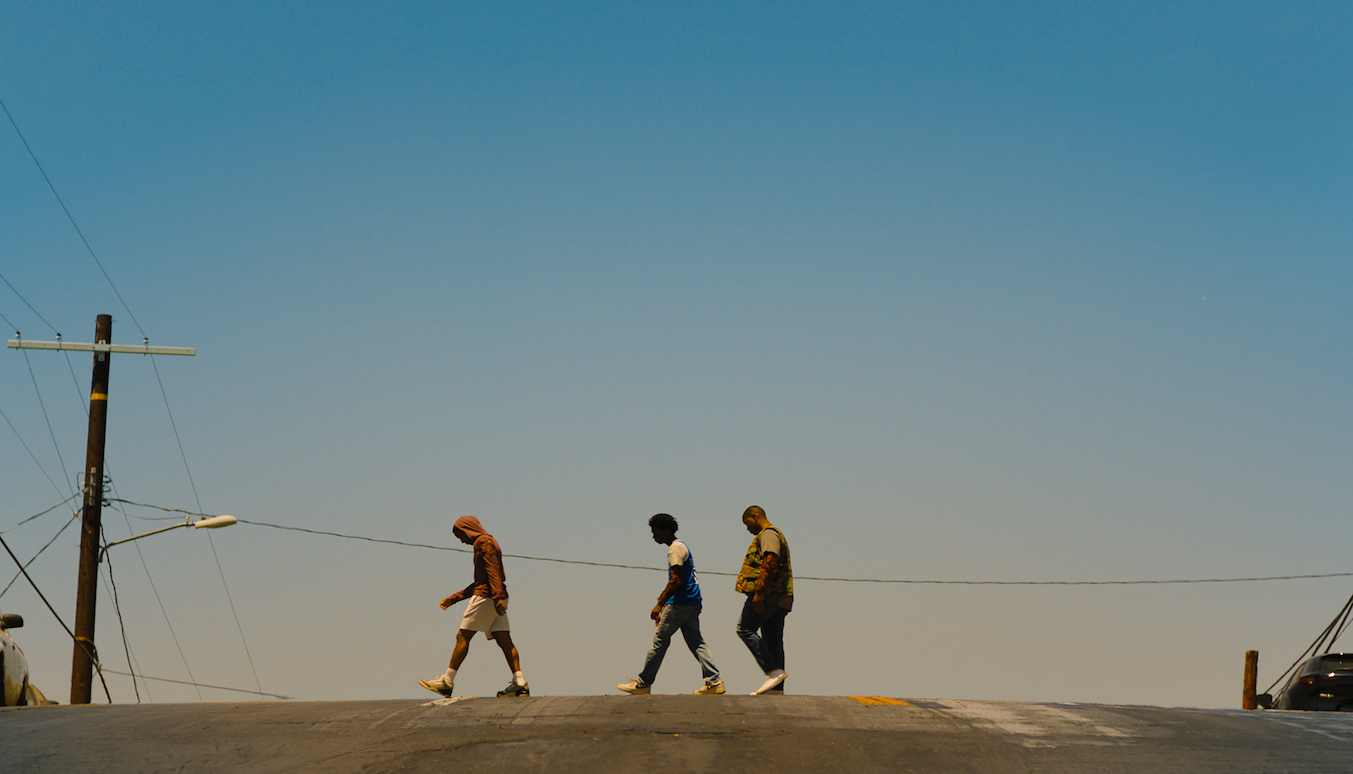 We Were Meant To – Guild member Veronica Bouza lensed this short as her AFI thesis. The film is set in a world where Black men have wings, and their first flight is a rite of passage. We follow Akil, who must defy societal barriers to discover his perfect launch into manhood. We Were Meant To will be the first AFI thesis film to screen at Sundance in over a decade. "The process of making We Were Meant To is a lesson in persistence and vulnerability," Bouza recounts. "With multiple shutdowns due to COVID, our thesis team knew we would put everything into this project whenever we would get the opportunity to finally shoot." Joining Bouza were Local 600 members Jose Figueroa-Baez (A-Camera 1st AC), Allan Recinos (A-Camera 2nd AC), Sarah Pierpont (B-Camera Operator), Kenji Bennett (B-Camera 2nd AC) and Edward Hill (Montage Steadicam).