Moxie, Director of Photography Tom Magill's second feature for actor/director Amy Poehler, is a crash course in teen empowerment.  
by Pauline Rogers / Photos by Colleen Hayes/Netflix unless otherwise noted
---
"It's about finding your voice and making yourself heard," says actor/director Amy Poehler of Netflix's recent feature Moxie. Set in the Pacific Northwest, Moxie follows Vivian (Hadley Robinson, from Little Women and Utopia), a shy young woman who, inspired by her mother's (Amy Poehler) rebellious past, creates an anonymous zine known as Moxie! to call out sexism in her school.
To tell Vivian's story, not as a typical comedy, Poehler turned to Guild Director of Photography Tom Magill. "Tom and I met when he was an operator on Parks and Recreation," Poehler explains, "and he eventually became the DP. Tom is such a delight – collaborative, curious, and funny. He knows how to create a mood and a memory, but he also knows that this job should be fun."
Magill says he recalls one particular day, on Season 5 of Parks and Recreation, shooting on location at the Sportsmen's Lodge in Studio City, CA. "We were between takes, and I went to Amy to give her a blocking adjustment. We chatted for a brief moment, and then she said, 'I want you to shoot a movie with me one day.' I was so flattered that she thought enough of my work to want to team up for a feature. And then that happened in 2019, with her directorial debut, Wine Country. We had a blast shooting that, and it eventually led to our second film together, Moxie."
Magill says Poehler is a solid director with a clear vision of what she wants and is great at communicating her ideas to every department. "Amy also has an obvious connection with actors," he shares. "She is very thorough in prep. On Wine Country, we hired second-teamers and blocked out every scene in the movie beforehand. It helped save us so much time on the shoot days because almost every scene in that film had six to seven people."
That method worked so well, Magill and Poehler wanted to do that same thing on Moxie – "but we ran out of prep time," Magill adds. "Amy did have every scene storyboarded, and we used that as our roadmap. Things can change at the last minute, as everyone knows, and it was fun seeing her be able to pivot and problem-solve in the moment."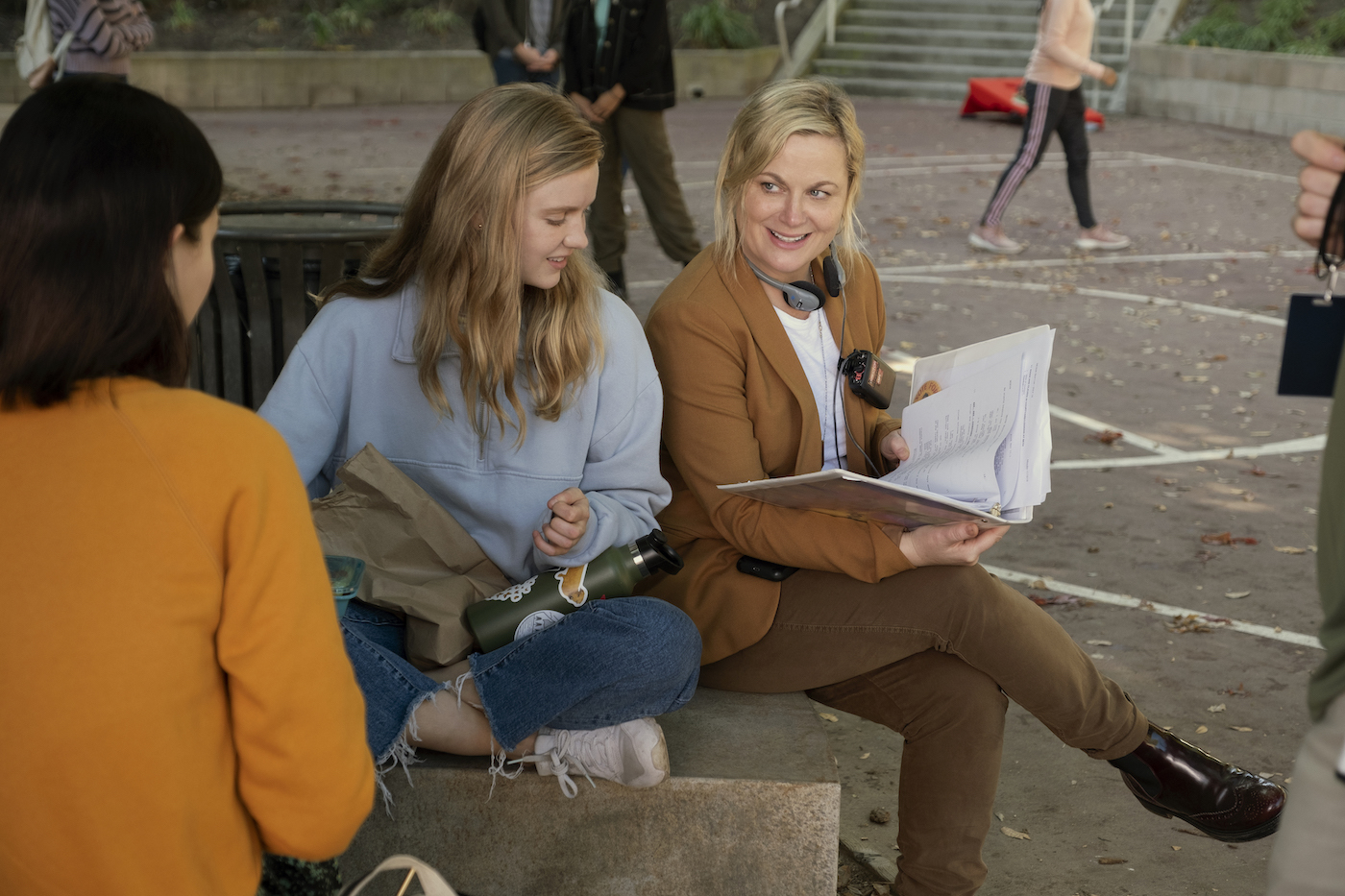 Setting the visual tone to support the story but not fall into traditional comedy clichés was tricky; Poehler tackled that challenge head-on with an unusual dramatic opening that would immediately show the audience Vivian is at a turning point in her life. "I wanted to capture the wild and dangerous version of the Vivian who is trying to find her way out," Poehler adds.
As is often the case, the first scene in the movie was the last to be captured; because of obligations, Magill wasn't available, so Matt Moriarty, who lives near Portland, and had operated a snow sequence for Magill a few years back on Angie Tribeca, was called on to shoot the opening "forest" sequence at Milo McIver State Park. "It's a dream sequence where the audience gets introduced to Vivian little by little," Moriarty explains. "Amy wanted a sense of bewilderment throughout, not knowing who this girl is or why she's running. We see her face only in flashes until we push into a close-up and a silent scream."
Moriarty adds that "the scream of this girl – where no sound comes out – sets up the entire story, as it represents the struggle to free the voices of young women. At the end, when the entire Moxie brigade screams – deafeningly – it's a very satisfying payoff that takes you back to those first few moments."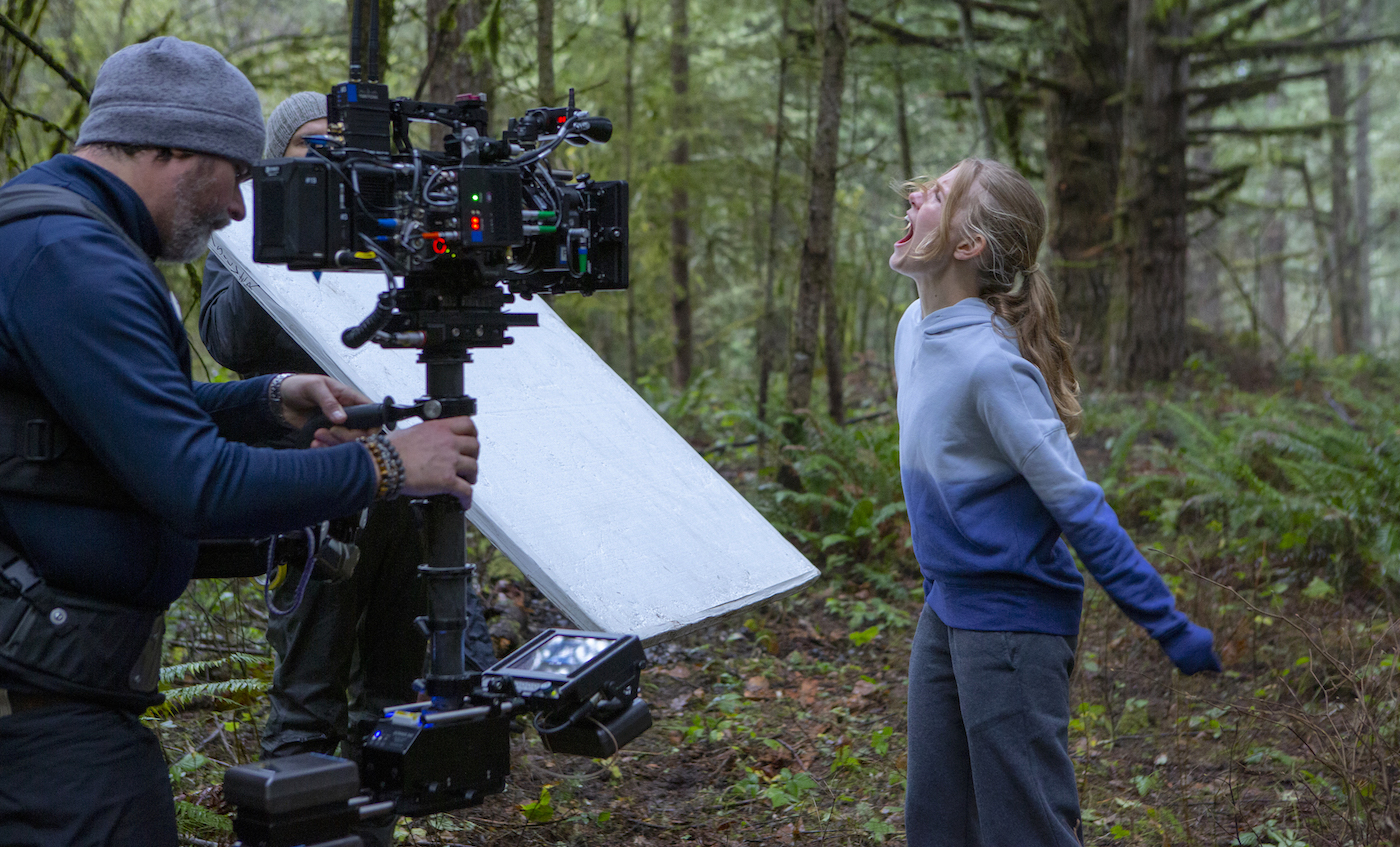 As a long-time Steadicam operator, Moriarty has done a lot of running with a camera and has strong opinions on the best approach. "For shots leading an actor who is running, I prefer the approach Roger Deakins used on 1917," he explains, "where one person runs the rig around without also having to worry about framing upside down and backward; then another person pans, tilts and talks the running operator through the shot on a headset."
Moriarty brought in Phil Anderson, SOC, to do the running on the leading shots, with a Ronin II mounted to his Steadicam arm, "and me on the wheels," he continues. "In 'high mode,' we could do all the leading close-ups, weaving around trees. We could also undersling the rig for a super-low mode, where we could skim the tops of the ferns on an 18-millimeter lens with the huge trees looming overhead.
"While the Ronin switched from low to high," he adds, "I'd jump on my Steadicam and do either the following running shots or the more delicate push-ins and storytelling moves. The goal was 'to never not be shooting' since we had only about five hours to get 20-plus setups, covering acres of the forest. I'm so proud of my Portland crew for how they managed the leapfrogging of crane, Steadicam, Ronin, and dolly tracks, not only on that day but on the night exteriors where we either made rain or worked feverishly to hide real rain with grip work."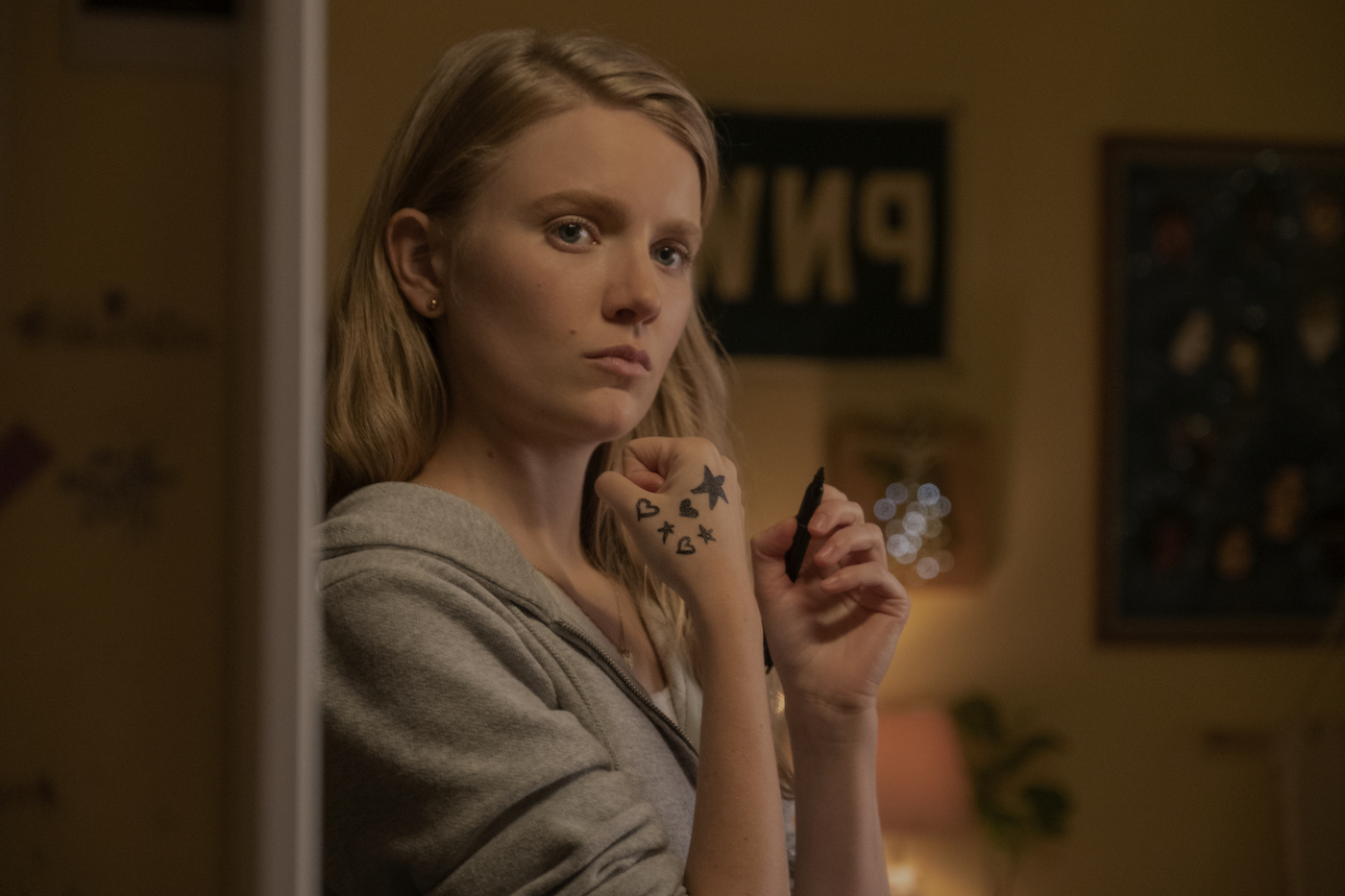 As noted, viewers are made aware this isn't an ordinary comedy from frame one. Then it fell to Poehler, Magill, and the team to play out the story with the same kind of emotional arc but in a more grounded reality. As Magill describes: "We didn't want light and bright but wanted to embrace some shadows and play a lot of it on the downside. That's one of the reasons we stayed with the Sony VENICE. The super-sensitive ISO allowed us to use minimal light and still get great-looking images. Amy and I shot Wine Country with the VENICE when it was in the early beta phase and loved what we got. Now that Sony has had a few software upgrades, it was an easy choice to stay with."
As for lighting – the filmmakers were careful to set a tone for each emotional phase.
"We wanted Vivian's house to feel warm and inviting and the high school to feel like dangerous territory," Poehler explains. "We wanted there to be a classic look and feel to the scenes and to try to keep things grounded in a real-life context."
One of the biggest challenges was the Southern California sun, and how to make L.A. feel like the Pacific Northwest. [See Trinkets, ICG Magazine May 2019,] about another Portland-based Netflix show for which Chief Lighting Technician Neil Holcomb describes the frequent cloud cover as "one giant softbox."] "Our exterior high-school location was in El Segundo, which is near the coast," Magill explains. "We tried to schedule our exterior work in the early morning or late afternoon, using the help of the marine layer that generally hovered around us. We had fly swatters to help with cover if the sun poked through. Our overhead package was one-half soft frost and a quarter black silk on the bottom of our 20-by-20. We also used 15-percent-grey 12-by-12 bounces anytime we needed to push light through a window."
Magill says the HMI's used on bounces would always wear a quarter blue. "The 15-percent grey cut the harshness of the warmth and played more like an overcast feel," he continues. "We also never pushed any hard light through windows. Everything was soft and diffused. The only time we ran into trouble was in the back of the school. There wasn't any room to drive our fly swatters in, so those are the only scenes in the movie with harder sunlight. We did what we could in the DI to knock a lot of that down and match the rest of the exteriors."
Chief Lighting Technician Willie Dawkins calls the high school location "the elephant in the room." He says the idea was to enhance and supplement the existing lighting that the school offered. "One example is the hallways," Dawkins notes. "Since we were shooting a live school, enhancement was key. It would have taken too much time to change all the existing lighting as we usually do, so Tom and I decided to play warm trophy cases against a cooler, blue look that we could control in the hallways."
With the existing light too dark, Dawkins had his Rigging Gaffer, Lamar Houston, and 1st Unit Best Boy, Lance Dickinson, fabricate a light rig using Kinotech dual arrays to add ambiance. "The idea behind a lot of our lighting was always to contrast two worlds at the school," Dawkins adds. "There is the old school world, where alpha male students, mostly athletes, were celebrated and had their run of the place, played against the new world, where female students are attempting to have their voices heard."
One of the most visually interesting (and challenging) school sequences is in Vivian's classroom. As AC Ian Barbella recounts: "Vivian is feeling very sorry about her actions in the previous scene, and we start almost at minimum on her face, then pull out to see the full row she's sitting in, continue through the full scene unfolding around her, and then push all the way back into the finish."
For Operator Ari Robbins, SOC, working with the Trinity, the scene was a delicate balance. "The Trinity afforded us the ability to move fast and get some interesting camera moves without having to lay track or dance floor," explains Magill. "It especially came in handy in cramped spaces like Vivian's bedroom and these narrow school hallways. Ari is a master at it and always takes an idea and can make it better." (Read about Robbins' work on the Oscar-winning La La Land, ICG December 2016.)
Even with floor marks and using the architecture of the room and desks, Barbella had to know his distance. "The shot starts with the least amount of depth but also needs to be timed just right," he continues. "We had to make sure that the pulls shifted the emotion and story of the scene at the right time, as it's a great take about isolation. Having someone like Ari operating provides the confidence you're going to get exactly what the director and DP are looking for."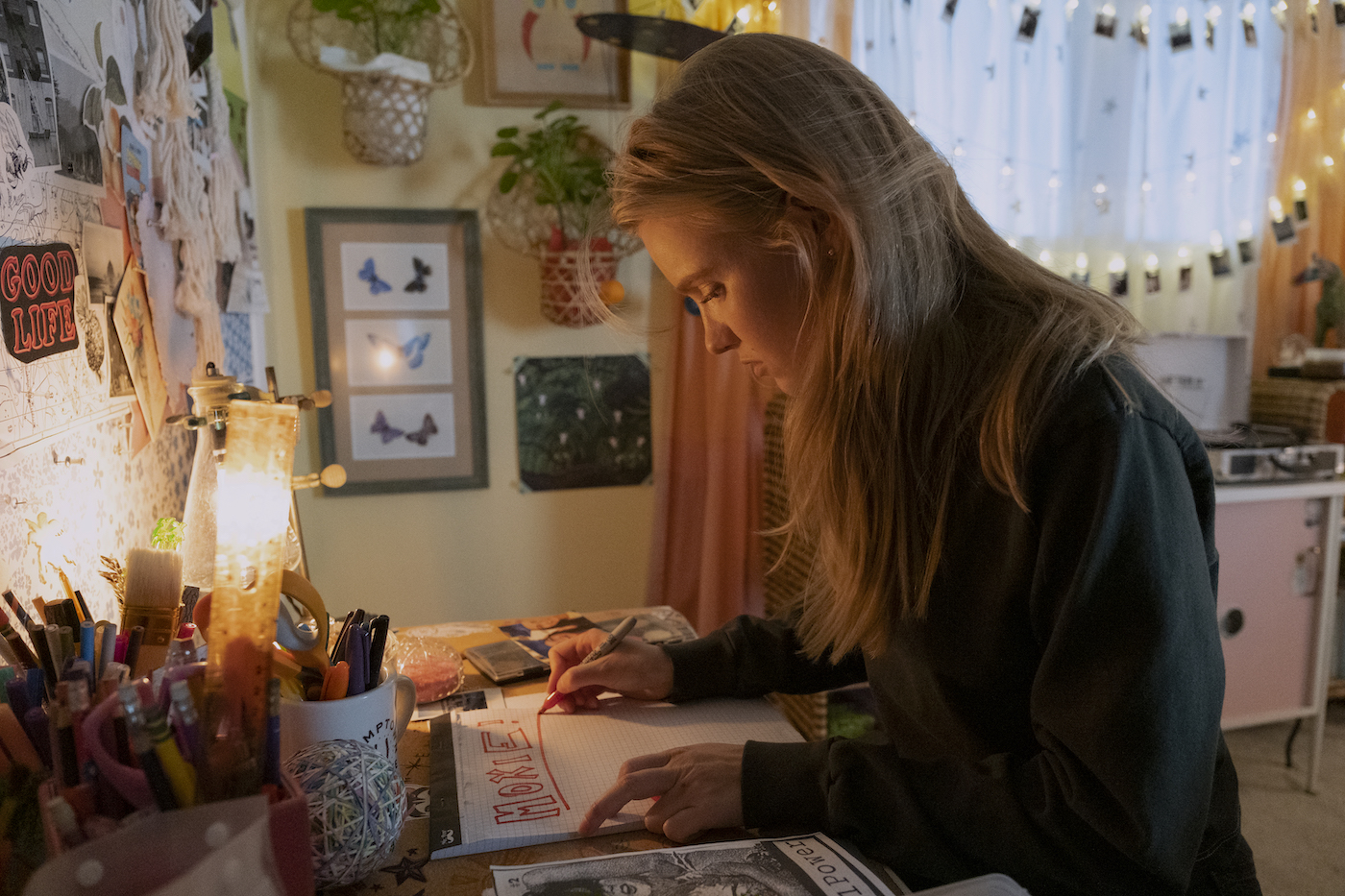 Vivian in isolation was also a chance to approach the story in a different visual style. Dawkins notes that "we used a lot of half and three-quarter lighting on Vivian, especially in the bedroom. This is her inner sanctum, creative haven, and comfort zone – the lighting is warm and always contrasted against blue windows, which are the outside world. We used S60 and S30 SkyPanels outside, so we could readily control the color temperature. Inside the room, 19- and 22-inch Jem balls and Westcott Strip lights helped to create a soft and warm look. The Westcotts are an elongated light, but short in height, so we could easily hide them above the camera."
It's inside this "personal comfort zone" that Vivian decides to take action against the status quo. She creates anonymous "zines," unknowingly setting off a storm that ultimately disrupts the sexist norm and motivates the young women of her school to realize their own power. "Amy wanted to create several montages of her making [the zines] throughout the film," explains Magill. "We were trying to think of an interesting way to shoot the montages."
Barbella adds that there were a few options. "Tom and I talked about whether we wanted to go the route of a skater scope and continue to use our Master Primes with diopters, but after talking more about it, we realized that the use of the Revolution snorkel camera gave us so much more latitude and better depth and field of view."
Magill laughs, adding that "Amy would always refer to it as our 'seafood-tower commercial cam' because it is typically used heavily for product shots or food commercials!" Regardless of what they called it, Magill and Barbella both agree that the choice helped "pull the viewer into the zine's creation and add just the right amount of heightened reality," Barbella adds.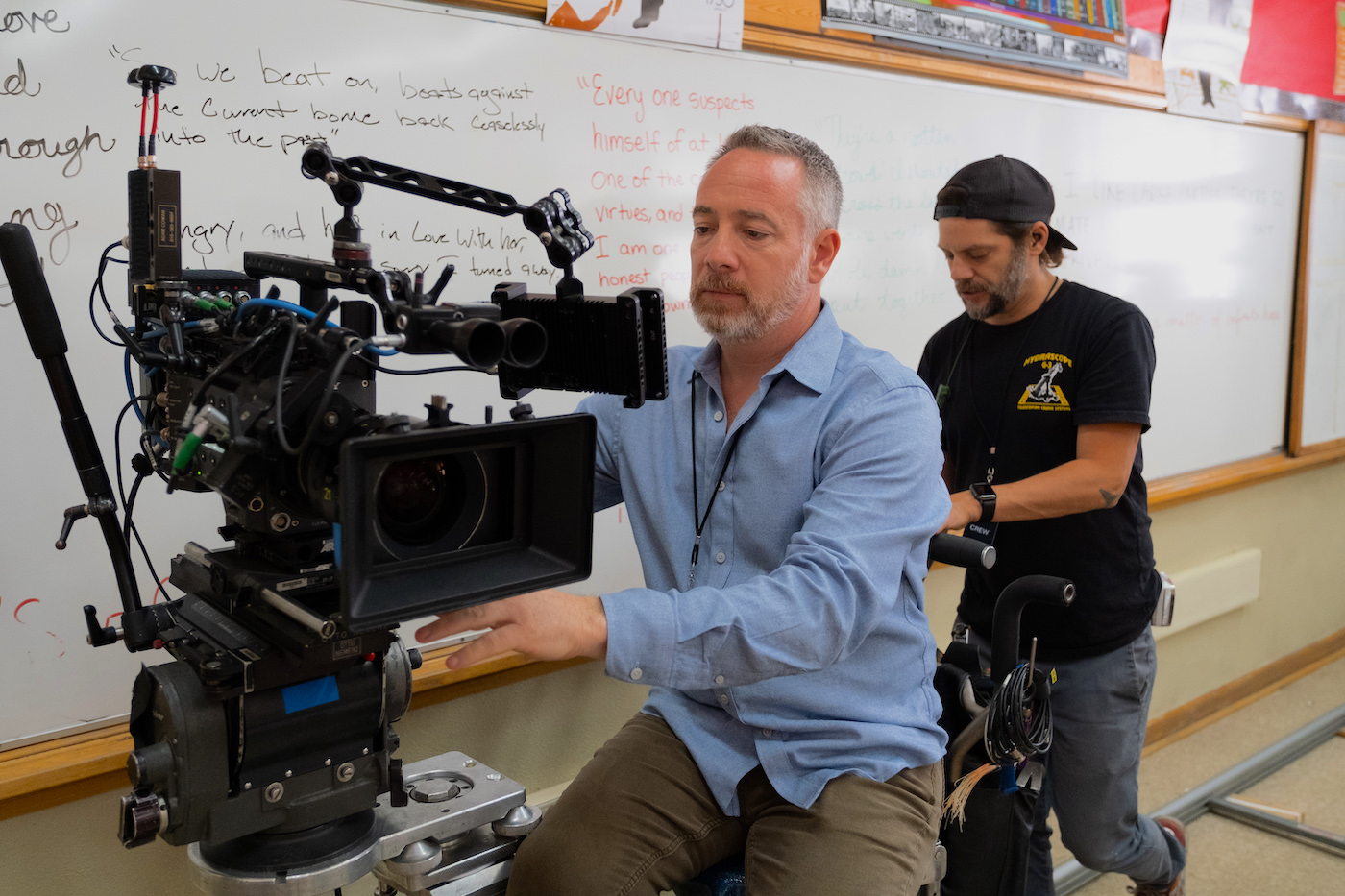 Another interesting sequence, both technically and narratively, is an intimate moment between Vivian and her boyfriend, Seth, as they sit in his car at a football game. Dawkins points out that "there is no motivated lighting inside the car, such as from a visor or a glove compartment, so we decided to park the car underneath a natural streetlamp for the master shot so that we could establish a light from which to motivate our lighting."
Once the team got their establishing shot and moved into coverage, they blacked out the streetlamp to allow Magill to use traditional lighting elements. "Key Grip Tim Merrill built a 12-foot Menace Arm, and we rigged a 2K Blonde with sodium vapor gel to it so that we could control the color and angle of our light," Dawkins adds. "We also used a 2K Variac dimmer to set the light to Tom's desired level."
Leaving Seth in the warmer vapor light from the "streetlamp" blonde, they lit Vivian with created "ambient" light from the stadium, which played cooler. An ARRI M18 HMI was used to mimic stadium lighting at 5500K and bounced into a 4-by-8 board – again playing warm and cool against each other. "We decided to add just a hint of a 2-foot Torpedo Light – which is my version of an Astera tube inside a diffused softbox – for fill over the camera as it moves in slowly on the actors," Dawkins recalls. "We fogged the windows to create atmosphere, a protective bubble of sorts, and our characters had their little world in which to be intimate."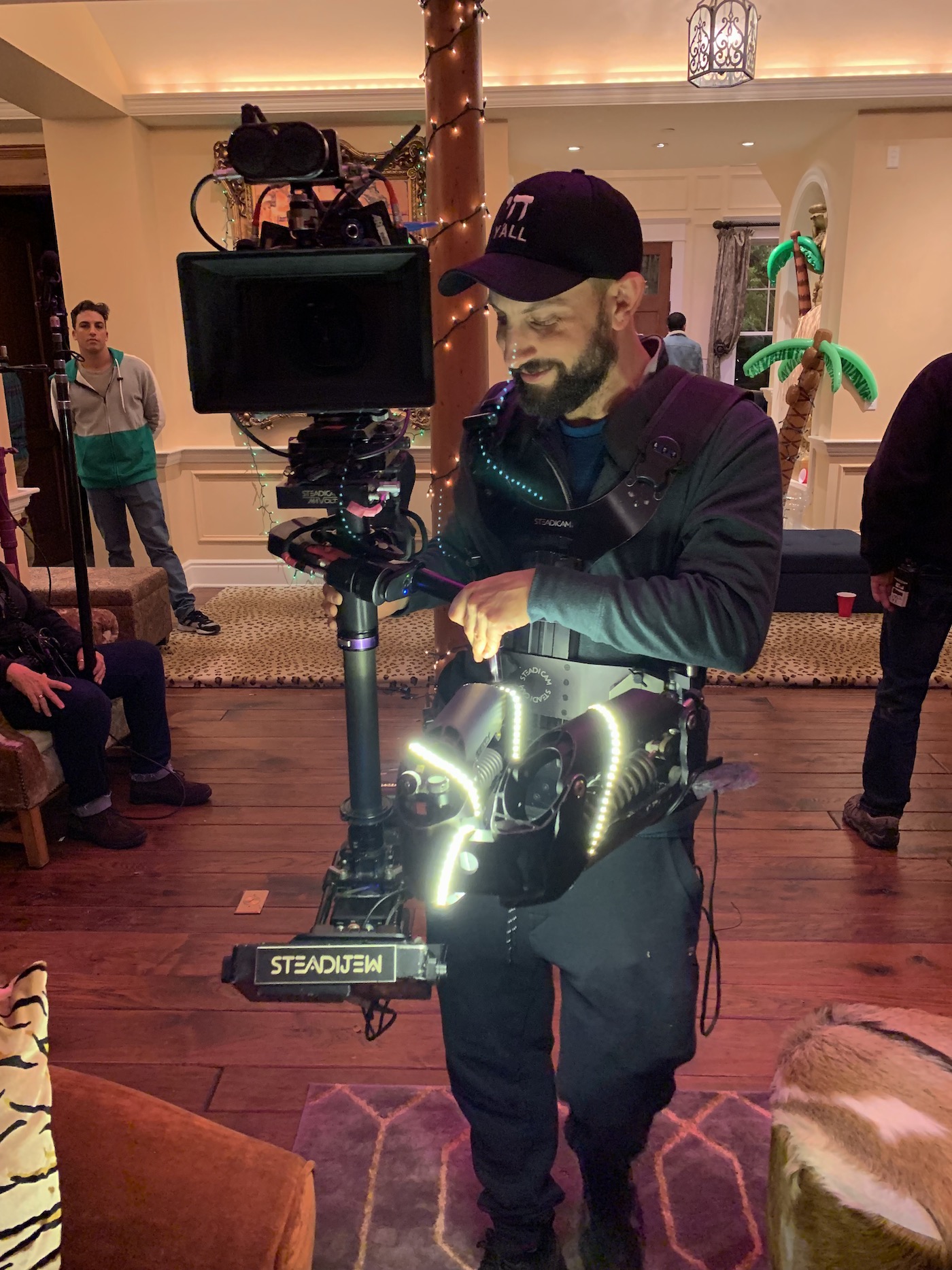 Where would a teen angst movie be without party sequences? In Moxie, there are two very different types, both of which include long, complex Steadicam moves for Robbins. "In the middle of the story, there is a sequence where two people walk through a big house party," explains Magill. "Amy and I always saw this as a Steadicam oner. We rehearsed the shot for half a day, and Ari moved through the big house interior, just about seeing 360 degrees."
Magill says the goal was to use as many practical lights as possible and just hide some Astera tubes out of the frame. "There were a lot of string lights decorating the house," he recalls, "and we had some extras lying around during one of our camera rehearsals. I thought it would be funny to decorate Ari's Steadicam arm with the string lights to make it feel festive, like the party. But when we watched a second-team rehearsal with them dimmed down, they looked fantastic! So we tweaked [the string lights] to our desired level and used them as a subtle fill light as Vivian and Claudia walk through the party. I love that during a long day when everyone is tired and still trying to have fun, we found a new way to solve a problem. It's a technique that I'd absolutely try again. Ari had to navigate close to 50 background people as well as some cast members hitting very specific marks. Because we used the VENICE and had a lot of practical light, our stop was close to wide open. That made pulling focus a challenge for Ian, but he nailed every take."
Since the scene represents freedom for the young women, Dawkins felt that polychromatic lighting would best represent a sort of melting pot of personalities. "It's about togetherness and camaraderie, and the changing of colors along with the addition of some atmospheric smoke helped convey that," he offers. "Colors can play an important role in conveying information and creating certain moods and emotions. Moxie has a very uplifting ending, and the color themes worked out well for what the film was trying to achieve."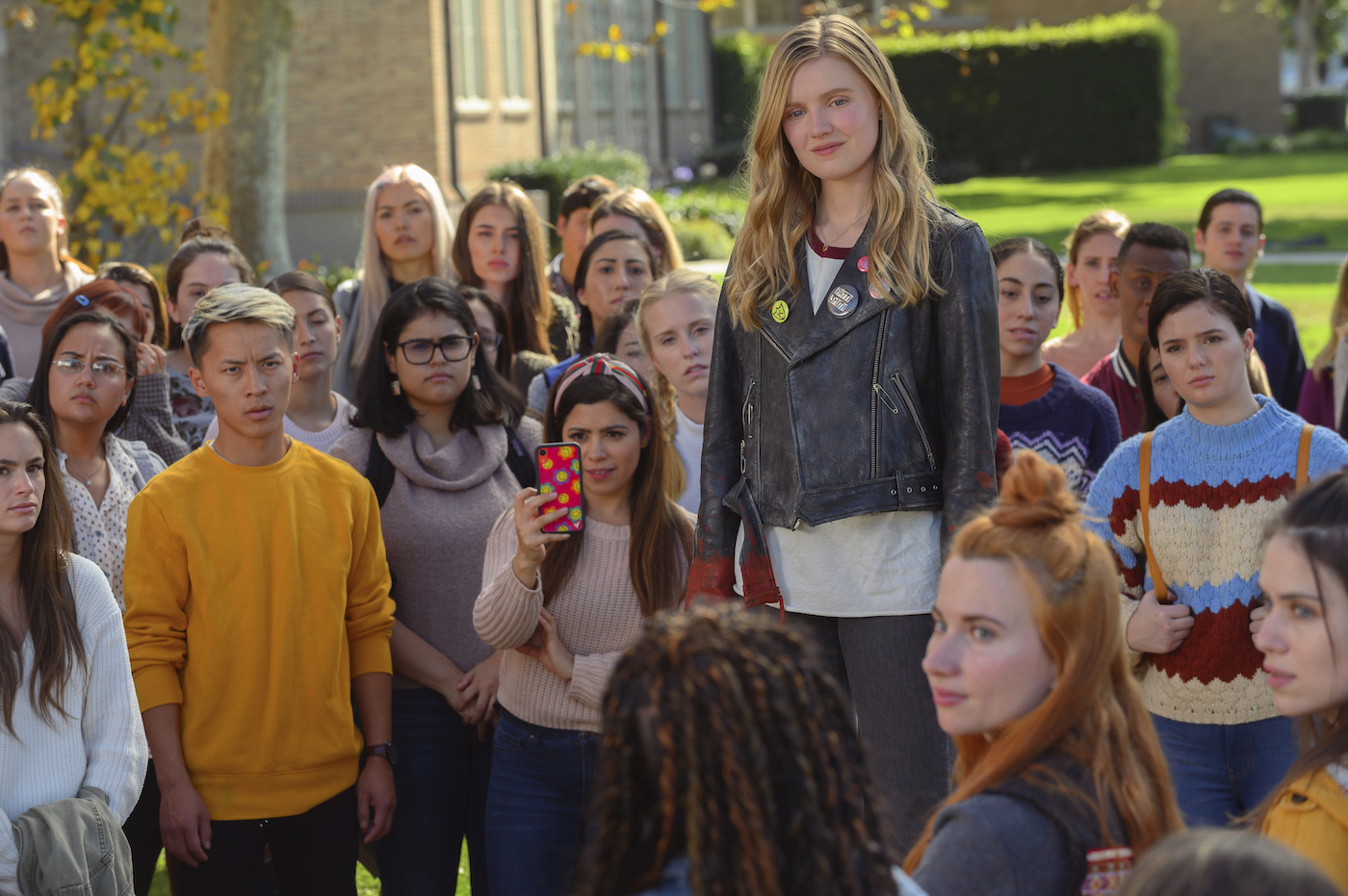 According to Magill, the last shot of the movie, with Vivian gazing out on the revolution she started, needed to be a special moment for the character. "So we thought it would be interesting if we used the Cinefade filter and slowly had the world fall away around her. Since the movie had a cloudy feeling, we liked the idea that the walkout would be bright and sunny, supporting the change in the Moxie movement," he describes.
The ending walkout was shot over two days and Magill says the team was "lucky to have sunny days in El Segundo. In prep, we scouted a perfect spot where Vivian could stand and have a beautiful golden backlight moment that would also flare the lens," he explains. "As it got late in the day and closer to that setup, we slowly watched the marine layer creep in, and by the time we were ready to shoot, it was completely overcast with no sun! It wasn't visually as dramatic as we imagined, but hopefully, the same emotional tone was felt."
Magill concludes, "working on Moxie with Amy was such a blast. The movie has some lighthearted moments as well as some very serious ones. I hope we were able to find that balance visually and complement the story."
Moxie – Local 600 Crew
Los Angeles Unit:
Director of Photography: Tom Magill
A Camera/Steadicam Operator:  Ari Robbins, SOC
B Camera Operator:  Joshua Harrison, SOC
C Camera Operator:  Keith Dunkerly
D Camera Operator: Gretchen Warthen, SOC
A Camera 1st AC:  Ian T. Barbella
B Camera 1st AC:  Adam Cowan
C Camera 1st AC: Melissa Fisher
D Camera 1st AC:  Shaun Mayor
A Camera 2nd AC: Giselle Gonzalez
B Camera 2nd AC:  Dustin Fruge
C Camera 2nd AC: Skip Mobley
D Camera 2nd AC:  Angelo Gentile III
Camera Loader:  Jeremy Hill
Camera Utility:  K.C. Lauf
Portland, OR Unit:
Director of Photography: Matthew Moriarty
Operator: Phil Anderson, SOC
1st AC's: Jerry Turner, Patrick LaValley
2nd AC's: Mike Crockett, Danielle Eddington
Loader: Rodrigo Melgarejo
Utility: Sika Stanton