Aside from a mind-boggling array of new technology on display on the Paramount Studios lot, the highlight of Cine Gear 2015 was the jointly sponsored Local 600/ASC panel de-mystifying ACES, the new Academy Color Encoding System. By Pauline Rogers. All Photos by Bonnie Osborne.
Moderated by Mark Weingartner, Chair of the ICG National Training Committee and a member of the ASC Technology Committee, the panel featured Curtis Clark, ASC (Chair of the ASC Technology Committee), Ray Feeney (ACES Project Committee Co-Chair for AMPAS), Theo van de Sande, ASC (ASC Award nominee for Deliverance Creek), John Daro (Digital Colorist for FotoKem and Deliverance Creek), and Bobby Maruvada (DIT/colorist).
ACES, an open-source color-management and image-interchange system that enables filmmakers to preserve the creative intent established on set throughout the postproduction process, has made great strides in the past year. Partners such as ARRI, Assimilate, Autodesk, Canon, Codex, Colorfront, Deluxe, Digital Vision, Dolby Labs, FilmLight, FotoKem, The Foundry, FUJIFILM North America, Light Illusion MTI Film, Panasonic, Quantel, RED Digital Cinema, SGO, Shotgun Software, Sony Electronics and Technicolor are now on-board with input and output transforms and ACES-compliant software and hardware, to work with image files in ACES color space. The use of this new system has dramatically impacted projects, as demonstrated by the van de Sande/Daro project Deliverance Creek.
Weingartner began the panel with a simplified definition and ACES mission statement, noting the use of "a wide-gamut color space that accommodates optimal integration of images from different digital cameras along with the scanned film and CGI. ACES empowers cinematographers to work more confidently knowing that they will be able to fully protect and utilize a wide dynamic range of scene tones and colors to define the aesthetic look that best defines their creative intent," Weingartner said.
Feeney described today's challenges as "snowflake workflows," where everything is different from show to show. "Originally, we thought that a common practice would be sufficient," he explained. "But we soon realized that an overall color-management system would be a better approach.
"One of the misconceptions is that ACES makes all the different cameras look alike," he continued. "What it does is to allow you to bring all the different cameras into a common color space and work from there. Think of it as allowing you to choose the look of a particular camera like you chose an emulsion that was brought into a single film stock."
The story behind the road to the ASC nomination for Deliverance Creek served as an effective ACES demonstration. Theo van de Sande explained that the period story was originally a double pilot for Lifetime. "It was a 22-day shoot with two days to time one pilot," he explained. Employing an ACES workflow allowed van de Sande and Daro to "color-correct on steroids."
"ACES is the Rosetta Stone for all color spaces," Daro added. "It allowed everyone in the pipeline to see the same image, so when we hit the DI, the conversations had already been had – and we could progress the story and craft the picture." Because of the large dynamic range, Daro could fine-tune – even lay a change over the work that had been done, instead of starting over.
Maruvada said ACES allows filmmakers to bring the entire DI suite to the set. "What we do now is not informed or affected by ACES but created by ACES," he explained. "DPs can take a look at the image and shape it there. For commercial work, it is essential because the DP isn't available for the final color. So, I [the DIT] am the defender of the look. The DP dictates to me what he or she wants, and I make all the tweaks live and on set." Maruvada said ACES also is positive for VFX. He explained that he was asked to take over for another VFX colorist on Chappie and could literally hit the ground running, match and shape the material and hand-off a finished product to the main colorist. Attendees were referred to the Academy website at http://www.oscars.org/science-technology/sci-tech-projects/aces for a deeper understanding.
During the audience Q&A, DIT Andy Lemon asked how ACES could account for variations in home theater displays. "We all have had the call from a producer after watching your show at home to say that they felt the image looked a little bit too dark/bright/too colorful/desaturated, only to find that their Costco home TV has been set to some insane color setting by their 10-year-old," he described.
Lemon wondered if any plans were afoot to create ACES settings for televisions, so that the masses can see accurate color on everything from network to cable to streaming content through Netflix, Amazon and YouTube. (This is an area the ACES committee has been working to address.)
So what did attendees think? "Mark Weingartner did a great job keeping it moving and asking the right questions," Mark Doering-Powell, ASC, commented. "[It was a great start], but we need more panels like this, more PR and outreach to post, camera makers, production staff, et cetera. What will really do the trick is ACES RAW recording in the camera."
"It was a great conversation," Weingartner concluded. "It helped dispel some of the myths about ACES. Theo and John's irrepressible enthusiasm for the time saved in DI was a big part of it. Their case study was a clear example of what ACES can do. The fact that the files opened up in the DI with the on-set look already very much in evidence allowed them to spend their precious time refining the look instead of trying to match back to the original intent."
Taking a tour of this year's tech exhibits, which included three indoor stages, dozens of outdoor booths, and more than 15,000 wandering attendees, was almost as challenging as trying to absorb ACES. The Tech Committee did a great job choosing their winners out of the nearly 300 exhibitors. They included Panther GmbH and Camadeus Film Technologies' Panther Precision Leveling Track and the Modtruss Truss system. And Hive Lighting partnered with FreeWire to create the winning FreeWire Mobile Energy Storage System, as well as Cinemoves' Oculus. There was Sumolight's Sumospace Light and Arri's ALEXA Mini. Sony took two awards – for the BMV-X300 4K monitor and the Creative Software Spectra Layers Pro3. Honorable mentions went to Cineo's Matchbox, Flanders Scientific's DM250 24.5-inch OLED monitor, ETC's Source Four LED Series 2, Macom's 12G-SDI Chipset, DPS Cinema's Enhanced Environment Process, the LaCie 48-TB 8big Rack Thunderbolt Raid, Filmotechnic's Auto Robot Mini Russian arm, and the Innocinema ActionProducts Runner.
Entering the exhibit space, we couldn't help but notice the cool Airstream trailer, where attendees could shoot Super 8 film – and play with the highly anticipated Logmar Super 8 camera (covered in depth in ICG's upcoming September issue).
Inside Stage 14 was the Panavision/Light Iron booth, where we got a real taste of the 8K DI demo – a first look at 8K Cinema, showing video of the Los Angeles skyline, City Hall and more. The demo package included 8K Panavision Primo 70 optics, the RED Weapon camera (see ICG's August Product Guide) and 8K Weapon sensors, 8K Quantel Pablo Rio (real-time 16-bit 8K DI color-correction and playback) and 8K BOE 98-inch panel with 178-degree viewing angle.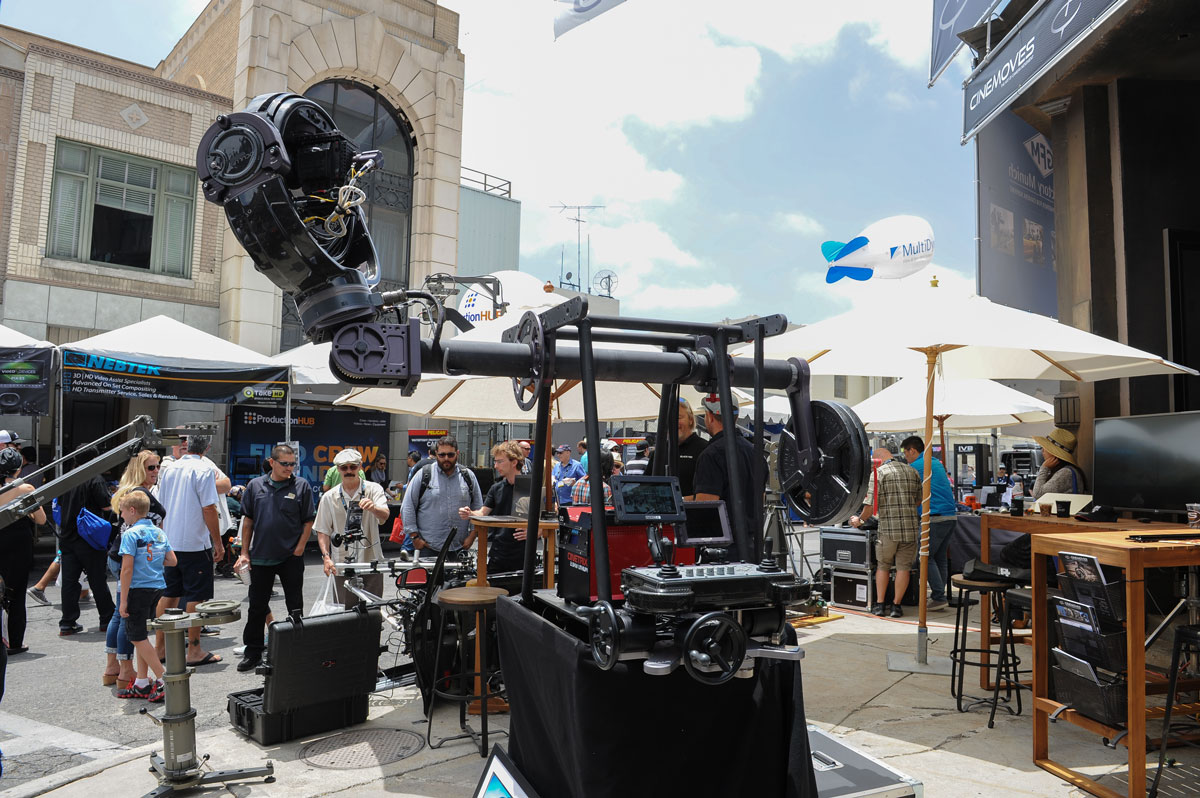 Not far from all that high resolution were some interesting lighting finds. While Chad Brook and BCT Entertainment (www.bctentertainment.com) are well known for their fabulous lighting shows, it was their LED walls that they were showing attendees.
"The idea is to get a little more reality into controlled environments when doing green screen shots," Brook explained. "A LED wall placed properly can help create running lights for driving shots or clouds over a sky reflecting on a car." The walls make an interesting addition to sophisticated travel shots. (Pricing depends on lighting setup.)
Just around the corner was a flexible and different kind of light – RagLite™ (www.theraglite.com). It was a crowded booth, even early in the day, as Sin Cohen, Senior VP of Engineering for RagLite, was folding and twisting RagLite's Cine Blade, Cine 1x and Cine 2x setups. "It's the first-ever flexible LED lighting system designed for entertainment professionals," he told the crowd. "You can throw it on the floor, hang it from above, mount it to the walls, even place it over objects." He demonstrated by holding the unit in his hand and, at times, attaching it to his body. It can also go the standard way – on a frame or stand. (Pricing varies depending on size and setup.)
Another must-see in the lighting pavilion was Rocso's SoftDrop (www.roscodigital.com). We covered this 40-ft-by-170-ft seamless matte surface in this year's July ICG, but just standing there and looking at SoftDrop on the edge of the stage, we could almost feel the realism of the New York background – an extension of the street we were about to enter. (Pricing depends on size and use.)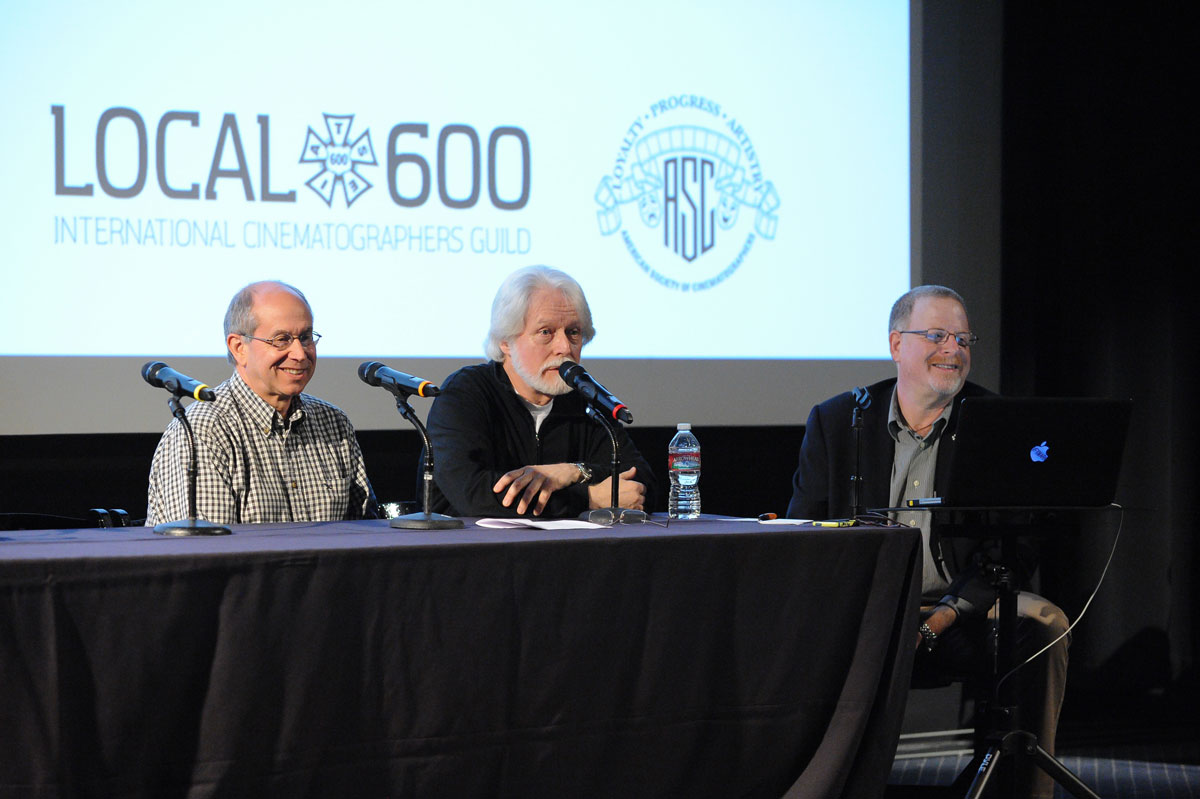 Right across from the ICG booth was Motion Impossible's BuggyCam (www.buggycam.com). Created by camera operator Rob Drewett and driver/engineer Andy Nancollis, the BuggyCam started out as a way to "shoot wildebeests and other animals in the outback, putting the camera safely in the action. It's a full-axis stabilizer that can take any gimbal and go over lumps and bumps easily," Drewett explained. "We've done a lot of ground-level shots for the BBC, and we're now working on mapping so that you can program and repeat moves for VFX, or even where you can't get a person into the location." (Pricing unavailable at this time.)
Cine Gear didn't just feature ground level shooting that could follow you anywhere or get the camera in tough places, it also took to the air – in a few different forms. In the middle of the back lot, Cinemoves (www.cinemoves.com) had the full production model of Oculus on display. This Tech Award–winning product, which ICG covered a few years back in prototype form, was a real standout.
"Oculus can top mount, bottom mount or cantilever and is able to transition between any mounting orientation during use," explained Scott Howell, President and Chief Designer for Cinemoves. Working with SpaceCam, the system has a variety of pan and tilt speeds and roll limits and speeds, and is lightweight and versatile. It's also really "space age" looking! (Pricing dependent on job.)
Even more Space Age was Shift, Perceptiv Labs' (www.perceptivlabs.com) auto-tracking system for drone control. (Did you really think we could do a show without mentioning drones?) Set up in the Pictorvision booth, their computer-vision system was designed to simplify the filmmaking process.
"It takes years for a good camera operator to learn to control gimbals manually," said Perceptiv Labs' Neil Mathew. "We've designed software that lets the gimbal control itself. By adding a small box that sticks to the drone and plugs into any controller, you are in control. The video is streamed to a tablet where you can select a subject, and the gimbal will stay focused on that. It is a great way to capture dynamic subjects like car chases with drones – extremely fast." (Pricing not set at this time.)
And, Redrock Micro's (www.redrockmicro.com) One Man Crew Director is the ultimate in a lightweight control. Redrock's Rachel Howard took us through this unique parabolic slider that takes minutes to easily set up – on tripod, c-stand, live stand, or any flat surface. "It's even been set up on two sawhorses," she recounted.
"You simply mount the camera and push the yellow button, and the lasers come on. Where they converge is where you put your subject – five to seven feet away from the device with a close-up lens or any distance with a wide-angle lens. The focus is on your subject, and you can just pick your speed and go. It's whisper-quiet and has four speeds – including time lapse. And, because of the new Bluetooth technology and Android app, you can control it remotely. If you are truly a one-man band, you can even hold the control in your lap while doing the interview." (Pricing is in the area of $2,450.)
One-man control isn't just limited to capture these days. Sometimes it's all about getting everything from one place to another. And that's where Matthews' (www.msegrip.com) new KerriKart was showing the way at Cine Gear. Designer Bill Kerrigan told a packed booth that he "which required less gear and one cart." His compact and light design can handle a slider on the top, but it is light and still sturdy enough to accommodate full-size camera and lens setups. (Pricing for KerriKart has not been set as of press time.)
Lightweight has nothing on Lite Pro Gear's (www.liteprogear.com) Feather Camera Crane™. Inventor Canyon Florey literally broke down the camera jib into a small package weighting less than five pounds. "It goes anywhere, is easy to set up and gets the shot," he explained. "The Feather itself can handle payloads up to 10 pounds. Add the cable support, and it can handle 13.5 pounds – like a Red camera." (Pricing for Feather Camera Crane is $979.)
There were a few small supports that stood out among the big gear this year. SmallHD's (www.smallhd.com) new 501 5-inch monitor (introduced at the show) is a bit smaller and more budget conscious than the 502 introduced at NAB. It has many of the extras of the NAB version, but the lower price point ($899) is intriguing. Also small, but significant, was the Veydra Expander from Manios (www.maniosdigital.com). "It gives vintage zoom lenses a new lease on life," Steve Manios, Jr. was telling attendees.  (Pricing for Veydra is $3495.00.) Also in the lens control area was iKan's (www.ikan.com) Tiltamax wireless FEZ system (focus, iris and zoom). It's a three-motor, streamlined, three-channel receiver and a full FEZ hand controller. (Pricing not available at press time.)
And speaking of control, Magic Gadgets (www.magicgadgets.com) showed a new Studio PRODimmer. Magic Gadgets' president and owner, Willie R. McIntire, told us that the Studio PRODimmer is the ultimate portable dimming system. "No bulky cable. Mount anywhere you want," he boasted. "It's geared toward anyone who needs a small, lightweight dimmer with full functionality in either DMX or local control. You can preset the output level before staring. And, if you have power loss and the unit isn't accessible, it has an 'Auto On' feature. We've even gone with rotary DMX address switches so you don't need power to set the channel." (Pricing $599.)
As for lights, there were more than anyone could possibly use, but two stood out. At the DMLite (www.lumosusa.com) booth, USA Branch Manager for Lumos, Robin Sin, was excited about introducing the Hawk 50, a 50-watt Fresnel light.
"When designing the new Hawk 50, we looked at what shooters who work in small studio locations need, and others requiring portability for the field," she shared. The 8.8-pound unit works with Anton Bauer or V-mount batteries and has convective-heat transfer technology – no fan inside – for quiet operations. (Pricing for the Hawk 50 is $1,500, with additional accessories available, such as a mount for $200 and a barn door for $200.)
Last but not least was the Hollywood Rental  (www.hollywoodrentals.com) booth, which was lit up with several eye-catching innovations. The Reel Lite Mini took up one side, but it was the new extras for the Olesen 9 Light Par that Kelly Koskella, President of Hollywood Rentals, was excited about.
"It might look like a 'regular' 9 Light, but it's got a few user-friendly differences," he explained. "The quick lens-change system is cool, but what's different is how Olesen has set up extra current. Nine-light pars have always used a 100-amp Bates connection, drawing only 70 amps. Olesen SSL has done something different: a new outlet. If you are up in a Condor and your phone needs power, just plug it into the extra outlet. Need another 2K for punch? Same thing. In the past, when you wanted to turn off certain banks, you had to do them in a row. With this setup, you can do it in a checkerboard pattern." (Pricing for 9 Light is $4,029.72.)
So that's Cine Gear 2015 from A to Z (more or less). No time to catch any of the screenings or other panels, but word was they were all impressive. They included: a viewing of and conversation about the 70-mm project Baraka (hosted by Band Pro); a behind-the-scenes look at Amazon's Transparent; Sony's special 4K screening of Tomorrowland; Black Magic's "Art, Craft and Politics of Cinematography," moderated by Roy Wagner, ASC; Panasonic/Codex 120-fps uncompressed Raw cine workflow; presentations by ARRI, Digital Bolex, Canon and more.
Next year – if we can find the time – those are on our agenda as well.