Two-time ECA winner Eduardo Enrique Mayén reinvents kids' television with a new streaming series from Amazon
My 10-year-old and I are crouched behind a large potted plant, in the corner of the "Normal Street Botanical Society," aka a small soundstage at Occidental Studios, near downtown L.A. It's my son's first-ever visit to a Hollywood set and the wonder in his eyes shines brightly watching the teenage stars of Amazon's single-camera dramedy, Gortimer Gibbon's Life on Normal Street, at work. The show is a kind of Wonder Years meets X-Files in the most charming and benign of ways, and my son just cannot believe how kids a few years older than himself (Sloane Morgan Siegel, Ashley Boettcher and Drew Justice) can film take after take, angle after angle for several hours at a stretch.
"Why do they have to do it so many times?" he asks.
"This isn't like most kids' shows," I respond, glancing over at 38-year-old DP Eduardo Enrique Mayén, who is sitting next to a 4K Sony F55 and studying LUT's for the scene via frame grabs on his iPhone, which, by the way, were sent via AirDrop 30 minutes after capture by one of the show's rotating DIT's, Stephen Latty (also the DI colorist) and Mike Bosman. "Most kids' shows crank the lights up high and do an entire episode in one day with three or four cameras going at once," I whisper back. "Gortimer shoots like a movie, using one camera and carefully setting the lighting for each shot."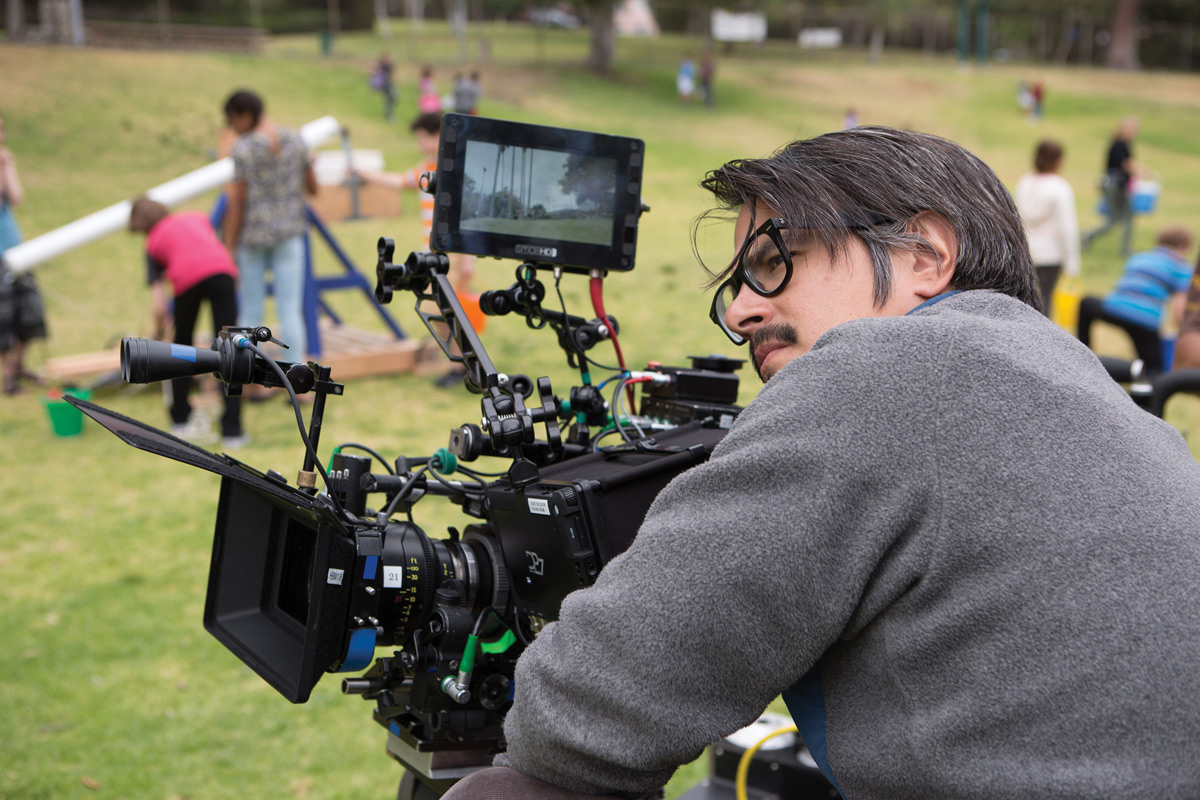 Not since the early-90's cult hit The Adventures of Pete & Pete, a show Gortimer's creator, David Anaxagoras, says helped to inspire him (along with E.T. The Extra-Terrestrial, Back to The Future, and The Goonies) has there been a kids' TV series so cool to look at and so fun to watch. The calm, focused workplace (which 14-year-old star Sloane Morgan Siegel calls his "favorite set ever") permeates every aspect of this union show. Much of that credit goes to the close partnership between Mayén, a two-time ECA honoree, and his show runner and frequent director, Luke Matheny. Fans will remember Luke's wild mop of dark curls from the memory-challenged character of Fred from last season's Gortimer and the Mystical Mind Eraser.
Many episodes have such playful titles, where everyday places, people or things take on magical, even epic proportions. Like Gortimer vs. the Frog of Ultimate Doom, The Mystery of the Blood Moon Eclipse, or Gortimer vs. the Relentless Rainbow of Joy. Matheny, who hired Mayén for the pilot because they shared a talent agency and had NYU alumni friends in common, says working on a streaming series offers a high quotient of risk/reward.
"Amazon has a different approach than other networks," Matheny says quietly, between takes on the Season 2 episode, where the kids go to a local botanist to discover the origins of a mysterious flower. "You won't see the super-bright, high-key lighting and colors typically associated with kids' shows. The visual tone we strive for is heightened, and a bit magical, but still very much grounded in reality."
Mayén concurs, noting that he and Matheny are the same age and watched the same movies growing up. "They were 'kids'' movies, but they were visually sophisticated films that didn't insult our intelligence," the El Salvador native explains. "We wanted that kind of cinematic approach [for Gortimer]. We wanted to create 'storytelling shots,' with a beginning, middle and end, instead of just grinding out coverage."
The symmetry in Wes Anderson's films was another touchstone. "And since we have three kids as our main characters," Mayén adds, "I'll often end up popping in an 18-millimeter [lens] and center-punching [the frame]. The camera is mostly on a dolly or slider, and when it moves it has a classical, Spielberg-type feel. We're almost always at the kids' level, with their POV, unless the camera needs to be somewhere else to make a point."
A-camera operator Francisco Bulgarelli describes the show's three leads as, "dynamic, imaginative kids" who are full of positive energy and curiosity. "The camera might boom down and tilt up from a magical object into a wondering face," he says. "Or it might whip from one face to another to enhance a sense of surprise, or slide slowly from a medium shot to a close-up to enhance a strong emotional moment. Sometimes, they might choose a 'oner,' which is a beautiful way of telling the story without needless cuts. The camera only moves with specific intention by the filmmakers."
Gortimer has a revolving team of directors, who vary from recent film school grads to veterans like Paul Hoen, who was overseeing the Botanical Society episode; rarely does a zoom lens ever come out. "Eduardo selects [a prime lens] for every different scene or shot, just like a movie," Matheny relates. "He makes a commitment to that lens because he knows the quality is going to be worth it. I told him I wanted every episode to look like a stand-alone short film, and I think we've really delivered on that goal."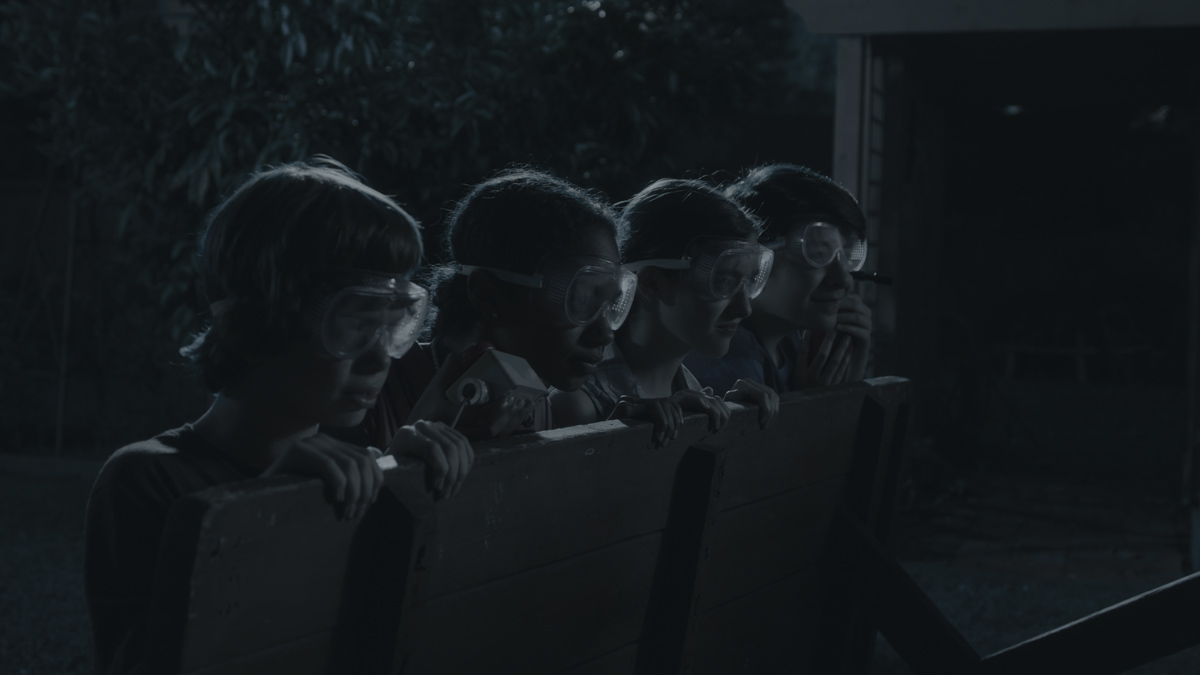 One example (among many) of Gortimer's cinematic approach (and of Mayén's creativity given the scheduling limitations of minors) occurs in the Season 1 episode, Mel vs. the Mel-o-dramatic Robot. Ashley Boettcher's character builds a Science Fair robot that spirals out of control with single-minded ambition. The episode culminates with the kids blowing up the robot (who stole the winner's trophy after finishing second) at night in Mel's backyard. Shooting the scene day-for-night was a triumph for Mayén and DIT/colorist Latty, who blended old-school techniques with 4K digital technology.
"Stephen and I played around with a bunch of look-up tables and came up with this day-for-night look," Mayén describes. "We got the idea from The Proposition [a 2005 Western, shot on film by Benoît Delhomme], where they did over 90 exterior desert shots with underexposed sunlight. They replaced the sky with composites, but I just avoided the sky in the frame and underexposed with a lot of key light. For the flash of the explosion, I told the kids to close their eyes, as the light would get really bright for a moment. We went outside the box to fulfill what the writers had put on the page, and it worked out great."
Outside the box describes Gortimer's entire workflow, according to Latty, who started a post house in 2010 with Local 600 cinematographer Florian Stadler. The pair had teamed on several RED-shot projects and was frustrated at how file-based imagery was turned over to a post pipeline that did not replicate the DP's vision. They named the L.A.-based post house Bunte Farben, which means "colorful colors" in German.
"I had worked with Eduardo on a few commercials," Latty recounts. "And when Amazon saw the dailies we did for [Gortimer's] pilot, they wanted to sustain that look throughout the series. Because I'm able to set looks with Eduardo and then finalize the color myself at Bunte Farben, the approach is more like a commercial workflow, where the dailies' look is integrated into production and close to the finished product. We're not having to start from scratch with each DI."
The series has also implemented an ACES 1.0 workflow in its second season, which Latty describes as a great fit for the S-Gamut3/S-Log3 color space and UHD file supplied by the Sony F55. "Last season was a challenge," Latty admits. "S-Gamut3/S-Log3 is such a huge color space. Grading Rec.709 within DaVinci YRGB color science, there was a lot of cleanup work to do, especially with the greens in exterior scenes. With DaVinci ACES 1.0 color science, the S-Gamut3/S-Log3 starts out in a much more natural place. It's closer to what we have seen in camera on set. In ACES, I can balance out scenes and get to the creative work of setting a look more quickly."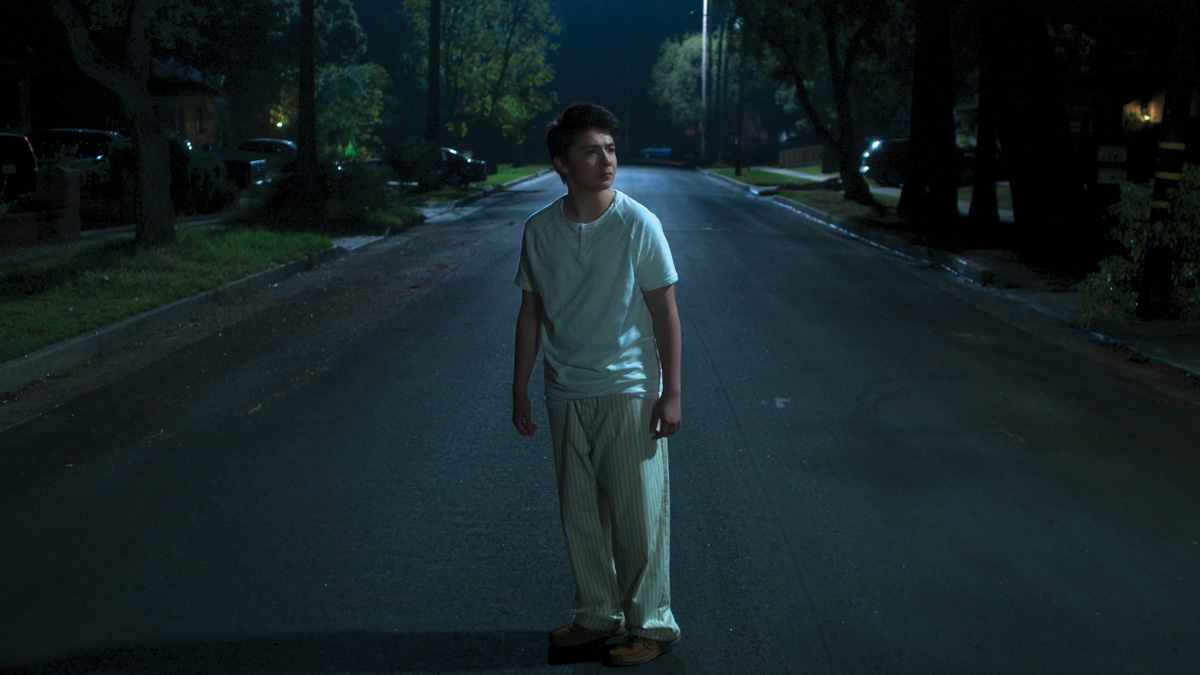 On the day of our visit, on-set DIT Mike Bosman was sending Mayén frame grabs of the various LUT's they were using in the Botanical Society along with scenes from the previous day's episode Latty was grading back at Bunte Farben. Mayén would AirDrop notes back to Bosman after viewing the iPhone images, "with the goal," Latty says, "of building a visual arc [they'd discussed after reading the script] right into the dailies."
Mayén says having the "same person who's creating looks with me on set also doing the final color grade is incredible. Everything translates beautifully from the dailies; Stephen and I can grade an entire episode in six to eight hours."
The workflow also allows for more creative risks in capture. Latty cites an upcoming Season 2 episode about a sleepwalking elderly woman who rises each night to play music on her violin. Gortimer can hear the music across town and it keeps him up.
"There's a shot so ambitious for a kids' show," Latty adds, "where Gortimer, Ranger, and Mel are leaving the woman's house and talking about what they just saw. They walk in and out of these pools of light, sometimes almost in complete darkness. Instead of the producers saying, 'Make it brighter so we can see them,' they said, 'We love it!'"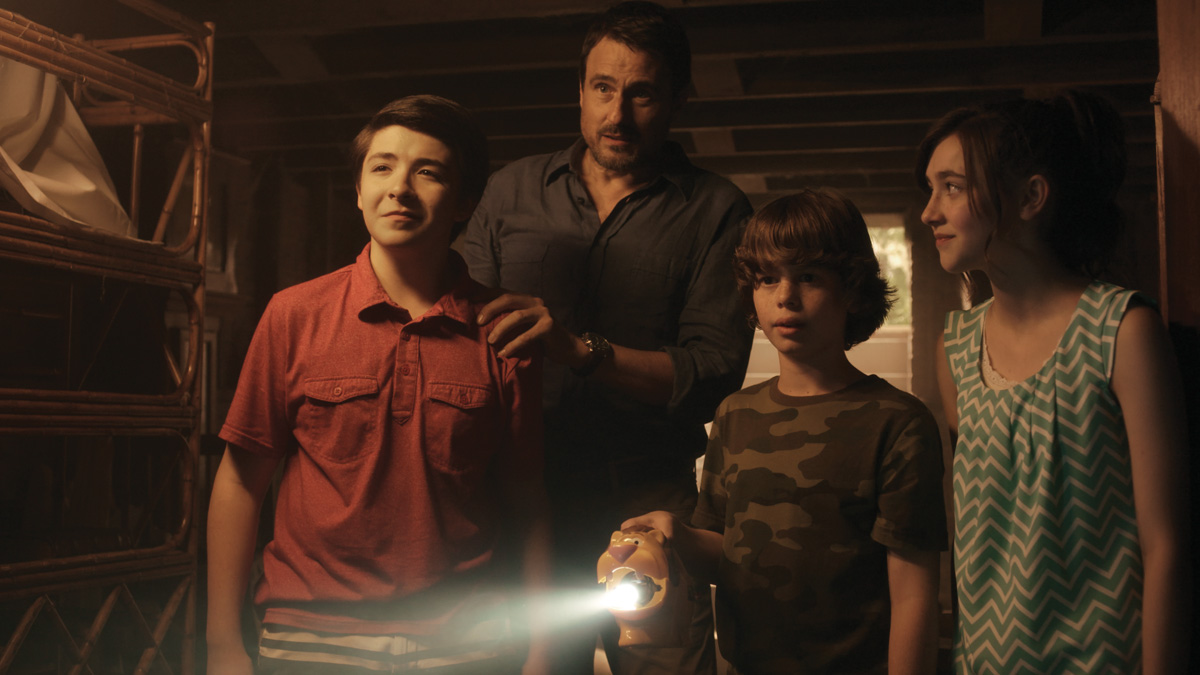 That love for Gortimer, despite its limited budget and resources, flows from production designer Kristan Andrews as she guides us through various stages. Andrews explains how most kids' shows have flat sets, brightly lit from above, to accommodate the multi-camera approach. Gortimer, she proudly points out, uses directional source lighting, typically from a window or a practical seen on camera, which means Andrews has to design and build sets that account for artful back or side lighting, just like for a feature.
"I'm always mindful of what Eduardo wants to do with the camera," she shares. "In the pilot, when Gortimer goes under the house and the crawlspace floods, we built a raised set with steel decks in the yard of the actual location house [in Pasadena.] We did that because the camera had to track along with Gortimer as he's crawling."
Andrews tries to "stack up rooms within sets" to provide Mayén with depth and layers for his lighting. And unlike most kids' shows, the color palette is not bright. "Using rich, darker tones in my designs," Andrews notes, "allows Eduardo to better control his preference for directional source lighting. You can see where the motivation is coming from, and the characters' skin tones are set off better."
Some story points provide easy opportunities for sets with dramatic, feature-like lighting, like in last season's Gortimer and the Lost Treasure of Normal Street. The episode ends with all three kids and Gortimer's father (who returns briefly from his job as an epidemiologist in a foreign country) descending under the ground to find the treasure of the pirate who founded their town, Captain Normal. "The crypt for the Captain Normal episode," Andrews continues, "was a fully enclosed set with ceilings. We had a lot of conversations about building wells to get light down into this dark, basement-like space. Before the father shows up with a lantern, it was challenging."
Mayén solved the problem by using the characters' toy lion flashlight – swapped out with a stronger LED bulb – as his main lighting element. "I had the kids light themselves by hiding small pieces of show card with the shiny side out and telling them they would get a prize every time they hit them with the flashlight!"
Credit for the show's evocative lighting also goes to Mayén's gaffer, Jesse Jaraczewski, and best boys, Josh Stern and Mike Ursetta. They brought in large LED sources that Mayén says "wrap so beautifully," going from 2700 to 6500 Kelvin with a push of the button. "They don't lose color temperature when you dim them, and they're very cool, so the kids don't get too hot," Jaraczewski observes.
Such a lighting system, dubbed the "albatross," was on display inside the Botanical Society set. Two two-by-fours, raised above the room, were lined with dimmable LED units from Grounded Production Services. Mayén says that five years ago he would never have "dreamed of lighting actors with LED's, but the way the technology renders skin tones now is amazing."
Hard light, which contributes to the show's magical look, is also used, despite the limited amount of stage space. One of the show's recurring sets is Mel's observatory inside her house, where the Season 1 episode, Mystery of the Blood Moon Eclipse, took place. Andrews designed the set on a 30-inch platform so the kids can be filmed coming up the stairs to its attic location, as well as providing a lowered horizon for camera eyelines when the kids look out. Although the small, angular room, which terminates with windows, allows quick access for camera and sound, lighting-wise, it's a funnel.
"There's only about four to six feet from the window to the stage wall in some cases," Mayén describes. "So I'll often have to use multiple hard lights, which means double shadows. Fortunately, our key grip, Joey Dianda, and our gaffer, Jesse Jaraczewski, are absolute wizards and know exactly how to resolve those kinds of challenges. [A-camera] First AC Jay Levy and [B-camera] First AC Cary Gallagher are also fantastic. In fact, this camera team is so good and fast, it would be hard to accomplish as much as we do on this show without their creativity and experience."
Everyone on our Gortimer set visit had similar praise for Mayén. Creator Anaxagoras said that he knew when he wrote the pilot he was going against the grain of the established three-camera kid sitcom formula that dominates live-action kids' TV.
"Gortimer is just cut from a different cloth," Anaxagoras says, "and I had to wonder if anyone would understand what I was going for. Eduardo not only got it, he created a signature look and feel that is all our own. Nothing like it exists on kids' TV – it's warm and familiar, real and magical at the same time."
Thanks to Mayén, Anaxagoras adds, "when you look at the show, you feel the emotion and friendship at the heart of every scene. And while Eduardo is well respected for his artistry and his talent on set, he also happens to be one of the kindest, most caring and warm-hearted people I've ever met. Honestly, I think part of the reason our show succeeds like it does is because of Eduardo's humanity."
Mayén began his career immediately after graduating film school at University of Nevada, Las Vegas, interning with Oscar-nominated cinematographer Rodrigo Prieto, ASC, AMC, on 21 Grams. It wasn't long before his mentor bumped him up to the camera team. When he won his first ECA in 2008, Mayén was working in the U.S. as a film loader for Robbie Greenberg, ASC.
"I also ran the stage at Mole-Richardson for Larry Parker," he adds, "so the combination of being an AC and learning electric helped me understand how long lighting a set really takes. That's been so valuable on Gortimer, where we are always chasing the clock because of the kids' availability."
Equally key are a passion and dedication for creating cinema out of a low-budget streaming series. Mayén meets after each shooting day with the episode's director and Matheny to shot-list and block the next episode's pages. The trio works with Legoman and overhead diagrams to configure action and camera movement on the stage, and then gives the photos to rotating 1st AD's Rachel Jensen and Otto Michael Penzato, who somehow shoehorn the many ambitious lighting, camera and design plans within the child actors' 9.5-hour working day (including time off during the school year for each kid's on-set tutoring).
"This year is more grounded than Season 1 because the kids are growing up," Mayén concludes. "We still have that heightened reality and magic, but we take on topics that I think will really surprise audiences. Can you tell how insanely proud I am of this show?"
by David Geffner / behind the scenes photos by Michael Kubeisy  frame grabs courtesy of Eduardo Enrique Mayén & Stephen Latty