Local 600-shot films in Park City this year rise to new heights (and emotionally challenging depths).
By David Geffner. All photos courtesy of The Sundance Institute unless otherwise noted. 
Fans of indie cinematography will find much to celebrate at the 2017 Sundance Film Festival, in Park City, UT. Notable new peaks scaled include four times as many female Guild DP's as the 2016 festival, including two shooters – Hilary Spera and Quyen Tran –with two features each. Further bolstering up the XX brigade are several projects with all female Guild crews, including Band Aid (shot by Spera in Dramatic Competition) and a new Amazon streaming series, I Love Dick, shot by James Frohna (for his longtime creative partner, writer/director Jill Soloway), who also employed an all XX camera team. There's a straight line between Soloway and Frohna's indie feature Afternoon Delight, which screened in Park City in 2013, and the Emmy-winning Transparent. The premiere of I Love Dick, further solidifies Sundance as the place to see the foremost indie visions in television, as well as cinema.
Another theme percolating on the hill is films set in or against nature. The festival's New Climate program, dedicated to projects about the environment and conservation, includes several Guild-shot documentaries – Water & Power: A California Heist, shot by Samuel Painter, and Rancher, Farmer, Fisherman, co-shot by Buddy Squires, ASC and Sundance Cinematography winner Bob Richman (The September Issue) among them. Other narrative entries, while not directly part of New Climate, placed Local 600 shooters in challenging natural conditions – like Todd McMullen's Montana-set Competition drama Walking Out, and Wind River, by Sundance alumnus Ben Richardson (Beasts of the Southern Wild, Happy Christmas, Drinking Buddies).
Speaking of Sundance alumni, keep a sharp eye out for the work of Lyle Vincent, who blew audiences away with the black and white (digitally-shot) anamorphic horror film, A Girl Walks Home At Night, in 2014, and returns this year with two features, Thoroughbred, also shot in digital anamorphic, and Bushwick. Many more Local 600 shooters return to Sundance this year, including Larkin Seiple (I Don't Feel At Home in This World Anymore) Tarin Anderson (shooting two parts of an all female directed horror anthology appropriately titled, XX), Sean McElwee (Fun Mom Dinner and The Incredible Jesse James), Ben Kutchins (Crown Heights), and Rachel Morrison (Mudbound). If anyone's keeping score (we are) Mudbound marks the eighth time Morrison has debuted a film in Park City, with each project more dynamic and perfectly tuned to its subject as the years pass.
(Note: this list was compiled with information supplied by Local 600 members prior to the start of the festival. We are not responsible for the omission of films and crewmember names not provided to www.icgmagazine.com by posting date of this article.)
U.S. DRAMATIC COMPETITION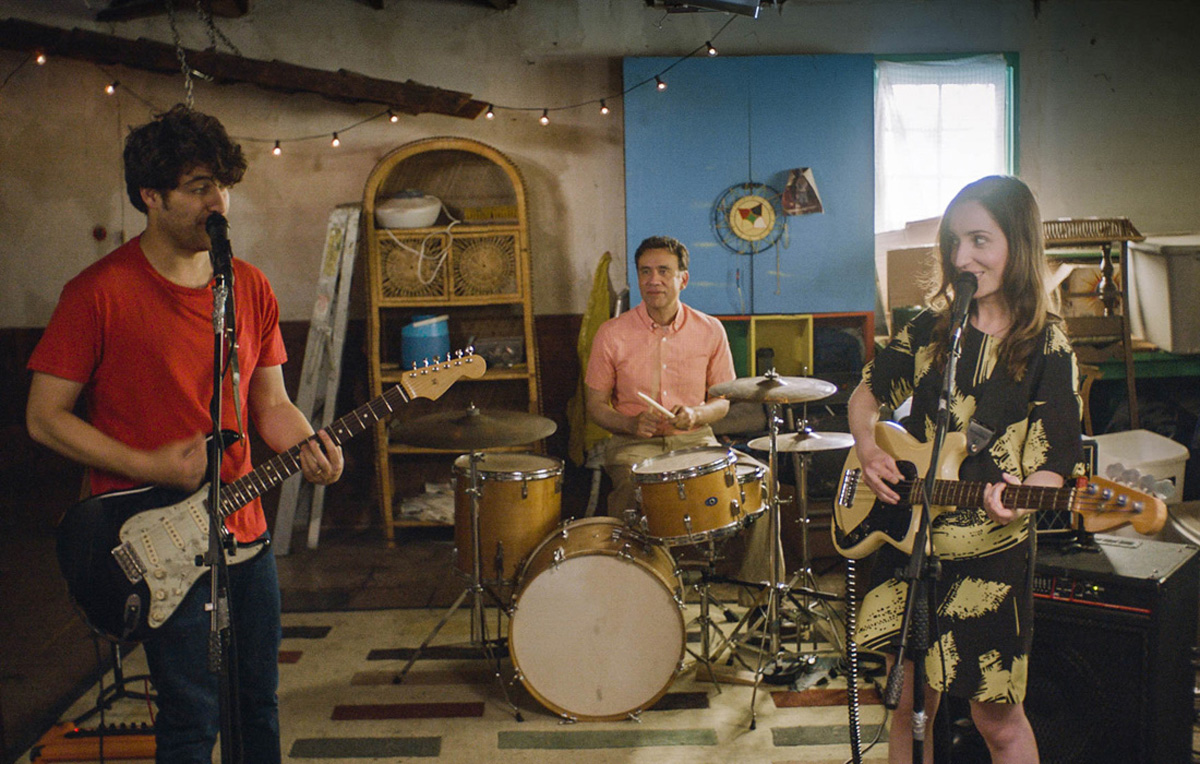 Band Aid – Written and directed by Zoe Lister-Jones, this comedy is about a couple who can't stop fighting and embark on a last-ditch effort to save their marriage. The solution: turning their fights into songs and starting a band! Cinematographer Hillary Spera says the film was intended to not look like a comedy. "Our references were all in the vein of '70s cinema," she explains. "Like Annie Hall (shot by Gordon Willis, ASC) and Cassavettes, specifically, A Woman Under the Influence." Spera shot with ARRI AMIRAS and Cooke Vintage lenses. "Our starting point was naturalism, " she continues, "shooting with two cameras, and all handheld to feel intimate and intuitive as possible. Our camera package came from Panavision Woodland Hills, and our entire crew, from pre-production, production, and post-production, was female." Local 600 crewmembers included A-camera 1st AC Alex Cason, B-camera operator Nicole Lobell, B-camera 1st AC Alicia Pharris and D.I.T. Nina Chadha.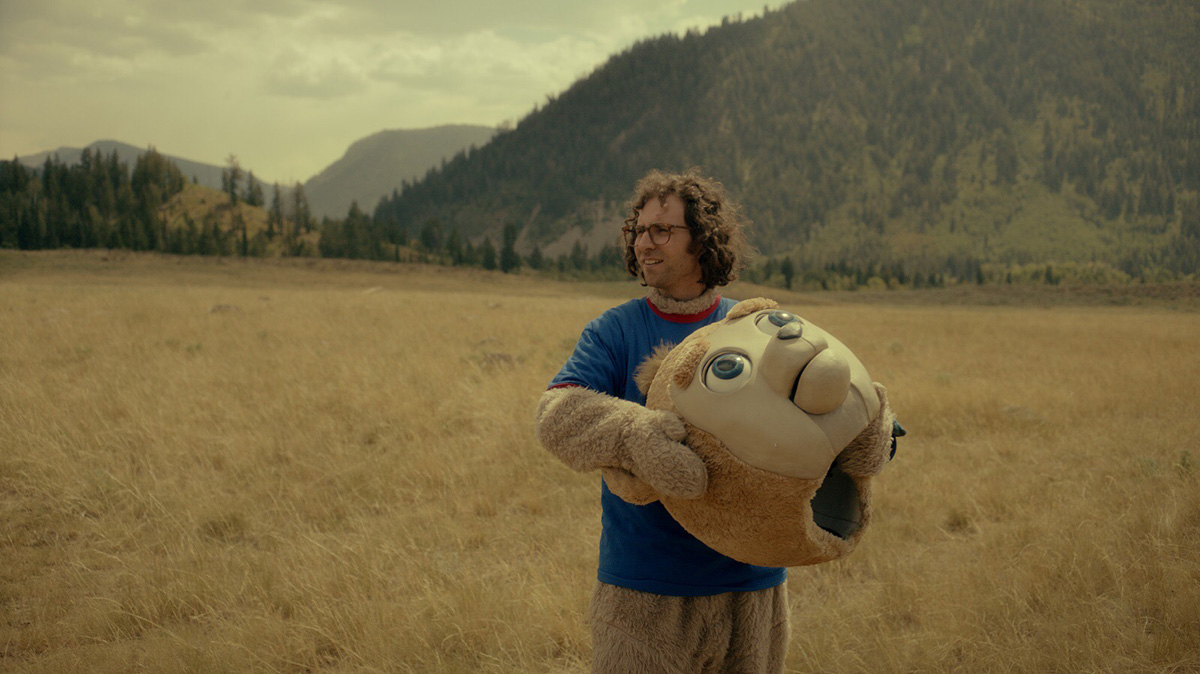 Brigsby Bear  – Christian Sprenger lensed this indie feature about James (Kyle Mooney), who has grown up watching one TV show his entire life; an animatronic children's show that he soon learns was made entirely for his eyes only. Brigsby Bear follows James' attempt to reclaim what he lost by recreating this TV series and to share it with the world. Filmed against the beautifully expansive geography of Utah and using a diverse range of the most modern digital technology to vintage studio cameras and webcams, both the story and the aesthetic becomes a love letter to the evolution of storytelling. The camera team was made up of camera operator/2nd Unit DP Bernard Evans, A-camera 1st AC Justin Watson, B-camera 1st AC Jon Williams, B-camera 2nd AC Nick Nebeker and D.I.T. Sean McAllister.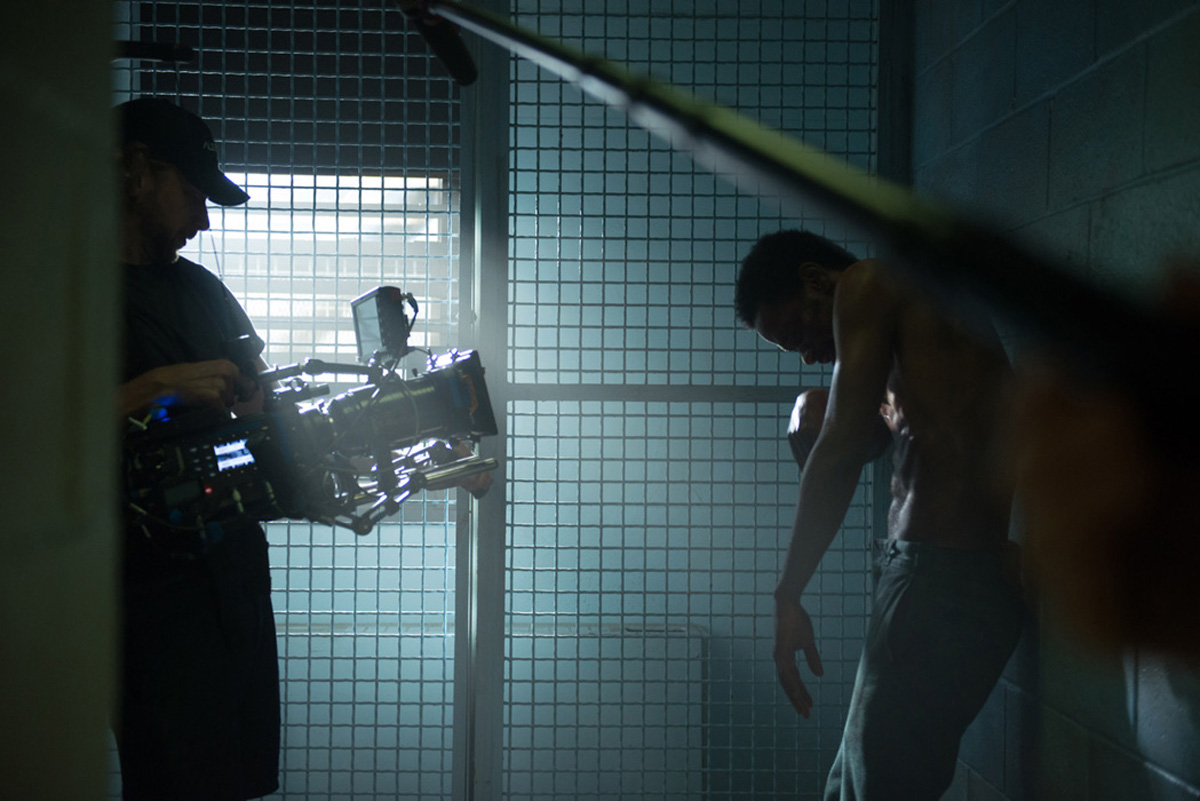 Crown Heights – When Colin Warner was wrongfully convicted of murder, his best friend, Carl King, devoted his life to proving Colin's innocence.  Adapted from the award-winning radio show, This American Life, Crown Heights is the incredible true story of their harrowing quest for justice. Director Matt Ruskin and DP Ben Kutchins have been trying to find a film to make together for more than 10 years. The fast 23-day shoot took place entirely in practical locations (including an abandoned prison with no power) and included more than 200 scenes. Kutchins says Arri Rental New York was "hugely supportive" with camera gear and lights, given the tight budget and schedule. Kutchins shot on an ARRI ALEXA with Cooke anamorphic lenses, "which we kept mostly wide open to isolate the lead actor from his surroundings through a lack of depth of field," he notes. For most scenes, we used an ARRI M40 as a key/backlight and LoCaster bounced against the walls or ground for fill or to wrap the key around," Kutchins adds. the DP was camera operator Ari Issler, 1st AC Andrew Juhl, 2nd AC Blake Johnson, and still photographer Anna Kooris.
I Don't Feel At Home in This World Anymore – Written and directed by Macon Blair is a tale about a depressed woman (Melanie Lynskey) who, after being burglarized, finds a new sense of purpose by tracking down the thieves, alongside her obnoxious neighbor (Elijah Wood). However, the pair soon finds themselves dangerously out of their depth against a pack of degenerate criminals. DP Larkin Seiple says Blair didn't want the film to have a sharp and modern look. "Macon's main references were The Friends of Eddie Coyle and Night Moves," Seiple reports. "[Shooting] film was out of the question as we were a small production, so we opted to work with lenses of the period (using no diffusion filters!), underexposed the digital negative and 'printed up' to help break down the cleaner images the ARRI ALEXA produces." Seiple used a "lovely set" Super Baltars almost wide open for the majority of the project with a mix of Zeiss Super Speeds for the more villainous scenes when needed a harsher image. "Macon was extremely focused on the performances on set," he continues, "which meant our preproduction had to be meticulous. That not only allowed Macon to focus on the actors once cameras were rolling, but it kept our crew one step ahead of the game and allowed for happy accidents. Besides the amazing local crew in Portland (Steadicam operator Jesse Evans, B-camera AC's Danielle Carroll, June Zandona, Chris Mosson, Patrick LaValley, B-camera 2nd AC Peggy Knobel and Stills Allyson Riggs) I was lucky enough to bring my regular team from Los Angeles – 1st AC Matthew Sanderson, camera operator Jonathan Dec and D.I.T. Matt Conrad."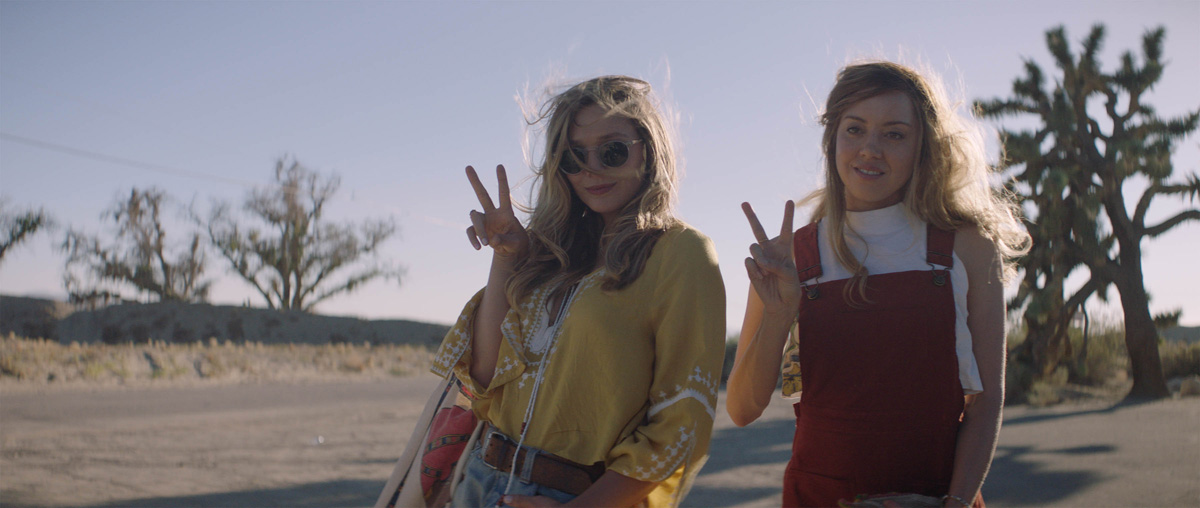 Ingrid Goes West  – Bryce Fortner shot this story about a young woman (Aubrey Plaza) who becomes obsessed with an "Instagram influencer" and moves to Los Angeles to try and befriend her in real life. Fortner says he and director Matt Spicer were both after a very naturalistic and minimal approach to the look of the film. "The script is funny but with some seriously dark undertones," Fortner shares, "so we wanted to keep the film feeling as real and grounded as possible. We were after what we were calling a 1970s approach to the look, inspired by the milkiness and minimalism of Harris Savides, ASC. We also reacted very heavily to the glamorous grunge of Venice, CA. Fortner shot on ALEXA MINI with Panavision C Series anamorphics provided by Panavision Hollywood. "It was mostly a single camera shoot, with a handful of two camera days," he adds. Fortner's team included A-camera 2nd AC Craig Keefer, B-camera operators Alex Grossfeld and Matt Irwin, Steadicam operators Colin MacDonnell and Erdem Ertal, B-camera 1st AC Rich Hawkinson and D.I.T. Tom Campbell.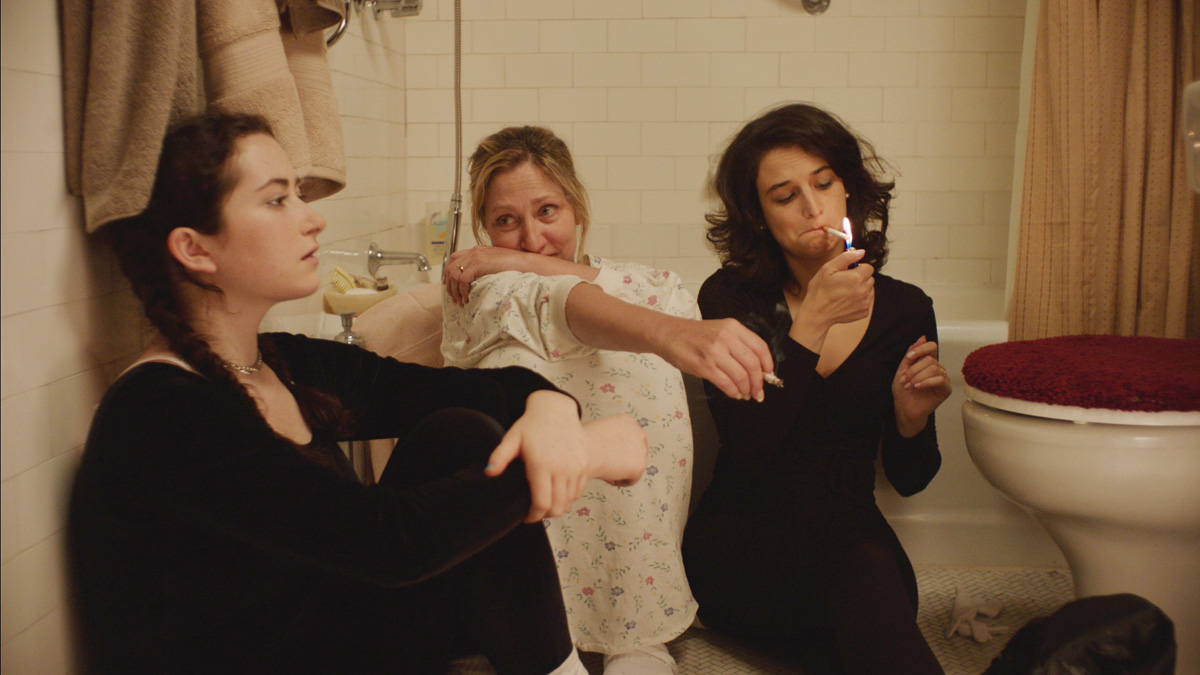 Landline  –This coming of age story set in 1990s New York City, about two sisters who discover their father's affair, was DP Chris Teague's second feature pairing with writer/director Gillian Robespierre. Despite having more resources than their first feature (Obvious Child) Teague says they strove to maintain a similarly grounded approach, "which meant embracing darkness and contrast when appropriate, and also employing strong texture through lens choice and post grain," he reports. Teague avoided the commonly flat and over-lit feel of 1990's comedies and instead sought to express the period through a more primary, limited color palette, as well as through wardrobe, production design, and location choice. "Shooting New York City interiors can be challenging," he continues, "but my Gaffer, Joel Minnich, and Key Grip, Glen Engels, did an incredible job of creating soft but directional light in extremely tight spaces. ARRI Skypanels and LiteRibbon Lite Mats were essential for this approach." On Teague's Local 600 team were A-camera operator/Steadicam Dave Isern, A-camera 1st AC Rebecca Rajadnya, A-camera 2nd AC Tsyen Shen, D.I.T. Jaime Chapin, B-camera operators Kat Westergaard, and Sung Rae Cho, B-camera 1st AC DJ Carroll, B-camera 2nd AC Lisa Long and still photographer Jojo Whilden.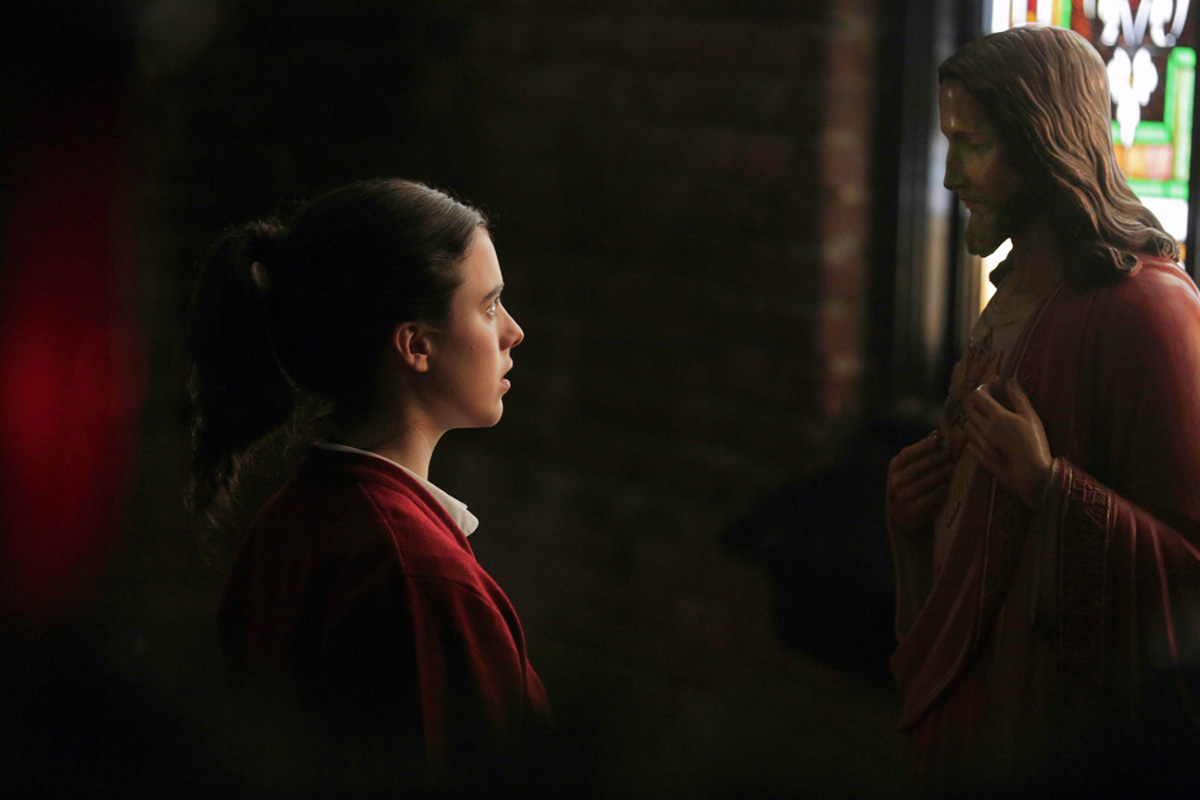 Novitiate  – Kathryn Westergaard shot this story (written and directed by Maggie Betts) about a young woman, in the early 1960's, training to become a nun. She struggles with issues of faith, sexuality and the changing church. Balancing the costumes with the lighting design was the Westergaard's main challenge. "As the film takes place mostly in a nunnery, our talent were in traditional nun uniforms, comprised of head-to-toe heavy black fabric with a white habit or veil framing the face," she recalls. "Bringing out dimension in the costumes, while maintaining the integrity of the blacks within the naturalistic and slightly moody aesthetic our director wanted to capture was tricky. My gaffer, Brent Baily, and I came up with an overall lighting direction that allowed us to underexpose the image quite a bit, which pushed our blacks into a slightly milky territory without affecting skin tones." The DP says that other than her A-camera 1st AC Scott Johnson (from L.A.), "we used a local Nashville camera crew who were wonderful, " she adds. "My entire camera team [A-camera operator David Mellow, A-camera 2nd AC Tracey Facelli, B-camera operator Armanda Costanza, who moved up during the shoot from B-camera 1st AC with Erin Naifeh taking over as B-camera 1st, B-camera 2nd AC Heather Murphy, and additional AC's Cole Carpenter and Tiffany Murry] was collaborative, kind and hard working."
The Hero – Lee Hayden (Sam Elliott), is an aging Western icon with a golden voice, who spends his days reliving old glories and smoking too much weed with his former-co-star-turned-dealer, Jeremy (Nick Offerman). When a surprise cancer diagnosis brings Lee's priorities into sharp focus, he strikes up a contentious (and exciting) relationship with stand-up comic Charlotte (Laura Prepon) and attempts to reconnect with his estranged daughter, Lucy (Krysten Ritter). Guild DP Rob Givens filmed on L.A. locations with Panavision cameras and lenses. "We used the ARRI AMIRA with Panavision Ultra Speed Primes and also an ALEXA XT with Panavision Anamorphic glass for several select scenes," Givens recounts. "The script was told from a very intimate and subjective place, so a handheld camera became the language that director, Brett Haley, and I chose. The intention was to keep the storytelling grounded and real, yet still try to find a cinematic texture in the lighting and framing that would bring the audience closer to Lee's emotions. Local 600 camera team members included A-camera 1st AC Nick Fischer, A-camera 2nd AC Nathan Kelley, D.I.T. CJ Miller, B-camera operator: Matt Cabinum and B-camera 1st AC Bas Tiele and still photographer Beth Dubber-Corey.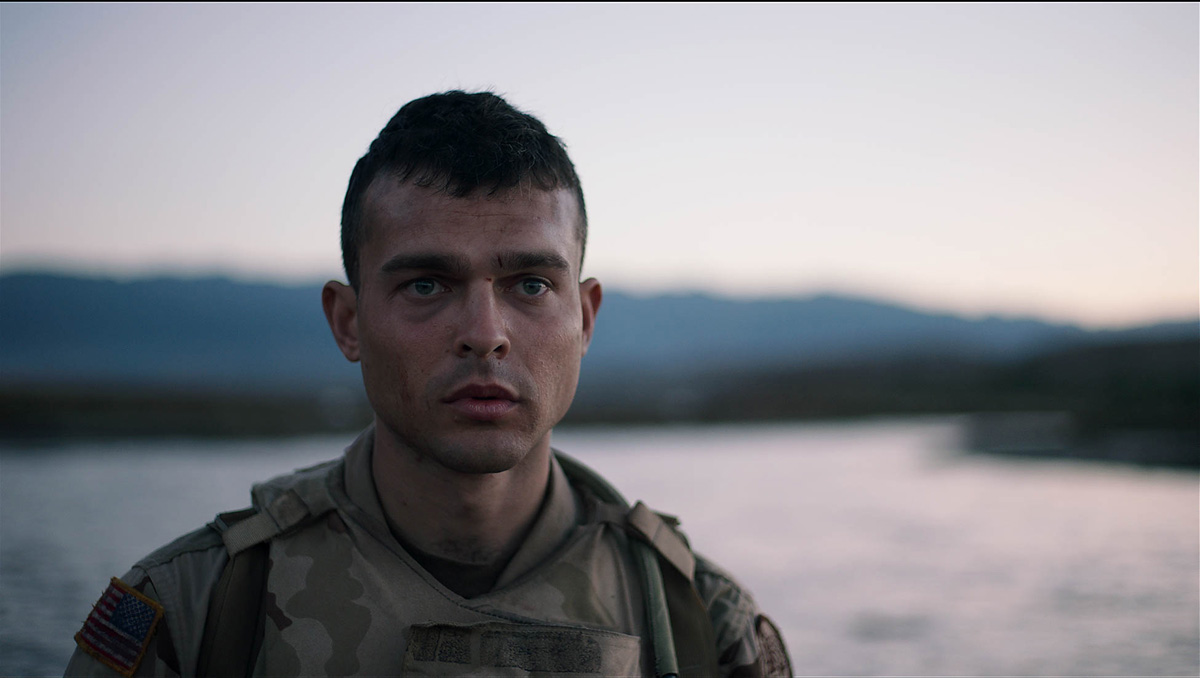 The Yellow Birds  – Alexandre Moors-directed this adaptation of a novel by Kevin Powers about two young men who enlist in the Army and are deployed to fight in Iraq. After an unthinkable tragedy, the returning soldier struggles to balance his promise of silence with the truth and a mourning mother's search for peace. The cast includes rising young stars Tye Sheridan (X-Men: Apocalypse) and Alden Ehrenreich (young Han Solo in a 2018 Star Wars movie). Shot by Daniel Landin.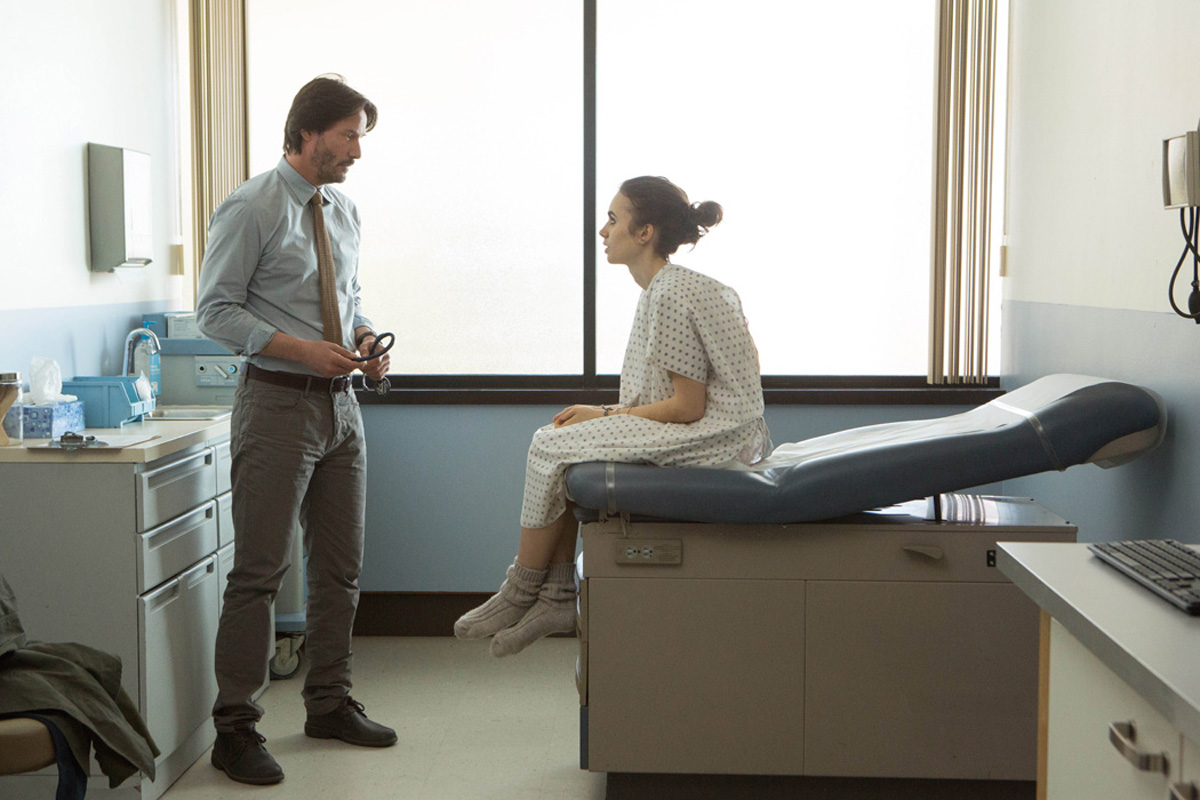 To The Bone  – Richard Wong shot this story (written and directed by Marti Noxon) about a 20-year old woman battling severe anorexia. Ellen (Lily Collins from Rules Don't Apply) enters a group recovery home, and with the help of an unconventional doctor (Keanu Reeves) goes on a sometimes funny, sometimes harrowing journey. Wong says the film is based on Noxon's own personal experiences. "Marti had a very clear vision of a desert palette and wanted to find a visual balance between feeling real and present while remaining painterly and cinematic," he describes. Collins is in every scene of the movie, so, Wong adds, "we made visual choices to make the movie from her perspective; we shot all of her close ups on a 27mm while shooting everyone else's close ups at other focal lengths. We also were careful about keeping [Collins] in singles all of the time, save for over-the-shoulders for very specific moments and relationships. I think what resulted is an intimate and loving portrait of a young anorexic woman." Guild team members included A-camera operator Ross Coscia, A-camera 1st AC Maricella Ramirez, A-camera 2nd AC Diona Mavis, B-cam 1st AC's Ryan Guzdzial and Andy Chen, B-cam 2nd AC's Dan Marino and Matt Berbano, D.I.T. Tyler Goeckner-Zoeller, and Utility Will Zignego.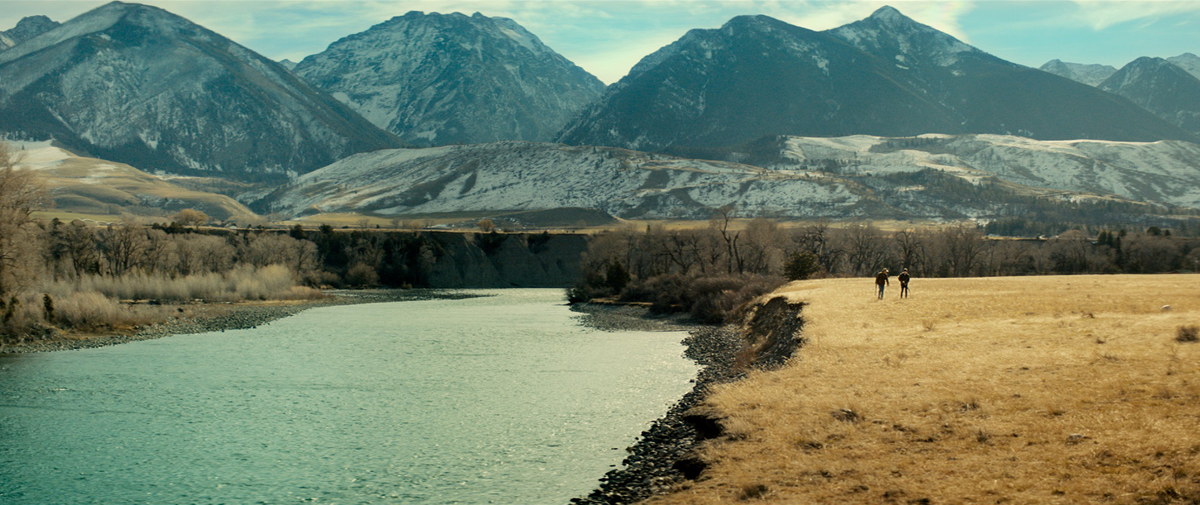 Walking Out – Cinematographer Todd McMullen teamed with camera operators Logan Schneider, Reid Russell (Steadicam), and focus puller Stefan Tarzan on visualizing this coming-of-age story set in the treacherous, unpredictable Absoraka Mountains of Montana. The journey for David and Cal, (Josh Wiggins and Matt Bomer) begins in Paradise Valley and ascends into the higher elevations of Hyalite Canyon outside of Bozeman. McMullen says that because much of the story is about movement and exploration, he photographed the characters' ascent moving from frame right to left and the descent was framed left to right. "I felt this visual style would be a natural feeling of movement for our audience and keep them grounded in the locations and the arc of the story," he shares. McMullen shot with ARRI XT cameras and Panavision G-series lenses in 2:39 aspect ratio. For the many flashback sequences, he used Panavision Spherical zooms and/or vintage prime lenses (in the anamorphic aspect ratio). "One of my favorite shots," he adds, "was the introduction of Cal. We extended the camera out a small two-story window on a six- foot slider and 10 feet of dolly track. The scene starts with a beautiful sunset on the mountains in the background and the town of Livingston in the foreground. We pull through the window to reveal Cal sitting at his desk cleaning his rifle. It was a great exercise in teamwork between grip and camera and was one of the most innovative lo-fi camera setups I've seen. Key Grip Ross Addiego nailed it!"
U.S. DOCUMENTARY COMPETITION
Water & Power: A California Heist – Marina Zenovich directed and Samuel Painter shot this feature about California's convoluted water system, and how its notorious water barons find ways to structure a state-engineered system to their own advantage. This examination into their centers of power shows small farmers and everyday citizens facing drought and a new, debilitating groundwater crisis.
PREMIERES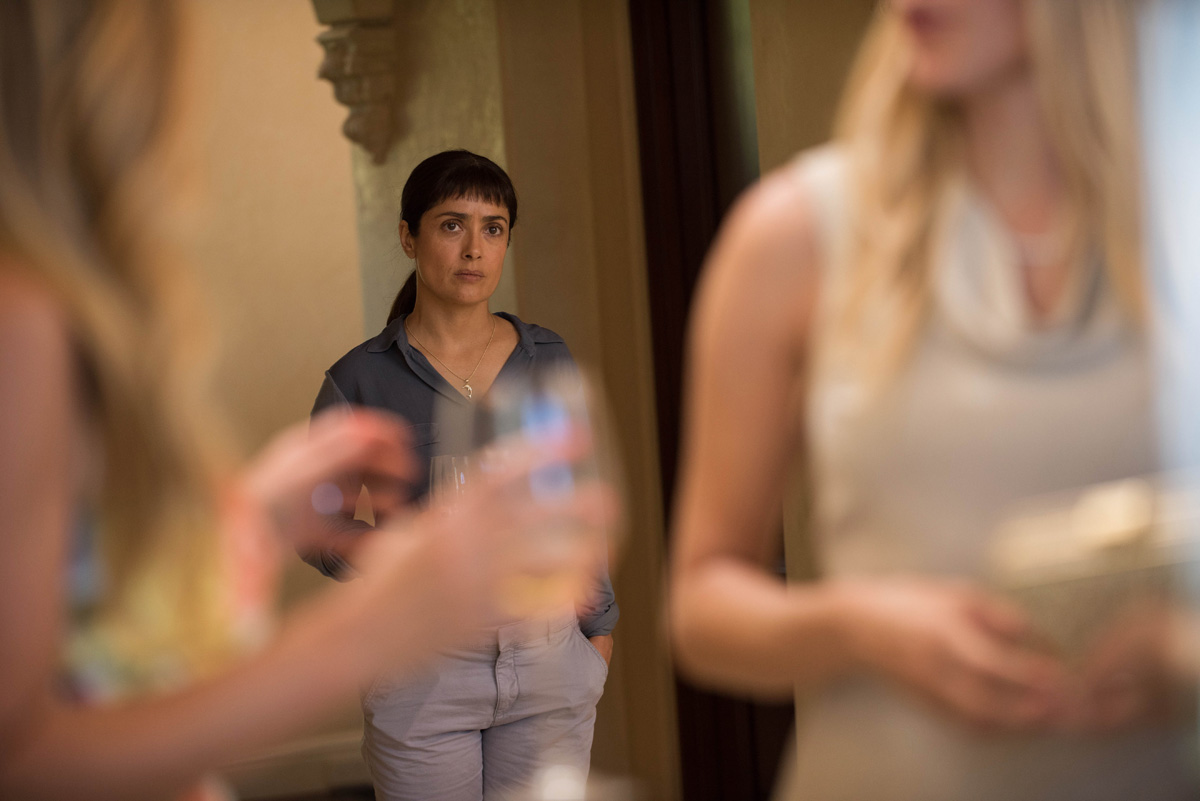 Beatriz at Dinner – Wyatt Garfield lensed this latest indie project from Sundance veterans Miguel Arteta (director) and Mike White (screenwriter). Beatriz, an immigrant from a poor town in Mexico, has drawn on her innate kindness to build a career as a health practitioner. Doug Strutt is a cutthroat, self-satisfied billionaire. When these two opposites meet at a dinner party, their worlds collide and neither will ever be the same. Garfield says the visual approach was very straightforward and he played with simple games of subjectivity. "Much of the film plays off Salma Hayek's face, and we were careful to really nail those close ups and get the eye lights just right," he describes.  "Salma is very aware of the camera and knows how to engage with it, and those closeups were definitely a collaboration." Other Local 600 members included A-camera 1st AC Scott Johnson, A-camera operator David Stragmeister, A-camera 2nd AC Erin Naifeh, B-camera 1st AC Jacqueline Stahl, B-camera 2nd AC Giselle Gonzalez, Day players Stephen Taylor Wehr and Otis Sherman and still photographer Lacey Terrell.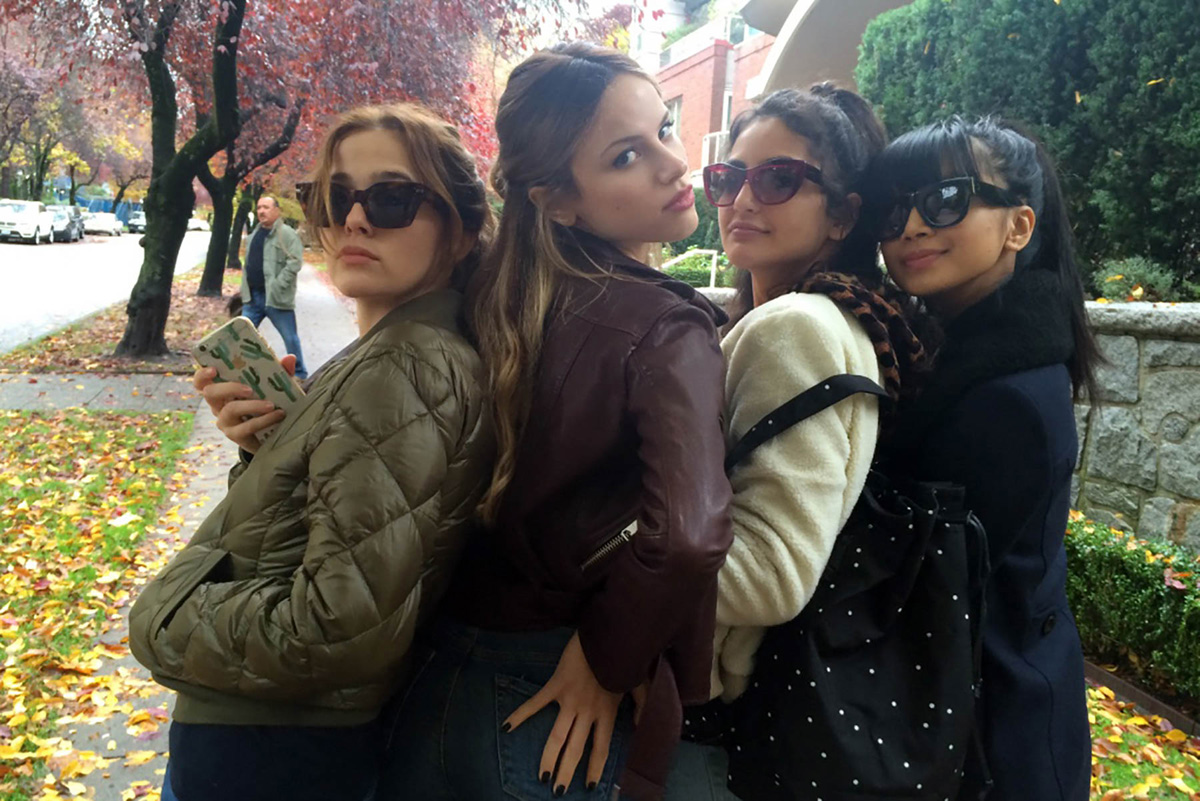 Before I Fall  – Shot by Michael Fimognari and directed by Ry Russo-Young, this story centers on a popular high school girl who must relive a transformative day in her life over and over again, allowing her to see relationships from new perspectives and decide who she wants to be before she dies.  Fimognari says he and Russo-Young aspired to connect on personal and universal levels, while also living in grounded and other worldly spaces, "so we had to find the right balance of light, color, and optics," he shares. "We chose a very soft, natural light with heavy rain and atmosphere to set the mood; this was often about shooting at the right time of day at the right location, then maintaining that feel when controllable. " The DP says ARRI ALEXAS are always his camera of choice for natural color and elegance; he chose Hawk V-Lite anamorphic primes for "the perfect combination of thematic scope and the magical feeling of the space between life and death with a depth of field that kept us singularly connected to [the main character's] perspective. We designed a camera movement plan where the style and speed changed to speak with Sam's stages of emotion as her choices evolved with each day throughout her journey.
Fun Mom Dinner – One of two films Sean McElwee (Morris From America) has in the same Premieres section at Sundance; this story is about four women (whose kids attend the same preschool class) getting together for a "fun mom dinner." When the night takes an unexpected turn, these unlikely new friends realize they have more in common than just marriage and motherhood. Together, they reclaim a piece of the women they used to be. Directed by Althea Jones.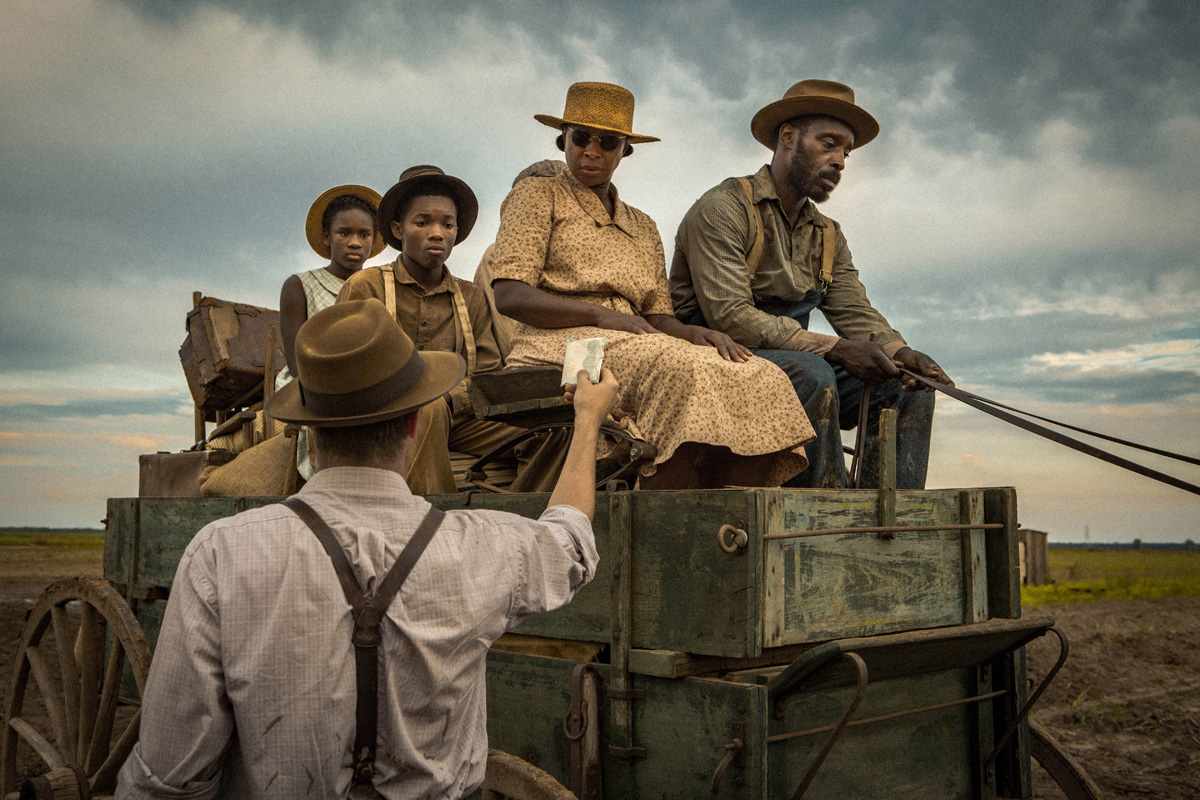 Mudbound – Rachel Morrison shot this intense drama set in the post–World War II South that follows two families pitted against a barbaric social hierarchy and the harsh landscape around them. An epic pioneer story about friendship, heritage and the unending struggle for and against the land, the film stars Carey Mulligan, Mary J. Blige, Jason Clarke, Garrett Hedlund, and Jonathan Banks. The all-Local 600 camera team included Steadicam operator Grayson Austin, A-camera 1st AC Rob Baird, A-camera 2nd AC's Dan McKee and Rome Julian, B-camera operator Rob Stenger, B-camera 1st AC Zac Sieffert, B-camera 2nd AC Cody Gautreau, Digital Utility David Stellhorn, D.I.T. Nate Borck, and Still Photographer Steve Dietl.
The Big Sick –Based on a real-life courtship: Pakistan-born comedian Kumail and grad student Emily fall in love, but they struggle as their cultures clash. When Emily contracts a mysterious illness, Kumail must navigate the crisis with her parents and the emotional tug-of-war between his family and his heart. Produced by Judd Apatow, and directed by longtime Sundance Film Festival actor Michael Showalter, who puts the spotlight on its writer/star Kumail Nanjiani from HBO's Silicon Valley). Shot by Brian Burgoyne with a Guild team that included A-camera operator Ari Issler, A-camera 1st AC Andrew Juhl, A-camera 2nd AC Blake Johnson, B-camera operators Frank Larson and Pierrot Colonna, B-camera 1st AC Htat Htut, B-camera 2nd AC Casey Johnson, Digital Loader Matt Harding and Still Photographer Nicole Rivelli.
The Incredible Jessica James  – Also shot by McElwee, the closing night film for the festival was written and directed by Jim Strouse. Jessica James is an aspiring New York City playwright struggling to get over a recent breakup. She sees a light at the end of the tunnel when she meets the recently divorced Boone. Together, they discover how to make it through the tough times while realizing they like each other – a lot.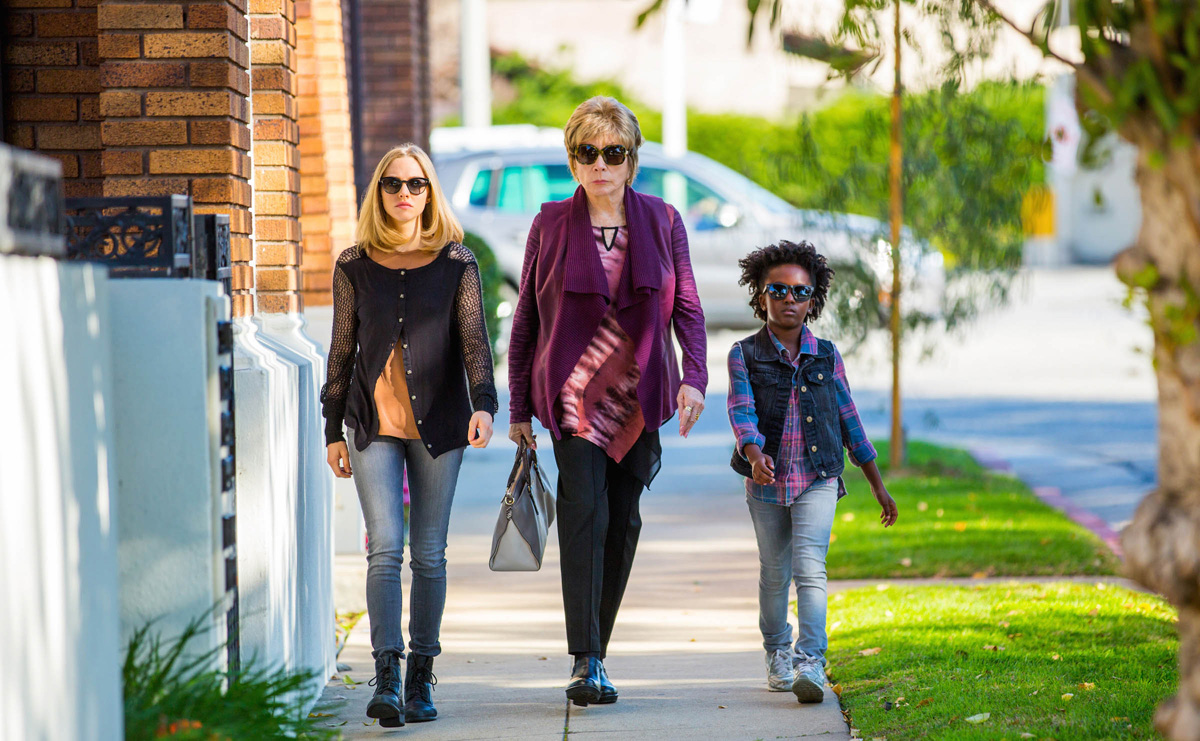 The Last Word – Eric Koretz describes shooting The Last Word, a story about two women vastly different in age and experience, as "challenging" in that the two ALEXA cameras Koretz used would often, (at the behest of director Mark Pellington) need to change framing on the fly. "This meant that often one take was a different framing than the next, creating an intricate dance for our camera team," Koretz recalls. Due to the unusual shooting style, Koretz often embraced the wide-open beautiful imperfections of the Cooke anamorphic prime lenses to give the film a creamier look that enhanced skin tones. "Ultimately the improvisation worked to create a heartfelt story with an underbelly of unruly comedy and rebellious emotion," Koretz concludes. Guild team members on the shoot included camera operator Michael Merriman, A-camera 1st AC Ryan Rayner, A-camera 2nd AC Josh Benavidez, B-camera 1st AC Simon England, B-camera 2nd AC Joseph Soria and D.I.T.'s Michael Kellogg and Mark Evans.
The Polka King – Andrei Bowden Schwartz shot this tragic-comic film based on the remarkable true story of the world's only known Polka Ponzi scheme in the 1990's. Calling the project "flat-out fun," Bowden Schwartz says star Jack Black's energy was contagious. "The directors, Maya Forbes and Wally Wolodarsky, are very visual and referenced films from vastly different genres and time periods," her shares. "We came up with exciting shots and strong compositions within our limited means. Ninety percent of the camera movement was on the dolly, except for the crazier performances where we went handheld to feel more a part of the crowd." Bowden Schwartz, working with a Guild team that included A-camera 1st AC Nolan Ball, A- camera 2nd AC Jason Brignola, B-camera operator/2nd unit DP Bill Trautvetter, and D.I.T. Leonard Mazzone, shot mostly single-camera on ALEXA MINI, and brought in a second camera for big performance days. "We debated shooting anamorphic but ultimately choose Cooke S4s and Angenieux zooms with fun flavors of diffusion to create the look for the film," Bowden Schwartz adds. "It's a fun and colorful film, with a lot going on under the surface – like real life.""
Where is Kyra? – Michelle Pfeiffer and Kiefer Sutherland star in this indie drama about a woman who is pushed to the brink of survival after losing her job. As the months pass, and her troubles deepen, she embarks on a perilous and mysterious journey that threatens to usurp her life. Shot by two-time Sundance cinematography award-winner Bradford Young, ASC (Glory, Ain't Then Bodies Saints).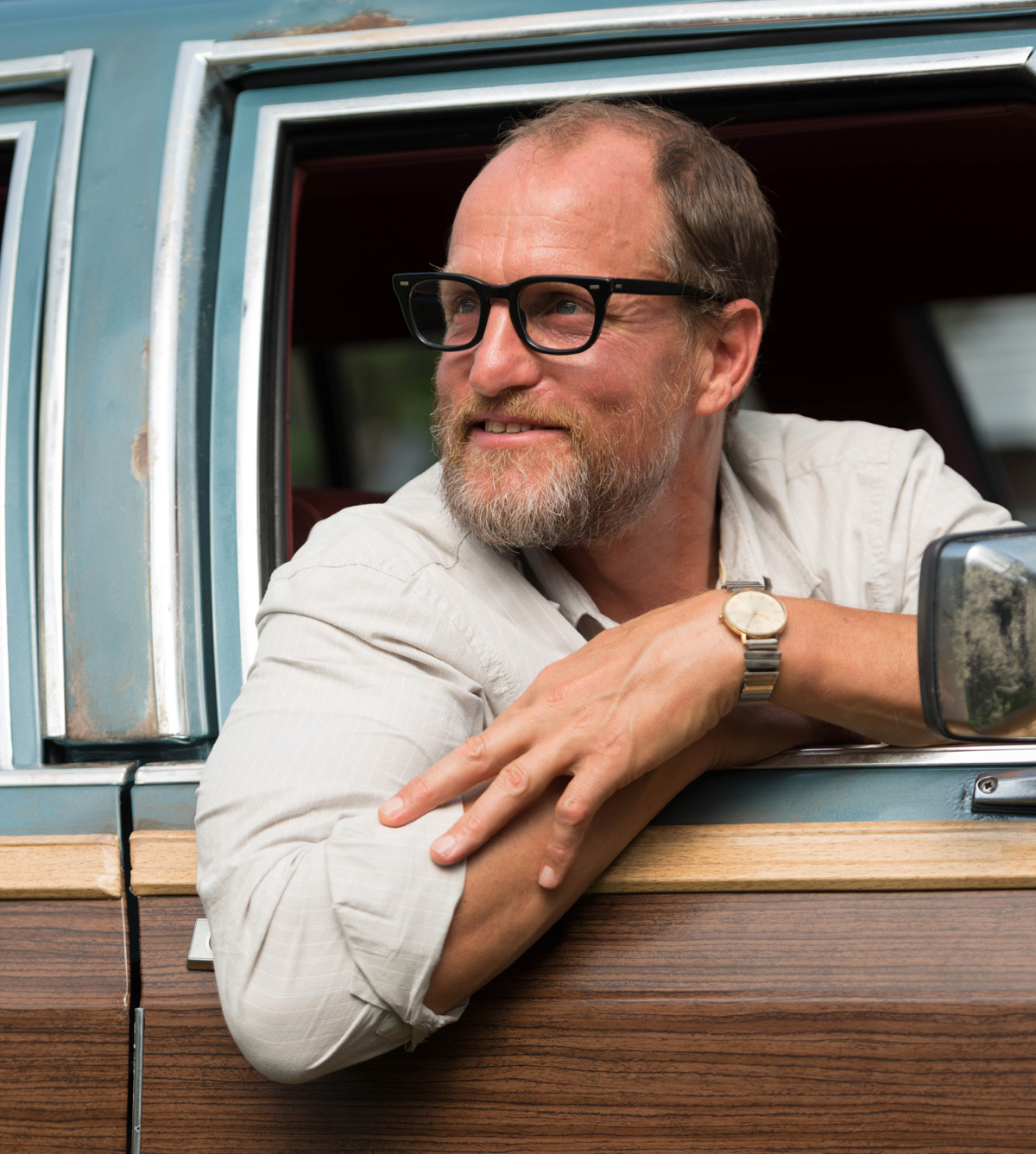 Wilson – Longtime indie DP Fred Elmes, ASC (Brothers, Broken Flowers, Blue Velvet) brings this bittersweet comedy/drama to Sundance, written by graphic novelist Daniel Clowes (Ghost World, Art School Confidential) and directed by recent Sundance alumnus Craig Johnson (The Skeleton Twins), this story centers on a lonely, neurotic and hilariously honest middle-aged misanthrope named Wilson (Woody Harrelson), who reunites with his estranged wife (Laura Dern) and gets a shot at happiness when he learns he has a teenage daughter he has never met. In his uniquely outrageous and slightly twisted way, Wilson sets out to connect with her. Guild members on the shoot included A-camera operator Peter Agliata, Steadicam Craig Peterschmidt, 1st AC's Steve Speers and Paul Colangelo, 2nd AC Michael Lindquist, D.I.T.'s Gabe Kolodny and Peter Symonowicz, and still photographers Wilson Webb.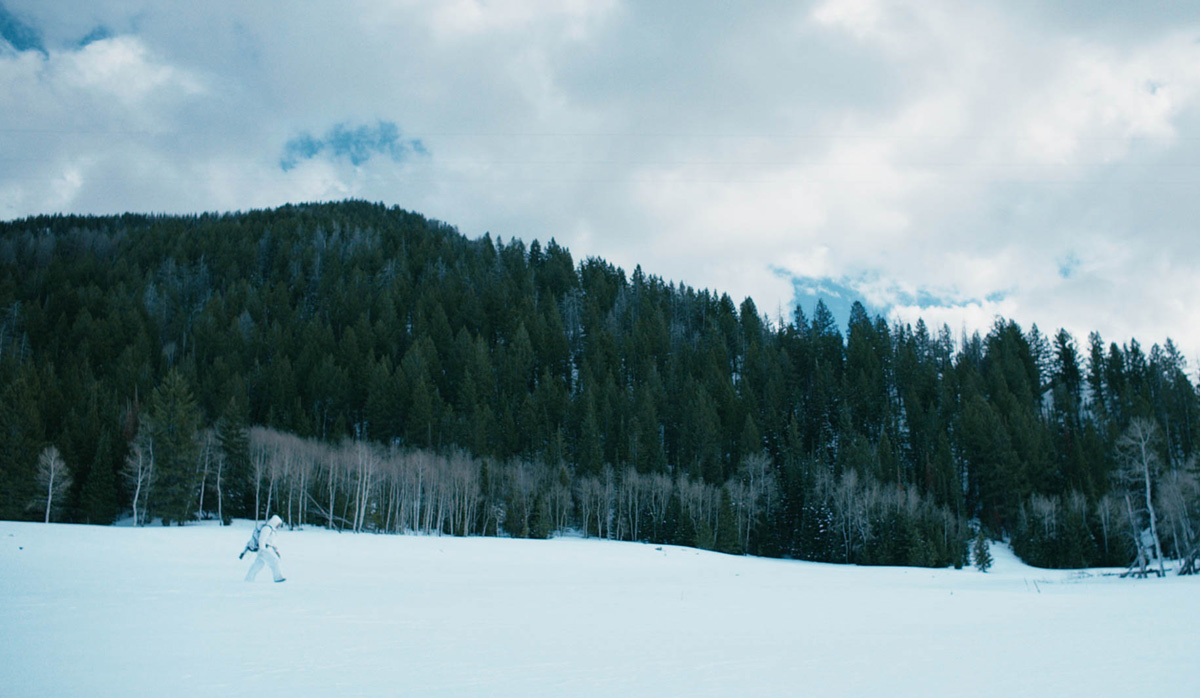 Wind River – Sundance regular Ben Richardson (Beasts of the Southern Wild, Happy Christmas, Drinking Buddies) returns to Park City with this indie drama about an FBI agent (Jeremy Renner), who teams with the town's veteran game tracker to investigate a murder that occurred on a Native American reservation. Written and directed by Hell or High Water screenwriter Taylor Sheridan, and shot by Richardson with a pair of ALEXA XT's in ARRIRAW 2.8K and an ALEXA MINI provided by ARRI Rental (formerly ARRI CSC. The DP says he carried "two sets of the older ARRI/Zeiss 2.1 standard speed lenses, and a pair of Angenieux zooms on hand for use on the occasional crane shot and our terrific helicopter work. I love the Zeiss standards for their natural look and gentle flaws. Depending on the stop you work with, you can take them from a more poetic rendering to a cleaner but still cinematic feel." The high elevation locations often dictated working handheld or from the Easyrig, looking for simple, graphic frames and taking advantage of the stark environment to build tension. "Working in the snow provided interesting challenges for covering scenes," Richardson continues. "We typically moved rapidly between multiple camera positions as the actors crossed the fresh snow before moving in for the closer work. I took every opportunity I could to get a long-lensed wide take as far from the set as possible to keep the scenes in the context of the vast wilderness of the story."
U.S. DOCUMENTARY PREMIERES
Oklahoma City – Stephen F. McCarthy shot this Barak Goodman-directed nonfiction feature about one of the darkest chapters in American history: the bombing of the Alfred P. Murrah Federal Building in Oklahoma City in April 1995, considered the worst act of domestic terrorism in the nation's history. Goodman's film explores how a series of deadly encounters between American citizens and federal law enforcement – including the standoffs at Ruby Ridge and Waco – led to the terrorist act.
Rancher, Farmer, Fisherman  – Emmy winner and Oscar nominee Buddy Squires, ASC teamed with Sundance Cinematography winner Bob Richman (The September Issue) for this documentary that is part of Sundance's "The New Climate," environmentally themed programming. The nonfiction feature centers on the new heroes of American conservation, who work deep in the nation's heartland. From the Montana Rockies to the wheat fields of Kansas and the Gulf of Mexico, families who work the land and sea are crossing political divides to find unexpected ways to protect the natural resources vital to their livelihoods. Directed by Susan Froemke, John Hoffman, and Beth Aala.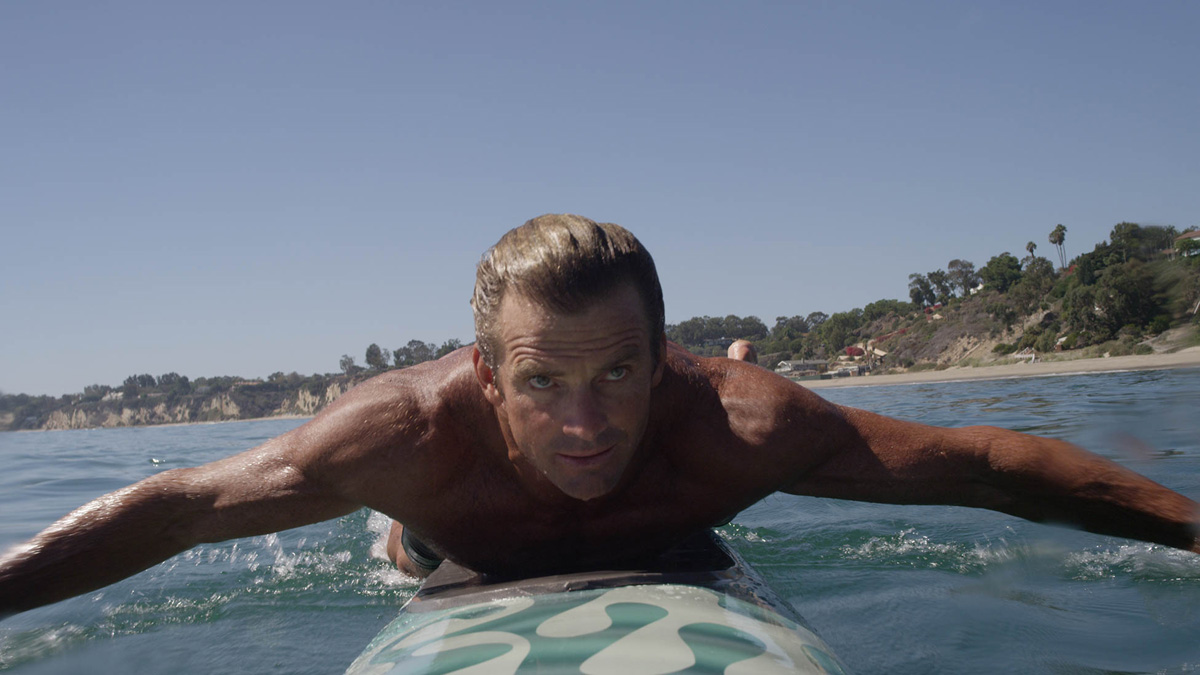 Take Every Wave: The Life of Laird Hamilton – Alice Gu and legendary water cinematographer Don King teamed to tell the remarkable true story of Hawaii-born uber-athlete Laird Hamilton, who changed the sport of big wave surfing forever. Transcending the surf genre, this in-depth portrait of a hard-charging athlete explores the fear, courage, and ambition that push a man to greatness—and the cost that comes with it. "Laird's an extreme athlete who is very mobile and likes to move fast, unconstrained by the needs of production," King reflects about the challenging project. "To be able to flow with his pace, and at the same time get the coverage we needed, required good planning and preparation. Our director, Rory Kennedy [Ethel, Ghosts of Abu Ghraib], was also really good at understanding the rhythms of Laird's routine and how to work with that." King says he normally prefers to shoot surfing action swimming in the water or from the back of a jetski, but adds the only way to really cover all the action was from a helicopter. "Laird and his foiling partner Terry Chung use a jet ski to tow the foil boarder into a wave," King continues. "When the rider lets go he is gliding on an underwater foil wing that lifts him out of the water.  It's so efficient they can travel up to 35mph and up to a mile on a single wave. Luckily we were able to get pilot Don Schearer, who I have teamed up with filming the Die Another Day intro sequence, and [2004 Sundance documentary] Riding Giants. We were actually below the level of the riders on some waves."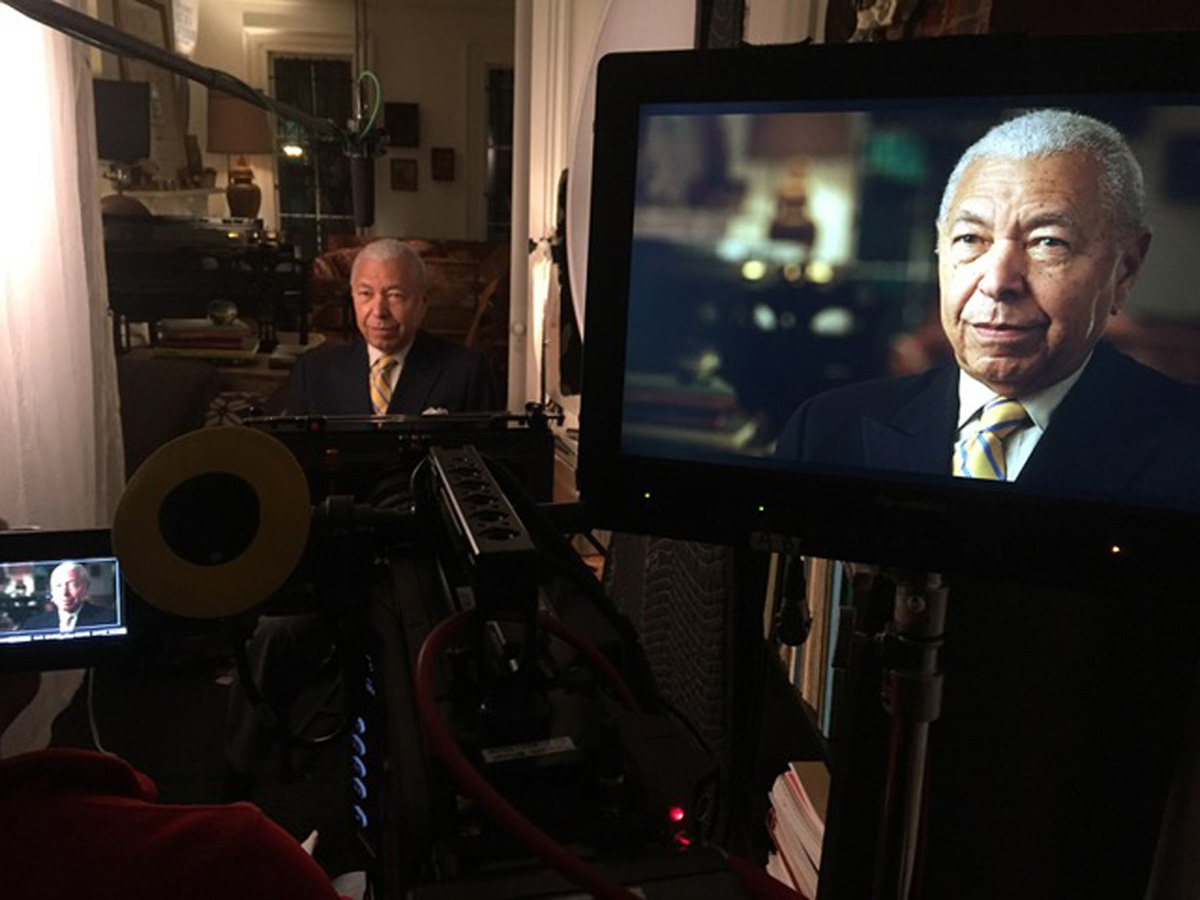 Tell Them We Are Rising: The Story of Black Colleges and Universities – This is the third project Antonio Rossi has shot for long-time social documentarian Stanley Nelson. A subject never-before explored in mainstream media, the film chronicles Black colleges and universities, where Black intellectuals, artists, and revolutionaries have educated the architects of freedom movements and cultivated leaders in every field. As Nelson notes: "They have been unapologetically Black for 150 years." Rossi says the challenges he feels when shooting for Nelson is in telling an under-told and vitally important chapter of American History. "Stanley has concentrated on making a series of films about African American History, and he has been recognized for his efforts by President Barack Obama, who presented him with a National Humanities Medal in 2013," Rossi states. "So while my work on Tell Them We Are Rising was mostly sit-down interviews, schedules were very tight and the crew size was very small. To give Stanley the look he likes, we shot three or four elegant interview setups out of one location per day. I was also in awe of so many of our subjects, who included Civil Rights pioneers like Major General John McNeil, one of the four young black students who sat at the whites-only lunch counter in Greensboro, South Carolina in 1960, and Lonnie C. King, Jr., who was one of the authors of "An Appeal for Human Rights," published in various Atlanta newspapers in 1960." Rossi shot interviews with an ARRI AMIRA and Canon 30-105 T2.8 Zoom. "I also filmed footage at Morris Brown College in Atlanta, GA with that setup as well as with a RED 17-50 T2.9 zoom," he adds."
Trumped: Inside the Greatest Political Upset of All Time – Laura Huddock (ICG November 2016) was one of a handful of Guild DP's (including Andrew Dunn, BSC, Cameron Glendenning, and Matt Valentine) who worked on this new documentary from filmmakers Banks Tarver, Ted Bourne, and Mary Robertson. Huddock says she followed closely Trump with the filmmakers in the last three months leading up to Election Day. In a behind-the-scenes look at the biggest political upset in recent history, Mark Halperin, John Heilemann and Mark McKinnon offer unprecedented access and never-before-seen footage of candidate Trump, from the primaries through the debates to the dawning realization that the controversial businessman will become the 45th President of the United States.
Untitled Buena Vista Social Club Documentary – Cinematographer Enrique Chediak, ASC describes shooting the musicians of the Buena Vista Social Club (who exposed the world to Cuba's vibrant culture with their landmark 1997 album) this way: "When my friend, [director] Lucy Walker, called about traveling with her to Cuba to shoot the Untitled Buenavista Social Club documentary I was extremely happy; first because Lucy and I were classmates at NYU and worked in a few student projects together and second because I was fascinated with the idea of shooting the remaining members of that fantastic music project in their environment. In our conversations with Lucy, I stressed my desire to focus in on the musicians' faces and expressions. Both Lucas Gath (the other DP) and I went with two different cameras for twelve days to Havana and Santiago. Both the musicians and the environment were very photogenic in an honest and simple way. I took an Alexa Amira and two Zoom lenses (Fujinon 19-90, Fujinon 25-300).  The biggest challenge was being alone with the camera; since I have been shooting feature films with extremely capable crews, the fact that I had to be a one-man band required re-learning a new approach."
NEXT
Columbus – Elisha Christian shot this story about a Korean-born man (John Cho) who finds himself stuck in Columbus, Indiana, where his architect father is in a coma. The man meets a young woman (Haley Lu Richardson) who wants to stay in Columbus with her mother, a recovering addict, instead of pursuing her own dreams. Burdened by the future, they find respite in one another and the [modernist] architecture that surrounds them.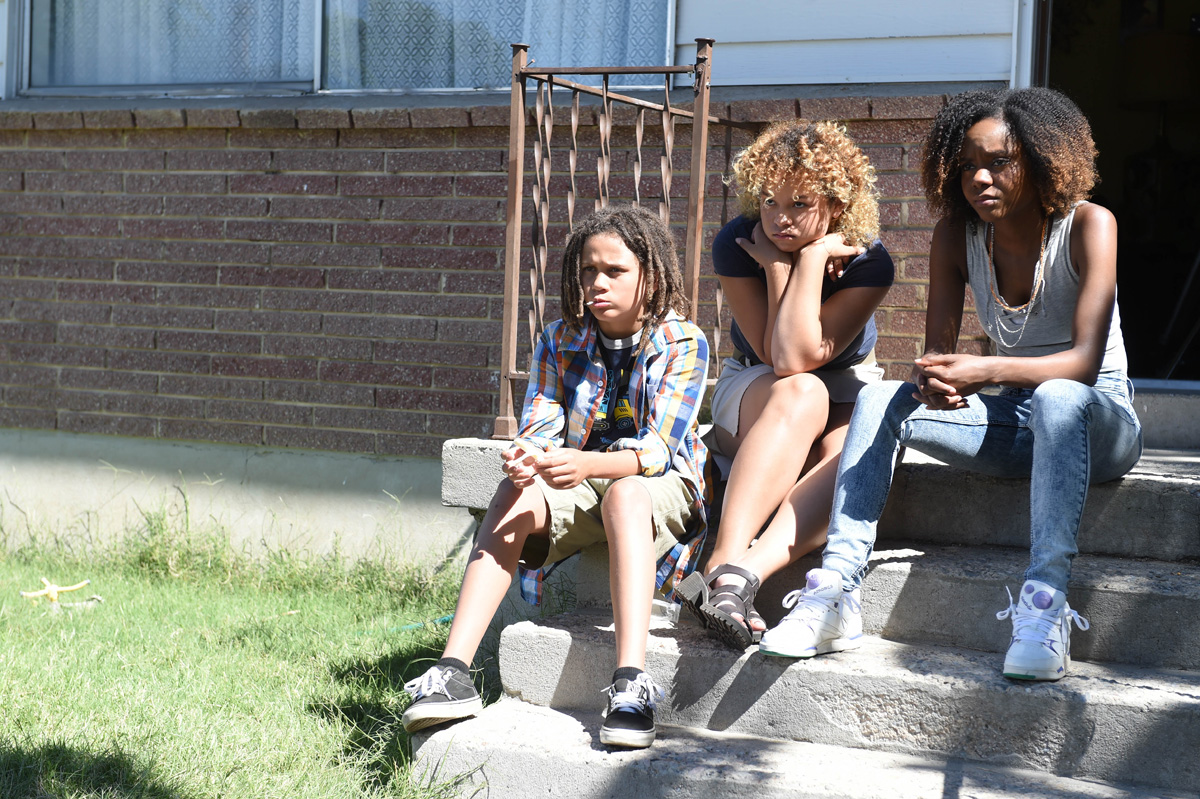 Deidra & Laney Rob A Train – This first of two features Quyen Tran is screening at Sundance this year. Deidra Tanner is a whip-smart high school senior who sells answers to chemistry tests to save up for college, while also helping her mother raise her stubborn little sister, Laney, and her brother, Jet. When her single mom ends up in jail, Deidra decides to rob trains (the tracks are in her own backyard) to make ends meet. Returning director, Sydney Freeland (Drunktown's Finest), creates comedic alchemy with rising stars Ashleigh Murray (Deidra) and Rachel Crow (Laney) in this zany lemons-to-lemonade romp through kids facing tough times. Tran notes that much of the story occurs at night on a moving train. "The budget didn't allow for balloon lights or even Condors initially, so I decided to key the actors with headlamps and flashlights, thus finding the right props became a top priority," she recalls. "I tested flares with multiple lenses before [Freeland] and I decided on the Cooke S4s because of our multi-racial cast, and the warmth I knew the lenses would bring to their rich skin tones." Tran says she shot closeups on a static train against the black sky, "with a group of PAs literally rocking the train cars," and added a fan and camera shake to simulate train movement. "This really challenged my crew [A-camera operator/Steadicam Chad Persons and 1st AC Alex Cason] to think outside the box (car)!  It's not often that you're handed a script with two young female protagonists; I wanted the girls to appear powerful and beautiful, yet also empathetic and human, to make sure viewers would come along on this crazy train ride."
Lemon – Jason McCormick lensed this dramedy about a 40-year old man whose blind girlfriend is leaving him, whose career is going nowhere and whose family is disappointed in him. Issac Lachman doesn't how his life became such a "lemon" – a person or thing that proves defective, imperfect, or unsatisfactory. Things were supposed to work out differently.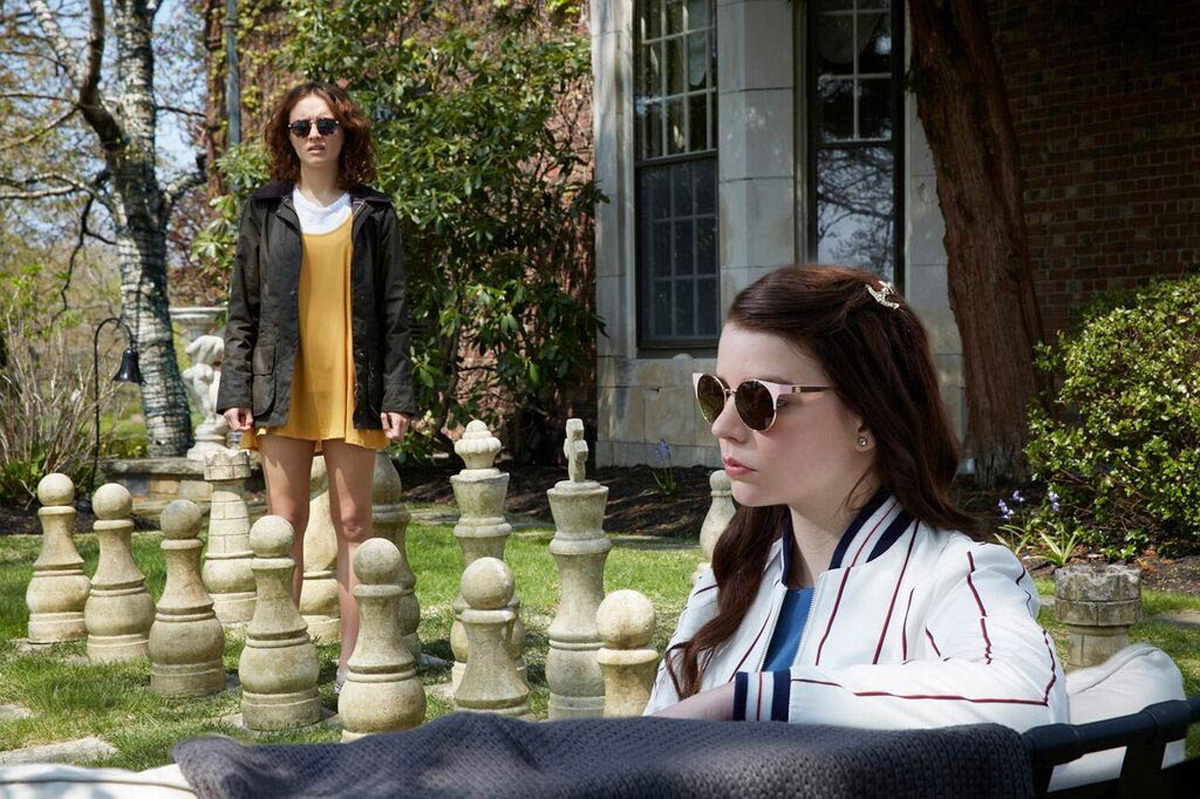 Thoroughbred – One of two features Guild DP Lyle Vincent has premiering in Park City this year. Described by Vincent as a "thriller with classic noir influences," Thoroughbred features Anton Yelchin's final performance. "The film was shot on the Alexa Mini and Panavision G-series Anamorphic lenses," Vincent adds. Vincent's Guild team was made up of operator Jonathan Beattie, 1st AC Nolan Ball, 2nd AC- Jason Brignola, D.I.T. Leonard Mezzone and Still Photographer Claire Folger.
MIDNIGHT
Bushwick – Lyle Vincent shot this story about Lucy, who emerges from a Brooklyn subway to find that her neighborhood is under attack by black-clad military soldiers. An ex-Marine corpsman reluctantly helps her fight for survival through a civil war, as Texas attempts to secede from the United States of America. Vincent describes the project as a "near future apocalyptic action film that was shot in a series of very long takes," with some stitched to together to create the illusion of real time. "We shot on the Alexa Mini and all on the Freely Movi M15 rig, which I believe was one of the first films to do so," Vincent notes. Guild members on the project included operator Frank Larson, Movi-tech/operator Paul Bode, 1st AC Doug Durant, 2nd AC Andy Hensler, Loader Bayley Sweitzer, Additional Operator (reshoots) Jonathan Beattie, Additional 1st AC (reshoots)- Andrew Juhl, Additional Loader (reshoots) Matthew Harding and Still Photographer Seacia Pavao.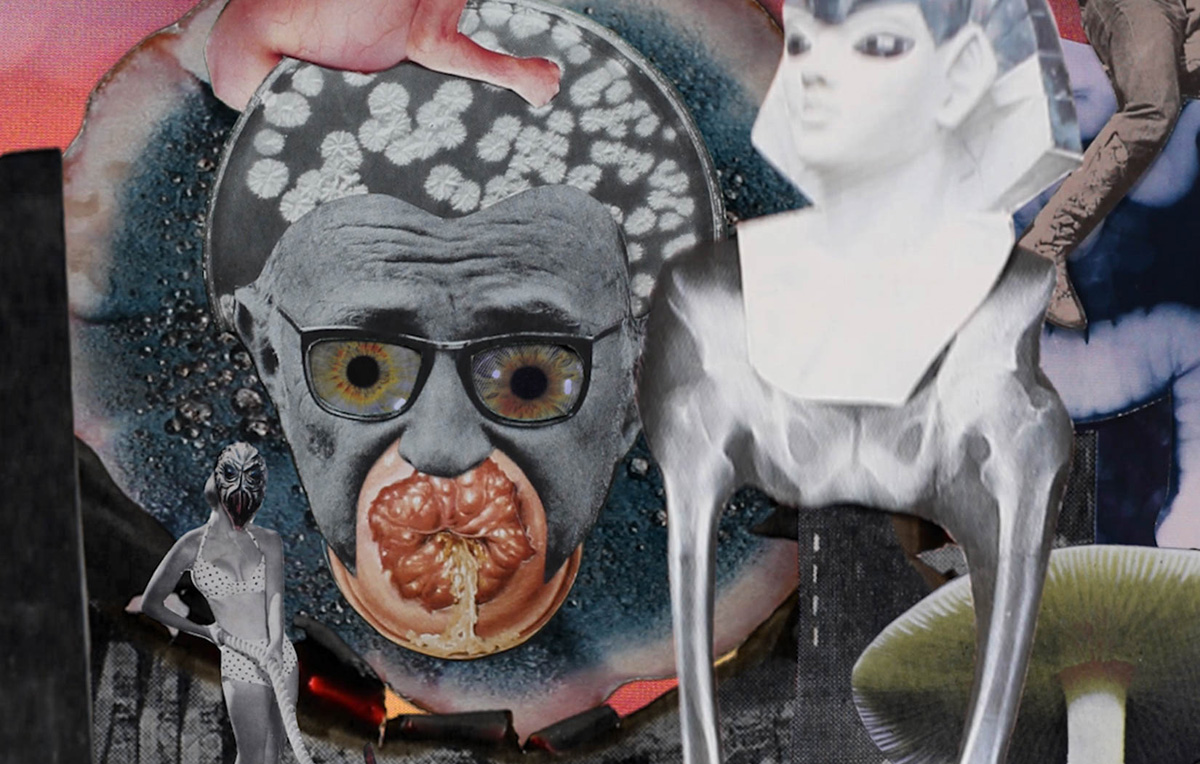 Kuso – This project, which grew out of the short Royal, imagines the aftermath of "the big one" in Los Angeles. Broadcasting through a makeshift network of discarded televisions, the story is set after a massive earthquake. Travel between screens and aftershocks into the twisted lives of those who survived. Danny Hiele shot the short (which became part of the feature) in 2-perf 35mm using Panavision Primo close-focus lenses. His 1st AC was Thomas Vandermillen.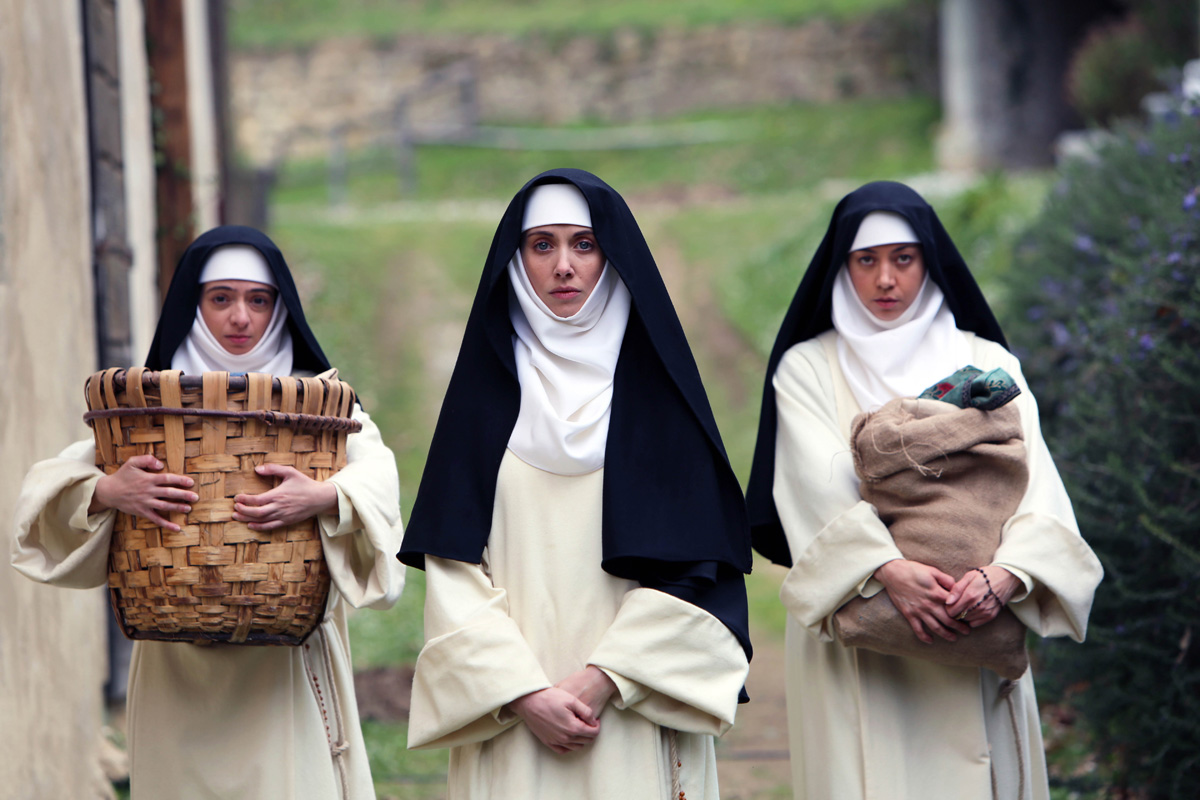 The Little Hours – This is the second of two features Quyen Tran has brought to Sundance this year. Written and directed by Sundance alumnus Jeff Baena (Life After Beth and Joshy), and starring Aubrey Plaza and John C. Reilly, this wild comedy centers around nuns in the Middle Age, who spend their time spying on one another, and berating the estate's day laborer. After a particularly vicious insult session drives the peasant away, Father Tommasso (Reilly) brings on new hired hand Massetto (Dave Franco), a virile young servant forced into hiding by his angry lord. Introduced to the sisters as a deaf-mute to discourage temptation, Massetto struggles to maintain his cover as the repressed nunnery erupts in a whirlwind of pansexual horniness, substance abuse, and wicked revelry. Tran says shooting an unscripted film meant taking meticulous notes with regard to focal length, coverage, transitions, and lighting. We shot single camera, so I was stealing B-roll and beauty shots whenever possible," she adds. "Since I had a tiny crew, I essentially lived on The Movie People's proprietary version of a Dana dolly, operating with a Microforce and a 24-290mm Optimo. This proved to be incredibly challenging for the multiple moving masters Jeff Baena and I devised, especially when trying to walk backward 10 feet while zooming into a 290mm and panning 270 degrees!" The many challenges forced Tran and her crew, including 1st AC Alex Cason, and 2nd AC Vanessa Ward, to come up with creative solutions, such as placing a series of Par Can lights on the ridge of a hill because they could not afford a Condor. "By combining classical influences like Vermeer with more modern ones like Robert Altman's use of zooms," Tran concludes, "we hoped to create a visual language as anachronistic and unconventional as the film's premise."
XX  – A first, even for Sundance, this horror anthology features four dark tales, all written and directed by women. Longtime TV veteran Patrick Cady (Bosch, Fear the Walking Dead, In Treatment) was one of two Guild DP's on the project. The other, Seattle indie native Tarin Anderson, shot two of the four segments – "Don't Fall," for director Roxanne Benjamin using the RED Epic with Cooke S4 primes, along with the 24-290 Optimo for the opening sequence and "The Birthday Party" for Annie Clark (St. Vincent), also shot on Alexa with Cooke S4 primes – her favorite go-to prime package. For "Don't Fall" we shot on rocky, steep hills and inside a camper, so we made sure our [camera] package was lightweight for longer walks and then fully wireless with focus and video so we could get into the cramped corners of the RV and keep the number of bodies in there small," Tarin reveals. "Our night exteriors were mostly HMI backlit smoke through trees and inside our camper was a mixture of practicals, Kino tubes, and HMI moonlight. Our opening shot is a slow zoom in from a wide of the desert to find a group of hikers nearing the rocky peak. We shot this from across a small valley and used the Optimo 24-290mm." "The Birthday Party" was shot in a Mid-Century home from legendary modernist developer Joseph Eichler. "The house has very clean lines that also reflect the main characters' need for things to be in order as well as being confined or trapped by them and I tried to reflect that in our framing of her within those spaces and layers," Anderson adds. "Our biggest challenge was that the house has a lot of windows, both an inner atrium, and windows to the exterior, so I focused on boosting our interiors, which was tricky in many of the small rooms so we didn't lose too much information outside." With so many shots done through glass – looking from one room into another through the exterior atrium – reflections became an integral part of the film's lighting and framing." This is Anderson's third indie anthology (VHS2 and Southbound). "The exciting part for me," she concludes, "is making things feel different but still cohesive. All of the segments are very different story-wise but overall they fit nicely together and feel like one collective unit."
Patrick Cady shot "Her Only Living Son" segment of XX with long-time friend and "genius director" Karyn Kusama, who he also worked with on Girlfight. "We shot on the ALEXA using Panavision PVintage Primes cropped for a scope ratio," Cady recounts. "We wanted to use the older 70's style glass because a huge reference for our segment was Rosemary's Baby. We looked heavily at the work of Owen Roizman, Bill Fraker, Michael Chapman and Robby Muller to name a few great DP's from that era." In-camera effects included filming the actors in different states of makeup and then projecting that footage back on their faces. "At one point I was in this tiny kitchen in the middle of a light cue that used the entire crew," Cady continues, "and I'm making lightening strike style flashes using my grandfather's old welding equipment and carbons that are decades old. That can-do spirit comes from Karyn and the whole crew got into it." Cady's camera team included operators Kenji Luster, SOC, and David Howard, 1st AC's Danny Brown and Chris Daniel, 2nd AC's Kristina Lechuga and Jenny Roh, and D.I.T.'s Mike Halper and Alex Salmona.
SPOTLIGHT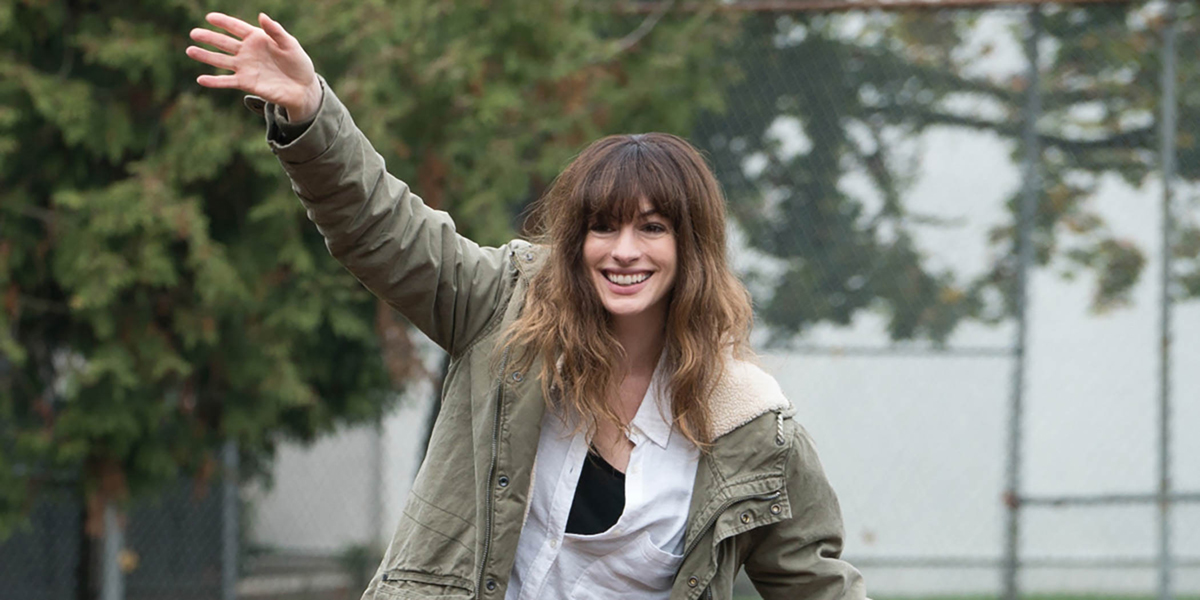 Colossal – An unapologetic party girl (Anne Hathaway) dreams of a fresh start only to discover a mysterious and fantastical connection between herself and a city-wrecking monster on the other side of the globe. Shot by Eric Kress, who calls the film a thrilling challenge. "It's a very intimate story about people who've grown up in a smaller community," Kress adds. "But it also evolves into a story where giants start fighting in Seoul. It was very important for director Nacho Vigalondo and I that the focus was on the close relations between our main characters and that we kept that language even when the story takes a turn. We shot with two Alexa XT cameras on Hawk Anamorphic V-plus lenses that gave us a more organic look."
NEW FRONTIER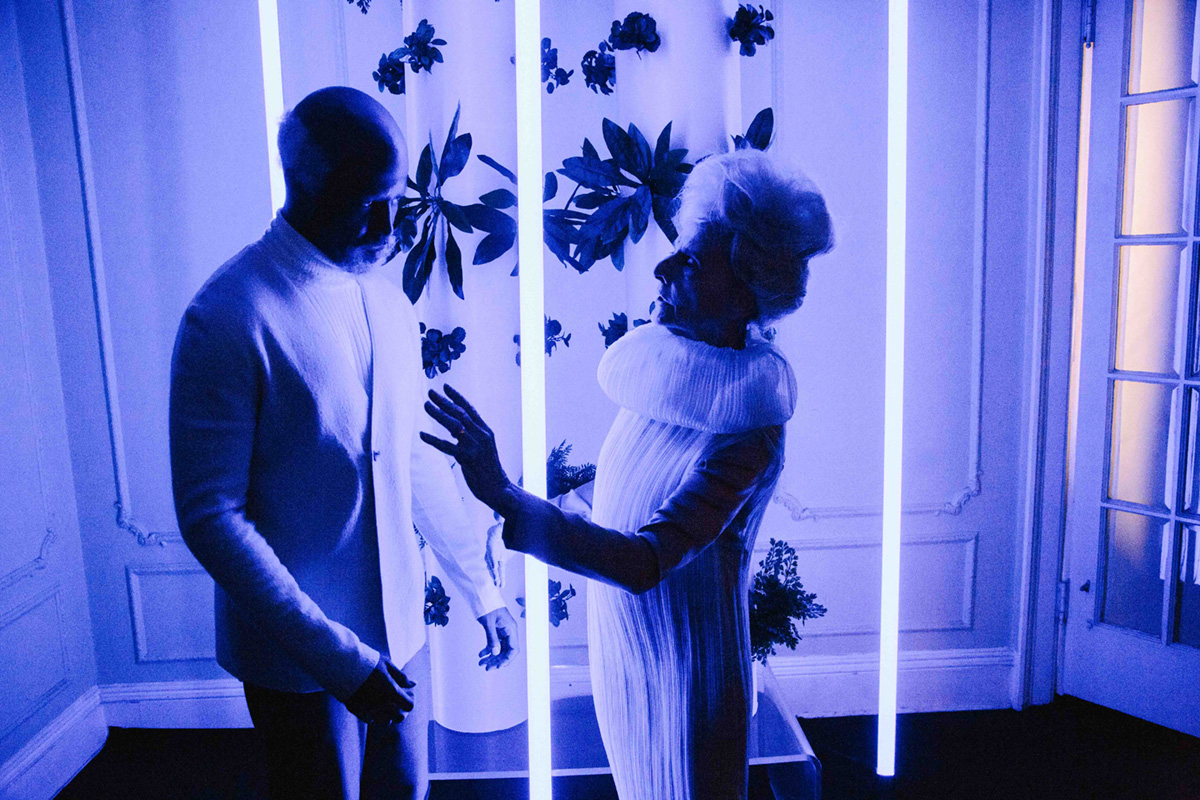 Through You – This exciting new VR project, shot by Guild DP Dagmar Weaver-Madsen, and co-directed performed by dancers Saschka Unseld and Lily Baldwin aims to push the boundaries of what is acceptable in VR, using quick cuts, camera motion and getting the camera much closer to the subjects than is typical in VR. "The conventional thought is that any of these ideas will cause discomfort or motion sickness for the viewer," Weaver-Madsen explains. "So this film pushes them to experience something they have not before and become very intimate with the dancers." The audience member begins as a person in a relationship with the lead character, but when she leaves and walks "through you" the viewer becomes a memory, a ghost-like presence that follows her throughout the decades of her new life and her new relationship until we are ultimately confronted and addressed. "We wanted the camera to have organic movement," Madsen-Weaver continues. "So in setting the Jaunt manually to 500 ISO, installing black event carpet on the floor and trying to keep most of the light from the floor, we created a dark zone below the camera and thus were able to don all black morph suits and disappear. Very similar to some of the puppet operating traditions of Bunraku and other theater where the camera operator and directors became "invisible" helpers and part of the scene. The camera moved on a simple wheeled tripod and was operated by these invisible puppeteers including myself. Saschka and Lily gave the entire cast and crew a wonderful place to experiment, play and explore this new medium."
FROM THE COLLECTION
Reservoir Dogs – Andrzej Sekula shot this crime drama – one of the most celebrated independent movies of all time and one that put Sundance on the map. They were perfect strangers, assembled to pull off the perfect crime. Then their simple robbery explodes into a bloody ambush and the ruthless killers realize one of them is a police informant. But which one? Miramax provided a brand-new 35mm print for this special 25th-anniversary screening, which will be followed by an extended Q&A with Tarantino and producer Lawrence Bender. The now legendary cast included Harvey Keitel, Tim Roth, Chris Penn, Steve Buscemi, Lawrence Tierney, and Michael Madsen.
INDEPENDENT PILOT SHOWCASE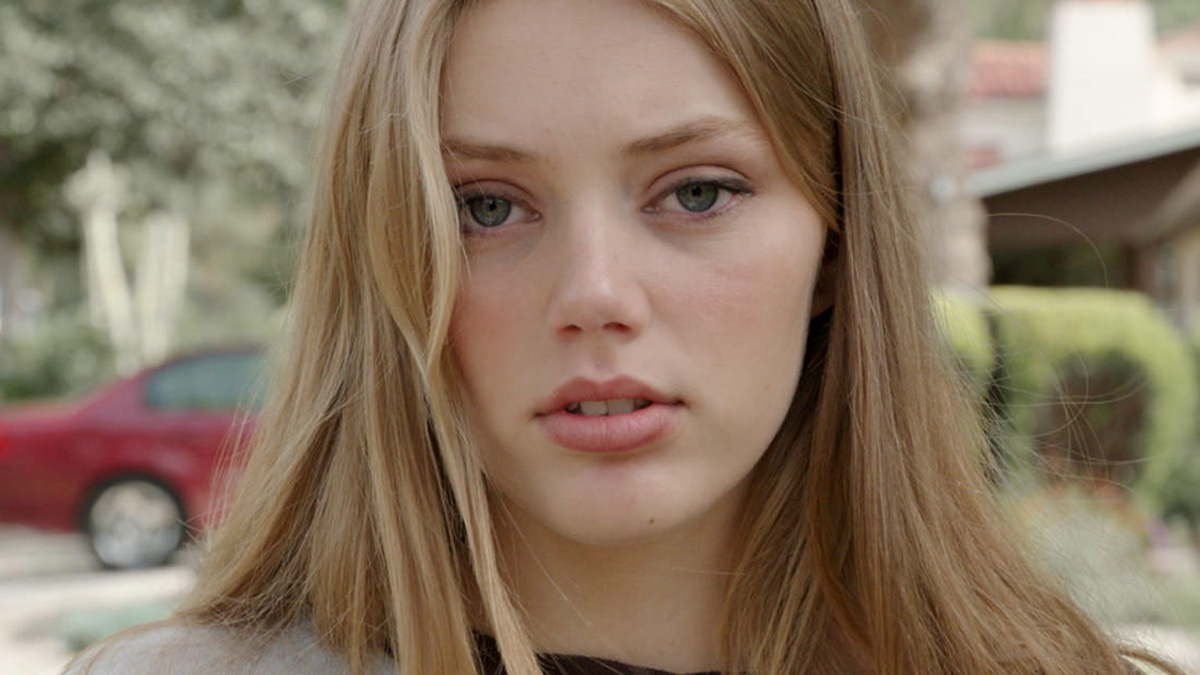 Shit Kids – Arlene Muller shot this independent television story about the daughter of an earth-shatteringly boring couple, who along with the son of an equally humdrum set of parents, have decided to plot their parents' murders. Muller shot on ARRI ALEXA with a Panavision 19-90mm T2.8 compact zoom. "Alexa Lopez at Panavision was very kind to give us our gear at a discount so that we could make the shoot happen," Muller recounts. "The 19-90 zoom was perfect for this shoot, which was mostly on sticks and a small amount of handheld. The lens has a certain softness that is absolutely lovely. In addition, we used a Tiffen Black Pro-Mist 1/8 filter for an extra bit of diffusion."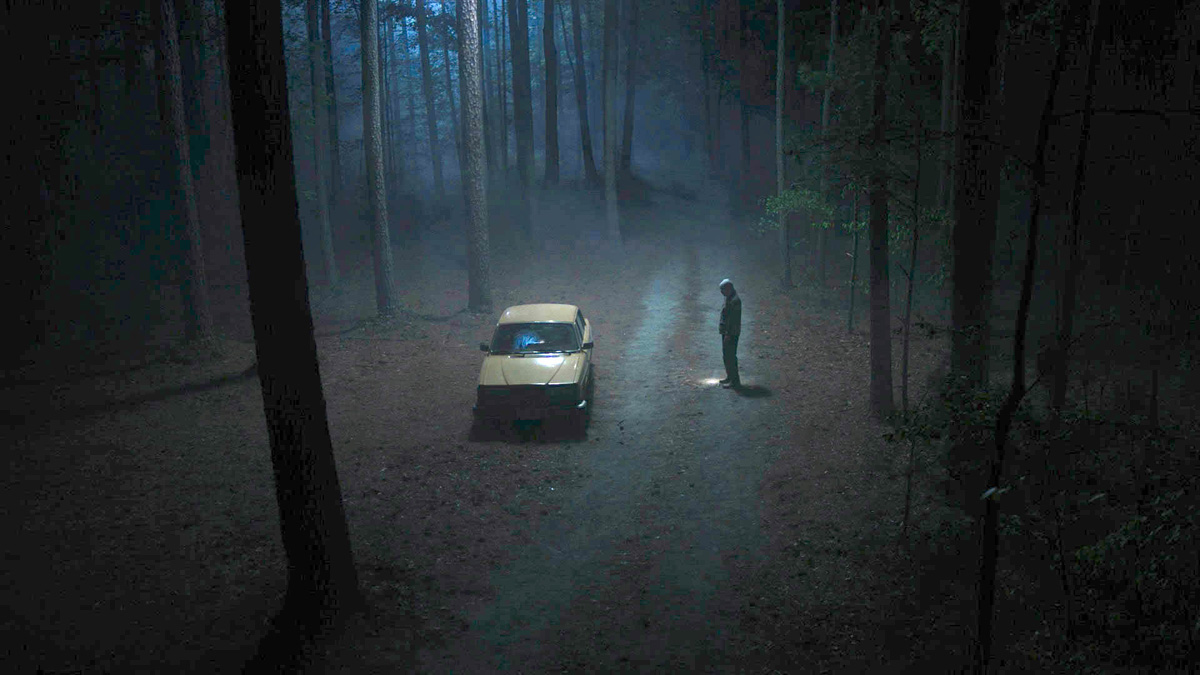 When The Street Lights Go On  – Emmy winner and Oscar nominee Ellen Kuras, ASC (and the only three-time Cinematography winner in Sundance's history) shot this story about the residents of a small town who grapple with the ruthless killing of a young girl and a teacher.
SHORT FORM EPISODIC SHOWCASE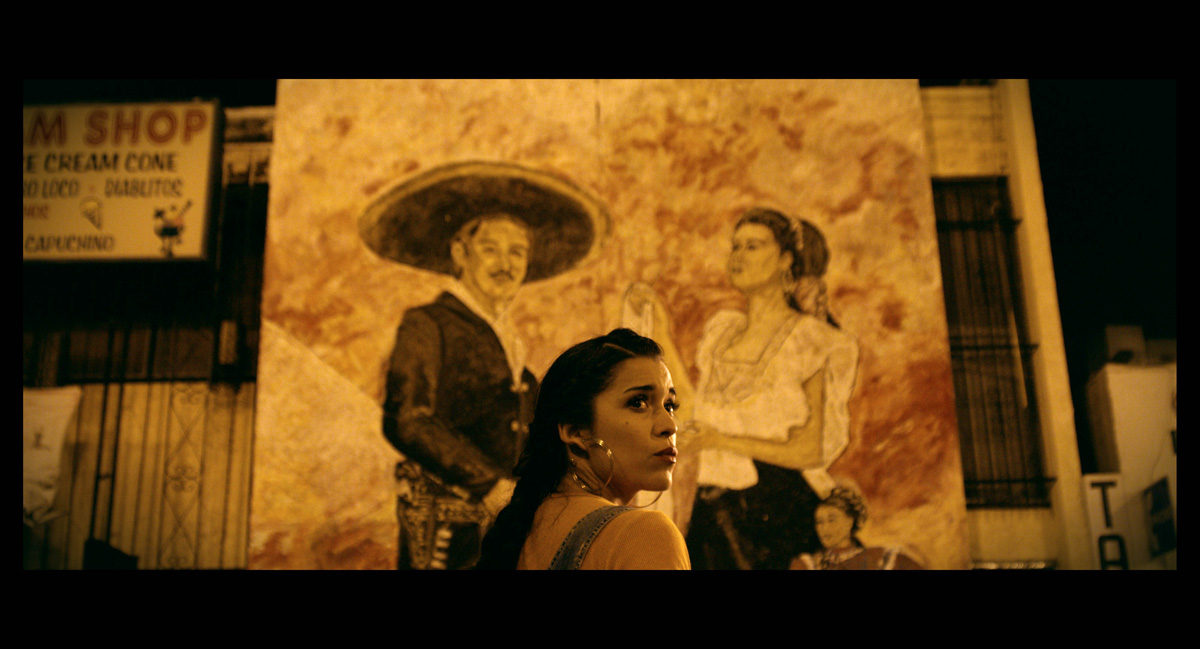 Gente-Fied  ­­– Ana Amortegui shot this series (co-produced by Sundance alumna America Ferrera) about seven characters dealing with the effects of change in LA's Boyle Heights. Bicultural millennials and old-school business owners hustle to create spaces that celebrate their Latino identities, even while faced with rent hikes, a housing crisis, and a steady stream of outsiders threatening to gentrify their barrio. Amortegui says director Marvin Lemus wanted to "step away from the typically visual language chosen around Latino stories of a dark, gritty, colorless world, so the series was shot with a saturated and contrasted look that reflects the colorful Boyle Heights and the Latino culture." The DP moved between characters with continuous shots to visually connect the stories, as well as extreme wide angles to show the world the characters live in. "The Red Dragon with Panavision Primes and zooms that match well was the perfect combination for the look I was going for," she adds. "The image has good contrast and a certain degree of blending that complements the dramatic style of the series. We shot a lot of night exteriors, so the Dragon's low light filter (OLPF) was a big help. I took advantage of the optics used within the Primos, which creates a warm look with some flares that adds character to the image without looking too digital or sterile." The Festival will debut three episodes of this short- form episodic series.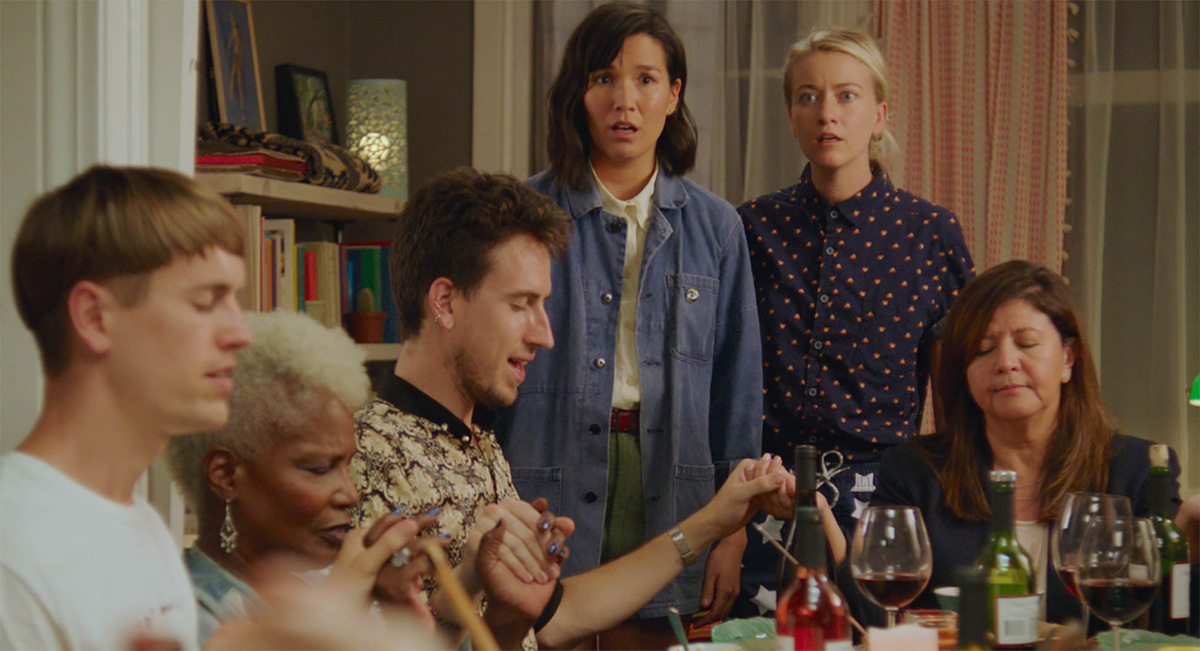 Strangers  – Hilary Spera's second project at Sundance this year centers on bisexual Isobel (Zoe Chao) who rents out her spare room in order to generate much-needed extra income after a messy and painful breakup. Along with her lesbian best friend, Isobel navigates the most complicated time in her life – emotionally, sexually, and professionally – while sharing her home with a stranger each episode. Spera used vintage Kowa lenses coupled with ALEXA. Like my other film at the festival [Band Aid], the goal was to avoid a broad comedy style and achieve a more intimate and natural feeling," she explains. "Our camera package came from Panavision Hollywood." Sundance will debut the first three episodes of this series, written and directed by Mia Lidofsky.
The Chances – Emerging Cinematographer Award winner TJ Williams, Jr. shot this streaming episodic series that stars deaf actors, Joshua Feldman and Shoshannah Stern. The story focuses on two best friends, Kate and Michael, who are deaf. They face new challenges in their life after Kate gets married and Michael tries to let go of his ex-boyfriend. The first season of the show was finished through a successful Kickstarter page. Sundance will premiere 5 episodes of the series.
SPECIAL EVENTS
I Love Dick  ­– James Frohna lensed this new streaming series from Emmy winner Jill Soloway (Afternoon Delight, Transparent) about a married couple, in the intellectual community of Marfa, Texas, who become obsessed with a charismatic artist named Dick. What follows is the unraveling of a marriage, the deification of a reluctant messiah and the awakening of the female gaze. Frohna says the look of the series (Sundance will screen the first three episodes of this Amazon original series followed by an extended Q&A) announced itself while scouting the small Texas town. "Marfa is two hundred miles from the nearest airport in the high desert," Frohna describes. "It's a one-stoplight town populated with an influx of NY/LA artists hipsters, ranch families that go back generations, itinerant workers, and border patrol guards. The big sky, the clouds and the colors of sunset and sunrise are like nowhere else I've seen." Frohna says Soloway and co-creator Sarah Gubbins wanted to capture the feeling from those early scouts, "not just in color palette but in energy and attitude as well," he continues. "I chose Baltar prime lenses, which can get bold and chunky in terms of color and yet still manage to have a coolness – a combination that also nicely mirrored the dynamics at play between our main characters. Once we found the look, the biggest challenge was to carry it through the season, shot mostly on location and on set in the Los Angeles area. The collaboration between all departments, particularly production design, costumes and the resourceful locations team carried the spirit of West Texas through the whole series." Frohna's all-female crew included operators Shelly Gurzi, Julie Kirkwood, Kristy Tully, and Jess Lopez, AC's Valentine Marvel, Faith Brewer, Zoe Van Brunt, and Daisy Smith, and Digital Loader Dagmara Krecioch.
The History of Comedy  ­– Utilizing archival footage punctuated by contemporary interviews with comedy legends and scholars, this is the history of not only what makes us laugh, but also how comedy has affected the social and political landscape throughout history. Sundance will premiere two episodes of the upcoming docuseries, Spark of Madness and Going Blue, followed by an extended Q&A. Jack Kney was a DP on the project.
---
CINEMATOGRAPHY FOCUSED ACTIVITIES DURING THE SUNDANCE FILM FESTIVAL
ARRI's Capture Sundance with ALEXA Mini
Small on size, the ALEXA Mini delivers epic images. We're coming to Park City during Sundance 2017 for some fun pop-up shoots on Main Street. Here's your chance to get hands-on and see for yourself how the Mini captures stunning visuals.
Sunday, Jan 22 – Wednesday, Jan 25, 12 p.m. or 3 p.m. each day
https://www.eventbrite.com/e/capture-sundance-with-alexa-mini-tickets-31215723068
---
Digital Workflow House
A filmmakers' lounge exploring the tools for creation sponsored by RED, Teradek, G-Technology, Atomos – Panels, Craft, Open House, Cocktails
Sunday, Jan. 22 and Monday, Jan. 23, 10 a.m. – 7 p.m.
RSVP Required: https://digitalworkflowhouse.eventbrite.com
---
Canon Creative Studio
529 Main Street
Park City, UT 84060
---
Canon Live Learning Sessions
Get hands-on training with Canon's newest cinema products, including the EOS C700, EOS C300 Mark II, EOS 5D Mark IV, ME20F-SH, XC15, and more.  Loren Simons, Canon's Senior Product and Sales Trainer, and David Doko, Professional Market Rep, will lead small group sessions on the topics that matter most to filmmakers.
---
Filmmaker Panels with IndieWire
Canon and IndieWire have partnered up to host a six-part panel series, featuring interviews with top Festival filmmakers.  The panels will be recorded live at the Canon Creative Studio and steamed through Facebook Live via IndieWire's page, so all are invited to join in on the conversation. Full schedule below.
---
Sundance FF Filmmaker Portrait Studio with IMDbPro
Canon invites cinematographers, editors, production designers, directors, and other filmmakers of the 2017 Sundance Film Festival to get their portrait taken by photographer Michael Ori. Guests will go home with an 8-inch by 10-inch copy of their stunning portraits, printed on the Canon imagePROGRAF PRO-1000. IMDbPro staff will be on-site and can instantly update your IMDbPro profile with your new headshot.
---
SCHEDULE OF EVENTS
Saturday, January 21
Panel | Rory Kennedy on Take Every Wave: The Life of Laird Hamilton
1:30 p.m.
Director Rory Kennedy has made it her life's passion to bring untold tales and unsung heroes to light through filmmaking. In this intimate, one-on-one conversation, the fabled documentarian discusses her process behind the lens and how the EOS C300 Mark II helps her capture the truth on film.
Rory Kennedy (Dir., Take Every Wave: The Life of Laird Hamilton)
Chris O'Falt (Moderator, IndieWire)
Panel | Filmmaking in 4K
3:30 p.m.
Filmmakers discuss embracing new technology and tools to tell their stories, focusing on 4K and its role in the future of filmmaking.
Ben Bloodwell (DP, Hot Girls Wanted: Turned On)
Bryan Donnell (DP, Hot Girls Wanted: Turned On)
Alan Jacobsen (DP, Strong Island)
Chris O'Falt (Moderator, IndieWire)
Canon Live Learning | Lovely Lux:  Cinema EOS After Dark
5 p.m.
Join Loren Simons, Canon's own Senior Product and Sales Trainer, and cinematographer Eve Cohen for a hands-on experience with Cinema EOS in low light.  See first hand how the EOS C700, EOS C300 Mark II, and ME20F-SH handle low-light and no-light scenes.
Loren Simons (Sr. Product and Sales Trainer, Canon)
Eve Cohen (Cinematographer)
Sunday, January 22
Canon Live Learning | Hands On with Cinema EOS
11:30 a.m.
Get to know Cinema EOS at this hands-on workshop with Canon's newest cinema camera, the EOS C700, as well as the EOS C300 Mark II and XC15.  From the studio to aerials to gimbals and crash cams, Canon will be there so you never have to compromise on image quality.
Loren Simons (Sr. Product and Sales Trainer, Canon)
Panel | Jim Frohna on I Love Dick
1:30 p.m.
Cinematographer Jim Frohna (Transparent) chats about his creative vision for Amazon Studios' intimate new series I Love Dick, shot in 4K on the EOS C300 Mark II.
Jim Frohna (DP, I Love Dick)
Chris O'Falt (Moderator, IndieWire)
Panel | Matthew Heineman on City of Ghosts
3:30 p.m.
The award-winning filmmaker behind Oscar-nominated Cartel Land returns to Park City to discuss his latest documentary City of Ghosts, shot on the front lines on the EOS C300 Mark II.
Matthew Heineman  (Dir./DP, City of Ghosts)
Chris O'Falt  (Moderator, IndieWire)
Raise Your Glass to Cinematography
6 p.m. (By invitation only)
Canon's fifth annual celebration toasting 2017 Sundance Festival filmmakers.
Monday, January 23
Canon Live Learning | Shooting for HDR
11:30 a.m.
This seminar will show how to utilize HDR Reference Displays on shoots for optimal delivery and grading of HDR/Wide Color Gamut projects.  With the emergence of HDR capabilities and standards for theatrical projection, broadcast, and broadband delivery, there exists an opportunity to express creative visions never before possible.  This presentation provides the information needed to properly evaluate imagery in HDR acquisition using reference displays on set, near set, and in finishing.
David Doko  (Professional Market Rep, Canon)
Panel | Girl Talk Live:  Women in Cinematography
1:30 p.m.
Kate Erbland's weekly Girl Talk series, which examines women in film, comes to life in this conversation about cinematography from a female perspective.
Catherine Goldschmidt (DP, Abstract: The Art of Design and White Riot: London)
Nadia Hallgren (DP, Motherland)
Quyen Tran (DP, Deidra & Laney Rob a Train and The Little Hours)
Kate Erbland (Moderator, IndieWire)
Panel | The New EOS C700: A Q&A with the filmmakers of The Calling
3:30 p.m.
Location:  CineTransformer, 500 Main St.
Join Canon for a look at their newest cinema camera and a special screening of The Calling, the first film shot on the EOS C700. Director Tyler Stableford and cinematographer Russell Carpenter, ASC, explore the versatility of the C700's low light capabilities and vast dynamic range, creating a stunning portrait of life in Colorado's high country. The screening is followed by a Q&A with the filmmakers
Tyler Stableford (Director)
Billy Hobson (Colorist)
Paul Hawxhurst (2nd AC)
Tim Smith (Moderator, Sr. Film & Television Advisor, Canon)
Tuesday, January 24
Canon Live Learning | Hands on with Cinema EOS
11:30 a.m.
Get to know Cinema EOS at this hands-on workshop with Canon's newest cinema camera, the EOS C700, as well as the EOS C300 Mark II and XC15. From the studio to aerials to gimbals and crash cams, Canon will be there so you never have to compromise on image quality.
Loren Simons (Sr. Product and Sales Trainer, Canon)
Panel | Collaborations:  Cinematography and Editing of Icarus
1:30 p.m.
From production to post, there are few relationships more synergetic than that between the cinematographer and editor. Cinematographer Jake Swantko and editor Jon Bertain discuss the collaborative dance between DP and editor and their work on festival documentary Icarus.
Jake Swantko (DP, Icarus)
Jon Bertain (Editor, Icarus)
Chris O'Falt (Moderator, IndieWire)
Canon Live Learning | 4K DSLR Filmmaking
3:30 p.m.
This seminar is designed for the discerning DSLR filmmaker looking to move into 4K production and delivery.  Learn more about the benefits of 4K and get hands-on time with Canon's impressive new 4K DSLRs — the EOS 5D Mark IV and the EOS 1DX Mark II.
Loren Simons (Sr. Product and Sales Trainer, Canon)
Jaunt VR Lounge
580 Main Street
Park City, UT 84060
Open daily 10:30 a.m. – 5:30 p.m.
Experience – We'll have never-before-seen VR content screening daily, including four VR experiences coming out of the Sundance Institute | Jaunt VR Residency Program.
Learn – Whether you're interested in learning more about shooting, editing or distributing, we've got the answers.
Workshops with the award-winning Jaunt ONE VR camera
Hands-on editing and rendering with Jaunt Cloud Services and Adobe
Tips and tricks from the pros – the debut of the Cinematic VR Field Guide: A Guide to Best Practices for Shooting in 360°
Connect – We're also hosting a number of after-hours events and parties. Space is limited, so be sure to follow us on social media for all the details.