Detroit, 1967: One terrifying incident in the history of American Civil Rights becomes the centerpiece of a film tour de force for Barry Ackroyd, BSC, and director Kathryn Bigelow
The city of Detroit was already in flames, its black population in a literal street war with first responders, when police raided an unlicensed, after-hours facility named The Algiers Motel on the night of July 23, 1967, searching for a suspected sniper on the second floor. The actions Detroit P.D. took that night (murdering three young black men at the Algiers in an attempt to find the shooter, who had fired a starter pistol with no bullets) formed a microcosm of fear and bias for what was the most destructive civil unrest in U.S. history. The violence last five days and led to 43 dead and 1,189 wounded, including civilians, members of the 82nd Airborne, members of the 101st Airborne, Michigan Army National Guard personnel, and Michigan State Police, as well as members of the Detroit Police and Fire Departments, before an uneasy order was restored.
The brutal psychological interrogation and murders at The Algiers, as well as events leading up to that night for the innocents who found themselves in harm's way, are at the core of Detroit, a new film by Oscar-winner Kathryn Bigelow, whose previous features based on real-life events include K19: The Widowmaker, The Hurt Locker, and Zero Dark Thirty, the latter two both written by Detroit screenwriter Mark Boal. Detroit stars John Boyega, Anthony Mackie, Algee Smith, John Krasinski, Will Poulter and Samira Wiley.
With police shootings of young black men in Ferguson, Missouri; Baltimore, Maryland and elsewhere around the nation dominating headlines, Detroit could not be timelier. The project also reunites Bigelow with her Hurt Locker cinematographer, Barry Ackroyd, BSC, whose résumé includes similarly intense real-life inspired dramas like United 93 (about 9-11), Parkland (about the chaos in the hospital from the JFK assassination) and Captain Phillips (about a 2009 hijacking by Somali pirates of a U.S. flagged cargo ship). With an added background shooting BBC documentaries and narratives for British legend Ken Loach, Ackroyd was the ideal choice for the always compelling, fly-on-the-wall camerawork needed to recreate a race riot.
As they did for The Hurt Locker, Ackroyd and Bigelow wanted to shoot on Super 16 mm, but eventually opted to capture digitally with Super 16 mm lenses. As Ackroyd describes: "Instead of carrying lenses that are 25 pounds in weight, you're carrying something that's two and a half pounds and can still do all the wide-angle close-up stuff.
"We decided on the Alexa Mini with Super 16-millimeter film lenses, because they offered that documentary feel," he continues. "They make the rig so much easier to hand-hold, and provide that classic 1960s documentary look from [filmmakers] like D.A. Pennebaker or Richard Leacock, which was the visual inspiration for how to shoot Detroit."
Ackroyd says they wanted a grainy, filmic look. "Obviously we have the archival footage [documentary stills from the riot and the aftermath of The Algiers Motel are seen throughout the film in a 1.33:1 aspect ratio], and we wanted to keep the sense of the period," he adds. "Kathryn was strong about shooting Super 16, and that meant film. But we did tests with the Alexa and realized it was simple to add or take away grain in post. Ironically, we didn't need to add or take away much. The film is basically as we shot it. People might consider it a low-res image, but so is Super 16-millimeter."
Bigelow didn't allow the camera team to watch the rehearsals. They essentially went into the sequence as if they were seeing the action for the first time.
The camera team, which included A-camera 1st AC Markus Mentzer, B-camera operator Chris McGuire, SOC, and 1st AC Greg Wimer, C-camera operator Josh Medak and 1st AC Darryl Byrne, and D-camera operator John Garrett and 1st AC Christian Hollyer, had four Alexa Minis and used the new Panavision cages.
Mentzer reflects how they were able to build the camera rigs small and compact. "Dominick Aiello of Panavision had just come out with cages in June of last year," he recounts, "and I think we were one of the first movies to use them. It's a metal exoskeleton on the outside for the Alexa Mini, and there's a power box on the back of it that lets you power all of your accessories and the camera; the exoskeleton makes it tough and rigid. The goal was that it would balance out like a Aaton XTR, which was Barry's go-to film camera back in the day."
Three, often four cameras rolling at once was the norm as Bigelow wanted to minimize cuts and allow the action to play out in emotional crescendos. McGuire describes having to "look at your work as a Master Shot that plays alongside Barry's shot. The same went for [Medak, Byrne, Garrett and Hollyer]. We all had to complement each other. Sometimes one person would be in the best vantage point, and when we went back to the quad with Kathryn and Barry, we had to figure out who could hand off coverage of a story point in our sequence. Kathryn would play the sequence through again and our coverage would evolve, along with the actors."
Another interesting element of the camera choreography is that Bigelow didn't allow the camera team to watch the rehearsals. They essentially went into the sequence as if they were seeing the action for the first time ­– reactive and highly on-edge, given all of the violence and tension enveloping those caught in the unrest. McGuire describes the process as "developing the narrative storytelling as we went along – like real-life."
The small camera package facilitated what Ackroyd and Bigelow wanted to achieve. "There was a lot of car work," Mentzer adds by way of an example. "Barry and I would squeeze in there with the three actors, cover a scene inside the car, and in the same take, jump out of the car, and follow cops to a riot. The camera rigs and glass allowed us to go anywhere at any time."
All lenses were de-tuned and uncoated by Panavision's Guy McVicker to increase softness and flares. They included 1×6.6-66 T2.7 Canon zoom (A-camera), 4×10.6-180−mm T2.7 Canon zoom, 1×70-200−mm Panavision 35-mm zoom, 1×3-1 Panavision Primo 35-mm zoom, 2×11.5 – 7-81−mm T2.4 Angénieux HR zoom.
Detroit also carried Zeiss 16-mm Primes – the 5.5-mm T1.9 Optex Super Cine, 8-mm T2 Optex Super Cine, 9.5-mm T1.3 Distagon, 12-mm T1.3 Distagon, 16-mm T1.3 Distagon, 25-mm T1.3 Distagon, 35-mm T1.3 Optika Elite, and the 50-mm T1.3 Distagon. Four Tomahawk wireless video systems were employed, along with four fluid heads, one Cartoni and one Lambda. There was an ARRI WCU-4 for A-camera, and three single-channel Preston Iris systems to match Ackroyd's exposure, as well as Internal Filtration on the Alexa Minis.
"Barry will look at something and see what's available, and then just augment to bring it into a cinematic zone; it always feels like you're still in the natural location." -Gaffer Kelly Clear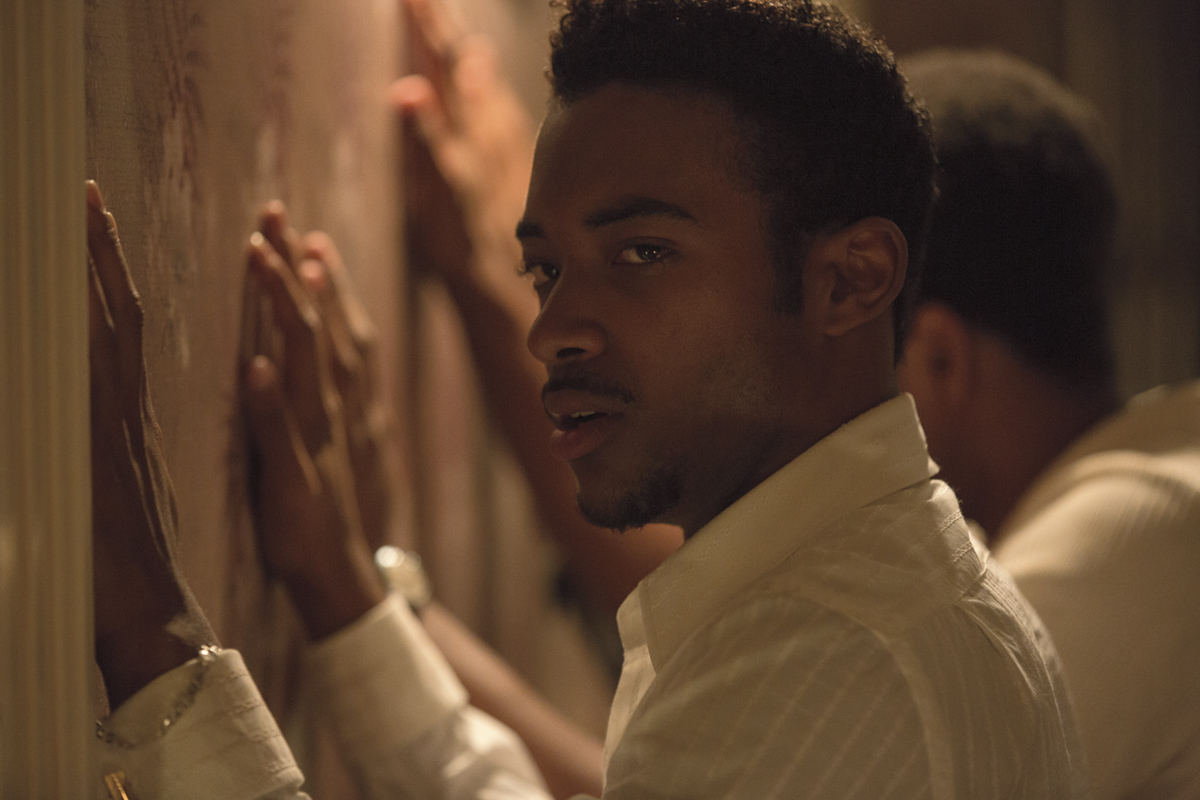 For DIT Kyo Moon, the biggest challenge was the speed with which the production moved. "It was really fast," he smiles. "We shot in Super 16 mode, which was new for me. It allows you to record a smaller portion of the Mini's sensor, essentially recording 1600 by 900 and then upscaling it to HD in camera. This allowed us to shoot with the lenses Barry wanted, and they lived off the zooms."
Moon notes that matching exposure by racking iris on the single channels was challenging because the four cameras would often point 360 degrees, unrehearsed. "Things moved so fast that a camera would be up and rolling with Barry's minimal but beautiful lighting contrast ratios, already on track."
Gaffer Kelly Clear, who has worked with Ackroyd before starting with the pilot for The Newsroom, says the British DP likes to use as much practical lighting as possible. "Barry will look at something and see what's available, and then just augment to bring it into a cinematic zone. But it always feels like you're still in the natural location," Clear describes. "He has this one light that he likes, and I just started hanging on to it. He calls it his Tubo. There's a 4-foot version and 2-foot version. It's basically just a piece of PVC pipe that we cut a slot into so the light can come out, then we put diffusion or add a little color.
"We used to put Kino Flos in them, but they would heat up and the color shifts and turns green," Clear continues. "On Detroit, Barry was reticent to use the Sourcemaker LED tubes. But I showed him how there are no color shift issues with these LEDs – they're both tungsten and daylight – and he really liked them. You can lay the Tubo on the floor horizontally, or hang them. My father was a plumbing contractor, and I realized that to make them stand upright, vertically, there's a flange tube that a toilet attaches to. You attach the pipe, turn the flange upside down, and you have a foot for the Tubo to stand vertically."
In addition to the Tubo lights used in The Algiers Motel (where the characters are held for hours, faces turned to the wall, and, one by one, taken to another room to enact a "Death Game" interrogation, Clear also used China balls. Outside the structure, there is a large sign that was manufactured for the film containing amber-colored Marquee bulbs in it. "We found real Marquee bulbs and built 8 by 8 frames, and rigged those to Condors because we needed to tie in locations to the motel, despite their being miles and miles apart," Clear reflects. "We had that flashing-light sign reflecting onto other locations as well."
Production designer Jeremy Hindle, who also worked on Zero Dark Thirty, describes the Algiers sign as a "26-foot-high monster." Hindle also designed and built the swimming pool where Algee Smith and Jacob Latimore's characters meet two young white women from Ohio (Hannah Murray and Kaitlyn Dever) and strike up a friendship. "We wanted a fresh, happy moment before [the police raid]," Hindle explains. "These were really young people, so [the pool scenes] were important to see before the rest of the movie gets so dark."
Hindle says Bigelow and Ackroyd both agreed practical lighting in Detroit should include a heavy dose of fire and period neon for storefronts. Much of that neon, almost 100 signs, some 30 feet high, came from the American Sign Museum in Cincinnati, Ohio, whose founder, Tod Swormstedt, was happy to help the production. The production designer also had his team replace streetlamps, remove wheelchair access ramps and build stairs to mirror 1960's America.
"Period-accurate lighting that [comes] from a practical source in the scenes was key to getting true authenticity," Hindle adds. "And it's always tricky making [the production design] feel real without it being filmy looking, but also giving the camera team enough lighting to be able to shoot with four cameras with short zooms. In that sense, the tube lights mostly brought up the ambience; everything else was period correct."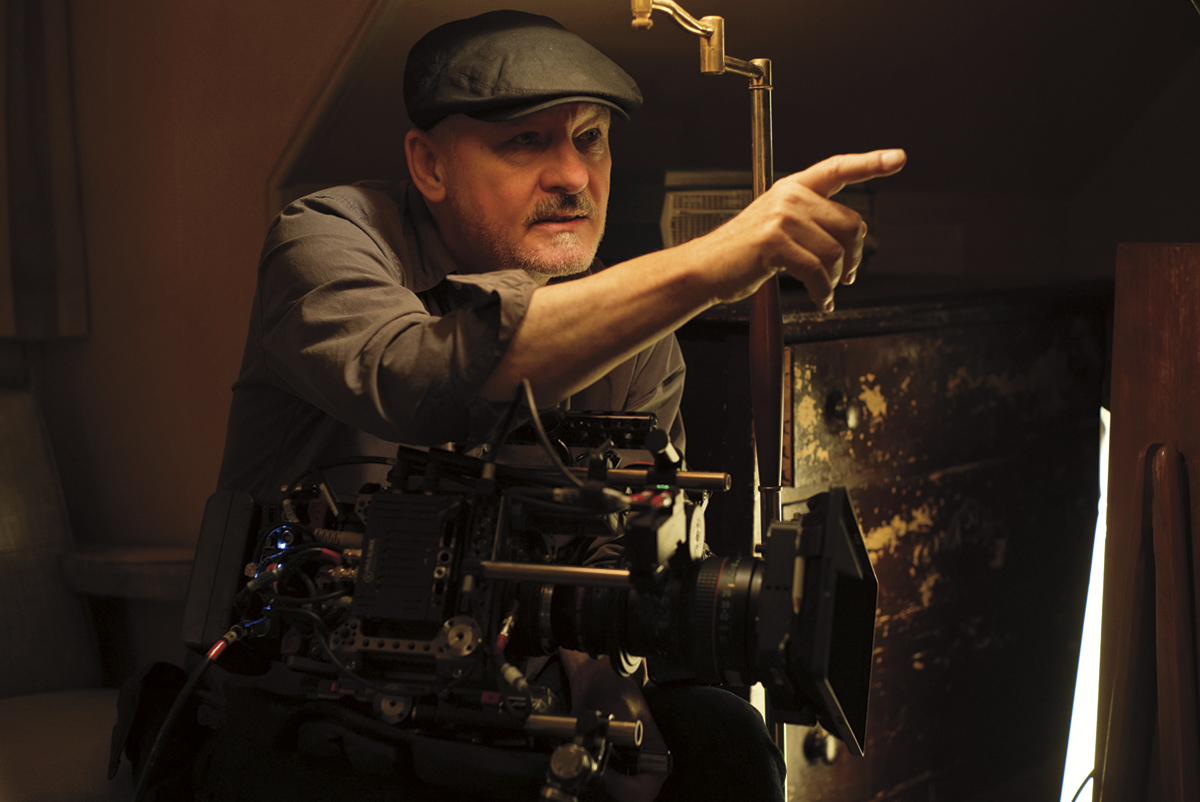 "When people say 'cinematic,' it's often the big 65-mil, 70-mil quality," Ackroyd concludes. "But the other side of cinematic is grain and texture, where you really feel the emotion coming through."
Sound Engineer Ray Beckett, who worked with Bigelow and Ackroyd before and won an Oscar for The Hurt Locker, said that Bigelow placed a big emphasis on production sound. "She obviously uses a loop, later on, to thicken up sounds like crowds," Beckett explains. "But I tried to capture as much as possible on set to minimize how much she needed to put in later."
According to Beckett, who worked with Ackroyd on a dozen Ken Loach films and documentaries in the 1970s, capturing the sound involved extremely close collaboration with the costume department, particularly on-set costumers Rosa Colon and Taryn Walsh and Costume Designer Francine Jamison-Tanchuck.
"Having a mic placed really well by the costume department can save a performance from being ADR'ed," Beckett explains. "If you just throw a mic on yourself without consulting with costume, they might come along later and do a tie-up or do another button up over the mic you just put on. If you're communicating with them in advance and working as a team, you're less likely to tread on each others' toes." Beckett's preferred mics were the Sanken COS 11 and DPA 4060. "They're very small, but they have superior sound quality and they're quite easy to hide. In addition to those, we tried to use boom mics whenever possible," he adds.
Detroit's producers (who included Bigelow and Boal) wanted to shoot in Michigan, but the lack of tax incentives due to cutbacks led them to shoot the majority of the film outside Boston. "We actually did some prep in Detroit," Ackroyd recalls. "But all films today rely to some extent on the tax breaks. Michigan does have the tax breaks. But Transformers got there before us and swept the whole lot up, leaving Detroit broke again, so we had to move on.
"We found some very good matches outside Boston," he adds. "Old, run-down industrial areas with big, gritty factories that reminded me of my youth in the North of England. That was what we were looking for, and thankfully Massachusetts could supply them."
All of the locations were practical locations that presented some challenges. "It's difficult when you're making a period film," Ackroyd continues. "You can't just walk out into the street and start shooting. We enhanced real buildings with very good sign work. There were no builds."
Did the geography add to the challenges? "We actually looked for places that would give us some difficulty, a series of steps or corridors, tight turns into doorways, pushing in and pulling out, reversing through doorways. All that adds greatly to this story and helps sell the audience that you are, in fact, in the real world."
The cinematographer says the combination of locations and the choice of the lenses added immeasurably to the raw power of the Detroit narrative. "When people say 'cinematic,' it's often the big 65-mil, 70-mil quality," Ackroyd concludes. "But the other side of cinematic is grain and texture, where you really feel the emotion coming through."
"Our philosophy was to key around that 16-mil zoom lens, and it was important it was a zoom – even when working with Paul Greengrass I was always using zooms to tell the story. With the zoom, I can see a room full of people, and also see a big close-up. And I can do it in one shot. Meanwhile, the action moves from what [the camera] is looking at now to 180 degrees behind me. And that camera move is done as a participant in the action would do. To me, it adds a whole different level of humanity to the process."
by Ted Elrick
photos by François Duhamel, SMPSP
CREW LIST
Director of Photography
A-Camera Operator
Barry Ackroyd, BSC
A-Camera 1st Assistant
Markus Mentzer
A-Camera 2nd Assistant
Tonja Greenfield
B-Camera Operator
Christopher McGuire
B-Camera 1st Assistant
Greg Wimer
B-Camera 2nd Assistant
Zack Shultz
C-Camera Operator
Josh Medak
C-Camera 1st Assistant
Darryl Byrne
C-Camera 2nd Assistant
Katherine Castro
D-Camera Operator
John Garrett
D-Camera 1st Assistant
Christian Hollyer
D-Camera 2nd Assistant
Talia Krohmal
DIT
Kyo Moon
Digital Loader
Matt Hedges
Digital Utility
Tom Bellotti
Still Photographer
François Duhamel, SMPSP
Publicist
Scott Levine