Loving, the fifth feature Adam Stone has shot for director Jeff Nichols, is nonfiction inspired storytelling as it's rarely seen – lush and cinematic.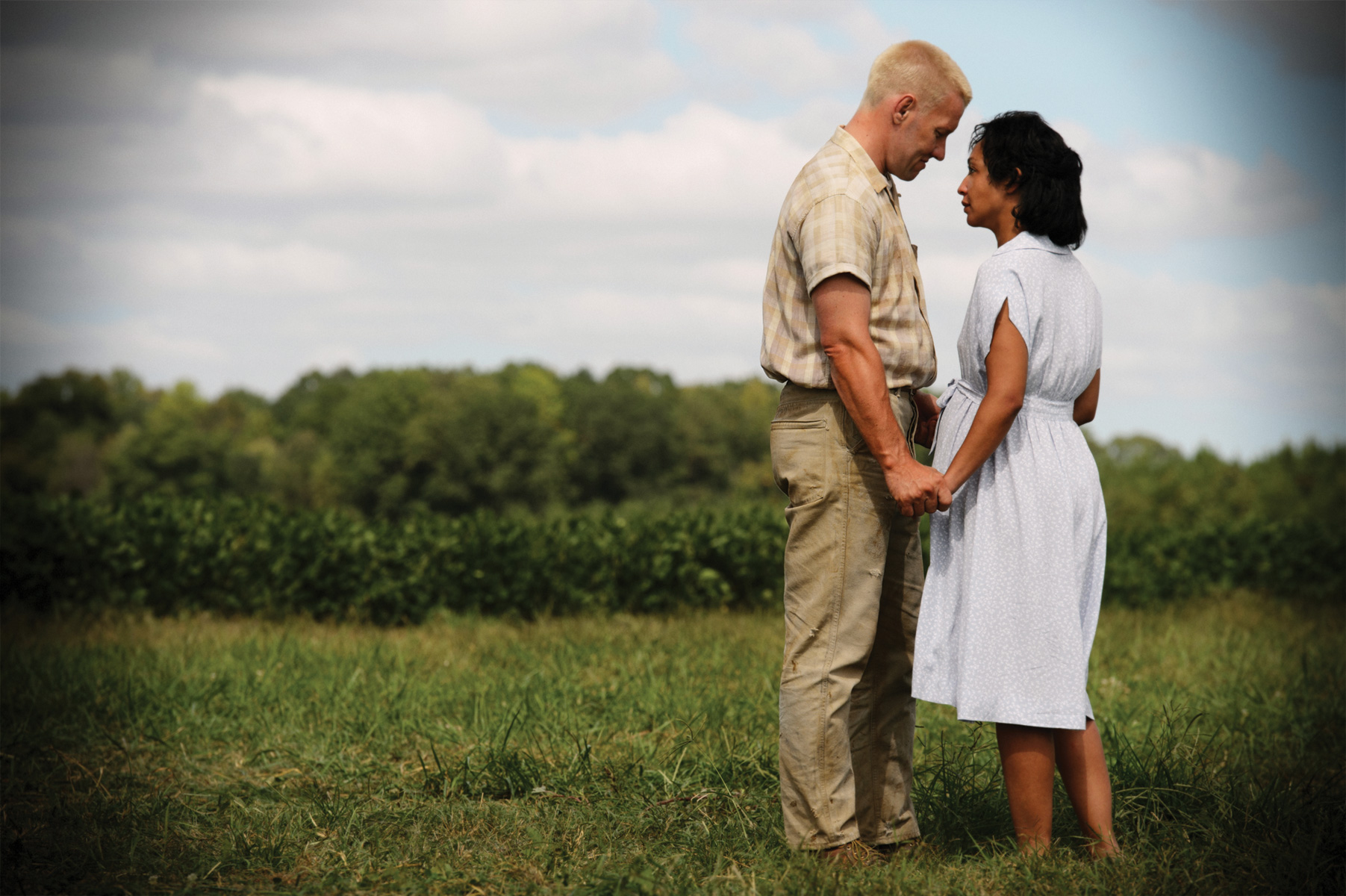 If you've never been to the American south – where the summer light seems to linger longer, and the wind wraps around stately magnolias a touch slower than in other places – then seeing the film résumé of indie director Jeff Nichols and his longtime cinematographer, Adam Stone, is a great introduction. Few filmmaking teams (and we can include Nichols' production designer Chad Keith as part of that mix) allow their narratives to be so visually impacted by a sense of place. As in their debut indie feature, Shotgun Stories, followed by Take Shelter, Mud, Midnight Special, and their most recent project (due out November 4 from Focus Features), Loving, the dirt, light, sky, clouds, roads, buildings, and rivers in places like Crockett Bluffs, Arkansas; Reserve, Louisiana; and Central Point, Virginia seep into the heart of the storytelling, impacting the lives of narrative characters in compelling (and surprising) ways.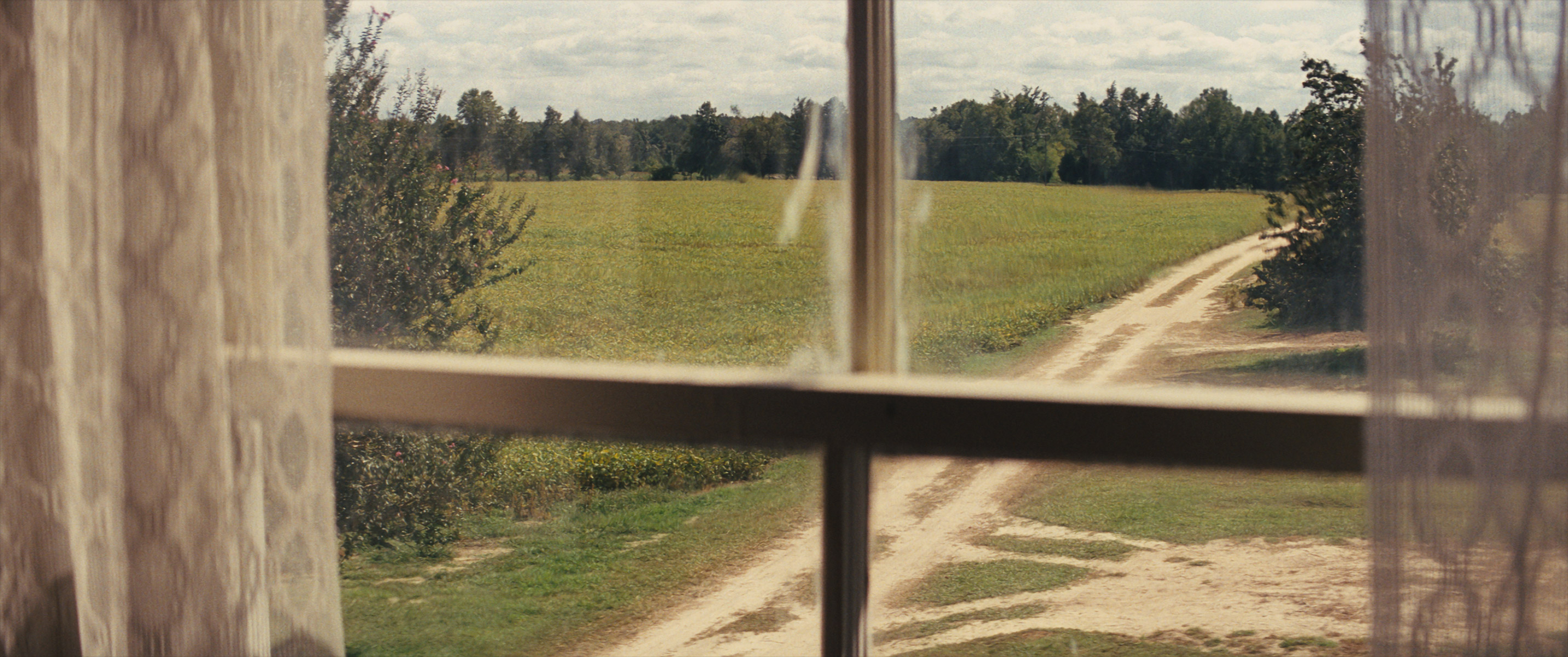 For Loving, this approach was doubly unique, given source material for the 1960's true-life tale – Nancy Buirski's Peabody Award-winning 2012 HBO documentary – was a tempting carrot to emulate.
"We had an amazing amount of period color footage at our disposal," Nichols recounts a few months after Loving's smash debut screening at Cannes. "That really helped with details like what the cars looked like in the 1960's – not oil-rubbed with a diaper by the local restorer who brings his cherry-red Chevy to the set," he laughs. In fact, Nichols urged Keith and Costume Designer Erin Benach to "dirty up" the physical aspects of the Lovings' life, much the way the director remembers his own working-class grandparents had lived in the South of that era.
"We felt the look and feel of [Caroline County, Virginia] was key to Mildred [Loving's] character," he adds. "Being forced to raise her [three] kids in an asphalt jungle like D.C. – so far from the rural life she knew – was a story point. So visualizing that quiet kind of longing, without it feeling forced, fell on Adam's shoulders."
Stone says Loving continues an earthy aesthetic the team has developed over five films, adding that they were "careful not to try and duplicate the nonfiction film," he says about visualizing one of America's most important Civil Rights stories. [See sidebar page 38]
Keith says he told Nichols that the excellent source footage and "the tons of period-perfect props, costumes, and furniture" at their disposal were all well and good, "but we're making our own film," the designer recounts. "And Jeff told me, 'Please keep reminding me of that the whole film.'"
Clearly, those reminders worked, as Loving is suffused with cinematic textures that reflect the couple's deep connection – to themselves and their hometown – even if that region's human face at the time was grossly disfigured.
"If you're going to attach small moments to the reality these two people actually faced," Nichols offers, "then the aesthetic component – the look and texture of the lives they led – becomes massive."
Stone, who was raised in Virginia and lives in Charlotte, NC, hit the road with Keith to find real Loving locales. He says when working with Nichols, ninety percent of the look of the film becomes the locations. "We feel that if you bring your actors somewhere else and try to shoehorn the story," Stone shares, "then it's kind of like playing dress-up; the audience will call bullshit on what ends up on the screen."
Keith confirms efforts to find the right locations went above and beyond the trio's usual extensive search. "It had to be shot where they lived, and it had to show how they lived," he describes. "The three of us are so picky; the rule is we all have to agree [on a location] or else it's a no-go."
Still, even with those best intentions, two key locations in the story– the Caroline County jail where the Lovings are first held and the rural farmhouse where they resettle not too far away – had to be resurrected in nearby Virginia counties.
"The jail has been preserved for historical purposes, so we could use the exterior," Keith recalls. "But inside it was so small and tight, we couldn't get the shots Jeff wanted. We found another closed-down jail, in a nearby town, that, once we cleared out all the raccoons, worked really well," he smiles.
The original Loving house, also well preserved, featured ceilings so low, the six-foot-plus Stone could barely stand up. The rooms couldn't accommodate Nichols' preferred shooting approach – locking off the Panavision anamorphic rig for mostly static medium shots that never intrude too close on the personal space of the characters.
Keith notes that because Nichols and Stone always shoot film, and because there was so little practical lighting in the time period portrayed, he worked hard to keep spaces light and bright "to reflect the light Adam could get in there" and to avoid the use of dark window coverings so Stone "could use as much natural light as possible."
Stone, who found the farmhouse that would double as the Loving house, says the location naturally dictated the angles and from where the light would come. "The key was finding a house with that long dirt road leading up from the surrounding fields," the DP reflects. "It's such a cinematic moment when Richard sees a car approaching, in a whirl of dirt and dust, and he's terrified it's the police, coming back to put them in jail."
That rural beauty had to be offset by the urban grime when they were forced to resettle in Mildred's aunt's house in Washington D.C. Those scenes were shot in Richmond, VA, where a recent renovation boom made finding the right look a challenge.
"The house we ended up in was owned by a couple who wanted to renovate but weren't quite there yet," Keith recounts, "so we said, 'Wait. Don't do anything!' It was a two-story shotgun, very close to what the Lovings lived in. We emptied their house, did some wallpapering, painting, flooring, and decorated it in period-accurate appliances and furnishings. It was a nice blank slate for us to start with."
Stone said the house they found worked well, but the street outside was challenging for lensing exteriors. "There was never a kind place for the sun to land – harsh shadows from the house to the curb, and we couldn't run any overheads due to this ridiculous nest of power lines," he remembers. "But being able to shoot a 180 up and down the street with very little digital enhancement and very few extensions sealed the deal."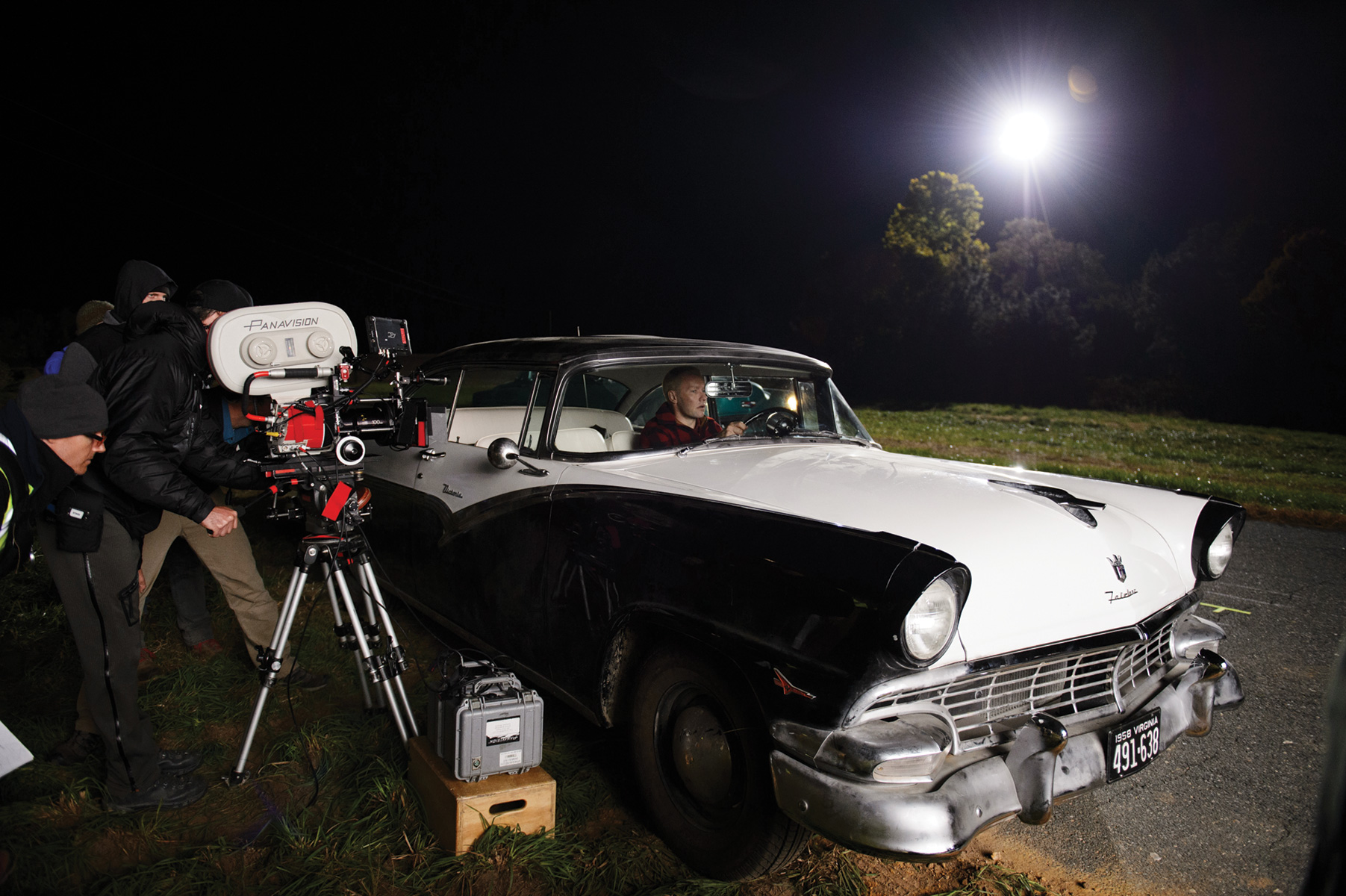 Nichols insists his goal for any image "is to represent the human experience, and film still does that better than anything else. That can break apart shooting in a car at night," he says, "where it's difficult to expose for the interior and the outside in the same frame. We did some Alexa in a process trailer on Midnight Special for those situations, but I think, with Loving, Adam, and our gaffer, Michael Roy, who's been with us on four films, perfected 'our version' of night. It's realistic, but also quite cinematic, and all of the decisions we made [shooting night on Loving] defined that aesthetic."
In fact, one of Stone's favorite scenes is when Richard smuggles his wife back into Virginia at night. Meeting her brother on a lonely rural road, Mildred jumps out of one car and into another. "The only true light source on that road would have been the car headlights and moonlight," Stone explains. "So we used bounced HMI's, and it balanced out nicely. We used some day-for-night driving shots at dusk, and could have benefited from an Alexa for POV's. But shooting with the actors at night [in a process car] on film was so much fun. We only had one Bebee [light]. I would have loved another!"
The cinematographer chuckles slightly when he recalls that "for Mud [shot in 2012], we had at least five film stocks to choose from – 50D to 250D, 100 to 500 tungsten and a Fuji 500 Daylight. For Loving, we shot basically Vision 3 500T and 250D. That's pretty much all that's left nowadays, for better or worse. Of course the Vision stock is so well put together, you could shoot everything on 500T and it would still hold up great."
Film capture may offer a singular look and feel, but its workflow (in the digital age) is far from ideal. "We sent the negative back to Fotokem," Stone describes. "That was sent to dailies coloring at Efilm, and they would upload the digital transfers so we could watch via an Internet connection – iPads, iPhones, laptops, et cetera. That's not super-amazing," he laughs. "The other option was getting hard drives on the eVue system, which we watched on a big plasma set up at our location. We mostly used that to see critical focus, and [the system] took up half of [first AC] Dave Regan's hotel room!"
Loving, an intimate character drama, basks in the wide-screen look. That's because Nichols says anamorphic perfectly suits his taste in framing. "It reminds the audience of the beauty of cinema; our dream is to one day shoot in 70 millimeter." Classic, perhaps, but so much anamorphic love meant other challenges. "Like much more glass, which is tougher on [the first AC]," Nichols adds. "We're very fortunate to have had Dave Regan since Take Shelter. He's a Jedi when it comes to pulling focus!"
Several on-screen moments were designed to showcase the 2.35:1 frame, specifically a high shot looking down on Richard, as he proposes to Mildred in a grassy field. It's the plot of land where Loving intends to build their home, and the same classic wide-screen frame repeats at the end of the movie, after the Supreme Court ruling. Stone attributes part of the scene's effectiveness to the G-series anamorphic lenses Panavision provided.
"We were a modestly budgeted movie," the DP relates, "and to have people like Dave Dodson and Dan Sasaki at Panavision reserve and tweak those lenses for us – knowing they are in high demand for much bigger movies – made all the difference. For that scene in particular, whatever you hit was the lens' sweet spot. They are so awesome."
Keith agrees, describing the shot in the field where Richard is going to build their house as a "perfect use of anamorphic that sums up what the film is about. They just want to be together," he says. "I've learned a lot working with Adam and Jeff about designing for the anamorphic frame," the designer adds. "My goal is always to do my very best to give them a 360-degree look if the money allows."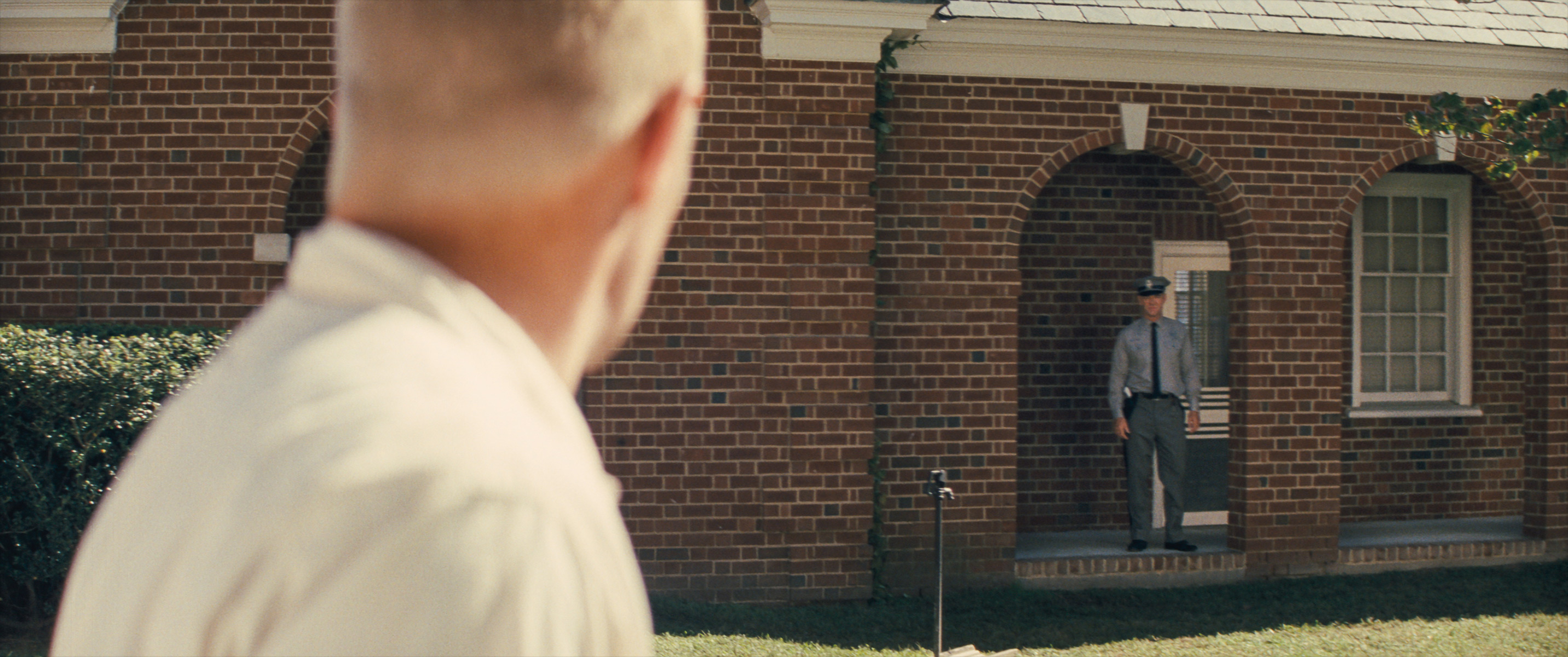 Stone says he and Nichols referenced films they saw growing up, specifically 1980's Spielberg where the characters are stacked into triangles in the wide and deep anamorphic frame. "The scene where Richard has been protesting for the release of Mildred at the County courthouse is a good example," Nichols relates. "He's walking out toward camera, and you hear this voice in the background say, 'Hey, boy.' We do a massive focus rack toward the voice, and our attention now shifts to the Sheriff, watching Joel over his shoulder in the same frame. I love this compounding of information that anamorphic allows, even in interior dialogue scenes; it makes the world feel more tangible."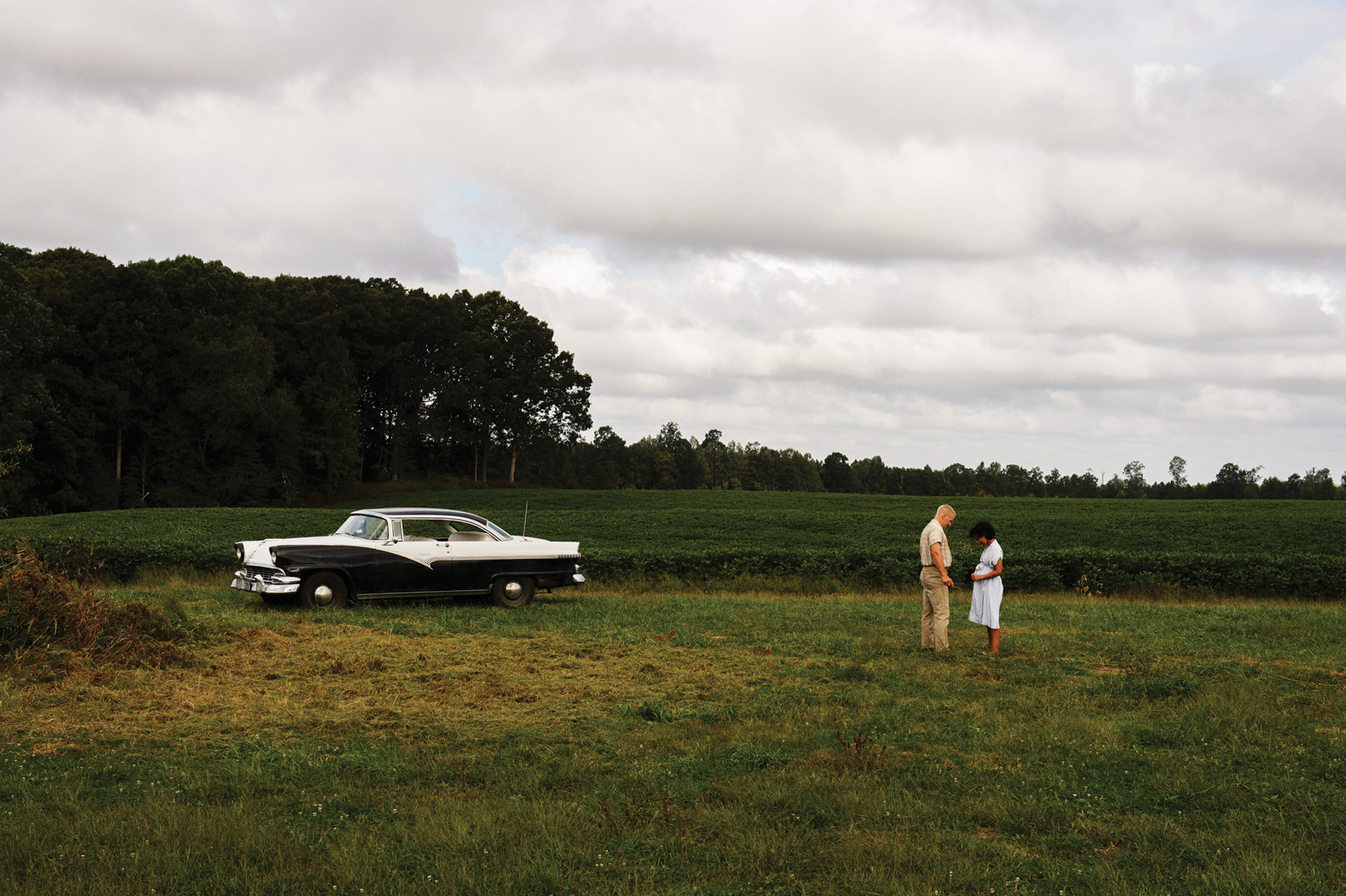 Making a real-life story look real yet still cinematic was something Nichols felt very confident his team could achieve, provided certain parameters were met. They had to have a 40-day schedule (not 35 or fewer as financers originally proposed), and the action, particularly behind the camera, had to be limited. That meant no Steadicam. (Mud was filled with camera movement that echoed the flowing Mississippi River.)
"Jeff gravitates toward stately framing with the camera pulled back," Stone describes. "He'll always ask, 'Whose POV is that?' meaning the camera never moves around on its own. We also made a point of having a very humane schedule that did not burn anybody out, which was a bit of an issue on our last film, Midnight Special. I think that relaxed quality shows up on screen."
Nichols says Loving was made with more precision than any of his other films.
"I wanted that frame to be rock solid, because these characters are in a literal and metaphoric prison, but I also wanted movement," he says. "My first instinct was dolly. But when I started walking Adam and Rocky [Key Grip Rocky Ford] through the shots, they said: 'Jeff, that's not a dolly. That's a crane!'" laughs Nichols, who adds he had not prepared a budget for a crane-heavy film.
The answer was found watching No Country For Old Men, shot by Roger Deakins, BSC, ASC. "They used this great rig that was a dolly with a jib arm on it and a remote head," Nichols adds. "The arm gets you off of the dolly track so you can have pretty long moves and not have to be on a Technocrane. As Adam will tell you, I never want unmotivated camera movement. For Loving, I tried something that was kind of a risk, in my eyes. Camera movement was dictated by the character's internal emotions."
The best example harks back to when Richard tells Mildred he's bought the field and plans to build a house for them. Her reaction is complete stillness, outwardly, but her eyes convey her mind is alive with possibility. "The camera moves in to Mildred very slowly and subtly to reflect that inner thought process," Stone explains. "The challenge on this film was always to move the camera in that very clear way."
Clarity, in Loving, a story about real people who are accurately portrayed in documentary footage, was achieved by creative and often counter-intuitive ways. Or as Nichols describes: "You don't have to run around with a hand-held camera in [the characters'] faces and harsh lighting to visualize a nonfiction story."
But there were two occasions where documentary footage of the Lovings proved too compelling not to reproduce. "When the Lovings leave the Virginia Supreme Court, it was this handoff of the frame from one character to another," Nichols recalls. "Richard feels so painfully out of place [in the documentary footage], we needed to imply that we were spying on them as well. So the shaky handheld footage felt right."
The other is a moment that will stun audiences for its accuracy and emotional integrity. Noted photojournalist Grey Villet (played by Michael Shannon) visits the Lovings at home to produce a LIFE Magazine spread. The series of scenes concludes with the Lovings watching TV on their couch, Richard's head gently resting in Mildred's lap. It is the very essence of a devoted married couple; during the end credits the real LIFE Magazine image appears on the screen, confirming the filmmakers' stunning veracity during their narrative telling of the Lovings' story.
"Yeah, we pretty much nailed that," Keith concludes. "It was really cool."
by David Geffner / Unit Stills by Ben Rothstein
Frame Grabs Courtesy of Focus Features