Lighting for Live Events, whether actually live or live-to-tape, now includes a range of challenges for Local 600 Lighting Designers – from the massive set ups for Robert Dickinson and the Full Flood team often encounter for The Oscars® and Emmy® Awards – to game shows, stand up comedy and even cooking shows
Much of the changes, according to Jeffrey Engel of Academy Lighting Consultants, Inc. have come from advent of LEDs. Engel's two biggest shows, Wheel of Fortune and Jeopardy! are "live-to-tape" but still set to shoot without interruption.
They're captured with multiple cameras in real time, "unless there is a question from the game judges/producers, or a major malfunction," Engel explains. "On the new Jeopardy!, we use approximately 15,000 feet of RGB LED tape in the set piece columns and stairs. The cyclorama, previously illuminated with conventional incandescent lights [with a choice of three colors], used a connected load of approximately 180,000 watts. With the use of LEDs [with a choice of many colors], we use less than 25,000 watts. It's a great savings in power consumption and air conditioning loads.
"For Wheel of Fortune, all the basic set pieces: the Wheel, Game Board and Screen Surrounds are outfitted with RGB LED units," he continues. "These elements stay in place from week-to-week with all other set elements changing to match the theme of the week's shows. We also have a generic set that uses LED tape and many LED elements."
According to Engel, live events continue to use automated lighting, which provide quick changes, countless color choices and allow for much creativity. He says the use of projection screens, LED video panels of all resolutions and media servers has changed set and lighting design, and Lee Rose, of Design Partners, agrees.
"A crop of LED automated fixtures has matured from discreet R, B and G LEDs to SMD chips of RGB, RGBA, RGBW and even some esoteric chips with seven or more color of LED on board the chip," Rose shares. "These have allowed for lighter, lower power consumption fixtures that make these productions easier to control and pixel mapping more flexible. Automated LED fixtures, like the MagicPanel™ 602, can have both lighting control and pixel mapping done straight to the front of the light.
"Today's digital media, such as projection, LED display screens, low resolution pixel mapping LED displays are a huge portion of what constitutes a production," he continues. "Sometimes this falls into the Lighting Designer's purview and sometimes it is a separate department all together.
Like Dick Clark's New Year's Rockin' Eve, where Rose worked with the production designer to plan out screen placement, and then with a content creator, content producers and media server programmer.
"On other shows like the MDA®, AMA® and ESPY Awards, the separate screens department comes up with the content and operates the screens themselves," Rose adds. "But even on some of those shows the integration in the lighting department of lower resolution and pixel mapped LED product comes in as part of the lighting design."
LED sources also have changed the lighting map for talk shows. The development of bright white LED sources have allowed many to move away from tungsten elements.
Rose says Chelsea Lately went from tungsten at the old studio (Westside Media Center on Olympic Blvd. in L.A.) to a mostly LED based lighting system at the Universal Studio location. "NBCUniversal went with fresnel type fixtures from Prism™ Projection," he adds. The Studio 3 replaced 90 percent of our tungsten fresnels. The ETC® Source 4 LED Tungsten and LED Lustr replaced all our ellipsoidal reflector spotlights and the Mac Tech 2×8 DMS fixtures replaced our 2k softlights."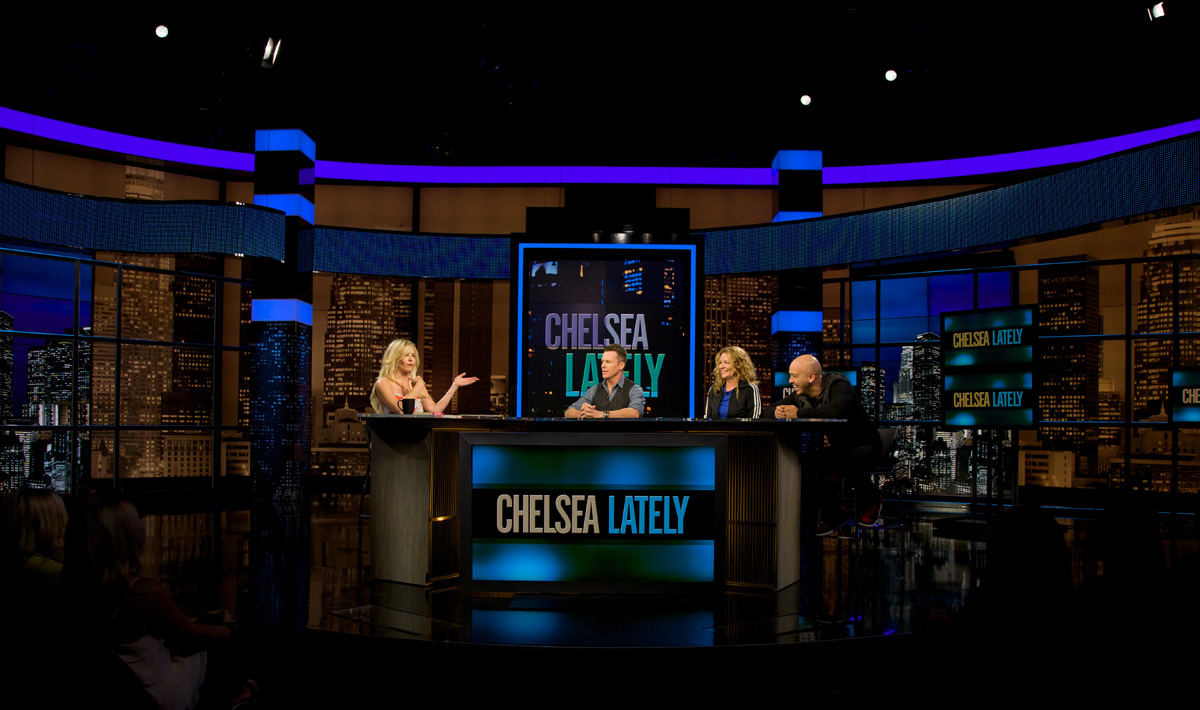 Jimmy Kimmel Live has also made the switch to LEDs. Two years ago, Lighting Director Christian Hibbard was approached by its producers to go LED. "I told them no at the time, but that the technology was very close," he admits. However, he revisited the idea last December, after seeing what was available at LDI and after talking to some manufacturers.
"I wanted to use this opportunity not just to go LED but also to relight for the show we are today, as opposed to the show we were ten years ago," he says. "It's not just a desk, a chair, and a couch situation. We use every inch of the studio and I wanted to be ready for whatever Jimmy and the writers come up with."
Hibbard was looking for LEDs that would last for at least ten more years. "One of my biggest concerns is color shift over time," he adds. "I have seen some LED equipment come unusable due to green shift in two or three years. Also, CRI or the 'quality of the light' was very important. We had manufacturers bring in product and we looked at skin tones, color swatches, etc. on our cameras. We also looked at how we could shape the light with diffusion, barn doors, snoots – how we would use the lights in our space."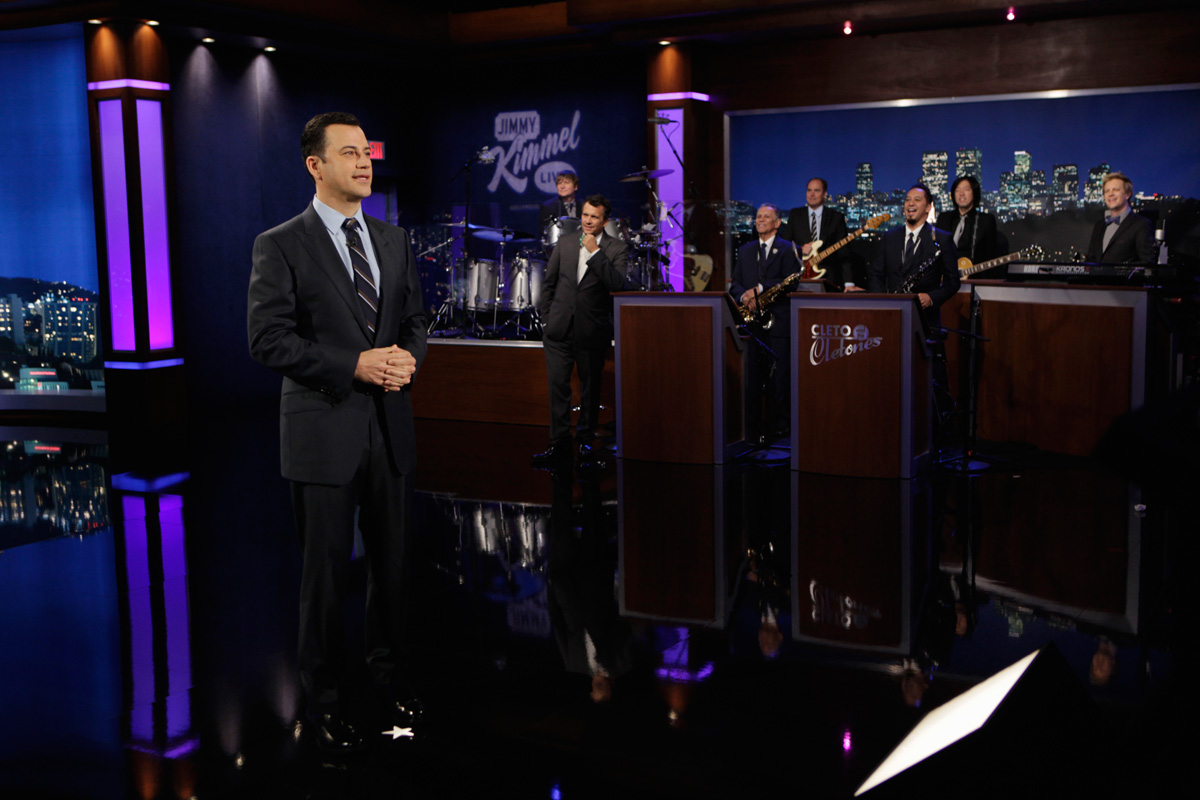 In the end, Hibbard went with Prism Projection Studio 3's, Profile JR's, and CW's, ARRI L7-Cs, Cineo™ TruColors and Creamsource Mini Classics. "I went with the Prisms because they have real time color calibration," he states. "They have a very good dimmer curve, and look great on camera. The Profile Jr. was the brightest ellipsoidal we found. It puts out so little heat we can make gobo's on a laser printer. The Studio 3 was the most flexible fresnel and has a huge zoom, and I can get good cuts with barn doors or flags."
Hibbard uses the CWs as audience backlight – he can change color easily and they have a wide throw. The TruColor, he says, is the best looking LED that creates light with remote phosphor. And, the ARRI L7-Cs are key light at home base with Creamsource as his audience side light. "We shoot in an old Masonic Temple," Hibbard shares. "The ceiling is only 14-feet and some of the audience is so close to the lights they can reach up and touch them. I needed something with a very wide throw."
While Tim Anson's MasterChef is not quite as confined (shooting at Paramount Studios Stage five, six and seven), he still has to maintain the look and feel of a kitchen and grocery store. For Anson, lighting this kind of live-to-tape show is a mixture of old and new. He shoots with 10 of the Sony PDWF800 all RF except for one hardwired (video only) and a Techno Jib – with the crew going from pedestal to handheld several times a show.
"The lighting of our main set is rather unconventional in that I incorporate LED (some 300 plus units) with over 250 theater style Source Four® Lekos as well as 180 Par 16 and Par 20 fixtures – all in all over 30 types of lights including Vari*Lites.
"The use of Leko keys and backlights help to keep each of the 10 cooktops isolated and controllable. I also incorporated the old style scoop light in several important areas to keep costs down, most notably side and overhead fill lights as well as the backlighting of scenic overhead elements." All key and backlights are Lekos with the exception of the pantry area. The very low ceiling calls for ordinary Tungsten 650s and 1K Babys.
"We have had several creative opportunities and have adapted by moving, adding, redesigning and relighting – most notably the finale shows, where we bring in 36 VL3500 spots, 160 LED fixtures and effects such as smokers and confetti," Anson continues. What's interesting on this live-to-tape show is they occasionally do go on locations. "Very much live events," he adds. "The shows are demanding, and the lighting has to work for the venues [kitchens] and such. Thanks to my well trained IA 728 crew, we've performed flawlessly in some very demanding situations."
Kieran Healy, who worked on American Idol for 11 years, is now tackling a variety of different live venues, from comedy shows like Last Comic Standing to one-time events. A recent favorite was a location shoot – at an old Mercedes Benz dealership on the edge of Hell's Kitchen – for Million Second Quiz. It was on top of a three-story building outside in the thick of summer. "We had a cover set just in case it rained," Healy describes. "But our main desire was to light the huge rooftop set with the New York City skyline and lit buildings as the background.
"Lighting the skyline or the buildings five years ago would have been so expensive, almost impossible," he admits. "In the old days it would have been HMIs, with no ability to change color and high power consumption, not to mention a lot of complaints from the neighbors! But thanks to Xenon technology it was relatively simple. We put a line up of Syncrolites™ that change color and have a long throw across the roof of the building and some on street level and, with the cooperation of the neighborhood – some even left lights on in the buildings at low levels – we had our real backdrop." For the stage on the roof, Healy opted for a simple approach, Vari*Lites VL 1000 Arc's as key because of the daylight color temperature and good diffusion, and Cineo HS LED Phosphor lights as fill.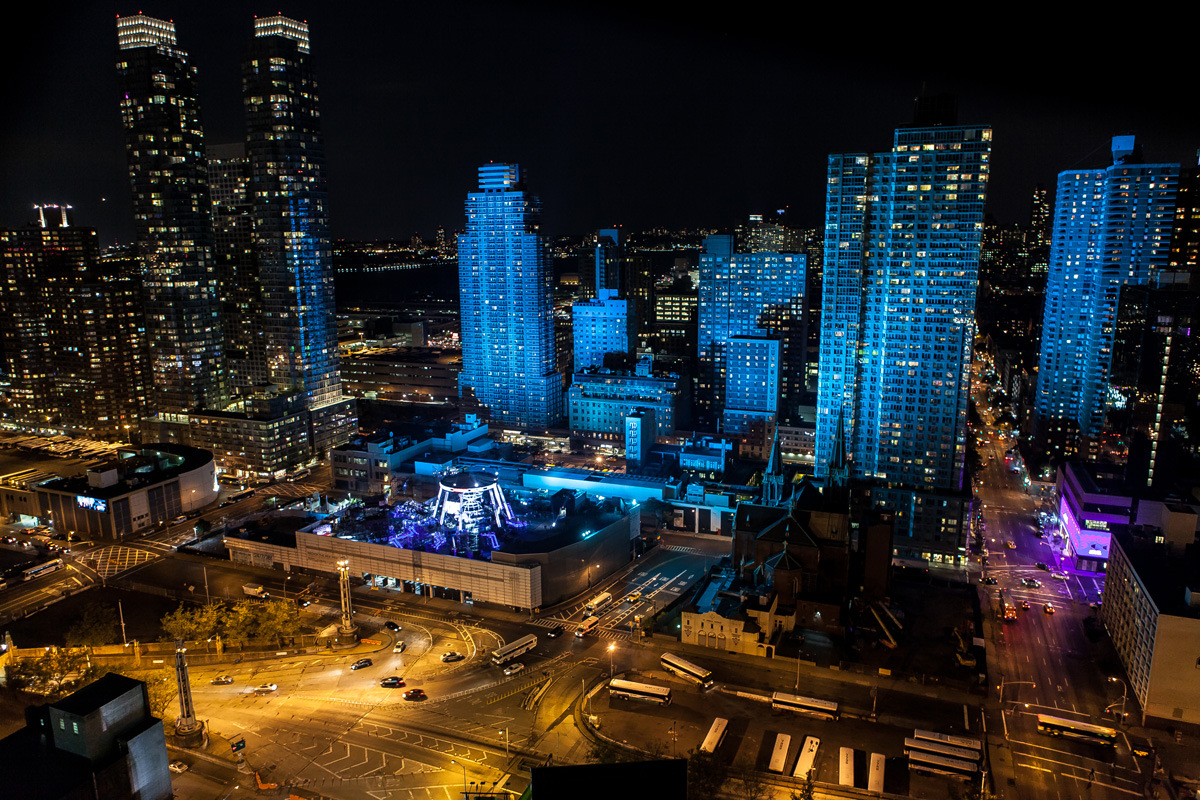 "It was an interesting challenge," he says. "Live-to-tape and live events can be programmed simply and effectively – because of the changes in lighting today."
"Today's technology gives Lighting Designers many different choices," Rose agrees. "The development of reasonably bright white LED sources is part of it. The addition of Amber, White and other ancillary colors to the RGB LED chips in most of the wash and flood fixtures also helps a lot. The original RGB was inefficient at producing pastels and rendered color in strange ways due the narrowness of the bandwidth of the light they produced. The spikes start to soften as you add either Amber or White, with a smoother curve from the white LED's phosphors. Finally, you can see how the millions of dollars the big lamp manufacturers have spent on R&D have developed the white LED replacement lamp to a reasonable curve.
"In addition, the advent of automated lighting allowing for a single fixture to produce multiple looks and effects for productions has given us more to work with," he adds. "Production heavy shows can save time, labor and increase flexibility with them. It has caused me to change the camera balance to a color temperature closer to these arc source fixtures native color temperature. Where we once balanced for 3200K and corrected the arc sources, now I tend to shoot heavy automated/LED shows at 5000K and have replaced the 3200K fixtures completely."
The changes have come in other areas as well, as Jeffrey Engel notes. "Data distribution and control consoles have advanced by leaps and bounds," he adds. "For instance, the Wheel of Fortune and Jeopardy! stages are networked using fiber optic links allowing us to control approximately 9000 lighting parameters from many positions on stage, even from our iPhones and iPads.
"Technology is a wonderful thing in our world," Engel concludes – echoing the thoughts of the many live and live-to-tape Lighting Designers who can now look at stages and locations with a completely different creative eye.
by Pauline Rogers