Seamus McGarvey, ASC, BSC, peels back the veil on the most provocative book-to-screen adaptation since 9 ½ Weeks
Shooting a film like Fifty Shades of Grey comes with challenges that go well beyond camera choice, lighting, location and all the usual creative and technical aspects associated with cinematography. This adaptation of E.L. James' "mommy porn" trilogy had multiple rewrites and re-casts, not to mention a whirling dervish of media coverage about the story's prominent use of bondage/discipline and sadism/masochism (BDSM).
"The expectations are there," observes Seamus McGarvey, ASC, BSC, while taking a break from the film's color-timing session at Technicolor Los Angeles. "People are going to want the sex, so we can't disappoint."
Indeed people do want the sex. The Fifty Shades of Grey erotic trilogy spent two years on the New York Times Fiction Best Seller list – 28 weeks in the top spot – and more than 100 million copies have been sold worldwide since its debut in 2012. That's quite a feat for a project that began as e-book fan fiction, often described as "Twilight for adults," and then emerged as one of the top-selling series in publishing history.
The story follows Anastasia Steele (played by newcomer Dakota Johnson) – a quirky, bookwormish senior at Washington State University who's asked to fill in for her sick friend to interview the mysterious billionaire Christian Grey (Jamie Dornan). It's a love story at the core, but rope, tape, whips, and a place called the Red Room of Pain unfold in the steamy wake of their adventures.
McGarvey notes candidly that he wasn't particularly keen on the job, and his schedule was already booked. But when there was a shuffling of the project's dates, he decided to sign on – mostly because of his long working history with director Sam Taylor-Johnson, whose 2009 feature debut, Nowhere Boy, chronicled the life of a young John Lennon. "The sexual politics were definitely a big concern, in the beginning," he relates. "But after seeing how Anastasia was given profundity, strength and direction, and how Christian had a vulnerability that points out his complexity, I realized it could be a very strong show."
The Irish DP's (not nearly as torrid) past adventures with Taylor-Johnson stretch back some 25 years, where he's helped light her art installations and photography. He describes Taylor-Johnson as one of his oldest friends and collaborators. "I've worked on almost everything she's done," he reflects, "including projects for which she was the subject."
Taylor-Johnson's photographs have had a sexual context, and contained nudity, but the scope of her work was much less limited. She's probed many aspects of the human condition – everything from her Crying Men series to sleeping and laughing, falling and yes, sex. "In general I like to explore what it is to be human in different states and conditions of being," the British-born filmmaker shares. "Naked is another state of being, and a fairly natural one, at that."
McGarvey, who shot the Taylor-Johnson short film Love You More, which involves fairly graphic sex scenes between two teens, was able to draw on the many constants he'd seen in the director's visual artwork over the years – a strong psychological edge coupled with plainness – "epic in the everyday," he coins.
The backstory to Taylor-Johnson's involvement in Fifty Shades of Grey begins when she was commissioned by The New York Times to do a photo spread on young debutantes at The Crillon Ball in Paris. But after coming across a bondage expert in her travels in the art world, she instead suggested a shoot in the world of BDSM. When the time came to research Fifty Shades, she contacted that same expert she'd interviewed a decade before.
"The challenge for me," McGarvey continues, "was to look at a world that I thought was quite unattractive – BDSM – and find ways of photographing it that lent the female protagonist more weight and more respect. Sam and I tried to be really sensitive to that, and I think with her talent she has restored it to a place of reverence and beauty."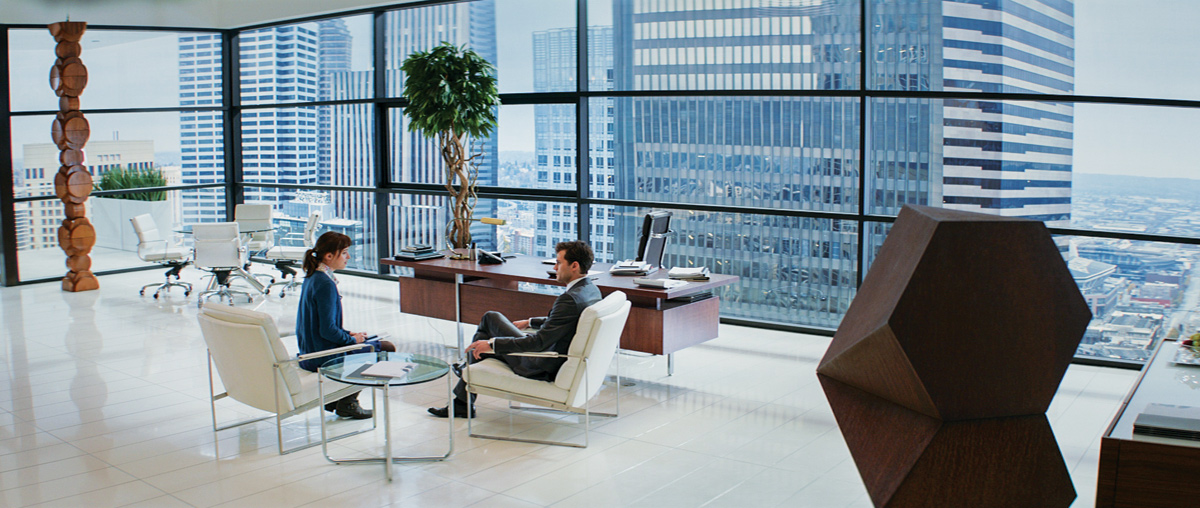 In preparing a visual plan, McGarvey and Taylor-Johnson met with a dominatrix who had clients at the Christian Grey level. She explained to them about the many misconceptions of the BDSM world.
"She's very much in the high-end sensuality and sexuality aspect of it all," Taylor-Johnson relates. "She explained to us how [BDSM] was about creating a loving environment based on trust, and how the intensity of that trust in the relationship is incredibly powerful. Those are the things I held in my mind as I moved forward with the story."
McGarvey, who used two ALEXA XTs with Codex onboard recorders to visually echo Taylor-Johnson's quietude in storytelling, admits, "There wasn't a grand philosophy to the cinematography on this film. Sam is known for her simplicity, and it's something I wanted to honor. Photographically speaking, it's one of the simplest films I've ever shot. The composition and framing were more important than the lighting."
Simple perhaps, but there is a defining visual theme that subliminally plays into the audience's experience. During the researching phase, production designer David Wasco found that grids play a major role in BDSM restraining techniques. They can easily be hung from ceilings or on walls in order to shackle or tie hands or feet. Such grids were incorporated heavily into the Red Room – the central location to the story of Christian and Anastasia's love affair, as well Clayton's Hardware store where Anastasia works, and Christian's penthouse living room as vertical room dividers.
"We then were able to integrate the lighting into that theme," says Wasco, whose résumé includes Pulp Fiction, The Royal Tenenbaums and Collateral. "The ceiling in the Red Room became this system of grids that could, at the touch of a button, articulate down and up. That gave [gaffer] Stuart [Haggerty] an opportunity to light from above and create Cucoloris grid patterns on the cordovan leather floor. And Stuart ran with it."
Haggerty says it was important that such lighting setups not be too visually intrusive, and allow the actors the freedom Taylor-Johnson required.
"We had several layers in those grids," he explains. "First was the general ambience from a dozen soft boxes, bulbed with a mix of 150- and 300-watt practicals. Then we used Lekos in ceiling panels that were designed to push hard light through, which produced great shadows on the floors and set pieces. We also had a number of Chimera strip banks and Lowel Rifa-Lites hanging from above, which we would lower down for a soft fill."
The walls were designed with cabinets and insets lit with MR16 Pars and Lekos in order to keep the background a bit hot. No gels were used in the Red Room except for Cyan 60, since the production design had an overall red theme with both red silk fabric that was cushion-quilted onto the walls and "ox blood"-color painted panels.
"The visual centerpiece was always working toward that Red Room," McGarvey observes; Taylor-Johnson describes it as the third main character in the story. Noting that there is a "high and low end to the BDSM culture," Wasco says the high end is not something you can Google for photographic reference. In fact, there is a super-elevated version of BDSM not readily available to the general public that the Fifty Shades team was trying to capture on screen. Wasco describes it as a "womb": a relaxing place "that isn't weird or scary. We had many conversations about it, and worked closely with our experts who talked to us about their clients."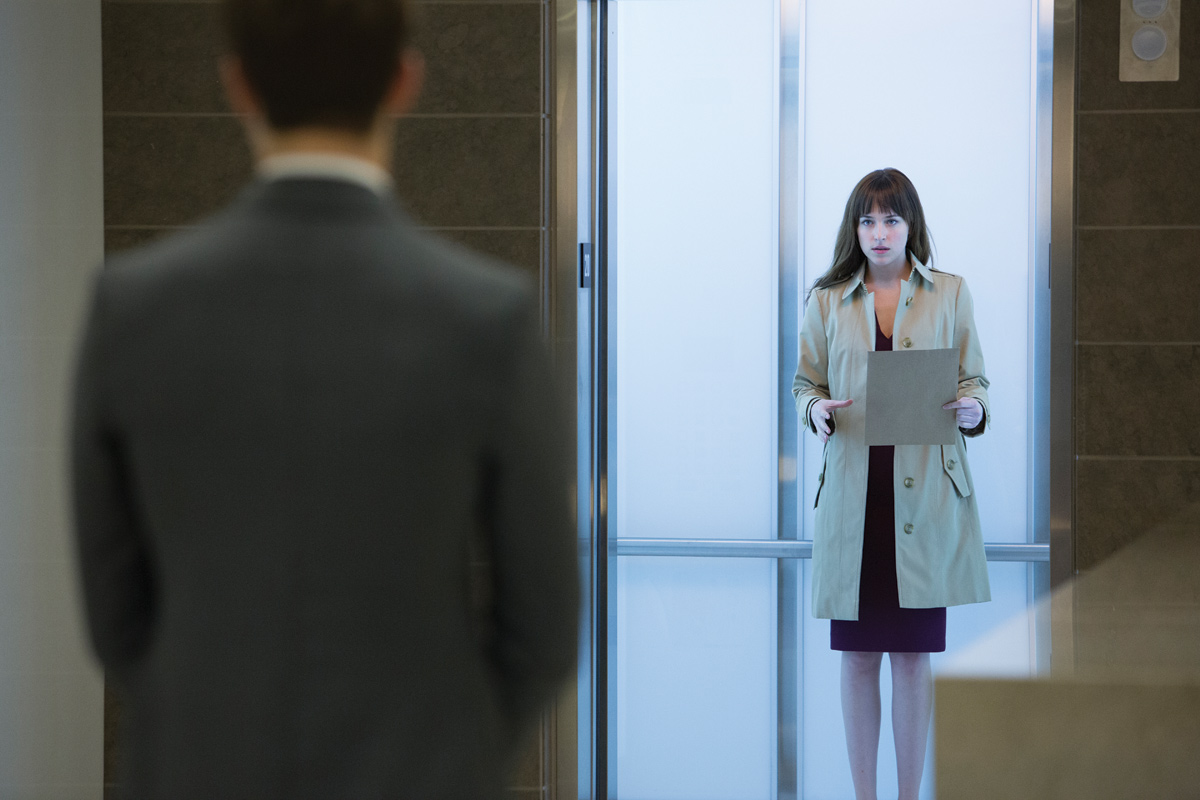 Despite all the care and attention taken in the storytelling, Taylor-Johnson knew the Fifty Shades of Grey phenomenon was a challenging bar to meet, both for fan expectations and the anxiety within her own production team. Producer Dana Brunetti, along with producing partner Michael De Luca, says if he didn't think it could have been executed well, he wouldn't have taken the gig.
"When someone reads a book, it can be theater of the mind," describes Brunetti, President at Kevin Spacey's Trigger Street Productions, whose credits include Oscar nominees like The Social Network and Captain Phillips. "What you might think of for a scene or a character or a moment won't be the same as what someone else imagines. We only hope that we get close enough to fulfill what the audience wants."
With such sensitive content, it's understandable that Universal Pictures made Guy Adan (King Kong, Magnolia), the Local 600 unit publicist on the film, off-limits for comment. Brunetti and De Luca had to field questions that have chased the book series since it caught fire with the general public, such as, how were they planning on portraying BDSM without turning the film into soft-core porn? Ironically, Brunetti notes, most of those inquiries came from people who hadn't read the books.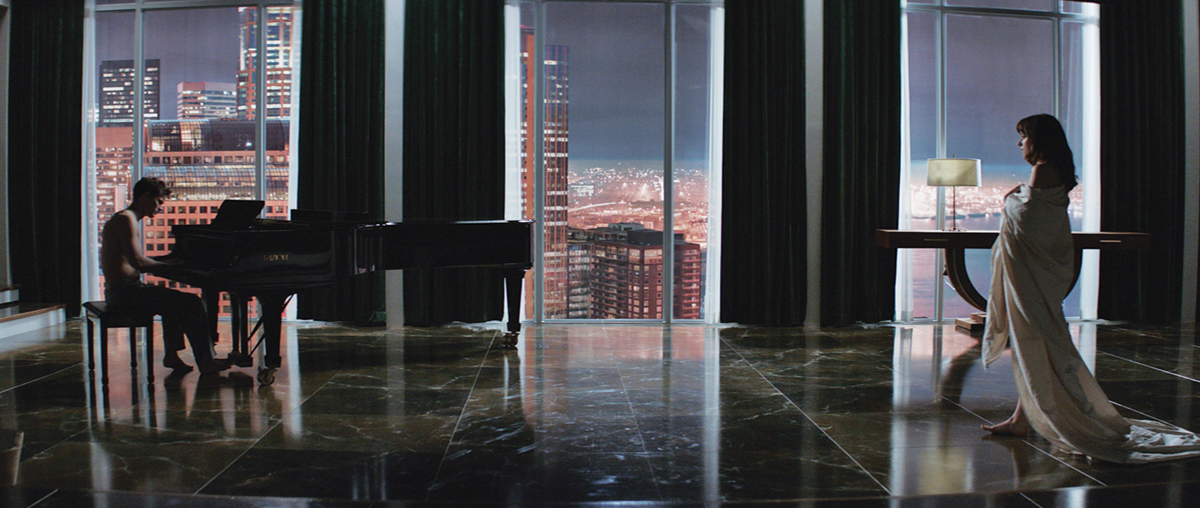 "Their perception was based on what they had heard in the media," the producer insists. "Those who read the books seemed to understand that while the books are graphic, [the reading experience] was indeed a case of 'theater of the mind.' They questioned how we could do the movie and not be so graphic, but Sam and Seamus have done it in a very artistic way that allows the audience's imagination to again take over. They've made it more erotic by following the 'less is more' mantra."
To help the audience tick those narrative boxes, McGarvey shot 4:3 anamorphic with Panavision's C-Series lenses. "In the beginning, regarding composition, there's real distance and a kind of portentous space between the characters that eventually closes up [in the Red Room]. I wanted to find ways of showing the blankness of Christian Grey's world and initially played with symmetry, order and a lack of color to showcase his life."
As the love story starts to materialize, McGarvey expanded color, which was motivated by Anastasia's influence in Christian's world. He introduced more fluid movements of the camera and a shallower depth of field. Initially, the camera had a very clinical edge to its movements that eventually became more feminine and round.
"At first we were doing very angular dolly moves that followed Anastasia's naiveté" adds 1st AC Doug Lavender, who was on second unit for McGarvey on Godzilla (2014). "Then, as the love story unfolds, the dolly moves become more fluid. We had a remote head on the dolly for the love scenes so we could wrap completely around, especially in the Red Room where we shot 360 degrees."
Local 600 director of photography Hans Bjerno (Interstellar, True Detective, Dark Knight Trilogy) says he had conversations with McGarvey and Taylor-Johnson about the look and feel of the film's aerials before flying out to locations in Vancouver, Seattle and Portland. Bjerno reports that the film's aerials were designed to be "lyrical, sensual, and not energetic, with the sexual tension apparent in all scenes."
Bjerno and his son Dane used ALEXA capture with the Shotover K1 system for an "amazingly smooth and stable aerial footage," Bjerno states, which also included various establishing shots of Seattle and Portland, as well as air-to-air footage in Grey's helicopter and glider airplane.
"All the shots were designed to cut in conjunction with Seamus' footage," Bjerno adds, "so we had to carefully match the time of day, weather and light."
To allow both cast and crew a working familiarity, Taylor-Johnson saved all the Red Room scenes for the end of the shooting schedule. On the shooting days, only the two actors, Taylor-Johnson, McGarvey, A-camera operator Norbert Kaluza and dolly grip Lee Gibeau were allowed in the room.
"I wanted to shoot the sex unadorned," McGarvey describes. "We used two cameras so that the actors could really live in the moment. There was a bit of choreography in the lead up, but we shot the intercourse more like wildlife photography. It allowed us to stand back and preserve the actors' space."
"And, like wildlife photography, you can't exactly make out every detail of what's going on," Lavender adds. "What's important is capturing the moments that best tell the story."
McGarvey, whose wide range includes VFX tentpoles like Godzilla and The Avengers, sweeping historical epics like Atonement, and intimate human dramas – Anna Karenina, The Soloist – describes Fifty Shades of Grey as a film that is all "about the landscape of the body. I loved working with Sam on this film and I am happy that it feels so much like another of her works of art."
by Valentina I. Valentini / photos by Chuck Zlotnick