NAB 2014 was about never standing in the same spot too long, as vendors, panelists, and industry tastemakers echoed a message of "intelligent change." By Valentina I. Valentini. Photos by Beth Dubber.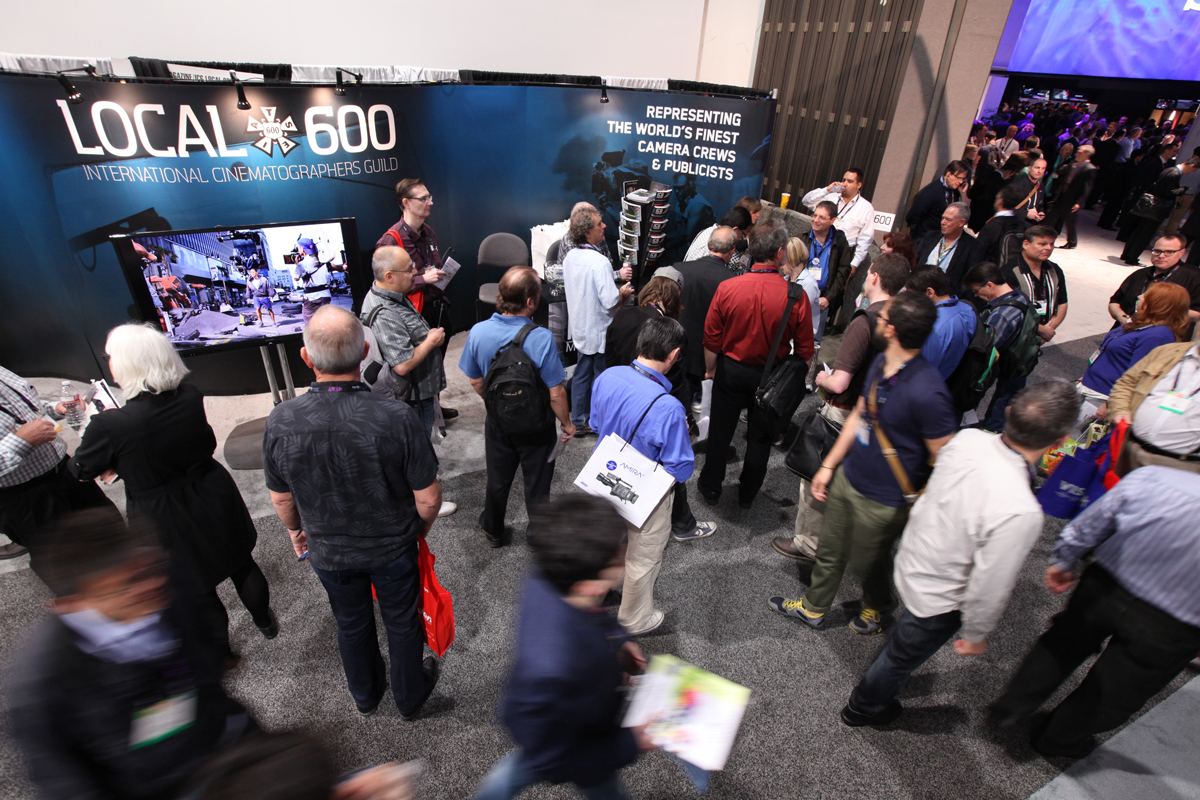 "Channel opportunity" was the theme given to this year's National Association of Broadcasters (NAB) Show in Las Vegas. It was a not-so-subliminal message to shrug off complacency, and keep shifting with the new technological times. NAB's role as industry "shape-shifter," is to provide the world's most comprehensive digital playground, bringing together nearly 100,000 end users with more than 2,000 vendors.
But at the keynote address, NAB President and CEO Gordon Smith was more interested in addressing the FCC and Congress, than touting new technologies. Smith advocated both the challenges and opportunities that moving to a new receiver standard would bring, ultimately allowing broadcasters more flexibility required to innovate and compete in a mobile world, and, hopefully, find new revenue streams.
"A national broadcasting plan would transmit one signal to many," Smith said. "If consumers want access to large, widespread events, broadcast can deliver it. Through the Communications Act, our government leaders give a high priority to those who cannot be heard. Ironically, these are the people that would be harmed the most by a disaster…the FCC seems to be at odds with those the government values most."
Smith also said, "we face a divided Congress, but the strength of your broadcast industry remains strong. It is an indispensible, irreplaceable industry…it is the voice of our freedom and the voice of our democracy. That is something worth defending."
Ironically, defending a new technology (artificial intelligence) is what threatens to bring the world to its knees in Transcendence, the directing debut of Oscar-winning DP Wally Pfister. At NAB's Creative Master Series Keynote Panel (10 days before the film's release), ICG Magazine brought Pfister, and his DP, Jess Hall, BSC together to talk about the project's unique challenges and perks, which included consulting with neuro scientists about a process – uploading human consciousness to computers  – that may only be three decades away.
Pfister, known for his fast crews and single (film) camera workflow, reminded everyone that his feelings about film versus digital are not mysterious, and that there was no question of shooting Transcendence on 35 mm anamorphic film.
"To quote Mark Twain, 'Rumors of my death have been greatly exaggerated.' I think that's the case with motion picture film," Pfister observed. "Everybody says that no one's shooting it anymore, but then you have J.J. Abrams shooting Star Wars, Steven Spielberg, Chris Nolan, even Paul Thomas Anderson is shooting 65mm, but you also have independent projects still shooting film."
Panel moderator and ICG Magazine Editor-in-Chief David Geffner noted that outside of CES, there doesn't seem to be anything besides NAB "where technology as religion is more pronounced." And since Transcendence is a cautionary tale of technology, Geffner wondered how the project altered the filmmakers' own mindsets.
"It's made me very inquisitive," described Hall, who admitted that he's rarely shot digitally in his career. "Watching a younger generation and how they related to technology, you see how it's such a major force. It's made me investigate areas I wouldn't have otherwise – in terms of digital cameras and in relation to my life. I still see film as an artists' medium, though. You can have all the technology in the world, but you need to have the ideas to present it as well."
"The fear is of the driving force behind the technology," Pfister added. "Is it a machine or is it a consciousness? Technology is affected by the user, us, and our demands on it. Personally, I have a love-hate relationship with technology. I'm enslaved to my phone, laptop, and tablet. At the same time, I don't want to tell a social network where I went to high school. I'm being asked personal questions by a machine. That is of concern to me."
Touring the NAB show floor, where a more benign cluster of technology (but no less unstoppable) held court, we saw a handful of new 4K cameras on display. Blackmagic Design (http://www.blackmagicdesign.com/products/blackmagicursa) unveiled its $6,000 URSA, a studio production camera that hopes to address workflow needs not found in the company's predecessors (Cinema, Pocket Cinema, Production 4K cameras). Built-in accessories include a 10-inch fold out monitor, XLR-in and SDI-out, Genlock, a Super 35 global shutter 4K image sensor and internal dual RAW and Apple ProRes recorders.
AJA and Sony also premiered 4K sensors (AJA as a first-timer in camera manufacturing). AJA's CION (https://www.aja.com/en/products/cion) is priced at $9,000 and is able to record directly to an internal ProRes 4:4:4 up to 120fps. For $2,300 (rumored), Sony announced its first 4K-video-capable still camera, the Alpha 7S, (http://www.dpreview.com/products/sony/slrs/sony_a7s), which is based on the same body as the A7 and A7R but has a lower-resolution 12-megapixel sensor. This may be a game-changer in the small format arena, but user beware: the A7S can't record 4K internally, as it requires an external hard drive via HDMI at 8-bit 4:2:2 capture.
To help sort through the techno-madness, ICG also led two floor tours on capture and workflow, guided by Andy Romanoff and Stephen Lighthill, ASC, respectively. The tours gave participating vendors exposure for their new products and an icebreaker for the often overwhelming potential client-vendor relationship beginnings.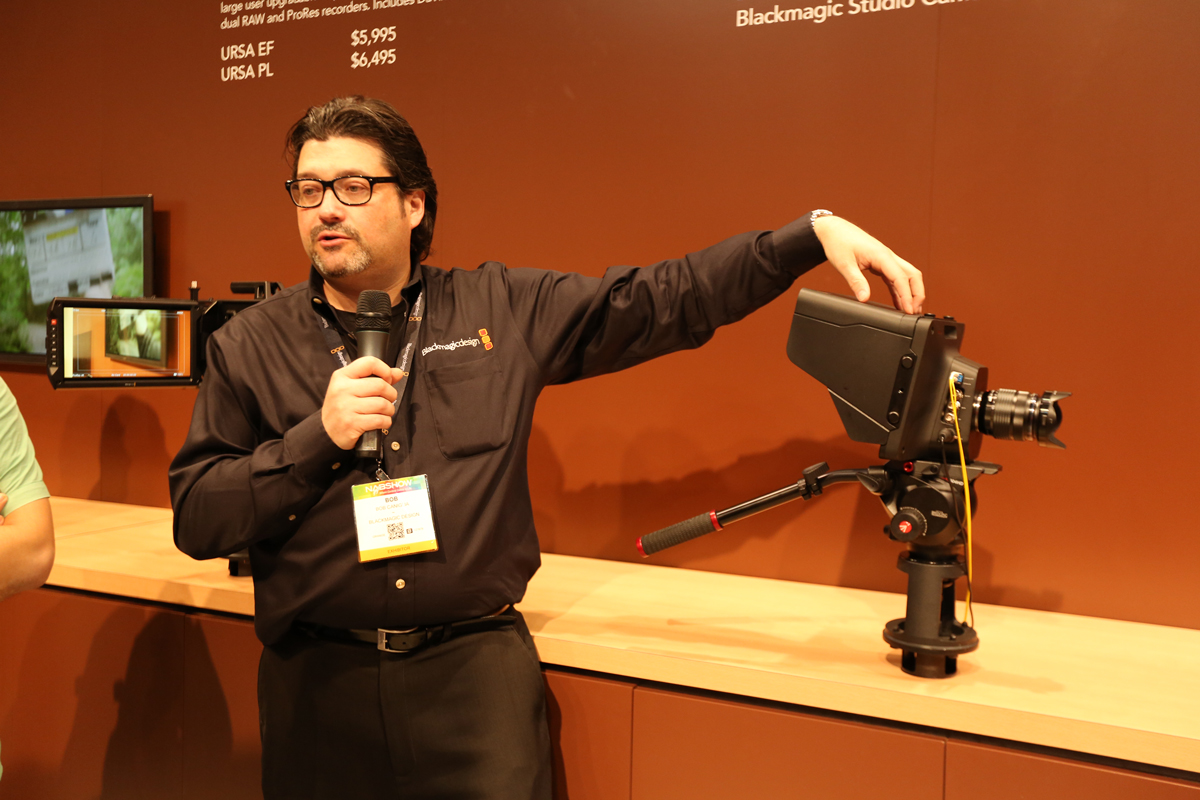 "Digital workflow is still in a transitional period," explained Codex's Sarah Priestnall, one of the stops on the workflow tour and yet another company that debuted a camera this year – the Codex Action CAM. (http://www.codexdigital.com/products/action-cam).
Priestnall said her firm aims, "to simplify wherever we can so that creative people can focus on using their preferred tools to make beautiful images, and producers can be certain that their assets will be protected both during production and into the future. This means working with camera manufacturers like ARRI, Sony, Canon, Panasonic, Vision Research and RED to manufacture recording and workflow solutions, providing much-needed consistency across all these camera platforms."
Marketing Vice President Franz Wieser of ARRI observed that "these tours remind everyone that we offer tools for storytellers at every budget level. From the ALEXA – now an industry workhorse in film and TV, to the new AMIRA – for documentaries, reality, sports and more, to our Pro Camera Accessories line that supports just about every camera available. Past hot topics at NAB have been all about resolution and a race to the most pixels. The approach we have is not about more pixels, but better pixels. We're seeing this reflected as creatives want dynamic range, efficient workflow and filmic images so they can concentrate on the artistry rather than technology."
ICG Magazine.com caught up with Romanoff and Lighthill after their tours to get more insight on NAB's role in the new technology tidal wave that has washed over (some would say drowned) the film and television industry.
ICG: What made you want to lead the tour again after doing so in previous years?
Andy Romanoff: This is my third time and it just keeps getting richer for me. I've been attending NAB since Ampex and RCA were the biggest names on the floor, and I find it's both the technology of the moment and a moving history lesson. I try to bring that sense of context to the burning issues of the moment.
Stephen Lighthill: Last year was my first, and it's just as beneficial leading the tour as being a member of the tour. NAB can be an intimidating place, but the vendors on the tour are at NAB because they want to communicate with working industry folks.
ICG: Was there a general theme you saw at this year's NAB?
SL: I see the manufacturers listening to the desire for more ergonomic approaches to camera design. My tour indicated that the vendors also really do want to make workflow intuitive. They understand the complaints about time taken for transcoding. Almost everywhere we turned we saw really positive solutions to make digital imaging move forward.
AR: If there was an overarching trend this year I think it was about more and more of everything. There was a rich assortment of choice at every level from cameras to lenses and accessories to recording and post tools. We have never had so many ways to make and modify images. I'm sure there will be a shakeout down the road for some of these manufacturers. But for us, as consumers, the choices have never been greater.
SL: The vendors I visited, I saw practicality at play. There is software and hardware designed to solve specific problems in very elegant and thoughtful ways. For example, at the MTI booth has CORTEX CarryOn that you can fire up easily and download from camera cards in a very fast system on set. The problems are pretty well defined now and vendors are trying to solve them. It's heartening for me to see Sony putting ProRes and DNX into the F55. Many of us are working on lower-budget projects where these types of solutions are must-haves.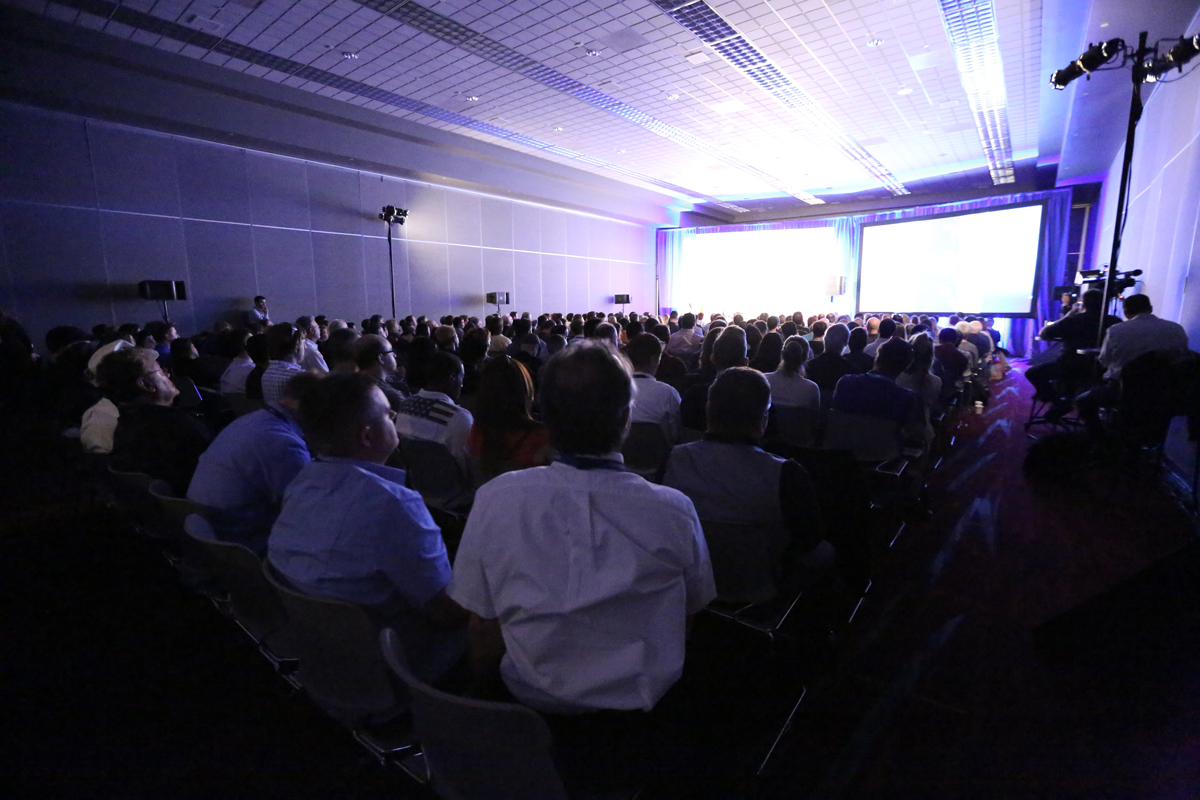 ICG: Any single technology that really stood out this year?
AR: More of a welcome trend toward quality at a price. Better cameras, better lenses, better monitors, all for less money then we have ever seen before. Now I want to put that in context – better than what? If we look at the incredible richness of film images and the ease of working with mature technologies like film cameras and the best of lenses, all these new choices are still playing catch-up or saying 'Almost as good.' But if you are making images on a budget, there have never been so many ways to get there. There are also so many new ways to move the camera, light the scene and get the impossible angle that a current filmmaker at any level can do shots unimaginable for even the biggest budget filmmaker not long ago.
SL: An interesting moment for me was just an idea, and not yet at product, displayed at Fraunhoffer. They had a new approach to 3D – a single taking lens supplemented by two side-by-side witness lenses alongside it. Combining those images together to make it 3D is a software-heavy idea, but it claims to be much more efficient than conversion from 2D It was fun to see an idea early in the development process. And if it comes to market, it'll make 3D reasonable for DPs and directors to work with.
ICG: It's interesting that you bring 3D up, since the floor was mostly boasting 4K and beyond. Isn't 3D old news at this point?
SL: We need to be careful. We come to NAB and see things that can be used on the next big-budget network show or studio theatrical release, but in fact there is an enormous amount of work that cinematographers are doing on a whole range of productions including educational, industrial and documentary. Many technologies at NAB get used on things other than a mega budget like Spider-Man. That 3D idea could advance educational or instructional videos production values. Certainly this year there was a lot of chatter about 4K. Sometimes we need to take a step back and realize that not every consumer is going to run out at Christmas to by a 4K [home display] to replace their HDTV. That's the wrong issue to be arguing about.
ICG: What's the right one?
SL: I think we should be discussing how useful it is for production to go 4K in almost all situations. It's important for DPs and crews to be ready to jump into that and understand what it means for handling data. Gradually, I think you will see higher end sales of 4K sets and some niche distribution, but I don't think we need to get into arguments of whether 4K is coming or whether it will be successful – and for that matter whether 3D will be successful. It's been proven in the marketplace already that there is a place for both technologies.
ICG: Since your tour was in the workflow space, what trends are you seeing?
SL: We saw a number of approaches to handling on-set or near-set data. For a DIT, or anyone else interested in purchasing gear so they can do this themselves, it's great to see manufacturers stepping up to make the on-set hardware. Because of the rapid tech changes, these items may be better as rental items. And it's to the point that a cinematographer needs to be as close to their laptop as they are to their light meter.
ICG: What about on the software side?
SL: Companies like Autodesk and Prime Focus are getting into the groove and really showing how they can handle dailies. You don't have to worry about what the way you want to set your camera to shoot and record, they're telling us they are going to handle it all. It's terrific to see that everyone realizes software needs to be 'no muss, no fuss.'
ICG: Andy, based on your tour, what capture trends will we be seeing?
AR: For me, it seem we are experiencing a moment akin to the early introduction of automobiles. Steam, electric, gasoline, steering wheels, tillers, three wheels, four – for a few years at the beginning of the automobile age, every imaginable combination was tried out and finally accepted or ignored by the marketplace. The modern automobile and the way we drive is the result of that time of experimentation. I think when we look back at our world about twenty years from now, we will see this as a time rich with experimentation, as the industry found its way into the digital age and the universal acceptance and production of images at every level.